Best Dog Food for Australian Shepherds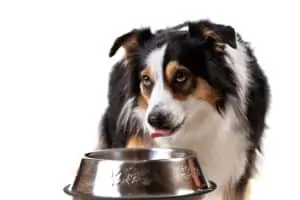 No other animal bonds to a human being the way a dog does. And I suspect that there is no other animal to which human beings can bond the way we bond to a dog – Robert Crais
Sharing your life with a dog is a gift that keeps on giving. There is nothing as rewarding or as satisfying as the unconditional love and devotion that a faithful hound will unreservedly offer.
That's why in an effort to return that loyalty and affirm the bond that you share with your dog you'll always want to do whatever it takes, and whatever you can, to ensure that he always stays happy, healthy, and active and that you'll both be able to make the most out of every single second that you get to spend together.
Even though he's your constant companion and you know that his love will always be as unceasing as the North Star, sometimes it's difficult to know what doing your best for your Australian Shepherd entails.
Sure, there's the regular vet check ups, the long walks, getting him toys to play with, his own spot on the couch, and a comfortable bed to sleep in, but how do you know which chow is going to provide him with everything that he needs to flourish and still be tasty enough for him to wolf down a bowl full of every day?
With so many different brands and a multitude of available information to wade through, finding the best dog food for your Australian Shepherd isn't just difficult, it can be nigh on impossible.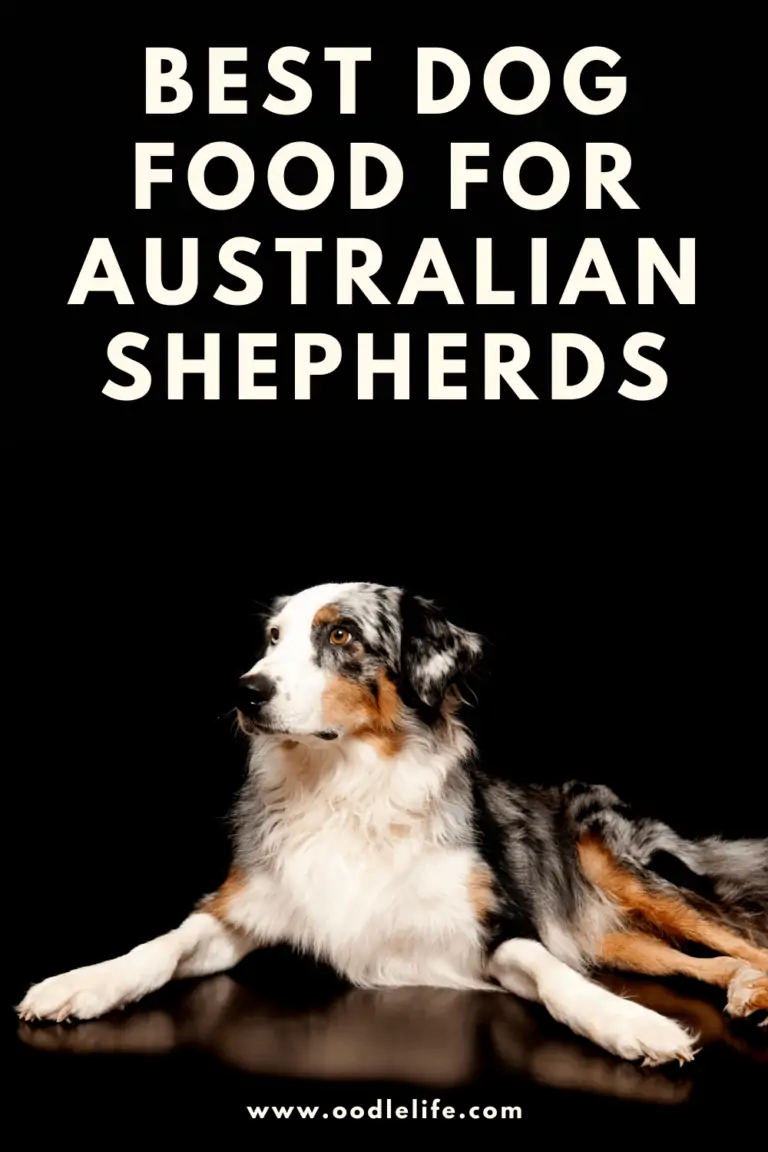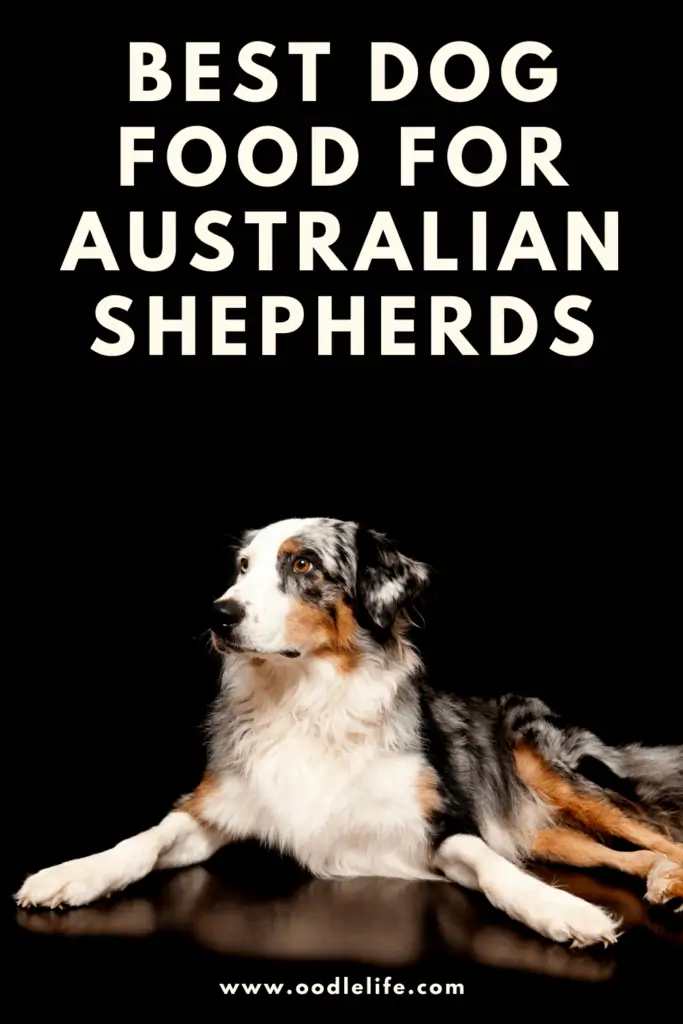 Take a deep breath and don't worry, because help is on hand. After years of owning Australian Shepherds, and spending countless hours finding out which fare they not only adore, but also puts an extra spring in their step, we've compiled, based on boys' choice of chow, a list of the best dog foods for Australian Shepherd.
And we're more than happy to share it with you, as we know as well as you do, that's there's nothing quite as life-affirming as seeing your boy bouncing into every day with a happy yelp and a perpetually wagging tail. It's time to fill your boy's bowl with the best food that you can…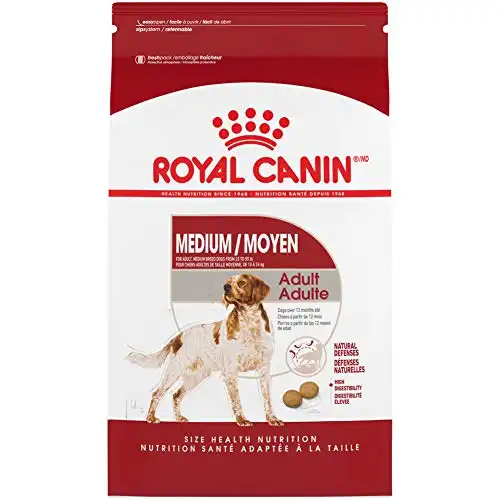 Royal Canin is obsessed by, and with, the health of pets and has been since the brand was founded by a veterinarian, Jean Cathary more than fifty years ago.
Adhering to the ideology that health is different for every pet, Royal Canin custom design their recipes to cater to the needs of individual dogs, and their medium breed dry dog food could have been formulated specifically for Australian Shepherds.
All of Royal Canin's size specific nutrition diets are made to provide the perfect balance of nutrients that a dog needs at every stage of its life.
Whatever your dog's favorite thing to do is, Royal Canin's food has been created to provide with all the energy that their lust for life and zeal for activity requires, and to imbue them with the sort of rich flavors that they deserve.
This dry dog food, as well as being a complete meal for your hound also been designed to promote joint and dental care, and each bit of kibble that makes every bowlful has been sized to help your dog to easily chew, digest, and absorb all of the nutrition that Royal Canin have packed into their food.
Their belief in adopting and using a scientific approach to whole-life health and fitness has seen Royal Canin become a favored brand among dog lovers all over the globe and has helped to cement the notion that they're the best at what they do.
Doesn't your boy deserve the best? That's why he needs to be fed the Royal Canin way
Pros
Just The Right Size – Royal Canin medium adult dog dry food has been perfectly nutritionally balanced for dogs who are one to seven years old and weigh between twenty-two and fifty-five pounds. In other words, it's been made for your Australian Shepherd.
Immune Support – It's a blend of antioxidants and prebiotics that boosts your boy's natural defenses against all of the illnesses that might bother him throughout his long and happy life.
Healthy Skin and Coat – The Combination of Omega fatty acids (like EPA and DHA) Royal Canin uses helps to maintain your boy's skin and coat and ensure that both remain healthy and that the former retains a natural shine and gloss.
Exclusive Kibble Design – The exclusive kibble design that Royal Canin uses in their dry food encourages chewing and is easier to digest, which means that your Australian Shepherd will easily absorb all of the proteins and nutrients that this food contains.
Cons
Bad Bag – There have been a small number of cases of a "bad bag" sneaking through Royal Canin's quality control and onto the shelves of pet food stores. And these bad bags, have, unfortunately, made some dogs ill. The likelihood of it happening is slim, but as it has happened, the possibility that it might happen again does exist
Affordability – Royal Canin isn't exactly cheap, but as with all of the best things in life, you get what you pay for. If you want to feed your boy with Royal Canin, be prepared for the rather large hit that your pocketbook is going to end up taking.
Royal Canin Medium Breed Adult Dry Dog Food, 30 pounds. Bag
MEDIUM BREED DOG FOOD: Royal Canin Medium Breed Adult Dry Dog Food is precise nutrition specifically made for dogs 1–7 years old weighing 23–55 lb
IMMUNE SUPPORT: A blend of prebiotics and antioxidants for dogs supports natural defenses for immune support
SKIN AND COAT HEALTH: Optimal levels of EPA and DHA maintain healthy skin and a healthy dog coat
HEALTHY DIGESTION: Easy-to-digest proteins and a balanced supply of fiber promote dog digestive health
SPECIALIZED KIBBLE: Palatable, medium breed adult dog food has an exclusive kibble design to encourage chewing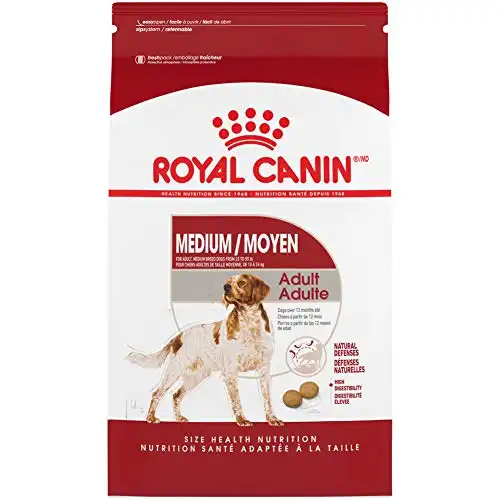 We earn a commission if you make a purchase, at no additional cost to you.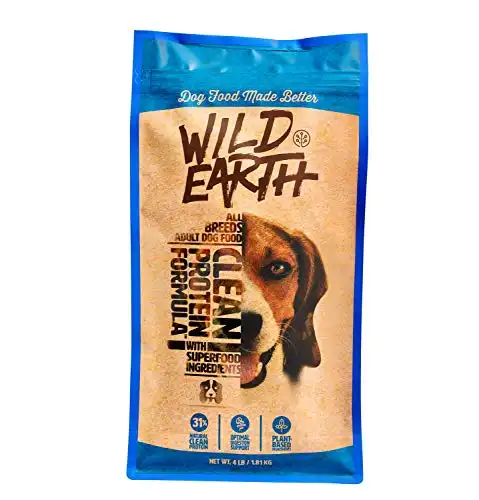 Wild Earth was founded by a similarly minded small group of animal lovers who were fed up with the state of play in the dog food industry and believed that their best friends deserved better.
They wanted to create dog food that was kinder to their hounds and the planet and so Wild Earth was born to fulfill both criteria.
On a mission to forge their own path, Wild Earth has impeccably high standards and makes sure that every morsel of their food conforms to their strict and exacting guidelines.
A veterinary developed, high-protein recipe that doesn't use any fillers, Wild Earth is the natural way for your Australian Shepherd to reap the benefits of a perfectly balanced, nutritious diet that will help him to deal with all of the adversity that life can throw at rhythm.
While some owners might balk at the idea of a vegan diet for their dog it does have a number of benefits and advantages, all of which are primarily health-based.
Your boy will love the taste, won't know that he's missing meat and together you can help to save the planet and make tomorrow brighter and better for dogs everywhere.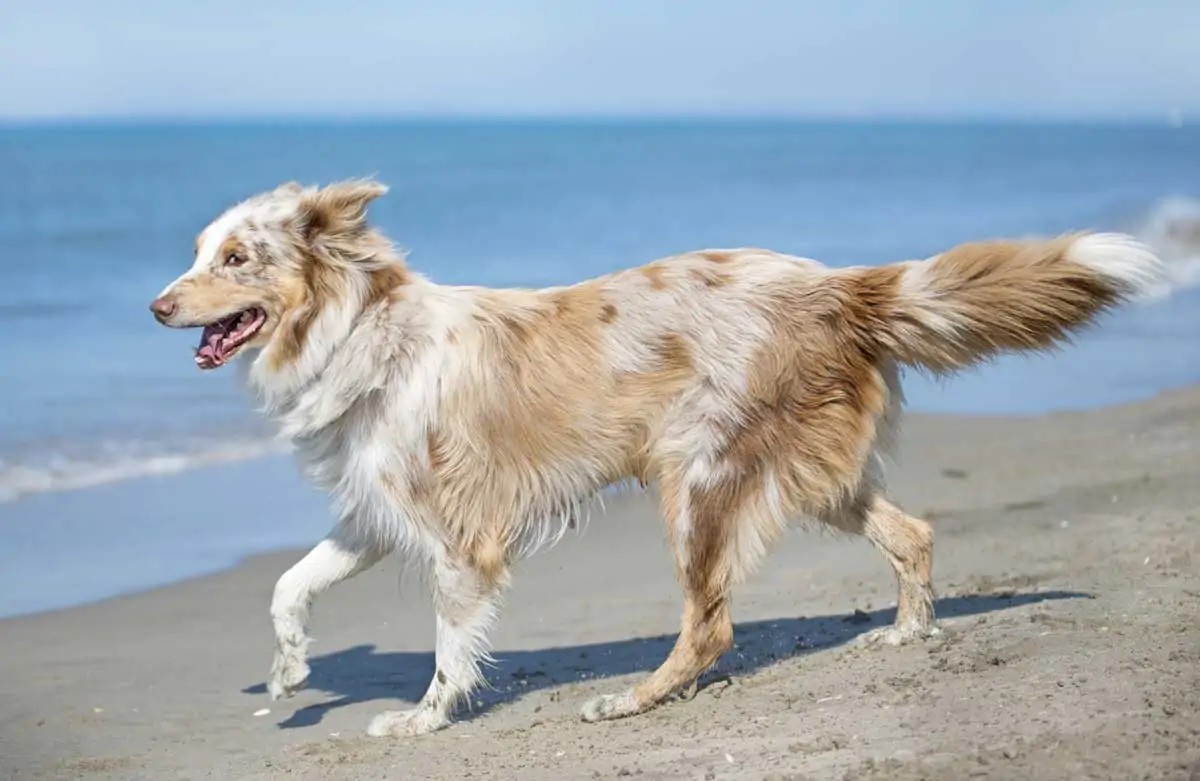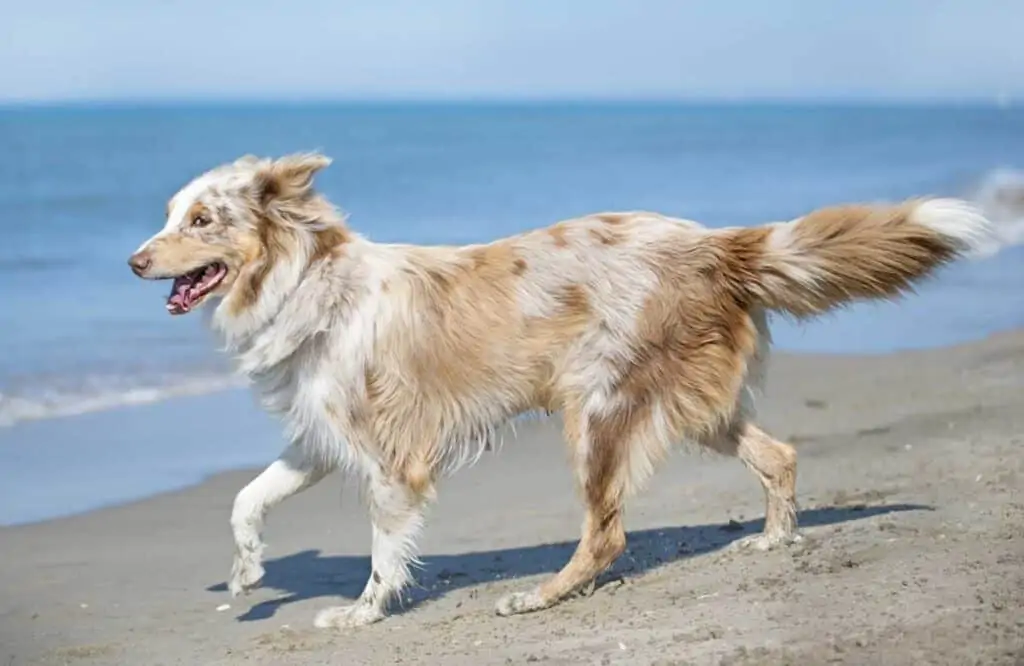 Pros
Just Because It's Vegan It Doesn't Mean… – That Wild Earth isn't high in protein and nutrition. It is, and thanks to its absolutely no filler ingredient list that includes sweet potato, oats, and pumpkin, it'll make sure that your boy is always ready and raring to go.
Backed By Science – Made to a veterinary recipe, Wild earth uses science and a brain-bursting knowledge of nutrition to deliver everything that your boy needs to stay healthy and happy.
No More Tummy Trouble – It's been formulated to ensure that hounds with even the most sensitive stomachs can fully absorb all the protein and nutrition that Wild Earth contains.
Cons
Cost Per Pound – There's no way of breaking this news gently, so we're just going to come right out and say it. It's far from cheap and will deliver the sort of financial knock-out blow that'll leave most people on their knees. Who knew that saving the planet and staying healthy would be so expensive?
Wild Earth Healthy High-Protein Formula Dry Dog Food with No Filler Ingredients, Veterinarian-Developed Vegan Pet Food for All Adult Dog Breeds (4-Pound Bag)
CLEAN PLANT PROTEIN: Plant based dog food made with high quality, sustainable plant proteins that offer more protein by weight than traditional dog foods
COMPLETE NUTRITION: This kibble has no fillers - just real ingredients like chickpeas, oats, spinach, pumpkin, sweet potato and more for a junk-free, holistic and nutritious canine diet
VETERINARY RECIPE: Backed by science, this healthy dog food formula provides a complete diet for any adult dog
TOTAL BODY BENEFITS: This formula is perfect for pups with sensitive stomachs and allergies. It provides optimal digestive support, healthy fats for skin and coat, and includes DHA, Taurine, and...
SUSTAINABLY SOURCED: With every bag of Wild Earth, you help reduce the impact of the pet food industry; Our food requires less water and emits less CO2 than meat-based kibble!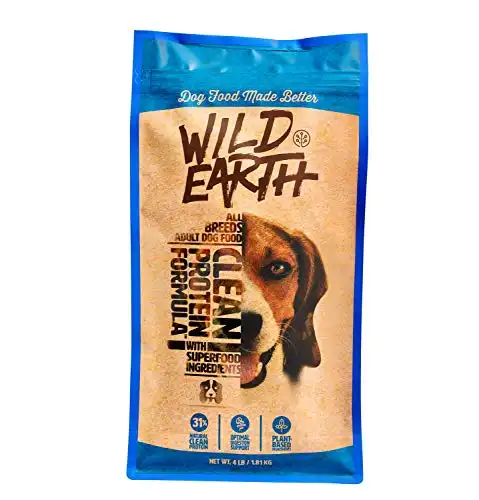 We earn a commission if you make a purchase, at no additional cost to you.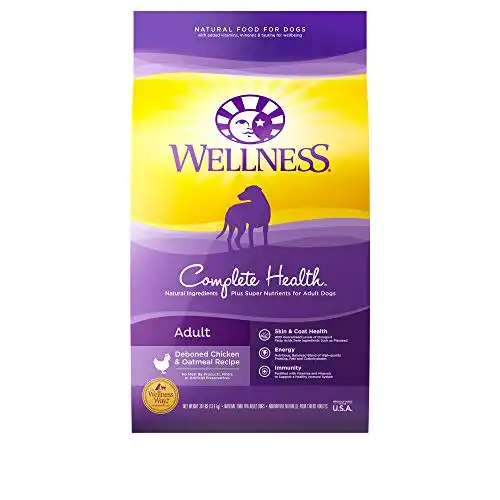 Wellness believes that the right food should be nutritious and delicious and should help pets to be healthy and happy.
That's why their Complete Health Natural Dry Dog Food has been created with carefully chosen, authentic ingredients to ensure that your boy stays healthy and happy at every stage of his life.
Made with chicken, blueberries, flaxseed, and spinach, the high-quality proteins and wholesome grains that Wellness uses have been balanced in order to deliver a complete diet that your dog needs to thrive.
Made in America, Wellness doesn't use bulking or packing agents or artificial preservatives and every single ingredient in their food is one hundred percent natural.
Every morsel and bite of the food that Wellness prepares is cooked in their state of the art facility and all of their recipes are formulated using non-GMO products to make sure that all of their food is completely natural and nutritious.
Wellness has one hundred years of experience under their collective pet food belt and they use each and every second of it to ensure that all of their recipes are made with the wellbeing of your best friend in mind.
Pros
Skin And Coat – Contains Omega 3 and 6 fatty acids and vitamins and minerals to help to keep your dogs skin and coat healthy.
Energy – Wellness uses a nutritious blend of select fats, high-quality proteins, and carbohydrates to provide all of the energy that your Australian Shepherd needs to live their best life.
Immunity – It's packed full of vitamin A and E which your dog needs to help to support his immune system and stay healthy.
Digestion – Chicory root extract, healthy fiber, prebiotics, and probiotics are combined in Wellnesses food to support healthy digestion.
Cons
Recipe Change – A few long-time devotees who swear by Wellness have reported that their dogs have suddenly started turning their noses up at it, and it seems that the brand has recently changed the recipe. It might be worth asking your veterinarian about it before committing your Australian Shepherd to a full-time Wellness diet.
Wellness Complete Health Natural Dry Dog Food, Chicken & Oatmeal, 30-Pound Bag
ADULT DRY DOG FOOD: Nutritionally dense crunchy kibble with ingredients such as chicken and oatmeal for whole body health
ALL NATURAL: Created by nutritionists, veterinarians and animal lovers, our recipes provide an ideal balance of nature's finest ingredients, carefully selected to nourish and sustain your dog's...
SUPPORTS DIGESTIVE HEALTH & HEALTHY COAT: Supported by antioxidants for strong immune systems; vitamins for healthy eyes & teeth, glucosamine for strong joints; omega fatty acids ensure healthy skin &...
NO CORN, WHEAT, OR SOY: Adult dry dog food doesn't contain poultry by-products, wheat, wheat gluten, corn, soy, artificial colors, or preservatives
MADE IN USA: Using only the finest globally sourced ingredients we prepare each of our diets in our own state of the art facility; these recipes are crafted with wholesome non-GMO ingredients chosen...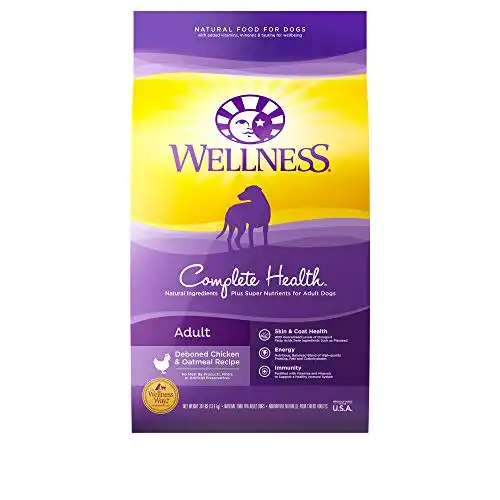 We earn a commission if you make a purchase, at no additional cost to you.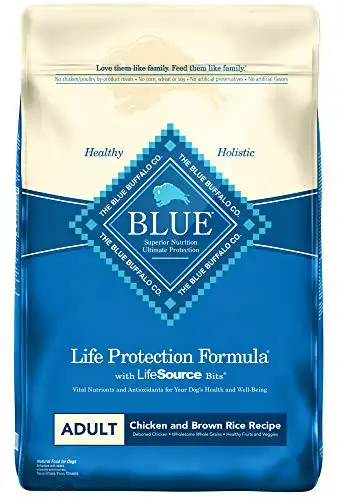 Blue Buffalo was born from one family's love for their little terrier, Blue.
They wanted to ensure that his life would be filled with joy and created a natural dog food that would enable their sickly little pup to do that, and the recipe that they designed for Blue became the foundation of a brand that was born to help dogs everywhere to enjoy life to its fullest.
The first ingredient in every Blue Buffalo recipe is real meat, and in Life Protection that meat is fresh, farm-raised chicken that promotes and encourages the development and maintenance of the lean muscles that your Australian Shepherd needs to run, jump and leap through their way through life.
A natural dry dog food, Life Protection is made with the finest ingredients and enhanced with vitamins and minerals, and contains no corn, wheat, soy, artificial preservatives, or minerals.
Blue Buffalo's True Blue Promise means that they will never use substandard ingredients or deviate from the path that a little dog named Blue set on them so long ago.
As far as Blue Buffalo is concerned, a promise is a promise and the one they made to Blue, to always put the health and wellbeing of dogs before profit, is one that they continue to, and always will abide by.
Pros
Protein First – All Blue Buffalo recipes are centered around real meat. It's the first ingredient that they use, and it's always ethically sourced.
Life Protection Formula – Blue Life Protection contains essential proteins and carbohydrates to meet the energy needs of adult dogs and includes Omega 3 and 6 fatty acids to help your boy to maintain a shiny coat and healthy skin.
LifeSource Bits – This formula also contains Blue's exclusive LifeSource Bits which are a precise blend of vitamins, minerals, and antioxidants that have been carefully selected by nutritionists and veterinarians to support your boy's immune system and digestion at every stage of his life.
Cons
Storage – It's meant to be fresh, so always check the date on any bag that you get and if it isn't in date, return it. Out of date food has led to some dogs developing dietary distress and becoming ill after consuming it. So remember, before you put down the bowl always make sure that the food isn't too old.
Blue Buffalo Life Protection Formula Natural Adult Dry Dog Food, Chicken and Brown Rice 30-lb
REAL MEAT FIRST: Blue Buffalo foods always feature real meat as the first ingredient; High-quality protein from real chicken helps your dog build and maintain healthy muscles; Plus they contain...
FOR ADULT DOGS: BLUE Life Protection Formula adult dog food contains essential proteins and carbohydrates to help meet the energy needs of adult dogs, and features omega 3 & 6 fatty acids to promote a...
ANTIOXIDANT-RICH LIFESOURCE BITS: A precise blend of antioxidants, vitamins and minerals carefully selected by holistic veterinarians and animal nutritionists to support immune system health, life...
A NATURAL DOG FOOD: BLUE dry dog food is made with the finest natural ingredients enhanced with vitamins and minerals; BLUE contains NO chicken (or poultry) by-product meals, corn, wheat, soy,...
Contains one (1) 30 lb. Bag of BLUE Life Protection Formula Adult Dry Dog Food, Chicken and Brown Rice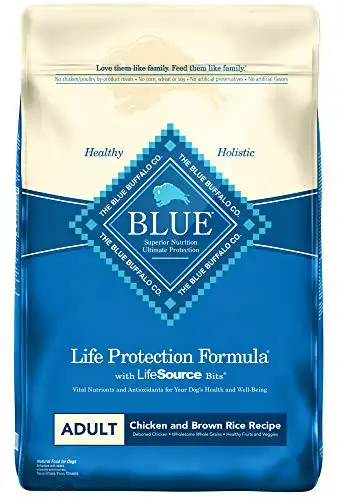 We earn a commission if you make a purchase, at no additional cost to you.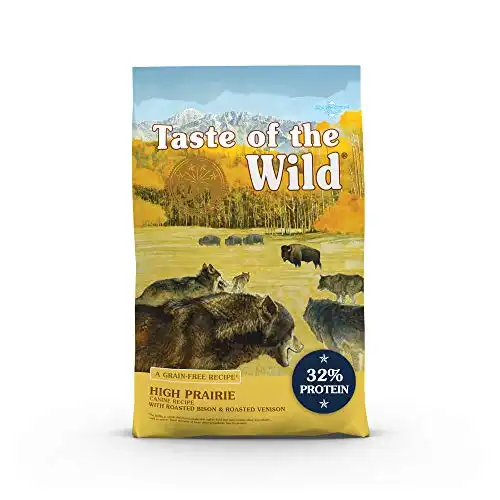 Designed to replicate the natural diet that your Australian Shepherd would follow and stick to if he was roaming the plains, Taste of The Wild uses different and highly flavorsome protein sources to make sure that your boy will keep coming back for bowl after bowl of this natural dog food.
Made to appeal to your Shepherd's ancient wolf DNA, Taste of the Wild uses proprietary strain K9 probiotics that are added to their food after the cooking process to ensure that your boy benefits from all of the proteins and nutrients that the food contains.
Prairie Canine is composed of one-third protein (which comes directly from the prairies raised bison and venison) that's combined with healthy legumes and vegetables to create a perfectly balanced natural dog food.
Taste of the Wild prides itself on following in nature's footsteps and making the sort of food that your dog's ancestors would have happily and readily consumed – albeit in a form that's a little friendlier to modern aesthetics and beliefs.
It's tasty, natural, and made to make sure that your best friend lives a long, happy, and enjoyable life and that you get to spend all of it with him.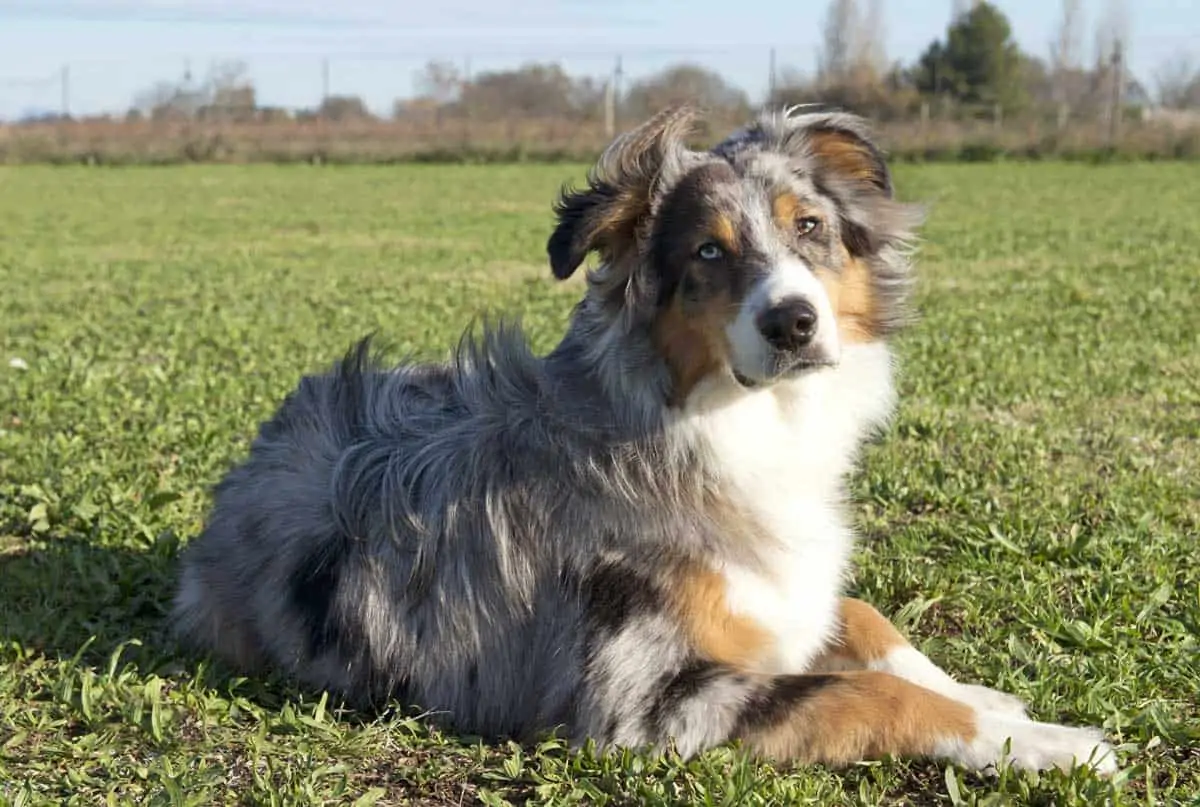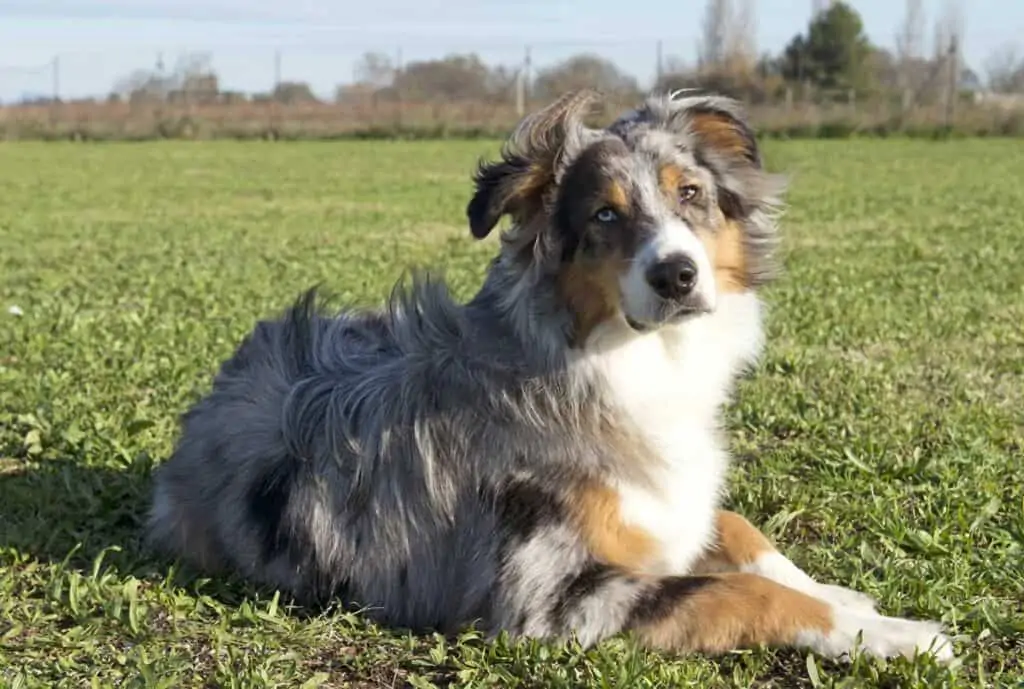 Pros
Protein Rich – Thirty-two percent of this dry dog food comes directly from meat, in this case, prairie raised buffalo and venison, and all that high-quality protein ensures that your dog's lean muscles will always be in prime condition and ready to help him to spring into action.
Trust Is Everything – All of the ingredients that Taste of the Wild use come from ethically produced, sustainable sources that they trust implicitly. They can trace all of their ingredients back to the source, and don't use any grain, corn, wheat, or artificial colors or preservatives in their food.
Family Owned – Taste of the Wild is a family-owned business that makes one hundred percent of its food in the United States. And if you have any questions for them about their food before feeding your boy with it, they're always ready to talk and are happy to answer any questions that you might have.
Superfoods – Taste of the Wild also uses vegetables as an additional superfood, and adds their blend of probiotics, vitamins, and minerals to their food after its finished cooking in order to ensure that your boy benefits from all of the nutrients and proteins and gets everything that he needs to thrive from a bowl of Prairie Canine.
Cons
Health And Wellbeing – There was a disputed FDA study that linked Taste of the Wild to coronary problems in dogs. While the jury is still out regarding its validity, you might find it useful to talk to either Taste of the Wild or your veterinarian before wholeheartedly committing yourself and your Australian Shepherd to a Prairie based diet.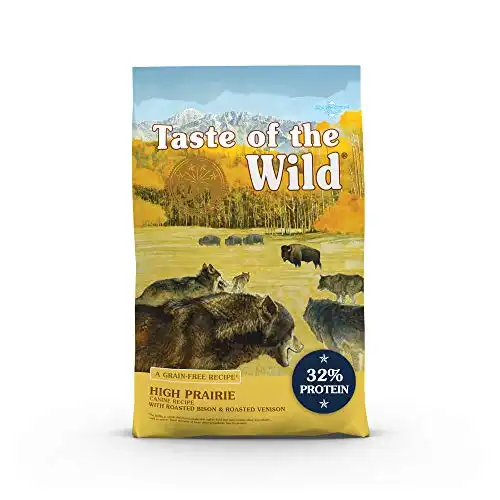 We earn a commission if you make a purchase, at no additional cost to you.
Best Dog Food for Australian Shepherds Buyer's Guide
What Is The Best Dog Food For My Australian Shepherd?
While all of the foods that we've mentioned on our list are a perfect way to feed any Australian Shepherd, the question that you need to ask yourself before committing to any brand, is "What is my budget?"
As with all things in life, some of the brands cost a lot more than the others and knowing exactly what your budget is remains the best way to help you determine which brand is the right one for your Shepherd.
Once you've set your budget, take another look at the list and make your choice based on the limitations of your pocketbook rather than what your heart tells you.
However, if you wanted our advice, and want to feed your Shepherd the same food that we've been feeding ours since he was a puppy, then we'd always recommend that you fill your best friend's bowl full of Taste of the Wild.
Regardless of what the studies say about the FDA, our boy loves the taste of the prairie and we wouldn't dream of feeding him on anything else.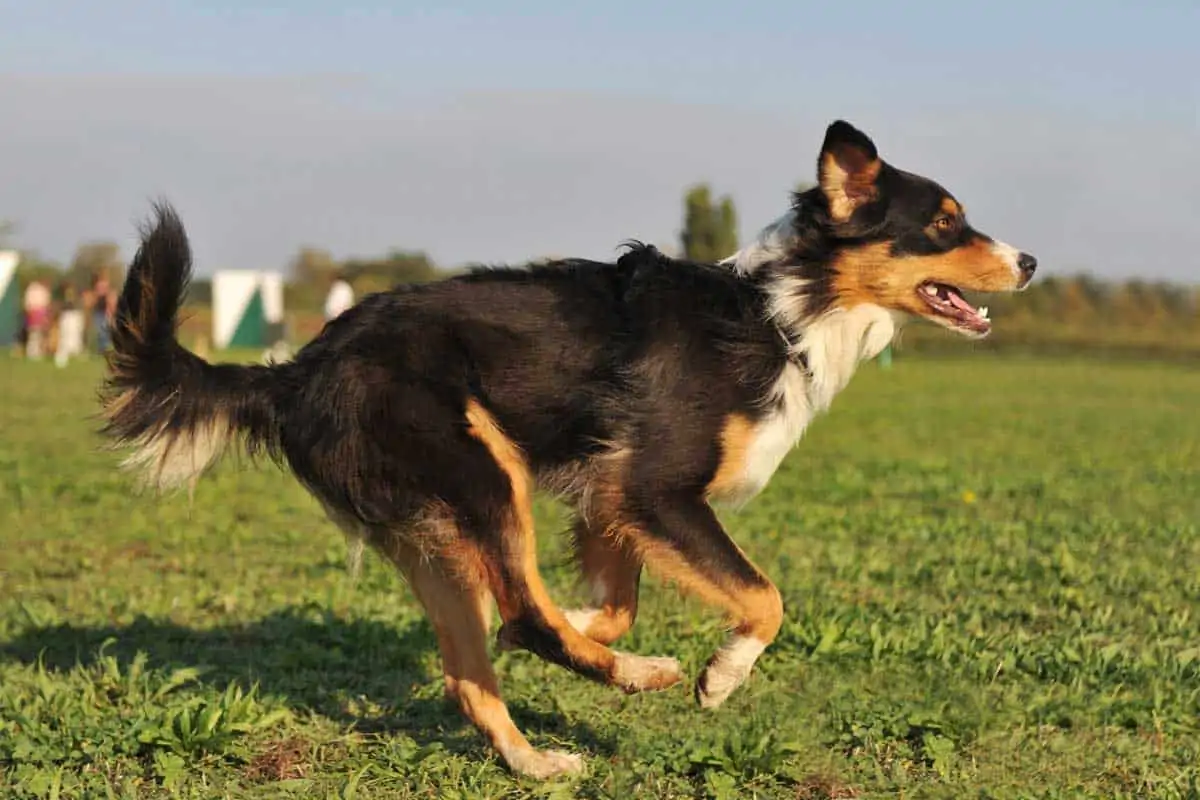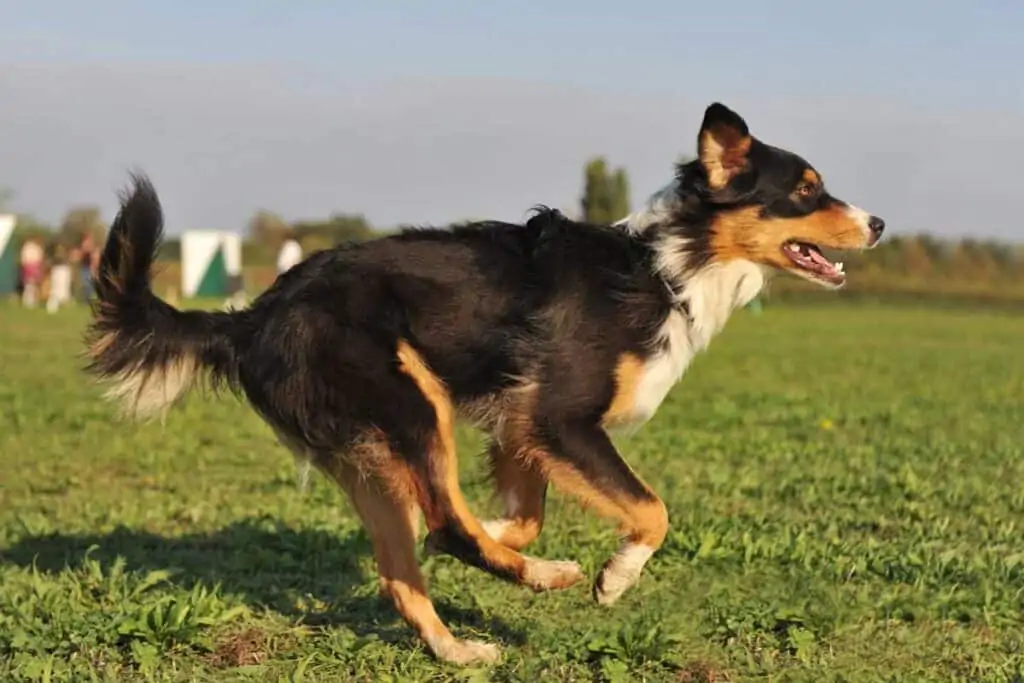 Frequently Asked Questions
What Is An Australian Shepherd?
The Australian Shepherd (or 'Aussie' as it's sometimes known), contrary to popular belief is an American medium-sized breed of dog that became a popular choice of working dog and family pet during the early twentieth century.
Favored by ranchers, Shepherds first stole the hearts and minds of dog lovers all over the country when they started appearing in rodeos and Disney movies and slowly became, and to this day remain, one of America's most popular breeds of domestic canine.
Known for their intelligence, devotion, and intense loyalty to their families, the Aussie is also referred to as being a Velcro dog due to their tendency to always want to be close to their owners (just like the clingy Cockapoo hybrid breed).
Easy to train, the Aussie loves to play and needs constant stimulation and a thorough exercise regime, and has been known, if it's left up to its own devices, to make up its own games, none of which are designed to, or end up, finding favor with their owners.