5 Best Dog Shampoo for Golden Retriever (2023)
Golden retrievers are known for their friendly demeanor, beautiful golden coat, and love for swimming and playing outdoors. This means they often require a good bath to keep them clean, healthy, and smelling fresh.
Using the right dog shampoo is essential for maintaining your golden retriever's luxurious coat while also taking care of their sensitive skin.
Like humans, dogs have varying skin types and conditions that require different kinds of grooming products.
To ensure your golden retriever receives an optimal clean without causing skin irritation or further problems, it's vital to choose a shampoo specifically designed for their needs. When selecting a shampoo for your golden retriever, consider factors such as ingredients, pH balance, scent, and potential allergens.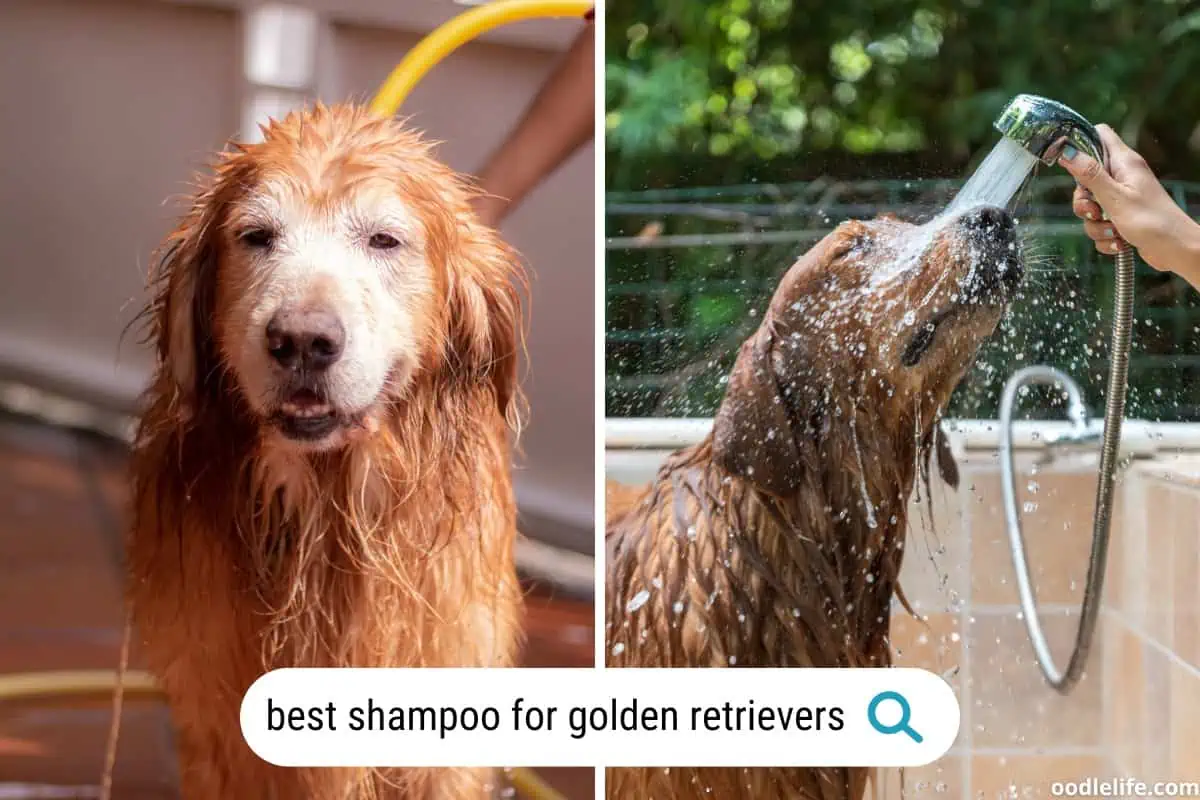 A good dog shampoo should contain gentle, natural ingredients that soothe and nourish your pet's skin while providing a thorough clean. Avoid shampoos that contain harsh chemicals, artificial fragrances, or unnecessary additives, as these can cause irritation or exacerbate existing skin conditions.
After considering all these factors, we put together a list of the best dog shampoos for golden retrievers. These shampoos have been carefully tested and researched to ensure they meet the needs of your beloved pet, making bath time easy and enjoyable for both of you.
Best Dog Shampoos for Golden Retrievers
To keep your Golden Retriever's coat healthy and vibrant, we have curated a list of the top dog shampoos for you. Check out the recommended products below to find the perfect match for your furry friend's grooming needs.
OodleLife Dog Shampoo and Conditioner
OODLELIFE Soothing Shampoo and Conditioner Aloe Oatmeal + Coconut
Refreshes & Soothes: Like a comforting belly rub, it cleanses, conditions, detangles, and moisturizes - dog itching skin relief
USA-Made: A top-quality, homegrown product for your furry friend.
Soft coats - Safe, non-irritating, natural ingredients that nourish your dog's coat. Dog bathing made easy with our oatmeal dog shampoo for allergies and itching.
Eco-Friendly, Pure Formula: Only the good stuff, none of the bad.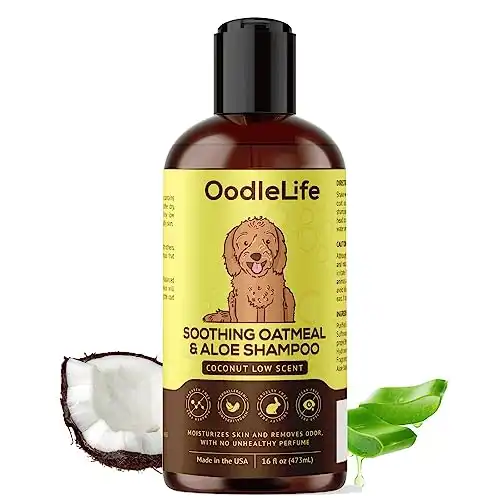 We earn a commission if you make a purchase, at no additional cost to you.
This OodleLife Dog Shampoo and Conditioner is an excellent choice for Golden Retrievers, offering a soothing and nourishing experience during bath time.
Pros
Refreshing and soothing – perfect for sensitive skin
Made in the USA
Eco-friendly, pure formula
Cons
Sulfite-free; some users may prefer other allergen-free alternatives
Targets one species – dogs
Limited package size (16 fl oz)
Starting with its effective, gentle formulation, this OodleLife Dog Shampoo and Conditioner makes bathing your Golden Retriever a breeze. It combines aloe, oatmeal, and coconut to create a gentle, natural cleanser that not only pampers your dog's coat but also relieves itchiness. You'll notice how it smooths out tangles and moisturizes the skin.
Another upside to this product is that it is manufactured and thoroughly tested in the United States, ensuring a homegrown solution for your beloved pet. The brand is committed to quality and uses only safe, non-irritating ingredients to make sure your furry friend's bathing experience is pleasant.
The environment is also a priority for OodleLife, which is why this product has an eco-friendly and pure formula. There are no perfumes, dyes, drying alcohols, or parabens, just pure goodness for your dog. You can be assured that not only is it beneficial for your Golden Retriever, but it's also ethical and better for the planet.
On the downside, the shampoo's allergen information states that it is sulfite-free, which is excellent for sensitive dogs. However, some pet owners may prefer a product that eliminates a broader range of allergens. Additionally, the shampoo specifically targets dogs as a species, meaning it might not be as versatile for multi-pet households. Lastly, the shampoo comes in a 16 fl oz packaging, which may be limiting for those seeking more options in size.
In conclusion, if you're looking for a gentle, nourishing shampoo specifically for your Golden Retriever, OodleLife Dog Shampoo and Conditioner is a fantastic choice. Its eco-friendly, soothing formula ensures a pleasant bath time experience for your dog while promoting a healthy, itch-free coat.
Nootie – Pet Shampoo for Sensitive Skin
Nootie - Pet Shampoo for Sensitive Skin - Revitalizes Dry Skin & Coat
NEW: Leak proof packaging
JAPANESE CHERRY BLOSSOM DOG & CAT SHAMPOO, REJUVENATING WITH ROSEMARY EXTRACT, REVITALIZES DRY SKIN & COAT- Safe for pets over 8 weeks old
IMPROVES SKIN & COAT WITH ONE WASH.
LONG LASTING FRAGRANCE
FORMULATED FOR VETERINARIANS - Nootie is sold in over 5,000 vet clinics and 4,000 pet stores worldwide. Our formulator has over 40 years of experience.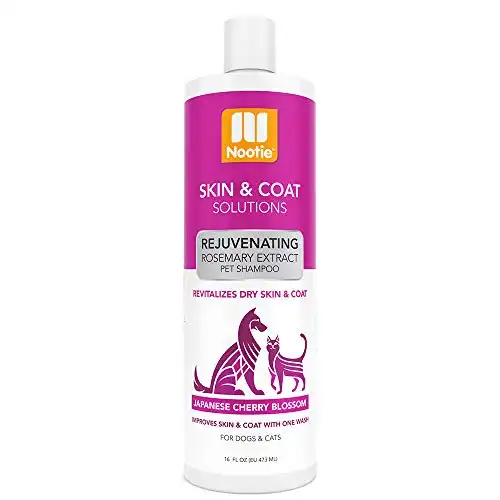 We earn a commission if you make a purchase, at no additional cost to you.
Nootie's Pet Shampoo for Sensitive Skin rejuvenates your Golden Retriever's coat, making it an excellent choice for maintaining their health and appearance.
Pros
Rejuvenates dry skin and coat
Long-lasting Japanese Cherry Blossom fragrance
Soap-free formula with no harsh chemicals
Cons
Fragrance may not last as long as desired
Available in a 16 oz size, may need to purchase more often
Nootie's Pet Shampoo not only improves your Golden Retriever's coat condition with just one wash, but it also leaves a delightful Japanese Cherry Blossom fragrance that lingers. You'll appreciate the fact that it's free from parabens, sulfates, and soaps, making it a suitable solution for pets with sensitive skin.
The shampoo is backed by over 2,000 positive reviews and a high-star rating, proving its effectiveness in the pet care community. Moreover, its cruelty-free and vegan-friendly formulation speaks to the brand's commitment to a sustainable approach to pet care.
However, it is essential to be aware of the potential cons of the product: the price may increase according to some customers, and the long-lasting fragrance may not be as long-lasting as expected. Additionally, the 16 oz bottle size might not be enough for larger dogs or more frequent bathing, leading you to purchase more frequently.
In conclusion, Nootie's Pet Shampoo for Sensitive Skin is an excellent investment in your Golden Retriever's coat and skincare. Its revitalizing effects, long-lasting fragrance, and gentle formulation make it a top choice for maintaining your pet's overall health and appearance.
HONEYDEW Cleansing Dog Shampoo
Lavender Scent
Cleansing Dog Shampoo for Smelly Dogs - Refreshing Lavender Scent
Dog Shampoo - Try our popular dog shampoo formulas handcrafted to cleanse and moisturize dry skin and fur for a pet shampoo for dogs
Deodorizing Dog Shampoo - You can trust our dog body wash and oatmeal shampoo for dogs for a pet deodorizer that removes dirt and odors thanks to potent lavender oil for dogs in our dog odor shampoo
Big and Small Dog Wash - Whether looking for a puppy shampoo for small dogs or a gentle dog cleaner for older dogs we got you covered with our versatile oatmeal lavender dog shampoo for all dogs
We earn a commission if you make a purchase, at no additional cost to you.
This dog shampoo is a solid choice for keeping your Golden Retriever clean and smelling fresh with its moisturizing and deodorizing properties.
Pros
Effective cleansing and moisturizing formula
Pleasant lavender scent
Suitable for all dog sizes and ages
Cons
Scent may not last as long as desired
Might not eliminate strong odors completely
Some dogs may have an allergic reaction
As a Golden Retriever owner, you know that finding the right shampoo is crucial for maintaining your furry friend's beautiful coat and overall health. The HONEYDEW Cleansing Dog Shampoo is a popular option that boasts a gentle, oatmeal-based formula, making it an excellent choice for dogs with dry skin. It also contains lavender essential oil, which helps to combat unpleasant doggy odors.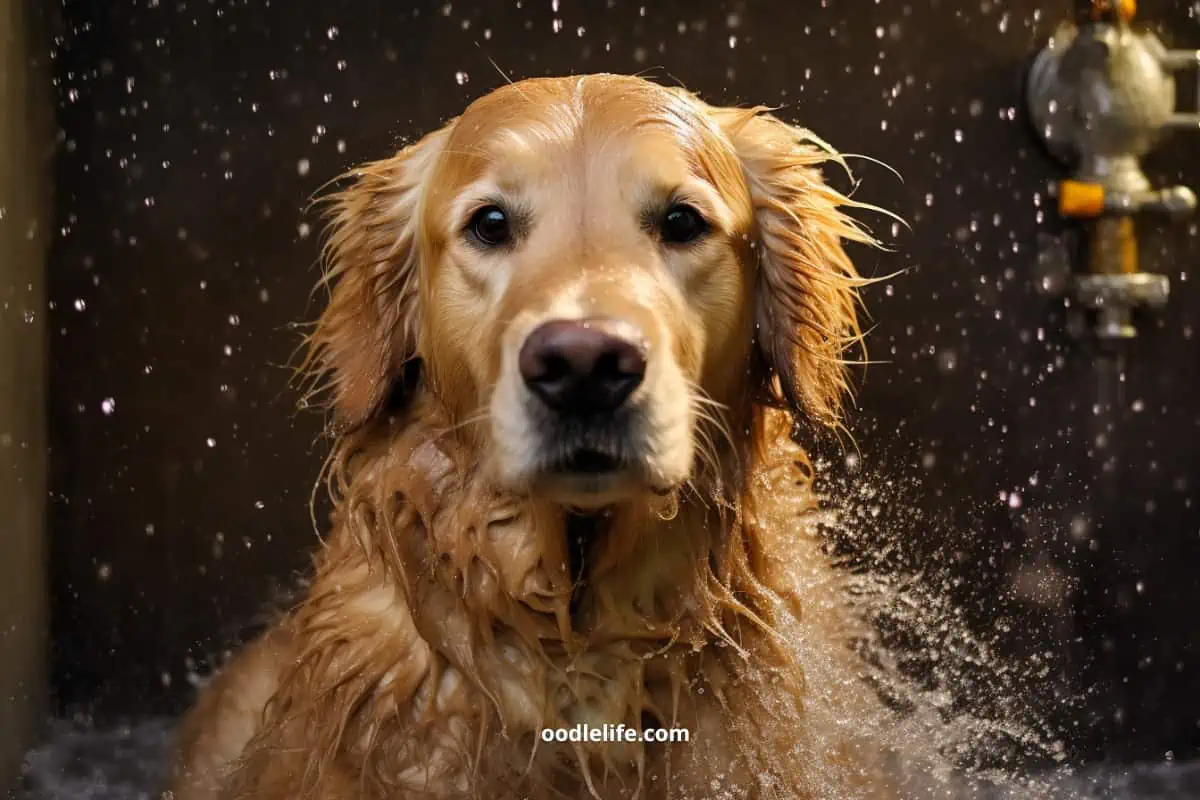 When using the HONEYDEW shampoo, you'll appreciate how easily it lathers up and cleans your dog's fur. Its gentle nature allows you to even wash around their ears without causing irritation. The shampoo leaves your dog's coat feeling soft, shiny, and refreshed. One downside to consider is that the pleasant lavender scent might not last more than a day, so if you're seeking a long-lasting fragrance, this product might not be the perfect fit.
Despite the minor drawbacks, many users are happy with HONEYDEW Cleansing Dog Shampoo as their go-to dog grooming product. Its moisturizing and deodorizing properties make it suitable for Golden Retrievers, helping to keep them clean and comfortable. Overall, this shampoo is a reliable option for maintaining your dog's hygiene while also leaving their coat looking great.
PetAg Fresh 'n Clean Scented Dog Shampoo
Classic scent
PetAg Fresh 'n Clean Scented Dog Shampoo - Classic Fresh Scent
Soothing Agents: Aloe vera leaf juice and vitamin E gently clean the hair and lock in moisturizer
Cleansing Shampoo for Dogs: Provides a fresh, soft, and shiny coat while strengthening and repairing hair
Doggie Odor Control: Has a long-lasting classic fresh scent that clings to hair for up to 2 weeks
Ready-To-Use Formula: Keep pets smelling fresh and clean between baths or trips to the groomer with this shampoo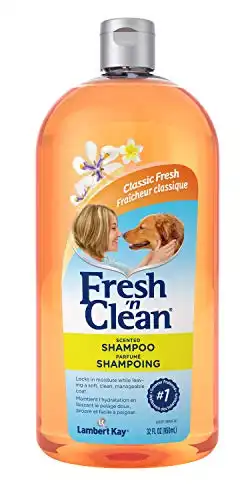 We earn a commission if you make a purchase, at no additional cost to you.
The PetAg Fresh 'n Clean Scented Dog Shampoo is a top choice for golden retrievers due to its soothing ingredients and odor control.
Pros
Contains aloe vera and vitamin E for gentle cleansing
Strengthens and repairs hair for a soft, shiny coat
Long-lasting fresh scent for up to 2 weeks
Cons
Scent might be too strong for some dogs
Possibility it may not lather as well as other shampoos
May require more product for larger breeds
Upon using the PetAg Fresh 'n Clean Scented Dog Shampoo on your golden retriever, you'll quickly notice the effectiveness of its soothing agents, like aloe vera leaf juice and vitamin E. These ingredients not only clean their hair but also lock in moisture, resulting in a fresh and healthy coat.
In addition to gentle cleansing, this shampoo offers a pleasant, long-lasting scent that clings to your dog's hair for up to two weeks. You no longer have to worry about unexpected odors when friends and family come to visit. With the ready-to-use formula, maintaining your golden retriever's hygiene between baths or groomer trips is now a breeze.
PetAg's commitment to delivering top-quality products for dog owners shines through in this shampoo. However, it's important to note that some dogs may be sensitive to the strong scent, or you might find that it requires a bit more product for larger breeds. Nevertheless, with its numerous benefits, the PetAg Fresh 'n Clean Scented Dog Shampoo is an excellent grooming option for your golden retriever, ensuring a soft, shiny, and fresh-smelling coat for weeks.
Wahl Odor Control Shampoo for Dogs & Pets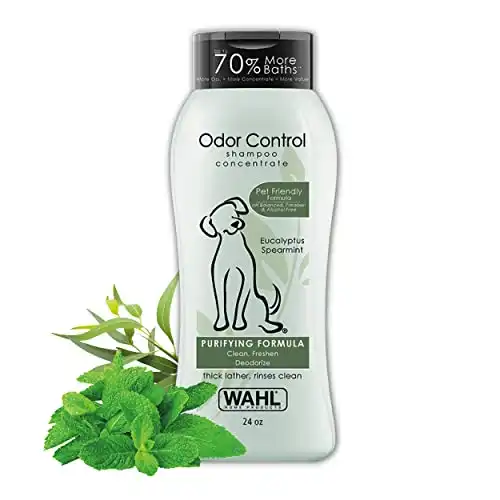 We earn a commission if you make a purchase, at no additional cost to you.
A great shampoo choice for deep cleaning and deodorizing your golden retriever's coat while conditioning their skin.
Pros
Concentrated formula for more baths
Eucalyptus & spearmint scent for odor control
Alcohol-free, paraben-free, and pH balanced
Cons
Scent may be too mild for some preferences
Not specifically designed for golden retrievers
May not be as effective for persistent odors
After using the Wahl Odor Control Shampoo, your golden retriever will feel refreshed and clean. The eucalyptus and spearmint scent not only smells great but also helps deodorize and remove dirt from your dog's coat, leaving it looking shiny and smooth. It's concentrated, so you can expect more baths per bottle compared to other leading brands.
As you lather up your furry friend, you'll notice that the shampoo creates a thick lather that's easy to rinse off. Your dog's coat will feel conditioned, and their skin won't feel dry or irritated after the bath. Wahl prioritizes plant-derived ingredients in their formula, making it a more natural and safer option for both you and your golden retriever.
However, keep in mind that this shampoo may not be suitable for persistent odor issues. While it works well for normal grooming needs, it may not be as effective for dogs with especially strong odors. Additionally, the scent may be too mild for those who prefer a stronger odor-fighting fragrance.
In conclusion, the Wahl Odor Control Shampoo is a great investment for regular grooming and maintenance of your golden retriever's coat and skin. Its concentrated formula and pleasant scent make it a good choice for keeping your dog clean, refreshed, and smelling great.
Buying Guide
When choosing the best dog shampoo for your Golden Retriever, it's important to consider several factors to ensure the health and well-being of your pet. In this buying guide, we'll discuss the key features to look for in a dog shampoo.
First, consider the shampoo's ingredients. Look for natural and gentle ingredients, such as aloe vera, chamomile, and oatmeal, which can provide soothing effects for your dog's skin. Avoid harsh chemicals, such as sulfates, parabens, and artificial fragrances, which can cause irritation and skin issues.
Ingredients to look for:
Aloe vera
Chamomile
Oatmeal
Ingredients to avoid:
Sulfates
Parabens
Artificial fragrances
Next, consider the shampoo's primary function. There are different types of dog shampoos, including:
General purpose: For regular grooming and cleaning
Medicated: For addressing specific skin conditions or allergies
Flea and tick: For preventing and treating infestations
Odor control: For neutralizing and eliminating unpleasant smells
Choose a shampoo based on your dog's specific needs and consult with your veterinarian if you have concerns about skin conditions or allergies.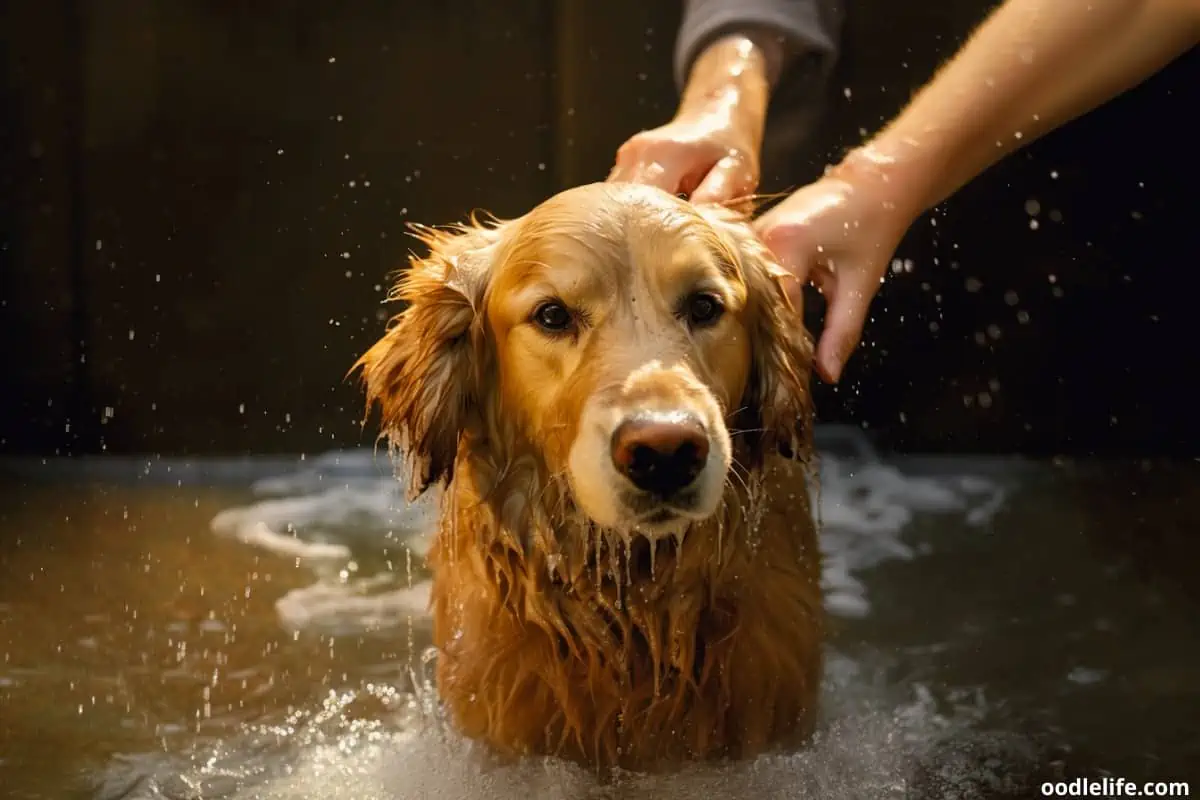 Lastly, take note of the shampoo's lather and rinse-ability. A shampoo that lathers and rinses easily will make the bathing experience more pleasant for both you and your dog. Additionally, this will minimize the chances of shampoo residue being left behind, which can cause skin irritation.
Keep these factors in mind when choosing a dog shampoo for your Golden Retriever, and you're sure to find a suitable product that meets their needs.