Can a Dog SLEEP With a Cone On? (Safety)
It's bad enough when your dog has surgery or an injury, and you watch them struggle to wear a cone throughout the day. So, it's likely got you wondering—can a dog sleep with a cone on, or can you take it off at night?
The short answer is that yes, dogs can sleep with a cone on. In fact, you'll be doing a disservice to them by taking it off rather than letting them adjust to what might initially be an uncomfortable sleep experience.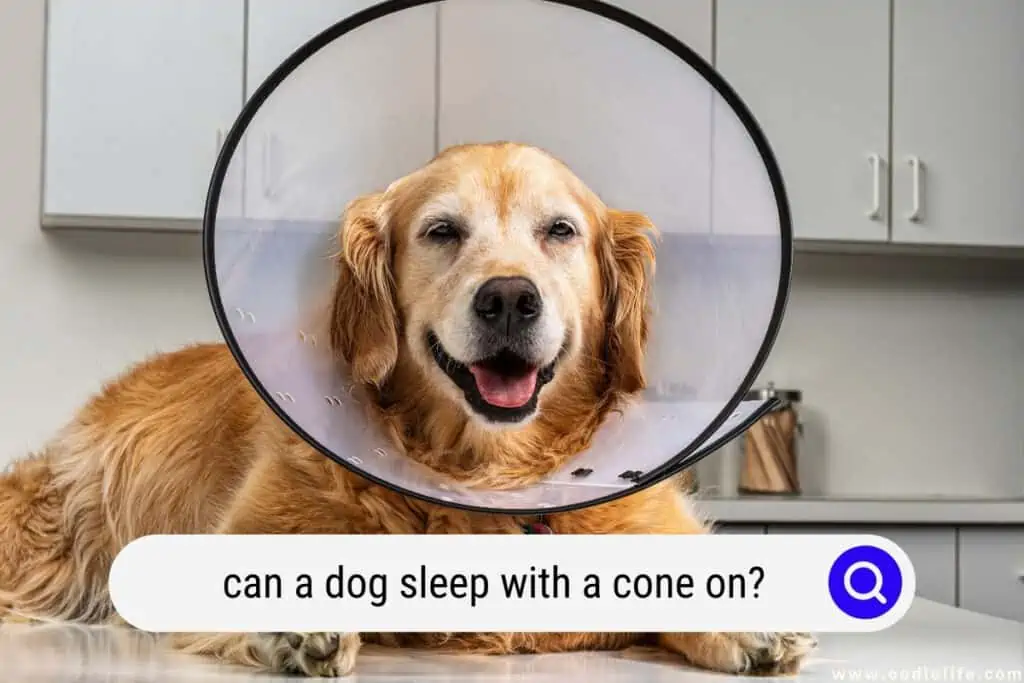 I've had my fair share of experiences using cones—and alternatives—on my dogs and will help you understand the ins and outs of their importance and your options.
Why It's Important to Leave Your Dog's Cone On?
Cones are a physical barrier to prevent your dog from licking, scratching, chewing, and otherwise harming a wound that needs healing. Veterinarians will commonly prescribe these cones after surgery, but they're also helpful for injuries and skin conditions on your dog that need healing.
You might be wondering—isn't a dog's saliva supposed to have healing powers?
Technically, yes. But it's usually not enough for surgeries and large wounds, especially when you compare its effectiveness to modern medicine.
The belief that dog saliva can heal wounds dates back to the ancient Egyptians, who encouraged dogs to lick human wounds to help them heal. It turns out they were on to something.
Studies show that a dog's saliva contains antimicrobial enzymes that can offer healing properties because it reduces the risk of infection. Nevertheless, not all wounds are the same, as licking can irritate some, causing inflammation and unwanted moisture.
So, you're better off leaving the antimicrobial job to the medicine your veterinarian gives you and keeping your dog's cone on 24/7, including when they sleep. The more diligent you are about leaving your dog's cone on, the faster you'll likely be able to remove it permanently.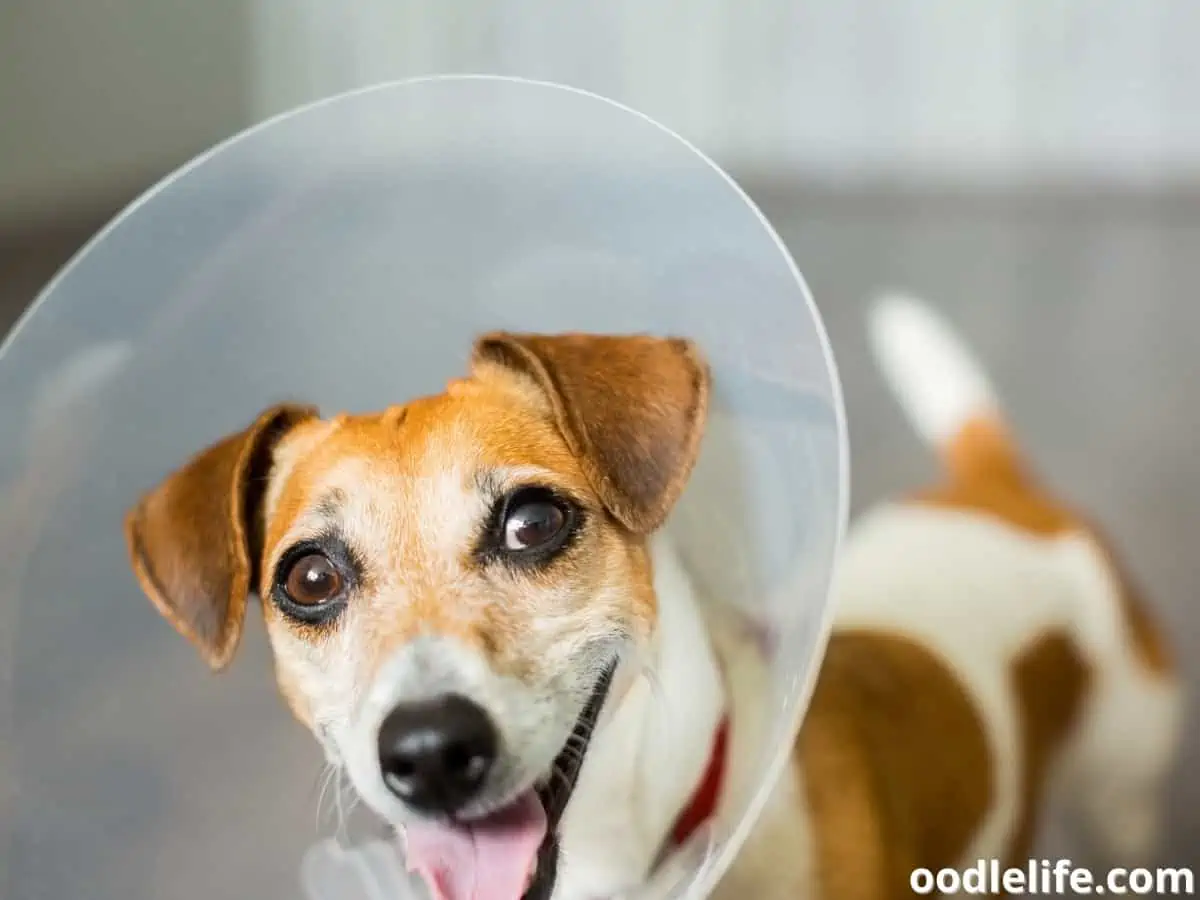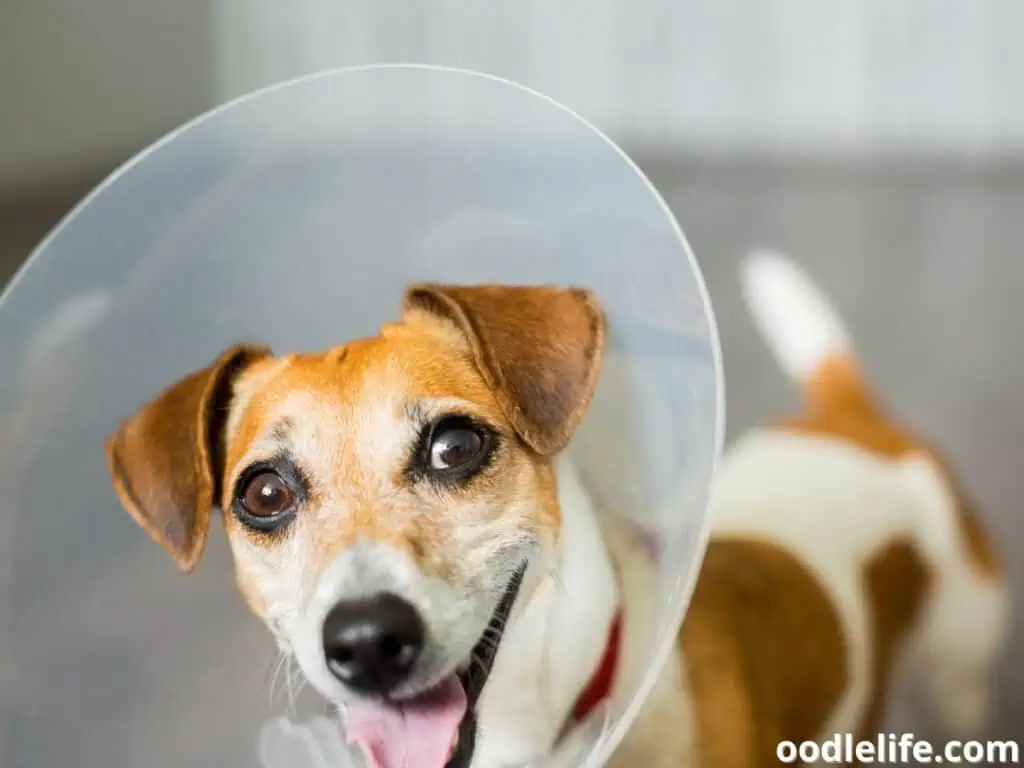 Other Names for the Cone
Most people recognize the name cone in the context of dog health. However, the technical name for this traditional rugged plastic device that circles a dog's head is the Elizabethan Collar.
You may also hear veterinarians refer to cones as E-Collars.
That said, cones have had makeovers in recent years, so I'll soon introduce you to alternative options that could help your dog sleep better.
Tips for Keeping Your Dog Comfortable Sleeping With a Cone
It may not surprise you that dogs need more sleep than humans. Adult dogs require anywhere from 8 – 13.5 hours of sleep per day, with the average dog needing around 11 hours. Senior dogs need even more rest.
So, now that you know the answer to "Can a dog sleep with a cone on?" is yes, let's explore what you can do to help your dog sleep more comfortably.
1. Offer a Larger Sleeping Space
It's hard to believe a piece of plastic can take up so much room until you put a cone on your dog. One of the reasons why it can be uncomfortable for them to sleep with it is because they might not be able to fit in their crate or curl up in their favorite bed.
So, you might need to create a makeshift bed for your dog while they're wearing their cone. Laying out a large comforter or even an old mattress, if you have one, will ensure your dog has plenty of space to rest their head with the cone.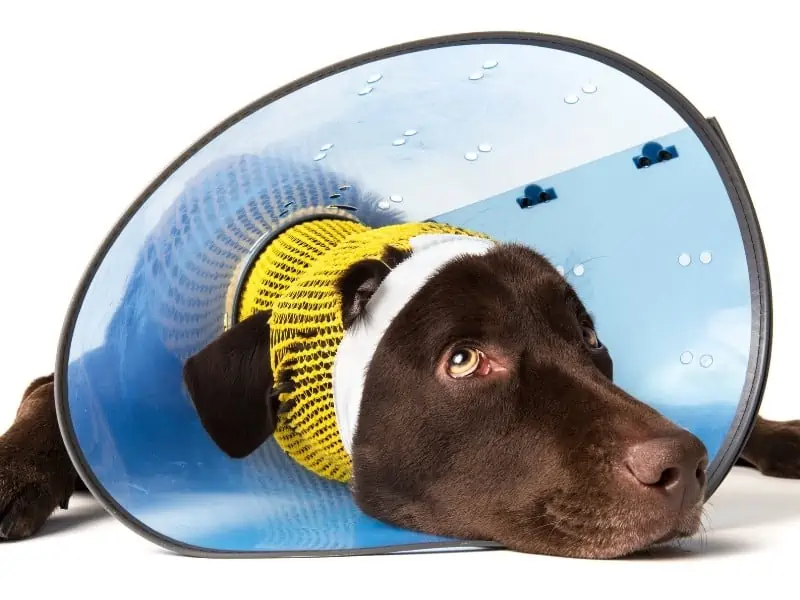 2. Work the Plastic
Plastic cones range in thickness, but they're malleable enough to form a circle around your dog's head. So, sometimes the trick to making them more comfortable for your dog when resting is softening the plastic.
You can do this by rolling and folding the cone before securing it around your dog's neck. Your dog certainly won't mind the aesthetics if it causes the cone to crease, and it can make a huge difference in comfort.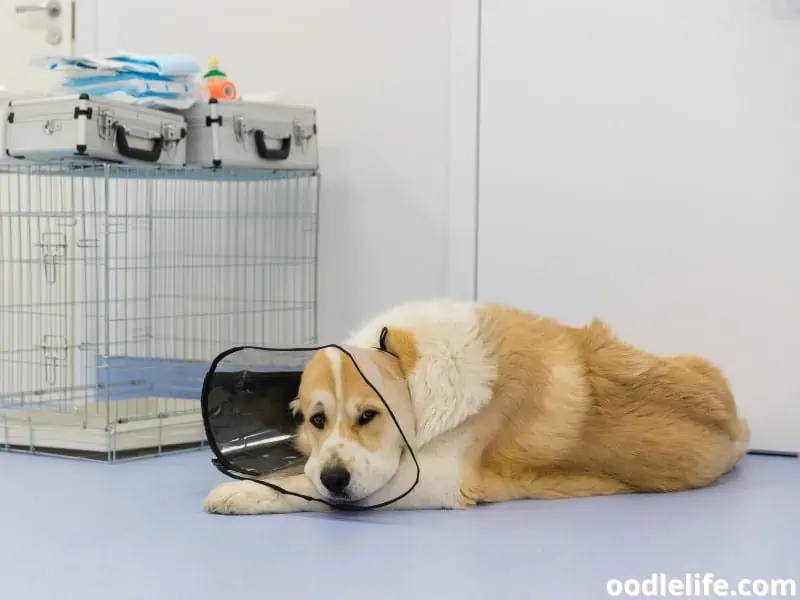 3. Offer Them a Pillow
It can be uncomfortable for your dog to lay its head flat on the ground with a cone on. So, try giving them a pillow where they can rest their head if they choose.
As with the bed, the pillow should be long enough to support your dog's head and the length of the cone.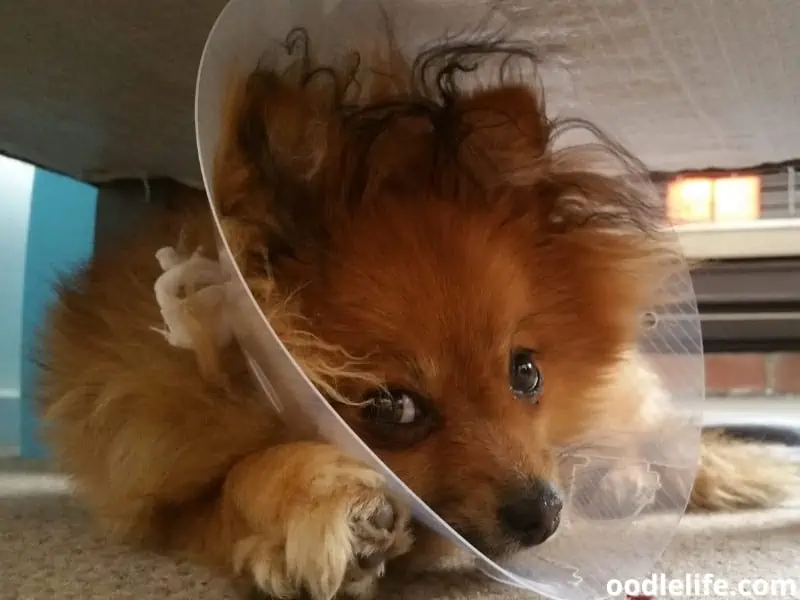 4. Check the Cone's Tightness
Striking the right balance between a cone that's tight enough so your dog can't wiggle out of it without being so tight that it chokes them when they're trying to sleep can be challenging.
To combat this problem, I recommend using the two-finger rule. If you can place two fingers under the cone, it should be tight enough to stay on while giving your dog enough room to breathe when resting. Don't be surprised if they still paw at the cone in an attempt to get it off, though (and can you blame them?).
5. Invite Your Dog Into Your Bed
Letting your dog sleep with you is entirely up to personal preference. If your dog doesn't already sleep in your bed, it could open the opportunity for canine anxiety and stubbornness when you take the cone off and want the two of you to return to your regular sleeping habits.
However, the comfort of sleeping by your side could be just the help your dog needs to sleep better with their cone.
6. Use an Alternative
Cones are understandably uncomfortable for dogs, even those with clearer plastic that allows them to see better. However, the good news is that better options are emerging that can help your dog sleep more comfortably. We'll take a look at these next.
Cone Alternatives for Sleeping
Below are some excellent alternatives to traditional cones. These cones can support your dog with a more comfortable sleep. And while I hope you won't have to use them after your dog heals, they're suitable for multiple uses if you do.
UFO Pet Recovery Collar
Your dog may look like they're from outer space with this three-ringed pillow-like cone, but it offers excellent head mobility compared to traditional cones. The UFO collar has adjustable properties so you can target where your dog can't reach.
ARRR Comfy UFO Pet Recovery Collar, Water-Resistant Soft Adjustable Protective Dog Neck Donut E-Collar for Small and Medium Dogs and Cats After Surgery Safe Alternative Cone (Grey V2, S)
[2nd Edition Renewal Upgrades] The 2nd edition recovery collar has been upgraded to allow 3 different shapes and angles in convenience of your pet's condition. You can easily adjust the shape and...
[Best Solution for Recovery] ARRR comfy UFO recovery neck collar is the perfect alternative to the typical plastic E-collars. The collar is totally customizable for you to find the perfect and safe...
[Water Resistant & Non-Stick Material] The soft recovery UFO recovery neck collar is made of waterresistant fabric, coated with strong water repellency textile which makes it much easier to manage....
[Comfortable & Adjustable] The noise-free lightweight microfiber cotton will protect your pet from getting irritated when and while wearing the collar. Also, the collar can work as a comfy cushion for...
[Size Guide] PLEASE, refer to the product's size info image located at the bottom of our product's description page before purchasing. 1) Measure your pet's length from neck to the front paws...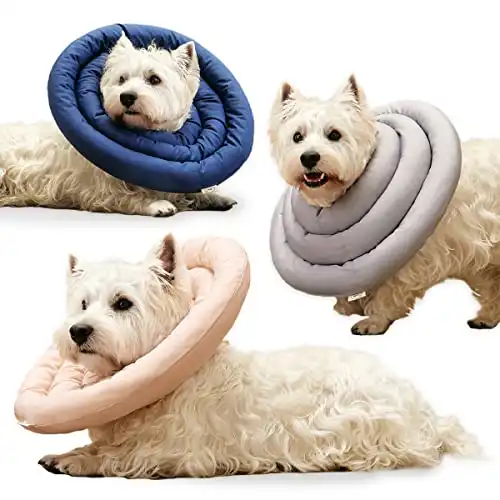 We earn a commission if you make a purchase, at no additional cost to you.
BENCMATE Inflatable Collar
Your dog will look ready to get on an airplane with BENCMATE's soft collar that wraps around the neck. They'll be able to maintain their full vision while wearing it, and you don't have to worry about the collar scratching your furniture. Plus, it's easy to take your dog for a walk, thanks to ring loops for your dog's regular collar.
BENCMATE Protective Inflatable Collar for Dogs and Cats - Soft Pet Recovery Collar Does Not Block Vision E-Collar (Large, Blue)
✅ 【COMFORTABLE FOR YOUR PET】 - While wearing the BENCMATE Collar, the inflatable function and the soft outside material will let your dog wear it comfortably and it does not block your pet's...
✅ 【DESIGNED TO LAST】 - The protective collar is not just soft and washable but also featured scratch and bite resistance. It will not mark, scrape or damage your furniture. The materials we...
✅ 【PROTECTIVE AND GENTLE CARING】 - The dog cone alternative after surgery is designed to protect your pets from injuries, rashes, and post-surgery wounds, it will prevent pets from biting and...
✅ 【ADJUSTABLE AND EASY STORING】 - You can easily adjust the collar strap for a perfect fit and put the strap side at the back of your dog's neck in case of biting. Deflating and storing is...
✅ 【BENCMATE SUPPORT】 - BENCMATE recovery collars are designed to last. If a collar is defective or breaks within a year, we will issue a replacement. You are most welcome to contact our...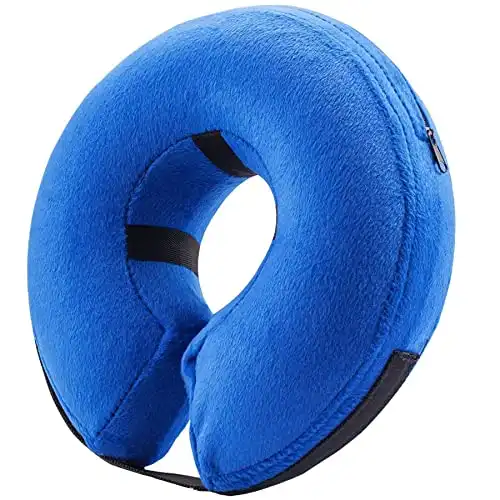 We earn a commission if you make a purchase, at no additional cost to you.
BiteNot Collar
If the reason your dog needs to wear a cone has nothing to do with protecting their face, using a BiteNot Collar is an excellent choice. It contains a mixture of plastic and foam, allowing it to wrap snugly around your dog's neck without any uncomfortable material sticking out. As a result, it's easily the most comfortable cone alternative on this list for sleeping.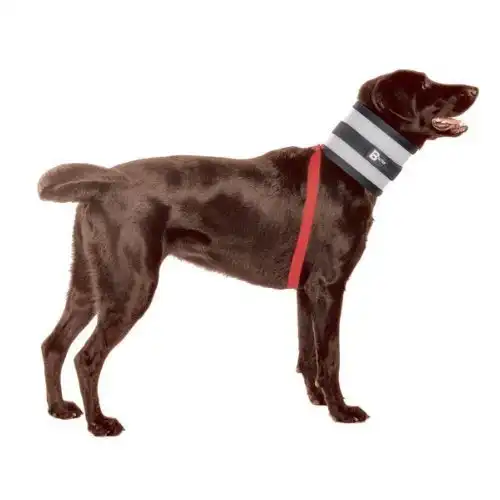 We earn a commission if you make a purchase, at no additional cost to you.
Helping Your Dog Heal
So, can a dog sleep with a cone on? Not only can dogs sleep with a cone on, but they should always sleep with a cone or cone alternative until their wound heals.
Although watching your dog try to fall asleep with a cone on can feel uncomfortable, know that you're doing the right thing.
Besides, Stockholm University found that animals have poorer short-term memory retention than humans. So once you remove the cone, your dog will likely soon forget you ever put it on.