9 Best Carpet Cleaners for Dog Urine [2023 Reviews]
Accidents happen. Even the best-trained dogs have them. Sometimes they happen because your dog is excited to see you after a long separation.
Other times it might be because something makes them anxious, like fireworks.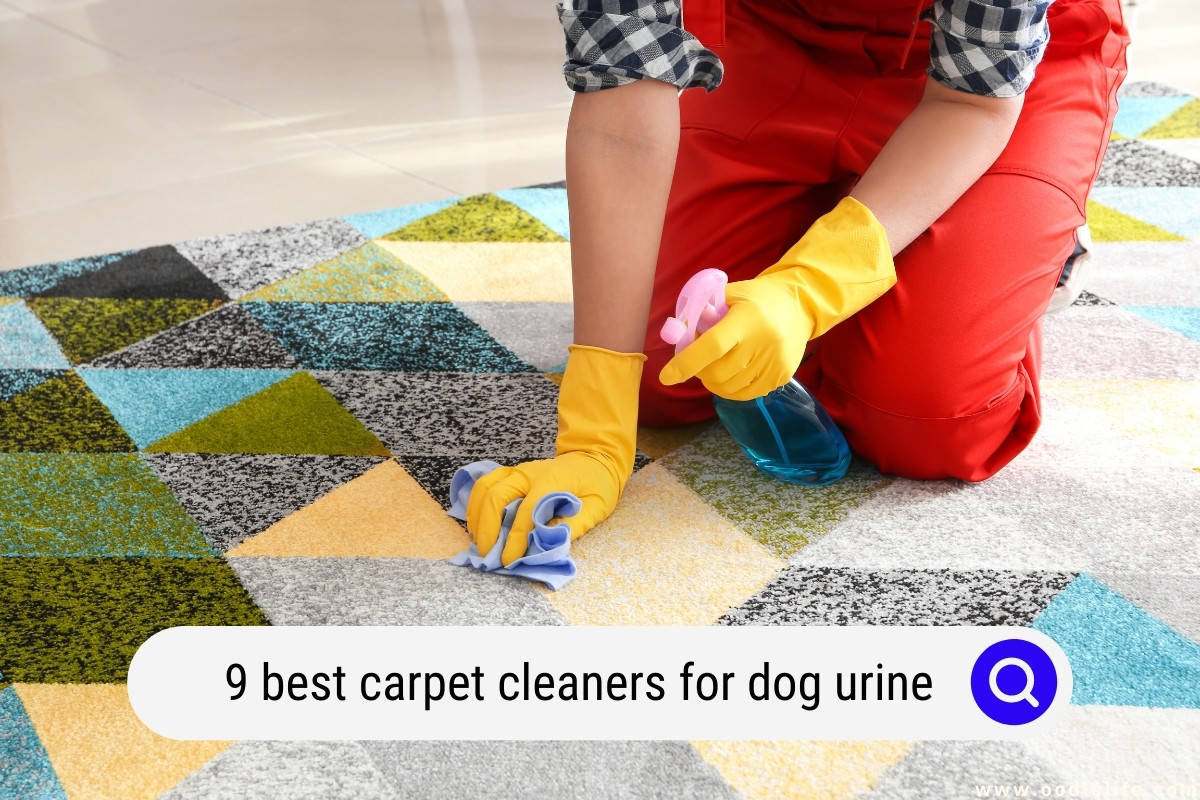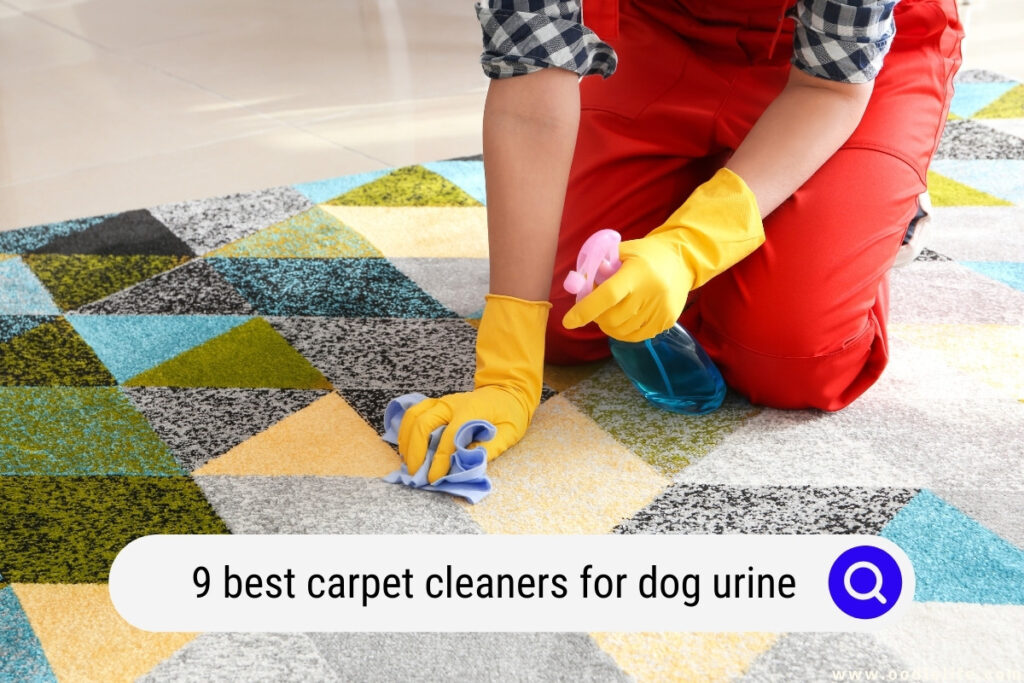 Either way, you need carpet cleaners for dog urine to tackle the problem. Before we talk about which ones are best, it helps to discuss the different options available to you.
Carpet Cleaner for Dog Urine
Depending on what you need, there are several kinds of carpet cleaners for dog urine, and each works differently.
Keep in mind that while all of these carpet cleaners are pet-safe, they are not equally effective at eliminating dog urine from the carpet.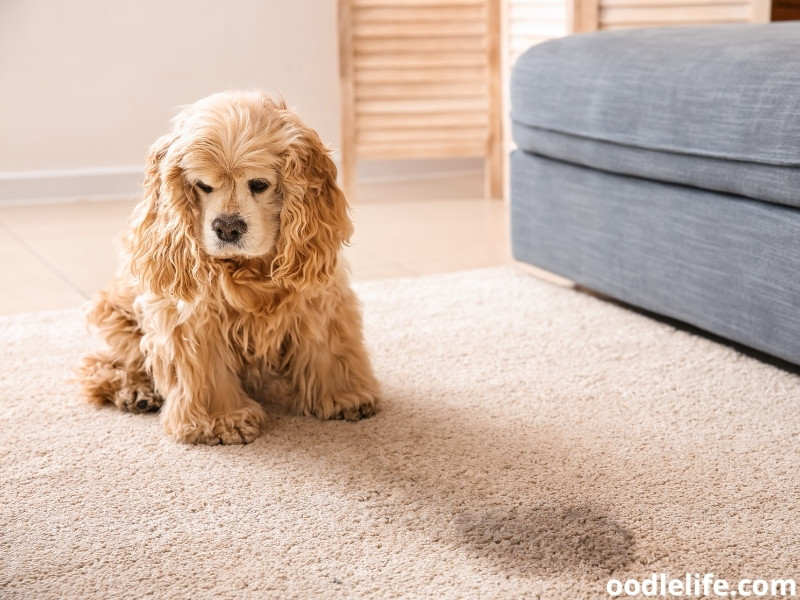 Odor Masking Carpet Cleaners
As the name suggests, odor masking carpet cleaners for dog urine are scented. They work by masking the smell of dog urine with another scent, like lavender.
The problem is that they don't tackle the underlying problem, namely the urine smell. So, when inevitably, the perfume wears off, the smell of urine comes back. Even if you could live with that, you shouldn't. It lets your dog think your carpet is an acceptable place to pee.
Oxidizing Carpet Cleaners
When it comes to carpet cleaners for dog urine, oxidizing solutions are much more effective.
Perfumed or making carpet cleaners work by masking the smell and nothing more. But oxidizing agents break down the molecules in the urine.
This is significantly more effective than trying to mask the original scent. However, some oxidizing agents and cleaners can adversely affect certain fabrics. Before using an oxidizing carpet cleaner on a prominent dog urine stain, always test the cleaner on an inconspicuous corner of the carpet first.
The other consideration is that effective oxidizing carpet cleaners often cost more than other options. That's not necessarily because they are the superior option. It simply means their production costs more.
Enzymatic Carpet Cleaners
Enzymatic carpet cleaners work by breaking down the enzymes in dog urine that creates its distinctive odor. They do this by introducing bacteria that overwhelms and suppresses the odor-causing enzymes.
However, their primary focus is breaking down the urine odor, not eliminating stains. If you are concerned about frequent accidents staining your carpet, you're better off with an oxidizing agent.
The other consideration is that enzymatic carpet cleaners for dog urine to be as effective as possible, you may need to keep the carpet damp. This is a minor inconvenience when treating puppy accidents but can become more inconvenient as dogs age and the accidents get bigger.
Orange Oil Carpet Cleaners
Orange oil carpet cleaners are highly effective for eradicating the smell of dog urine in carpets. The other major advantage they have is that they have antibacterial properties.
However, if you want to effectively remove a dog urine stain, you need to combine orange oil cleaners with oxidizing agents.
9 Best Carpet Cleaners for Dog urine
So, those are the carpet cleaners you can choose from. But which ones work best?
Woolite Stain and Odor Remover
We love Woolite's carpet cleaner for dog urine because it treats more than the odor. As an oxidizing agent, it works to effectively eradicate urine stains from your carpet, discouraging dogs from returning there to pee.
Woolite Free & Clear, Pet Stain & Odor Remover, 22oz (Pack of 2), 2719
$18.14
$14.99 ($0.34 / Fl Oz)
Instant stain removal technology, packed into a free and clear formula.
Free from dyes, artificial fragrance, phosphates, and optical brighteners.
Instantly removes tough stains, including red wine, blood, spaghetti sauce, grape juice, pet urine, vomit, and other yucky messes.
Safe to use around kids and pets, with the Woolite clean you can trust.
Free from bleach and chlorine, so it's gentle on your senses.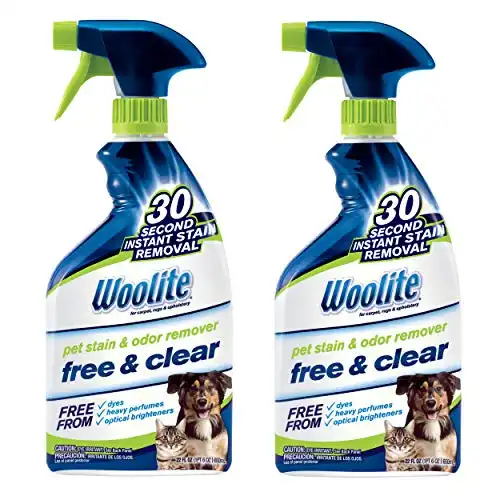 We earn a commission if you make a purchase, at no additional cost to you.
It's also potent enough to kill other bacteria lurking in your carpet that might harm your pets.
It works well on most carpet and upholstery fabrics, however, there are some disadvantages. For instance, you may notice discoloration after using it on a non-white fabric. It also isn't suitable for:
Leather
Wool
Polypropylene
Vinyl
Wood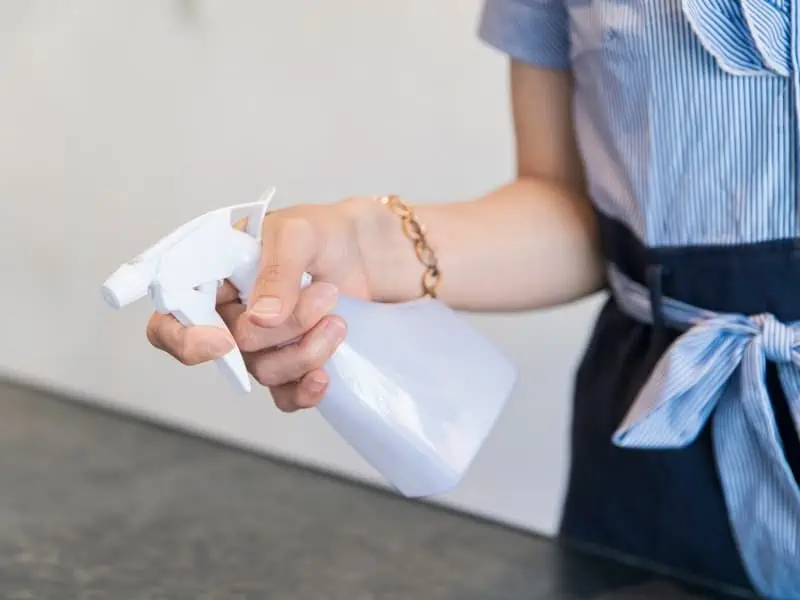 Hoover Paws and Claws Urine Eliminator Spray
There's a lot to like about Hoover Paws and Claws carpet cleaner for dog urine.
Hoover Paws & Claws Urine Eliminator Spray, Pet Spot and Stain Remover, 22oz Formula, 2 Pack, AH31601A, White
REMOVE PET STAINS & ODORS: Formulated to lift and remove stubborn stains, spots & odors from dog and cat urine
CONTINUES TO WORK: Enzymes continue to work and remove traces of pet messes and odors, even after you're finished cleaning
OLD & NEW STAINS: Attacks and breaks down both old and new stains for easy cleanup
ENZYMES: Enzyme-based cleaners break down microscopic, organic particles to thoroughly penetrate and clean the stain
FOR USE ON: Advanced cleaning action for carpets, home & car upholstery
We earn a commission if you make a purchase, at no additional cost to you.
For one thing, it works on old stains as well as new ones. You may need to get a black light out to hunt down some of the older dog urine stains, but provided you can find them, Hoover Paws and Claws removes them.
The other thing that recommends Hoover Paws and Claws is that it uses something called 'Stain guard technology' to prevent future stains. In addition to attacking dog urine enzymes with bacteria, this carpet cleaner prevents future stains by actively discouraging elimination on the rug.
It's also scented, but customers agree the scent isn't overwhelming.
Angry Orange Pet Odor Eliminator
One of the immediately distinctive features of Angry Orange is the option to purchase an odor eliminator that includes a UV light. This enables you to help find dog urine stains lurking in unlikely corners.
ANGRY ORANGE Pet Odor Eliminator for Strong Odor - Citrus Deodorizer for Strong Dog Urine + UV Flashlight
Complete Pet Smell Removal Kit: Zero-in on invisible stains with the UV light and use the pet odor eliminator for home to vanquish stubborn stains and foul smells.
Great Scent: The Angry Orange urine odor eliminator smells of sweet citrus! You'll never have to worry about breathing in store-bought cleaner sprays full of chemicals again.
All Purpose Carpet Deodorizer! Our pet stain and odor remover can be used on most surfaces, from carpets and floors, to garbage cans, pillows, clothing and even outdoor odors.
Convenient - For best results, remove pets from area, clean excess mess, shake well & spray, let dry completely. Do not apply product directly to your pet or use in a diffuser. Cats & Birds may be sensitive to concentrated levels of certain ingredients.
UV Flashlights: Is a nasty smell plaguing your home? Pets are sneaky when they make a mess, and these blacklight flashlights are a simple way to locate smells and destroy them!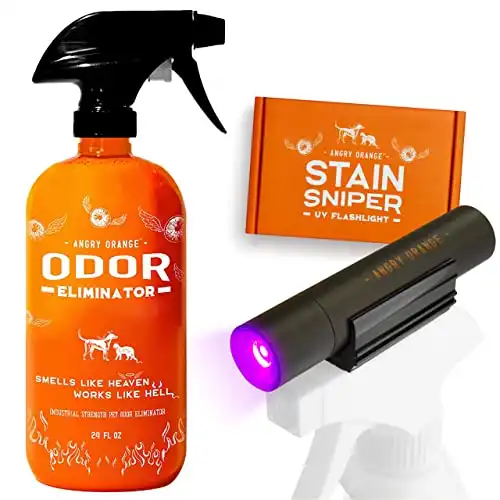 We earn a commission if you make a purchase, at no additional cost to you.
Additionally, it smells of citrus, which is pleasant for humans but smells dogs can't stand. So they will naturally keep away from the cleaned area, decreasing the likelihood of repeated accidents or indoor elimination. 
For the best results, spray your carpet with Angry Orange and let it stand and dry. Your carpet may be damp, but it's a small price to pay if you want to eradicate urine stains.
Unlike other cleaners on this list, it's safe for use on dark and light-colored carpets. You can also rest assured that this citrus-scented dog urine mask is safe for pets, so even if your dog does come and investigate, it won't hurt them.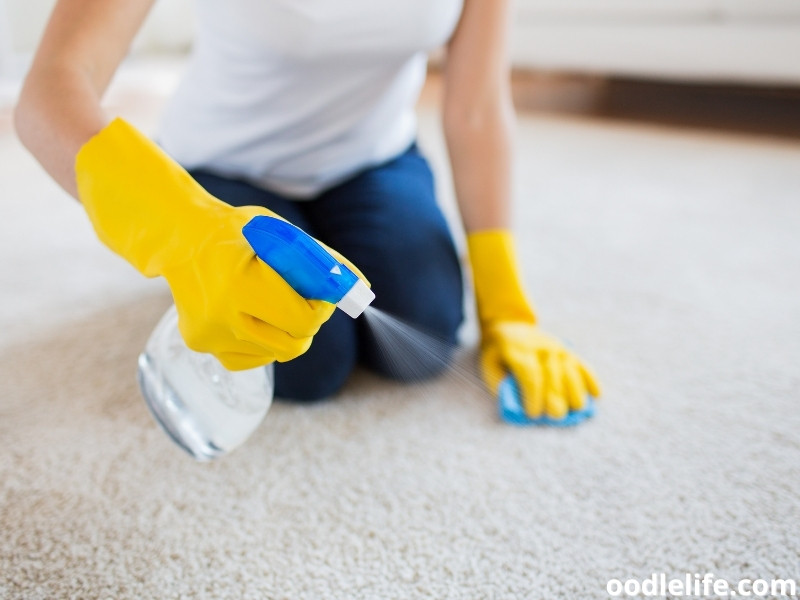 Out! Orange Oxy Stain Remover 
Out! Orange Oxy Stain Remover is a carpet cleaner for dog urine that combines the advantages of an oxidizing agent with the benefits of an orange oil cleaner.
OUT! PetCare Orange Oxy Stain & Odor Remover
OXIDIZING CLEANING POWER: New oxy formula is a pet odor eliminator and destroys the toughest pet stains to keep your home looking clean.
WORKS ON PET AND HOUSEHOLD STAINS: The oxy formula treats your tough pet stains, as well as most stains found around the home and carpet.
SAFE FOR THE FAMILY: The OUT PetCare Orange Oxy Stain & Odor Remover is safe to use around children and pets when used as directed.
CITRUS CLEANING POWER: The orange oxy cleaner eliminates the toughest pet and household stains, all while leaving your house smelling fresh and clean.
ELIMINATE OLD AND NEW PROBLEMS: Oxy clean formula takes on old and new stains, and eliminates those problem areas once and for all.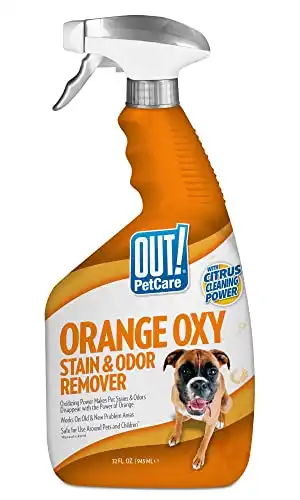 We earn a commission if you make a purchase, at no additional cost to you.
It's ideal for stubborn pet-related stains like:
Like Angry Orange, it features a citrus smell designed to mask the urine odor until the oxidizing agents in it can effectively lift the stain from your carpet. Let the mixture sit on the carpet for three to five minutes before wiping it down.
One of the benefits of Out! Orange is that it uses inbuilt pheromones to dissuade your dog from repeat offending.
However, many customers agree! Orange is effective as a urination deterrent and odor masker, not everyone was universally impressed with the way it tackled stains.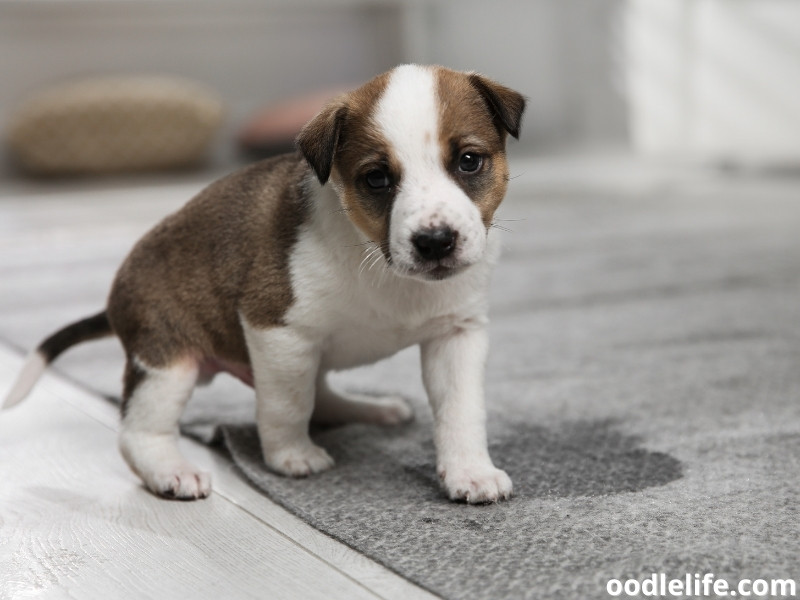 Clorox Pet Urine Remover
Clorox is a household name and with good cause.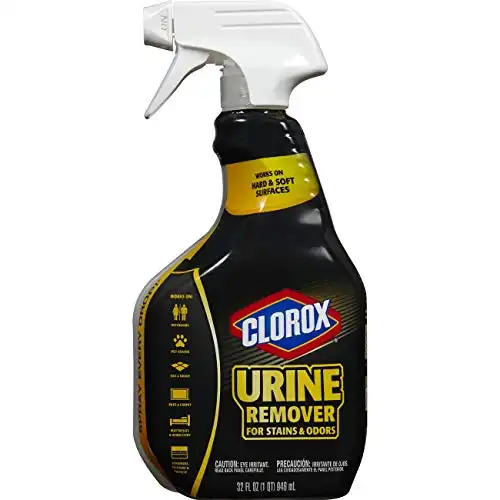 We earn a commission if you make a purchase, at no additional cost to you.
Its oxidizing agent makes it an effective carpet cleaner for dog urine. Since the solution includes hydrogen peroxide, it is suitable for use on light and dark surfaces.
It also works on various surfaces, from counters to carpets. Since it's a non-bleach agent, you don't have to worry about discoloring the carpet. However, as with other oxidizing agents, we still recommend experimenting with the cleaner on a bit of inconspicuous carpet before tackling more prominent stains.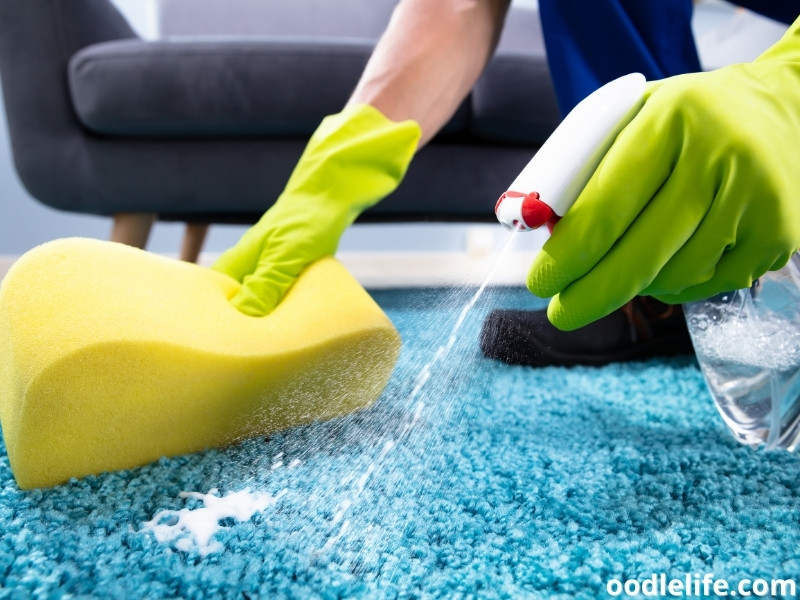 Kids 'N Pets All-Purpose Stain Remover
Kids 'N Pets All-Purpose Stain Remover is the ideal solution for busy households with pets and young children.
We earn a commission if you make a purchase, at no additional cost to you.
It's one of the more affordable carpet cleaners for dog urine. However, because it sells in bulk, you'll have to funnel it into your own spray bottle.
It's a versatile cleaner and lifts stains from a range of surfaces, including:
Carpets
Mattresses
Wood floors
You can wipe residual dampness away after spraying but parents who bought the product recommend letting it sit for up to 30 minutes first. This is especially helpful with pets as the enzymatic cleaner acts on the enzymes in dog urine and breaks them down, decreasing the smell and discouraging the behavior.
Customers also appreciate that it's an unscented product that leaves rooms smelling fresh rather than perfumed.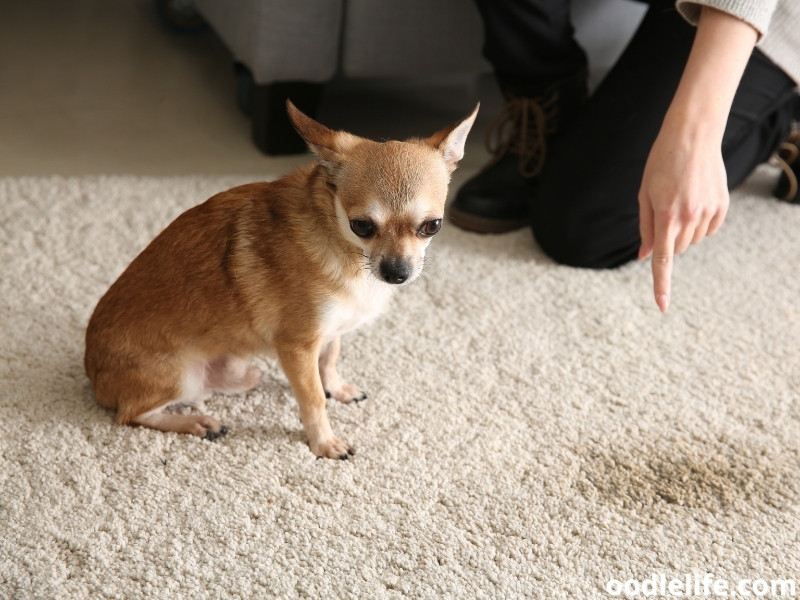 Nature's Miracle
Nature's miracle is the enzymatic carpet cleaner for dog urine we use with our dogs.
Stain and Odor Remover
$12.99
$10.75 ($0.34 / Fl Oz)
SPOT STAIN & ODOR REMOVER: Begins to break down and remove stains immediately on contact.
LIGHT CITRUS SCENT: Dog odor control formula gets your home smelling clean again.
ENZYMATIC FORMULA: Continues working as long as any bio-based mess is still present.
TRUSTED BRAND: From the maker of Nature's Miracle products, the pet stain and odor removing brand you trust… because it works
SAFE FOR PETS AND HOME: When used and stored as directed, this formula can be used around your pets.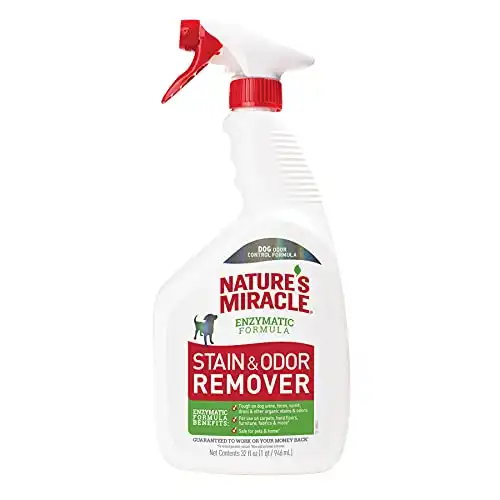 We earn a commission if you make a purchase, at no additional cost to you.
It's an affordable, all-purpose cleaner that tackles odors left by everything from urine to vomit. It works effectively on the carpet as well as hardwood surfaces.
It's noticeably fast-acting, which is one of the reasons we like it. We're training a puppy, and accidents are inevitable, but we notice he never goes back to a spot sprayed with Nature's Miracle.
Like other cleaners, you get the best results by letting the solution soak into the carpet for several minutes. Since it's pet-safe, this won't harm your pets.
Additionally, the enzyme-based formula works well on old and new stains. So, even if you miss an accident, it's never too late to remove it from the rug.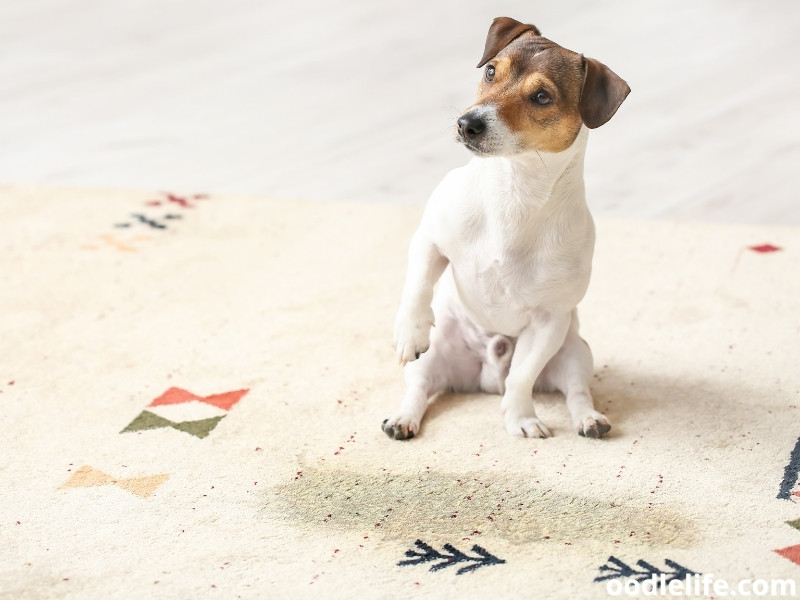 Simple Solution Urine Destroyer
Simple Solutions is another affordable carpet cleaner for dog urine with a versatile approach.
Simple Solution Pet Urine Destroyer | Enzymatic Cleaner with 2X Pro-Bacteria Cleaning Power | Targets Urine Stains and Odors | 1 Gallon
TOUGH ON URINE - Simple Solution Pet Urine Destroyer combines Pro-Bacteria and Enzymes in a formula that neutralizes the toughest urine odors and discourages future marking.
ELIMINATE STAINS – Simple Solution's enzymatic cleaner technology lifts urine stains leaving your carpet stain and odor free.
MULTIPLE USES – Our pet odor and stain remover is safe to use on carpet, upholstery, bedding, fabric toys, clothing and other water-safe surfaces in your home when used as directed.
CARPET SAFE – Certified by the Carpet and Rug Institute, our Pet Urine Destroyer is safe to use on all colorfast carpets when used as directed.
SAFE FOR THE HOME – Simple Solution pet urine remover is safe for use around pets and your household when used as directed.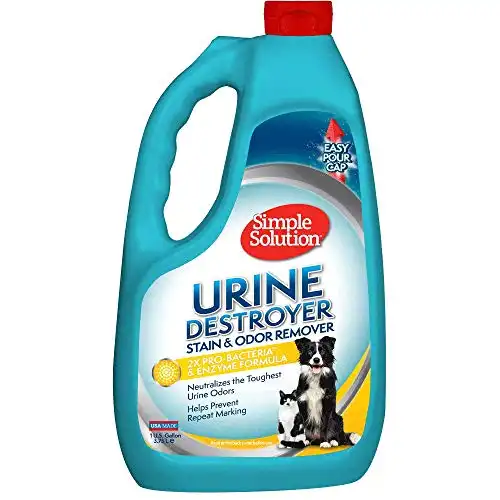 We earn a commission if you make a purchase, at no additional cost to you.
It's effective on:
Carpets
Mattresses
Upholstery
The company's line is that if the surface is water-safe, it's safe to use Simple Solutions on it.
It's also certified by the Carpet and Rug Institution, meaning it's safe for all rugs and carpets. So, you won't have to worry about testing its effect on parts of the carpet before use.
Simple Solutions is an enzymatic solution. Although spray versions exist, some need you to mix a concentration with water before application, so pay attention to what you buy.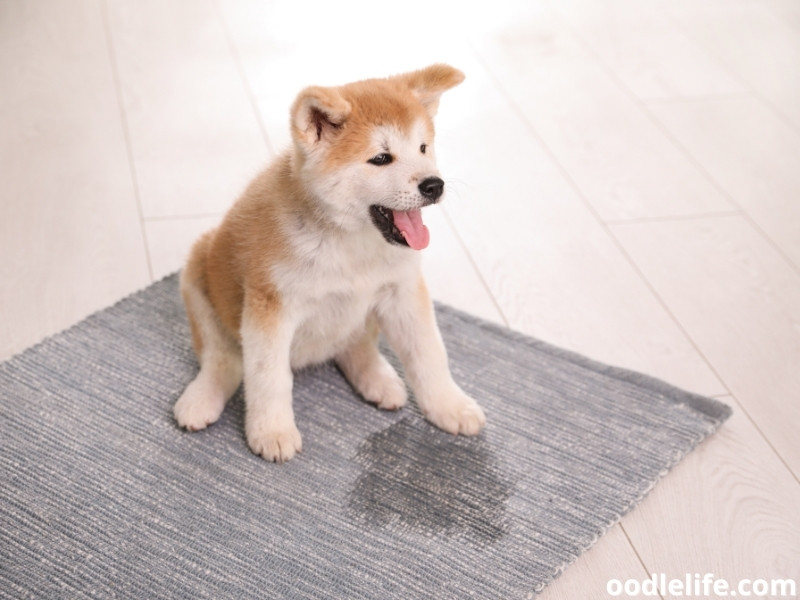 Removeurine
Removeurine is ideal for stubborn urine stains. If you've tried other solutions and nothing works, Removeurine may be the solution.
REMOVEURINE Severe Urine Neutralizer Bundles (2 Pack)
MIRACLE RESULTS - Powerful urine odor remover works upon contact. Best pet stain and odor remover and is a great dog urine odor eliminator spray to permanently remove pet urine odor.
PLEASANT FRAGRANCE - Leaves any urine stain area with a light, clean, pleasant fragrance. You're sure to be amazed at how effective this pet stain and odor remover really is.
PROFESSIONAL STRENGTH - This is a Grade A, professional-strength pet smell odor eliminator that binds and absorbs odors at the molecular level. This pet urine odor eliminator is commonly compared to...
THREE STEPS - Eliminate any pet stain urine and odor in three simple steps with this one-of-a-kind cleaner. Just click add to cart to get your pet urine carpet cleaner today. Your purchase will be...
EASY-TO-USE - Just spray it on. This pet urine odor eliminator spray can be used to effectively treat pet urine odors on any water-safe surface.
We earn a commission if you make a purchase, at no additional cost to you.
Instead of enzymes, Removeurine uses a polymer blend to tackle stubborn stains.
As effective as Removeurine Severe Neutralizing spray is on old stains, it doesn't work on new stains. The solution specifically targets older dog urine stains, so keep something else on hand to use on accidents you catch as they happen.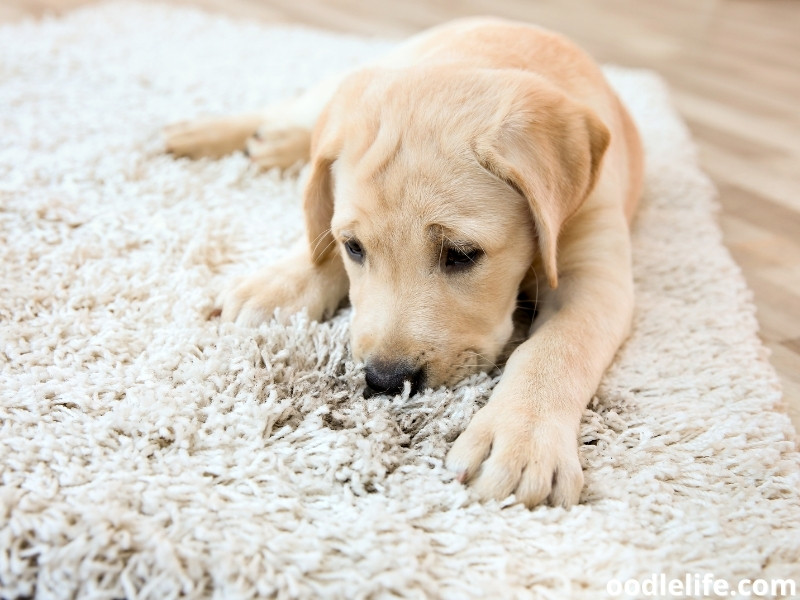 Final Thoughts
There are various kinds of carpet cleaners for dog urine available. Depending on how old the dog urine stains you need treated and how fast you want to treat them, the most effective solution varies.
Our favorite is Woolite's Stain and Odor Remover. It's affordable, it treats the odor as well as the urine stain, and you can simply open the nozzle and spray. No need to add water or mix solutions.