Best Goldendoodle Breeders in Colorado (2023 Update)
Goldendoodles, crossed between Golden Retrievers and Poodles, are a friendly and intelligent designer Doodle breed adored by many dog lovers. Their low-shedding coats make them the perfect breed for families with allergies.
Colorado residents can find plenty of responsible breeders around the state offering Goldendoodle puppies for sale.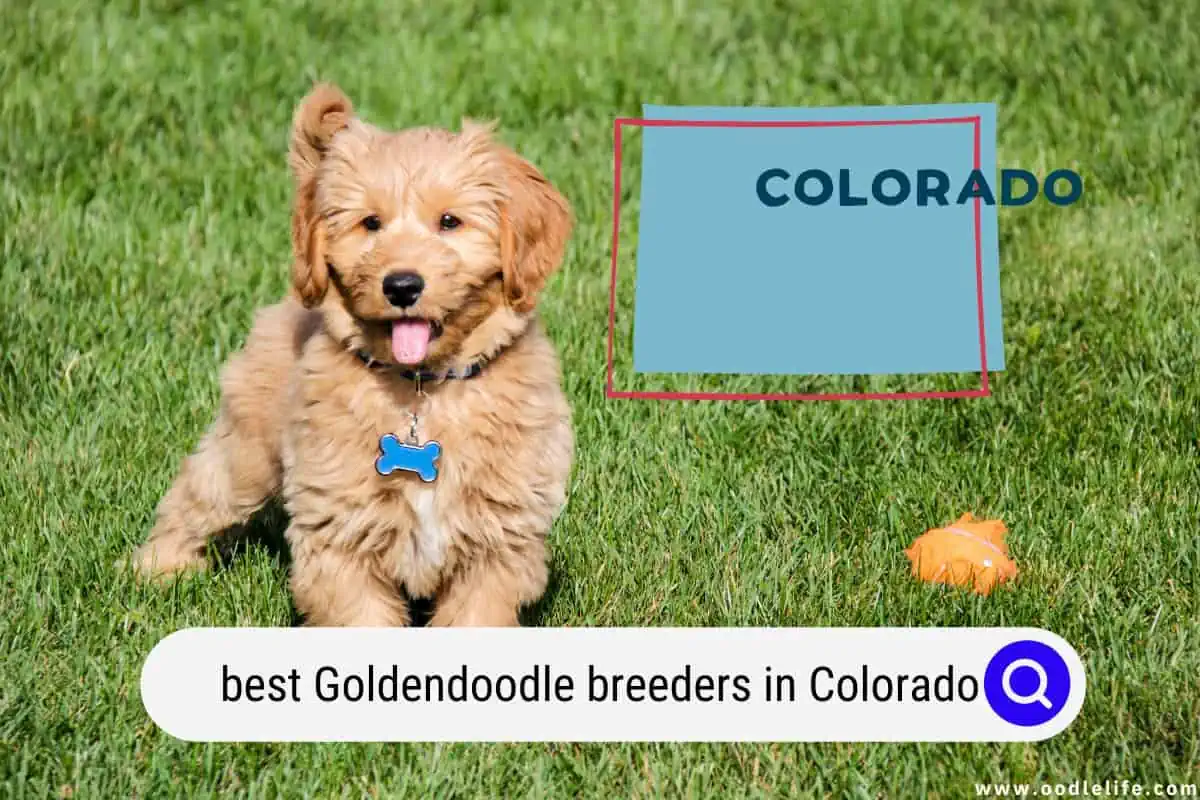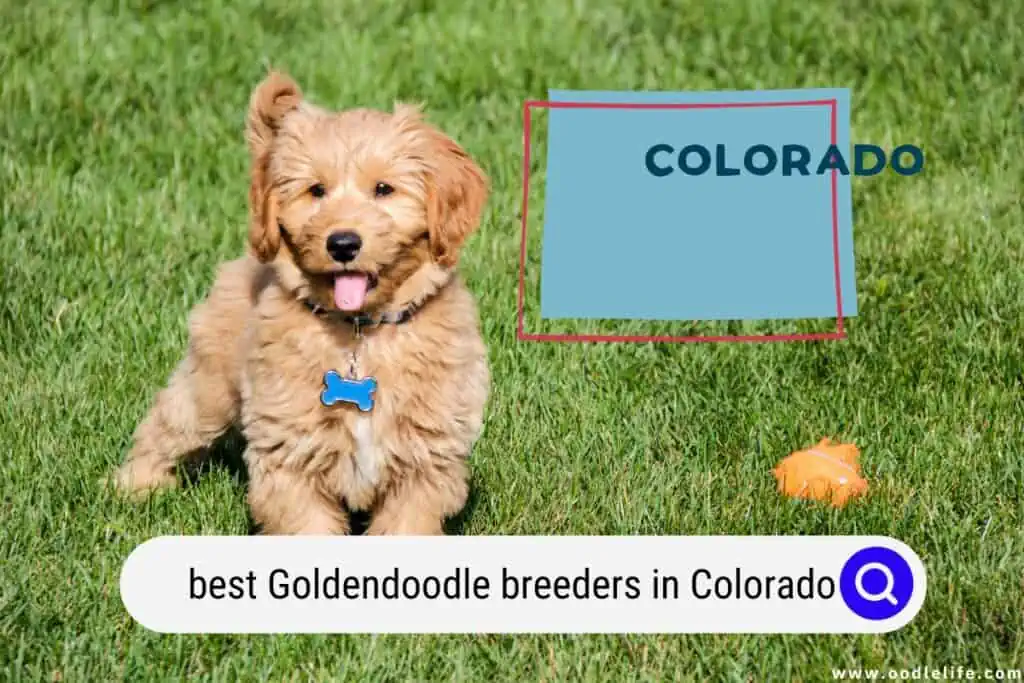 $300 2023 Discount!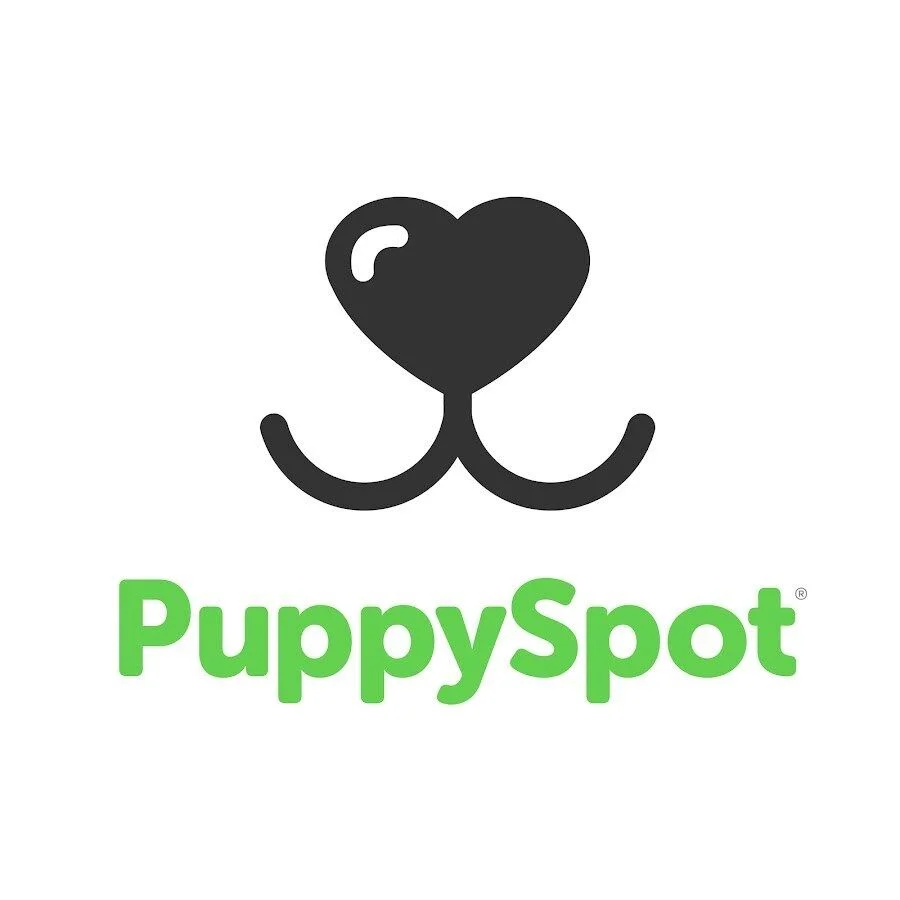 PuppySpot Adoption
PuppySpot is a reputable dog marketplace where you can browse and find compatible puppies right from the comfort of your home. They have placed over 200,000 puppies into homes in the US!
Click through and use the code PUPPY300 for $300 off any puppy adoption.
See Puppies and Save $300
If you don't know where to start your search and want to avoid unethical puppy mills, consider browsing my list of the top Goldendoodle breeders in Colorado.
1. Colorado Doodlebugs
If you live near Weld County, the best option I recommend for anyone looking for reputable Goldendoodle breeders in Colorado is Colorado Doodlebugs, a Blue Ribbon Breeder recognized by the Goldendoodle Association of North America. Kim Brehon has over 20 years of experience breeding quality F1 and F1b English Goldendoodle puppies.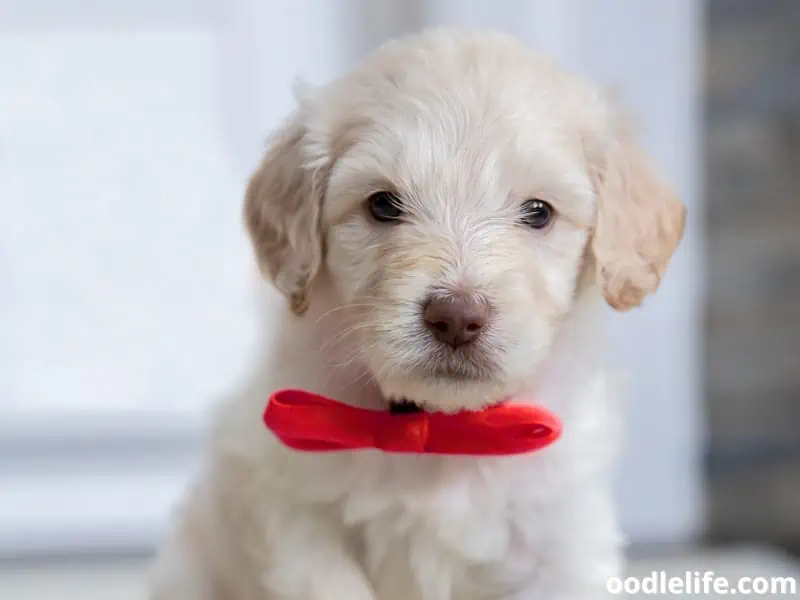 Kim's American Kennel Club-registered sires and dams undergo health evaluations for several genetic health issues, including degenerative myelopathy, which causes limb weakness, and progressive retinal atrophy, which leads to vision loss.
This breeder requires all applicants to send a $200 non-refundable deposit to get on her waitlist. The average wait time ranges between three to six months.
Eligible families can take their puppies home when they're eight to nine weeks old. Each puppy is vaccinated, dewormed, microchipped, has removed dew claws, gets crate-trained, and has a two-year health guarantee.
Breeder Details:
2. Elite Doodles
If you're looking for Goldendoodle breeders in Colorado within an hour and a half from Denver, consider reaching out to Elite Doodles. For over 25 years, this breeder has raised F1b Medium and Miniature-sized Goldendoodles in their home.
This breeder evaluates each dog's temperament and physical characteristics before deeming them suitable for their breeding program to ensure quality puppy litters. The puppies and their mother reside in a designated resting area in the breeder's home, allowing them to get accustomed to human interaction.
Eight-week-old Goldendoodle puppies go home with age-appropriate shots, deworming, and a two-year health guarantee. New owners receive a folder with essential puppy care tips, from crate training to feeding requirements.
Breeder Details:
3. High Mesa Doodles
Carol Heller, the owner of High Mesa Doodles, has been breeding quality Goldendoodles since 2008 with her family in Western Colorado. She raises her puppies on ten acres of land and prioritizes each puppy's health before sending them to the perfect home. Occasionally, she offers limited Bernedoodle and Australian Labradoodle litters.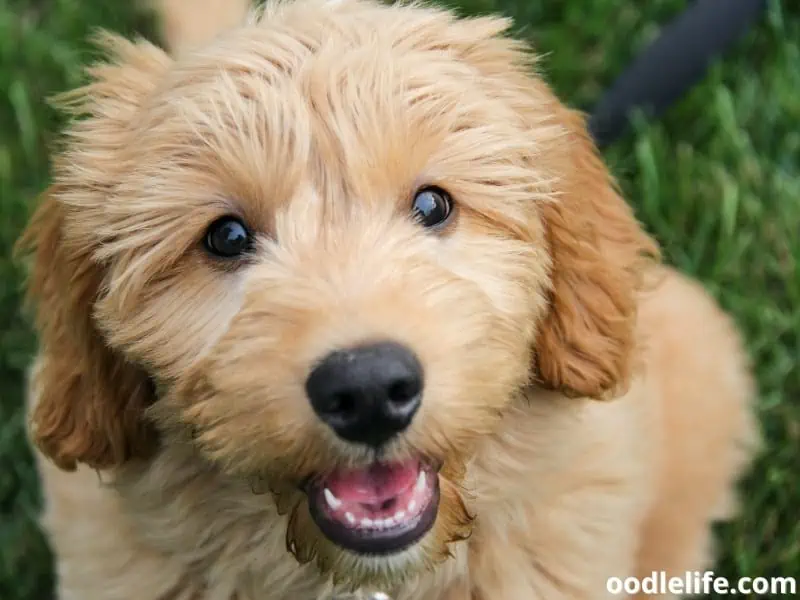 Like most responsible Goldendoodle breeders in Colorado, the dogs in her breeding program get tested for abnormal joint development, such as hip and elbow dysplasia.
Carol incorporates Early Neurological Stimulation while raising the puppies to get them accustomed to everyday stimuli and begins training them to use a crate and doggy doors. She provides bi-weekly photo updates of the puppies to eligible families.
Eight-week-old Goldendoodles go to their new homes vaccinated, dewormed, and microchipped. They get placed on a strict spay or neuter contract and must get fixed by the time they're nine months old.
Breeder Details:
4. Denver Doodles
Eastern Colorado residents can reach out to Denver Doodles if they're interested in adding a Goldendoodle to their family. This family-operated breeder has over 20 years of dog breeding experience and focuses on breeding litters with champion bloodlines.
Each dog in the dog's breeding program undergoes genetic testing to ensure litters with excellent health, temperaments, and conformation. The breeder socializes the puppies with their family daily and lets them play on their two-acre property.
Interested applicants must send the breeder a $500 non-refundable deposit to place a puppy on hold. Approved families can choose a puppy via FaceTime, photos, or video after six weeks. All owners receive up-to-date health records, a sample of puppy food, and a scented toy when they take their Goldendoodle home after eight weeks.
The breeder offers out-of-state families ground and air shipping services for an additional fee if they can't pick up their Goldendoodle puppy in person.
Breeder Details:
5. Dolan's Doodles
Another one of the best Goldendoodle breeders in Colorado is Dolan's Doodles, located east of the Rocky Mountains. This family-owned breeder specializes in breeding F2b and multigen Goldendoodle puppies and raises them in a safe and comfortable home environment. Size-wise, the breeder offers Medium and Standard-sized puppies.
Ashley Dolan prioritizes genetic testing to ensure their dogs are suitable for her breeding program. The puppies remain in a private nursery with their mother for three to four weeks to ensure privacy from the breeder's other dogs.
After these first few weeks, they move to the living room, get accustomed to environmental stimuli around the home, and socialize daily.
After eight weeks, all puppies go to their new homes with up-to-date vaccination and deworming records and a one-year genetic health guarantee. Ashely offers lifetime support to new owners with questions about raising their puppies after taking them home.
Breeder Details:
6. Amberdoodles
Located north of Denver, Amberdoodles is another excellent option for families interested in getting a healthy and social Goldendoodle puppy. Breeder Joy Goertzen is a GANA-registered Blue Ribbon Breeder and specializes in breeding F1, F1b, and multi-gen Standard Goldendoodles.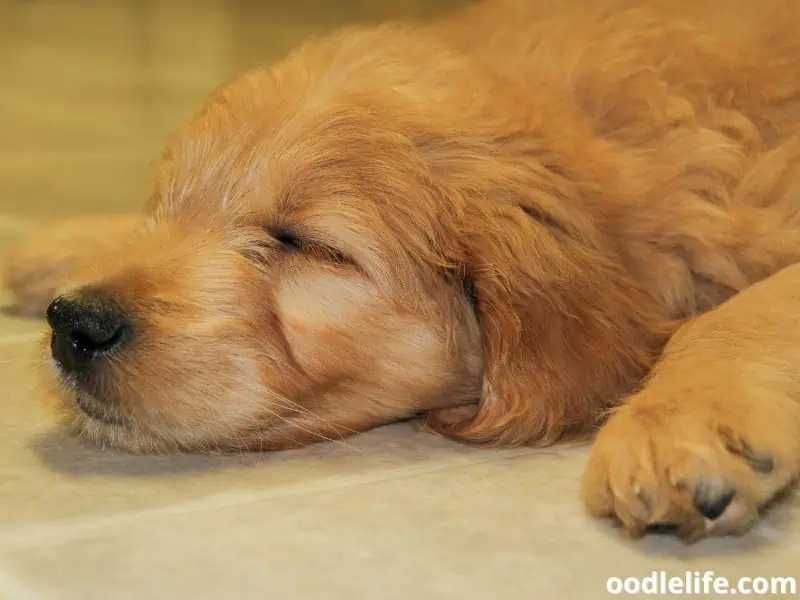 Besides testing every sire and dam for breed-specific health problems, the puppies get age-appropriate vaccinations, deworming, and a three-year health guarantee when their owners take them to their new homes. New owners must send the breeder a photo of the puppy when they're a year old to maintain the health guarantee.
Joy's spay or neuter contract requires new owners to get their dogs fixed when they're six to 12 months old. Ideal applicants must have one to no other dogs at home to ensure no interference while training or caring for a younger Goldendoodle.
Breeder Details:
7. Selah Springs Puppies
Selah Springs Puppies, operated by Sara Strobel, is a reputable Goldendoodle breeder who prioritizes breeding healthy puppies with excellent temperaments within the comfort of her home. She also specializes in breeding Golden Retrievers.
The puppies get socialized from birth and undergo Early Neurological Stimulation to enhance their development during the first few weeks of life.
This breeder's puppy prices vary based on each puppy's size, but you can expect Miniature-sized Goldendoodles to cost more than their Standard-sized counterparts. Eligible applicants can choose their puppy after 6.5 weeks. During this period, the puppies undergo temperament evaluations.
Eight-week-old Goldendoodles go home vaccinated, dewormed, microchipped, and have a two-year health guarantee.
Breeder Details:
8. Betsy's Mini Goldendoodles
Besty's Mini Goldendoodles is a family-owned breeder that raises their Goldendoodle puppies on three acres of land and prioritizes their safety and health. Coat color-wise, this breeding facility's puppies usually come in apricot or red.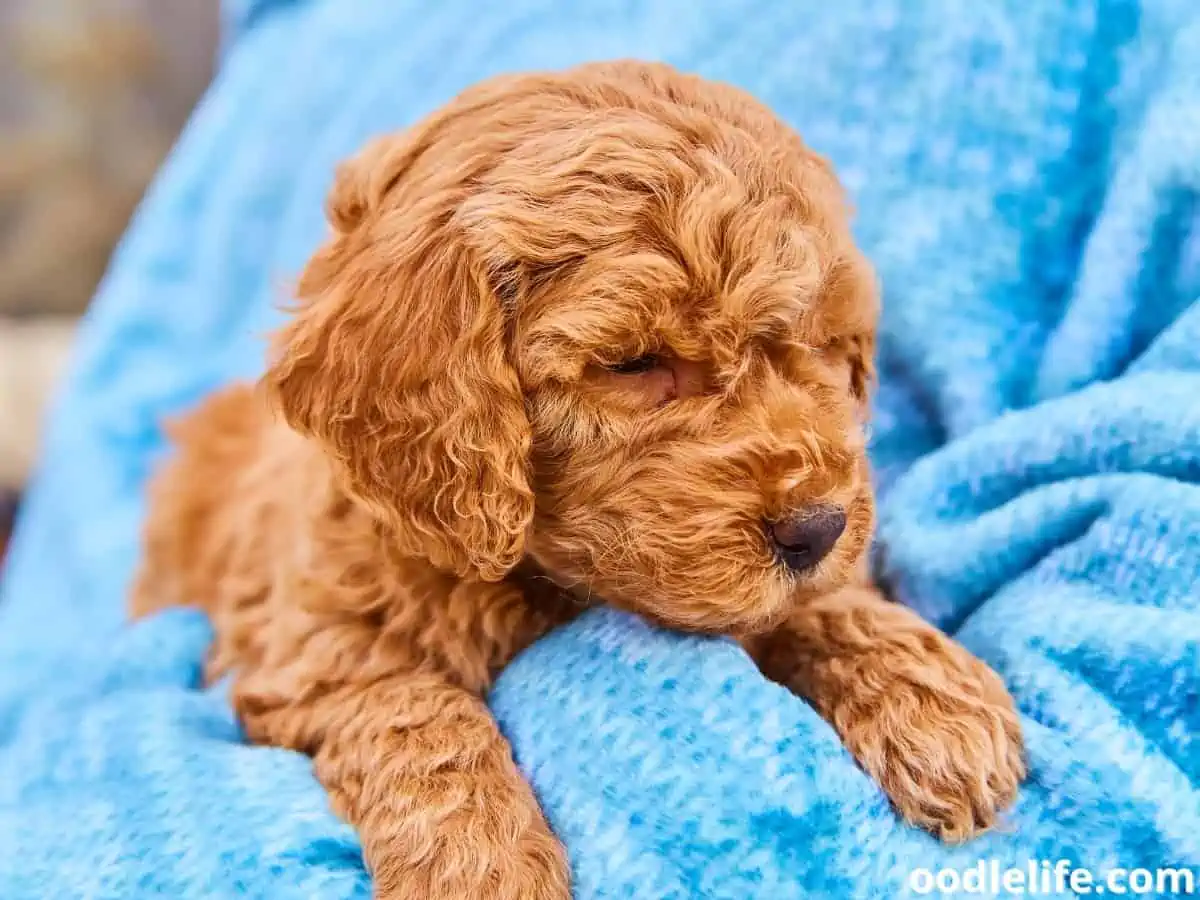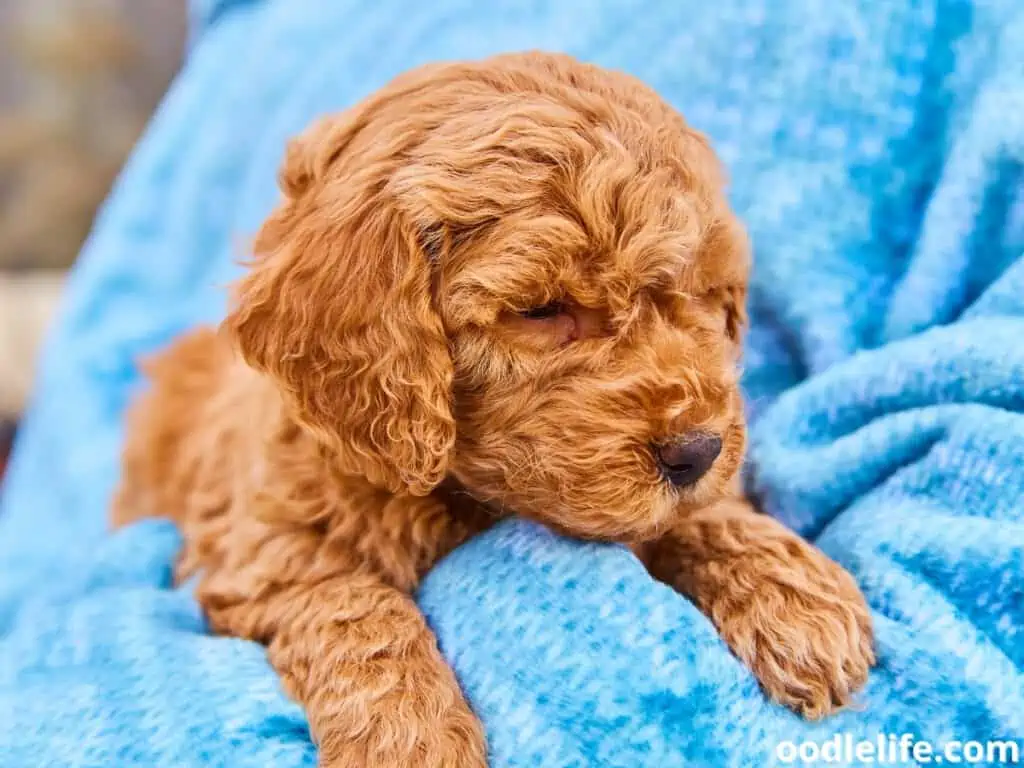 Like most responsible Goldendoodle breeders in Colorado, the dogs in Bruce and Cindy's breeding program get tested for genetic health problems. They provide transparent communication with interested applicants before and after the puppies arrive and introduce them to initial crate and potty training.
All puppies go to their new owners with removed dew claws, vaccination and deworming records, a one-year health guarantee, and Continental Kennel Club registration. Betsy's Mini Goldendoodles ship their puppies to out-of-state families for an additional fee.
Breeder Details:
9. Pikes Peak Doodles
Established in 2008, Pike Peak Doodles is one of the best Colorado-based home breeders offering F1, F1b, and multi-gen Goldendoodle puppies. Size-wise, Bruce and Marcia Cole offer Medium and Miniature-sized puppies. They've been a GANA-recognized Blue Ribbon Breeder since 2020.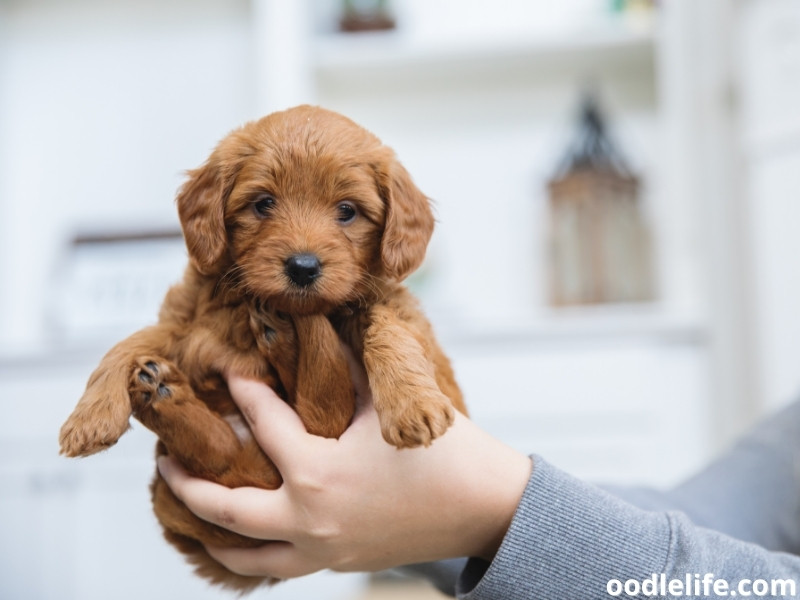 All sires and dams undergo genetic testing to ensure quality health and non-shedding coats. The puppies get socialized with adults, children, and other dogs and are raised within the breeder's home until they're old enough to go to their new owners. Many of their dams live with trustworthy guardian homes before and after producing litters.
All Goldendoodle puppies get their dew claws removed and receive age-appropriate vaccinations and deworming before their owners take them home. They're microchipped and have a two-year health guarantee for eye and hip issues.
Breeder Details:
Conclusion
When narrowing down the best Goldendoodle breeders in Colorado, choose ones who prioritize every litter's health, provide transparent insight about their breeding program and caring for the breed, and keep their puppies in a safe and clean environment.
Most Goldendoodles live 10 to 15 years, so if you're ready for this lifetime responsibility, reach out to these dedicated breeders as soon as possible.