The Best Goldendoodle Breeders in San Diego (2023 Update)
What do you get when you combine the happy-go-lucky, love-the-world nature of the Golden Retriever with the intelligent, trainability, and hypoallergenic coats of the Poodle?
The ever-popular Goldendoodle! First cross-bred in the 1990s, the Goldendoodle has since risen right to the forefront of the popularity contest and is now one of the most sought-after designer dog breeds around.
$300 2023 Discount!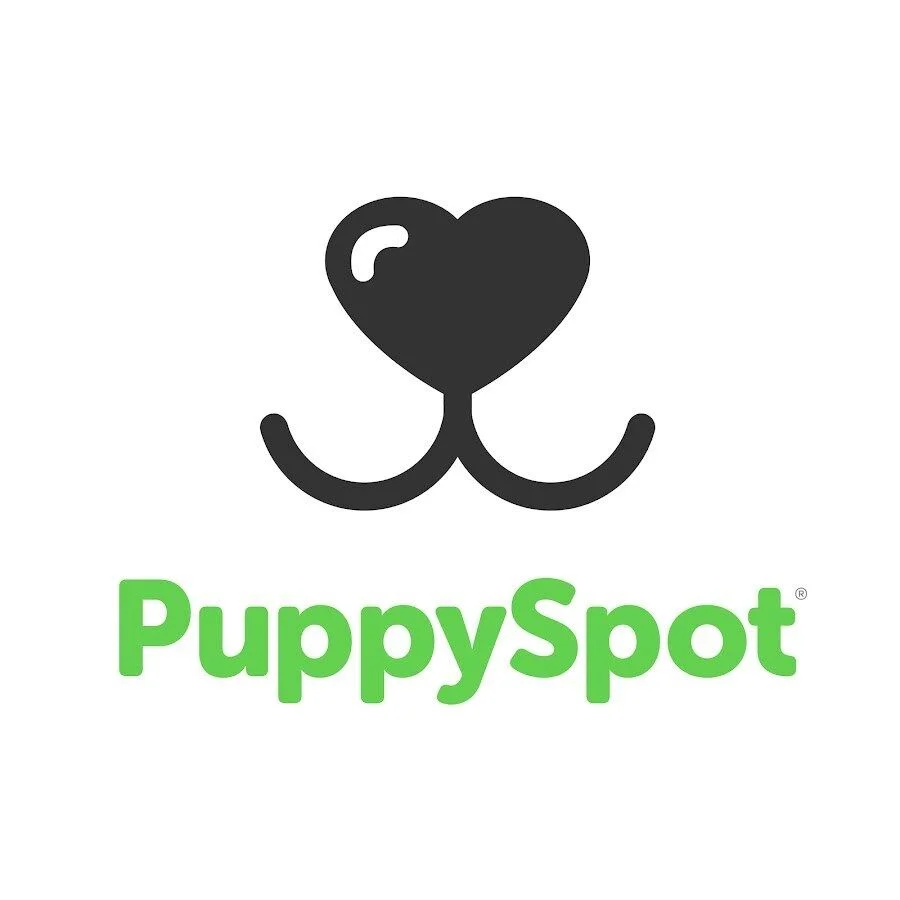 PuppySpot Adoption
PuppySpot is a reputable dog marketplace where you can browse and find compatible puppies right from the comfort of your home. They have placed over 200,000 puppies into homes in the US!
Click through and use the code PUPPY300 for $300 off any puppy adoption.
See Puppies and Save $300
Lovable and affectionate, they are the ultimate family dog that can suit all kinds of households, even those with seniors and young children. However, nothing is perfect, and Goldendoodles come with their share of health conditions that can be inherited by either one of their parent breeds.
For example, Poodles and Golden Retrievers are both prone to hip dysplasia. This joint condition can be debilitating and can drastically reduce their quality of life. Fortunately, there are preventive steps potential Goldendoodle owners can take to reduce the chances of their dogs developing this disorder.
The first and most important caution is to obtain your pooch from a reliable breeder who has screened the parents for hip dysplasia and other inherited diseases.
If you are looking for a reliable Goldendoodle breeder in San Diego that knows the breed well and meticulously screens for these conditions, this blog post is for you! Here are all of our favorites:
The team consists of a couple who are Goldendoodles lovers and owners. All dogs under their care have passed health tests before being bred. They have an excellent reputation as a responsible and ethical breeder in San Diego.
Focusing on breeding F1 and F1b generations, they aim for dogs with sound temperaments, stellar health, and hypoallergenic coats. All their dogs are raised in their family home and puppies are free to play and romp as they choose.
The puppies sleep in comfortable, clean rooms with regulated temperatures – no kennels for them! Receiving good nutrition and exercise, their Goldendoodle pups grow up with excellent temperaments and are well-socialized by the time they are ready for their permanent homes.
The family allows their pups to interact with many people and other pets to ensure a well-rounded, balanced dog. They have a stringent breeding process where sires and dams are selected based on lineage, health, intelligence, and temperament.
All their dogs are regularly DNA-checked for potential genetic conditions, and their breeding pairs are all cleared by the OFA (Orthopedic Foundation for Animals) and CERF (The Canine Eye Registration Foundation).
Contact Details:
Website: https://luigisdoodles.com/
Phone: (310) 363-2415
Email: [email protected]
Location: San Diego, California
2. Goldendoodle Kennels
For the past 15 years, Goldendoodle Kennels has been producing high-quality multi-generational Goldendoodles in California and Oklahoma. They specialize in Goldendoodles in "smaller" sizes, also known as "mini", "toy," or "micro-mini."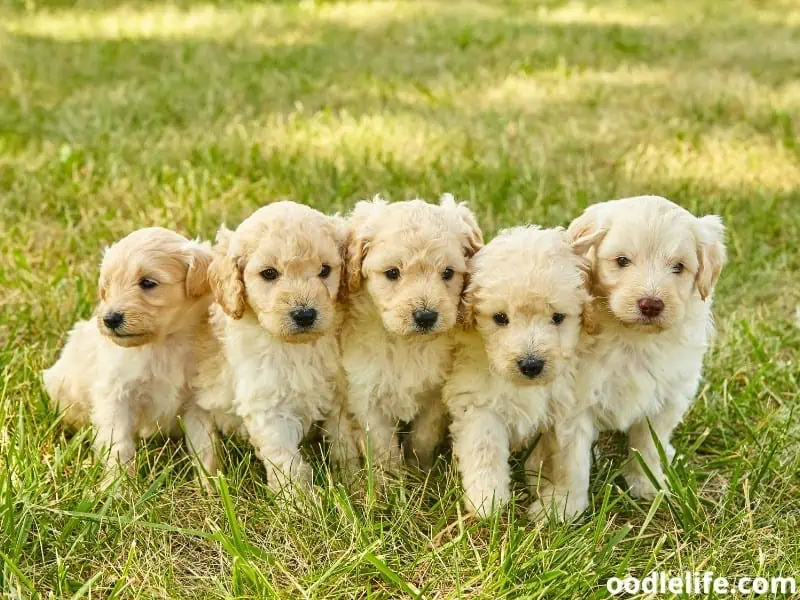 Their Mini Goldendoodles weigh 20 to 35 pounds and stand 16 to 18 inches tall at the shoulder. In addition, their Toy size ranges from 14 to 18 pounds and 13 to 15 inches at the shoulder, while their "micro-mini" (also known as Teacup) runs from 8 to 12 pounds and 9 to 11 inches at the shoulder.
They only produce "multi-generational" Goldendoodles, which means both parents are also Goldendoodles. They no longer breed purebred Golden Retrievers or Poodles.
Most, if not all of their puppies will be low-shedding and most likely hypoallergenic, making them suitable for people with allergies.
Additionally, Goldendoodle Kennels provides a 5-year genetic health warranty on all their pups. You don't have to place a deposit to select your pup, and they offer puppy orientation which covers things like feeding, grooming, health, housing, and training.
Photos of available puppies can be seen on their Facebook page and website. They also provide the option to adopt and strongly advise a quick phone call so they can fully address your concerns, tell you about their puppies, and explain the adoption procedure. There is no cost to you until you find the perfect puppy.
Contact Details:
Website: https://www.goldendoodlekennels.com
Phone: (855) 453-6363
Email: [email protected]
Location: Edmond, Oklahoma
3. Golden Liberty Doodles
The Goldendoodle Association of North America has named Golden Liberty Doodles a Blue Ribbon Breeder (GANA). This honor is presented in acknowledgment of the numerous tests they run on the puppies under their care. According to national guidelines, these include genetic or DNA testing, OFA testing, and several additional tests.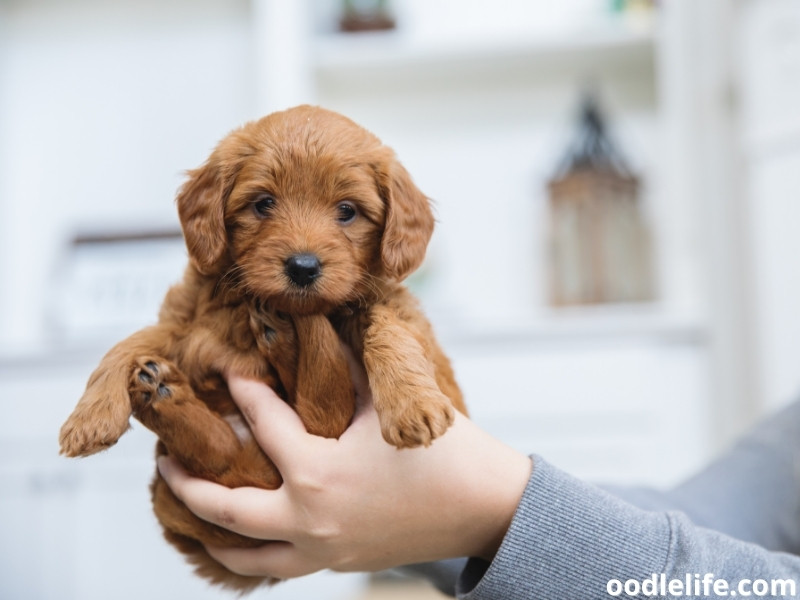 All puppies produced by Golden Liberty Doodles go through extensive care from prenatal until they find their new forever home. They apply the clinically proven Puppy Culture method to each of their puppies and focus on early neurological stimulation, environmental stimulation, attention and behavioral training, and paper training.
They make sure that every puppy has the finest possible start to a long and happy life.
Note that they do not guarantee their pups will be hypoallergenic. According to them, allergies are complicated and a person's allergic reaction can be caused by a variety of factors. However, they can provide a Baby Blanket test service for $75.
This test entails placing a blanket with your chosen pup so that their fur and dander can transfer onto it from the coat.
Then, they will send it to you and you can determine whether you will have a reaction when exposed to the pup's coat. While this method is not clinically or scientifically proven, it can give you a strong indication of whether you will react to your new dog.
Contact Details:
Website: https://goldenlibertydoodles.com/
Phone: (619) 468-5400
Email: [email protected]
Location: El Cajon, California
They are a San Diego-based home breeder of F1B Goldendoodles. They specialize in producing hypoallergenic Goldendoodles of medium and normal size with little to no shedding, making them suitable for households that have moderate allergies.
They carefully choose their studs to mate with Emmy, the domestic Goldendoodle of the family. To achieve the ideal teddy bear face, they exclusively select box-faced Poodles. Before going to their permanent homes, the puppies are dewormed and receive their first vaccinations and a checkup from a licensed veterinarian.
All of their puppies are whelped and nurtured in their house, receiving round-the-clock care, and interacting every day with both adults and children. In addition, they breed AKC-registered Golden Retrievers and Poodles that are compliant with current breed standards.
Each parent comes from a perfect bloodline and proper pedigree. They are also health tested for common health problems in Goldendoodles and are OFA and CERF certified.
Puppies raised in their homes are well-treated and cared for, sleeping in a clean, temperature-controlled area. They are free to romp and play in a puppy yard that is a safe place. They get the best supplements and have an excellent start to potty, crate, and clicker training.
Contact Details:
Website: https://sddoodlepups.com/
Phone: (760) 282-4599
Email: [email protected]
Location: Temecula, California
A small hobby breeder based in San Diego, Cathy Stanley has over 30 years of experience as a breeder and trainer. They bred champion Labrador Retrievers for 25 years before breeding Goldendoodles.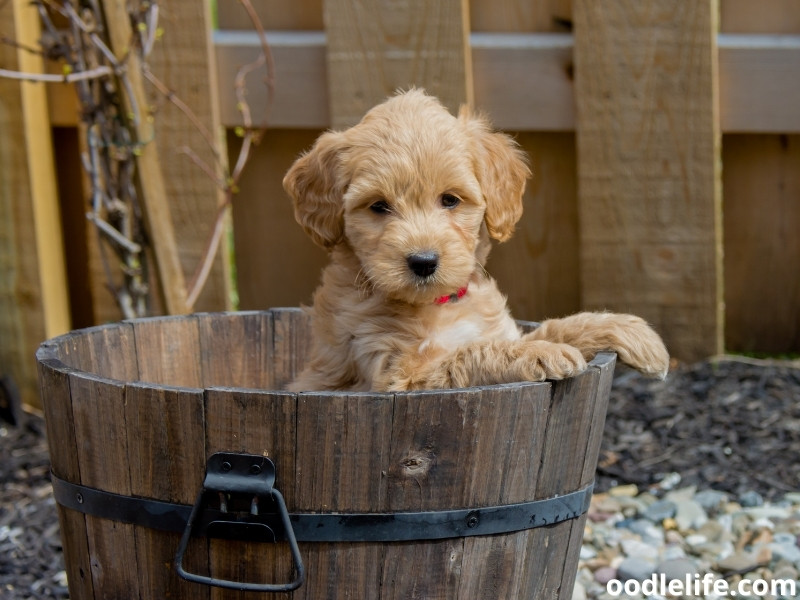 From the day of their birth, their pups are put on an eight-week program that includes early neurological stimulation at three days of age. At about two weeks, the pups start potty training and by three weeks, many of their pups have a rough idea of potty training basics.
The pups are provided plenty of toys, and soon, crate training begins together with loose leash training. At about six weeks, the breeders will have a rough idea of the temperaments of each pup and start matching them with their prospective new homes to ensure an optimal fit in terms of lifestyle and temperaments.
The pups will then leave their mother and littermates at eight weeks, never sooner. All their pups come with a two-year health genetic against genetic defects or diseases. The pups are vaccinated, dewormed, and microchipped by their certified veterinarian.
Contact Details:
Website: https://www.crystalbaygoldendoodles.com/ 
Phone: (858) 231-2252
Email: [email protected]
Location: San Diego, California
Experienced in breeding Goldendoodles since 2002, they socialize puppies in a family environment using techniques taught by Jan Fennell, The Dog Listener. All available puppies are given the best veterinary care and come with a puppy care package as well as a 3-year health guarantee.
The guarantee includes any debilitating congenital defects as determined by neutral third-party arbitration, up to 3 years from the age of birth. This health coverage excludes infections, hernias, viral diseases, coccidiosis, giardia, improper bites, and hypoglycemia.
However, it excludes illnesses brought on by physical trauma, ingesting foreign objects, chemicals, and food.
They carefully select the bloodlines in their breeding program. All the Poodles and the F1 and F1B Irish Goldendoodles come from parents with good temperament and health.
Hybrid puppies from tested purebred parents are the healthiest possible crosses due to "hybrid vigor." A hybrid crossbred puppy has a higher chance of avoiding genetic disorders than a purebred dog.
Contact Details:
Website: https://doodlepuppy.com/
Phone: (219) 863-3970
Email: [email protected]
Location: Wolcott, Indiana