How to Sharpen Dog Nail Clippers? [Steps and Video]
Keeping your dogs' nails short is an essential task. Usually, a groomer can accomplish this when you're taking your dog for their normal grooming session. However, some dogs need their nails clipped more frequently and grooming sessions can be far and few between.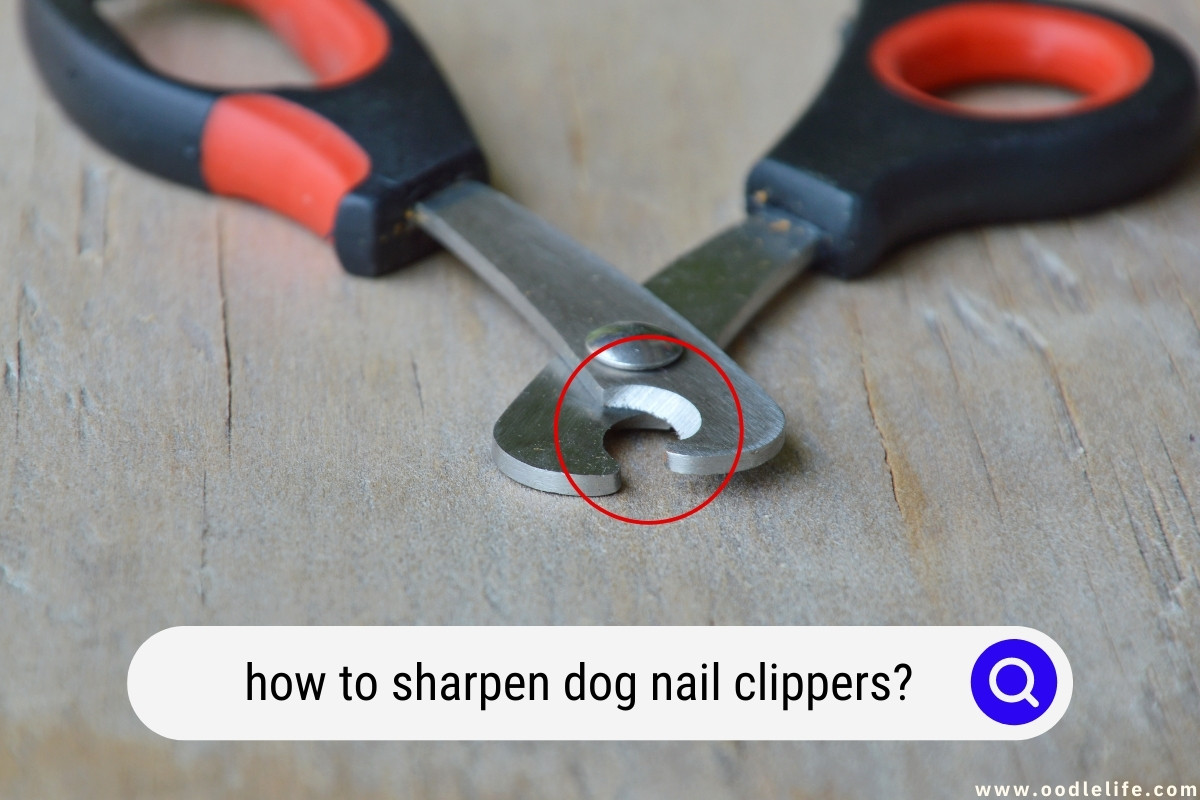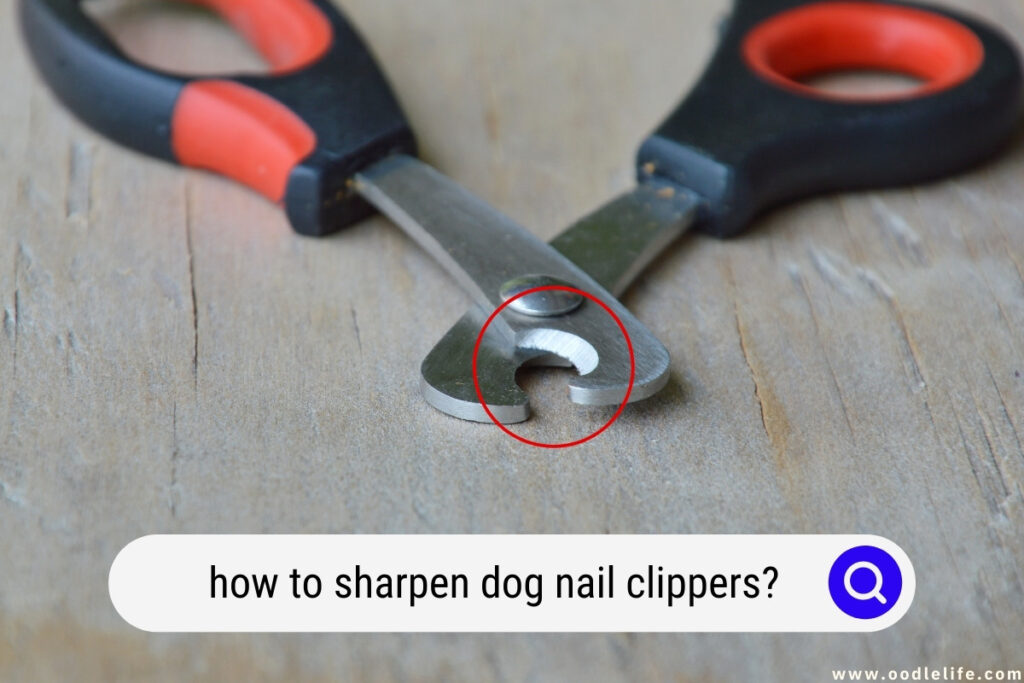 Here's how to sharpen dog nail clippers so they remain safe, effective, and ready-to-use.
Step 1: Take the Clippers Apart
Most dog clippers are a standard spring-loaded tool that clips the dog's nails in between the two blades. If your clippers have a lever, then remove that lever first by pressing the two components of the clippers together with pliers.
Step 2: Separate the Clippers
Once that pin is removed, you can separate the clippers so they can be sharpened. They won't detach completely, but they will open wide enough to use a sharpening tool.
Step 3: Sharpen the Clippers
There are various tools you can use to sharpen clippers.
Sharpening stone: Sharpening stones are small, rough rectangular-shaped stones that you rub the blade against to sharpen. They're relatively cheap and easy to use.
Whetstone Knife Sharpening Stone Kit - Professional Knife Sharpener Stone Set, Realohas Premium 4 Side Grit 400/1000 3000/8000 Wet Stone Sharpening Kit with Anti Cut Gloves, Leather Strop, Angle Guide
✔[MULTIFUNCTION] A dull knife has hidden danger of cutting material. Made of premium quality, our knife sharpening stone kit easily refine the sharpest edge on any blade such as boning knife, chef...
✔[SAFE TO USE] You can easily and safely use our whetstone knife sharpener. Bamboo base and non-slip rubber helps to stabilize the sharpening stone firmly. A pair of cut resistant gloves can protect...
✔[EASY TO USE] Water, rather than expensive oil, is the only liquid needed. Angle guide for stabilizing the angle of the knife when sharpening, which is friendly to those who are new to whetstone....
✔[MEET 99% OF YOUR NEED] Usually you need one finer stone and one coarse stone when sharpening your knives. It comes with 2 dual sided whetstone (400/1000, 3000/8000), meet 99% of your need. A pair...
✔[PACKING LIST] #400/1000 grid sharpening stone x 1; #3000/8000 grid stone x 1; bamboo base x 1; cut-resistant gloves x 1 pair; leather strop x 1; rubber holder x 2; flattening stone x 1; angle...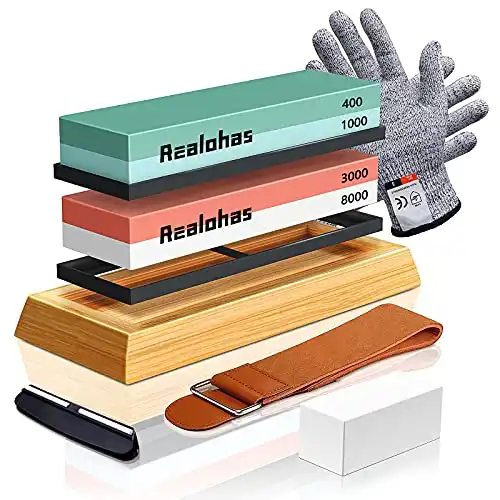 We earn a commission if you make a purchase, at no additional cost to you.
Grinding stone: Grinding stones are usually attached to a spinning piece. This moves the stone in a circle, and you place the clippers on the moving stone to sharpen them. These require less movement on your part to sharpen the blade but require electronic power to make it move.
We earn a commission if you make a purchase, at no additional cost to you.
Diamond-tapered rod: A diamond-tapered rod is a handheld tool. You either stand it up vertically and run the blade down against it to sharpen it, or you hold it vertically and run the blade outwards to sharpen.
SHARPAL 119N Diamond Knife Blade Sharpener (1200 grit) Professional Kitchen Chef Sharpening Stick Rod, Honing Steel (Diamond Coated, 10 Inch)
Maintain your knife: The surface coating is very fine diamond particles (1200 grit). This level of accuracy is ideal for routine maintenance. Compared to other products using carbon steel, the...
Suitable for a variety of materials: Diamond is the hardest material in nature, so it can be used to sharpen all kinds of hard material tools that are not suitable for other sharpening materials, such...
Safety&Easy to Use: The protective ring on the handle protects your hand. The ergonomic handle makes for a comfortable grip, and the round sharpening bar makes your sharpening process easy and...
Storage: Dry the diamond surface when you have finished grinding the knife. We recommend that you put this product in a cool, dry place.
3 YEARS Warranty and Superior After-Sale Service: Sharpal headquarters in CA, US with overseas branches in Germany and Australia, aiming at providing consumers with an easy and cost-effective way to...
We earn a commission if you make a purchase, at no additional cost to you.
Ceramic rod: A ceramic rod is essentially the same as the diamond-tapered rod but made of ceramic.
Green Elephant Ceramic Sharpening Rod, Lightweight & Highly Durable 11-Inch Shatterproof Ceramic Honing Rod For Professional Chefs and Home Cooks
DURABILITY with the highest quality ceramic available on the market – hardness of this ceramic sharpening steel is 9 Mohs (SGS tested). Rockwell hardness over 100 (Yes, that's correct). Grit #1500....
Exclusive SHOCK ABSORBING feature – Our unique vibration absorbent design will protect your ceramic sharpening rod from shattering when dropped. The silicon seal between the handle and ceramic...
LIGHTWEIGHT AND COMFORTABLE handle will provide effortless and safe sharpening experience.
Extremely EASY TO USE sharpener– Ideal for honing, realigning and sharpening blades. Only 5-10 strokes on each side of the blade after every 1 hour of knife use makes it one of the easiest tools to...
HAND WASH ONLY – use regular detergent and air dry your ceramic knife sharpener rod; keeping your honing rod clean is easy. Green Elephant sharpening rod will come with a 30-DAY HASSLE FREE MONEY...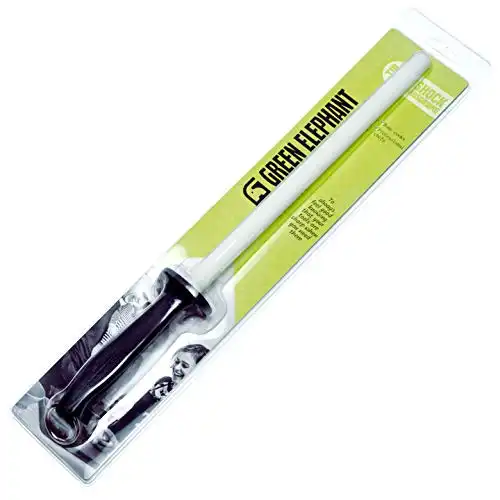 We earn a commission if you make a purchase, at no additional cost to you.
Here's also a video on how to sharpen your dog's nail clipper:
How Often Should I Sharpen Dog Nail Clippers?
Because dogs' nails are tough and wear down the clipper's blades quickly, then you'll need to sharpen those clippers on a semi-regular basis. There's not a cut and dried time between sharpens, but if you can sense the nail clippers aren't cutting your dog's nails as quickly or cleanly as when you first bought the clippers, then it's probably time to sharpen them.
Like any tool, dog nail clippers have a lifespan, and eventually, they'll need to be replaced regardless of how sharp they are. Old and worn-out nail clippers can pose a danger to your dog.
Dog nails have a sensitive inner part, called the quick, that sits quite close to their outer covering. When clipping their nails, it is easy to accidentally nick this and cause your dog's nails to bleed. Accidentally cutting this can also be painful for your dog, and they probably won't be cooperative the next time you need to cut their nails.
If your nail clippers are old and show signs of wear along the blade, then it's probably time to replace them rather than sharpen them again.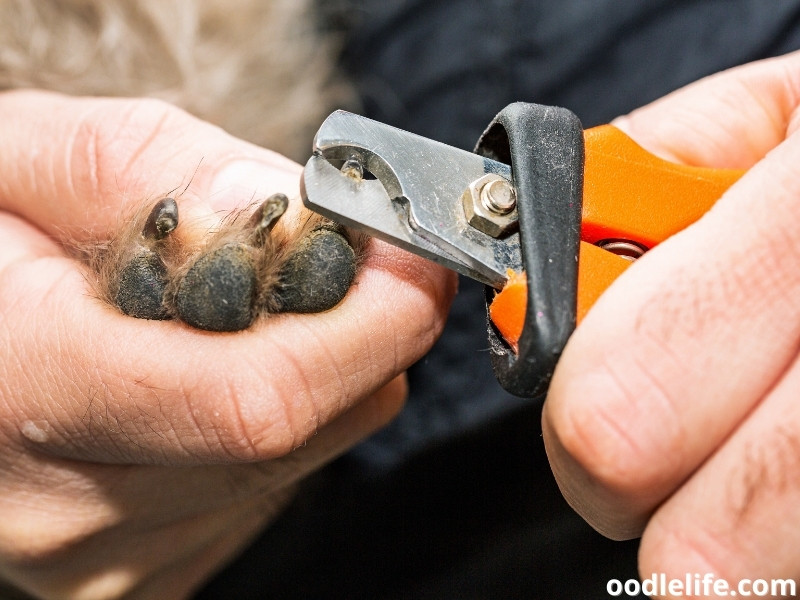 How to Pick Out New Clippers?
Although clippers come in a standard shape, there are still different factors that can influence choosing the correct ones.
Dog size: Larger clippers with a bigger gap between blades work best for medium to large breeds such as Labrador Retrievers and German Shepherds. Smaller clippers that have a smaller gap work for daintier dogs.
Grip: Nail clippers have different grips, and choosing ones with a large, preferably plastic with a rubber coating provides stability and comfort when clipping your dog's nails.
Shape: Most dog nail clippers come in a pliers-like appearance, however, some may have more of a scissor-like design.
Alternative Designs
Some newer clippers are actually electric and don't have any blades. Instead of manually having to cut your dog's nails, you can simply press a button and your dog's nails are trimmed.
Casfuy Dog Nail Grinder Upgraded - Professional 2-Speed Electric Rechargeable Pet Nail Trimmer Painless Paws Grooming & Smoothing for Small Medium Large Dogs & Cats (White)
Safe, Effective & Precise Trimming: This dog nail grinder uses an advanced diamond drum bit grinder to deliver the safest, most comfortable pet claw grinding. Recommended by veterinarians and pet...
Advanced 2-Speed Switch & 3 Grinding Ports: The trimmer features an adjustable, low-high speed design powerful enough support heavy grinding. And with 3 ports to match small, medium, or large pets,...
Super Low Noise & Vibration: Many pets get stressed by the sound and vibration of pet nail grinder. However, our electric pet nail grinder uses a superior motor with super-quiet technology that...
Rechargeable & Portable: The cordless dog grinder is rechargeable and has an indicator light on the bottom that turns on when charging. Each grinder has a built-in battery that lasts 2 hours after a...
Considerate Customer Care: Our products experts teams are available 7 days a week. Response in less than 24 hours. Contact us at any time. We will help you at our best. Casfuy hopes pets and their...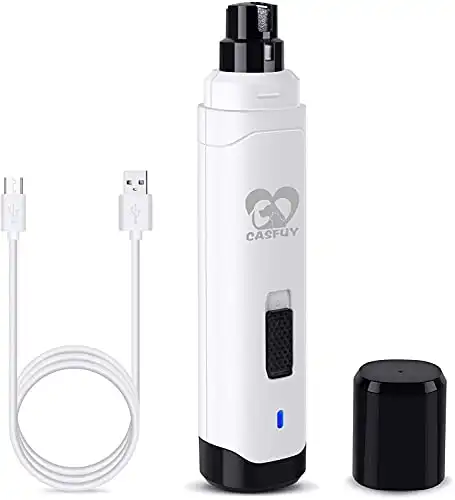 We earn a commission if you make a purchase, at no additional cost to you.
These designs usually incorporate a small spinning grinder similar to a grinding stone. It wears away the nail and usually prevents the quick of the nail from accidentally being cut. Basically, electric clippers are similar to a file.
However, these electric clippers will have a small electric buzz, which could scare your dog.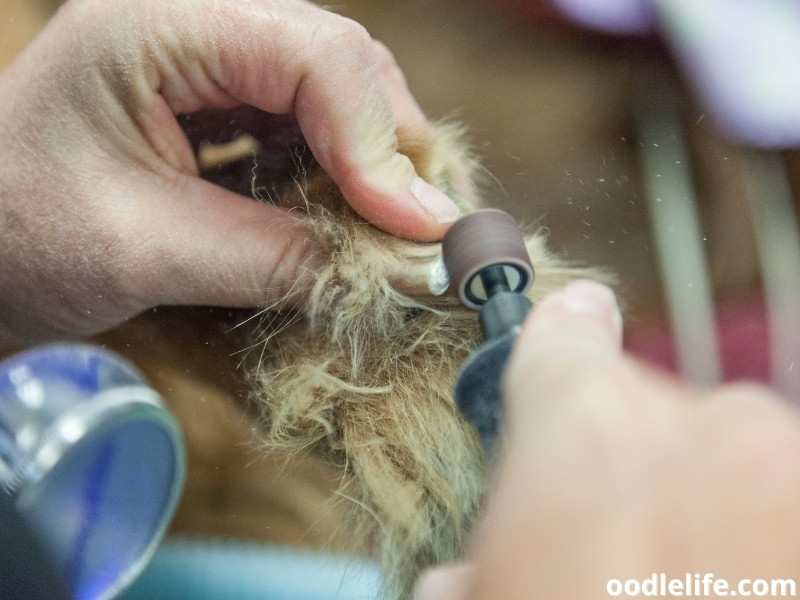 Tips for Trimming Dog Nails
Many times, trimming your dog's nails can be a tedious and unpleasant experience for both the dog and the human involved. Most dogs don't like their paws being played with, and the sensation of having their nails cut off may not be painful, but it is startling and uncomfortable.
There are a few things you can do to keep the experience pain and hassle-free.
Play
Play with your dog's paws from a young age. Make a habit of grabbing them, slightly tugging them, or even just holding them for a few seconds to get your dog used to its paws being touched. Even if you don't end up clipping your dog's nails, then you can make the groomer's job easier when they have to cut them.
Stay Assertive
Dogs are pack animals, and to help ease your dog into the experience, you can keep yourself calm and assertive during it. Your dog will match your energy and hopefully be calmer as the clipping process is occurring.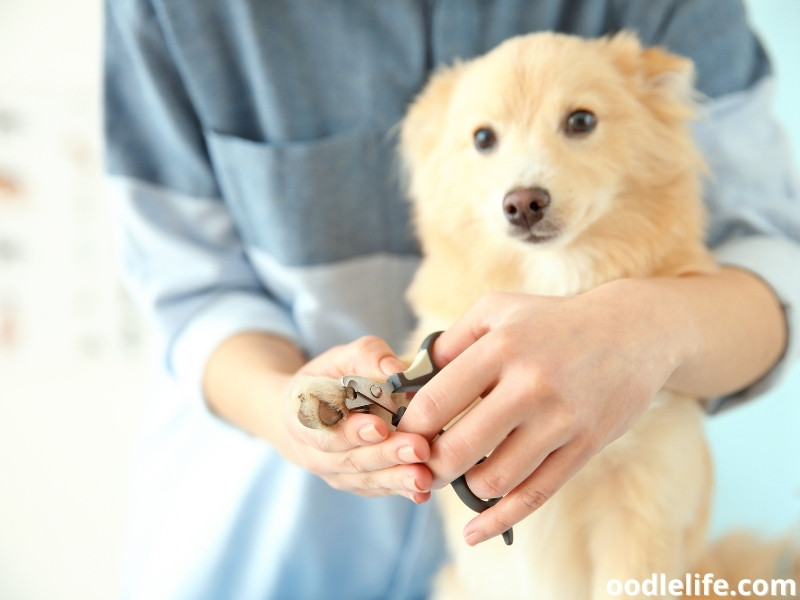 Distract
To help the process of nail-cutting go smoother, you can distract your dog with a treat or toy while cutting their nails. You could fill a toy with peanut butter and let your dog lick that while you cut their nails. That way, your dog's attention is diverted from the cutting process to the toy and food.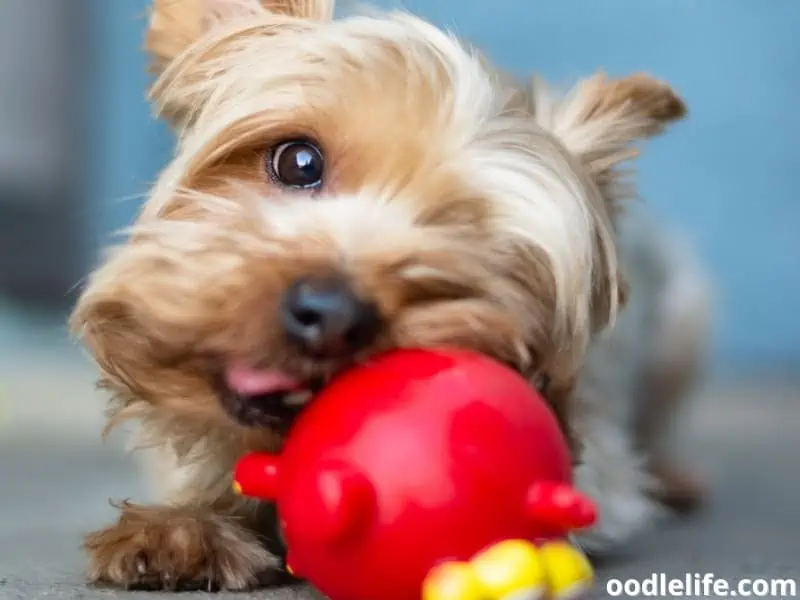 Reward
At the end of the session, reward your dog for the experience. That way, they'll learn to associate the clipping process with a positive incentive at the end.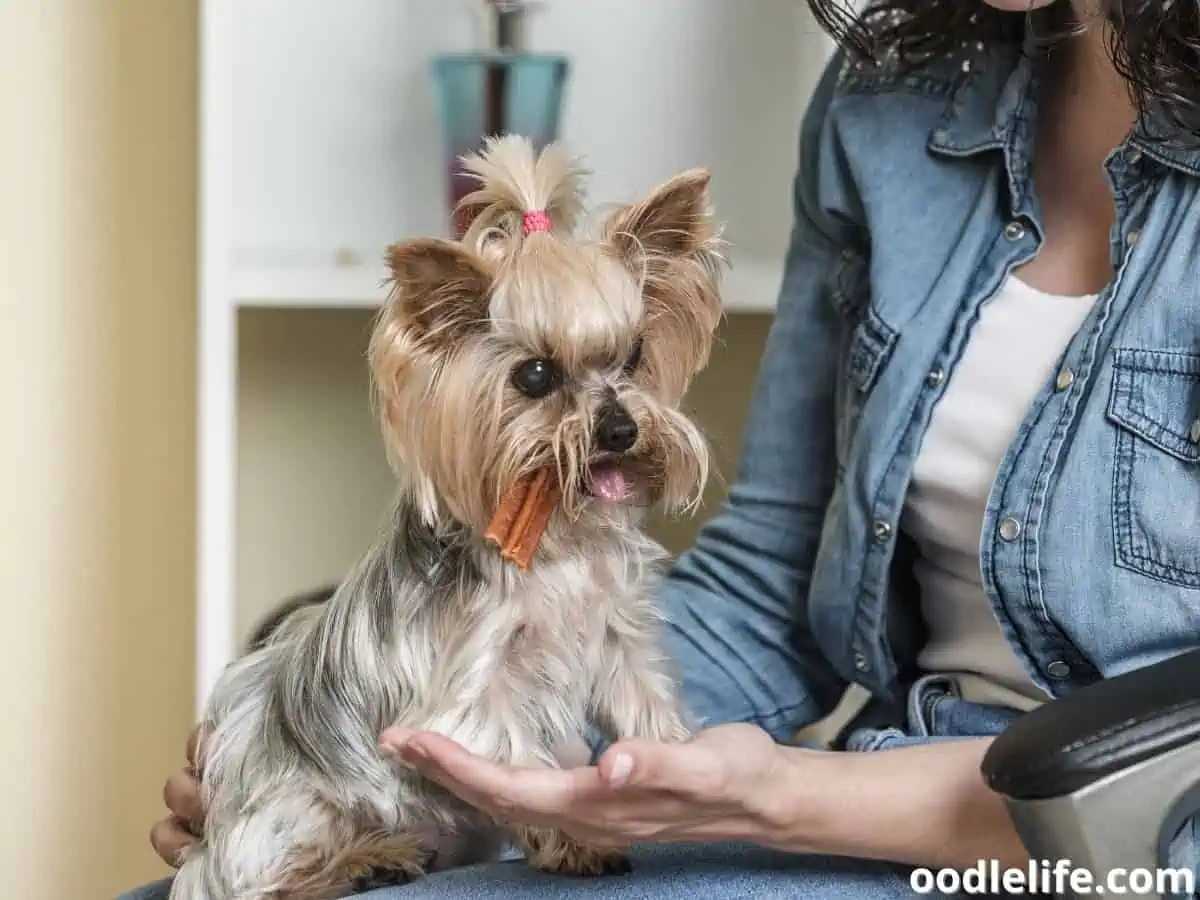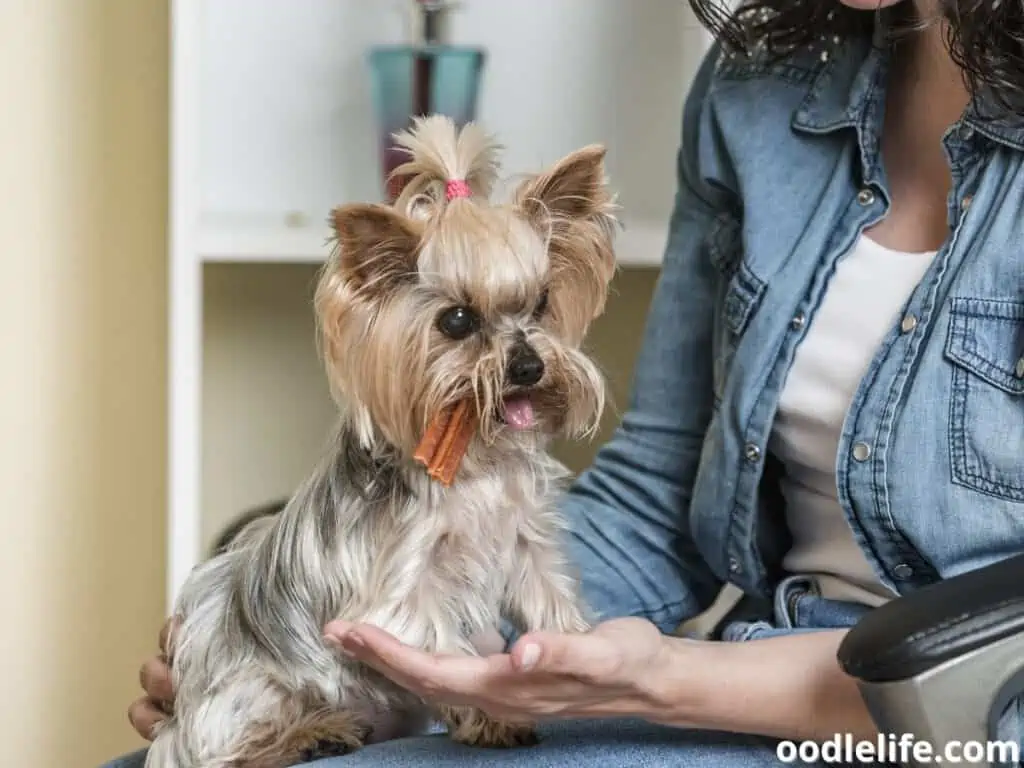 Final Word
Learning to clip your dog's nails and properly take care of the clippers is an easy process, and will save your dog from discomfort if their nails get too long. Not only this but learning to clip your dog's nails at home rather than taking them to the veterinarian or groomer saves money as well.
By properly exposing your dog to nail clipping early on and by taking care of the nail clippers, then the process for nail clipping can be simple and pain-free.