Best Labradoodle Breeders In California (2023 Update)
Labradoodles are a popular designer Doodle breed mixed between a Poodle and a Labrador Retriever. Their outgoing and intelligent personalities, low-shedding coats, and size variety make them the perfect family companion for many first-time dog owners.
If you're interested in getting a Labradoodle puppy and live in California, reaching out to a reputable breeder is essential to ensure the puppy's health.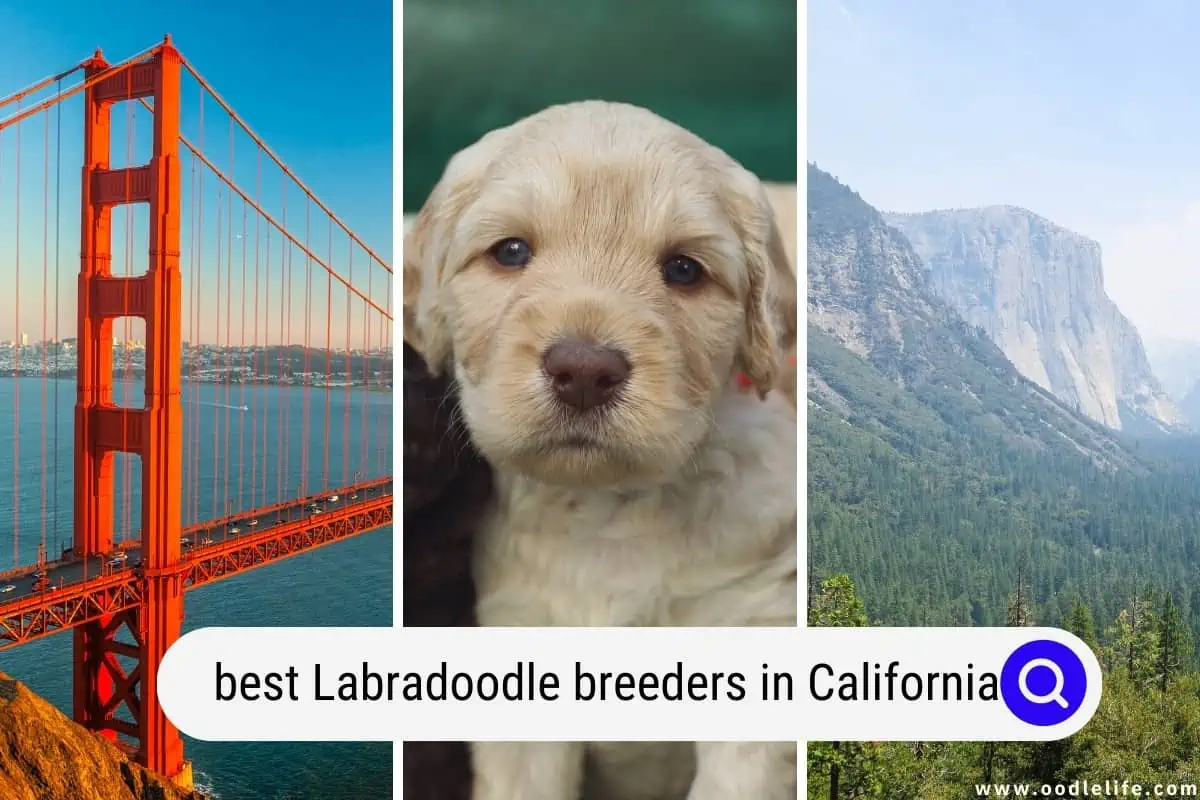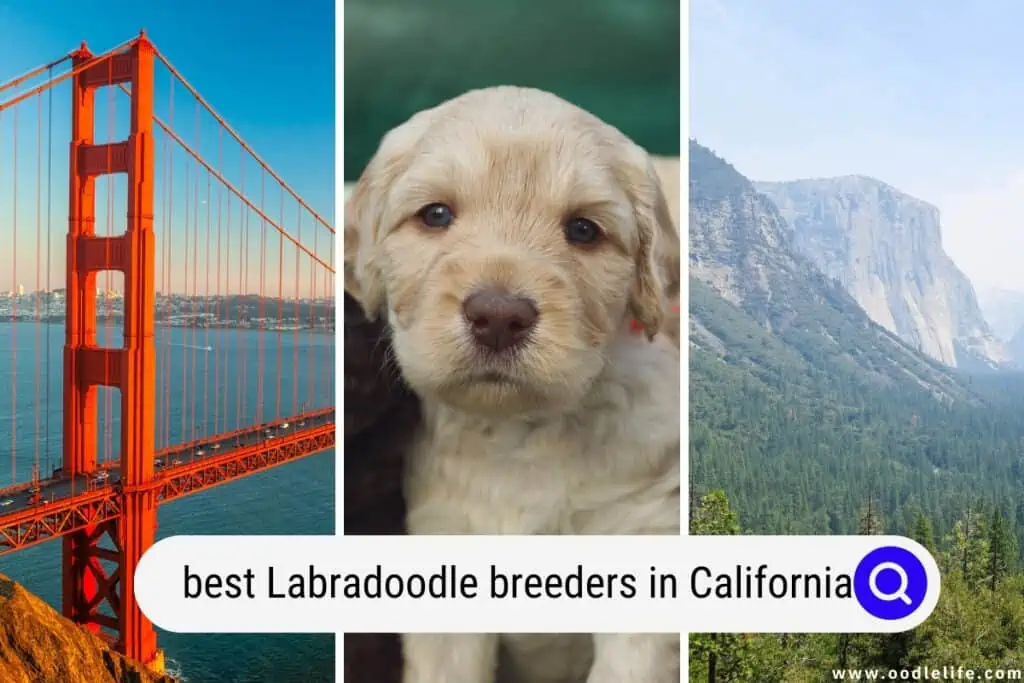 $300 2023 Discount!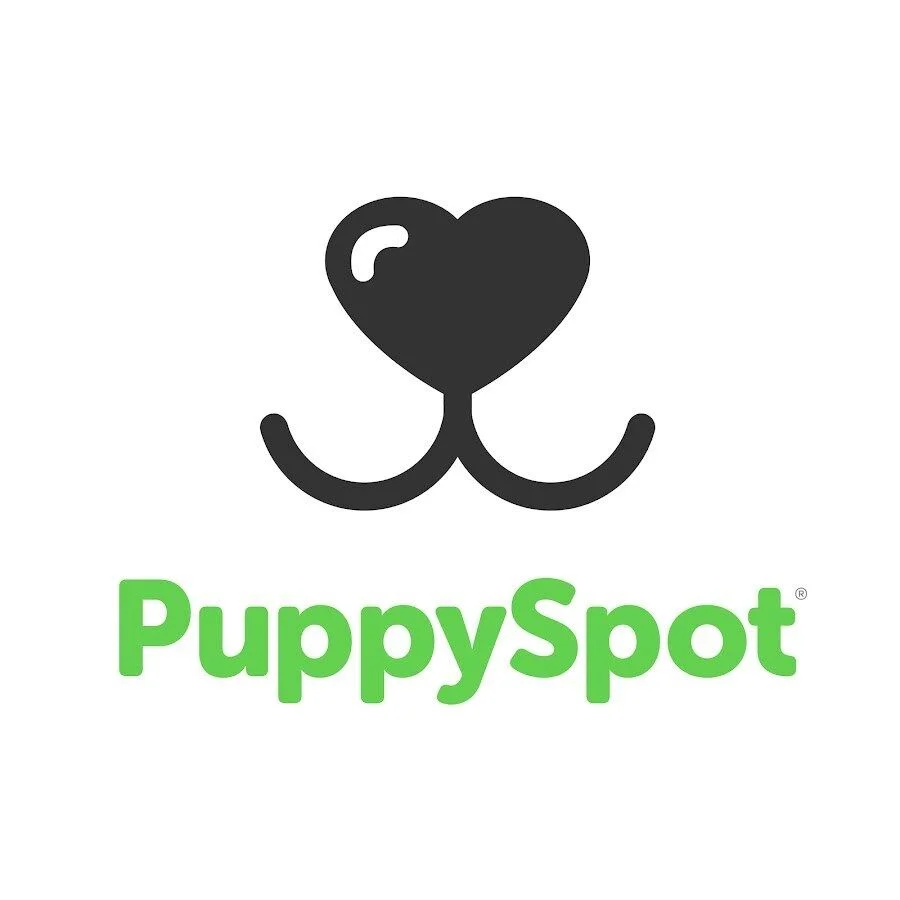 PuppySpot Adoption
PuppySpot is a reputable dog marketplace where you can browse and find compatible puppies right from the comfort of your home. They have placed over 200,000 puppies into homes in the US!
Click through and use the code PUPPY300 for $300 off any puppy adoption.
See Puppies and Save $300
Check out my list of reputable Labradoodle breeders in California if you need a headstart finding the perfect puppy.
1. Goin' Doodles
If you live near El Dorado County, one of the top Labradoodle breeders in California you can count on for a healthy puppy is Goin' Doodles. This small, family-owned breeder specializes in breeding F1b, F1bb, and multi-gen Labradoodles for families interested in an allergy-friendly puppy.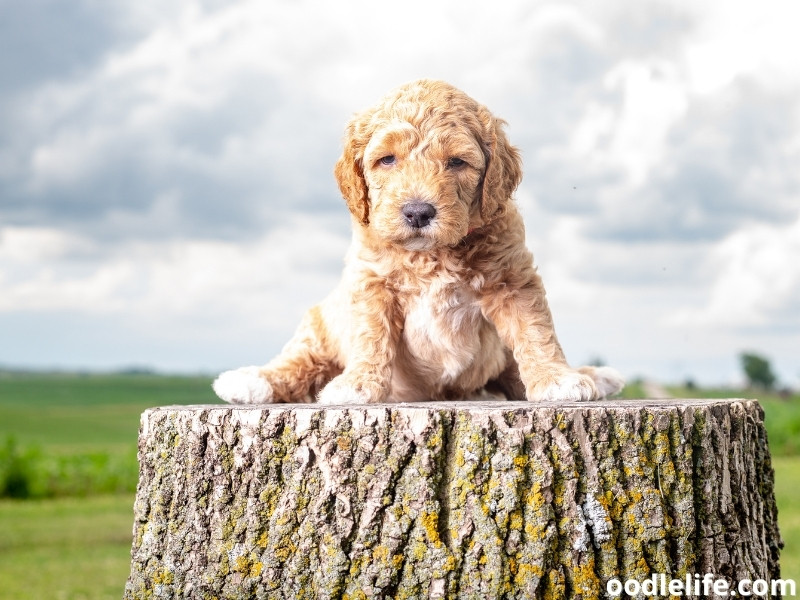 Every litter is born within the breeder's house and socialized with people, children, and other pets at an early age.
Although a puppy's generation won't impact its average price, the breeder requires interested applicants to send a $300 non-refundable deposit to keep one on hold. Families can select their puppies after six weeks and take them home after eight weeks.
All puppies go to their new homes vaccinated and dewormed. The breeder requires new owners to get their Labradoodles spayed or neutered when they're six to 18 months old.
Breeder Information:
2. Country Labradoodles
Next up on this list of Labradoodle breeders in California is Country Labradoodles, located within the Central Coast region. Breeder Elizabeth Ferris specializes in breeding multigen Australian Labradoodles as exceptional service and therapy dogs that make ideal family companions. She's an established member of the Australian Labradoodle Club of America.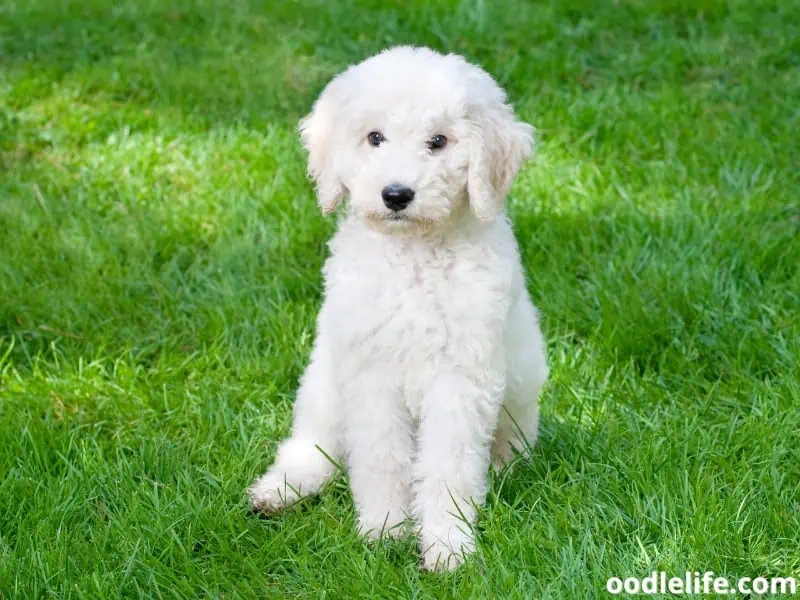 Elizabeth prioritizes testing her sires and dams for several genetic health problems to ensure future litters won't inherit them, from vision loss conditions like progressive retinal atrophy to gradual limb paralysis caused by degenerative myelopathy. She also tests each dog's temperament and coat quality to ensure they meet breed standards.
Puppies get socialized early and undergo temperament testing after seven weeks. Eight-week-old puppies go home microchipped, vaccinated, and dewormed. They have a two-year health guarantee and a three-generation pedigree.
Elizabeth offers extended training packages for an additional fee for families who prefer taking home a trained puppy.
Breeder Information:
3. Hale's Australian Labradoodles
Hale's Australian Labradoodles has offered quality low-shedding puppies for families in California dealing with allergies for over two decades. Heather Hale raises her Australian Labradoodles inside her home to ensure stable development before going to their new homes. She offers Miniature, Standard, and Medium-sized puppies of many colors.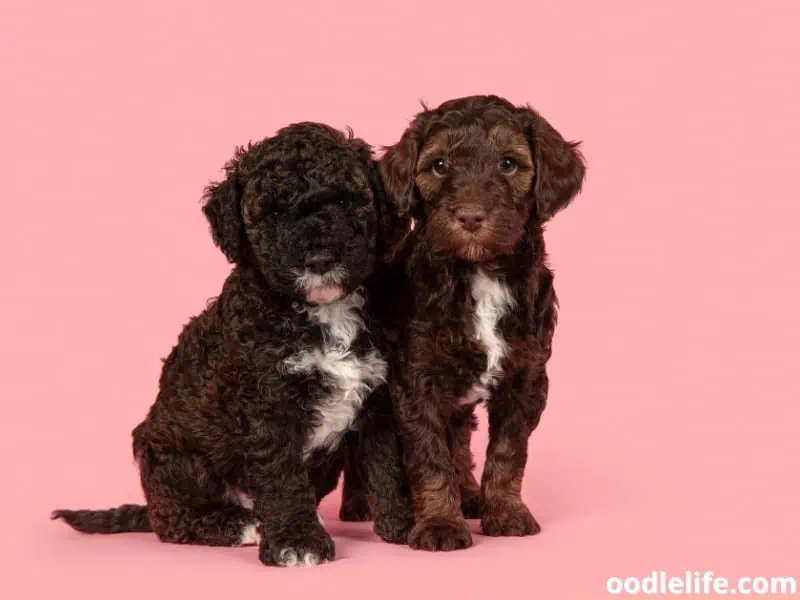 All sires and dams undergo genetic testing to ensure the dogs in Heather's breeding program produce healthy litters that meet breed standards established by the Australian International Labradoodle Association. Besides socializing the puppies, she introduces them to car travel and crate training.
This breeder incorporates a guardian home program where local families care for a dog until the breeder needs them to produce limited litters until they're eligible for retirement.

After eight weeks, the Labradoodle puppies go home with up-to-date shots and deworming, microchip registration, a two-year health warranty, a three-generation pedigree, and 30 days of Trupanion pet insurance.
Breeder Information:
4. Elite Blend Labradoodles
If you live near Sacramento County and are looking for Labradoodle breeders in California offering quality litters, look no further than Elite Blend Labradoodles, helmed by Amber Glynn. This family-operated breeder specializes in breeding multi-gen Australian Labradoodles of many sizes and has recognition from the ALAA.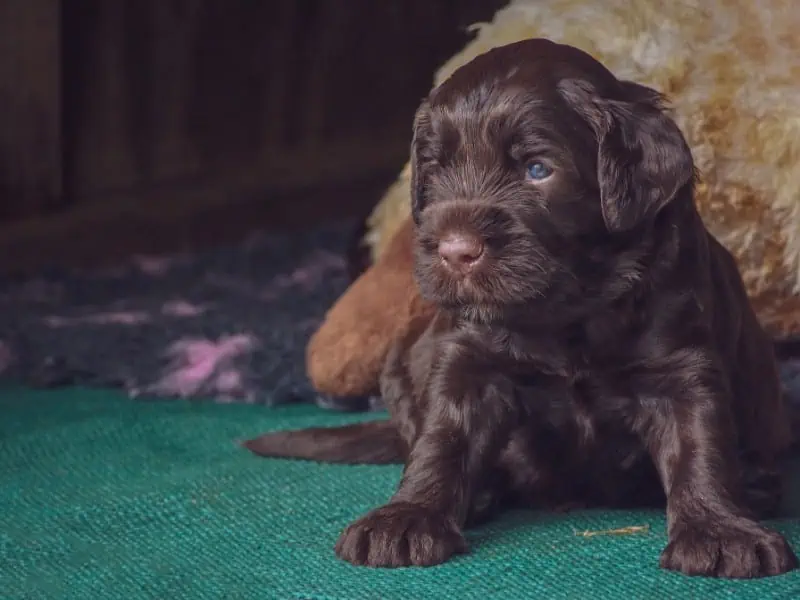 The sires and dams in Amber's breeding program reside in guardian homes and have excellent health clearances for eye, knee, shoulder, and hip issues. All puppies have a two-year health guarantee and get placed on a strict spay or neuter contract. She also introduces the puppies to crate and potty training.
Eligible owners can select their puppy after six or seven weeks. Eight-week-old Labradoodles go home with a scented toy or blanket, microchip registration, and a collar.
The breeder offers a four-week obedience training program for new owners looking for trained puppies. Trained Labradoodles go to their new homes after 12 weeks.
Breeder Information:
5. Delta Breeze Labradoodles
Located south of Sacramento, Delta Breeze Labradoodles is your best option if you're interested in a Medium or Miniature-sized multi-gen Australian Labradoodle puppy. Like many dedicated breeders across the state, Karen Ramirez raises her puppies in her home, giving them plenty of attention while preparing them for life as social family companions.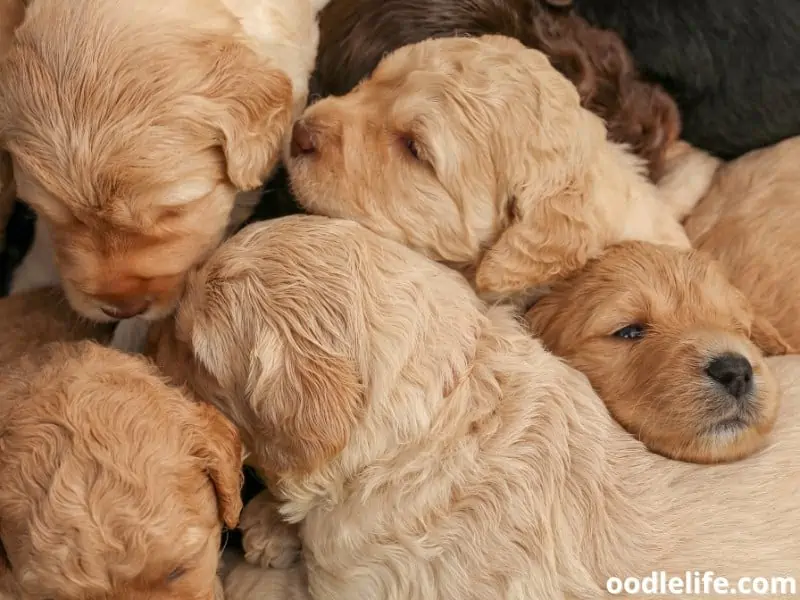 This breeder incorporates a guardian home program to provide secure homes for breedable dogs without placing them in confined kennel spaces until they're needed to produce litters. She prioritizes testing her dogs for health issues before breeding them.
Karen evaluates every application she receives and requires approved applicants to send a $500 non-refundable deposit to place a Labradoodle puppy on hold. She posts regular updates via Facebook.
The puppies get examined by a vet before going to their new homes. They come with a two-year health guarantee, microchip registration, a sample of puppy food, training treats, a toy, and a blanket.
Breeder Information:
6. Sacto Labradoodles
Sacto Labradoodles is a home-based, family-operated breeder located south of Sacramento. Joyce Stranger and her family specialize in raising Medium and Miniature-sized Australian Labradoodles for dog lovers with allergies. She also offers limited Australian Bernedoodle litters and is a dedicated member of the World Wide Labradoodle Association and ALAA.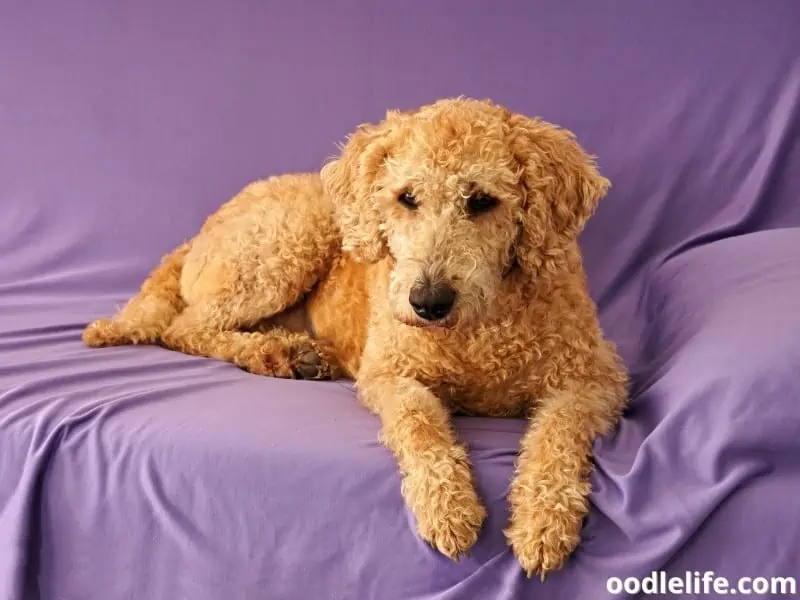 All puppies get vaccinated and dewormed before going to their new homes. They're socialized daily with adults and children alike. The breeder also incorporates daily enrichment training, from teaching puppies not to bite to training them to use a crate.
Eight-week-old puppies go home with a two-year health guarantee, prepaid microchip registration, toys, and a sample of puppy food. Joyce offers a 10% discount for military veterans and families who previously purchased a puppy and are interested in getting another.
Breeder Information:
7. Joyful Oaks Labradoodles
Joyful Oaks Labradoodles, operated by Brad Scott, is a family-operated breeder located northeast of San Diego. This breeder's dogs live within his home, on 2.8 acres of spacious land, or in nearby guardian homes. He prioritizes breeding litters that meet the breed standards established by the ALAA.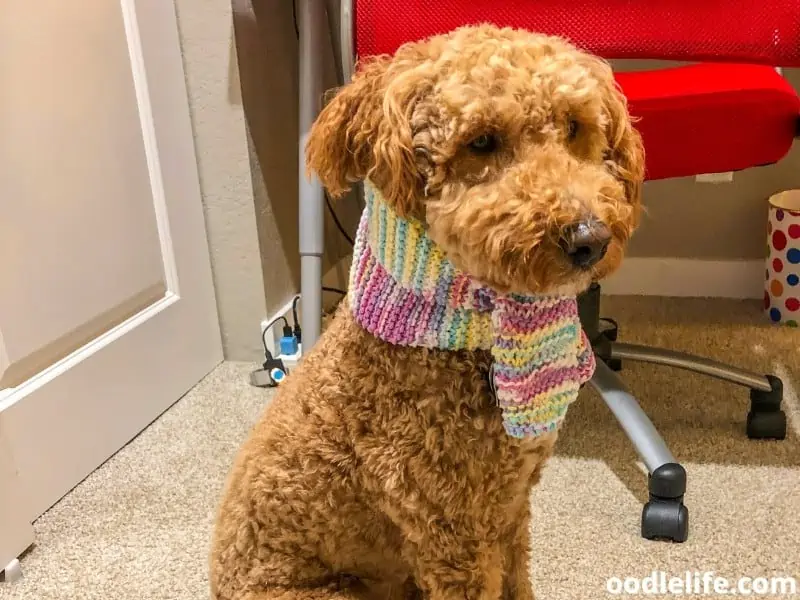 Like most Labradoodle breeders in California, he prioritizes extensive health testing for his Labradoodle parents, from exercise-induced collapse to Von Willebrand's Disease, a genetic bleeding disorder.
After evaluating every submitted application, the breeder contacts each applicant within 48 hours to interview them and answer their questions. Approved applicants can submit a $500 deposit to reserve a puppy.
The breeder uploads video and photo updates bi-weekly until the puppies are eight weeks old and ready to go home.
Breeder Information:
8. Windy Hill Doodles
You can find Windy Hill Doodles 13 miles east of Modesto. Patricia Rogers specializes in breeding Miniature Labradoodles for companionship. Her spacious 20-acre property has temperature-controlled kennels where many dogs reside.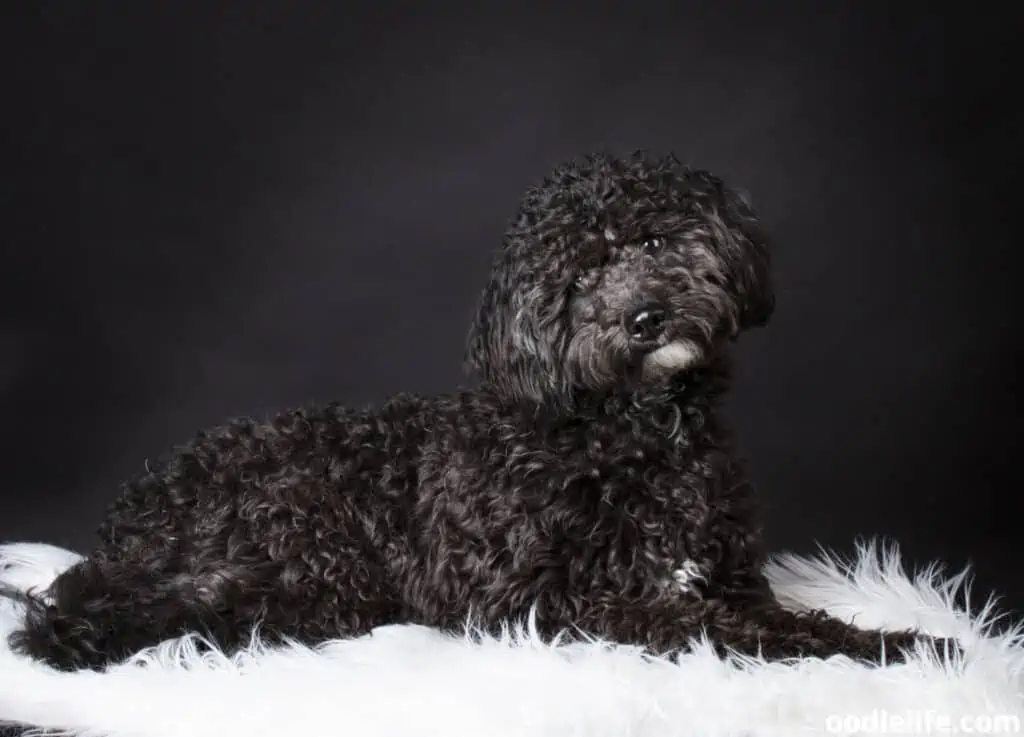 She also offers Goldendoodles and Cavapoochons.
This breeder bottle-feeds her puppies during their first three weeks to get them accustomed to human touch. She prioritizes daily neurological stimulation to enhance each litter's development. All puppies get accustomed to different household noises and socialize with other dogs.
Eligible families can select and take their puppy home after eight weeks. Each Labradoodle has a one-year health guarantee, up-to-date health records, and Continental Kennel Club registration.
Breeder Information:
Conclusion
Labradoodles make excellent companions for any household, so it's essential to reach out to reputable Labradoodle breeders in California to ensure the one you get lives a long and healthy life.
Consider looking for breeders who post information about their breedable dogs' health clearances on their websites, answer any questions you might have about their breeding program and application process, and are members of at least one Labradoodle association.