Best Labradoodle Breeders in Kentucky (2023 Update)
Dog lovers looking for the best Labradoodle breeders in Kentucky will appreciate knowing the state has several options.
These dogs are so popular that it's good to have choices so you can put your name on the waiting list for multiple upcoming litters.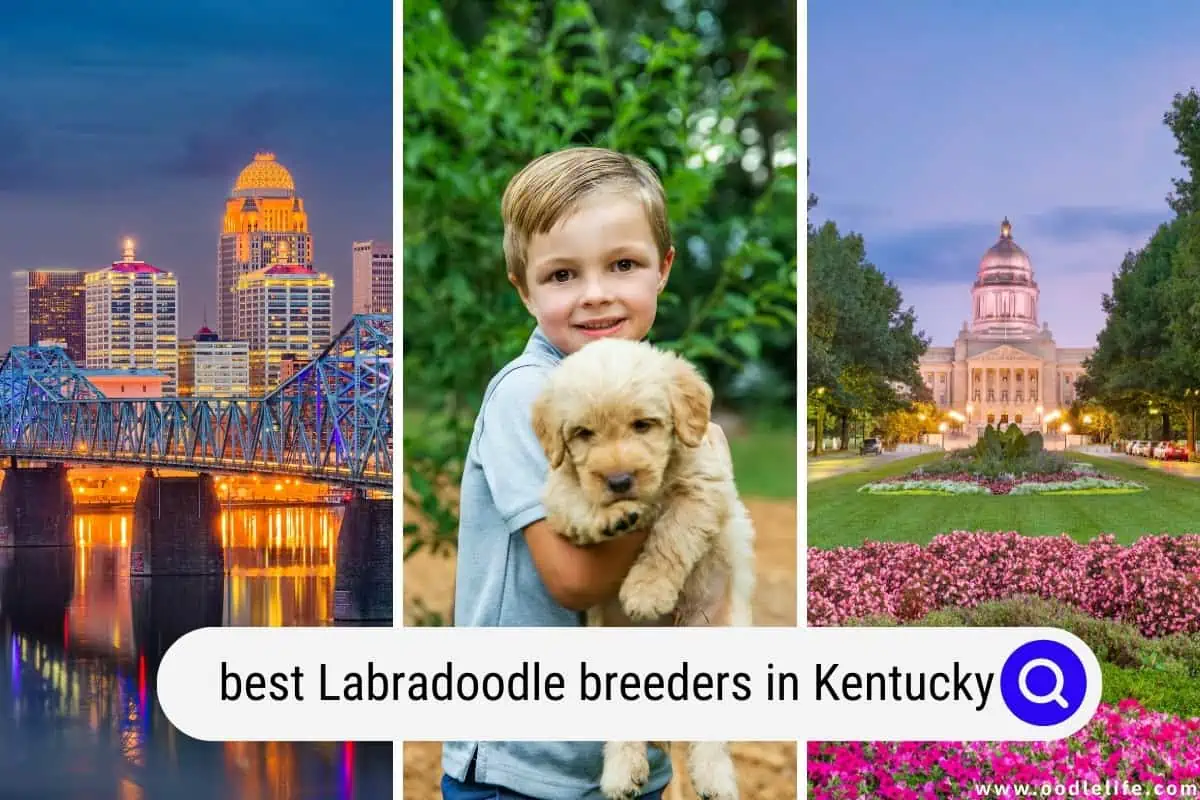 $300 2023 Discount!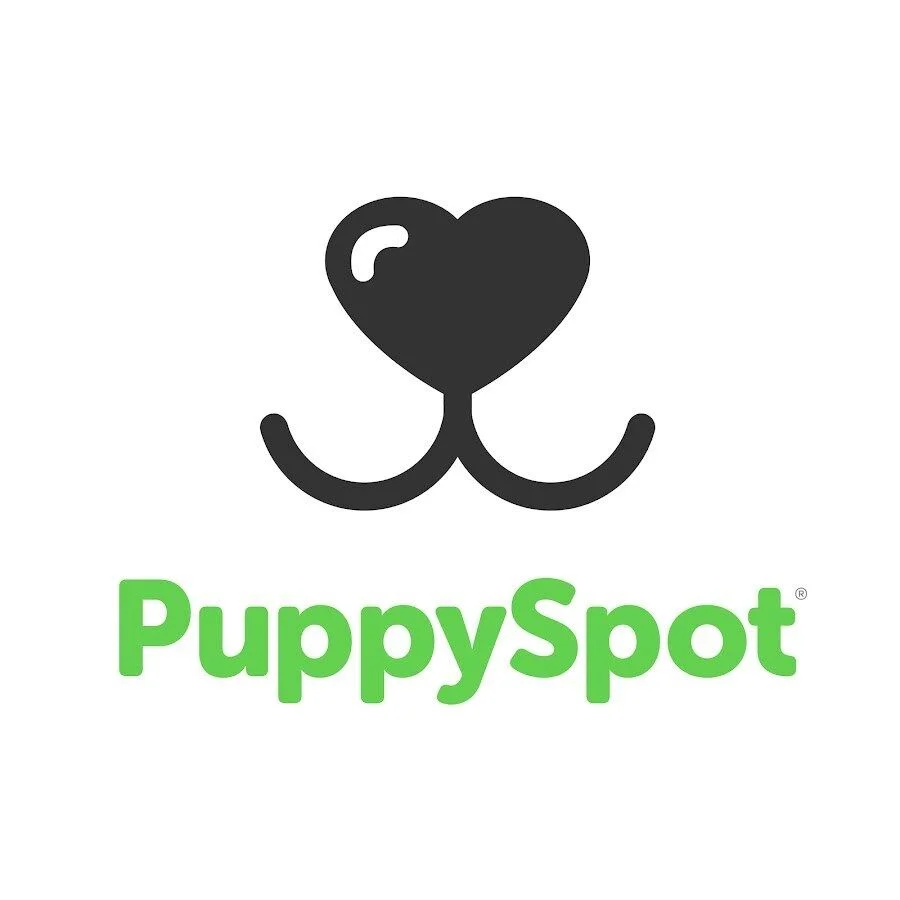 PuppySpot Adoption
PuppySpot is a reputable dog marketplace where you can browse and find compatible puppies right from the comfort of your home. They have placed over 200,000 puppies into homes in the US!
Click through and use the code PUPPY300 for $300 off any puppy adoption.
See Puppies and Save $300
1. Doodle Roots
Doodle Roots breeds Australian Labradoodles known for their calm, loving temperament. They breed and socialize the dogs at home, ensuring they feel love just days after birth. The puppies get early home training and know when and how to ask to go outside, which can save you time and effort regarding training.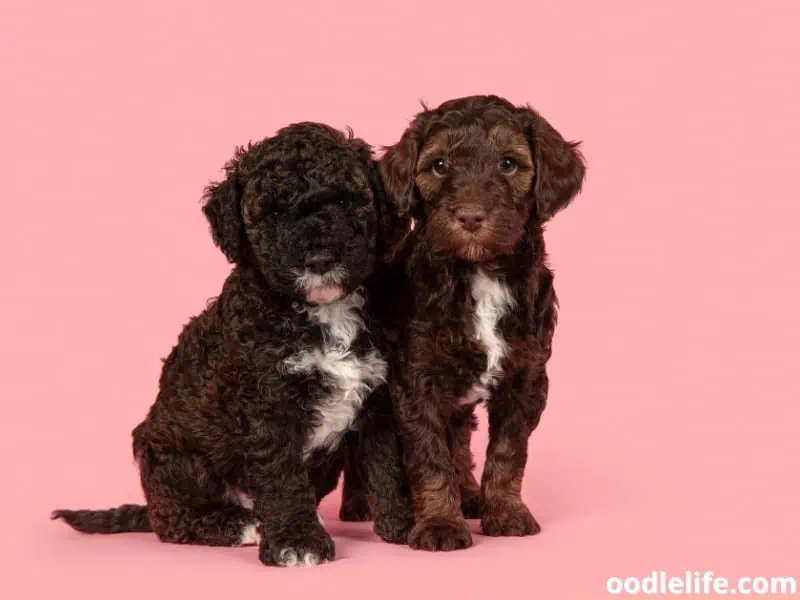 Because the breeders at Doodle Roots love their dogs so much, they don't just cut you off after finalizing the adoption. They continue your relationship to check in about your new pet and ensure you have all the information and resources you need to give your dog a good life.
Breeder Details:
2. Happy Time Doodles
Happy Time Doodles is a breeder that specializes in Australian Labradoodle puppies. The breeders take care with their work, ensuring the parents don't have hip or elbow dysplasia or progressive retinal atrophy (PRA). They also run DNA profiles and conduct optical exams to ensure each litter is as healthy as possible.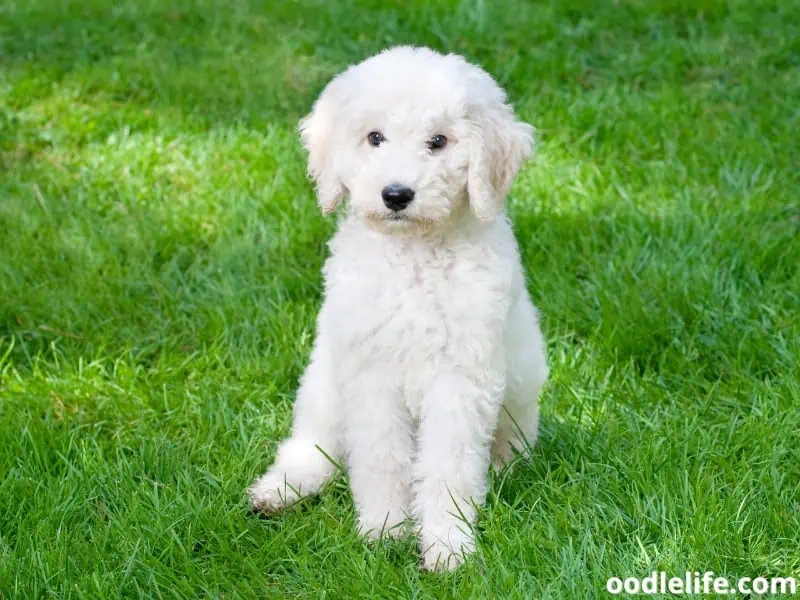 When the puppies are just days old, the breeders work to provide stimulation, helping the Labradoodles start with strong neurological development. Happy Time Doodles is a home-based breeder, so the dogs have an acre of land to explore until it's adoption time.
Breeder Details:
3. Ruff-Ruff, Yo
Ruff-Ruff, Yo is a breeder located in London, but there's no need for international travel to adopt your puppy. London, Kentucky is less than an hour and a half southeast of Lexington, so it's not too out of the way, regardless of your location.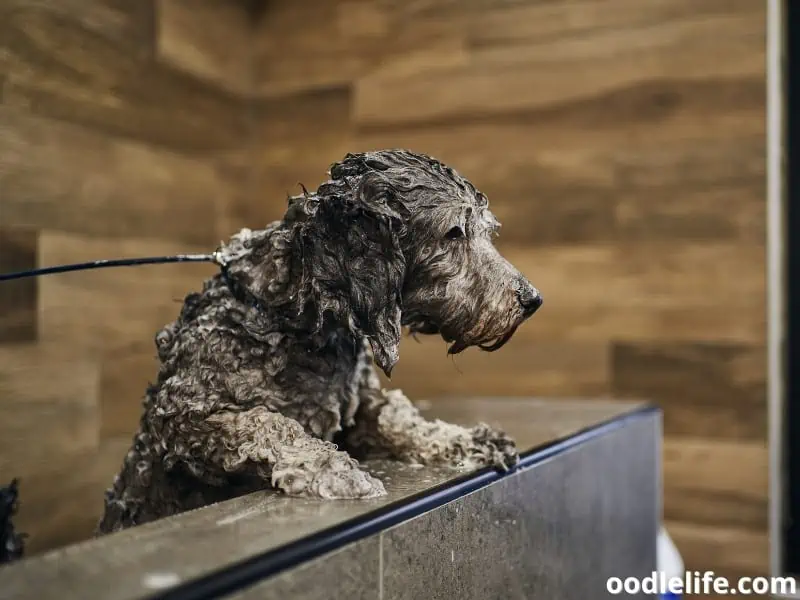 All parents used for breeding at Ruff-Ruff, Yo are AKC-registered. The breeders run genetic tests and check their health before each litter. After the puppies were born, the breeder vaccinated and dewormed them to ensure each new pet owner gets their Labradoodle puppy in the best shape.
Breeder Details:
4. KY Doodles
If you're looking for different variations of Labradoodles, you'll love what KY Doodles offers. They breed Australian Labradoodles, Goldendoodles, and Standard Poodles. The breeders have over 30 years of experience, so you can confidently adopt a puppy from KY Doodles.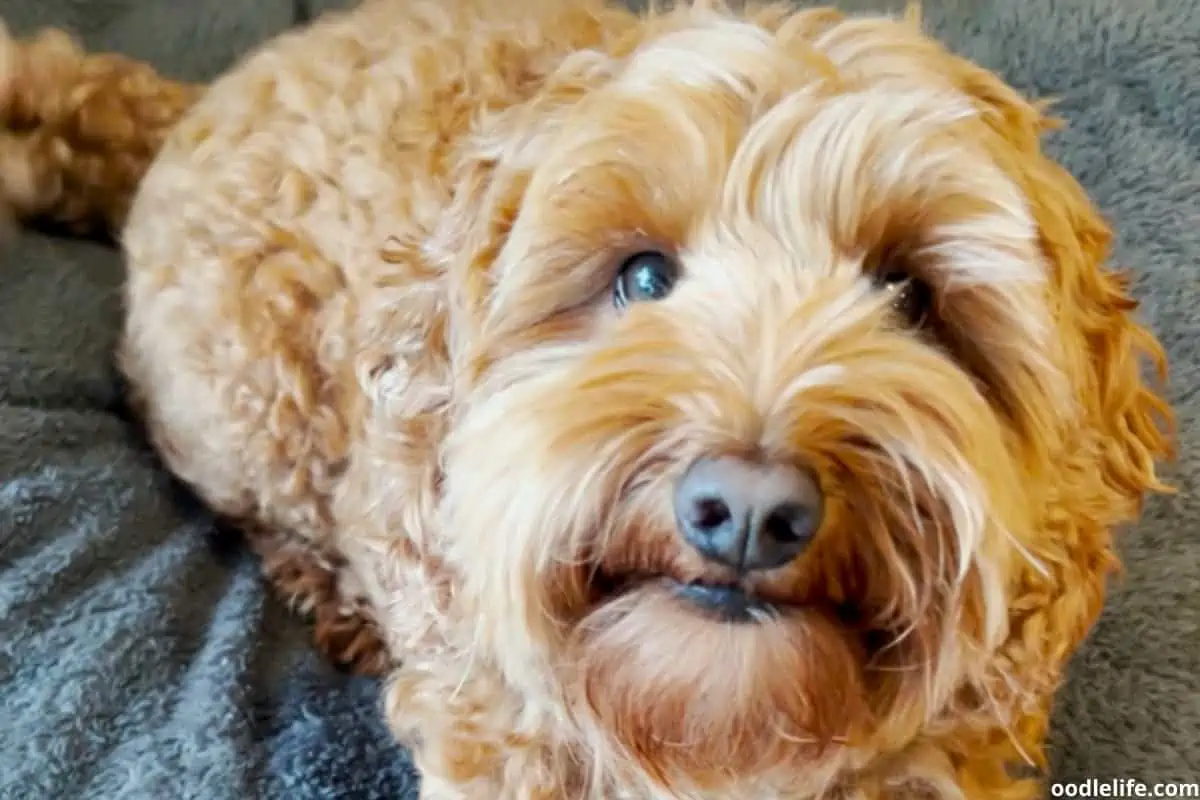 As a home-based breeder, KY Doodles ensures all puppies experience socialization before adoption.
Once you're on the waitlist for a litter, you'll know that your puppy comes to you in the best health. The breeders deworm the dogs and give them all appropriate vaccinations. If you live in the Cynthiana area, they'll also share vet references so you can continue providing the best care.
Breeder Details
5. Brock Farm Doodles
Brock Farm Doodles strives to breed the healthiest Labradoodles and provides a one-year health guarantee. This policy gives you a stress-free opportunity to adjust to your new furry friend and ensure they have no diseases without taking on the burden of care yourself.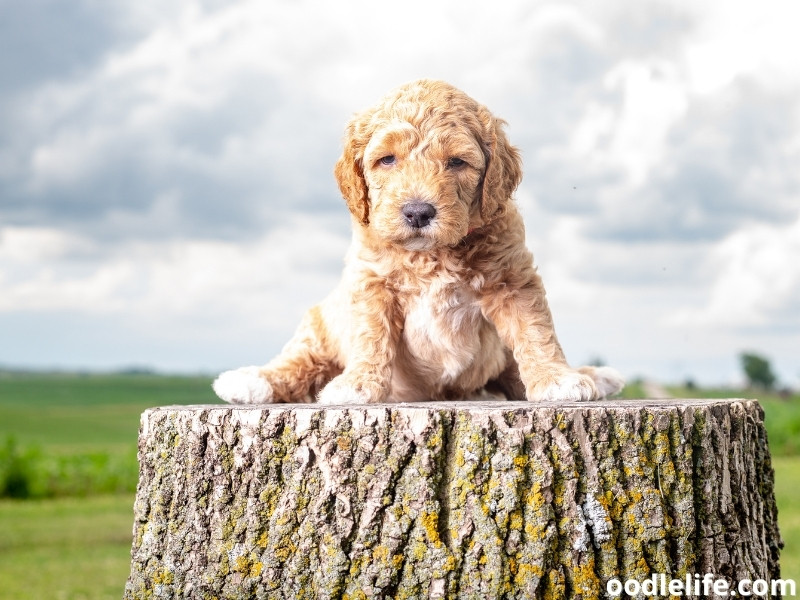 When you adopt from Brock Farm Doodles, you'll get a puppy with AKC-registered parents. The breeders provide neurological stimulation and socialization from a young age, then perform a Volhard exam at six weeks. The test results help the breeder match each puppy with the perfect owner, ensuring a lifelong bond.
You can take home your Labradoodle when it's nine weeks.
Breeder Details:
6. Happy Doodle Farm, LLC
With a name like Happy Doodle Farm, LLC, you know this Labradoodle breeder in Kentucky will have a great environment for the puppies. Pet owners who adopted from this location all say their dogs are affectionate, playful, and loyal. Happy Doodle Farm ensures they raise the best Labradoodles by socializing their dogs just days after birth.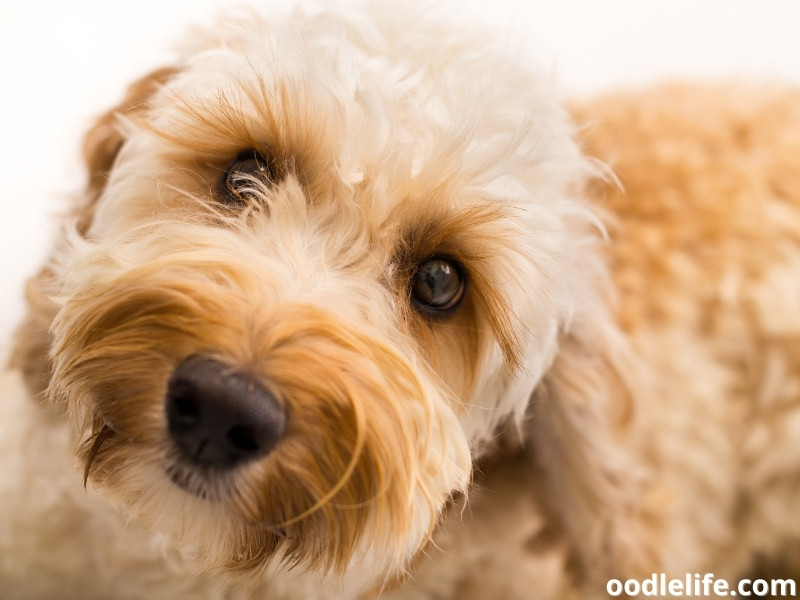 Happy Doodle Farm, LLC has 13 years of experience that have led them to the best breeding practices. They look for temperament, personality, and appearance on the surface, then dig deeper to analyze genetic panels before breeding.
Breeder Details:
7. GoldenQuest Comfort Retrievers
GoldenQuest Comfort Retrievers started as a breeder for Golden Retrievers and Cocker Spaniels, but the owner quickly fell in love with Labradoodles and shifted her focus. She offers two different types of Doodles. If you want a large dog, you'll get a puppy bred from a Golden Retriever and a Poodle.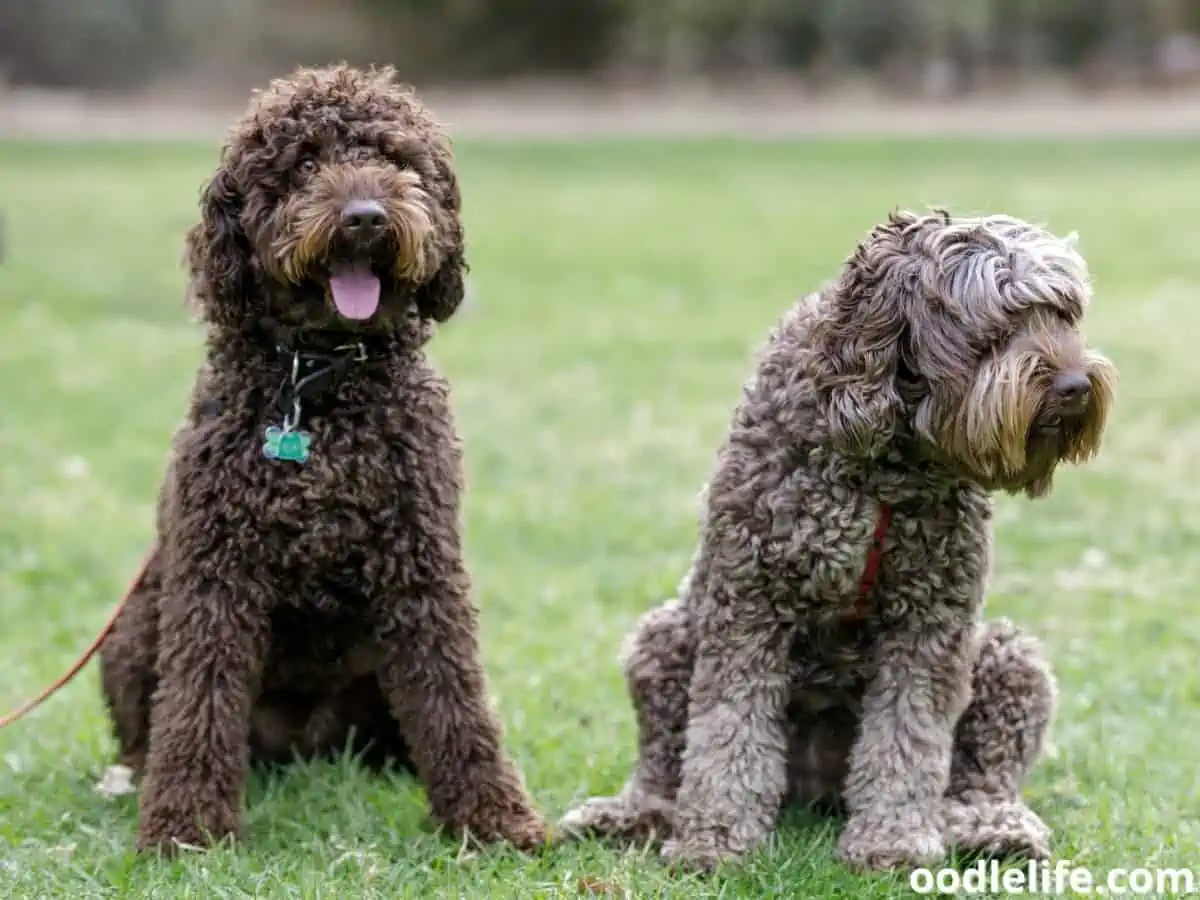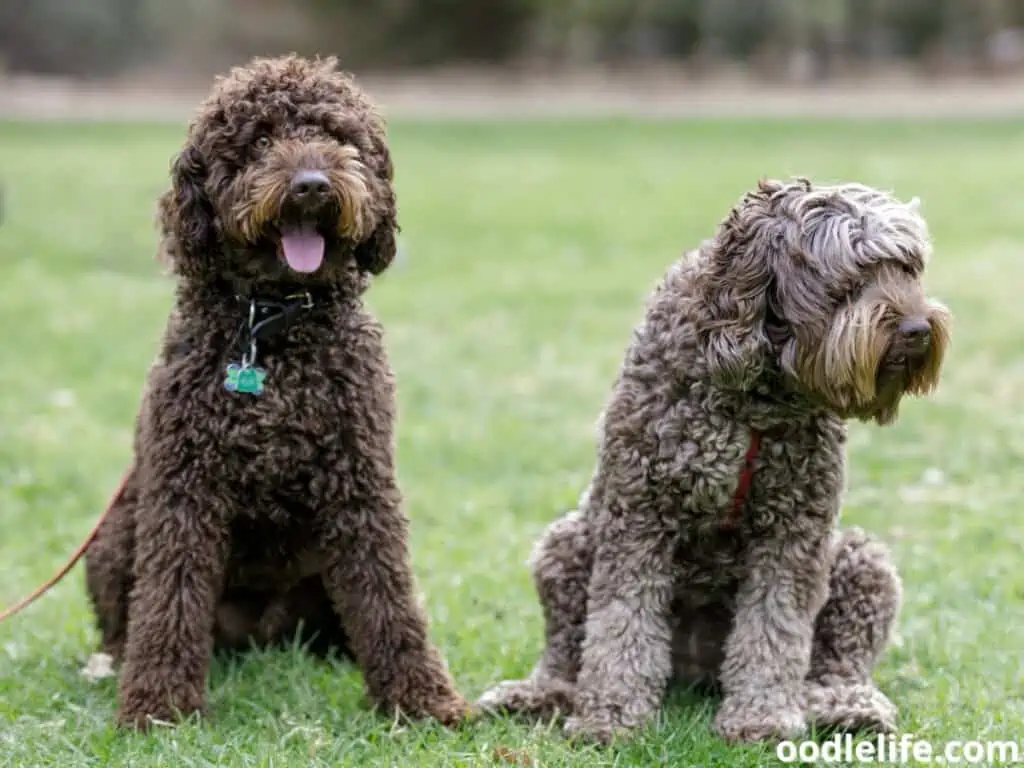 A smaller Doodle is the result of a comfort retriever and Poodle mix.
The breeder socializes puppies as soon as they're born, providing stimulation to ensure they have the best demeanor. The founder also runs the puppies through her unique training program, which includes stimuli to test their sight, hearing, and emotional reactions.
Breeder Details:
8. Prize Poodles and Doodles
Prize Poodles and Doodles is a breeder best known for Newfiepoos and Newfiedoodles. They also have more unique options, like Bernedoodles. However, they have extensive breeding experience, so you can confidently adopt a Labradoodle from this location.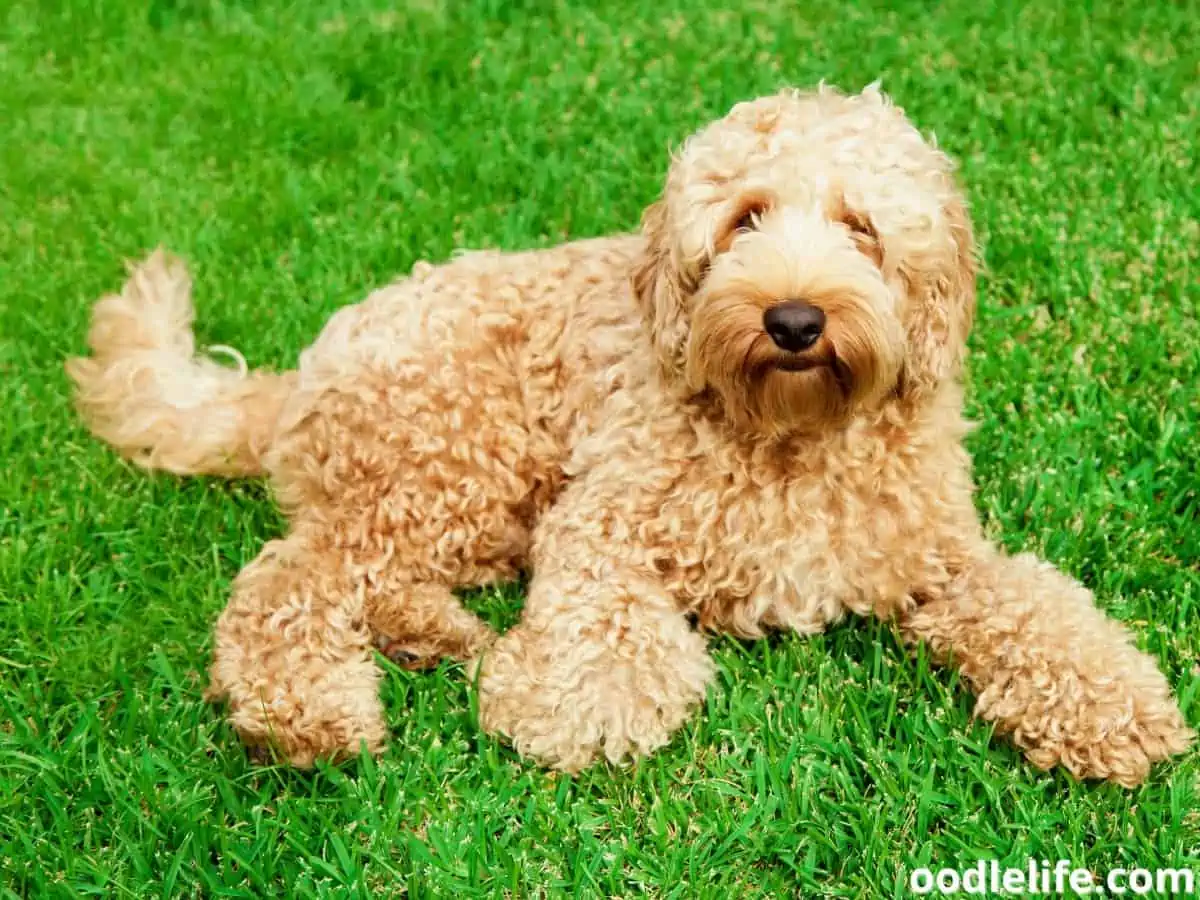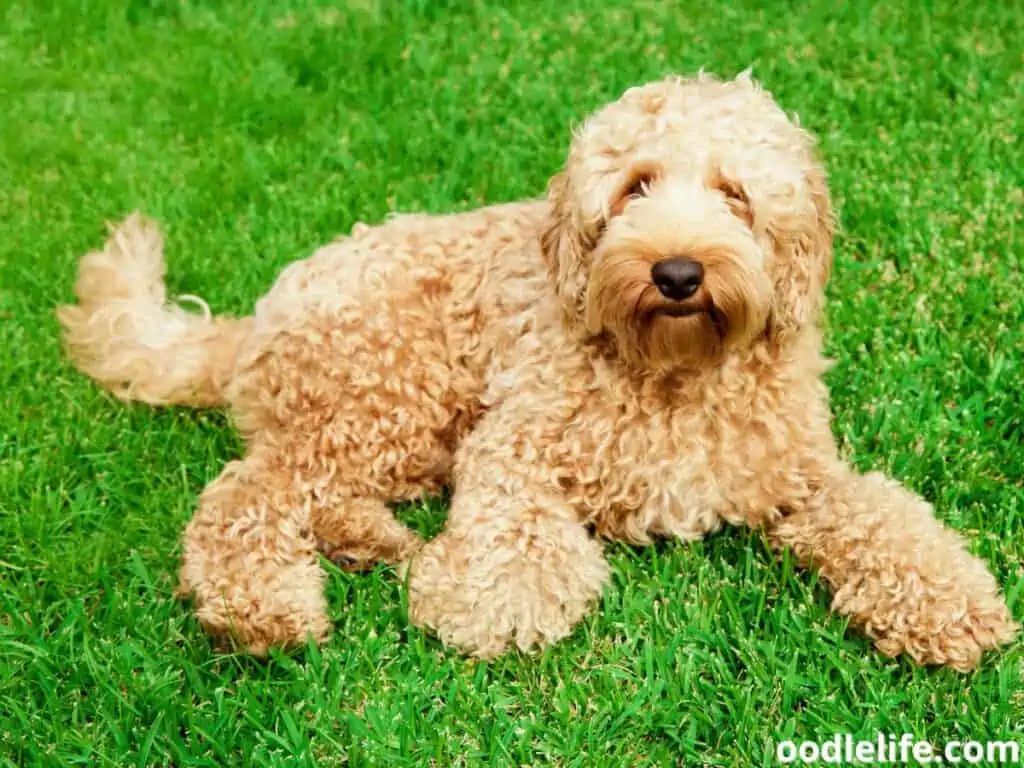 The breeder has a 20-acre farm that gives the puppies plenty of room to run and explore. They don't live in a kennel, so you'll adopt a dog that loves to exercise and spend time outside. Your relationship with Prize Poodles and Doodles doesn't end when you pick up your furry friend—they continue to offer support and resources for your dog's life.
Breeder Details:
9. Twisted B Kennels KY
Twisted B Kennels KY breeds their dogs in a home environment, ensuring the puppies get love and affection from birth. Since they breed so many dogs, the puppies also have the best chance of socialization. When you adopt from Twisted B Kennels, you'll get a well-adjusted dog with the sweetest demeanor.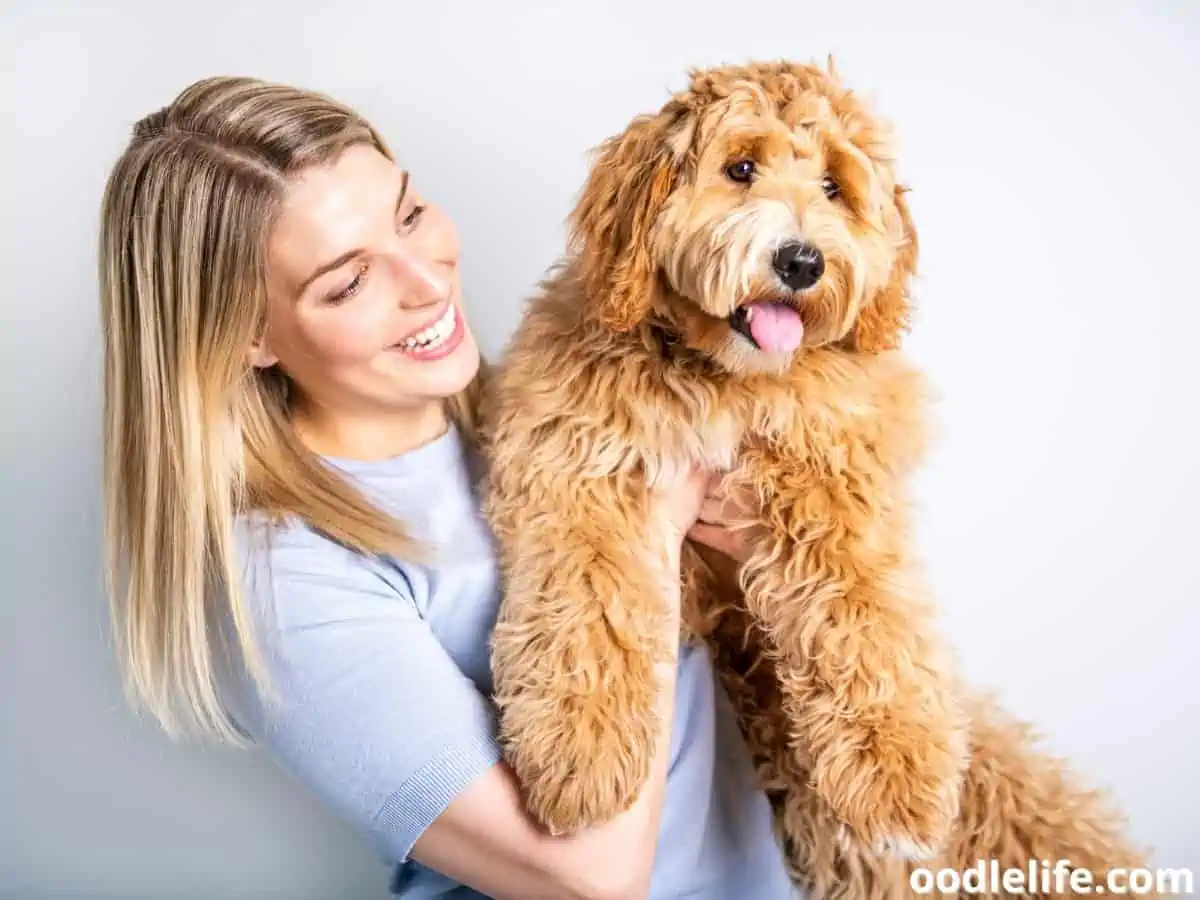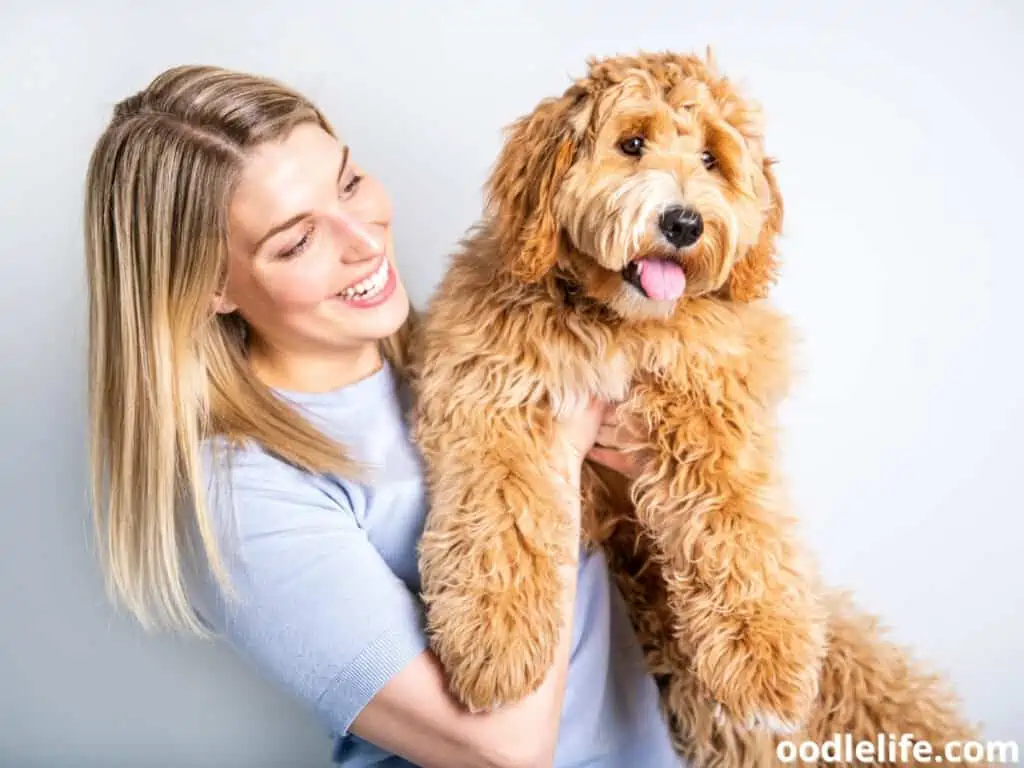 All parents used for breeding at Twisted B Kennels are AKC-registered. They go through extensive genetic testing to ensure the puppies are healthy. Twisted B Kennels even gives you a health guarantee when you finalize the adoption.
Breeder Details:
10. Deer Creek Labradoodles
Deer Creek Labradoodles have over 20 years of experience breeding Australian Labradoodles and Cavapoo. They offer continual support to everyone who adopts from them, including vet recommendations, health tips, and CKC registration information once you spay your pet.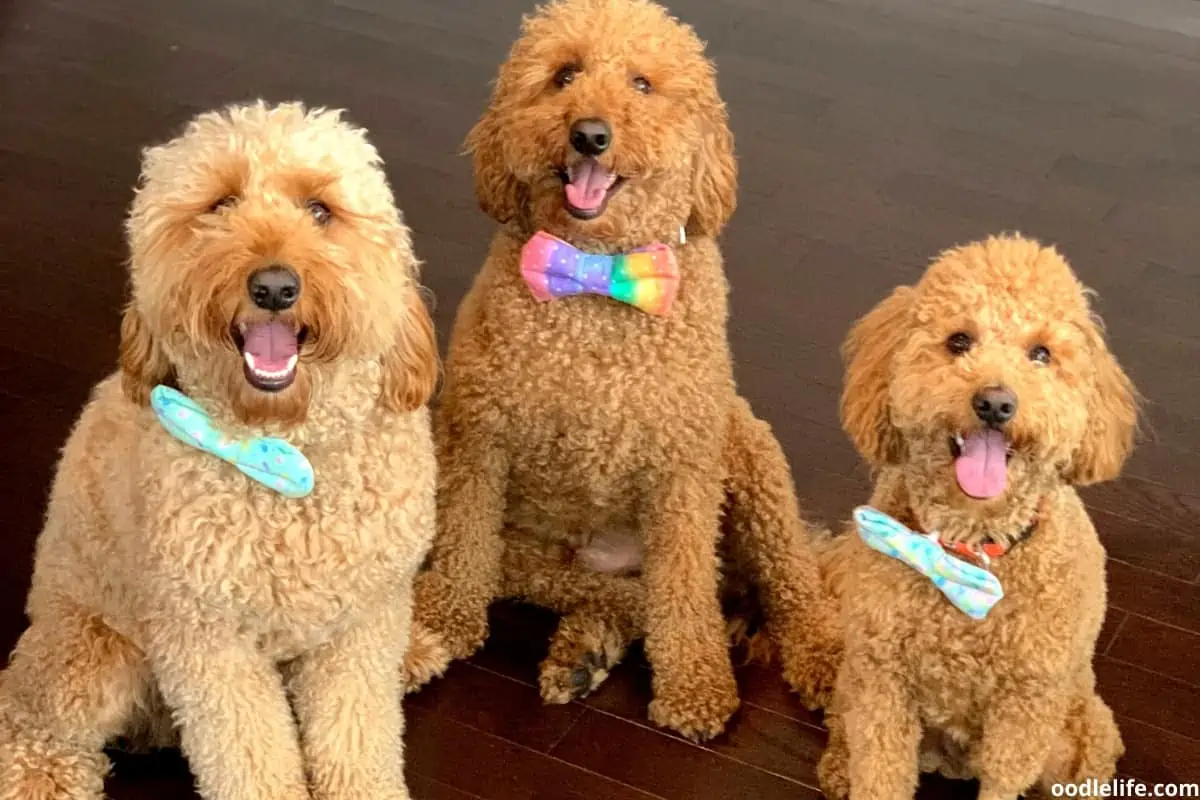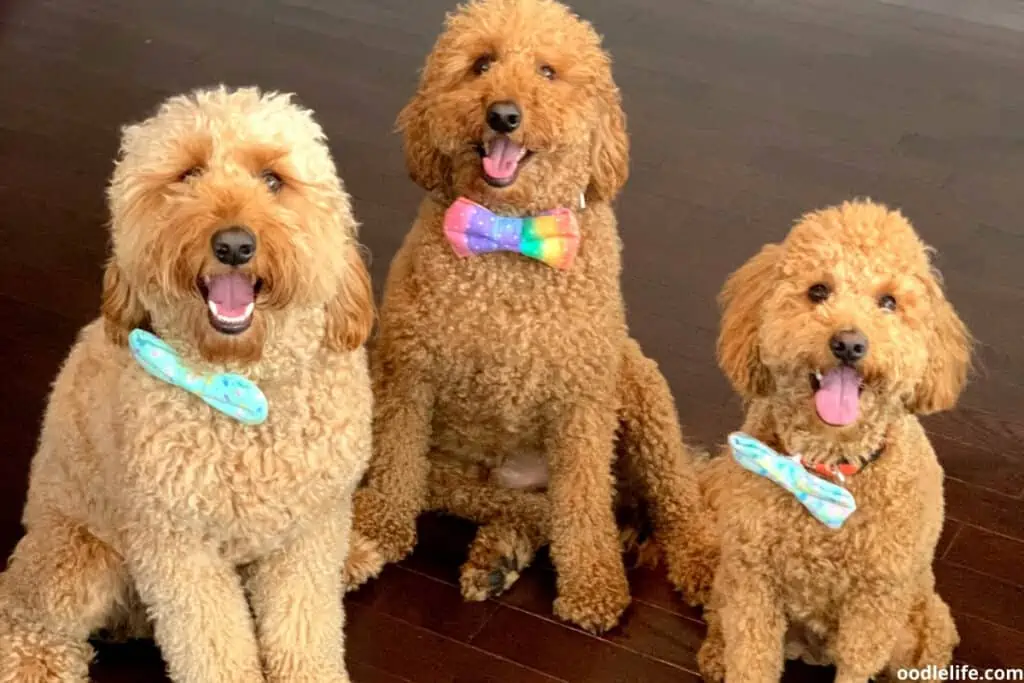 When you adopt from Deer Creek Labradoodles, you'll get their vaccination and worming record to give to your new vet. They also include a travel crate if you traveled a long way for your furry friend. This information clarifies that Deer Creek Labradoodles cares about their dogs and the new owners.
Breeder Details:
Conclusion
Now that you know several reputable Labradoodle breeders in Kentucky, you can move forward with bringing home your new furry friend. Make sure you know how to train your dog to ensure you both enjoy a wonderful life together because a Labradoodle is a special pet.