5 Best Labradoodle Breeders in Washington (2023 Update)
Washington is home to many Labradoodle breeders, but picking one you can trust is crucial if you want a healthy, happy dog. Although finding a reliable breeder is time-consuming, it's well worth the effort.
If you conduct your homework and go through online reviews, you can proceed confidently. Each breeder on this list adheres to morally sound breeding practices and prioritizes their puppies' health and well-being.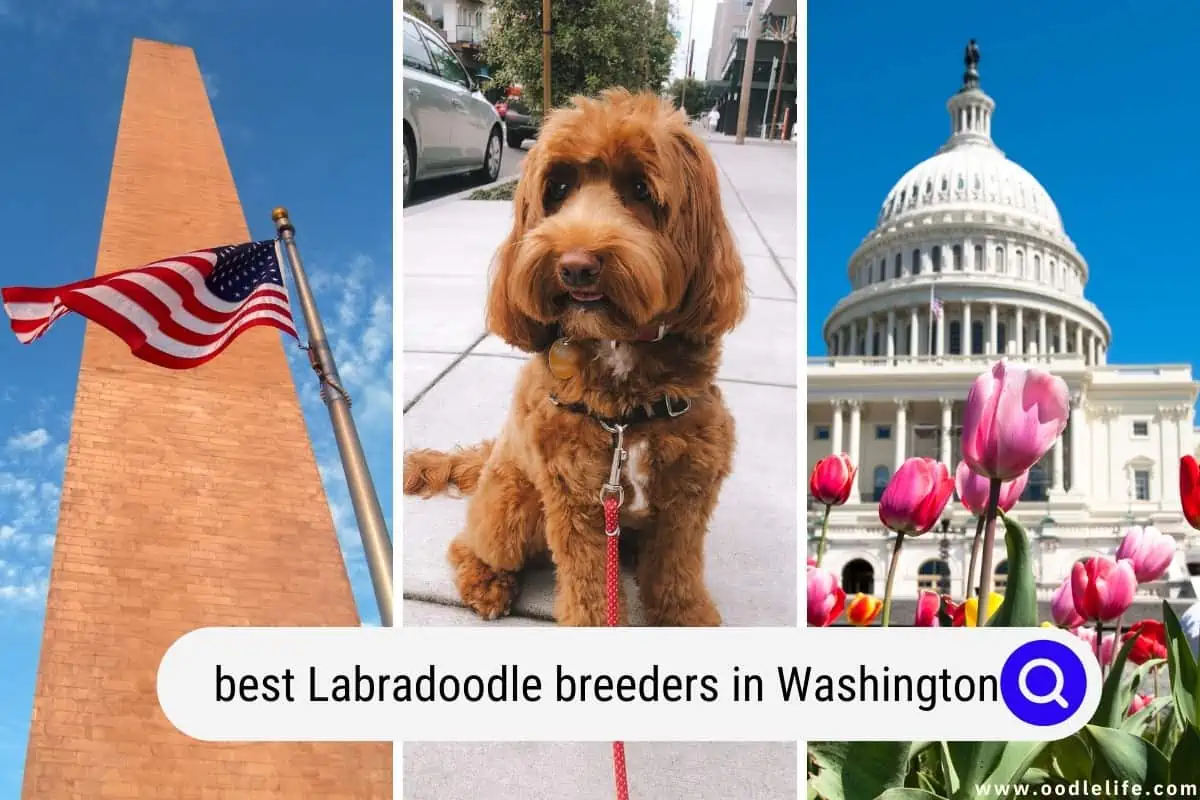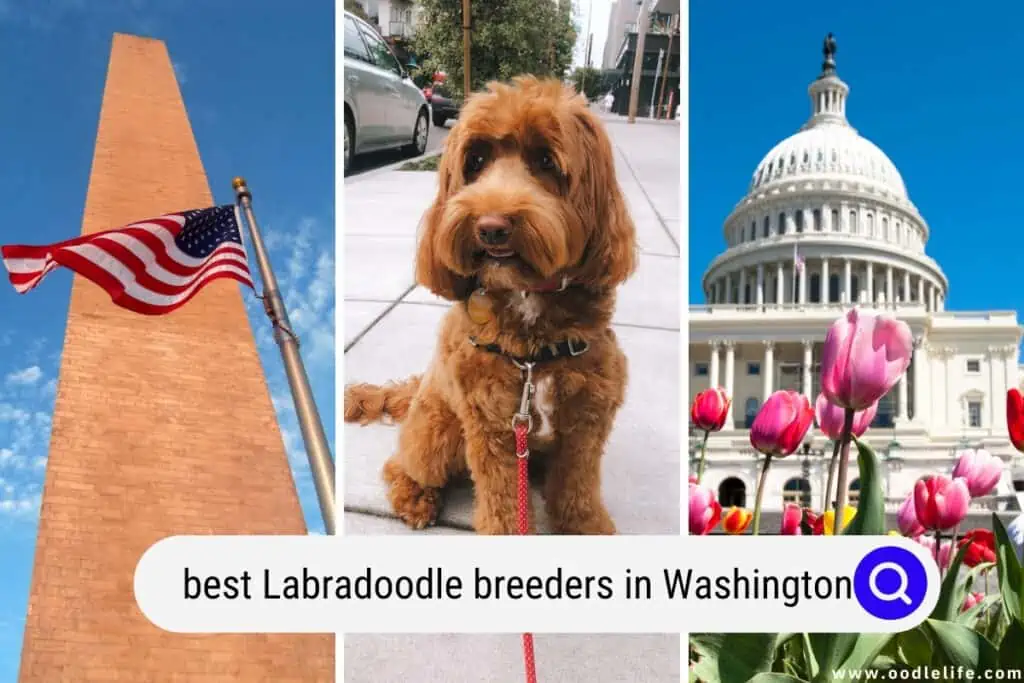 $300 2023 Discount!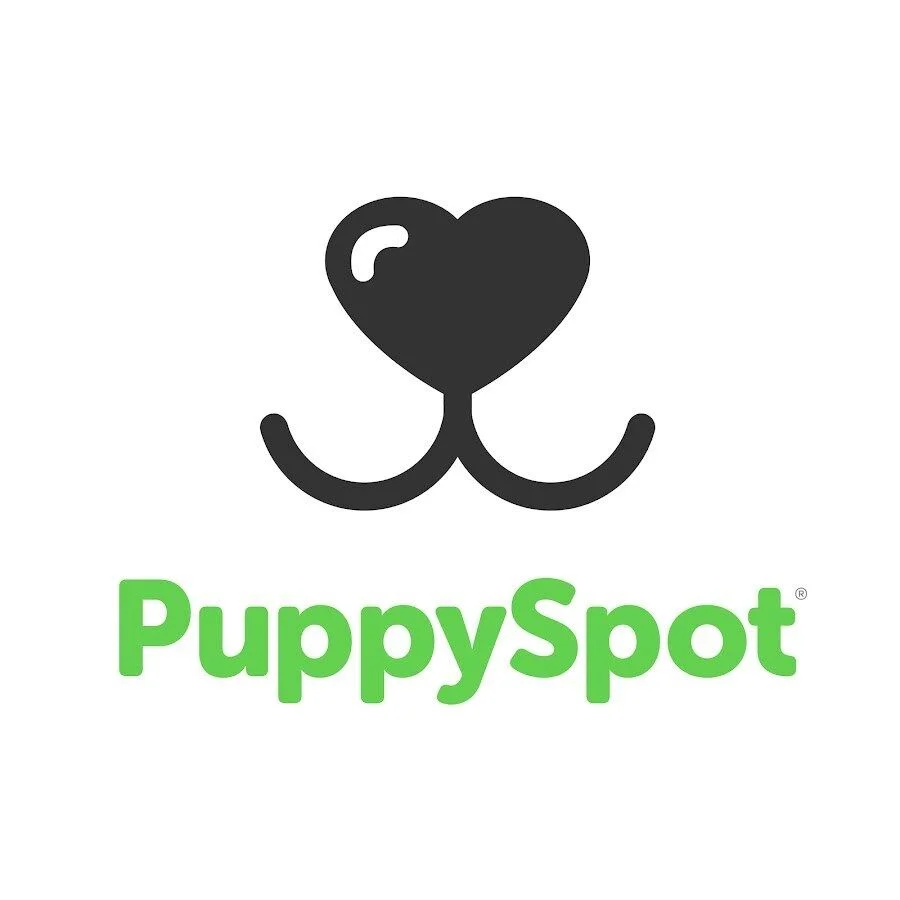 PuppySpot Adoption
PuppySpot is a reputable dog marketplace where you can browse and find compatible puppies right from the comfort of your home. They have placed over 200,000 puppies into homes in the US!
Click through and use the code PUPPY300 for $300 off any puppy adoption.
See Puppies and Save $300
To help you from being duped by unethical breeders, we've done the legwork and compiled a list of the five best Labradoodle breeders in Washington.
1. Discovery Tails Labradoodles
Discovery Tails is a family-run business that has been breeding for years now. You can expect to get the healthiest, friendliest, and most beautiful puppies from this breeder. Before admission into their breeding program, all breeding parents undergo evaluations to guarantee they have the proper dispositions.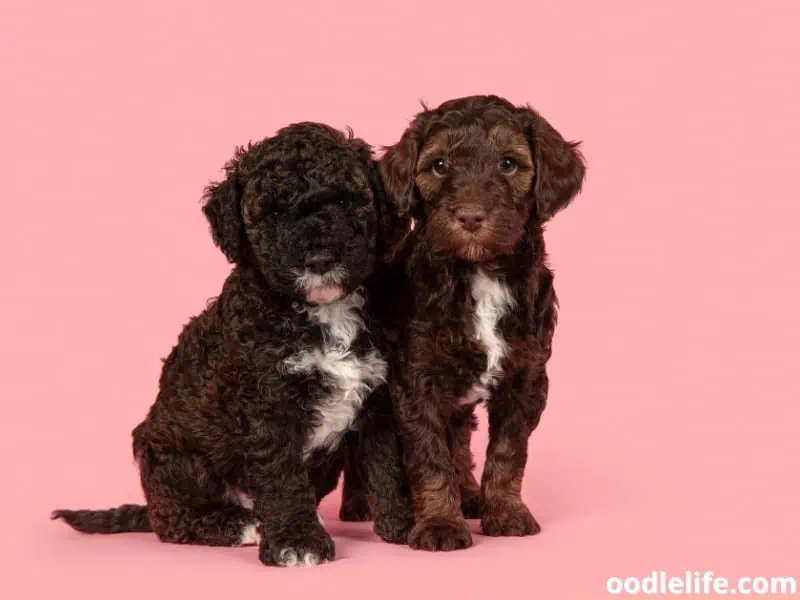 Furthermore, the breeder performs DNA checks for common genetic disorders that could jeopardize the quality of their litter. Professional vets also certify their hips, elbows, hearts, and eyes.
The breeder nurtures each puppy in their family home, exposing them to other dogs and humans from an early age. They also give the puppies plenty of space to play around and explore. Before being put up for adoption, all puppies undergo basic potty and crate training to make the transition into new environments a pure breeze.
Although the number of puppies they have at any given time might be limited, you can get a good idea of what to anticipate by looking at their website listing of present and forthcoming litters. If there's any space left on their waiting list, all you have to do is fill out an application form and remit a commitment deposit.
Contact Details:
Website: https://discoverytailslabradoodles.com/
Phone: (360) 808-9800
Email: [email protected]
Location: Sequim, Washington
2. Columbia Springs Labradoodles
The breeder aims to provide healthy, friendly pets to loving homes. To them, producing healthy puppies is more critical than quantity. That allows them to spend more quality time with each puppy and affords them maximum socialization opportunities.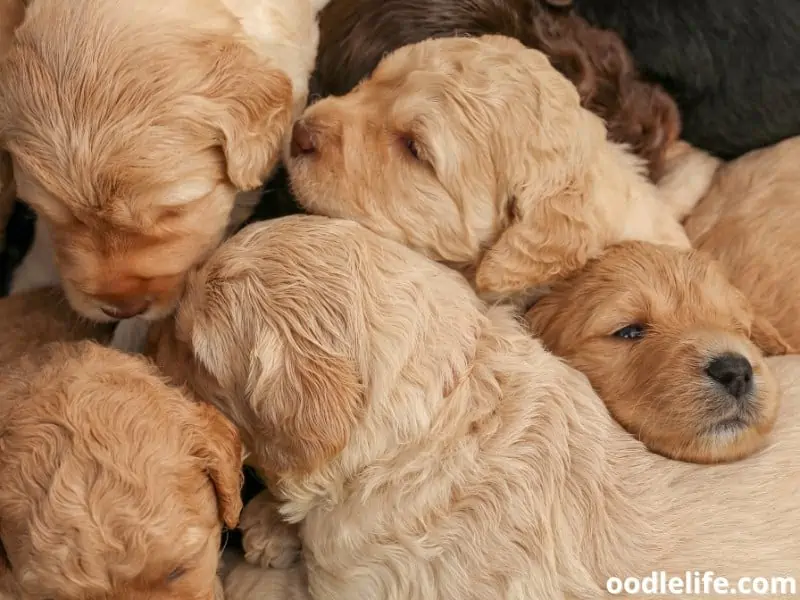 Columbia Springs Labradoodles produce puppies in different colors, including brown, black, and white. However, since they only produce a limited number of litter each year, their waiting list tends to fill out quickly.
The breeder is selective about their breeding parents and will only take in dogs with excellent health certifications. By the time they send them to their forever homes, each puppy will have had their vaccination and deworming doses.
Their commitment to excellence has earned them several accolades and affiliations, such as the American Australian Labradoodle Association (ALAA). They update their website with pictures and details of available litter.
The breeder requires all prospective breeders to complete an in-depth questionnaire to assess whether they're a perfect match for a particular puppy's disposition. Columbia Springs Labradoodles will offer help if you face challenges after purchasing a puppy from them.
Contact Details:
Website: https://columbiaspringslabradoodles.com/
Phone: (937) 265-8642
Email: [email protected]
Location: Vancouver, Washington
3. Shedless in Seattle Labradoodles
Shedless has been in business for over 15 years and is committed to improving life by matching healthy puppies with loving families. Since they don't breed at all times, their litter availability fluctuates.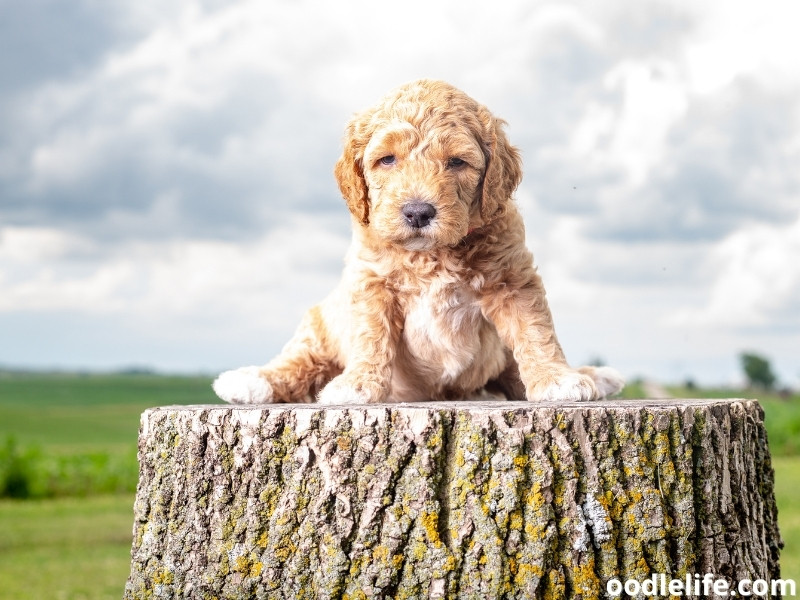 They update photos of their breeding parents on their website, which is a good starting point for what to anticipate with your new puppy. The fact that the breeder publishes all information about their dogs' lineages and medical records adds to their widespread recognition.
All puppies only leave the facility when they're eight weeks old. The breeder has a strict adoption program to guarantee that each puppy enters a family perfect for their temperaments.
All prospective adopters must undergo a rigorous interview to determine the type of dog owners they intend to be. They produce Labradoodles in varying colors and sizes, so you will find one that appeals to you the most.
To ensure you enjoy your journey as a new dog owner, the breeder offers an after-sales package with a packet of puppy food, toys, and a scented blanket. Furthermore, their website features plenty of educational materials on how to care for a puppy.
Contact Details:
Website: https://www.seattlelabradoodles.com/
Phone: (425) 802-0342
Email: [email protected]
Location: Nine Mile Falls, Washington
As one of the best Labradoodle breeders in Washington, the breeder prioritizes their puppies' well-being and guarantees they'll make perfect family pets. They conform to industry standards to prevent their litters from having unhealthy puppies and ensure maximum client satisfaction.
The breeder puts a lot of effort into choosing their breeding dogs. They only admit dogs with impeccable pedigrees whose eyes, hips, elbows, and hearts have been certified by experts as healthy. Moreover, each breeding parent must undergo DNA screening to determine whether they're carriers of the breed's genetic conditions that could pass on to the offspring.
Worrying about your new puppy's health is unnecessary because they offer a two-year guarantee against hereditary defects. Besides proof of vet evaluation, your puppy will also come with up-to-date vaccination and deworming records.
When you purchase a puppy, they offer a parting package featuring a blanket, a few toys, and a packet of puppy food to ensure they get the best possible start in life. You should check out their website for updates on future litters and how to reserve a puppy.
Contact Details:
Website: https://www.fglabradoodles.com/
Email: [email protected]
Location: Amboy, Washington
This highly recommended breeder may not be producing puppies at the moment, reach out to them and let us know if you have any luck!
The family-run breeder has been operating for over a decade and has gained much recognition for producing adorable puppies. They regularly participate in 4-H and American Kennel Club (AKC) competitions.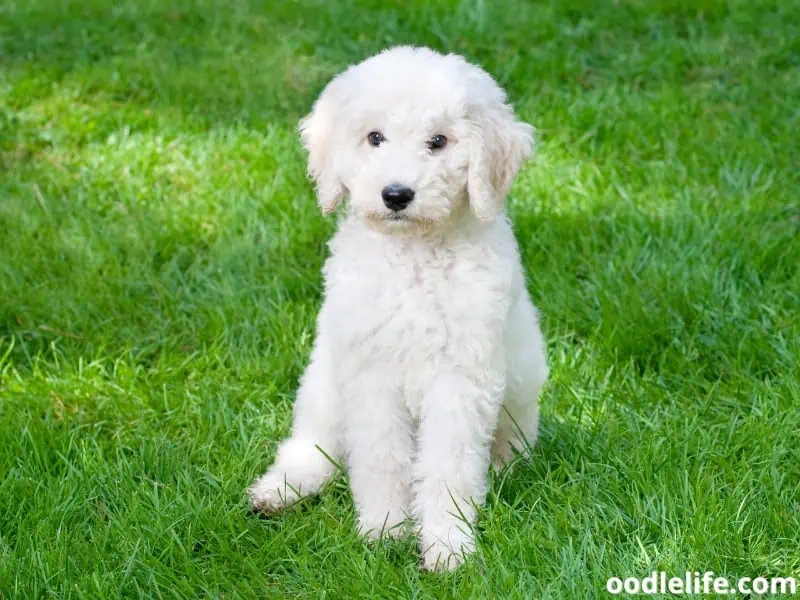 The breeder's deep appreciation for the breed's unique qualities is among the key reasons they've devoted their lives to raising high-quality Australian multi-generational Labradoodle puppies. Their robust breeding program only accepts pedigree parent dogs that have undergone intensive genetic screening.
The breeder understands that Labradoodles are highly trainable. Therefore, they're mainly concerned with breeding puppies that will be treasured family pets, service animals, or therapy animals without compromising on ethical practices and the breed's continuity.
They nurture all their puppies in a family-home environment, receiving all the care and attention they deserve. They subject each puppy to early socialization by allowing them to interact with humans and other animals. They also introduce each puppy to the fundamentals of potty and crate training.
That ensures the puppies don't struggle with transitioning to new environments.
When releasing them to their forever homes, each puppy has evidence of vet examination, vaccination, and deworming records. They offer all their puppies a two-year health guarantee covering hereditary defects. Once you take your new puppy home, the breeder constantly communicates and monitors their progress.
Contact Details:
Website: https://www.barberrybrooklabradoodles.com/
Phone: (253) 208-8969
Email: [email protected]
Location: Arlington, Washington
Final Thoughts
Labradoodles are an excellent option for anyone looking for a good family pet due to their cute curly coats and lively dispositions. Nevertheless, finding a responsible breeder who cares about you and your new dog before investing is crucial.
You should ask queries during the investigation phase and only proceed with the purchase when you've had enough assurance that you're dealing with a genuine person. We hope our guide on the best Labradoodle breeders in Washington will help locate your next pet.