7 Best Sheepadoodle Breeders in the UK for 2023
Are you looking for a loving, loyal, and energetic puppy to join your family? If so, a Sheepadoodle may be the perfect fit! Sheepadoodles are a cross between a Standard Poodle and an Old English Sheepdog. The breed has become popular due to its intelligence, affectionate nature, and low-maintenance coat.
The breed is considered hypoallergenic and non-shedding, making it an ideal choice for those with allergies.
$300 2023 Discount!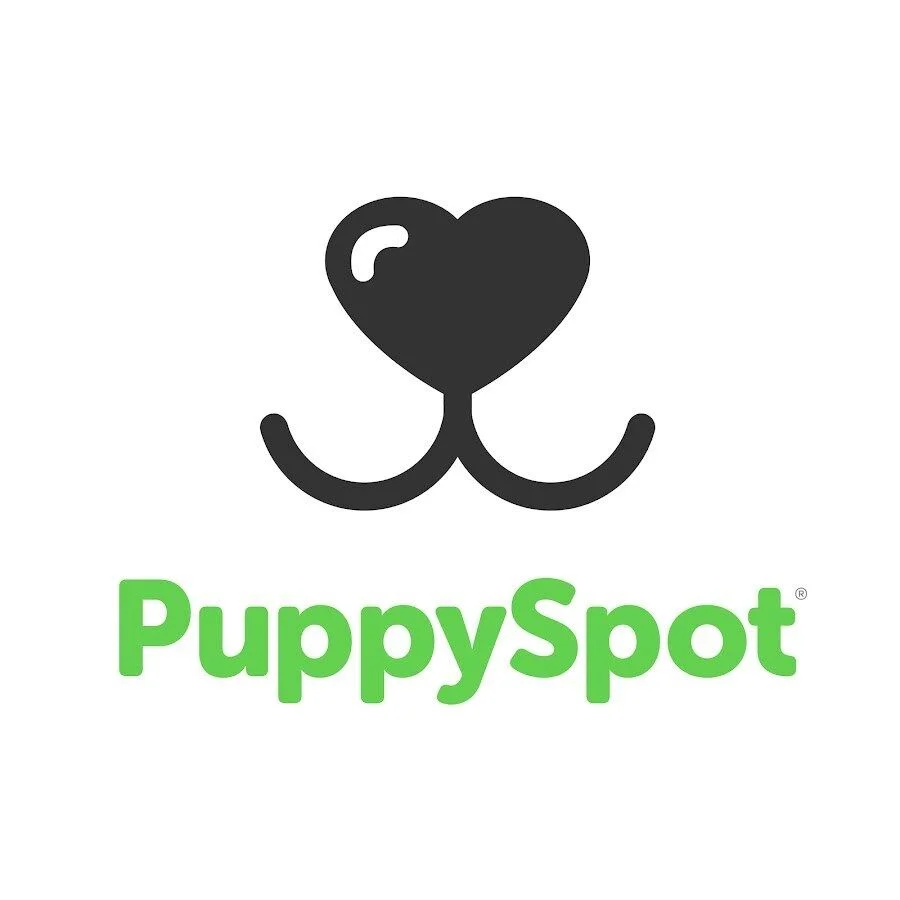 PuppySpot Adoption
PuppySpot is a reputable dog marketplace where you can browse and find compatible puppies right from the comfort of your home. They have placed over 200,000 puppies into homes in the US!
Click through and use the code PUPPY300 for $300 off any puppy adoption.
See Puppies and Save $300
The Sheepadoodle can be any color, often combining the colors of its parent breeds. They typically stand between 21 and 27 inches tall and weigh between 50 and 80 pounds. But where can you find the best Sheepadoodle breeders?
I've done the hard work for you, and here are the seven best Sheepadoodle breeders in the UK for 2023.
1. Amarante Doodles
Having a companion who fits you like a glove is a lot of fun. Either take them for rides, play non-stop, or be the most intelligent pet you can have. Amarante Doodle puppies can make it possible for you.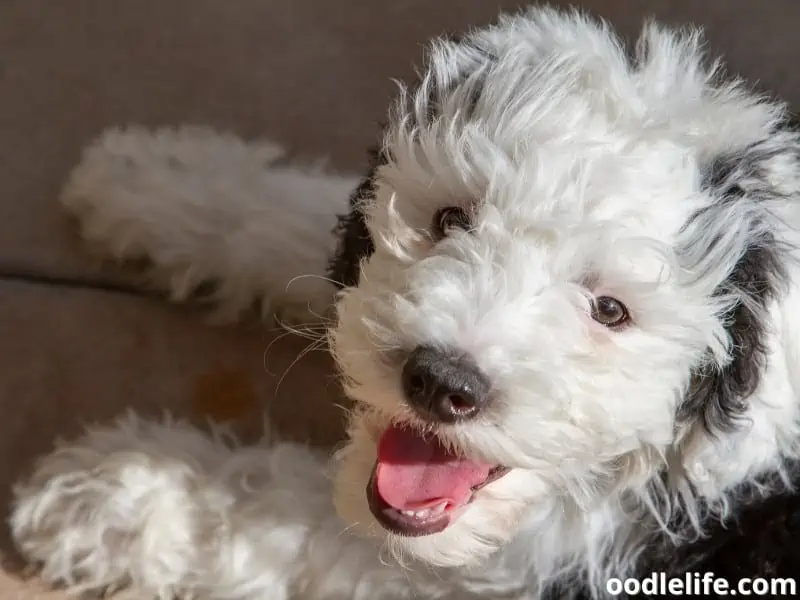 Amarante Doodles is a premier puppy breeder in the UK, specializing in Sheepadoodle and St. Bernard puppy breeding. They breed their puppies for eight to 12 weeks before they are ready to go to their new homes. These puppies are bred with the utmost care and love, ensuring they are healthy and prepared to bring a lifetime of joy to their forever family.
Their coats are wavy and come in a variety of colors. They also provide lifelong assistance and support to help ensure that the puppies settle into their new home as quickly and easily as possible.
At Amarante Doodles, you can guarantee that their puppies are all KC-registered and have a five-year health guarantee.
If you want to meet this fantastic Sheepadoodle breeder in the UK, simply visit their website and make an appointment to avoid missing out.
Contact Details:
Website: https://amarante-doodles.co.uk/
Phone: 07974 796 289
Email: [email protected]
Location: Norfolk, United Kingdom
2. Bouncy Doodles
Searching for puppies that are affectionate, gentle, and highly intelligent animals. Bouncy Doodle puppies have lovely temperaments, are incredibly quick to train, and are wonderful dogs for any age.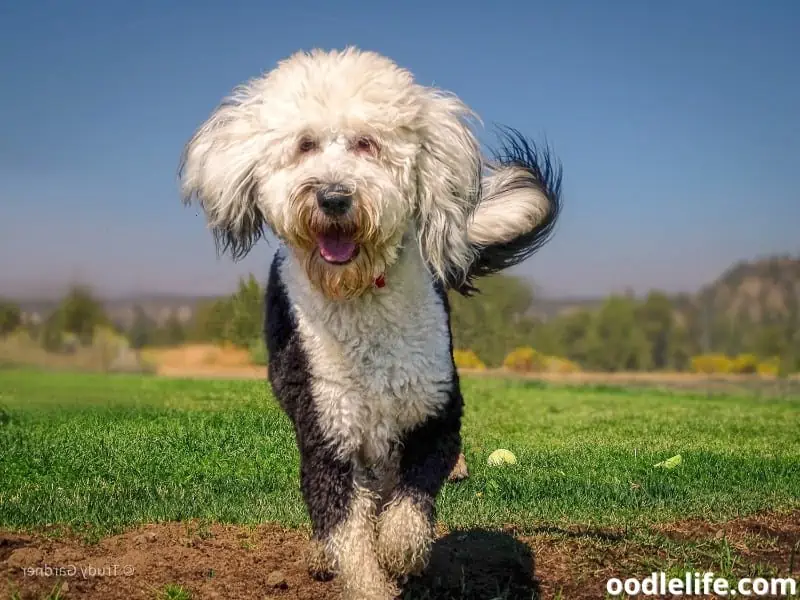 Bouncy Doodles is a family-run business that provides the best Sheepadoodle puppies available. Their goal is to ensure their puppies' health, happiness, and well-being. They are fed a 100% raw diet, and ensure each puppy has a health check at least twice by their vet.
Emma, the owner of Bouncy Doodles, promises you a healthy puppy. Each puppy is seen by a BVA eye specialist, receives a BAER hearing test, is tested for parasites, is fully vaccinated with core vaccinations, and is microchipped. In addition, puppies are socialized daily with different people and places at every stage of their development.
Now, get your phone and call Emma to get your pup!
Contact Details:
Website: https://www.bouncydoodles.com/
Location: Hampshire, England
3. Sheepadoodle Wales
If you're looking for a top-notch and well-known Sheepadoodle breeder in the UK, then Sheepadoodles Wales is the right one for you. Wales, UK, is home to Sheepadoodles Wales, a renowned Sheepadoodle breeder that has been providing the highest quality puppies for over ten years.
Their team is committed to excellence in breeding the highest quality, healthy, and intelligent Sheepadoodles. With regular vet visits and wellness checkups, you can ensure a healthy puppy. You know they are working hard to give the finest level of customer service that is practically possible.
They are available from Monday to Friday, and you can book an appointment through their website. Just visit their location or website to get the puppy of your dreams!
Contact Details:
Website: https://sheepadoodlewales.ueniweb.com/
Email: [email protected]
Location: Kidwelly, Wales
4. Peakadoodle Sheepadoodles
Peakadoodle Sheepadoodles is a family-run business located in the Peak District of Derbyshire, England. They specialize in breeding Sheepadoodles with an emphasis on quality, health, and beauty.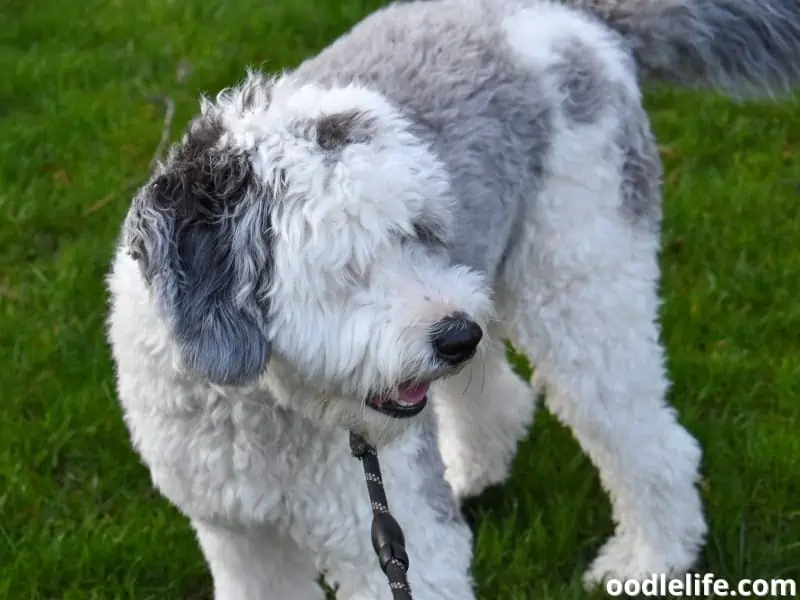 The owner of Peakadoodle Sheepadoodles, Elisa Peakman, has been breeding and showing dogs since 2009 and has been involved with the Sheepadoodle breed since 2014. She has been working hard with her team to bring the best quality puppies to their customers.
Elisa is dedicated to providing quality puppies with excellent temperaments. She is passionate about the breed and dedicated to providing her customers with the best possible experience.
She will give you the right puppy for you, so visit or call now to book an appointment.
Contact Details:
Website: https://www.facebook.com/peakadoodlesheepadoodles/
Phone: 07526 974 451
Email: [email protected]
Location: Derbyshire, United Kingdom
This highly recommended breeder may not be producing puppies at the moment, reach out to them and let us know if you have any luck!
5. Puppy Love Kennels
Puppy Love Kennels, based in Derbyshire, also offer a range of Sheepadoodle puppies, including F1, F1B, and F2 generations. They are passionate about creating happy, healthy puppies for their customers and are committed to providing them with the best possible care. They also offer a full range of grooming services for puppies.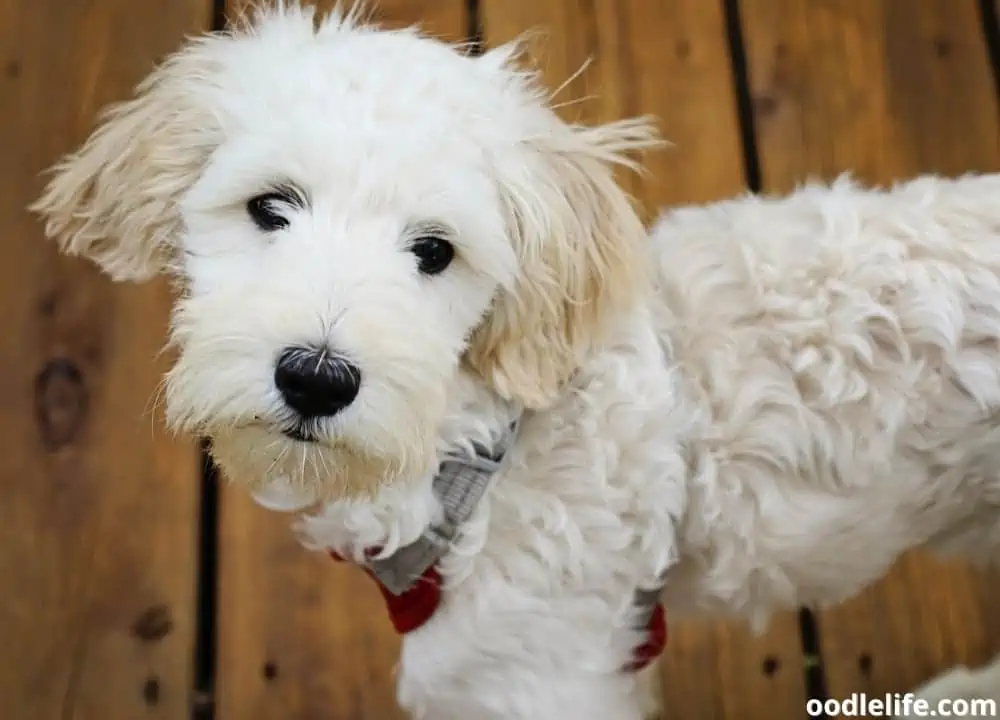 Jodie Emms, the owner of Puppy Love Kennels, has also expanded the business to offer a range of products and services to their customers.
If you want a healthy pup, the Puppy Love Kennels are vet-checked and have a health guarantee. They also offer various services, including lifetime support, home delivery, puppy travel, and more.
Aside from Sheepadoodles, you can learn more about their available breeds by visiting their Facebook page.
Contact Details:
Website: https://www.puppylove.uk.com/
Phone: 07810 166 794 or 07977 149 567
Email: [email protected]
Location: Lancashire, England
6. The Sheepadoodle Co.
The Sheepadoodle Co. is a family-run breeder of Sheepadoodles based in Kent. They have been breeding Sheepadoodles for over ten years. They specialize in F1 and F1B Sheepadoodles and offer a variety of colors, including black, apricot, and cream.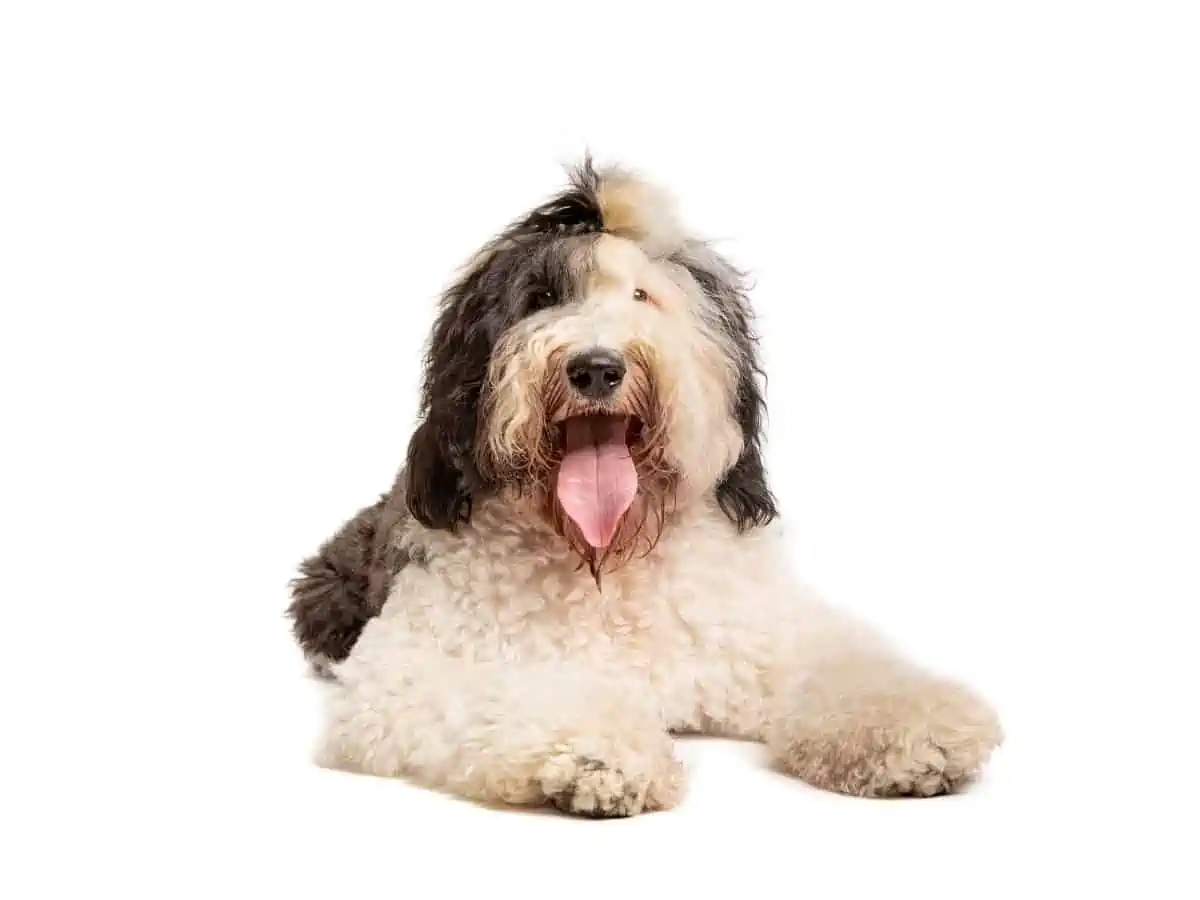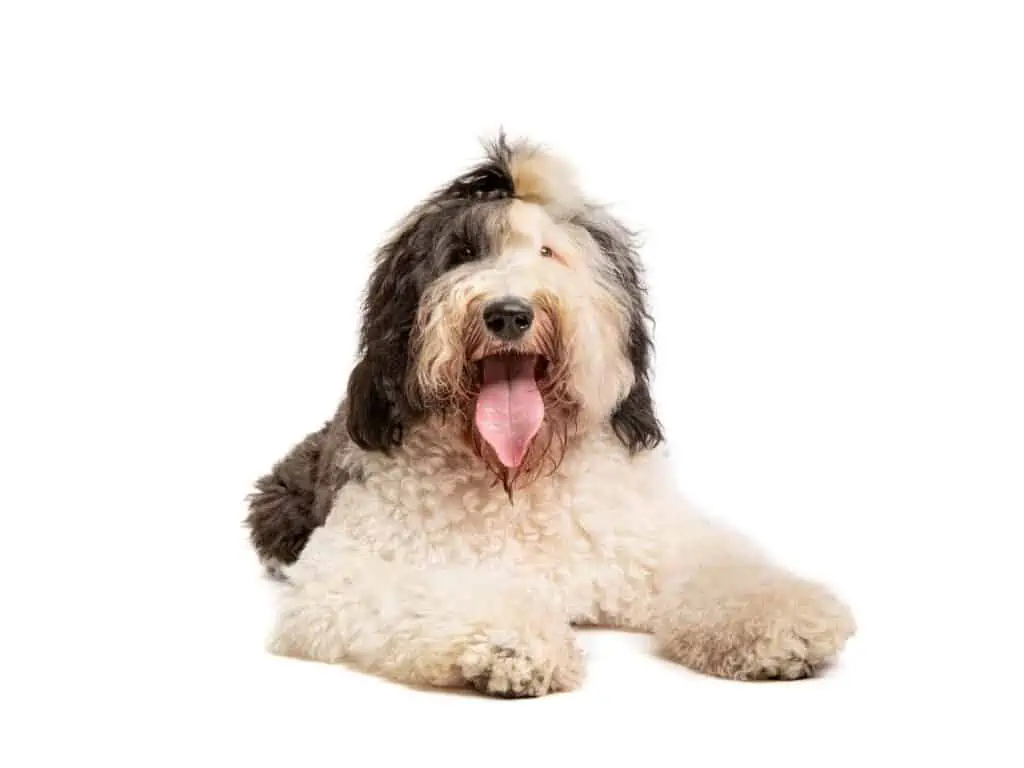 All of their puppies are vet checked, vaccinated, and have a three-year health guarantee. They also offer a range of services and support to their customers, including puppy socialization classes and advice on puppy care. If you are looking for a loving and loyal companion, you have come to the right place!
Conclusion
If you are interested in finding a professional Sheepadoodle breeder, this list of the eight best Sheepadoodle breeders in the UK is a great place to start your search. Each breeder on this list has extensive experience with and knowledge of Sheepadoodles, as well as a commitment to the Sheepadoodle breed.
If you work with reputable breeders, you will have a far greater chance of obtaining a Sheepadoodle that is healthy and happy and will bring joy and love into your home. If you want to learn more about Sheepadoodle breeders in the UK, you should conduct research and contact the breeders directly.