The Best Grooming Table for Goldendoodles (and what size) (2023 Update)
Choosing the right grooming table for your Goldendoodle is crucial. The key factor is size. This guide lays out five simple steps to help you make the best choice. We're excited to share our years of experience to make your decision easier.

There are two Goldendoodle grooming tables that we rate better than any others. We also polled our 5000-strong Goldendoodle owner mailing list and two brands came up more than any other. FlyingPig, and Go Pet Club.
Easy to clean: Our waterproof, static-free surface
Space saving: With foldable legs and a detachable grooming arm
Non-slip and Sturdy with rubber-capped feet to prevent slipping on any surface
Variations: Available in 4 sizes and two colors




Buy Now

We earn a commission if you make a purchase, at no additional cost to you.

11/01/2023 10:17 pm GMT
Why bother with a grooming table?

Goldendoodles, affectionately known as Groodles, boast a uniquely soft and frequently low-shedding coat. Owing to their Poodle Mix lineage, they necessitate a routine grooming regimen which could range from a basic hygienic trim, to a thorough wash, and all the way to a full-fledged styling session.
The diverse grooming needs of Goldendoodles highlight the importance of having a well-rounded grooming routine.
Now, introducing a grooming table into this routine can significantly streamline the grooming process. Here's how:
Most importantly – Elevated Grooming Space:
Elevated Surface: Grooming tables lift your furry friend to a comfortable height, saving your back from bending over for extended periods and bringing your dog closer for those gentle snips.
Secure Space: With adjustable restraints, a grooming table ensures your dog stays put in a comfy, secure spot, making the grooming dance smoother for both of you.
Non-Slip Surface: The non-slip surface provides a safe stage for your dog, minimizing the chance of slips during those soapy bath times or playful grooming sessions.
Adjustable Height: Tailoring to the height of different breeds, adjustable grooming tables ensure that from a towering Great Dane to a petite Chihuahua, every dog has its day on the grooming stage with ease and comfort.
Organization: With built-in storage spaces, keep your arsenal of grooming tools at arm's reach, making the grooming journey a well-organized, pleasant adventure.
Professionalism: Embrace the aura of a professional grooming salon right in your home, as grooming tables are a hallmark of serious, effective grooming endeavors.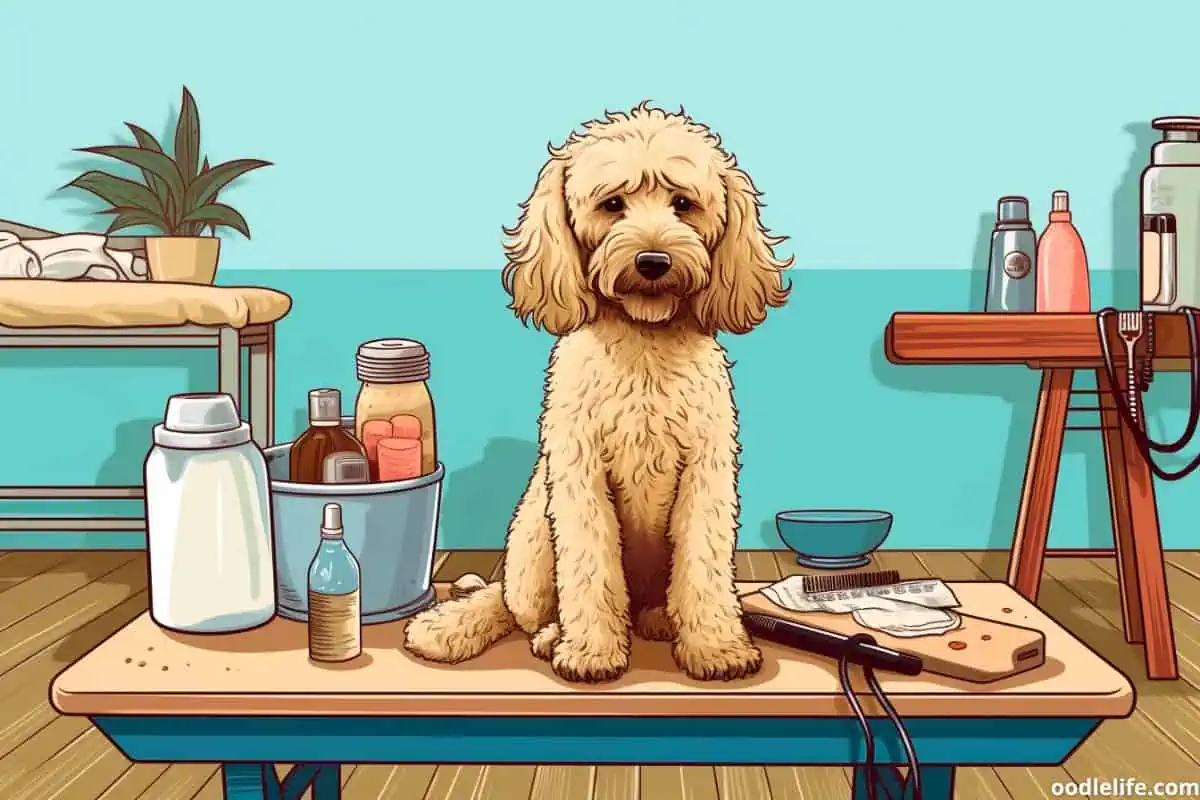 What size should a grooming table be for a Goldendoodle
The size of a grooming table will depend on the size of your dog, and the type of grooming table.
Selecting the right size grooming table for your Goldendoodle is crucial for both your comfort and the dog's safety during grooming sessions. Goldendoodles are known for their varying sizes, which fall broadly into three categories: mini, medium, and standard.
Each size has its unique grooming table needs.
For mini Goldendoodles, a table length of around 24 to 30 inches should suffice.
For medium Goldendoodles, a table length of 30 to 36 inches is more appropriate, and for the larger standard Goldendoodles, a table length of 42 to 48 inches is advisable.
The table's height should also be considered to ensure that you can comfortably reach and groom your dog without straining your back. An adjustable table would be a great choice to cater to this.
The table's sturdiness is paramount, given the lively nature of Goldendoodles. A table with a strong, stable base and a non-slip surface will keep your furry companion secure and comfortable during the grooming process. Additionally, having a grooming arm and leash loop can provide extra security and control, ensuring a calm and enjoyable grooming experience
You should start grooming your Goldendoodle puppy from around 5 months of age. The experts agree that full grooming should be delayed till at least five months.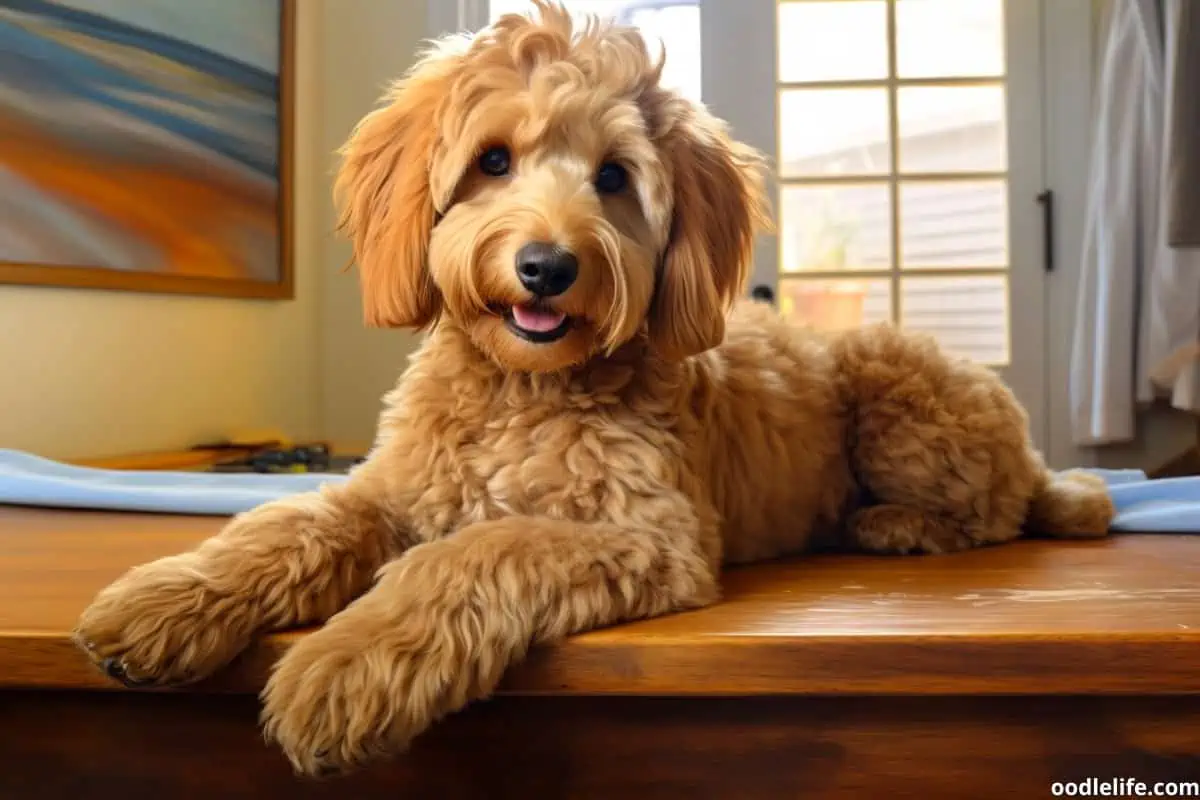 Types of Grooming Table To Consider
Grooming tables can be
Simple
Folding
or even Electric (or old school hydraulic)
At-home grooming or a small grooming business can get by comfortably with a simple or folding grooming table. Cheap tables cost as little as $55 USD but expect to pay up to $250 for a premium product.
Electric grooming tables are more geared to the professional market. Quality electric grooming tables can be $1500-2000 USD. Luxury but expensive!
For most people selecting an excellent, well built simple or folding grooming table for the Goldendoodle is ideal. This reduces the cost of the movable parts, and more value is spent on a stable base and straps. This usually means a better quality product is possible at a lower price point.
Overall Best Grooming Table For Goldendoodles
When choosing a grooming table for a Goldendoodle you should be looking for balance between insanely high build quality, and ease of use. The Flying Pig Large Size Foldable Grooming Table hits both these criteria out of the park.
If you are spending money on a grooming table, you want it to be durable enough to last a long time. Flying Pig products are professional grade – and an absolute luxury for at-home groomers. If you go with build quality like this, you won't be disappointed.
Some reviewers did say that with a particularly large and over-the-top dog, the arm can become damaged. Managing large dogs properly when grooming will reduce this kind of issue.
This is a really great grooming table. I particularly liked that it came fully assembled, just had to open the legs and we were ready to test. Other grooming table products I have tried were annoying and fiddly to set up. (Think IKEA style build it yourself). I tested the black one, but the blue is a popular choice of color.
This table was easy to clean, and the claws of the Labradoodle and Goldendoodle I tested with (mini and a standard) left no marks on the table.
Runner Up: Cost Effective (but still great!) Folding Grooming Table
The Go Pet Club is a solid runner-up.
Go Pet Club Dog Grooming Table, Adjustable Arm Foldable
Easy to clean: Our waterproof, static-free surface
Space saving: With foldable legs and a detachable grooming arm
Non-slip and Sturdy with rubber-capped feet to prevent slipping on any surface
Variations: Available in 4 sizes and two colors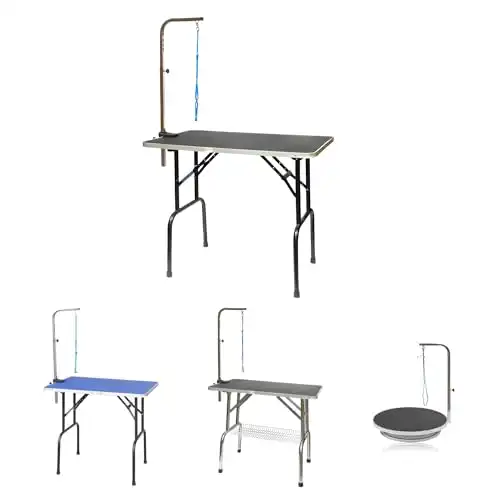 We earn a commission if you make a purchase, at no additional cost to you.
The build quality is excellent and given it is so lightweight and is also fold flat – I was impressed with how durable the product felt. I tested the smaller 30 inch which was appropriate for a Toy, but for Mini and Standard goldendoodles you would need to upszie to a larger variation.
The larger sizes will handle any weight of Goldendoodle. The important components are adjustable, even if you have a particularly tall or lanky Goldendoodle. (Did you know that English Goldendoodles are taller than American Goldendoodles?)
It is foldable for storage (folds flat) and was easy enough to assemble in less than ten minutes for the initial set up.
A worthy alternative to the best grooming table. If you are unsure if you will be grooming at-home frequently – this is an excellent consumer-grade product.
What height should my grooming table be at
For small or large Goldendoodles, standard-size grooming tables will unlikely need a height adjustment – once they are set up correctly.
Set the table height if adjustable so that your back and neck are not strained when reaching the top of the dog's head. Even though you won't spend that much time grooming the top of your Goldendoodle, this is the best height setting.
You can also consider a simple non-slip step stool if you yourself need a little extra height.

Can you DIY make a grooming table at home?
There are plenty of ways to DIY a grooming table at home.
Making or buying a table is relatively easy (just make sure that it is non-slip). The challenge will come from making a stable and secure grooming arm. I really appreciated what DIY Dave did in this video here. Great moves Dave!
I do wonder if this will translate well to larger-sized Goldendoodles. A sturdier metal grooming table will better suit a tall or lanky dog (or a zany, energetic Goldendoodle of any size).