4 Best Dog Food for Shih-Poo Puppies and Dogs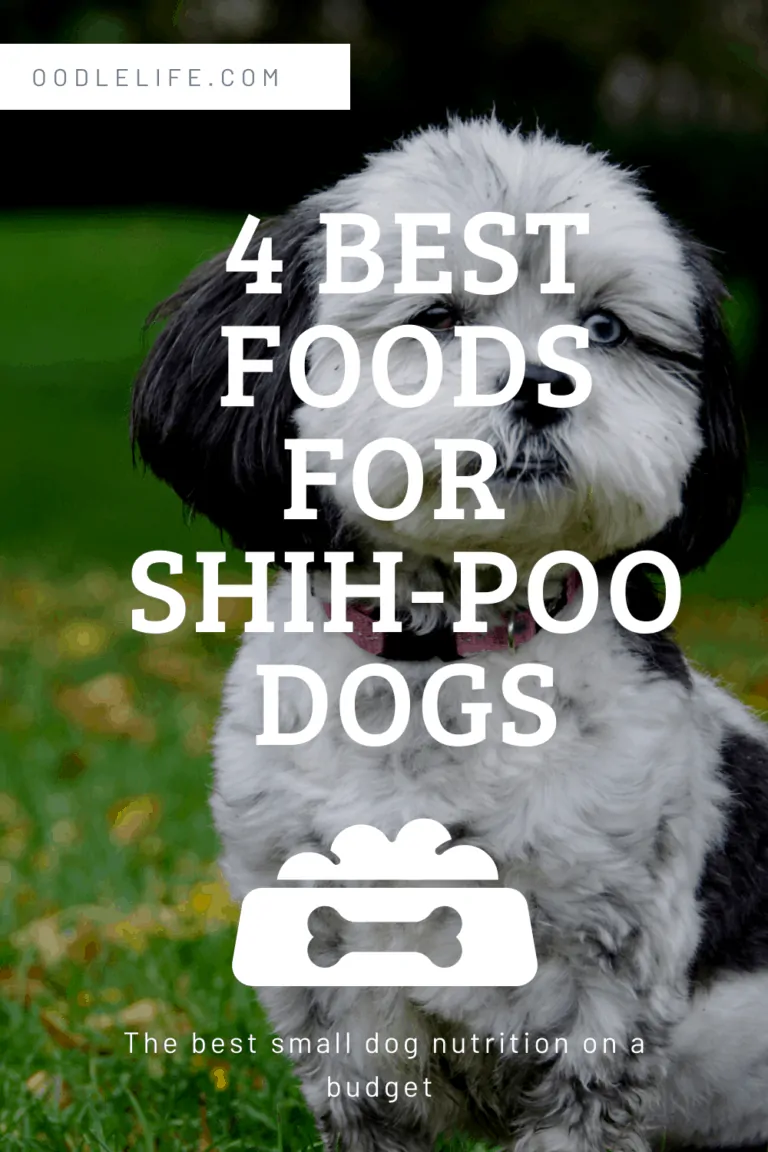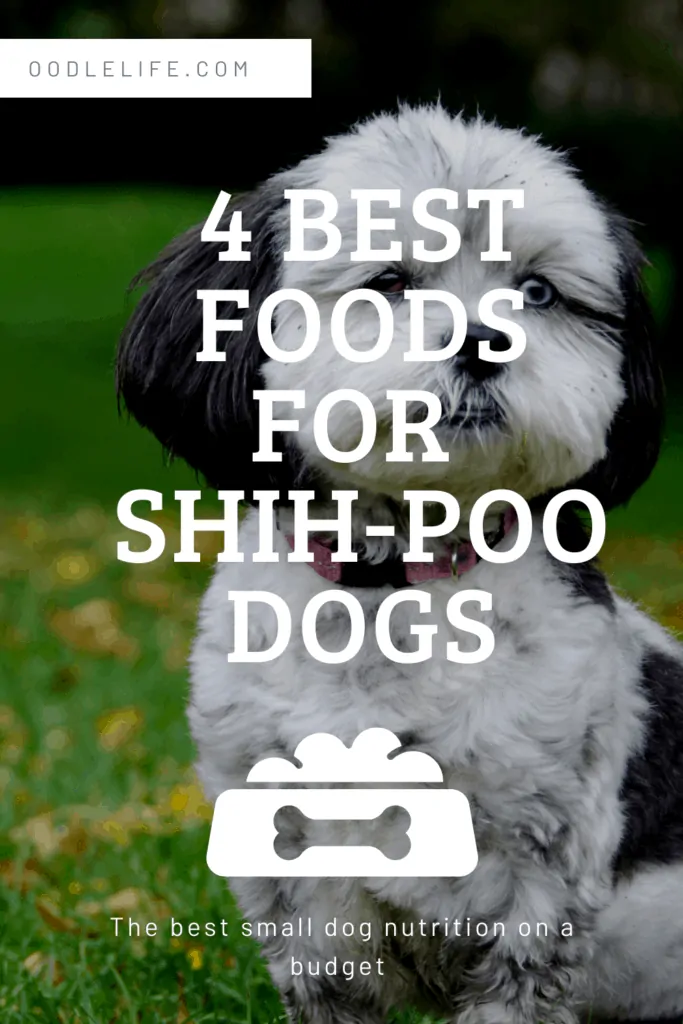 Natural and Nutrient Rich
NUTRO NATURAL CHOICE Adult Dry Dog Food, Chicken & Brown Rice Recipe Dog Kibble, 30 lb. Bag
Popular Diet
Hill's Science Diet Adult Small & Toy Breed Dry Dog Food, Chicken Meal & Rice Recipe, 15.5 lb. Bag
Probiotic health
IAMS Adult Minichunks Small Kibble High Protein Dry Dog Food with Real Chicken, 30 lb. Bag
Best Small Bites
Royal Canin Small Breed Adult Dry Dog Food, 2.5 lb bag
Natural and Nutrient Rich
NUTRO NATURAL CHOICE Adult Dry Dog Food, Chicken & Brown Rice Recipe Dog Kibble, 30 lb. Bag
Popular Diet
Hill's Science Diet Adult Small & Toy Breed Dry Dog Food, Chicken Meal & Rice Recipe, 15.5 lb. Bag
Probiotic health
IAMS Adult Minichunks Small Kibble High Protein Dry Dog Food with Real Chicken, 30 lb. Bag
Best Small Bites
Royal Canin Small Breed Adult Dry Dog Food, 2.5 lb bag
Your guide to finding the best dog food for Shih-Poo Puppies and Dogs
Shih Poo is one of the smallest breeds of family friendly dogs. Due to this, you need to be extra cautious while choosing their dog food.
A quick scroll through the pet section presents an overwhelming number of dog foods, all claiming to be suitable for every dog. Small dogs like th Shih-poo have specific needs int heir diet. These simply must be met in order to have a healthy and happy Shih-poo.
There are so many products available today that it can get frustrating!
To lend you a helping hand, this article makes just four recommendations of the best dry dog food for Shih-Poo puppies and adults. We strongly believe that these are some of the best available options for small Poodle mix dogs and stand strongly behind our editorial recommendation.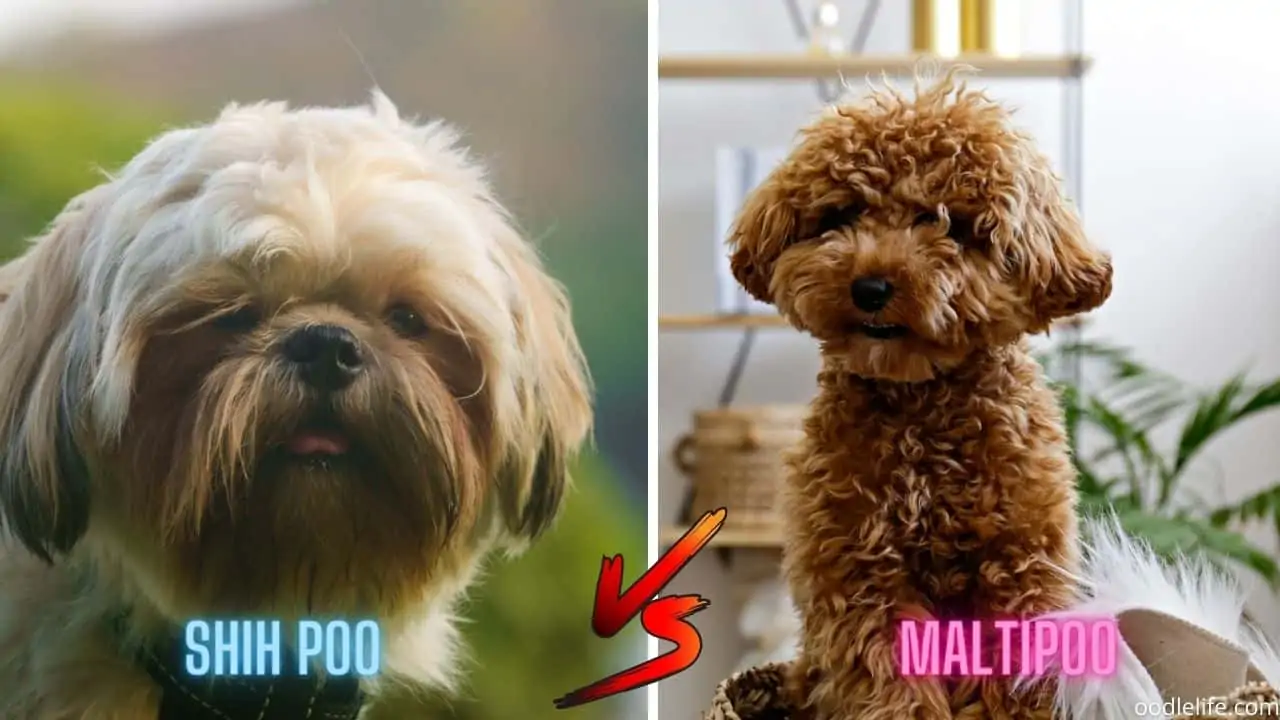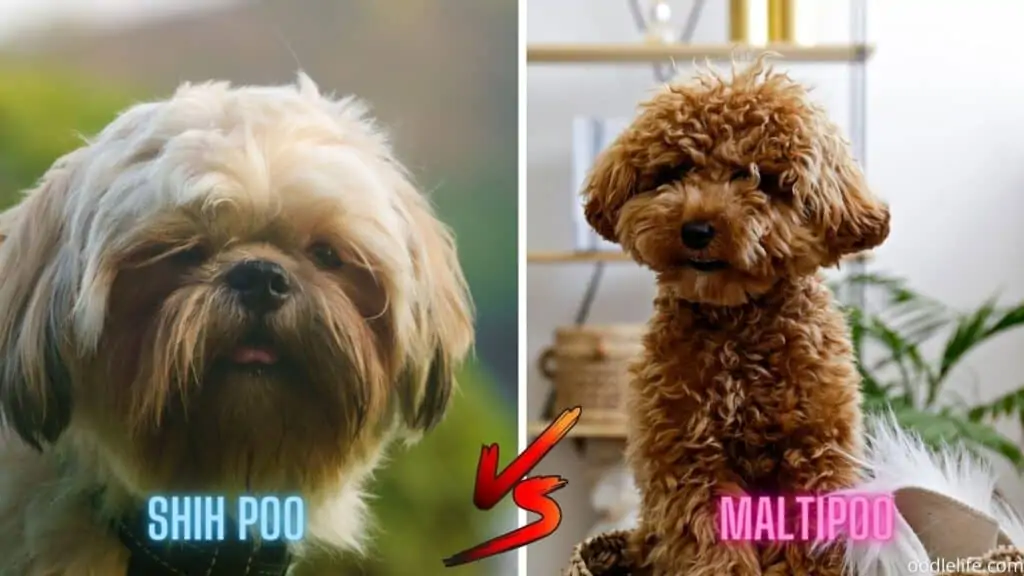 How to Choose the Best Dog Food for Shih-Poo?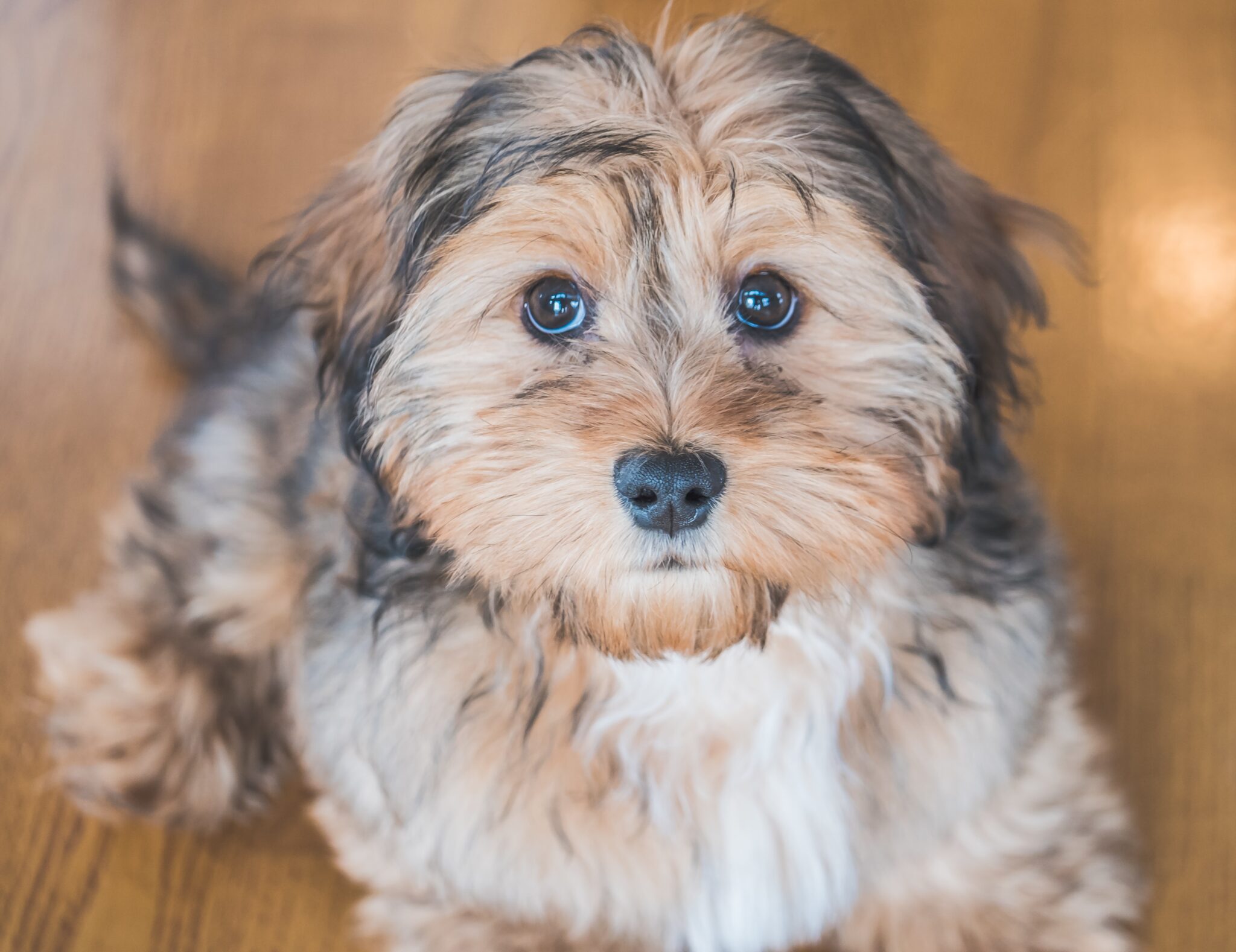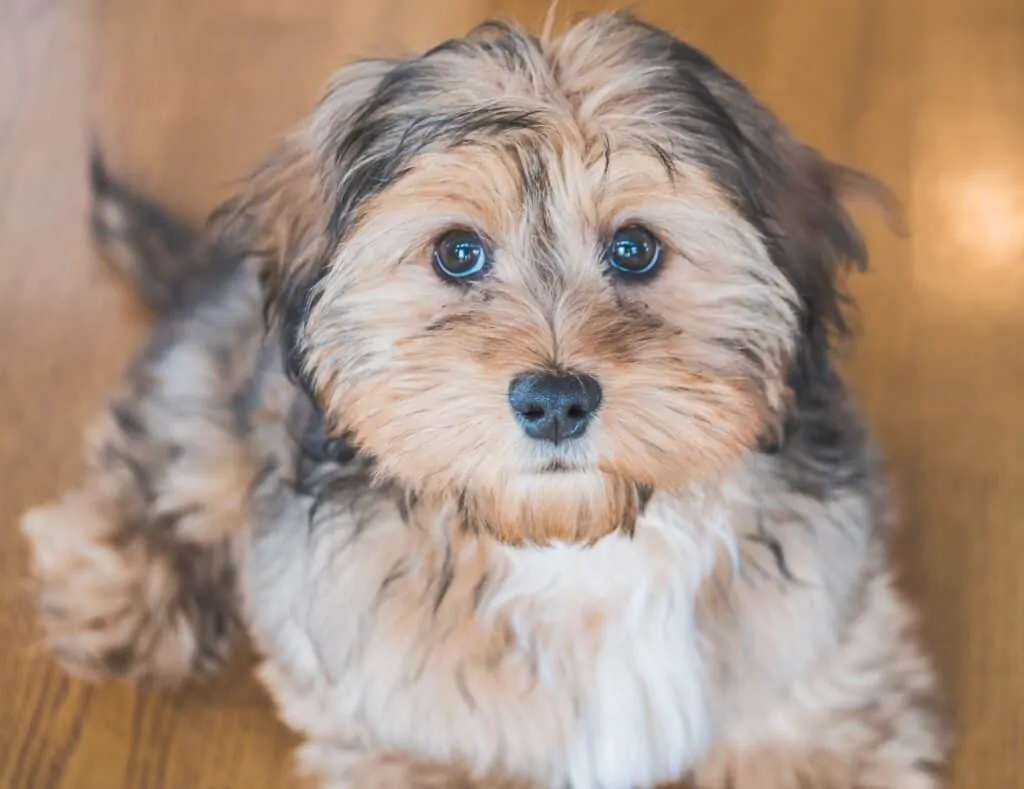 You need to keep in mind certain essential and necessary things before choosing any dog food for your puppy or small dog.
Here's everything you need to know.
1. Choose Food Packed With Nutrients
Now, this is quite an obvious point. Yet, there is a catch here!
As Shih-Poo is a small breed, they usually eat less compared to other breeds. So, you need to make sure that they get all the required nutrients for their energetic and fun-loving self!
Thus, the bottom line is to look for dog food with nutrients in each bite of it.
Some of the nutrients your Shih Poo needs are:
Proteins help in the overall growth of muscles and bones, especially in Shih Poo puppies.
So, suppose you have a Shih Poo puppy or even an adult Shih Poo. In either case, you definitely need to look out for appropriate protein content that may come from chicken, salmon, or lamb flavors.
Fatty Acids like Omega-3 and Omega-6
Shih Poos have a gorgeous coat that can put anyone to shame. Now, we wouldn't want to ignore that, right?
In this case, you need to make sure that you give your Shih Poos skin and fur all the nutrients it needs, especially Omega-3 and Omega-6.
These essential fatty acids help make your Shih Poo's skin healthy and other benefits like the proper functioning of organs.
Fish and flax seeds are rich in these nutrients, so try to go for food that has these two in their listed ingredients.
Calcium, Vitamins, and Minerals
Food rich in calcium, vitamins, and minerals will help your Shih Poo in plenty of ways.
Firstly, calcium will ensure proper bone development that will strengthen your Shih Poo's physical health.
Vitamins and minerals will help your dog to fight off diseases by strengthening their immune system. Moreover, they will also help take care of your dog's overall dental health that is extremely important.
So, these are some of the most essential nutrients you need to look out for.
2. Choose Small Kibble-size Dog Food Bites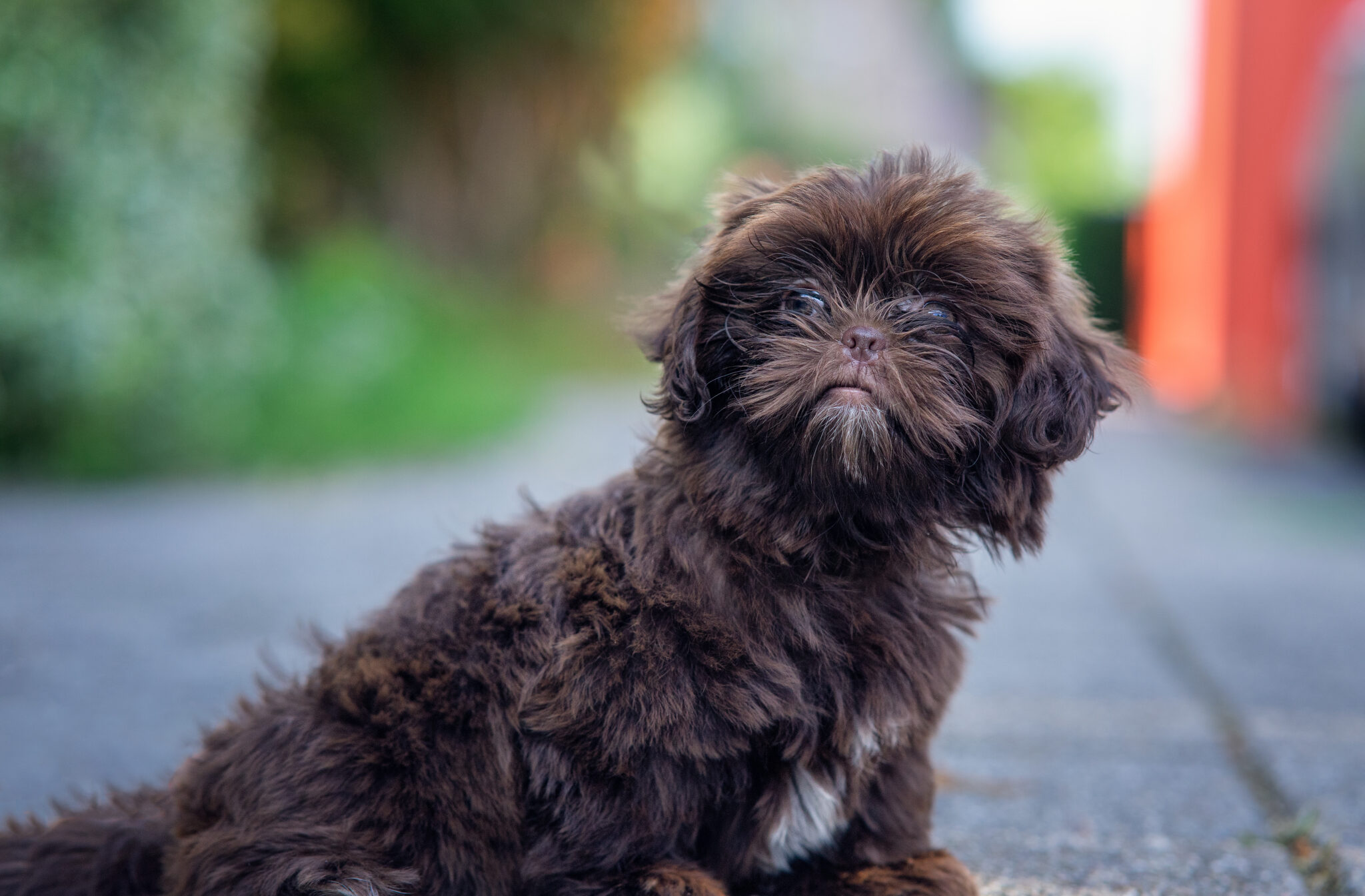 Unlike other dog breeds, Shih Poos definitely have a small mouth. (Other small Poodle mix breeds include the Maltipoo, or the Teacup Goldendoodle)
Due to this particular reason, you need to be extra cautious with the size of the dog food you're choosing for your dog.
If the dog food is too big for your Shih Poo to eat, they will simply not eat it and throw around tantrums!
In the worst-case scenario, your dog does eat extra-large kibble, there is a high chance that your little Shih Poo may end up choking on it.
So, in this situation, your best bet is to go for a dog food that is smaller in size compared to other dog foods.
3. Choose Organic, Ditch Artificial
Many dog food companies may try to lure you by overpromising you with the nutrient and flavor content.
However, you need to be aware that the nutrients used in cheap dog food products may not be natural and organic. They may contain artificial nutrients that won't help your dog in any way. They may end up causing other problems, such as allergies.
Moreover, some dog food products may also have artificial colors and flavors that can harm your dog.
If possible, try to ditch everything artificial, and go for natural/organic nutrients for your little Shih Poo!
Thus, if you keep these three things in your mind, you're sorted!
How to Make Your Dog Eat New Food?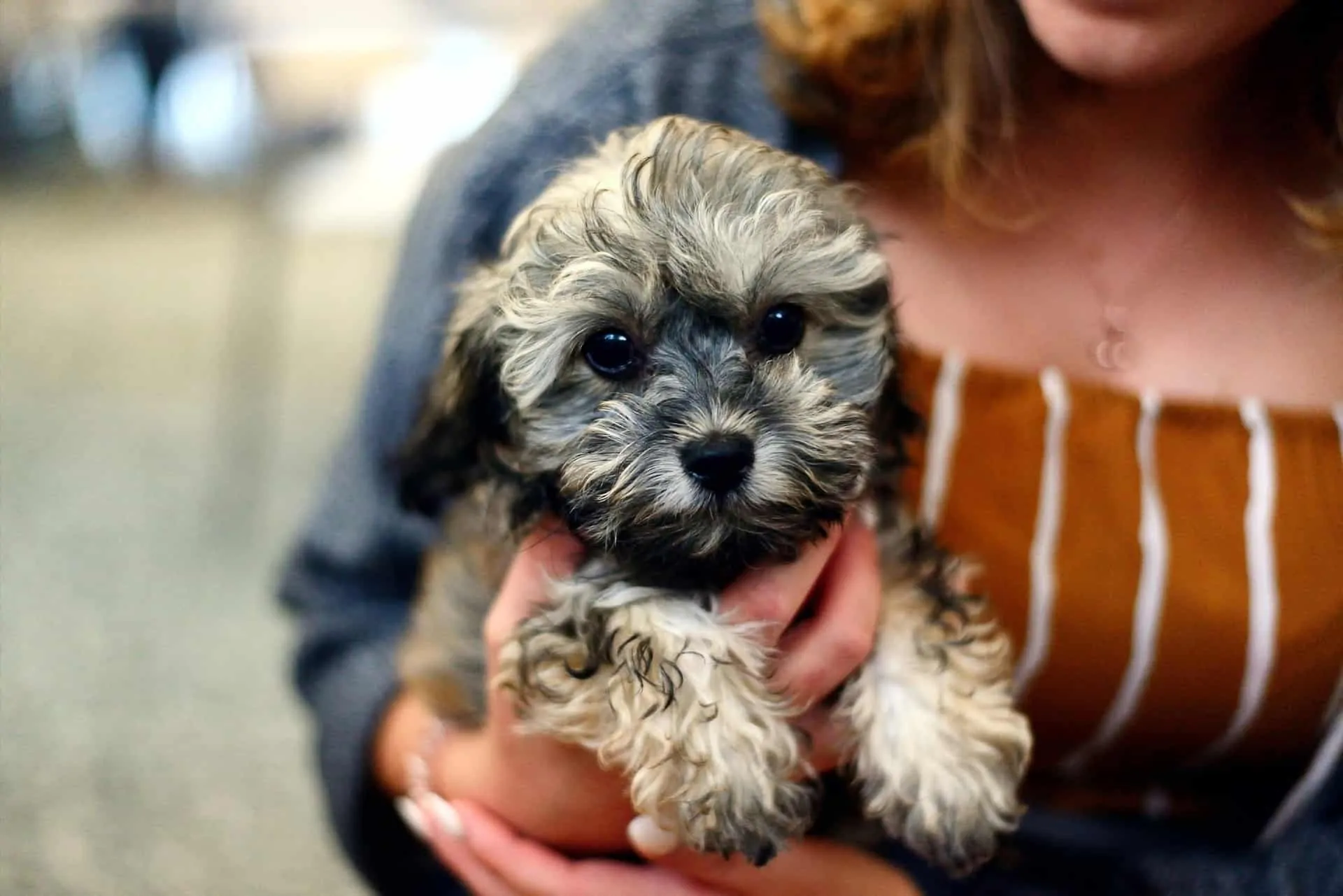 The hunting mission that is finding new dog food doesn't end until you make your dog eat that food properly.
If you're facing the same struggles, we have got your back. Here's what you need to do:
1.Try Getting Tastier Food
One of the primary reasons your fussy dog isn't eating is that they simply don't like the taste.
If you feel like your dog used to eat correctly before and now they don't, it is mostly because of the taste. So, try to get your dog to eat tastier dog food.
2. Transition Slowly
If you don't want to get another dog food, you may try out this easy method.
What you have to do here is to allow your dog to get used to the new food slowly. For example, you can get the old dog food and a new one, mix them up and let them eat that.
For the first few days, make sure the proportion of the old dog food is more than the new one. Then, slowly and gradually, decrease the amount of old food and increase the new one!
By the end, your dog won't even realize the difference! Well, you have successfully tricked your dog!
3. Build Your Dog's Appetite
Sometimes your dog may not eat as they're not even hungry enough.
Now, flashback to when you used to exercise at your school and get extremely tired and hungry. Well, this is what you need to do with your dog.
Taking your dog out for a walk before mealtime and tiring them with exercising can keep them fit and make them hungry.
4. Reward Your Dog With Food
Be it a human or a dog, everyone has a particular affinity for rewards. So, try to treat their mealtime as a big deal, such as a reward.
You can make your dog do some easy tricks, praise, and pat them for this. Then, once your dog is all excited, give them the food as a reward and watch them devour it!
5. Never Share Your Meal With Dog or Give Them Extra Treats
If you have a habit of feeding your dog beneath the table or giving them extra treats, you may have to stop!
Treats are great for motivating your dog. However, when you give them too many treats, they may get under the habit and start asking for them instead of the actual meal.
Similarly, they may also get under the habit of eating your meals instead of their own.
So, these are the five easiest tricks you can try out. Remember that if they still don't eat for a long time, you need to take them to the vet. They may have behavioral or physical medical problems.
Top Four Best Dog Food for Shih Poo
Now, let's talk about the three best dog foods that guarantee a more robust and healthier Shih Poo!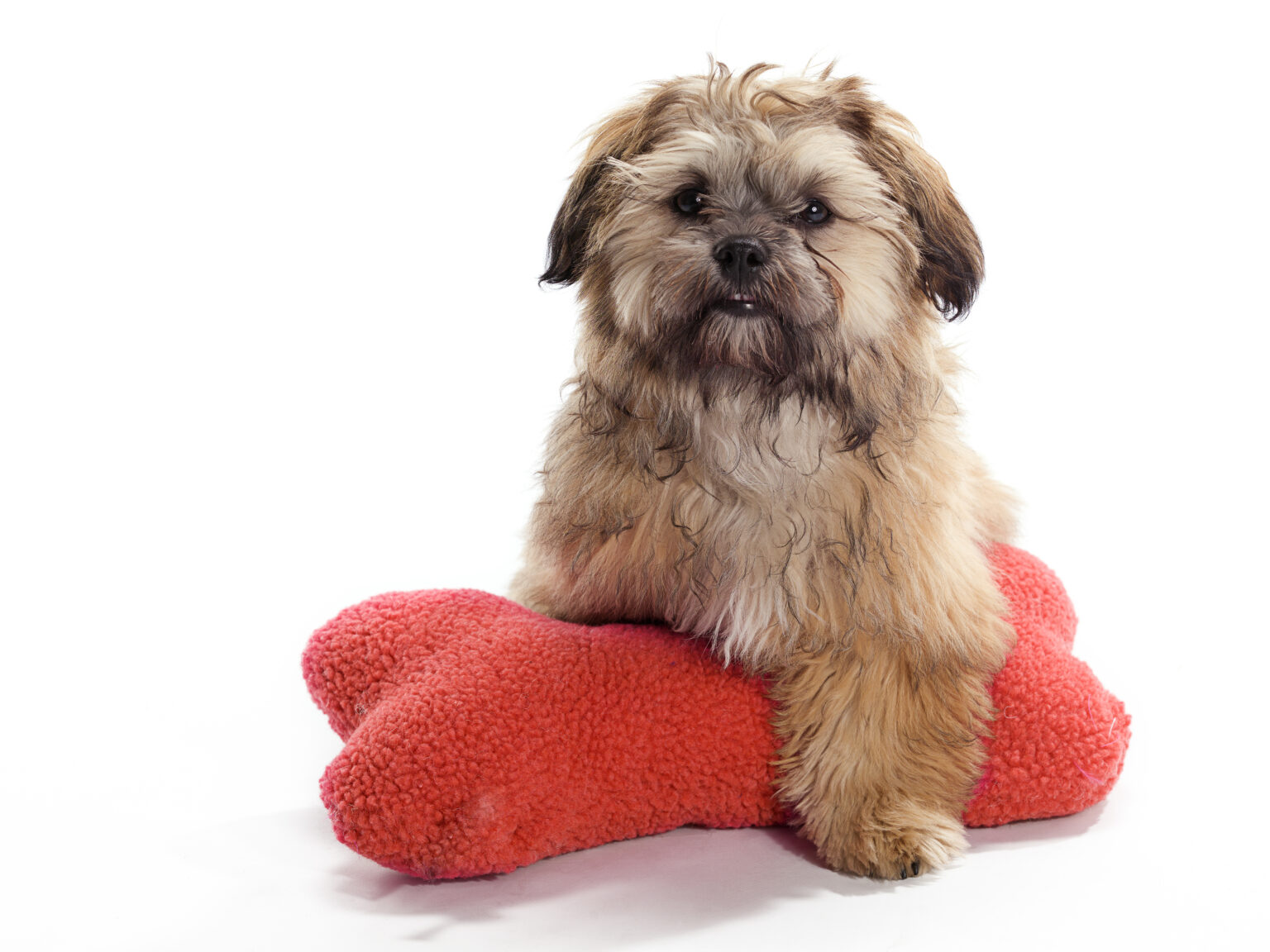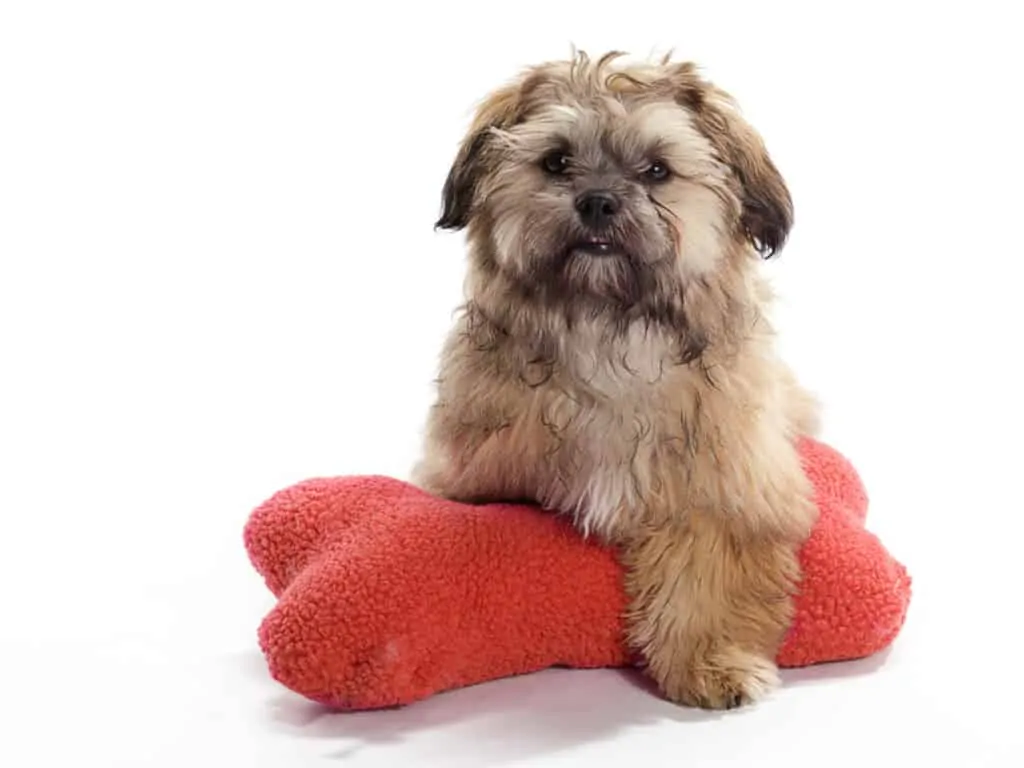 1. Nutro Wholesome Essentials Natural Adult Dry Dog Food
Brand: Nutro
Where to Buy: Amazon
Nutro Wholesome dog food is available in chicken flavor, and the good thing is it comes in different quantities. So, if you just want to try it with your dog, you can go for lesser amounts.
NUTRO NATURAL CHOICE Adult Dry Dog Food, Chicken & Brown Rice Recipe Dog Kibble, 30 lb. Bag
Contains one (1) 30 lb. bag of NUTRO NATURAL CHOICE Adult Dry Dog Food, Chicken & Brown Rice Recipe for dogs 1 year and older; real chicken is the ingredient
Made with non-GMO ingredients; no chicken by-product meal, corn, wheat, or soy
High quality protein source is the ingredient in the delicious dry kibble
Formulated to support healthy immunity with essential antioxidants and healthy digestion with natural fiber
Helps promote healthy skin and a soft, shiny coat with omega-3 and -6 fatty acids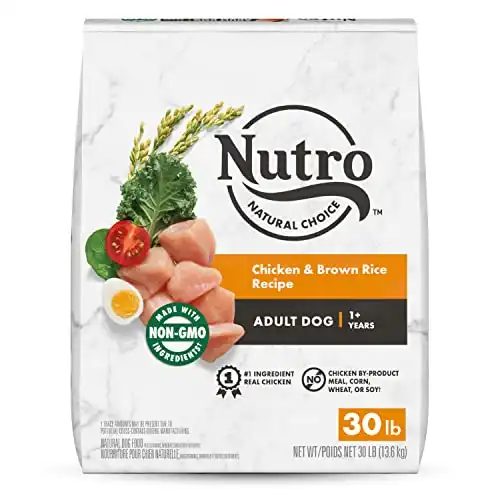 We earn a commission if you make a purchase, at no additional cost to you.
When it comes to the nutrients, this dog food is definitely packed with the best of them. It contains:
Vitamins, such as Vitamin-E, for healthy skin and immune system too
Glucosamine and Chondroitin for more robust and healthier joints
Proteins and other minerals also for the overall physical health
Additionally, all the ingredients used are non-GMO and without any artificial flavors or colors.
2. Hill's Science Diet Dry Dog Food
Brand: Hill's Science Diet
Where to Buy: Amazon
If we have to choose the best overall Shih-poo food, this popular diet tops the list. It is available in two flavors such as chicken and lamb; rice. Thus, great for fussy dogs.
We earn a commission if you make a purchase, at no additional cost to you.
They are one of the best-suited for Shih Poo as they are quite digestible compared to other dog foods with low risk of upset stomach.
Moreover, this dog food has a top notch ratio of the nutrients such as:
Protein for muscle growth
Omega acids and Vitamin-E for nourishing your Shih Poo's coat and skin
Antioxidants for your Shih Poo's immune system
All of the nutrients used are 100% organic and reduce the risk of allergies, making it the best dog food for Shih Poo.
3. IAMS Proactive Minichunks Dry Dog Food
Brand: IAMS
Where to Buy: Amazon
If you're looking for a fiber-rich food that is also prebiotic rich for your Shih Poo dog, then this is a great choice.
IAMS PROACTIVE HEALTH Adult Minichunks Small Kibble High Protein Dry Dog Food with Real Chicken, 30 lb. Bag
Adult Dry Dog Food: Give your dog the nutrition they need in the small kibble size they prefer, with real, farm-raised chicken as the first ingredient to promote strong muscles with premium-sourced...
Veterinarians Recommend IAMS: This tasty kibble supports healthy digestion with a wholesome blend of fibers and prebiotics, plus antioxidants to support a strong immune system
Complete and Balanced Nutrition for Adult Dogs: IAMS Dog Food is made with high quality animal protein and no artificial preservatives, flavors or fillers, for complete and balanced nutrition
Tailored to Your Dog: We carry a full line of foods for your dog's age, size and dietary needs from puppy to adult to mature, small breeds to large, and with recipes to support healthy weight and...
IAMS Super Premium Dog Food: Choose the nutrition that brings out your dog's best, tailored for their unique needs; Our high-quality, premium recipes are made in the USA with the finest ingredients...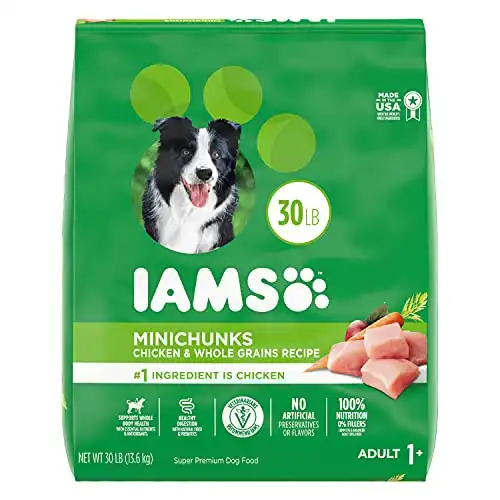 We earn a commission if you make a purchase, at no additional cost to you.
IAMS Proactive is chicken-based dog food and contains some of the best nutrients such as:
Fibers and Prebiotics that enhance digestion in your small dog's body
Protein for building stronger muscles
Antioxidants that strengthen your Shih Poo's immune system
Moreover, as the name suggests, this dog food is relatively small and, thus, one of the best for your little Shih Poo.
4. Royal Canin Small Breed Adult Dry Dog Food
Brand: Royal Canin
Where to Buy: Amazon
The last to the list is Royal Canin due to its perfect size and rich nutrients.
Royal Canin Small Breed Adult Dry Dog Food, 2.5 lb bag
SMALL BREED DOG FOOD: Royal Canin Small Breed Adult Dry Dog Food is precise nutrition specifically made for small dogs 10 months to 8 years old weighing 9–22 lb
WEIGHT MAINTENANCE: L-carnitine helps maintain a healthy weight, while helping to meet the high energy needs of small dog breeds
SKIN AND COAT HEALTH: Optimal levels of fatty acids like EPA and DHA support skin and a healthy dog coat
SPECIALIZED KIBBLE: Small breed adult dog food has an exclusive kibble design adapted for miniature jaws
GREAT FOR PICKY EATERS: Enhanced palatable dog food satisfies the fussy appetites of small dogs
We earn a commission if you make a purchase, at no additional cost to you.
As mentioned earlier, Shih Poos have a small mouth and require small kibble. This dog food exclusively aims for that.
Moreover, it also contains healthy and unique nutrients such as:
L-carnitines helps in maintaining energy and proper weight.
EPA and DHA help in the overall health of skin and coat
Proteins as it is chicken-based for improving muscle growth
Lastly, this dog food is definitely quite palatable and will help if you have a fussy dog.
Final Thoughts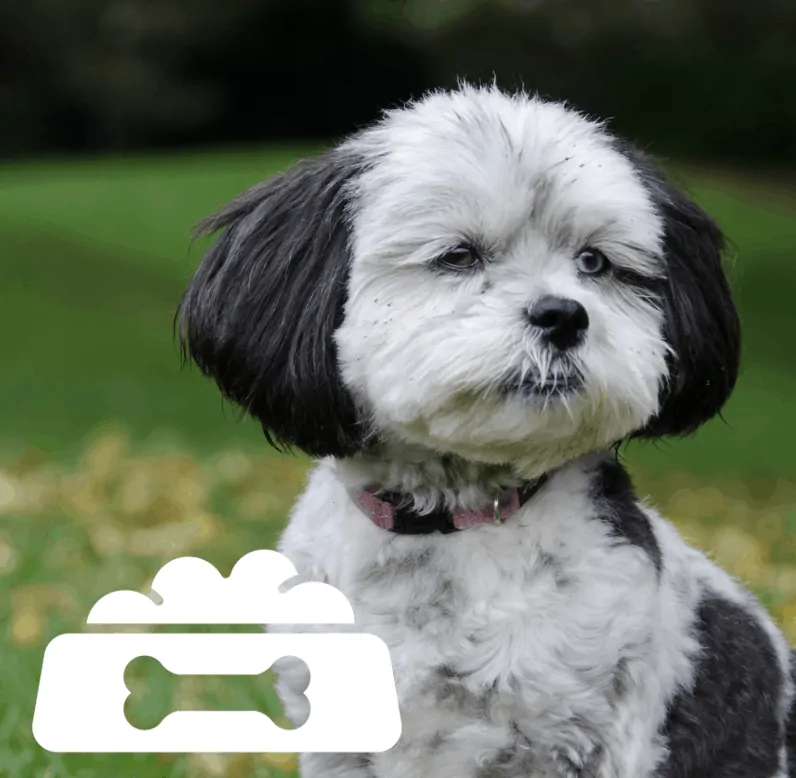 In the end, exercise and food are the two critical aspects that define your Shih-Poo's health.
So, you need to make sure you put in all your efforts to find only the best and quality food for your little dog.