5 Best Dog Carrier Backpack Picks
Dog carrier backpacks are becoming the norm as more owners take their four-legged friends out with them for adventures. The reasons behind choosing a backpack carrier will vary, depending on you and your dog's requirements.
They are helpful in many situations, including:
Taking your pet along for a bike ride
Carrying your pet after their tire out from a long hike
Supporting an animal with an injury
Using public transportation with your animal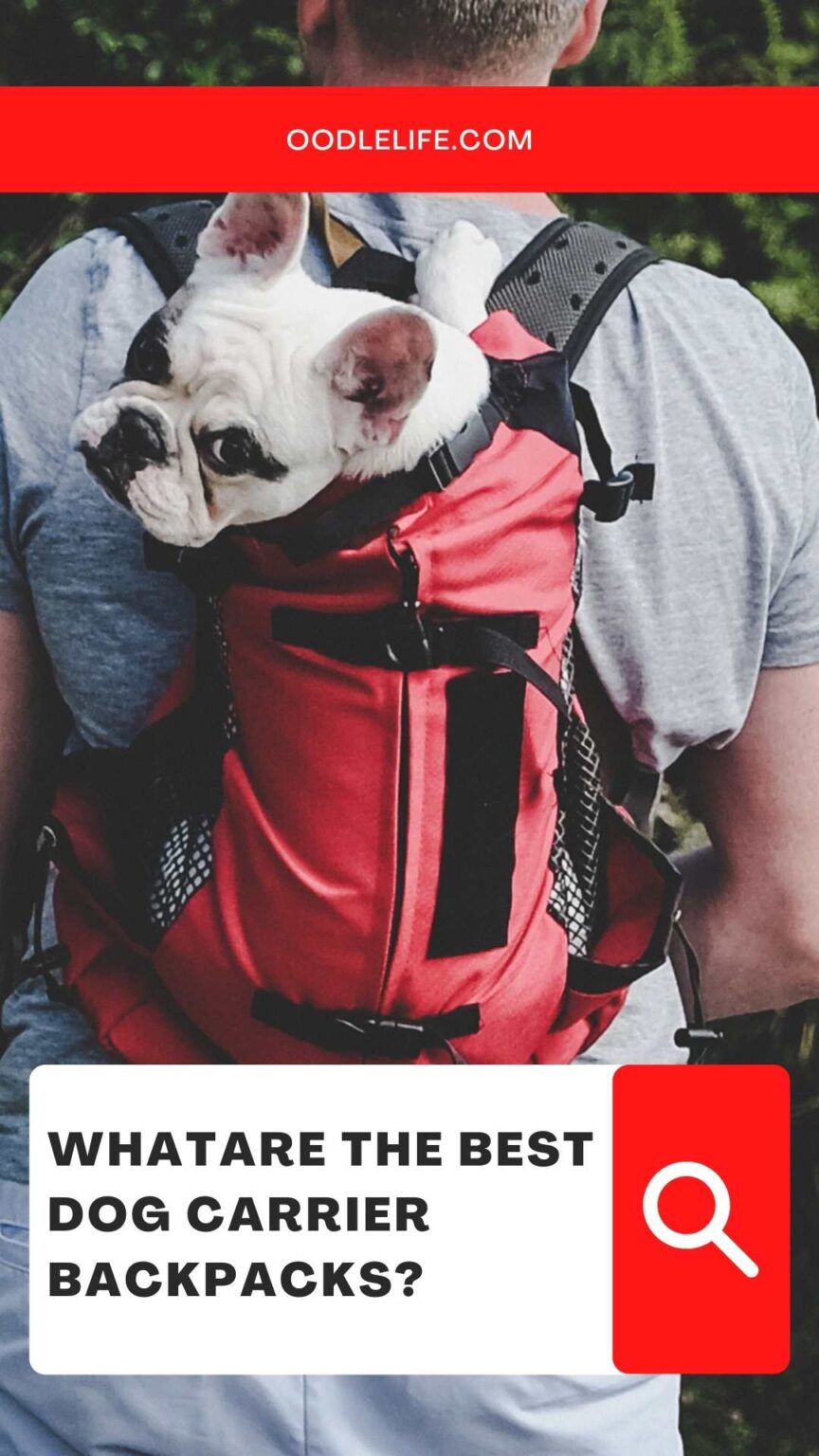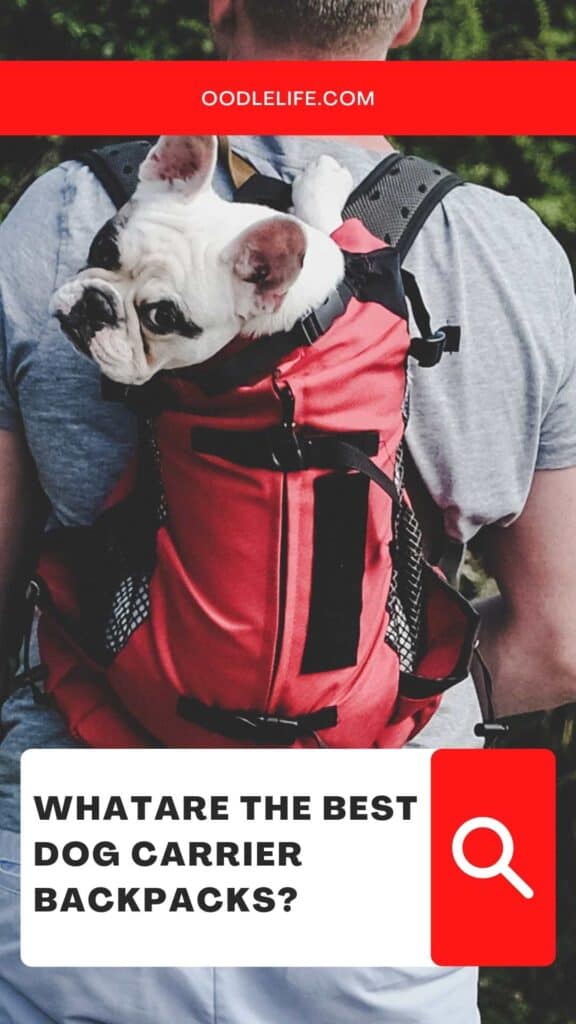 Styles of Dog Carrier Backpacks
Just as there is not one dog breed, there is not just one dog carrier backpack to suit everyone. Examining the many styles available will help you decide on the best dog carrier for you and your animal.
Some popular animal backpacks include:
Self-contained versions
Items with head and leg holes
Products with handles and rollers
Front pouches
Slings
Transparent bubbles
Each of these styles will have benefits and disadvantages, so it will depend on the size of dog you want to take with you for adventures and which one will work best.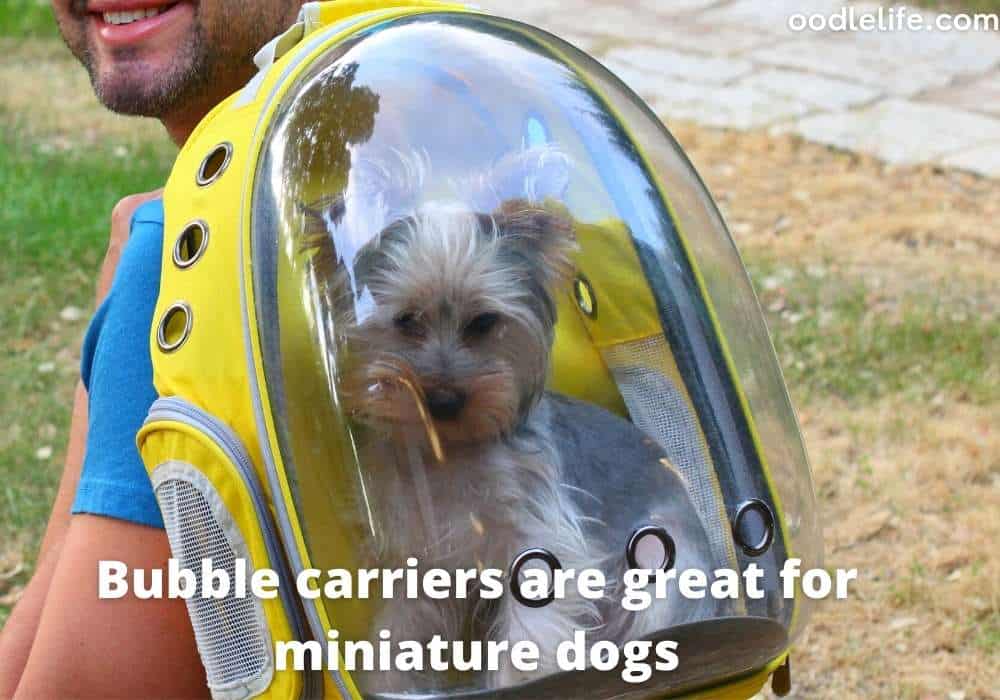 Elements to Consider When Choosing a Dog Carrier Backpack
Not all dog carrier backpacks are created equal. Choosing the best dog carrier backpack can take some time to research all of the features and elements that each product offers. Before you buy the first item that you find, consider these factors:
Budget
Size of your dog
Reason for use, hiking, biking, public transit, or others
Materials in construction
Comfortable to use
Comfortable for your pet
Additional storage space
Safety
With such variety in the market, the best dog carrier backpack for your neighbor may not work for you and your pup. You should thoroughly research what backpacks will suit you and your dog before deciding. Here are the seven best dog carrier backpacks available to help make your choice a little less stressful.
The 7 Best Dog Carrier Backpacks
Whether you have a small or large dog to take along with you on adventures, one of these dog carrier backpacks should provide the support you and your pup need. Some dogs will enjoy sitting in the carrier immediately, while others can take some time to get used to the movement.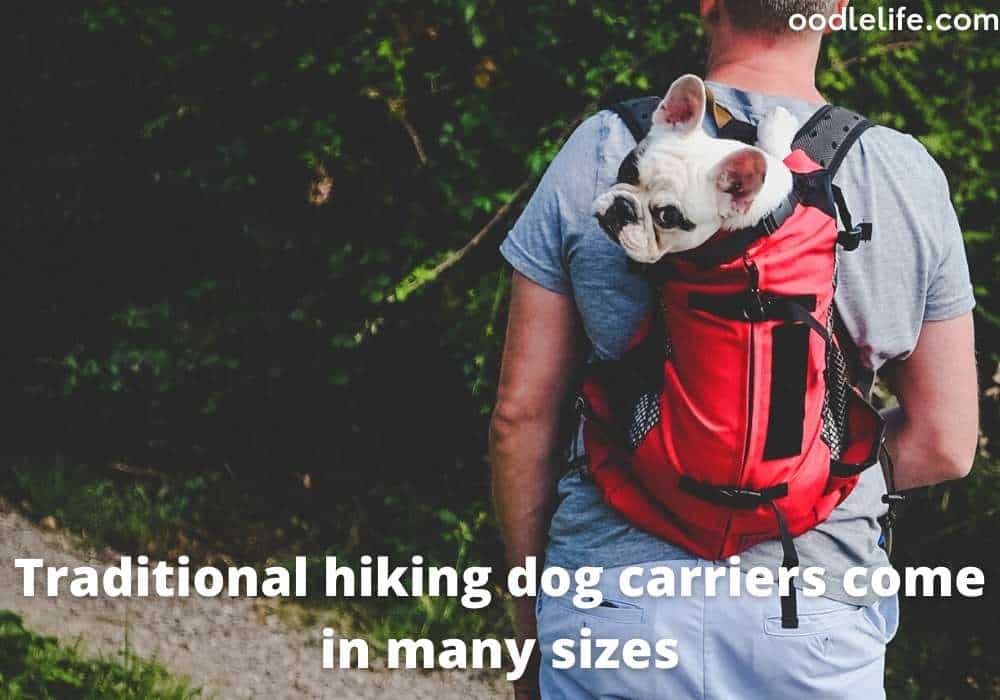 It is best to try it out at home beforehand so your four-legged friend knows what to expect and will not be too anxious to sit still when you venture out.
Our list covers the essentials for anyone looking for a dog carrier backpack:
Best Overall Backpack Carrier for Most Dog Sizes
Best Backpack Carrier for Dogs up to 15 Pounds
Best Softshell Carrier for Small Dogs up to 7 Pounds
Best Front Carrier 
Best Backpack for Airline Travel 
Best Bubble Backpack 
Best Legs Out Backpack Carrier 
Best Overall Backpack Carrier for Most Dog Sizes: K9 Sport Sack Knavigate Dog Carrier
No matter what size of four-legged friend you have, K9 Sport Sack has a product for you. The Knavigate Dog Carrier can fit most medium size dogs up to 53 pounds. For animals between 53 and 80 pounds, K9 does offer other models to support the larger weight.
K9 Sport Sack Knavigate | Dog Carrier Dog Backpack for Most Dog Sizes | Front Facing Adjustable Dog Backpack Carrier | Veterinarian Approved (Small, Midnight Black)
THE SMALL K9 SPORT SACK KNAVIGATE will fit dogs with the length of 13-17 inches and have a girth up to 27 inches. Typical dog breeds that will fit this size backpack include Cavalier King Charles, Mini Dachshund and Toy Poodle. Use it as a dog travel bag for hiking, bikes, subways, shopping, motorcycles, skiing, dancing..heck the possibilities are endless!
KNAVIGATE BACKPACK: Do you hate seeing big, sad puppy dogs eyes as you walk out the door for an adventure, leaving your best friend behind? Our trainer dog sports backpack are ideal for owners who want to take their pups with them, but are looking for an economical solution. Our backpack carrier are great for dogs who suffer from anxiety, depression, or have a physical disability. Our pet backpack are also great for older dogs or puppys that may not have the stamina for your next big adventure.
ROUND TALL FAT SMALL: We get it! Dogs come in all shapes and sizes, and not every pet travel bag fits the same. We have your dog covered! Our dog travel carrier is available in multiple sizes from X-Small to X-Large. We have a dog carrier bag that will fit almost any dog breed. View the product images to the left to find the right size for your dog! Please contact us and visit our website for more accurate sizing recommendations.
SPORT SACK IS THE NEW BLACK: (Tip) For all the chubby dogs out there with a few fat rolls over the collar, our Midnight Black dog hiking backpack is very slimming! Jokes aside, Midnight Black is 1 of the 2 stylish colors we offer in the Sport Sack KNAVIGATE, and don't worry all the colors have a slimming effect! Our dog carrying backpack is designed to keep your dog safe and secure. Its the ultimate dog backpack for hiking!
USA-BASED COMPANY, PERFORMANCE GUARANTEED: Wrong size? No problem. Any issues? We're here for you. Whatever the problem may be don't worry we'll cover it, but we're happy to hear any good stories and see your adventures with your dog. This puppy backpack is backed by a 60-Day Quality Guarantee. Must be sold by seller "K9 Sport Sack" or warranty is voided.
The K9 Sport Sack is the best overall due to its versatility and comfort. The internal frame and padded hip belt keep the backpack steady and in place as you travel with your furry pal without causing you discomfort.
The K9 Sport Sack is safe for your animal to use, including ventilated sides, lumbar support straps, and a strong, thick bottom. With this, you are sure they will be comfortable as you take them along.
Best Backpack Carrier for Dogs up to 15 Pounds: Petsfit Comfort Carrier
For dog owners with small to medium-sized pets up to 15 pounds, the Petsfit Comfort Carrier is ideal. You will be comfortable and have less stress on your shoulders and back with the chest and waist buckles. These straps also help keep the backpack in place while adventuring with your dog.
Petsfit Comfort Dogs Carriers/Backpack Hold Pets up to 15 lb
Pet backpack dimensions:13" L x 11" W x 17" H. Perfect pet backpack for dogs up to 15 pounds
Carry pets with confidence:This dog carrier backpack comes with both waist and chest buckles which helps to reduce the burden and keeps the shoulder straps from slipping while pet moving
Keep your pet comfortable:Four mesh windows for ventilation and visibility
Keep your pet safety: The cat backpack comes with safety strap to secure your pet and prevent escape.
It contains four mesh windows to provide ample ventilation and allows them to see their surroundings. With a top and bottom opening, it is versatile to use in many situations. Your dog will be comfortable with the soft fleece mat and ample space with this Petsfit Comfort Carrier.
This Petsfit dog carrier backpack uses durable zipper closures and sturdy, adjustable shoulder straps to ensure that you can take your dog along often without it falling apart from use.
Best Softshell Carrier for Small Dogs up to 7 Pounds: Mogoko Dog Carrier Backpack
If you own a small-breed dog under 7 pounds, the Mogoko Dog Carrier Backpack is a terrific choice. This softshell carrier is comfortable for both you and your pet, containing breathable mesh and polyester materials. Your dog will stay safe while you travel when you connect them to the interior rope with a clip to keep them securely inside.
Sale
Mogoko Cat Dog Backpack Carrier, Puppy Pet Front Pack with Breathable Head Out Design and Double Mesh Padded Shoulder for Outdoor Travel Hiking (M, Black)
❤Size M: 10.6"(L)*6.3"(W)*13.0"(H), recommend for 0.0 ~7.0 lbs weight and 10.0"~"13.0" back length(must measure your pets length and weigh together for accurate reference), taking each measurement a bit loosely will be more reasonably.
❤Durable & Comfortable Material: Made from breathable mesh and polyester fibre, lightweight and Comfortable,great ideal for outdoor trips, sightseeing, camping hiking and etc
❤Adjustable Straps & Interior Drawstring: Adjustable padded straps help to reduce the burden. extra waist strap with buckle keeps the backpack stable. Interior rope with clip can connect to your pet's collar/harness to prevents your pet from jumping out or hurt itself.keeps them more secure
❤Padding Panels & Removable Bottom Cover: With EPE foam padded back and sides, reducing the burden and offering more comfort to you and your pet, this rucksack/knapsack help your pet enjoy a nice nap/trip. Removable sturdy bottom cover makes it easier to replacement/clean.
❤Peep Hole and Mesh Pockets Design: A drawstring opening neck hole on the top of the backpack to keep your pet stick their head out,make them ventilation and visible, enjoy the entertainment with their host, adjustable hole string and soft mesh padded hole edge to ensure its security and comfort.Mesh side and front pockets help store leash, whistle, water, snacks, treats and other necessities.
The removable bottom comes out easily for cleaning, making cleaning a breeze. The padded side panels keep your four-legged friend comfortable with you, while the waist strap buckle helps to minimize any stress for those long hikes.
The Mogoko Dog Carrier Backpack includes a drawstring peephole so that they can experience their surroundings with you. This functional backpack also has front pockets to store essential items, like snacks or a whistle.
Best Front Carrier: Outward Hound PoochPouch Front Carrier
For pet owners who prefer to carry their furry friend in front of them rather than on their back, the Outward Hound PoochPouch Front Carrier is the best solution.
Sale
Outward Hound PoochPouch Dog Front Carrier, Medium, Grey
HANDS-FREE, PADDED STRAP PET CARRIER: The PoochPouch Front Carrier is ideal for carrying smaller pups who aren't always ready for long hikes, but are an integral part of the pack! Padded shoulder straps and adjustable buckles provide a supportive, hands-free fit for all body types.
BREATHABLE & DURABLE: The PoochPouch Front Carrier is designed with lightweight, mesh fabric that keeps your pup cool on warmer days and water-resistant material for a durable and easy-to-clean pack you can keep coming back to for all your adventures!
INTERIOR SAFETY HARNESS: Clip your pup's harness into the interior safety harness and gently cinch in the top drawstring to keep them secure so you can both focus on the enjoying the views.
EXTRA STORAGE FOR ESSENTIALS: The Pooch Pouch Front Carrier features everything you love about your backpack with the bonus of carrying your 4-legged friend. Side pocket storage is great for stowing small essentials, and a large front zipped pocket keeps your valuables in plain sight giving you less to carry and worry about during your walk.
PLAY IT SAFE: No pet accessory is indestructible. Do not leave with unsupervised pets. Remove and replace if damaged.
The lightweight material is padded for comfort and contains breathable mesh to keep your pup cool on those hot days. The water-resistant fabric is ideal for any changing weather you may experience.
Its interior safety harness clip ensures that your four-legged friend stays put while you both enjoy some time together. Use the side and front pockets to store treats for your pup and your essentials easily within reach.
The top drawstring allows you to secure your pet so they can take in the sights while remaining seated in the backpack.
Best Backpack for Airline Travel: PetAmi Carrier Backpack
If you travel with your pup on an airplane, you do not need another item to carry. The PetAmi Carrier Backpack is ideal to leave your hands free for other luggage While still transporting your pet safely. It contains a reinforced structure for exceptional durability as you move from place to place with your dog.
PetAmi Pet Carrier Backpack for Small Cats, Dogs, Puppies | Airline Approved | Ventilated, 4 Way Entry, Safety and Soft Cushion Back Support | Collapsible for Travel, Hiking, Outdoor (Charcoal)
Designed for the maximum convenience and comfort for you and your pet while hiking, traveling, or taking your best friend to the vet, or going for a walk in the park. Measures approximately 12.5" x 10.2" x 16.3" (L x W x H). Easily fits cats, small dogs, and most other small/medium sized pets!
YOUR PET WILL TRAVEL IN COMFORT Well ventilated design for optimal airflow, two-way entry for easy access, zip up mesh window for more headroom and visibility, and thick, cozy sherpa lined bedding so your pet can rest and relax. This backpack is firmly structured, providing ample room for your pet to move around without collapsing on your pet.
DESIGNED WITH SAFETY IN MIND Equipped with a firmly reinforced structure to prevent itself from collapsing on your pet while traveling. Comes with a safety strap and buckle to secure your pet and prevent escape.
SUPERIOR COMFORT, FIT, AND CONVENIENCE The back and shoulder straps are equipped with extra thick padding for more comfort during long trips. This backpack comes with both waist and chest buckles to give you extra support. We also added side pouches and a front pocket to store essential pet supplies and a collapsible pet bowl so you can keep your pet hydrated on the go!
QUALITY CONSTRUCTION - Made with durable 600D high grade polyester for a long-lasting experience; Available in 7 Colors Black, Charcoal, Heather Gray, Heather Navy, Heather Purple, Heather Red, Turquoise
It uses a safety strap and five safety buckles to ensure your animal remains inside during travel. The well-ventilated design and mesh windows allow your pet to stay comfortable and cool while seeing their surroundings.
With multiple access points on the sides, front, and top, you can reach your pet easily at any time. The upper mesh can roll open, allowing a peephole for your dog to see everything around them. You will love the addition of the pet ID patch and collapsible water dish included in the PetAmi Carrier Backpack.
Best Bubble Backpack: Lollimeow Pet Carrier Bubble Backpack
If you want your little pup to see everything you do without any obstructions, the Lollimeow Pet Carrier Bubble Backpack is the answer. This transparent backpack easily accommodates tiny breeds and can also expand to fit small dogs up to 10 pounds.
Sale
LOLLIMEOW Pet Carrier Backpack, Bubble Backpack Carrier, Cats and Puppies,Airline-Approved, Designed for Travel, Hiking, Walking & Outdoor Use (Black-Front Expandable)
🐱【Eye-catching Clear Window Design】Cats Love to Keep a Close Eye on Their Surroundings. Clear window makes it come true that cats are able to see everything and bring travel more fun.
🐱【Upgrade to Expandable for Extra Room】Easily expand the bubble part to provide extra room for your pet. Much more room for larger pets. The bottom pad is also expandable, fit for both normal and expandable mode. Total dimension-12.5"L x 14"Wx16.5"H. Expandable part : 3"W. Suggested Weight: 0-13lbs for small to medium cats, 0-10lbs for Dogs and puppies.
🐱【Excellent Ventilation】 9 large Ventilation Holes on both sides and front, left and right ventilation nets ensure fresh air for fur-kids. The side expandable anti-scratching net provides maximum breathability that your pet will enjoy the outdoor time with you.
🐱【Functional and Cool】 This pet carrier is super functional and cool also well made. Made with High-Quality Pet Safe Materials, Easy Clean and Lightweight. The pocket on the other side is nice to fill in pet snacks.
🐱【Be Close to You】 You can carry this pet backpack in the front of your body. The little opening on one side is nice to reach in and pet her when she's nervous. Most Airline Approved under seat. Important: Please Check your airline requirements before traveling.
This dog carrier backpack is versatile enough to carry on your back or the front of your body. It sports nine large ventilation holes and side mesh to ensure that your animal has ample fresh air while remaining in the backpack. Thick, padded straps with the additional buckle help relieve any stress of taking your four-legged friend with you.
The Lollimeow Pet Carrier Bubble Backpack is not only comfortable and attractive, but it is also functional. With added pockets for snacks and items, everything you need will be within reach. The 2-sided mat is soft and is waterproof, making cleanup easy.
Best Legs Out Backpack Carrier: Pawaboo Pet Carrier Travel Bag
If you are looking for the best dog carrier backpack that will allow their legs to hang out, the Pawaboo Pet Carrier Travel Bag is for you. Perfect for dogs up to 15 pounds, this backpack has holes for all four legs and their tail for the most comfortable ride possible.
Pawaboo Pet Carrier Backpack, Adjustable Pet Front Cat Dog Carrier Backpack Travel Bag, Legs Out, Easy-Fit for Traveling Hiking Camping for Small Medium Dogs Cats Puppies, Large, Black
【Recommended for 5LB< Small Dog & Cat < 15LB 】: Pawaboo dog carrier backpack is designed for carrying small dogs/cats, we highly recommend for puppies less than to 15 LB (The larger dog may bring too much weight-bearing for the owner). Please DO measure your pets and choose according to the size chart (fig.2).
【Considerate Detail-oriented Design】: Legs-out and tail-out design keep your pet safe and comfortable; Hook and loop, zipper and elastic openings allow you to fit your dog inside comfortably; Quick Release Buckles on the end of straps ensure quick installation with just one hand.
【Customer Experience Comes First】: We always stand behind our customers and try best to meet your needs. We have made several upgraded improvements such as thickening shoulder pad sponge, using upgraded breathable mesh and polyester fiber material, which makes the carrier more durable and comfortable.
【Two Ways of Wearing】: A hands-free pet carrier can be worn on your front side or your backside if you like, it keeps you closer and increases pet's sense of security when you carry your cat or dog around. Meanwhile, the thickened sponge pad helps to relieve the burden of your shoulder.
【Enjoy Trips with Your Pet】: This backpack carrier is lightweight and portable, you can use it to carry small dogs or cats for biking, hiking, camping, out walking or meeting friends. It allows owners and their lovely pets to have more adventures together, what's more, it's also a great photo prop to take funny pictures for daily sharing.
With wide straps and a thick inner sponge, your comfort is just as important as your pup's. The Pawaboo Pet Carrier Travel Bag can be worn both on the front or back, depending on your preference. Fabric-covered elastic, two side zippers, and snap buckles make getting your pet in and out easy.
This lightweight, portable backpack carrier makes taking your dog with you easy. The hook and loop design helps secure your pet so you can both enjoy the trip out without worrying about their safety.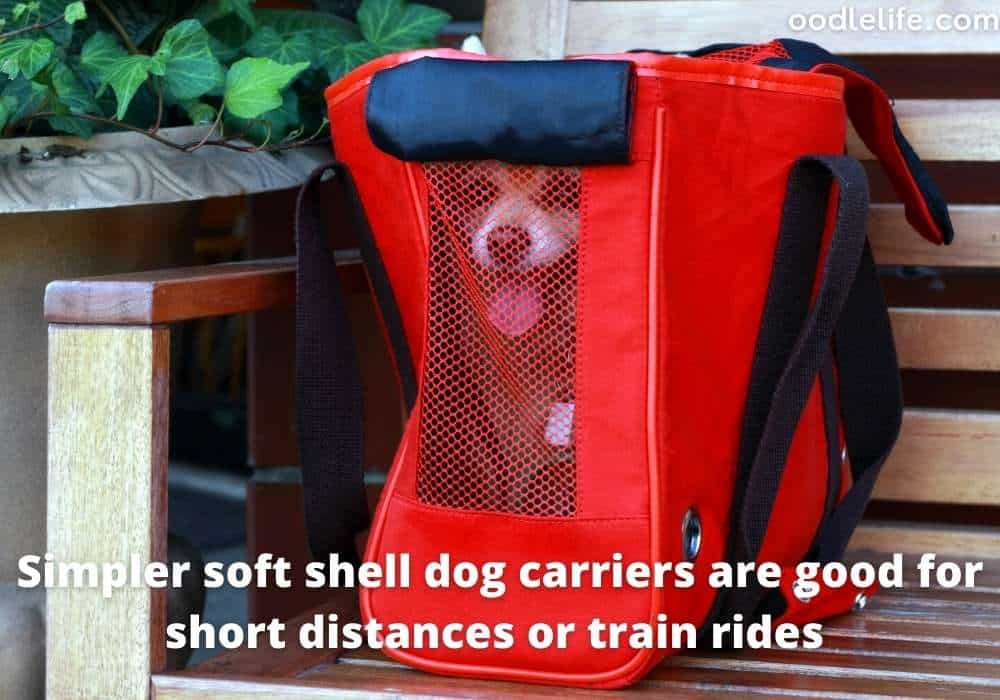 The Takeaway
The best dog carrier backpack will depend on what you and your pet need. The products we list vary for different sizes and weights and include various features. Examine what you will need the backpack for and which elements you will find beneficial for you and your dog. There is a product that will suit you both perfectly.