5 Best Water Tubes for a Dog
If your dog loves being on the water, you should get them a water tube. A water tube for your dog offers an affordable way of creating a new enjoyable experience with your pet while stimulating his mind. Drifting down a river and floating on calm waters is a good way of tiring your dog out so they can get deep sleep later.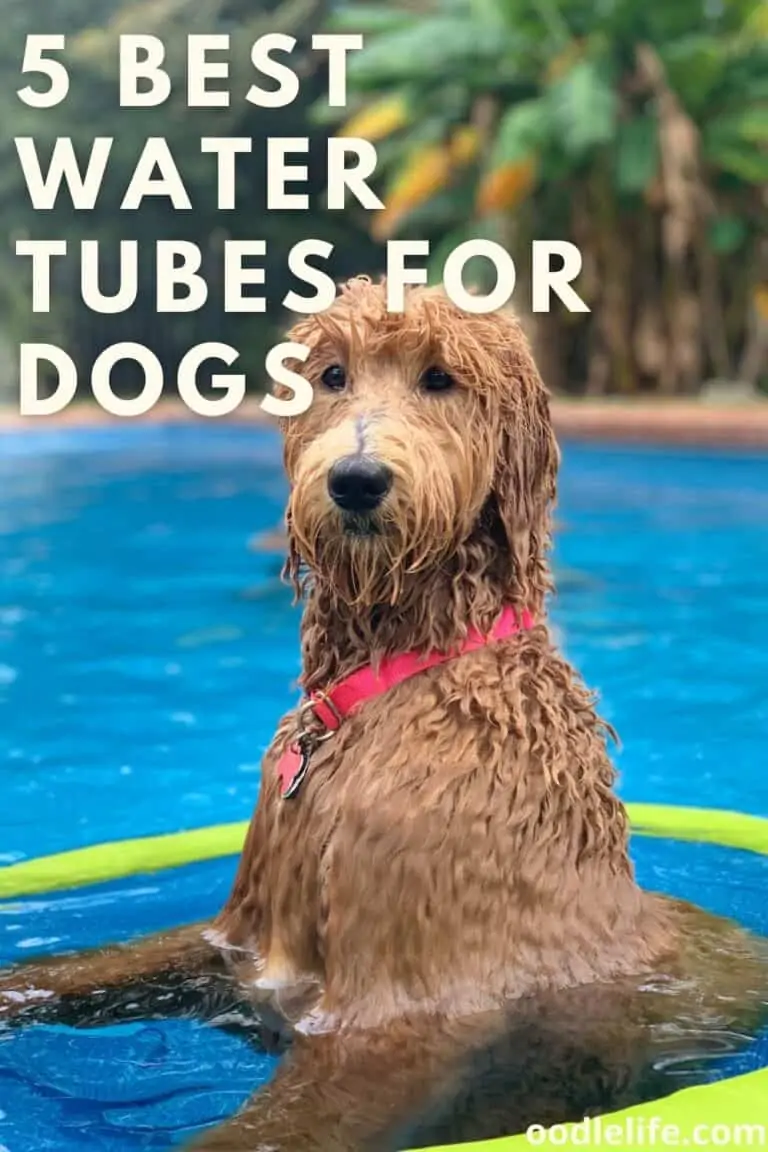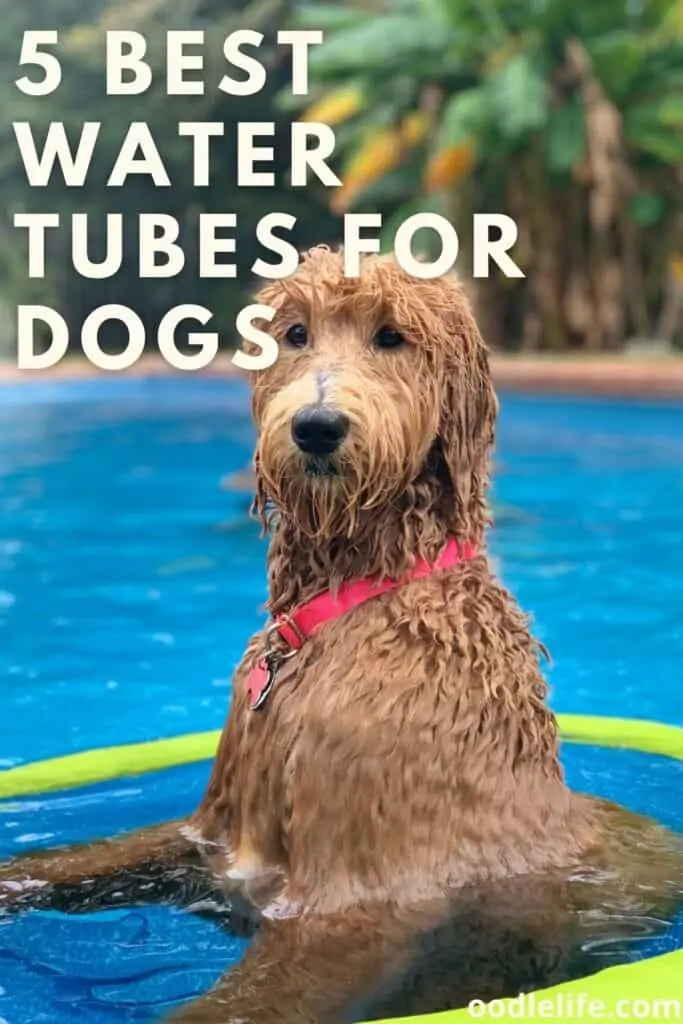 However, you need to invest in a quality water tube for your dog to enjoy their adventures in the water. There are many brands on the market, and it can be hard to choose the right one, but we got you covered.
In this guide, we review the top five best water tubes for a dog in 2021.
The 5 Best Water Tubes for a Dog
After spending hours analyzing different river tubes for dogs, five of them stood out. Here they are, in no particular order.
Intex River Run 1 Sport Lounge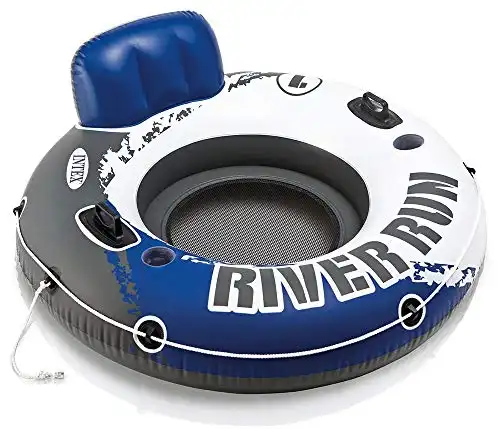 We earn a commission if you make a purchase, at no additional cost to you.
The first item on our list is the Intex River Run 1 Sport Lounge. With durable and lightweight construction, this water tube will keep your pup safe on the water.
It has a lounge design that gives your dog ample space to relax. In addition, it has a mesh to keep your dog cool. Intex products are known to be durable and affordable, two of the main reasons for their popularity.
In terms of safety, this water tube features an all-around grab rope that allows you to control your pooch's movement down the river. It also features two sturdy handles to enable you to control its movement on either side.
Pros
Made from durable material for longevity
Features two heavy-duty handles for more control
Two air chambers for more security
Mesh on its bottom to regulate temperature
Affordable
Versatile for lake and pool usage
User-friendly design
Cons
Not suitable for fast-flowing rivers as it can spin
Only suitable for one dog
SwimWays Dog Pool Float
SwimWays Spring Float Paddle Paws Dog Pool Float - Large (65 lbs and Up)
PADDLE PAWS DOG RAFT: Designed especially for medium to large dogs so your furry friend can cool off with you in the water
REINFORCED FABRIC COVERING: Reinforced paw-and-claw-friendly fabric covering and puncture-resistant construction offer long-lasting durability so your pup can float with you all summer long
PATENTED INNER SPRING DESIGN: Inner spring around the outside edge provides greater comfort and stability in the water to keep your pup afloat
PORTABLE AND EASY TO CARRY: Folds down flat into three compact circles and includes a reusable carry bag for easy portability and storage, making it great for trips to the pool or travel
SUPPORTS 65+ LB. DOGS: Measures 62"L x 41"W x 9"H when fully inflated and supports dogs weighing 65 lbs. and over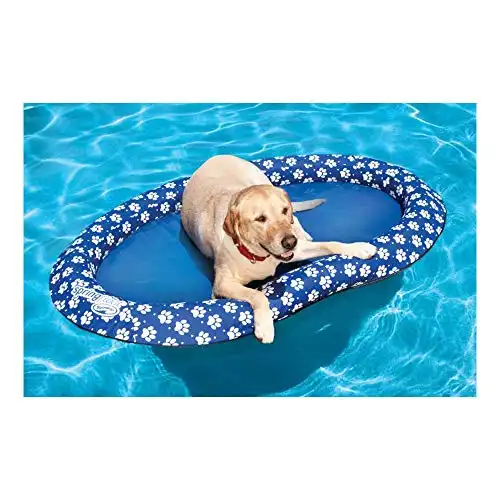 We earn a commission if you make a purchase, at no additional cost to you.
Another product you can get for your best furry friend to keep him floating is the SwimWays Dog Pool Float. It has claw- and paw-friendly fabric that's reinforced, and thus you don't have to worry about your dog puncturing the float. Therefore, you can rest assured that your dog will be safe on the water.
Another notable feature is its comfortable spring sewn surface that also provides stability and reinforcement. It has a jet valve for inflating and deflating.
The material is durable, even when swimming with your dog in rapid rivers with rough surfaces.
The dog float can handle larger dogs, including those more than 65 pounds, and has spring technology for quick setup.
Pros
Can handle large dog breeds
Inflates and deflates quickly
Safe and comfortable
Puncture-resistant fabric
Inserts on either side to allow water flow
Cons
Frame is not as durable as the outer material
Air valve stopper tends to be tricky to secure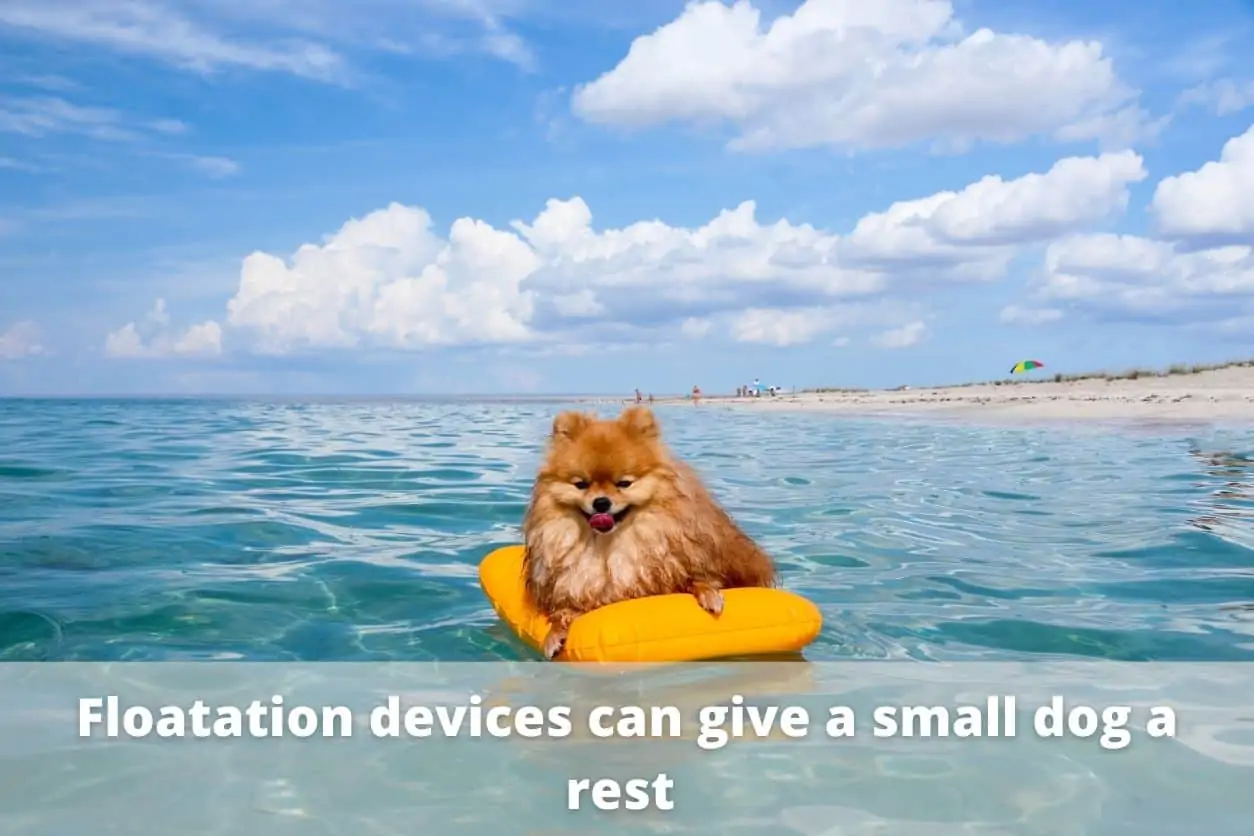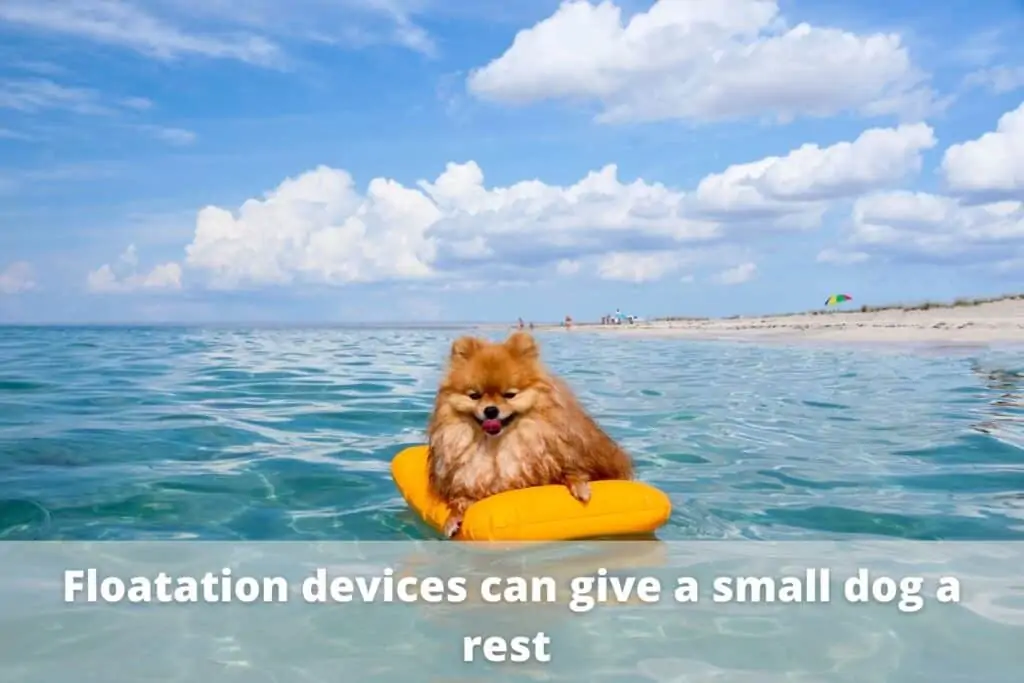 Kelsyus Floating Chair
Kelsyus Floating Chair Inflatable Float for Pool, Beach, and Lake
FLOATING POOL CHAIR: Features a soft mesh seat for a luxurious floating experience, suspending your body just below the water's surface to help keep you cool on hot summer days
INFLATABLE BACKREST: Fabric-covered backrest keeps you upright while the cares of everyday life drift away, and the cupholder allows you to bring your favorite drink on the water so you can sip and...
PATENTED INNER SPRING DESIGN: Inner spring sewn around the outside edge of the float offers greater comfort and stability in the water
PORTABLE AND EASY TO CARRY: Folds down flat and includes a reusable carry bag for easy portability and storage, making it great for trips to the pool or travel
IDEAL SIZE: Measures 39"L x 39"W x 17"H when fully inflated and supports adults up to 250 lbs.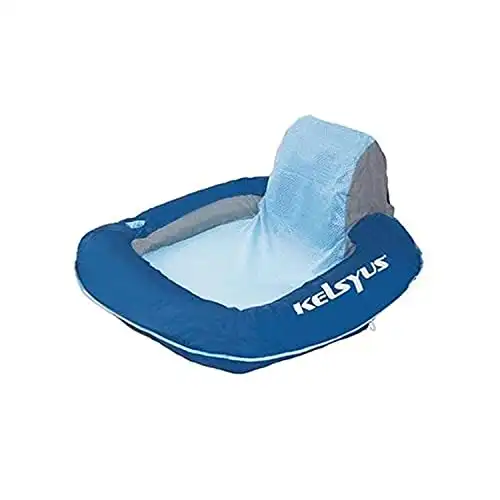 We earn a commission if you make a purchase, at no additional cost to you.
Although designed for adult humans, this floating chair from Kelsyus is suitable for dogs as well. For humans, this is a perfect floating chair to allow you to relax and read a book. For pets, they can relax as the water moves them around.
As per customer reviews, this heavy-duty float is stable and won't tip over even when the dog is leaning on either side.
It inflates and deflates quickly thanks to the jet valve technology. In addition, it features Kelsyus clips to allow for tethering to your boat when you are rafting downstream.
Pros
Can hold virtually all dog sizes thanks to its 250-pound capacity
Features clips for tethering to a boat
Stable
Inflates and deflates fast
Cons
Doesn't fold compactly, making it difficult to store
Air valve can be difficult to secure
Bestway CoolerZ Rapid Rider Inflatable River and Pool Tube Float
Bestway CoolerZ Single Person Rapid Rider Inflatable River Lake Pool Tube Float
Relax on the water and enjoy floating around on the Rapid Rider, which is made to accommodate 1 person; Weight limit: 350 pounds
Float comfortably with the built-in backrest and cool mesh bottom that gives your body the support it needs
Measures 53 inches in diameter and is made of 18-gauge vinyl materials to stay strong through frequent use; Includes a repair patch
Includes 2 built-in cupholders to conveniently keep your drink close by to help you fight off thirst
Equipped with heavy-duty handles and an all-around grab rope for a simple carry to and from the water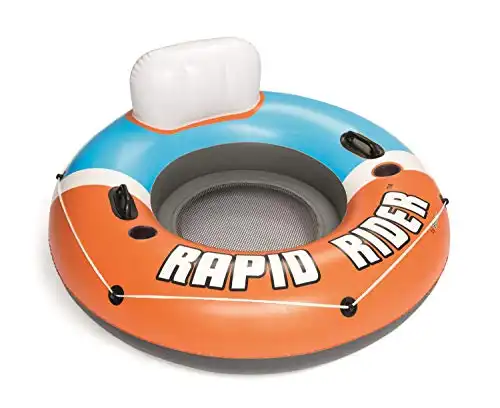 We earn a commission if you make a purchase, at no additional cost to you.
Do you have a large dog that likes the sound and feel of water? This colorful dog tube float has everything your pet needs to enjoy their stay on the water. It has an inner tube diameter of 53 inches and features a backrest, which your dog can lean against.
The float tube has heavy-duty vinyl that your dog's paws can't puncture, and the seating area is roomy enough to accommodate small- and medium-sized dogs.
Additionally, the seating area is meshed to allow your dog to feel the water. The water keeps them cool during the hot summer.
The heavy-duty handles are conveniently placed for easy grabbing in case your dog strays far away from your floater or boat. There are also built-in grommets for keeping the grab rope handy in case of emergencies.
Pros
Interior is roomy enough for small- and medium-sized dogs
Sturdy thanks to the heavy-duty vinyl construction
Mesh bottom allows water to cool your dog
Features sturdy handles for better control
Cons
Not suitable for extra-large dogs
Issues with air valve can arise after sometime
Lazy Dog Loungers and River Raft
Lazy Dog Loungers Dog Pool Float, Raft for Dogs and Pets - Semi-Submersible to Keep Your Dog Cool - Lake, Pool, River and Boat (Royal Blue - Small)
PUNCTURE RESISTANT: Imagine a raft where you never have worry about your pet poking a hole! Lazy Dog Loungers rafts are made with heavy duty weather and fade resistant fabric and foam floats. There is...
SEMI SUBMERSIBLE: The unique design allows water to flow through the lounger, keeping your dogs nice and cool. Sunny lake days? No problem! Your dog will be cool both figuratively and physically on...
EASE OF USE: Your dog can hop on and off without the raft ever flipping. The Lazy Dog Loungers was designed to make it as easy as possible for your dog to get on and off.
EASY TO ASSEMBLE AND DRY: The built in attach loop makes it quick to hang and dry or tie off on your dock or boat.
MADE IN THE USA AND 30 DAY RETURN POLICY: Lazy Dog Loungers is proudly made in the USA and stands behind its one of a kind product. We know you and your best friend will love it! We have a 30 day...
We earn a commission if you make a purchase, at no additional cost to you.
Imagine a raft your pet cannot poke holes in even when they are terrified by the sight of moving water. The Lazy Dog Loungers is made with heavy-duty fabric that floats. It can accommodate up to 110 pounds, making it suitable for small, medium, and large dogs.
The float is semi-submersible and has a unique design to keep your dog cool and safe while still not flipping over. It air-dries quickly and is easy to store.
In addition, it has a built-in loop where you can tie a small rope for tethering it to a boat or kayak when rafting down a river or hang it up for storage.
Pros
Puncture-resistant
Can hold dogs up to 110 lbs
Features a built-in loop for attaching to a kayak
Semi-submersible design to keep your dog cool
Stable and thus won't flip
Cons
Difficult for a dog to stand or sit on without flipping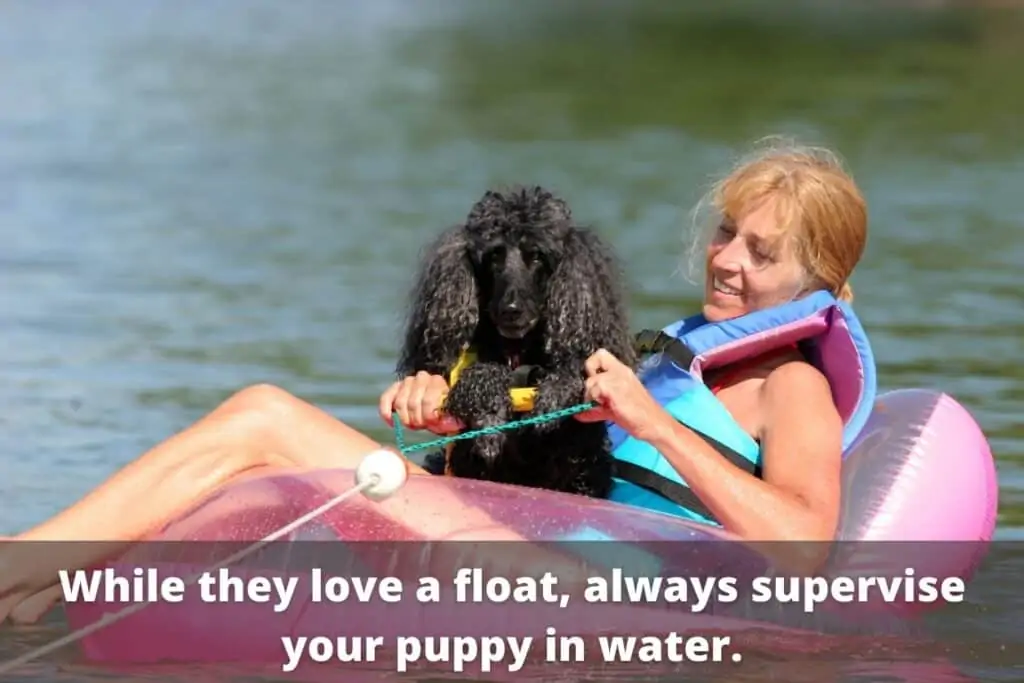 How to Choose the Best Water Tubes For Dogs
When you're shopping for the best water tube for a dog, there are several things you need to keep in mind. You don't want to buy a dog water tube that doesn't fit your pet's size and weight or one that's not stable and durable.
Therefore, pay close attention to these things:
Size and Weight Capacities
One of the most important things to consider is the size of the water tube and whether or not it can accommodate your dog's weight. Know your dog's weight and size beforehand so you can buy a suitable water tube for them.
Some river tubes suit small dogs, while others are better for large breeds. If you order a water tube ideal for small dogs, a large dog will likely tip it over because of your four-legged friend's weight. Therefore, for your dog's comfort and safety, make sure to get a water tube that suits its size and weight.
Usage
While some dog water tubes can be used in different water bodies, not all of them are versatile. Therefore, check the manufacturer's manual to see if the water float is safe for use on a lake, river, or pool.
Also, consider if it has tether points, as these will help secure the water tube to your boat, so your dogs don't stray far away from you.
Durable Material
The water tube you choose for your dog needs to be durable and sturdy. It should be heavy-duty not to be damaged by your dog's claws.
Therefore, make sure to check the type of fabric used and if it's multi-layered. Water tubes made out of vinyl are a solid choice.
Mesh Bottom
If your dog likes the feel of water, get them a raft with mesh seating. The mesh seating allows a substantial amount of water to cool your dog.
However, if your dog doesn't like to touch the water, go for a flat non-inflatable option to allow him to relax and enjoy his stay down the river.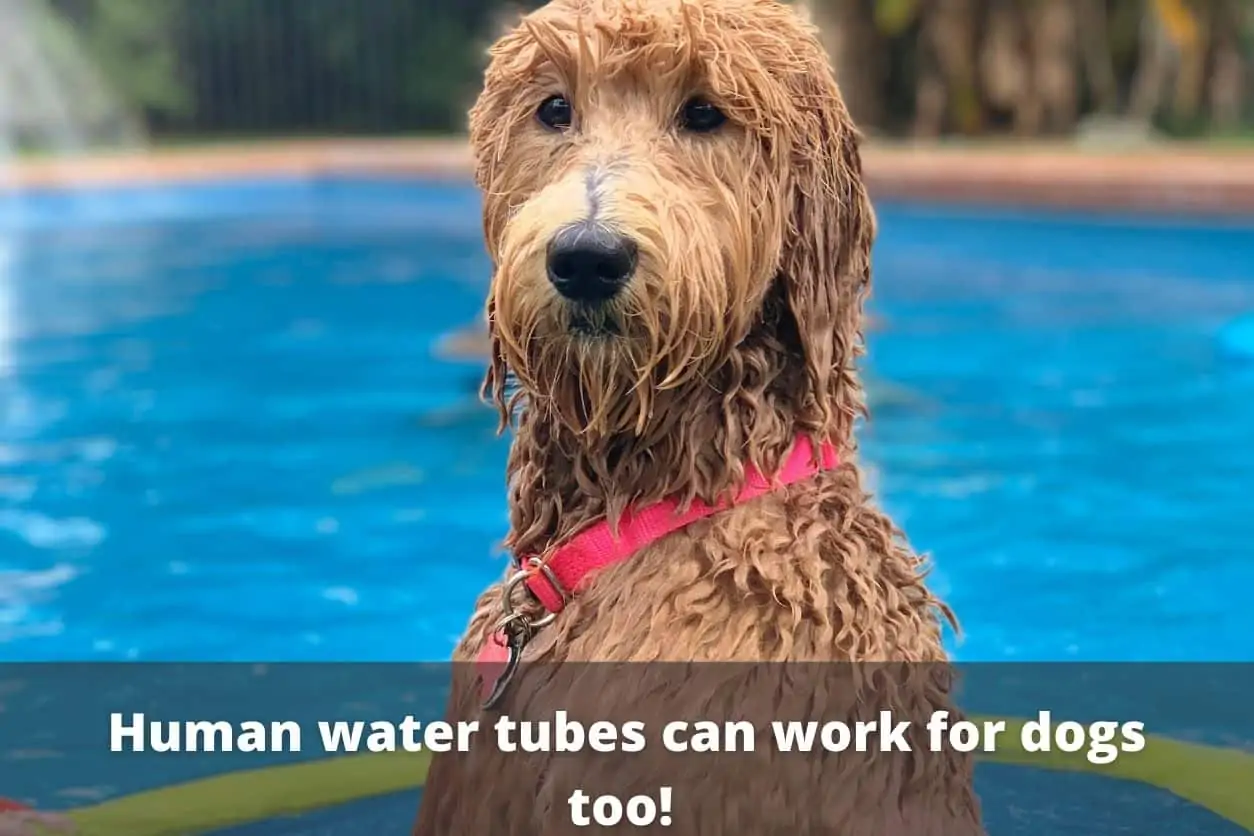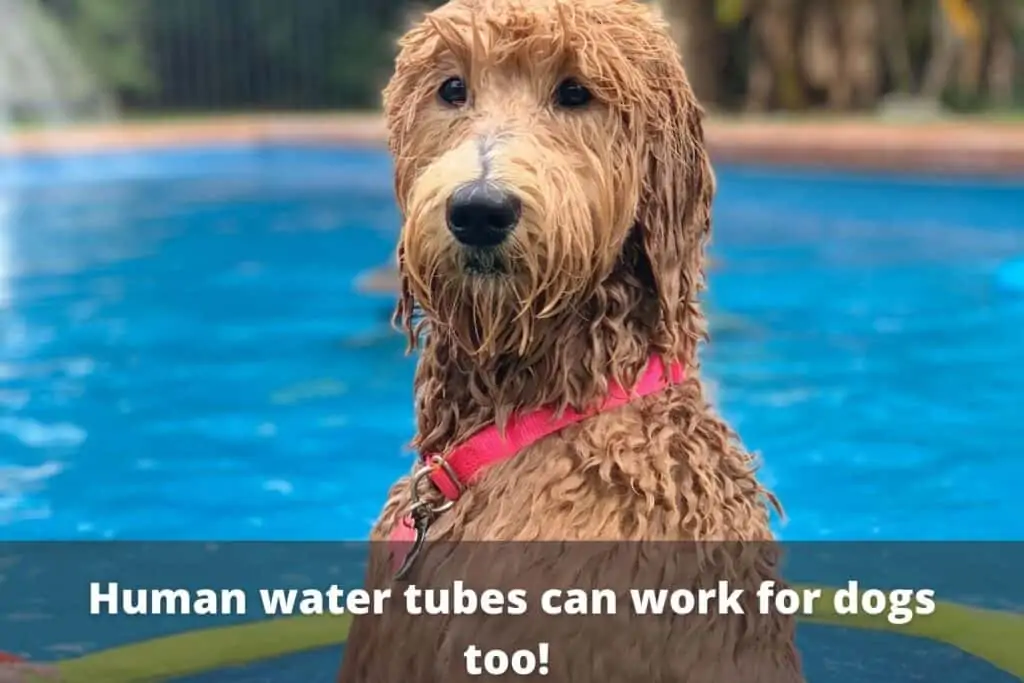 Types of Floats
Water tubes for dogs can be divided into two primary categories:
Flat Water Tubes: As the name implies, these water tubes have a flat design and are the best option for dogs that are comfortable in the water. Most dogs like flat water tubes.
Chair Water Tubes: These water tubes feature raised edges and have a backrest. Some might have a mesh sitting area to cool off the dog, while others lack the feature. They are primarily ideal for dogs that are not used to water surfaces.
Safety Features
Some water tubes for dogs feature additional chambers that keep them inflated. Others feature grab ropes so you can hold on to them to keep your dog close to your boat. Any feature that adds to the safety of your dog is a welcome addition.
Conclusion
Water tubes for dogs offer a great way for your canine friend to have fun at the river, pool, or lake. Make sure to choose the right water tube for your dog by keeping factors such as size, durability, comfort, and safety in mind.
All the above options are safe, durable, and comfortable for your dog. They suit different dog sizes, and all you have to do is pick the right size for your canine friend.
Get one for your pet pooch and help him have an enjoyable time on the water.