Can a Dog Get Sunburn? Simple Guide How To Prevent and Soothe
The sunny weather where I live has been stunning recently. As a result my Labradoodle puppy Max has been getting lots of extra walks!

As a puppy we always limited his outdoor time. Typically to a duration of 30 minutes or less. Now that he is getting older Max is very comfortable staying outdoors for longer.

Given the bright sunny weather I wondered, can dogs get sunburn?

Is there anything I should be doing to prevent my dog from getting sunburnt?

And what should I do if my dog does get sunburnt!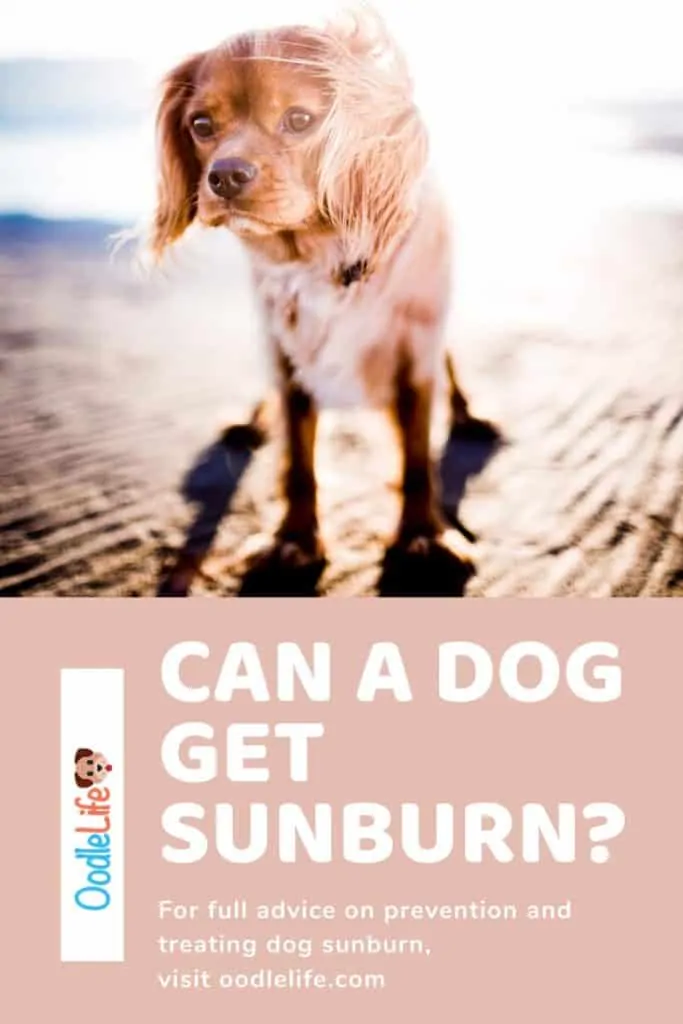 I decided to turn to the experts and see what the Vets and dog experts thought should do to best look after Max's skin.

I was a little surprised with some of the dog sunburn information I found out. Read on to learn the preventative steps and home repair ideas to treat and prevent dog sunburn.

Can A Dog Get Sunburn?
It turns out that dogs can get pretty bad skin damage if they're exposed to the sun for too long. They can get sunburn, which is unpleasant for the dog. This can lead to skin conditions and even skin cancers. Sunburn for puppies and dogs can start as a mild irritant and up posing a serious risk to their health

The most common places that dogs can get sunburn
is around the eyes
on the paws on the belly
and even on the back.
Lighter skinned dogs or dogs with a short hair are more susceptible and have a higher risk for sun damage. This is an important factor to consider when taking your puppy to the beach.

If your dog is light-skinned and has a pink nose or eyelids then you'd expect them to get more bad sunburn more quickly.
Dogs that are hairless or like to luxuriate or sun bake on their back will have a higher risk of damage from the sun.

Another interesting scenario to consider is that dogs who have had surgeries sometimes they have a shaved spot of fur. Even if they don't normally get sunburnt here they can get sun damage to the area.

If a dog gets sunburn it can also make preexisting conditions that affect the skin worse. Examples include autoimmune disorders and dermatitis (American Kennel Club).
Dog Breeds That Are Most Susceptible To Sunburn
Breeds with fair skin or not much hair are more susceptible to sunburn. See our list of dog breeds most likely to get sunburn.
| Breed of Dog | Particular Cause for Sun Damage Concern |
| --- | --- |
| Golden Retrievers | White coats, pink–skinned, thin–haired breed |
| White Boxers | White coats, pink–skinned |
| Dalmations | Pink–skinned, thin–haired breed |
| Chinese Cresteds | Hairless |
| Greyhounds | Pink–skinned, thin–haired breed |
| Whippets | Pink–skinned, thin–haired breed |
| Beagles | White coats, pink–skinned, thin–haired breed |
| Australian Sheep Dogs | Thin–haired breed |
| White German Shepard | White coat, pink–skinned |
| Dogo Argentinos | White coats, thin-haired |
| Chi Hua Hua | Thin-haired breed, pink-skinned |
Dense fur dogs like Poodle Mix breeds can still get sunburn, it. is just they are less likely due to the protection of pigment and thicker fur.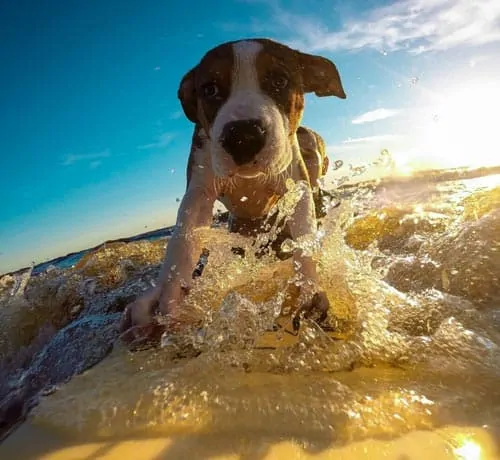 How To Prevent Dog Sunburn
Preventing your dog from getting sunburned is a two-fold process. It comes down to behaviour and products.
Behaviours To Limit Sunburn For Dogs
Just like humans, it is important to limit the exposure time of your dog to the sun. Can a dog get sunburn? Yes but only with exposure. During times of extreme UV it is advisable for dogs not to be outside.

This gets trickier throughout the day. I know if we are paddle boarding or fishing – there will be times that my dog is exposed to the sun during times that the UV index is high.

Taking breaks from full sun exposure is vital for dogs to limit the exposure of their vulnerable skin to the sun.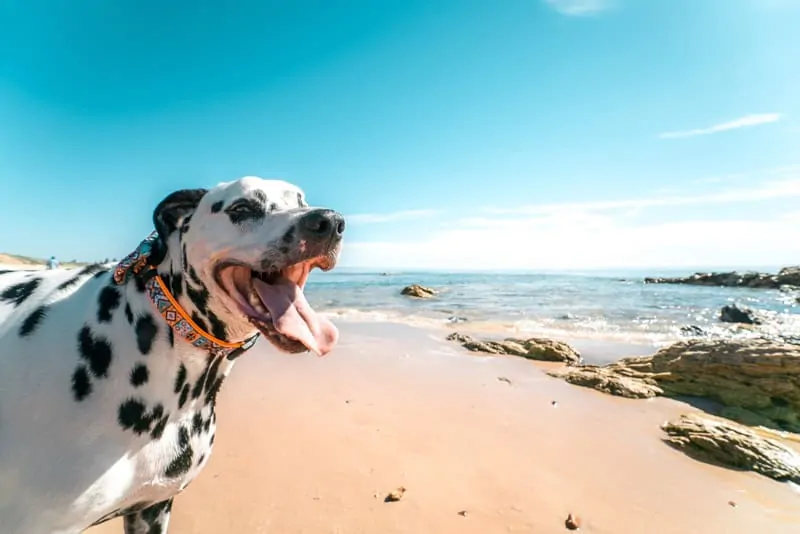 A shady tree, tent or awning provide a great place for your dog to seek shelter form the sun. Not all dogs will automatically avoid the sun – some love to loll around in the rays even if they are hot and bothered.
Read our 7 things you MUST know before taking your puppy to the beach article for a detailed guide on a perfect beach trip for a puppy. We included a packing list!
Take initiative and encourage your dog to chill out every now and then to avoid the sun. Providing shelter is vitally important if you are keeping your dog outside.

Products To Limit Sunburn For Dogs
The Cancer Council of Australia has a decades old advertising message about preventing human sunburn. Slip, Slop, Slap. Slip on a shirt, slap on sunscreen, and slap on a hat.
Given that Australia has some of the most beautiful beaches but also one of the highest skin cancer rates in the world – you can see why we place huge importance on human sunburn prevention.

Two of these three strategies will work perfectly to protect our puppies and dogs from the sun.

By creating barriers to harmful UV rays, we can limit the sunburn for our dogs.

The two principles we can steal from humans and use for dogs are Slipping on a protective shirt, and slop on some sunscreen.

Slip on a doggy rash vest or shirt

If you are taking your puppy to the beach, consider a rash best or protective shirt to block UV rays. There are plenty of durable (and stylish) dog rash vests and dog t-shirts available. They fit form snugly, and dogs don't mind wearing them. They can be worn under a harness comfortably.

A popular and cost effective example is the Gold Paw Sun Shield Dog Tee – T-Shirt for Canines. It is cost effective, machine washable, and offers excellent UV protection. They are of course waterproof, which is a must have given than many dogs LOVE water (even Bernedoodles)!
Gold Paw Sun Shield Dog Tee – T-Shirt for Canines – UV Protection, Pet Anxiety Relief, Wound Care – Protects Against Foxtails, Aids Alopecia - Machine Washable, All Season – Size 8 – Coral
ULTIMATE UV PROTECTION: Safeguard man's best friend when dressing him in this sun shield dog tee that blocks over 98% of UV rays. Designed for all seasons, this t-shirt for canines is perfect for...
PET ANXIETY RELIEF: Keep your pet calm, comfortable and relaxed with this easy to fit and practical sun shield tee.
MADE WITH RECYCLED MATERIALS: Go green when outfitting your small breed puppy or large dog in this sun shield dog tee made from recycled materials, offering your pet family an Eco-Friendly option on...
VARIETY OF SIZES: Choose from dog coats in sizes that range from 2 to 30 so all of your canine companions can don a stylish look when heading out for a summer walk. Designed with a 4-way stretch,...
MACHINE WASHABLE: This is not a chemical treatment - it's a mechanical quality of the yarn, so the protection won't diminish with washing. Simply wash and dry this American-made sun shield tee to dry.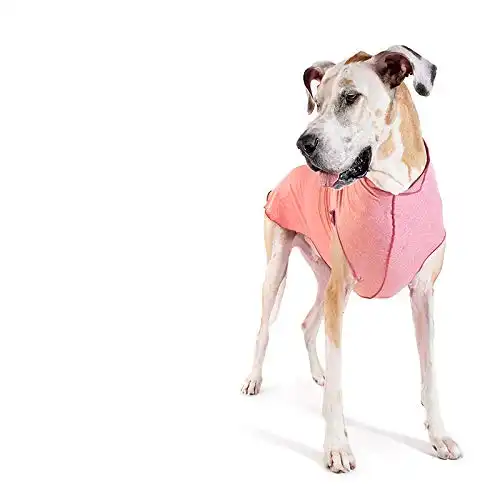 We earn a commission if you make a purchase, at no additional cost to you.
Is There Such Thing As Dog Sunscreen?
Sunscreen remains the most effective prevention for dogs who are determined to spend lots of time in the sun. Whether it is visiting the beach, swimming, or taking your dog hiking or running – there is risk of sun exposure.

It is strongly recommended to use only dog sunscreen for dogs and puppies.

There are chemicals that are still found today in some brands of human sunscreen that can be toxic to dogs.

The most commonly cited chemicals of concern are
Zinc Oxides
PABA (para-aminobenzoic acid)
There are however also other chemicals that can be toxic to dogs.

If you are wondering "Why would they put poisonous chemicals in human sunscreen?" The answers are
Some chemicals are toxic to dogs and not humans
Humans (mostly) tend not to lick and eat sunscreen applied to them
Sometimes it is cost effective to manufacture using such chemicals, and humans are extremely price sensitive
A great example of a popular doggy sunscreen is Epi-Pet Sun Protector Spray for Pets. It comes as a spray which is a heck of a lot easier to apply to a dog than cream.
It is non-oily and actually FDA approved. it dries quickly, and is water-resistant.
We earn a commission if you make a purchase, at no additional cost to you.
How to Treat Dog Sunburn
If your dog does spend too much time in the sun you might be wondering what to do if a dog gets sunburn.

The steps of how to soothe dog sunburn differ from how to heal dog sunburn.

Just like human sunburn we can soothe and ease dog sunburn, but we cannot immediately fix it. You just can't fix dog sunburn immediately – it will take time to heal. Look after the skin during this healing time to provide comfort and prevent scarring.

If you suspect your dog has sunburn, follow these steps immediately.
Move your dog inside as soon as possible
If this isn't possible at least move to the shade
Apply a cool compress to the skin to attempt to reduce the temperature
Once the burn has occured this won't "undo" it but can limit the immediate inflammatory response and soothe
Does your dog need to see a Vet? Be on the lookout for fever or blistering. If your dog appears unwell or distressed, it is time for a vet visit.

If there is blistering or skin damage then you should seek Veterinary advice. Blisters and skin damage may require medications and ointments that can be harmful if inappropriately applied.

Take no chances if you think the sunburn is moderate-severe.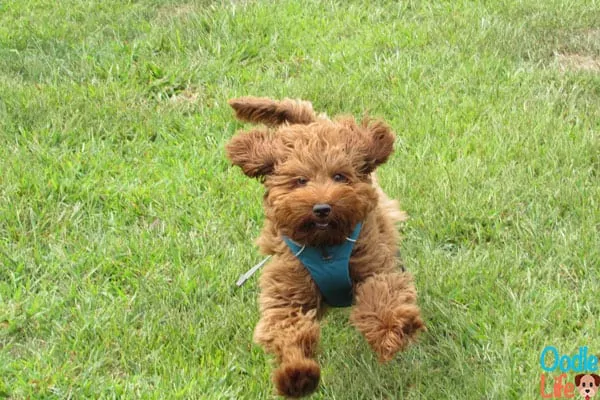 Home Remedies To Soothe Dog Sunburn
Just like for humans, there are soothing and relieving options available to make the skin recover more quickly from sunburn.

Cool compresses and Aloe are about to be your best friend's new best friend.

Start with cool compresses before you pick up any topical ointments. Keep it simple! You can aid this regular application by considering topical ointments.

Whatever ointments you apply to your dog you need to assume your dog will lick and consume a bit of it. Aloe ointments that are natural and pure can provide relief to dogs safely. Many dog shampoos re built on an aloe base. Our top 6 tested and reviewed shampoos each have an aloe component.

Oatmeal Conditioning Spray - Grooming for Dogs and Cats, Soothe Sensitive Skin Formula with Aloe for Itchy Dryness for Pets, pH Balanced, Cruelty Free, Paraben Free, Made in USA, Non-Aerosol
Botanical sensitive skin formulation soothes, conditions, and moisturizes dry fur and skin between shampoos
Contains thirteen conditioning agents including: aloe, chamomile, and panthenol to smooth and revitalize your pet's fur
Sweet almond oil conditions while leaving a wonderful almond fragrance
Panthenol retains moisture and spreads evenly over hair strands to prevent tangling
Lightly mist on dry or wet fur, massage into coat, and brush through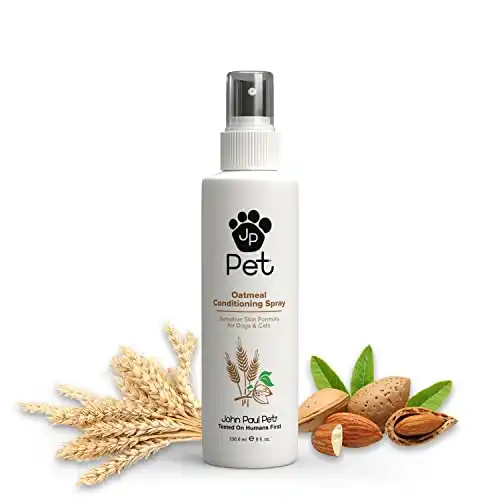 We earn a commission if you make a purchase, at no additional cost to you.
Moving beyond Aloe, you can consider an oatmeal based soothing spray. Sprays are a great temporary measure for inflamed or itchy dog skin. Oatmeal forms the base of many of the best dog shampoos.

Moisture can help make the damage more comfortable and can sometimes make healing faster. A dog specific moisturiser made of natural ingredients ca be a great solution for dog sunburn.
If the dog sunburn gives a dry or irritated nose or snout – you can use a  Snout Soother Travel Stick or similar.
Natural Dog Company Snout Soother Trial Stick (0.15 oz) | Dog Nose Balm for All Breeds and Sizes | Protects and Heals Chapped, Rough, and Dry Noses | Vegan and Organic Skin Soother for Canine Snouts
Natural Dog Company's Snout Soother Balm for Dogs is a paw and nose balm that treats and protects dry, chapped noses, windburned and dry skin with all natural ingredients.
Ideal for healing, treating, and protecting against painful cracking, dryness, bleeding, or infected noses and several common ailments such as Hyperkeratosis and Discoid Lupus.
Our nose butter for Dogs is not just a moisturizer; it also contains healing properties that help soothe and repair dry, scaly, and cracked snouts for all breeds.
Made with vegan ingredients like shea butter, chamomile, coconut oil, grapeseed oil, jojoba oil, and rosemary extract to help alleviate any pain and itching on your pup's nose.
Say goodbye to dry, cracked noses with our nose cream. This moisturizing and healing balm is perfect for dogs of all sizes, especially Frenchies, Bulldogs, and Pugs.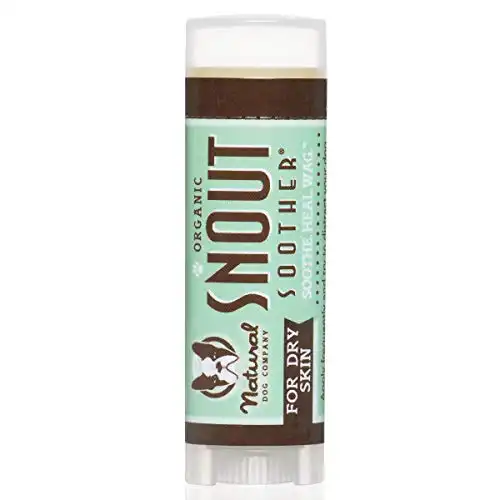 We earn a commission if you make a purchase, at no additional cost to you.
What to put on dog sunburn
Aloe
Oatmeal Soothing Gel
Dog Skin Moisturiser
What Does Dog Sunburn Look Like
The more extreme forms of dog sunburn will be recognisable. Think red inflamed skin, blistering, and heat radiating from the area.

It gets alot trickier to determine mild forms of dog sunburn. The fur tends to hide the irritation.

Two common signs to look for are unexplained dry skin, or skin irritation causing your dog to lick an area more than usual.

Light skinned areas like the borders of the ears or snout are the most likely to show redness indicating dog sunburn.
If the skin is damaged there is a risk of bacteria taking opportunity too make skin infections. Soothe and ease the skin with good skin care, and consider an antibacterial shampoo. (The best one we have ever found is tested and reviewed here).
Frequently Asked Can A Dog Get Sunburn Questions
Does Sunburn Make A Dogs Hair Fall Out?
Sunburn can indeed lead to hair loss for some dogs. Given that sunburn is more common breeds with thin or little hair anyway, this can be a very serious issue.
The hair will likely grow back, but can take time. Consider using a moisturiser and aloe to return the skin to health as soon as possible.
Can Black Dogs Get Sunburn?
Yes, black dogs can get sunburn. They are less likely to get sunburn if their coat is thick or if the pigment or if their skin pigment is darker. Despite these strengths, if there is excessive UV exposure even a black dog can get sunburn. Look to the nose, tips of the ears, and belly of the dog to see if there is sunburn.
Do White Dogs Get Sunburn Worse?
Yes, lighter coats are more likely to get sunburn. The thickness of the coat and hair type is also important to determine the risk of a dog getting sunburn. White dogs also often have pink skin and lighter pigment which increases their risk of sunburn.
Can dogs get sunburn on their testicles?
Yes, dogs can get sunburn on any exposed skin. The undercarriage of your dog is particularly susceptible to sunburn. Be mindful of dogs that like to  sunbake  one their backs exposing their underbelly. Limit exposure to the sun and consider a dog suncreen.
Can you use human sunscreen for dogs?
NO! As a general rule do not risk using human sunscreen for dogs. Zinc Oxide and PABA (para-aminobenzoic acid) are common chemicals present in human sunscreens that are toxic to dogs. If the brand is listed as dog-safe or is okayed by your Vet then you are safe to use. Otherwise do not take the risk.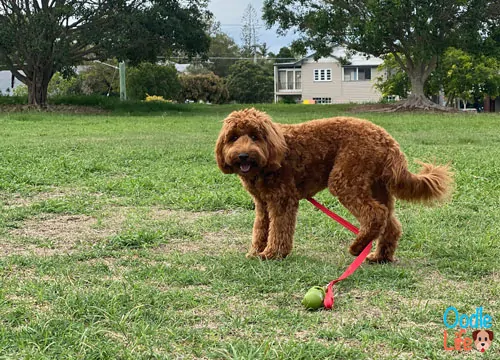 Conclusions
Can a dog get sunburn? Yes. But there are steps we can take prevent, soothe, and treat dog sunburn.
The sun can be intense. UV rays can cause really significant damage to your dogs skin. Treat the risk of dog sunburn the same as you would for your own skin. Take simple measures to prevent dog sunburn. Be cautious because some dogs just love the sun and need to be managed.

The prevention is better than the cure!