Best Air Purifiers for Pet Hair (2023)
Our pets are adorable and fluffy, but their hair can create a stuffy atmosphere in our homes. So whether you have allergic reactions to their dander or hate the dirt and bacteria they bring in on their coats, air purifiers offer a simple solution.
In addition, air purifiers don't only help with allergies, but they can also keep your house feeling and looking cleaner. This means less clean-up in the end and a fresher, more breathable home.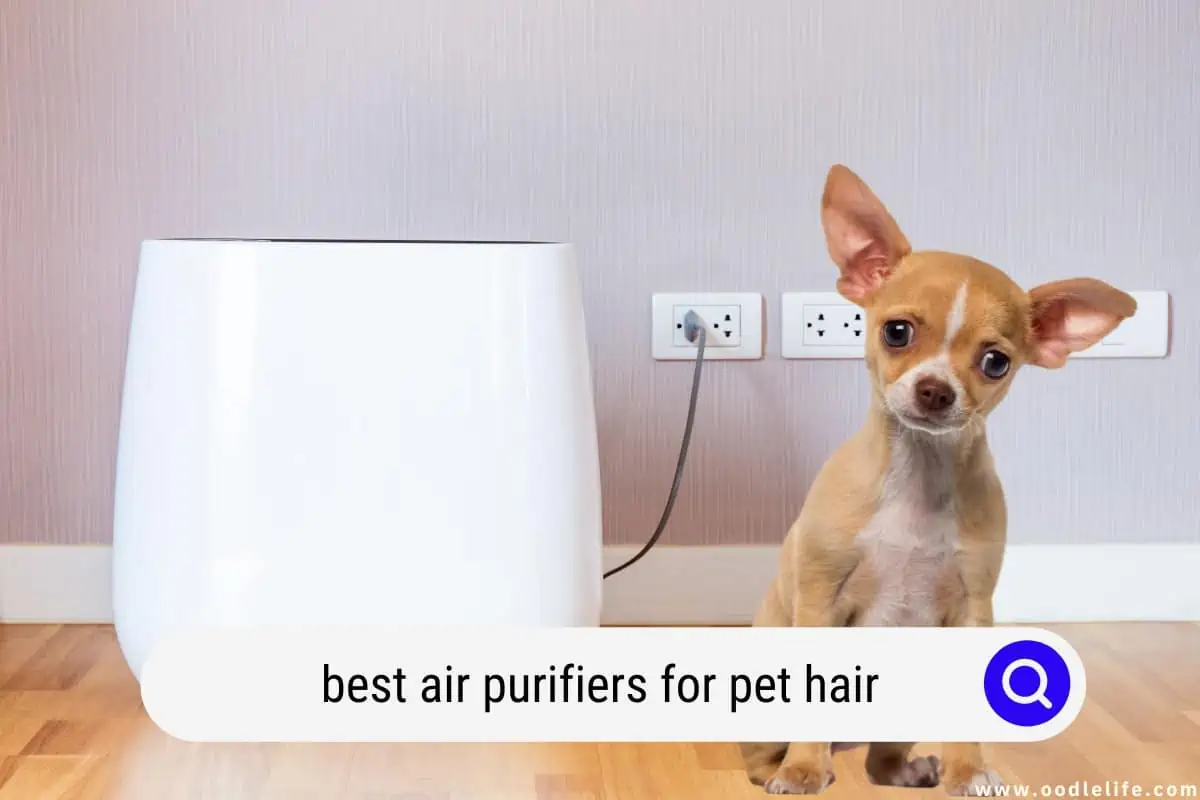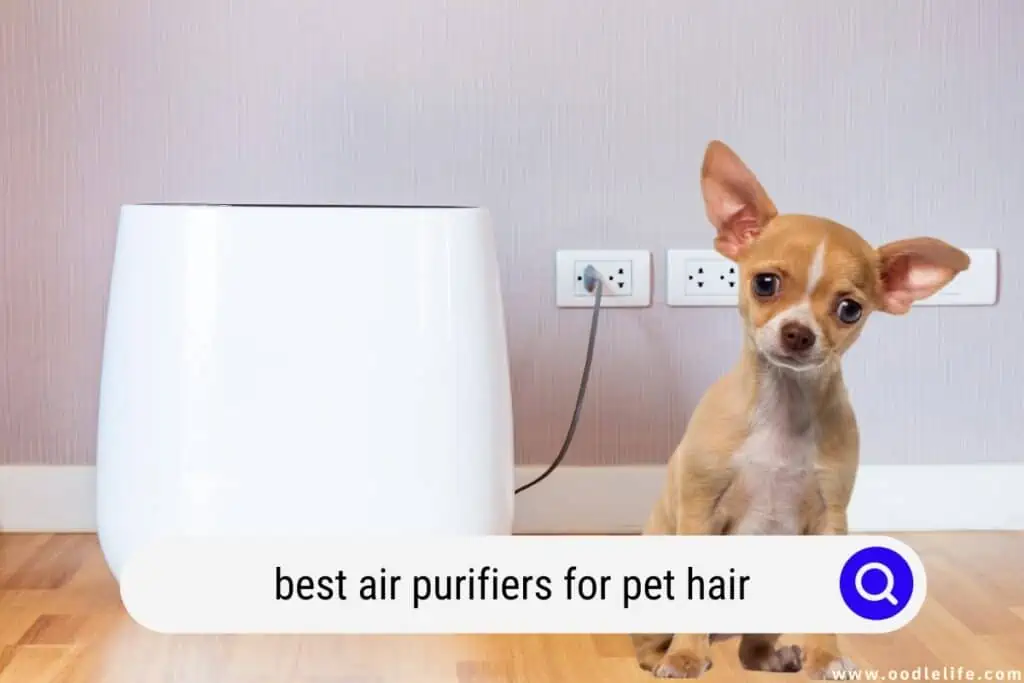 With so many options available to us, seven air purifiers stand out from the rest for different reasons.
Best Overall: Okaysou Air Purifier
Best Pet Allergies: LEVOIT Air Purifier
Best For Odor: Afloia Air Purifier
Best Technology: Honeywell PowerPlus HEPA Air Purifier
Best For Pet Hair: Ganiza Air Purifier
Best For Smaller Rooms: MOOKA Air Purifier
Best Price: TEC.BEAN Air Purifier
The Best Pet Hair Air Purifiers
Here are the seven best pet air purifiers that will make sharing your home with dogs and cats easy.
Best Overall: Okaysou Air Purifier
Okaysou Air Purifier is the best overall on our list because of the large area of air it cleanses, its technology, and how easy it is to use. This purifier rids your home's air of pollen, dander, pet hair, and everything else your dog may bring in from its adventures outside.
Okaysou Air Purifiers for Home Large Room up to 800 ft², H13 True HEPA Filter Cleaner with Washable Filter, 5-Stage Filtration, Odor Eliminators Remove 99.97% Smoke Dust Pollen Odors, AirMax 8L White
5-in-1 H13 TRUE HEPA FILTER: AirMax8L air purifier combines Washable Pre-filter, H13 True HEPA Filter, Novel Blue Filter, Honeycomb Activate Carbon Filter, and Cold Catalyst Filter in 1, which removes...
HIGHER PERFORMANCE: CADR is 210 m³/h.This air purifier circulates air of 800 sq.ft. in one hour, 400 sq.ft. in 30 minutes, 134 sq.ft. in 10 minutes, often used in small to the large room, living...
USER-FRIENDLY: ⁕Sleep Mode ⁕Timer Mode ⁕Child Lock ⁕Filter Replacement Indicator ⁕3 Fan Speed Settings. Set a timer for 1, 2, 4, or 8 hours whenever you like. The Filter Replacement...
TOUCH IT AND FORGET IT: With the latest Silenceboost Technology, our air purifier purifies your home with the lowest noise level of 22dB, creating a suitable environment for reading, studying,...
FILTER REPLACEMENTS: To enjoy a better performance, we suggest you to replace the filters in 6-8 months. Please choose genuine and affordable Okaysou ultra-duo filters(B07KC81LCN & B0BHVNB8M7) to...
We earn a commission if you make a purchase, at no additional cost to you.
With several different modes, including a timed setting, sleep mode, and child's lock, this air purifier will do all the work and won't be turned off by a roaming toddler or pet.
Best for Pet Allergies: LEVOIT Air Purifier
LEVOIT Air Purifier is the best for allergies because of the air purifier's ability to capture 99.97% of airborne contaminants. Regardless if it's the dander your pet produces or the pollen that sticks to their coat, the LEVOIT cleans your home's air in minutes, leaving it clean and fresh.
LEVOIT Air Purifier for Home Allergies Pets Hair in Bedroom, H13 True HEPA Filter, 24db Filtration System Cleaner Odor Eliminators, Ozone Free, Remove 99.97% Dust Smoke Mold Pollen, Core 300, White
WE WON'T RELEASE ANY PRODUCT WITHOUT THE LOGO:  Each of our products undergoes professional tests & recognition, after which a formal LOGO is printed. With this confidence and our strong team, we...
HIGH PERFORMANCE: Enjoy fresh air in 12 minutes with the Core 300 True HEPA Air Purifier. Featuring VortexAir Technology, 360° air intake, and CADR of 141 CFM / 240 m³/h (Clean Air Delivery Rate),...
FIND RELIEF: Ease sneezing, congestion, and other allergy symptoms caused by airborne contaminants. The H13 True HEPA Filter works alongside the Pre-Filter and High-Efficiency Activated Carbon Filter...
OFFICIAL LEVOIT FILTERS: Search for B07RSZSYNC or Core 300-RF to find Levoit's Core 300 replacement filter. Levoit filters provide the best fit and filtration, while off-brand filters are unreliable...
MULTIPLE FILTER CHOICES: Choose from a variety of replacement filters to best meet your needs. The Toxin Absorber Filter specializes in smog, toxins, and VOCs. The Smoke Remover filter specializes in...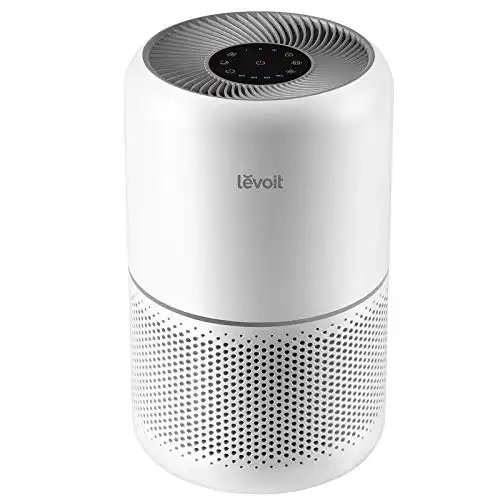 We earn a commission if you make a purchase, at no additional cost to you.
Different filter options offer you the choice of what specific airborne contaminant to tackle. The filters include a pet allergy filter. This filter also rids your home of any odor your dog may produce or bring in.
Best for Odor: Afloia Air Purifier
Afloia Air Purifier incorporates a HEPA filter that focuses on odor, allergies, and smoke. While it does a great job at removing pet hair and dander from the air, it also absorbs odor and smoke quickly.
Afloia Air Purifiers for Home Large Room Up to 1076 Ft², H13 True HEPA Air Purifiers for Bedroom 22 dB, Air Cleaners Dust Remover for Pet Mold Pollen, Odor Smoke Eliminator, Kilo White, 7 Color Light
🌲Faster Air Cleaner: With CARD 140/m³, Afloia Kilo air purifier filters air 4x per hour in 269 sq feet, it only takes An Hour to purify a 1076 ft² room.
🌲True HEPA Filter, Relieves Allergies: Imported 3 stage filters can filter particles as small as 0.03 microns and air pollution of PM 2.5 and remove 99.99% of pet dander, dust, pollen, smoke, odor,...
🌲7 Color Atmosphere Lighting: The Afloia air purifier offers 7 color atmosphere lighting for you to customize the light color for different occasions such as living room, study room, kitchen,...
🌲2/4/8H Timer: Only 22 dB on sleep mode, put this air filter in bedroom and customize the running time of the air purifier(2H/4H/8H), then wake up with fresh air.
🌲Multiple Filter Choices: Please replace with Afloia filter element every 4-6 months (up to the air quality in your area). B08TWL5JRZ:Original Filter; B09WYX2F46: Pet Allergy Filter;...
We earn a commission if you make a purchase, at no additional cost to you.
While we can feel the impacts of allergies, odors can stick for a while if not taken care of. The Afloia captures odors before you even realize they're there.
Best Technology: Honeywell PowerPlus HEPA Air Purifier
The Honeywell PowerPlus HEPA Air Purifier is a large, technologically advanced purifier that will collect dander, pollen, pet hair, and just about anything free in the air. This purifier notifies you of the air quality of your home, is energy efficient, and has four cleaning levels.
Honeywell HPA5300 InSight HEPA Air Purifier with Air Quality Indicator and Auto Mode, Allergen Reducer for Extra-Large Rooms (500 sq ft), Black - Wildfire/Smoke, Pollen, Pet Dander & Dust Air Puri...
POWERFUL EXTRA-LARGE ROOM AIR PURIFIER–The Honeywell HPA5300 HEPA Air Purifierhelps provide cleaner, fresher air. Recommended for extra-large rooms (500 sq. ft). HEPA Filtration helps capture up to...
HELPS REDUCEALLERGENS –This HEPA air purifierhas 4cleaning levels including TurboClean. It helps capture the following microscopic airborne allergens and particles: dust, pollen, pet dander, dust...
EFFECTIVE AIR CLEANING & CIRCULATION –The Honeywell HPA5300 Air Purifier filters & circulates air in extra-large 500 sq. ft. rooms up to 4.8 times an hour. The activated carbon pre-filter helps...
INSIGHT SERIES –This Honeywell HEPA Air Purifieris part of our InSight Series. This product earned the ENERGY STAR label by meeting strict energy efficient guidelines set by U.S. EPA.
IDEAL FOR WILDFIRE SEASON: Wildfire smoke can impact the air quality where you live, even if you don't live anywhere near the fires themselves. Because smoke contains extremely small particles, air...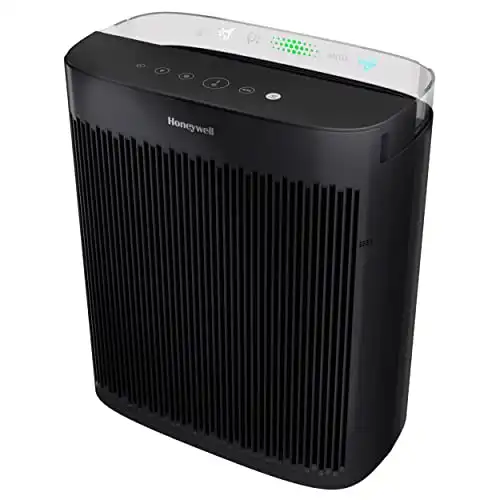 We earn a commission if you make a purchase, at no additional cost to you.
Its Turboclean will even capture dust mites and debris because of how powerful it is. With touch control, the Honeywell PowerPlus is highly rated by professionals. It is, however, one of the most expensive air purifiers on our list.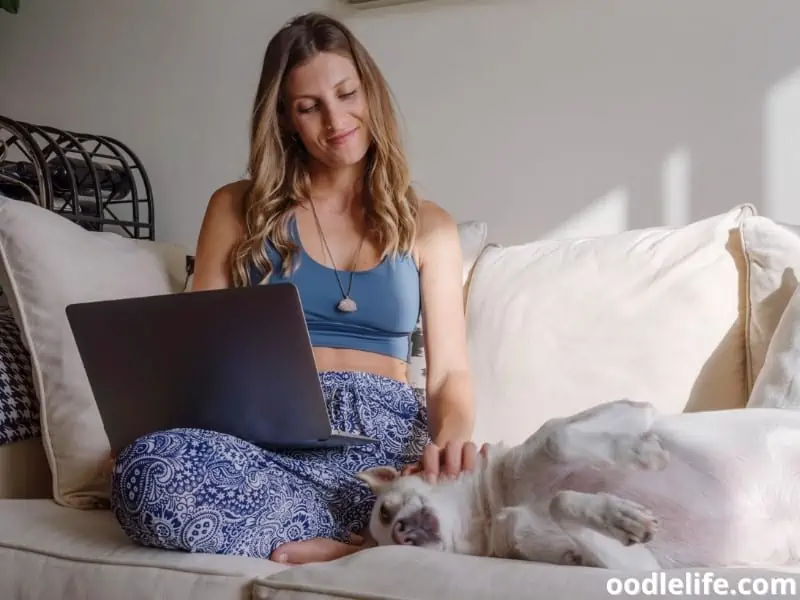 Best for Pet Hair: Ganiza Air Purifier
The Ganiza Air Purifier is the best for pet hair and dander because of its auto-mode and air quality control modes. Your pets move around even when you aren't, so the Ganiza Air Purifier keeps track of the level of pet hair and dander in the room and cleans as it sees fit.
Air Purifiers For Home Large Room, Ganiza 1077ft² 23db Less Noise Air Purifiers for Pets Remove 99.97% Pollen Pet Hair Wildfire Smoke Dust, H13 HEPA Air Purifier, Odor Eliminator, Ozone Free
【 Air Purifiers For Home Large Room 】 High CADR (350 m³/h / 206 CFM) and larger HEPA filter (10.6*7.8*7.8 in) , air purifiers deliver 360°uniform speed airflow to create fresher air. Air...
【 Real-time Air Quality Monitor 】 No need to interrupt what you are doing and constantly adjust the fan speed. Air purifiers for home track the air quality and auto-adjust power in Auto Mode,...
【 23dB Less Noise Sleep 】 On sleep mode, air purifiers for bedroom work with 23db less noise and turn off all lights for a night of comfortable sleep. The silent air purifier makes you even forget...
【 Efficient Purification 】 Alle*gies, including hay fever effect 40 million to 60 million Americans; wildfires across the West emitted more than a million tons of the particles. Thanks to the H13...
【 Fully Certified for Safer & Trusted 】 100% Ozone free, Energy Star (please contact us for the NO. of Energy Star to cut costs), CARB, CA PROP 65, Available for California. Instant 24/7 customer...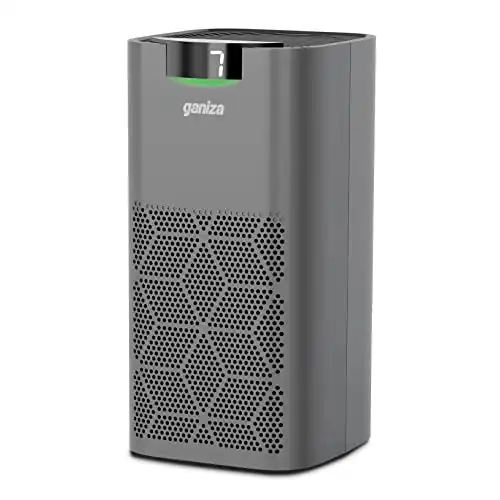 We earn a commission if you make a purchase, at no additional cost to you.
This is a great filter, especially if you have several cats and dogs. Cats move constantly and leave hair behind, similar to dogs and how their constant wiggling leads to them shedding off loose fur.
The Ganiza Air purifier detects when their hair is spreading and turns back on when it surpasses a certain level.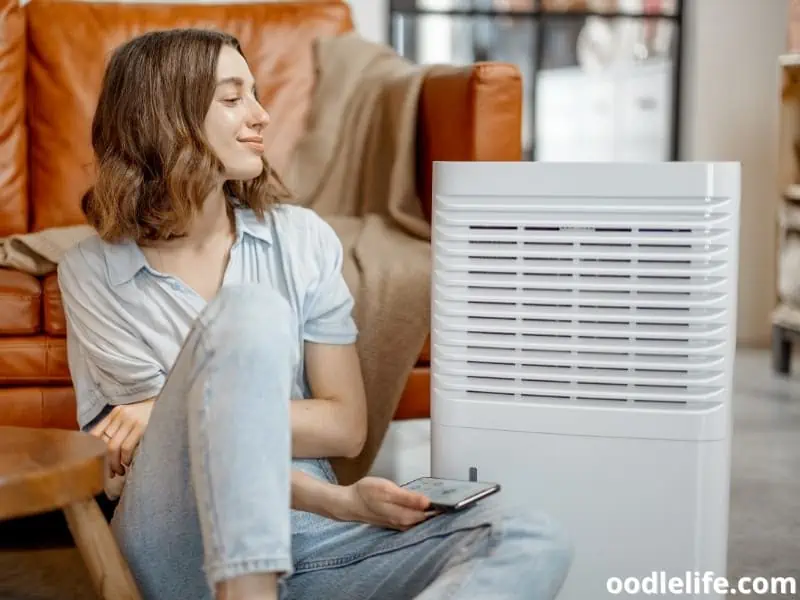 Best for Smaller Rooms: MOOKA Air Purifier
The MOOKA Air Purifier is a smaller version of the previous air purifiers on our list. This makes it better for small rooms, whereas others would be better for a living room or open layout. It still collects all the dust, dander, pet hair, and pollen your pets drag in on a smaller scale.
MOOKA Air Purifiers for Home Large Room up to 860ft², H13 True HEPA Air Filter Cleaner, Odor Eliminator, Remove Allergies Smoke Dust Pollen Pet Dander, Night Light(Available for California)
MOOKA B-D02L AIR PURIFIER FOR LARGE ROOM - With the high-efficiency filtration system, the air purifier covers an area up to 1076ft². 6 air changes per hour in 215ft², 1 air changes per hour in...
H13 TRUE HEPA AIR PURIFIER – The pre-filter, H13 true HEPA filter and high-efficiency activated carbon filter capture allergens, pet hair, dander, smoke, odor, and large dust particles, in addition...
ULTRA-QUIET, ENERGY-SAVING & SAFE - Thanks to the new brushless motor, the 20dB noise level is almost voiceless. It cleans your air, doesn't affect your work, study or sleep. Running in low power...
4 TIMER SETTINGS, 4 FAN MODES, AND NIGHT LIGHT – 4 timer options (1H/2H/4H/8H) allow you set the air purifier operating time. Adjust the required fan speed mode (Sleep/Low/Med/High) to capture as...
WORRY-FREE FOR LONG USE - We love our customers and take pride in providing a pleasant shopping experience. If you have any questions, please feel free to contact us. Note:1.The power adapter is...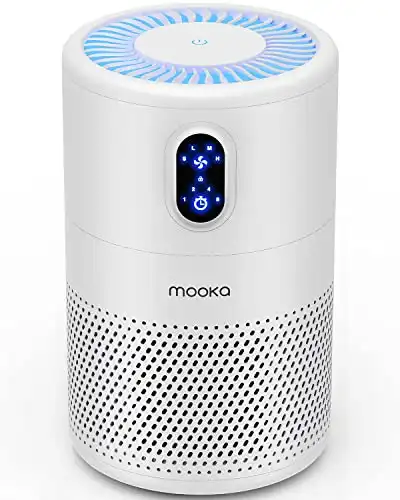 We earn a commission if you make a purchase, at no additional cost to you.
This air purifier is best for a bedroom or nursery. Keeping the air clean while you sleep is a great way to prevent worsening your allergies.
It also has a night light mode for children's rooms. If your kids have pet allergies, this is a worthy investment. It's one of the cheaper options as well.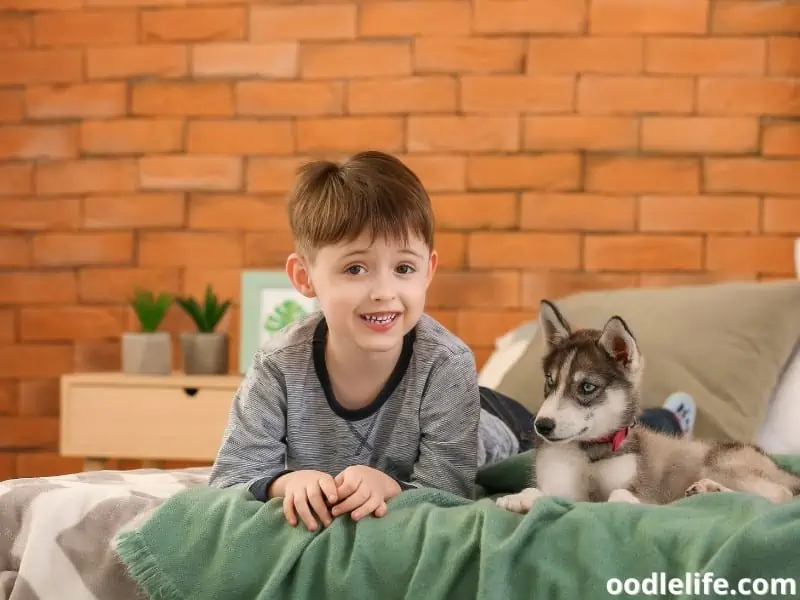 Best Price: TEC.BEAN Air Purifier
TEC.BEAN Air Purifier is the best-priced purifier on our list because it is the cheapest yet still includes all the perks of an expensive air purifier. It's a similar size to the MOOKA Air Purifier and is best used in a bedroom, but it clears the air of all pet-related airborne contaminants.
Air Purifiers for Bedroom with Adjustable Night Light, TEC.BEAN H13 True HEPA Air Filter for Office Desk, Odor Eliminators for Home, Sleep Mode 20dB Air Cleaner for Dust, Pet Dander, Allergies, Pollen
Compact Yet Powerful: 100% Ozone Free Certified By CARB, available for California, TEC.BEAN home air purifier has a 3-Stage filtration system with Pre-filter, Medical grade H13 True HEPA, Activated...
Small Size Fits Everywhere: Small, lightweight, 1.98lb, 6.3*6.3*9.69in, mini size air filter cleaner fits bedroom, kitchen, nursery, living room, office, desktop.
Sleep-Friendly & Ultra Quiet: Sleep mode is critical when you're working, sleeping or reading, Ultra Quiet TEC.BEAN True HEPA Air Purifier 20dB noise level is here for you. Meet the brand new sunset...
Smart Filter Replacement Indicator: Built-in Filter Replacement Indicator reminds you when to replace your filter. Replace the filter every 3-6 months depending on the indoor air quality and the...
Contact Us Anytime: 24/7 Live Chat Support, 30-day No-hassle Refund. TEC.BEAN offers a 1-year return and replacement. If you have any questions, please feel free to contact our customer service. Note:...
We earn a commission if you make a purchase, at no additional cost to you.
Its small size makes it fit wherever you need it, and it has a replacement indicator that lets you know when you need to install a new filter. It works quietly as well, another reason it's perfect for a bedroom.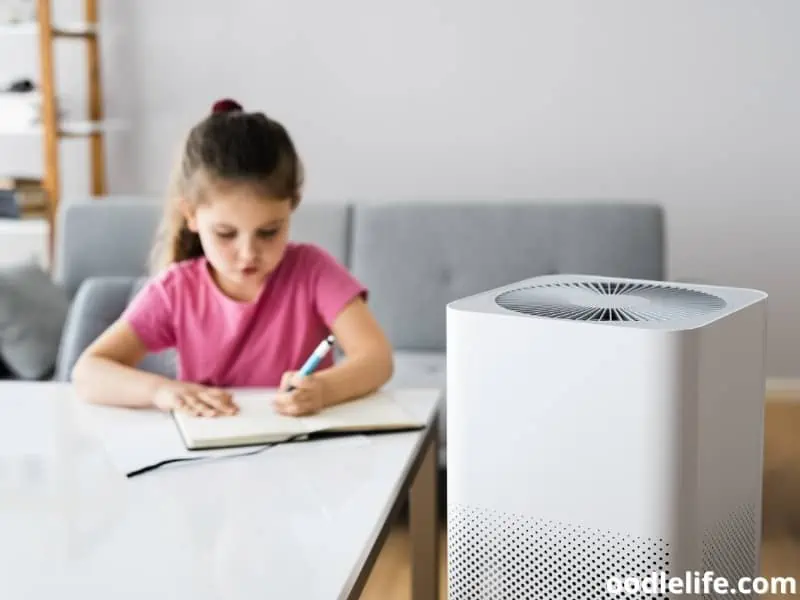 Buyer's Guide: How To Choose the Best Air Purifier for Your Home?
Air purifiers not only make our homes feel cleaner with fresher air, but they also help us tackle allergies from our pets and the pollen they bring into the home. There are several things to consider, however, before investing in an air purifier.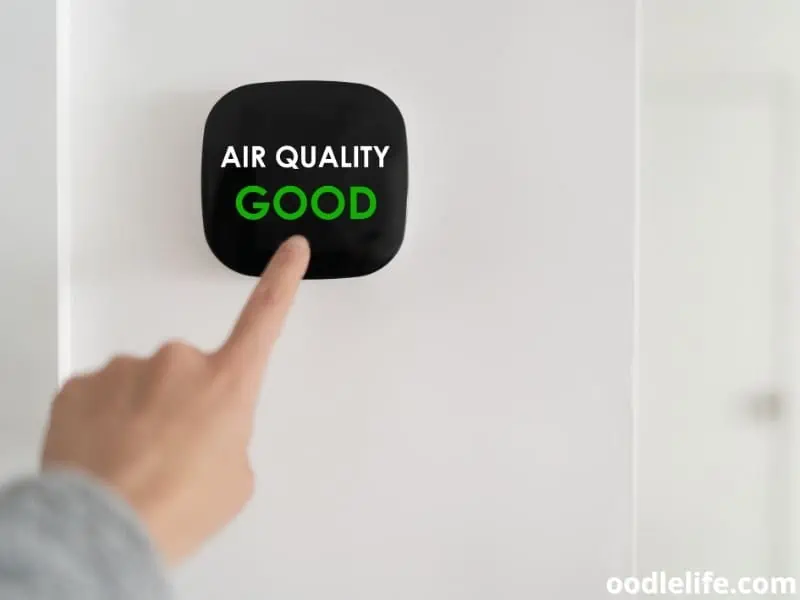 Budget
Air purifiers can be expensive, so it's wise to consider how much you are willing to spend on one. If your allergies become severe, it's well worth the purchase. And even if you are on a tight budget, you can still buy a smaller air purifier for your bedroom which will improve your comfort while sleeping.
If you're willing to spend extra for a larger purifier, it will absorb even more dander and pollen and make a much larger area of your home clean.
Use
Consider where you need an air purifier and how effective it will be in your home. If you only have one cat, you may want to consider getting a smaller-sized purifier for the room they sit in the most.
Likewise, if you have several pets, you'll get much more out of a larger-sized air purifier.
Research
With all of this in mind, doing your research on the right air purifier for you will go a long way. Some air purifiers aren't centered around pet dander and hair, so they won't be as effective as the ones with the HEPA filter.
The HEPA filter is essential to have as it will absorb pet-related airborne contaminants. So be sure to choose an air purifier that has one or can be substituted with one.
Size and Space
The size of your air purifier impacts the amount of space it can keep clean. It also matters because the size of your air purifier can determine where it will fit in your home.
If you're buying a bigger air purifier, you'll need to have sufficient space for it. And if you're getting a smaller one for the bedroom or a similarly-sized room, it will work better on a desk or a side table.
Why Purchase an Air Purifier for Your Pet's Hair?
Pet hair is full of dander, which many people find themselves allergic to. In addition, pets bring in outside sources like pollen and dust, another allergen. As such, our pet's fur can create a stuffy atmosphere in our homes, especially when allergies get involved.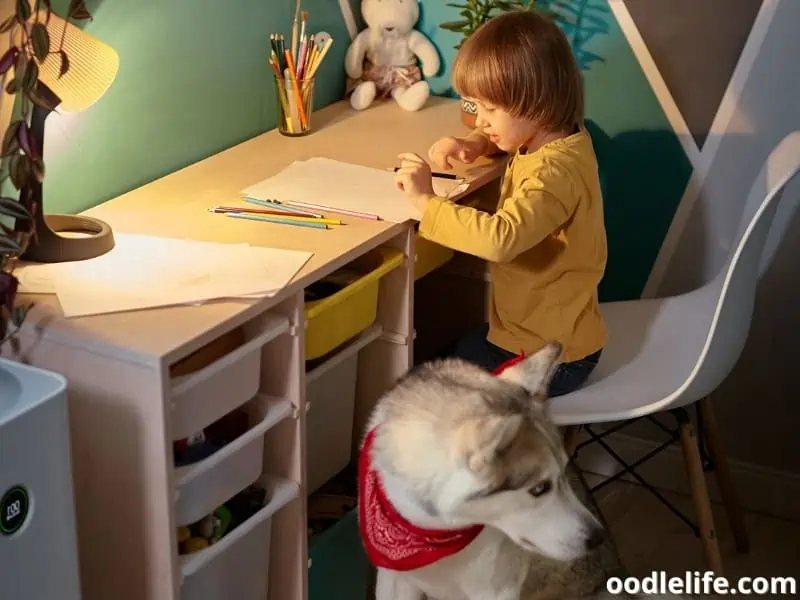 Air purifiers designed for pet hair use a HEPA filter, which clears the air by absorbing the dander particles. It doesn't just collect the particles and distribute them elsewhere but gets rid of them altogether.
Having pets is a huge joy and can be beneficial in many ways. Fortunately, you can have a furry friend at home even if you have sinus-related allergies due to their dander because air purifiers can help resolve that issue. Furthermore, even without allergies, air purifiers keep your house free from pet hair and remove odors that come with dogs and cats.
Conclusion
Air purifiers absorb pet dander and replace allergen-ridden air with a fresher and clearer atmosphere. They leave our homes feeling clean the same way they help our sinuses feel clear. Having a pet and being allergic to their dander shouldn't stop you from living comfortably.