The 5 Best Anti-Jump Dog Harnesses! (2023)
Dogs are truly a human's best friend. That is until they are so happy to see you that they leap up, knocking over you, Grandma, and five other people like bowling pins.
Perhaps Lucky jumps at other dogs or passersby on your daily walks. You know it's time for a change when people cross the street when see you and Lucky coming.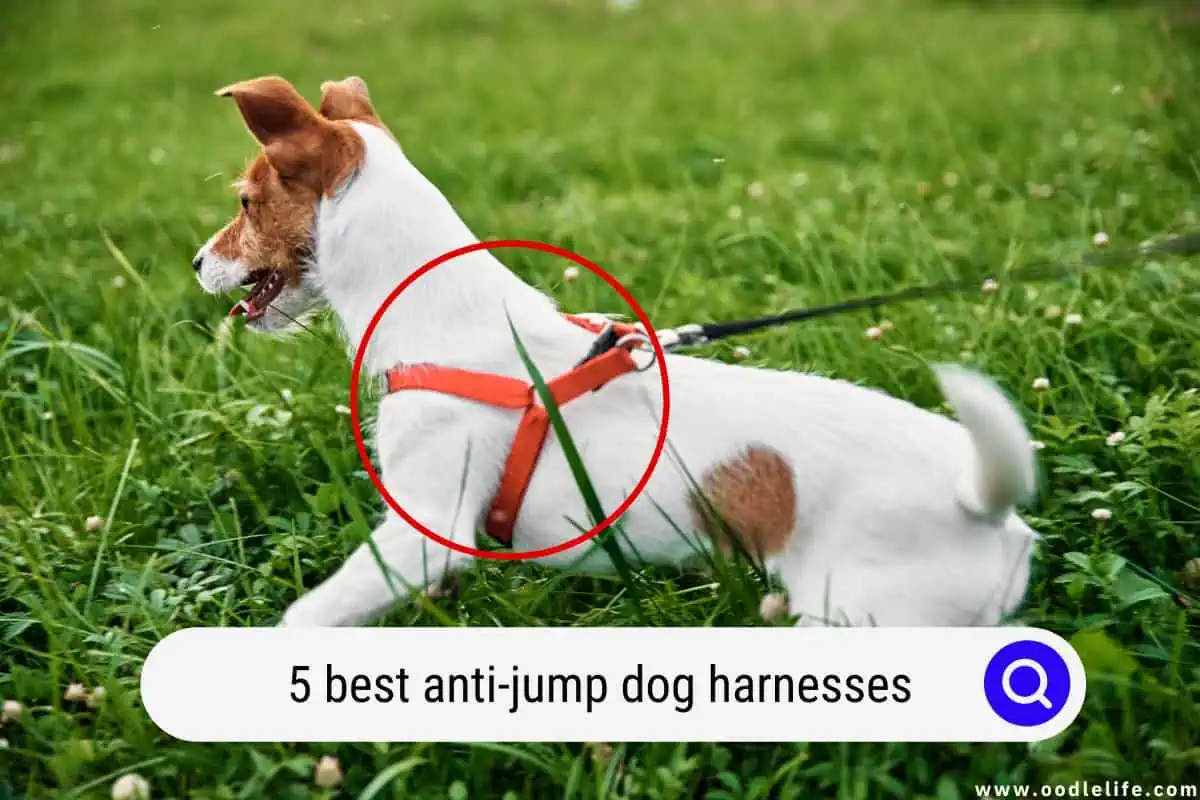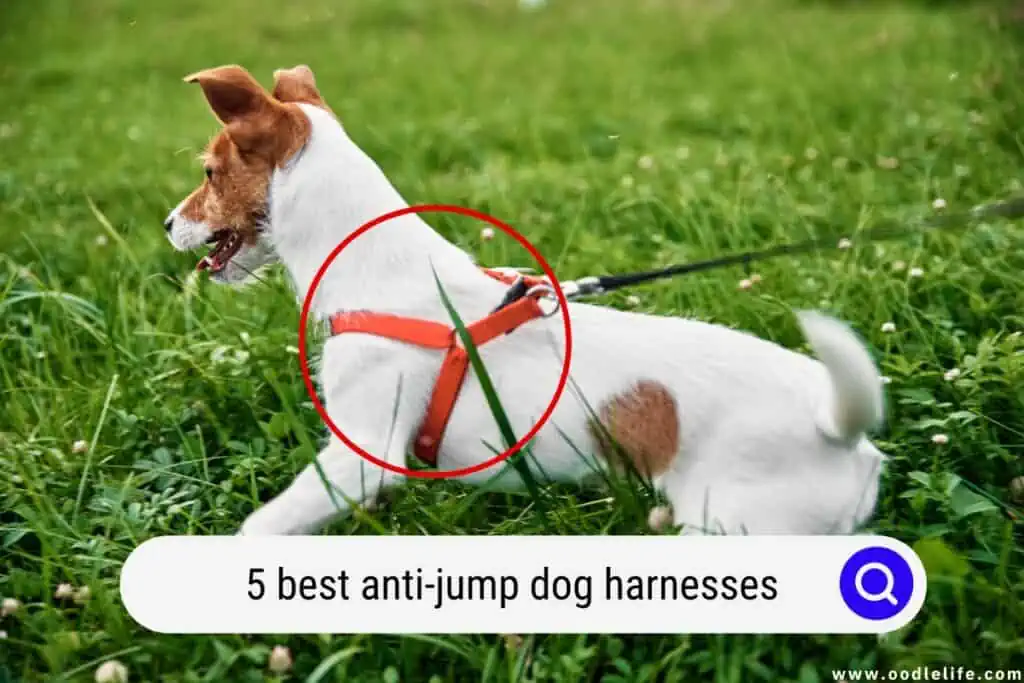 Jumping is an undesirable behavior and can even damage your dog's joints. 
Jumping is a learned behavior whether you've had your dog since it was a puppy or your dog is a new addition. A no-jump harness will discourage jumping but does not entirely prevent the action. Consistency while using an anti-jump harness and positive reinforcement training will work together to re-train your best friend. 
Why Does My Dog Jump?
When dogs play together, they will often jump and posture, making playtime an exciting, raucous adventure. Jumping is a way that dogs exhibit pleasure and happiness, such a mealtimes or when you arrive home, to show interest in another dog or other animal, or to garner attention.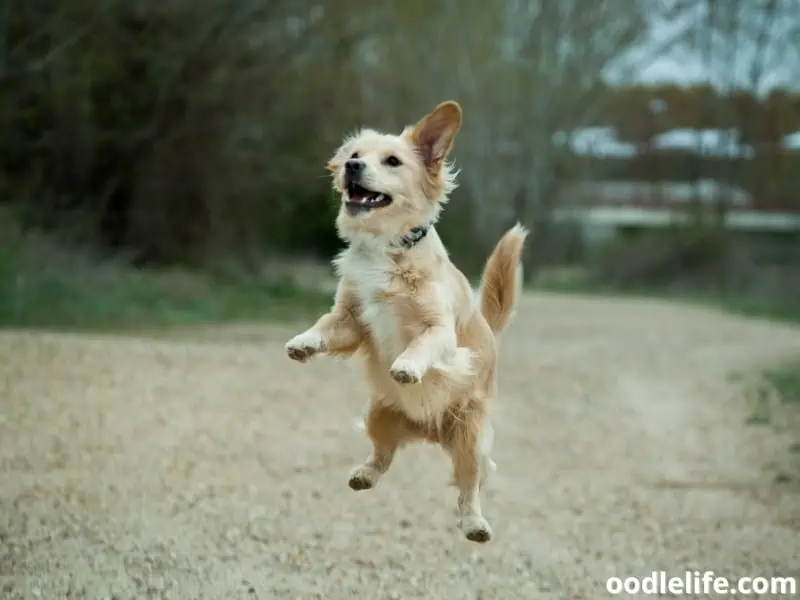 Remember when Lucky was just a puppy, and she would jump on your legs with her little puppy paws? It was adorable, and she was smothered with pets and praise. Lucky learned that jumping up was a way to get attention.
The exuberant jumping and happiness were delightful when Lucky was a puppy, but not as a 50-pound catapulting bundle of excitement. She learned that jumping garnered attention and affection. The jumping still gained attention as Lucky grew, even if it was yelling. 
How a No-Jump Harness Works?
A no-jump harness works by limiting a dog's range of natural movement. One type of anti-jump harness looks a bit confusing at first, with straps and loops resembling a harness one might use for a horse to pull a buggy.
The collar portion fits as expected and connects to loops, or hobbles, that go around each back leg. How the collars and leg restraints connect vary depending on the manufacturer, but they all work similarly.
When a dog tries to jump up while wearing this type of harness, the action tightens the connection from the collar to the leg restraints and pulls the legs forward and under the dog while tightening the harness on the chest area. The action puts the dog off balance and makes jumping an awkward, uncomfortable experience.
A no-pull harness has a chest strap with a martingale (a "floating" strap and ring) to attach the leash. The chest piece tightens as the dog pulls forward while walking or attempting to jump, squeezing the chest and front legs, causing pressure. Dogs naturally move away from pressure, and when the dog jumps or pulls, the pressure brings Lucky back to you.
It is important to note that a dog can still jump while wearing either a no-jump or a no-pull harness, just not as high, and you have more control. Using an anti-jump harness in conjunction with training is best to eliminate the behavior.
How To Fit an Anti-Jump or Harness?
Even the best no-jump harness won't be effective if it doesn't fit correctly.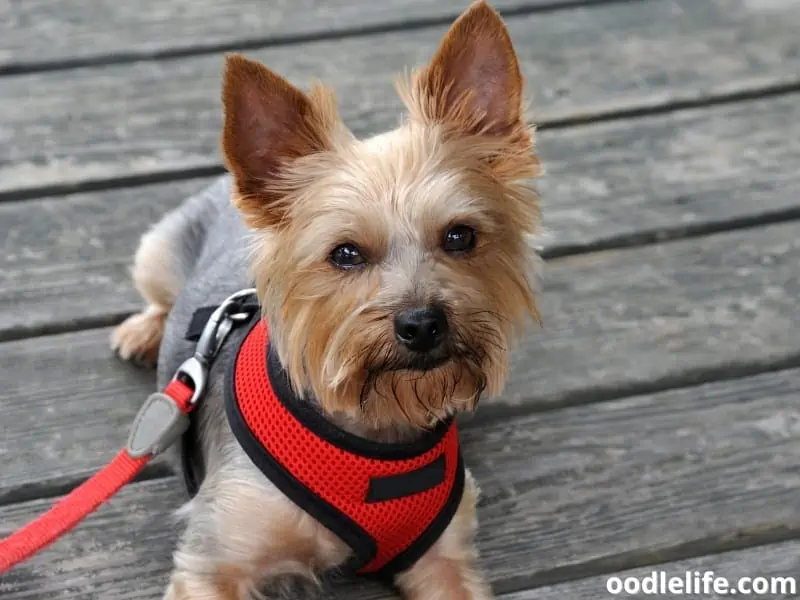 To ensure you have the proper size harness, you'll need a few measurements. The first measurement is your dog's neck or collar size. Measure around your dog's neck using the two-finger/two-inch rule. Next, measure your dog's girth. This is done by measuring your dog's circumference right behind the elbow, over the back, and under the chest.
Knowing how much your pup weighs will also be handy when selecting the right size.
Here's Our List of the 5 Best No Jump Dog Harnesses:
1. Lo-Jump Jump Restraint Harness for Dogs
This harness works by pulling the dog's hind legs under the body when it goes to jump a fence or jump on people.
LoJump Jump Restraint Harness for Dogs
This harness is for dog owners who seriously struggle with the fence jumping problem of their dogs - either dogs' safety jeopardized or owners' liabilities significantly increased.

If the issue is nothing more than a nuisance, you don't need this device!

LoJump Jump Inhibiting Dog Harness: Simple, effective solution to prevent or restrain fence-jumping of your dog.



Works in conjunction with any common dog collar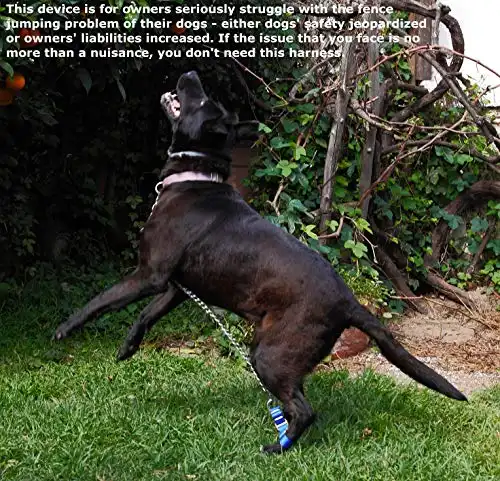 We earn a commission if you make a purchase, at no additional cost to you.
Pros:
High customer satisfaction.
An effective method to prevent jumping.
Heavy-duty, made to handle dogs weighing up to 100 lb.
Custom options for larger dogs or chewers.
100% satisfaction guarantee.
Cons:
The standard design is a link-type chain from leg restraint to collar.
Leg restraint can cause skin irritation or sores.
May cause your dog to fall if it is an aggressive jumper.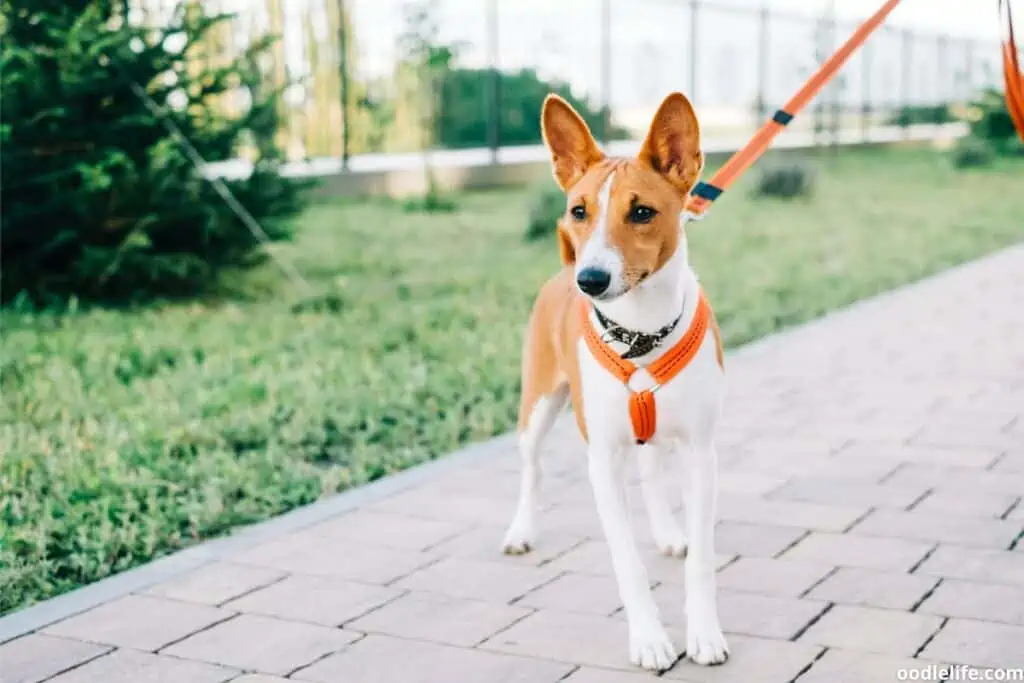 2. Pet Safe Easy-Walk Harness
This is one of the best no jump dog harnesses. Designed by a veterinarian specializing in behavior, this harness has ratings that exceed 4.5/5 stars from over 37,000 ratings. The leash clips to the martingale section on the front of the chest and exerts pressure by squeezing the shoulders and chest when your dog lunges or pulls while wearing it.
PetSafe Easy Walk Dog Harness, No Pull Dog Harness
LEGACY OF TRUST: This harness was created 15 years ago by a veterinary behaviorist and is trusted by a million dog parents and trainers each year
TEACHES BETTER LEASH MANNERS: Patented Martingale loop and front chest leash attachment minimizes your dog's pulling by gently steering him in the direction you are headed
NO MORE GAGGING AND CHOKING: The harness safely controls light to moderate pulling by resting across your dog's chest instead of his throat
COMFORTABLE FIT: Keep your dog cool with less coverage than many other harnesses; light and breathable construction while still maintaining quality and durability
QUICK AND EASY TO FIT: The quick-snap shoulder and belly straps allow you to fit the nylon harness easily on your dog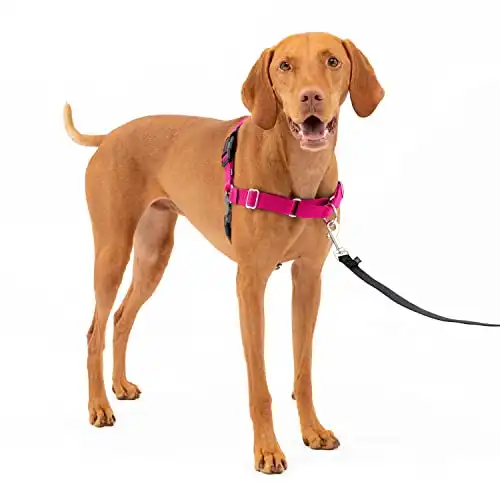 We earn a commission if you make a purchase, at no additional cost to you.
Dogs move away from pressure, and this harness allows you to control pulling or jumping with minimal effort. Used in combination with rewards for positive behavior, this harness is an exceptionally effective method for curtailing annoying and dangerous jumping.
Pros:
Eight sizes for the perfect fit.
Strong nylon for longevity.
Fully adjustable to fit most body types.
Easy to put on and take off.
Almost immediate result in behavior.
Cons:
Basic style does not have a reflective accent for night use.
Can be hard to adjust for barrel chested-dogs.
Fits loosen with use & a dog can slip out if the harness is not kept adjusted/tight.
May cause chafing behind elbows if not fitted properly.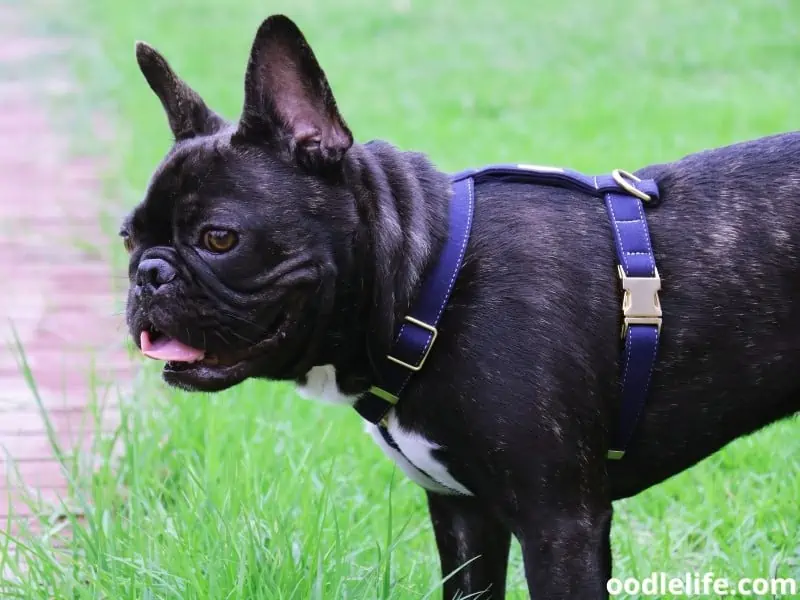 3. 2 Hounds Design – Freedom No-Pull Harness
This no-pull harness has a two-point connection for the leash to attach – one for the chest and one for the martingale strap and ring on top of the dog's shoulders. Using this harness requires a special double-ended leash for proper training.
2 Hounds Design Freedom No Pull Dog Harness
ENJOY MORE WALKS: Easy to use & comfortable to wear, four adjustment points plus Swiss Velvet lining prevents rubbing
BETTER CONTROL: Two connections give you better training results with your dog
TRAIN WITH EASE: Recommended by veterinarians, trainers, and dog behaviorists worldwide - helps you train your dog.
MADE IN THE USA: Stainless steel hardware and super strong nylon webbing.
CHEWING WARRANTY: Chewing replacement warranty included by 2 Hounds Design.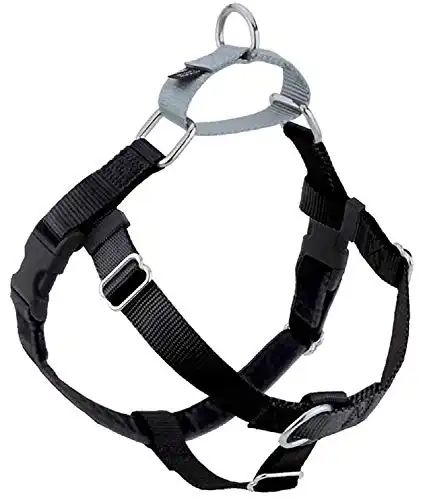 We earn a commission if you make a purchase, at no additional cost to you.
Rather than tightening the chest and shoulders from the front like many other no-pull harnesses, the top piece tightens when the dog pulls. This causes pressure from the top, and the dog moves away from the pressure, reducing lunging, pulling, and jumping.
Pros:
Made in the USA.
Chew warranty.
Two leash attachment points for safety.
Seven sizes – thinner webbing for smaller breeds, larger webbing for larger breeds.
Cons:
Can be tricky to fit.
Two point leash connection can be awkward to maneuver while walking.
Requires a special double snap leash.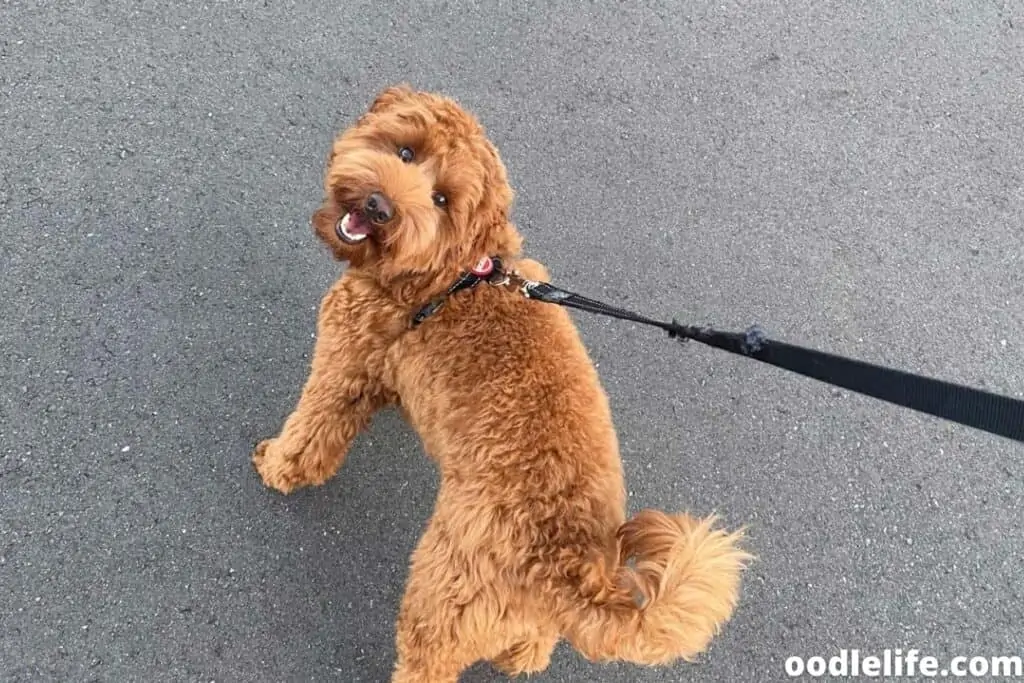 4. PoyPet No-Pull Harness
With over 16,000 reviews averaging 4.5/5 stars, this no-pull harness is designed with a padded chest piece and the option to attach the leash to the chest ring or the ring on the back.
Use the back ring for leisurely walks with minimal distractions and for walks with incredibly interesting obstacles, such as squirrels, children, and other dogs, both rings are used to attach the leash. Jumping, lunging, and pulling are curtailed greatly when the leash is attached to both rings.
While this no-pull harness doesn't offer a martingale type of pressure, the harness does tighten when pulling or jumping, making the dog uncomfortable. A specialized leash is not required but is an option for an additional cost.
Pros:
Padded chest for extra comfort.
Reflective nylon for better visibility.
Easy to clean.
Handle on the back for extra control or to use as a seatbelt restraint.
Harness comes with a matching leash.
Cons:
Not as effective for hard pullers, lungers or jumpers.
Only offered in 5 sizes.
Difficult to properly adjust the fit.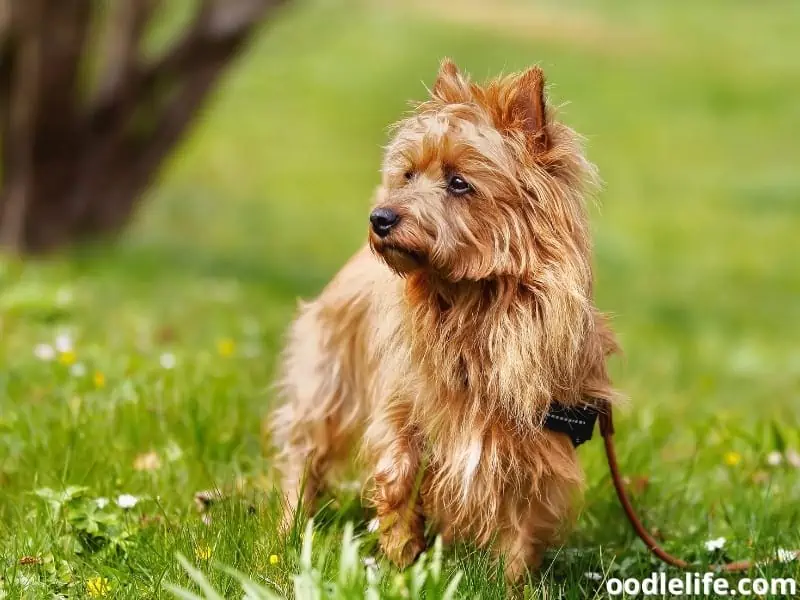 5. Gooby Escape Free No-Pull Harness
This harness offers the best of both worlds for smaller dogs that are not only jumpers and pullers but also escape artists. Featuring a step-in style (yes, it can be a challenge to keep one leg from being pulled out while you put the other in), the harness fits snuggly around the chest and middle.
Gooby Escape Free Easy Fit Harness - Hot Pink, Medium - No Pull Step-in Patented Small Dog Harness with Quick Release Buckle - Perfect On The Go No Pull Harness for Small Dogs or Medium Dog Harness
Escape Free Easy Fit Dog Harnesses for Small Dogs – Escape Free Easy Fit Step In Harness is made for small breed dogs. This means that our largest size will fit a dog up to 35 lbs. In order to fully...
Escape Free Hot Pink Dog Harness - Our Escape Free Easy Fit dog harness no pull design reduces space around the back making harder for your dog to escape our no pull harness by backing away during the...
Step In Deasign for Easy on and Easy Off – Our Step in dog harness design makes it easy for your dog to step in and step out the gooby harness for small dogs without a hassle. Simply place the left...
Machine Washable – The Gooby escape free harness is very easy to clean. Just machine wash cold and hang dry.
Gooby Patented Design – Our patented Gooby Easy Fit harness frame (US D805,261 S) is simplistic in design and light in weight, including the POM plastic leash ring, which is very light and durable.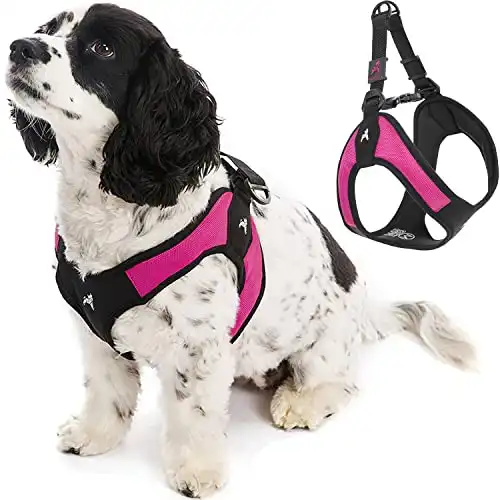 We earn a commission if you make a purchase, at no additional cost to you.
The harness is adjusted to fit snuggly across the back. The leash attaches to the two back adjustable straps for escape-free functionality to prevent a quick-witted and adventurous pup from slipping out of the harness.
To prevent jumping or pulling inside the house or while on walks, pull on the leash to tighten the chest and shoulders, causing your dog to move away from the pressure. Inside? Simply attach a short leash to step on or pull when your dog gets the urge to jump up.
Pros:
Padded chest design.
Close-fit straps and a pulley system on the back reduces the chance of escaping the harness.
Inside or outside use.
Cons:
Only available for small and medium dogs up to 35 lb.
Step in design can be difficult to get on an active dogs.
D-rings are plastic, not metal, and are subject to breaking.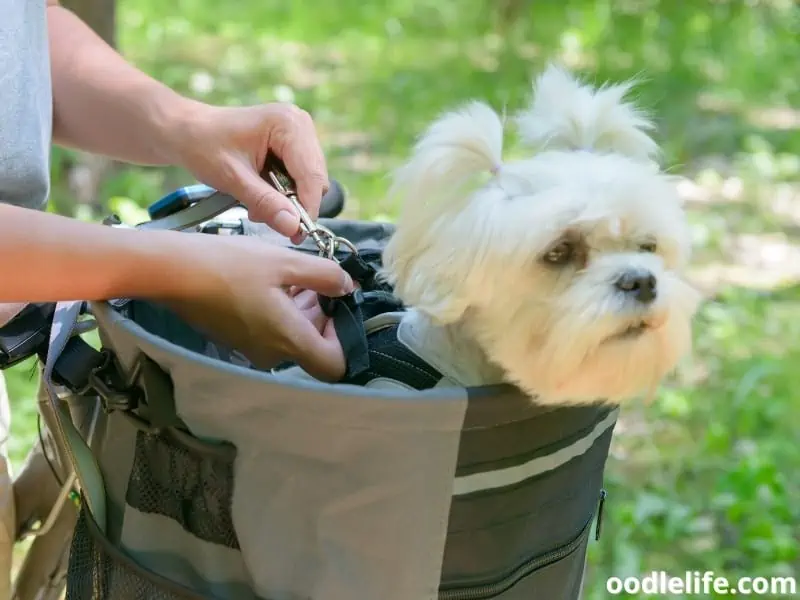 Wrapping It Up
Jumping is a habit that is not only annoying for many dog owners but can be dangerous to both people and your pet. Whether the jumping occurs in the house or while walking, finding the best no-jump dog harness might be the training aid you need.
Designed to work with pressure and a dog's instinct to move away from it, no-pull harnesses tighten against the chest, shoulder, and back areas when the dog pulls, jumps, or lunges.
The jumping habit did not begin overnight, but can be eliminated with the right tools. The best recipe for any behavioral challenges is time, patience, consistency, and rewarding your dog for good behavior.