The Best Brush for Cavapoo Grooming [7 Options]
As a general rule, Cavapoos have short, curly, soft coats, with characteristics similar to both Cavalier King Charles Spaniels and Poodles. Yet, their fur varies between individual pups.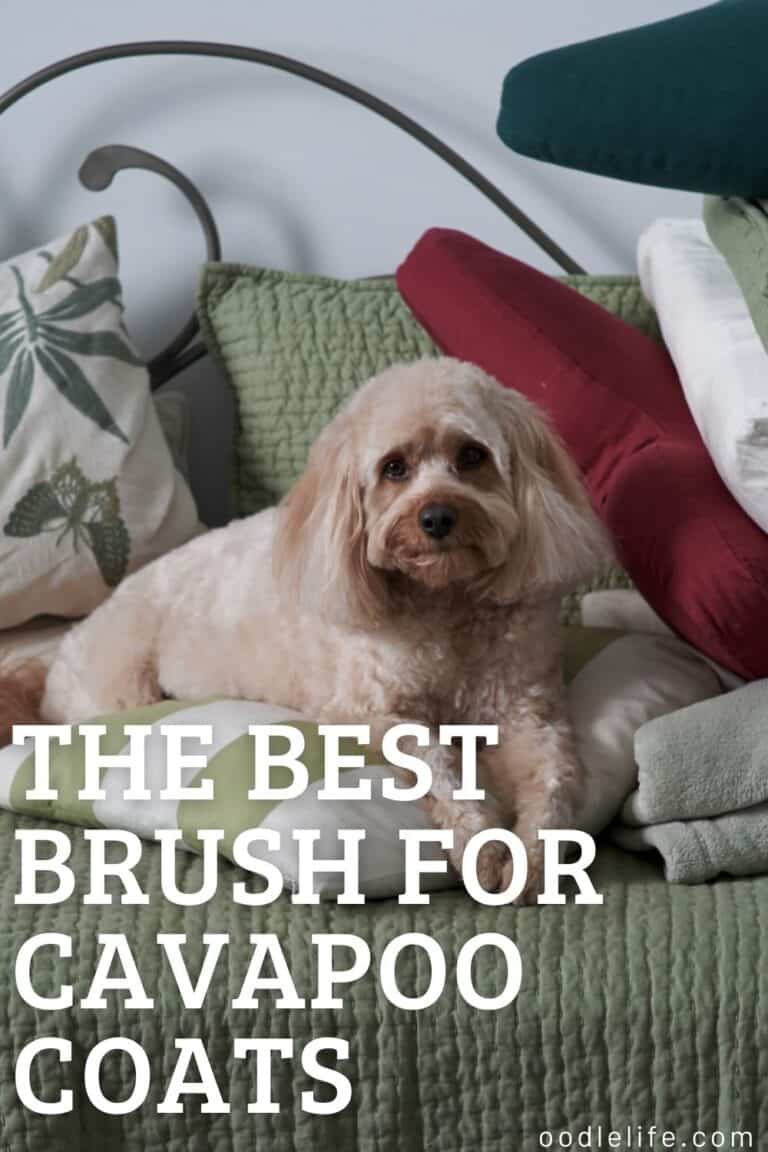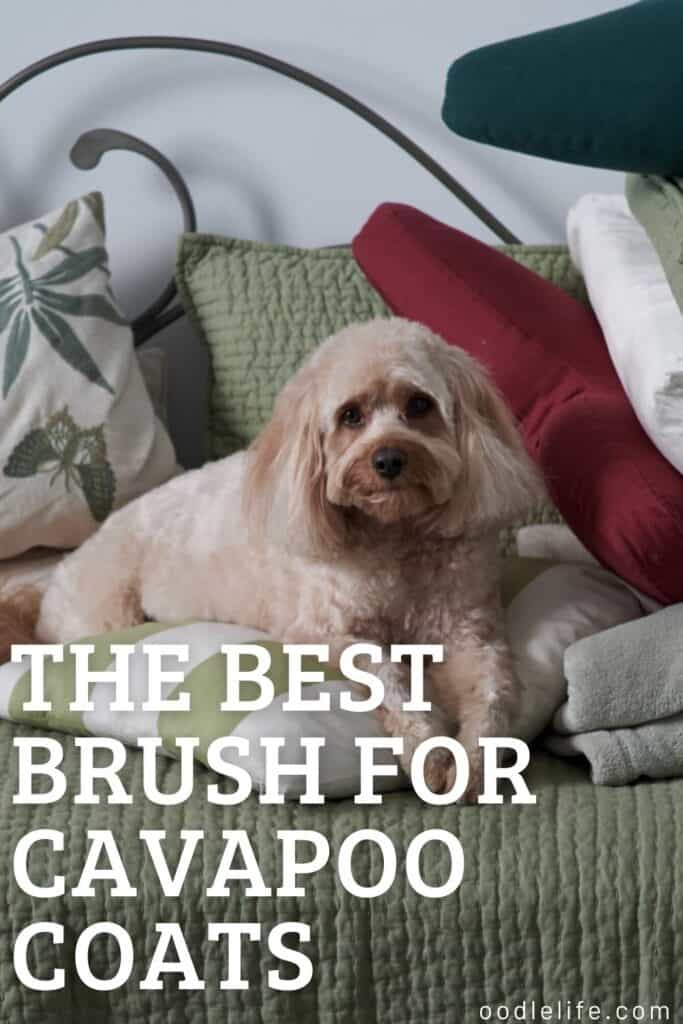 Some have more of a dense, curly poodle coat, and others tend towards the long-haired Cavalier coat with an undercoat. Because of their poodle genes, a Cavapoo puppy or adult dog will shed far less than most other breeds. This does mean they will need at least weekly brushing to keep the fur healthy and detangled.
Regular grooming benefits your pet by:
Brushing dirt out of the hair.
Distributing natural, conditioning oils through the fur.
Keeping hair from tangling.
Keeping skin clean and free of irritants.
Alerting you to any flea activity.
The Right Brush
Some dog grooming brushes are general-purpose, while others have specific uses. Since Cavapoo fur can differ, you will have to consider your pet's coat when deciding what type of grooming tool to use.
Rakes help detangle and smooth a thick undercoat.
A grooming mitt or rubber curry comb works well on short-haired coats.
A wire slicker brush works best on coats that are a little longer, curlier, or matted. It can also tame an undercoat. This includes poodle mix coats.
Work out tiny knots that remain after brushing with a general-purpose comb or bristle brush.
Finding the best Cavapoo brush can be confusing, so I did some research and found some great options.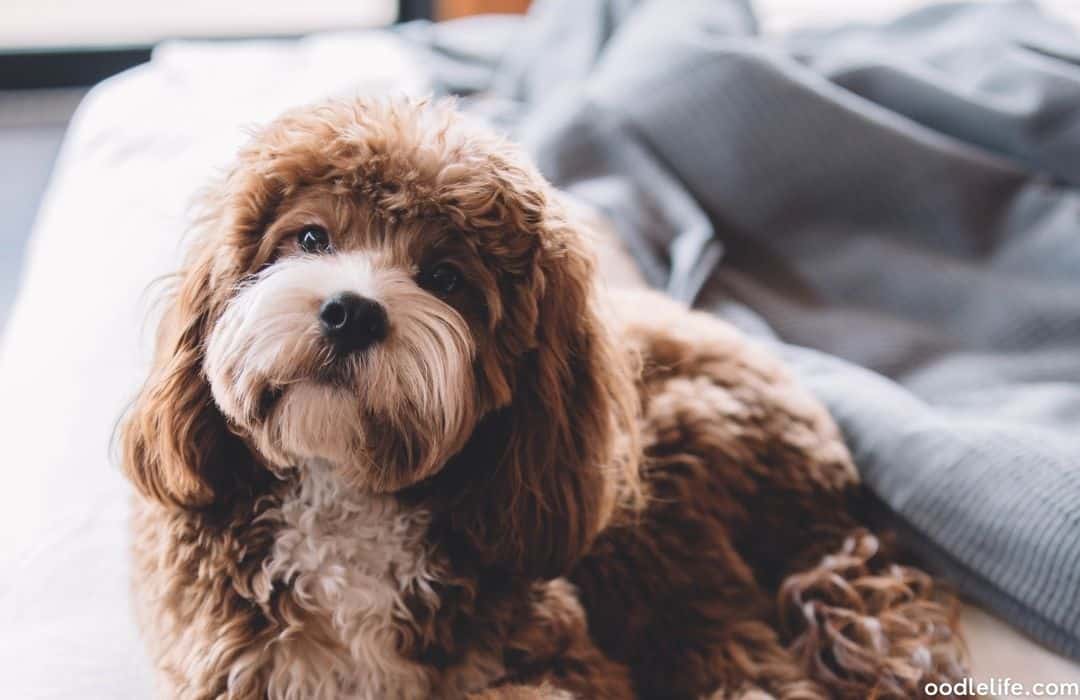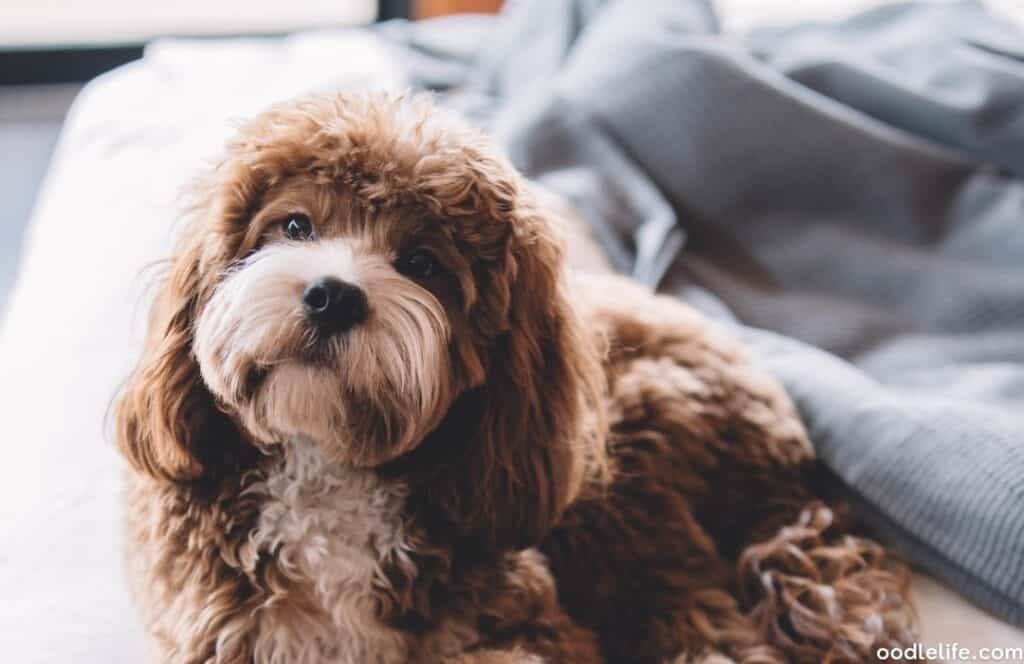 The Single Best All Round Brush for a Cavapoo
Chris Christensen A5VI Mark VI Curved Slicker, Medium
Mark VI Slicker brush by Chris Christensen, maker of quality products for dog shows, show dog grooming
Beautifully handcrafted Beech wood slicker brush with high grade steel pins for less coat damage
Mark VI Slicker Curved Medium A5VI
The Mark VI Curved Slicker brush was designed by Chris Christensen and his team of professionals for your pup. It is made from handcrafted beech wood with high grade steel pins to prevent hair breakage, resulting in a neat appearance for the show ring.
Looking for a brush that will get the job done right? The Chris Christensen Dog Brush, with its curved design and steel pins, is the perfect choice. Get out of tangles and knots in seconds by getting your hands on this high-quality product today!
If you have a Cavapoo or any other dog with beautiful, wavy non-shedding hair, then this is the brush for you. With its exquisite beech wood and high grade steel pins that won't damage your pup's coat, it's perfect for gently fluffing up curls and removing loose hairs without getting so tangled they break off.
The ergonomic design makes it easy to hold while grooming your pooch by hand – no need for pesky arm strain from reaching with a big brush!
This is legit the only brush you need to buy (though consider a steel grooming comb). Everything else is nice extras to have.
Wire Slicker
A Cavapoo with thick or curly hair may require more rigorous grooming. A slicker brush can remove debris, loose hair, and mats/knots in the fur. A word of caution: if used incorrectly or too aggressively, the wires can be uncomfortable and scratch.
Hertzko Self Cleaning Slicker Brush – Best for Travel
While effective for removing loose hair, tangles, knots, dander, and dirt, Hertzko's Slicker Brush is very gentle. It has fine, bent wires that penetrate deeply into the coat without scratching the skin.
Sale
Hertzko Self-Cleaning Slicker Brush for Dogs - The Ultimate Dog Brush for Shedding Hair, Fur, - Comb for Grooming Long Haired & Short Haired Dogs, Cats, Rabbits, & More - Deshedding Tool, Cat Brush
THE ORIGINAL SLICKER BRUSH - Trusted by millions of pet owners, loved by millions of dogs and cats! Over 2 million brushes sold, making us the most loved pet brush brand in the country!
THE PERFECT BRUSH TO GET ALL NASTY MATS OUT OF YOUR PET'S FUR – Hertzko's Slicker Brush gently removes loose Hair, and eliminates tangles, knots, dander and trapped dirt. Does your pet shed A LOT? This shedding brush works great on dogs and cats of all sizes and types of hair!
GET RID OF TANGLES WITHOUT HURTING YOUR PET - The bristles are fine bent wires designed to penetrate deep into the coat and are able to groom the undercoat well without scratching your pet's skin! Great brush for dematting shedding dogs and pets with long and short hair! Pets love the way this brush feels, and are excited for each grooming session!
EASY TO CLEAN – When you're done brushing your pet, simply click the button and the bristles retract back into the brush, making it super simple to remove all the hair from the brush, so it's ready for the next time use. This product is strong and durable, allowing you to brush time and time again!
SATISFACTION GUARANTEE - Our Slicker Brush is specially designed with a comfort-grip and anti-slip handle, which prevents hand and wrist strain no matter how long you brush and groom your pet! We back our products with a 100% satisfaction guarantee, for both you and your pet!
Pros
Bristles extend for brushing and retract for easy bristle cleaning.
Store the bristles within the brush to prevent bending or breaking, which can scratch your pup.
Ergonomically designed with a comfortable grip and anti-slip handle.
Cons
Don't use it on short-haired dogs or dogs without an undercoat.
There are complaints that the bristles do not stay extended when using the brush.
Glendan Dog Brush & Cat Brush – Best for Matted Fur
The Glendan Pet Grooming Brush removes mats, dander and trapped dirt. Brushing difficult-to-reach places is easier with a rotating brush head. The ergonomically designed handle provides a snug grip and is resistant to slipping.
Sale
Glendan Dog Brush & Cat Brush- Slicker Pet Grooming Brush- Shedding Grooming Tools(Blue)
Easy to Clean Pet Grooming Brush Removes Mats,dander and trapped dirt,Rotatable Slicker Brush-Easy to clean various places Suitable for Long and Short Hair.
Pet Slicker Brush doing massage for your pet is good for preventing skin disease and increasing blood circulation.and leaves your pets coat soft and shiny.
Our Pet Brush is Simple design specially designed with a comfort-grip and anti-slip handle, which prevents hand and wrist strain no matter how long you brush your pet!
Pet Massage Brush massage for your pet is good for preventing skin disease,Massaging particles won't scratch your pet,and increasing blood circulation.
Glendan Dog Brush Warranty: 90 Days no question ask money back. 365 Days Quality Guarantee and Life time Friendly Customer Service
Pros
Coated metal tips won't scratch your pup.
Ideal for smaller dogs, making brushing easier for them.
Excellent warranty: 90-day returns, 365 days quality guarantee.
Cons
The tip coating sometimes wears off, causing discomfort.
It can be challenging to clean without bending bristles.
Shedding and Dematting
An undercoat rake detangles and removes loose hair from your pup's undercoat. Use short, careful strokes to prevent pulling and removing too much hair.
FURminator Grooming Rake – Best for Matted Coats
The FURminator(R) grooming tool separates and untangles fur. Its secret is rotating, rounded pins and shaped lines that follow your pup's contour. That doesn't sound like it would make much difference, but it does!
Pros
Rotating pins remove tangles and mats without tugging or causing skin irritation.
Effectively combs through the undercoat.
A comfortable handle provides a secure grip.
Cons
There have been reports of the teeth and handles falling off the product.
Does not work well on long-haired dogs.
Grooming Mitt or Rubber Combs
If your Cavapoo has a short to medium-length coat without an undercoat, grooming mitts and curry combs may be your best choice. A rubber or silicone mitt or comb has nubs that catch dead and loose hair. The hair adheres to the glove or comb until removed and discarded.
Pet Grooming Gloves – Best for Short or Recently Cut Coats
This grooming glove is even better than the original, which was almost perfect. The main change is the improved wristband placement. When you use these gloves, your dog will feel like he is being petted or played with, leading to a more extended and enjoyable grooming session for both of you.
Pros
Includes a right-handed and left-handed glove.
Enhanced silicone teeth hold on to the dead and loose hair, making it easy to peel off and discard.
The slip-on gloves have a five-finger design allowing for easier grooming in hard-to-reach places.
Cons
It will not remove hair from the undercoat.
It is too small for some hands.
Aufew Magic Pet Grooming Gloves – Best for Bathing
These silicone gloves, created in one piece, are extra long, durable, and tear-resistant. Use for your pup's weekly brushing as well as a bath aid. They have a convenient loop for hanging the gloves to dry and store them.
Sale
Aufew Magic Pet Grooming Gloves Dog Bathing Shampoo Brush, Heat Resistant Eco-Friendly Silicone Hair Removal Gloves with High Density Teeth for Cats, Dogs
🐶 Premium Material - Dimension 13.8in * 5.9in. The magic gloves are made entirely of eco-friendly silicone, which is with superior elastic and soft property, no easy to tear.
🐈 High Density Brush Heads - There are over 3,000 15mm brush heads spread over the glove palm to ensure easier hair grooming for your dogs or cats without any uncomfortable feeling.
👍 Heat Resistant - Excellent heat resistance up to 501°F, so the grooming gloves can be sterilized with boiling water while having a pet bathing. Never worry about getting scalded.
🔥 Multiple Use - This Magic Gloves also can be used for kitchen, washing dishes, fruit & vegetable cleaning, cleaning the bathroom and bed room, removing wardrobe dust, and washing the car.
❤️ Easy To Care - The loose hair of your pets will be fastened by the high dense brush heads, easy to clean. And the hanging hole makes the gloves easy to store.
Pros
Loose hair stays on the glove until you peel it off.
Sterilize the gloves in boiling water.
The non slip design makes them comfortable to use.
Cons
It doesn't work as well on coarse hair.
Some complaints of tearing.
Gorilla Grip Pet Brush with Easy Clean Button – Best for Short, Wiry Fur
The self-cleaning, retractable bristles are a popular feature of this slicker brush. Quick-release bristles extend for brushing and retract for easy removal of fur. This silicone handle is slip-resistant and comfortable for use with either hand. It includes a thumb rest for added comfort and control.
Gorilla Grip Pet Brush with Easy Clean Button, Reduces Shedding, Gently Removes Mats, Comfort Grip, Slicker Comb for Dog Undercoat Fur, Grooming Long or Short Haired Pets, Dogs, Cats, Red
Helps Reduce Shedding: help reduce your pet's shedding by up to 95 percent and keep their coat looking beautiful; helps remove loose undercoat hair and remove knots; perfect for both long and short haired pets, the slicker brush will help prevent unruly tufts of hair from floating around your home
Retractable Bristles: the self cleaning slicker brush is so easy to use and clean; after pressing the quick release button and releasing the bristles, begin grooming your pet; after grooming, press the button once again to retract the bristles; the fur will easily wipe away so you won't have to pick out clumps of fur in your pet brush
Ergonomic Design: featuring a silicone and slip-resistant handle that is comfortable for both lefties and righties; includes a thumb rest for additional comfort and control; the slicker brush helps to provide an easier grooming experience for pet owners and groomers
Pets Love It: your pet will enjoy a gentle and comfortable grooming experience; the stainless steel bristles feel just like a massage on coats
For Many Pets: the slicker brush is a great option for dogs and cats with long or short hair and fur
Pros
It comes in five colors.
The handle includes a thumb rest for extra comfort and control.
Retractable bristles make them easy to clean.
Cons
Tips seem sharper than some other choices.
It may be too large to use on smaller Cavapoos.
General-Purpose Detangling Comb
While some people use a comb instead of a brush when grooming, I prefer to use it only for stubborn tangles on longer-haired dogs. To avoid pulling on your pup's delicate skin, hold the base of the knot near the skin as you work it out.
Here are two of the most popular general-purpose detangling combs. Either one will work for removing stubborn mats and tangles.
Dog Comb – Best for All Sizes of Tangles
This comb has an easy-grip handle across the back of the comb. On one side, the comb teeth are closer together, while on the other side, they are farther apart. This makes it easy to tackle different-sized tangles.
Andis Pet 10-Inch Steel Comb (65725)
Ideal for cats and all size dogs
Removes tangles, mats, loose hair and dirt
Stimulates skin and hair follicles
Perfect for finishing and fluffing
Lightweight for fatigue-free grooming
FURminator Curry Comb – Best Massaging
FURminator Curry Comb with Rubber Teeth for Short and Medium Coats
Ideal for removing dust and loose hair from your pet
Features molded rubber teeth to stimulate the production of natural oils to promote coat health
For short and medium coats
Ergonomic handle is secure and comfortable in your hand
Anti-microbial plastic helps keep germs and bacteria at a minimum.
FURminator curry comb is popular with dogs and their owners. The molded rubber teeth massage your pup as you brush. The ergonomically shaped grip with a hand strap is secure and comfortable to use even when brushing awkwardly to reach places.
Pros
A comfortable, ergonomic handle makes it easy to hold.
Plastic with anti-microbial properties keeps germs and bacteria at bay.
It is durable and long-lasting.
Cons
The strap is too tight for larger hands.
Some complaints that the rubber teeth are too hard and cause discomfort.
Time to Groom
Once you've picked out the best brushes for your Cavapoo, follow these steps to ensure a successful grooming session for your dog's coat. Our complete guide on how to groom a Cavapoo is here.
To begin with, keep sessions short, so your dog can get used to them, then lengthen them over time.
Allow your Cavapoo to see and smell the brush.
Begin brushing while rewarding your pup with treats and praise.
It's important to be gentle because too much pressure can lead to irritation called brush burn.
Make sure you comb all the way down to the skin, especially if the coat is thick.
Use a detangler or conditioner to loosen knots.
Avoid hurting your dog when bushing out a knot by holding the hair near the skin as you work out the tangle.