Best Brush for Maltese Coats [year]
The Maltese breed is a sweet, fearless, yet gentle dog that is an excellent companion. They are also wonderful competition dogs that everyone recognizes by the long, silky, white coat.
Got no time to spare? Here are the top picks for the best brush for Maltese coats in 2022.
This stunning coat takes a bit of effort and time to maintain, and it's important to note that Maltese doesn't have an undercoat. This indicates that you'll have to stay attentive to knots and matting if you allow your dog's fur to remain long.
Pros:

Professional groomer quality

German made steel

Perfect for coat maintenance

Pros:

Decent build quality

Slicker density high

Good for thick coats

Pros:

Perfect for detangling

Helps with every brush

Quality Lifetime steel
Nothing Compares
Pros:
Professional groomer quality

German made steel

Perfect for coat maintenance
Budget Pick
Pros:
Decent build quality

Slicker density high

Good for thick coats
The Perfect Comb
Pros:
Perfect for detangling

Helps with every brush

Quality Lifetime steel
Conversely, a medium-length cut requires less maintenance with short coats, but you have to use a topknot to make sure that your Maltese can see clearly because the hair around the face can get quite long.
Investing in a quality hairbrush can assist Maltese owners with combating some of the more common issues like costs that consistently tangle, get knots, shed excessively, and more. Brushing is also an excellent occasion to bond with your canine companion.
Most importantly, select a brush that will not damage your dog's skin, which is easy to do when they don't have an undercoat. Remember that all brushes don't serve the same purpose, so picking one that meets your dog's individual needs is essential.
Check out our guide for more info on selecting the best brush for a Maltese.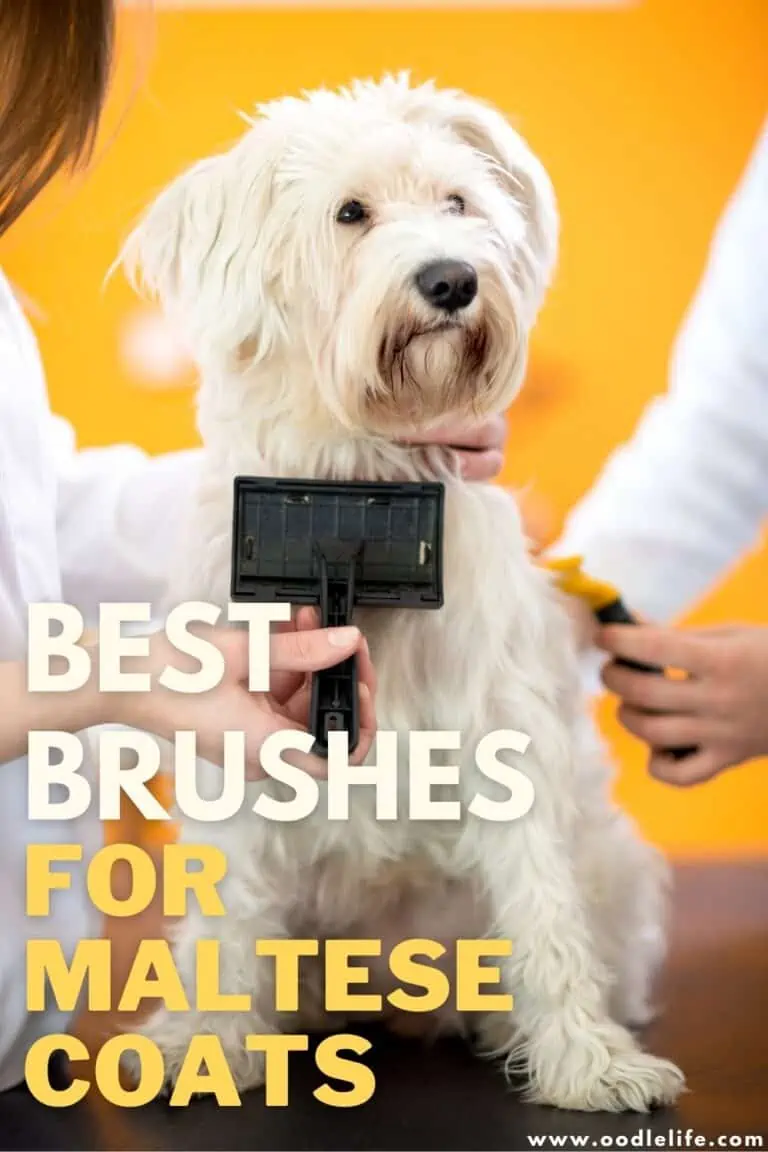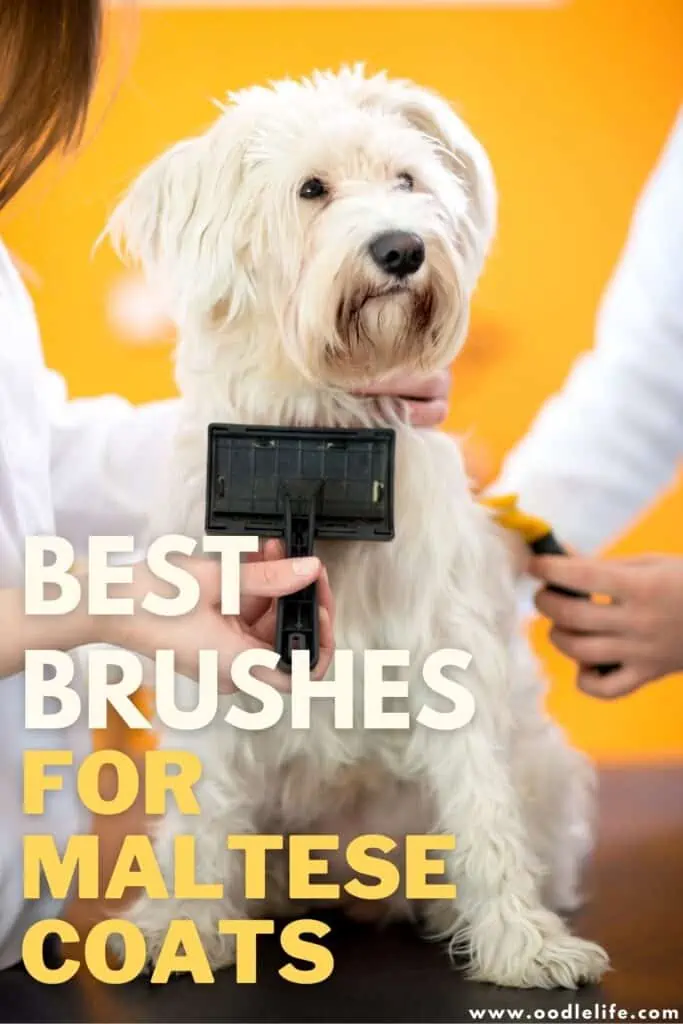 Best Brush for Maltese Dogs
Here are some of the best brushes for a Maltese for a variety of uses to ensure your pet receives the best and most gentle grooming possible:
1. Hertzko Pin Brush (Best Overall)
The Hertzko detangling brush is the best overall option if your dog has sensitive skin.
HERTZKO Pin Brush for Dogs and Cats with Long or Short Hair – Great for Detangling and Removing Loose Undercoat or Shed Fur – Ideal for Everyday Brushing
★ Hertzko Pet Deshedding Tool And Hertzko Pin Brush
★ Great Tool To Remove Loose Undercoat Hair - Hertzko's Deshedding Brush gently removes Loose Hair, and reduces shedding up to 90%.
★ Gentle and Safe - Our 4 inch Blade is manufactured with High Quality Rust Resistant, Stainless Steel which is Safe on your pet and Easy to Clean . Also includes a Safe Blade Cover that protects...
★A Great Brush to get all Dirt and Loose Hair Out Of Your Pets Fur - Hertzko's Pin Brush gently removes Loose Hair, and eliminates Tangles, Dander and trapped Dirt. Works Great On Dogs And Cats With...
★What is your risk? Nothing. If our Pin Brush and Deshedding Tool is not everything that we say it is, and you're not completely satisfied with it within 30 days of purchase; we will refund every...
We earn a commission if you make a purchase, at no additional cost to you.
This brush will help collect fallen hairs during shedding seasons while also keeping tangles at bay. A Maltese with short hair can benefit since the brush can remove loose hair, gently detangle knots, and lift dirt easily.
There are rounded ends at the end of the soft and pliable plastic bristles to prevent irritation and damage. You can even use this pin brush for their face and paws.
Additionally, help your dog get a healthier and shinier coat thanks to the brushing motions helping stimulate the natural release of oils throughout. They will have better blood circulation and feel more relaxed while getting groomed.
Lastly, the brush has a comfortable grip with a soft handle. You don't have to worry about your wrist or hand becoming fatigued during the process. This is especially beneficial when you're in the middle of a long session. Remove the pet hair and rinse the brush beneath lukewarm water with a soap that's safe for pets. You may use this brush daily for the best results.
Key Features:
Perfect for dogs with long or short hair
It makes the grooming experience more pleasant for the dog
You receive a 30-day money-back guarantee
It is excellent for dogs with sensitive skin
It gets rid of tangles, trapped dirt, and dander
2. Fur Remover Dual-Sided Groomer (Best Double-Sided Brush)
FURemover Duo, 2-Sided Lint Brush, Dog Multi-Brush, Lint Brush for Couch and Clothes, Rubber-Like Lint Brush is Dual-Sided for Pet Grooming and Lint/Hair Removal, Colors May Vary
ALL-IN-ONE FUR REMOVER - Groom your pet and remove pet hair from clothing and upholstery with one versatile tool
DUAL-SIDED LINT BRUSH - Use the thick bristle side to groom your dog or cat and trap loose fur; use the the fine bristle side for removing fur and lint from clothing, upholstery, car interiors, and...
REUSABLE - This reusable, easy to clean, and durable FURemover Duo will save you money and produces less environmental waste than traditional lint rollers. And you won't have to deal with sticky tapes...
SUPER EASY CLEANUP – Simply wash away excess cat hair and dog hair on the brush bristles by using soapy water to sanitize and renew. With regular care and maintenance, this item will last for years.
COLORS MAY VARY - FURemover Duo is available in a variety of colors. Each package includes one FURemover Duo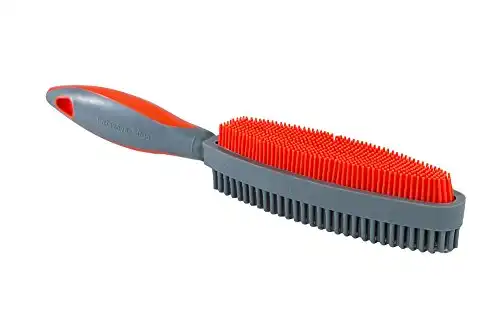 We earn a commission if you make a purchase, at no additional cost to you.
The Fur Remover is a double-sided brush that functions optimally for the Maltese with a short coat. On one side, the brush has thick bristles for separating matted hair and detangling, and on the other side, the bristles are finer and delicate. This side smoothes your dog's coat, helps remove dirt and grime, and makes your Maltese look fantastic.
The brush has a thin head design that allows you to brush around the legs with ease and precision. The Fur Remover brush also protects your dog's skin from getting irritated due to constant brush strokes.
The ergonomic handle means that the brush feels comfortable in your hand; it also has an anti-slip grip. Using this brush at least every other day will keep your dog's hair soft and smooth.
It's simple to clean this brush by rinsing it under warm running water after removing the pet hair. You can also use this brush with a minimal amount of pet-friendly shampoo.
Key Features:
It is a multi-purpose tool for lint removal, fur removal, detangling, and other general grooming
The rubber bristles are thick with a rounded tip to massage the dog's skin and detangle their fur
Designed for all dogs by professional groomers
The fine bristles on the other side are perfect for lint removal from clothes and furniture
3. Andis Premium Large Pin Brush (Best All-Purpose Brush)
Andis Pet Large Pin Brush (65720)
Ideal hair brush for medium to large dogs
Removes tangles, dirt and loose hair
Stimulates skin and hair follicles
Reduces hair and vacuuming time around the house
Helps spread natural oils through the coat to promote growth and healthy looking hair
We earn a commission if you make a purchase, at no additional cost to you.
The Andis Premium Large Pin Brush is an all-purpose brush ideal for single coat breeds. Dirt and debris that get trapped are easily removed from the coat as it simultaneously detangles and prevents matting. The brush has small pinhead bristles specifically designed to separate the coast while protecting the skin's surface.
The brush is slightly larger, allowing it to cover larger areas; however, there may be some difficulty accessing hard-to-reach places. Aside from that, the bristle adeptly massages the skin and redistributes oils to condition the coat. This all-purpose brush is excellent for both short and long coats.
What's more, the ergonomic handle has a soft grip and is very easy to hold. The weight of the brush is perfect; it's not too cumbersome or too light. It's capable of handling the wear and tear of frequent brushing while still being an affordable option. Grabbing multiple may not be a bad idea. You could store one in your home, car, gym bag or anywhere else where you see fit to up your Maltese coat.
Key Features:
Affordable
Pinhead bristles feel better than traditional bristles
Removes loose hair, dirt and it detangles hair
Ergonomic hand grip to reduce hand fatigue
Pinheads stimulates hair follicles and soothes the skin while redistributing natural oils
4. MIU Color Brush (Best for Shedding)
MIU COLOR Pet Grooming Brush, Deshedding Tool for Dogs & Cats - Effectively Reduces Shedding by up to 95% for Short Medium and Long Pet Hair
$14.99
$13.89 ($13.89 / Count)
Pet Hair Remover Deshedder: MIU COLOR Pet Grooming Brush effectively reduces shedding by up to 95%. It's an ideal pet grooming tools and Dog Brush Hair Brush for de shedding all Sizes of Cats &...
High Quality Dog Cat Grooming Comb: Our pet comb has 4-Inch stainless combs, Steel Edge with uniformly distributed teeth, make it a good grooming comb for cats and dogs, quickly and easily removes...
Convenient Top Coat Undercoat Brush: Our dog deshedding tool has detachable comb head, can be effortlessly removed and installed. This dog cat brush for shedding comes with Safe Blade Cover. Our cat...
Safe Dog Cat hair remover: Our dog cat shedding brush is eco-friendly, non-toxic, non-polluting, safe to use. Ergonomic Non-slip handle, make this Pet Shedding Brush durable and strong, fit in hand...
Ideal Choice for Pet: MIU COLOR Cat Brush and Dog Brush allows dogs and cats to have comfortable experience. If there is any problem for Pet Brush, we provide a complete return or refund service!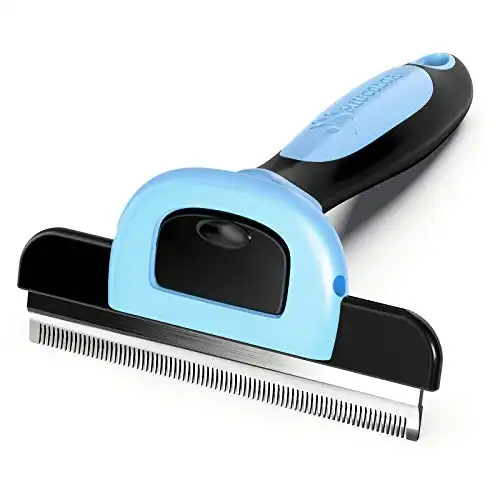 We earn a commission if you make a purchase, at no additional cost to you.
The MIU Color Brush has a 5″ inch wide stainless steel safety blade. The blade is designed to reduce shedding and make removing loose hair more manageable.
This professional-grade brush is excellent for veterinarians and groomers alike. With regular use, this brush can reduce shedding by 90%. By making this brush a part of your pup's grooming regimen, you will be dramatically reducing the amount of fur on the floor, furniture and car!
The stainless steel edge is proficient at removing loose undercoat hair by simply distributing hair equally between the teeth. The brush can penetrate underneath the surface of the topcoat while moving smoothly across the skin; this stimulates natural oils and blood circulation.
Moreover, the brush features a detachable comb head that is user-friendly and easy to install and remove once you're finished. Additionally, it comes with a blade cover designed to protect the blades and increase the brush's lifespan.
There's even a comfortable no-slip handle that is both durable and strong. No matter the length of the grooming session, whether short or long, your hand or wrist will not be achy or fatigued easily.
Key Features:
Glides across the skin and stimulates blood circulation
Quality stainless steel edge
The comb head is detachable
Recommend to professional groomers and veterinarians
Dramatically reduces shedding
5. Safari Combo Pet Brush (Best for Detangling)
Coastal Pet - Safari - Plastic Pin and Bristle Dog Combo Brush - Large
Dual-Sided Dog Brush: This dog brush provides two grooming tools in a 2-in-1 design for daily use
Wire Dog Brush: Remove mats and tangles through wire pins that lift out loose dog hair and debris
Dog Bristle Brush: Brush to evenly distribute natural oils throughout the coat for healthy hair
Dog Brush for Grooming: This brush is ideal for a multi-dog household; great for all coat types
Coastal Pet Cares: We design and deliver quality products that people trust for the pets they love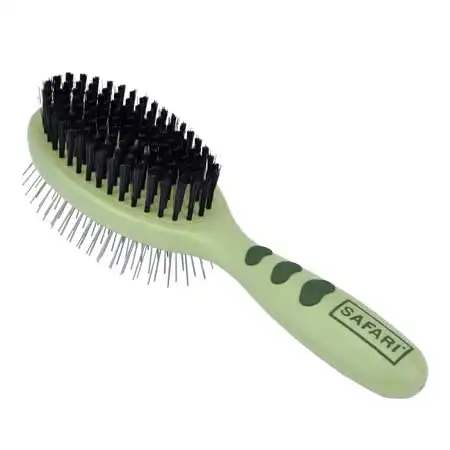 We earn a commission if you make a purchase, at no additional cost to you.
This two-sided brush has a side purposed to smooth the coat, and the other side is equipped with detangling bristles. One side will make the coat lay smooth, and the other will capture the loose hair.
Furthermore, the finishing brush is the best way to make your beloved Maltese's coat lay down while also ensuring that their natural oils are distributed throughout the surface of their coat.
The brush boasts an ergonomic grip that's easy to grip. There's also a soft rubber grip that adds an extra comfort element.
Although the brush comes in many different sizes, we recommend that you choose the smaller size so that you'll have the ability to brush hard-to-reach places. Lastly, this brush is so affordable that buying multiple to have them wherever you need them is also feasible.
Key Features:
It has a durable and ergonomic handle
Double-sided- bristle brush and a soft slicker brush
Great for homes with multiple pets
Distributes natural oils
Quickly removes debris and loose fur
Conclusion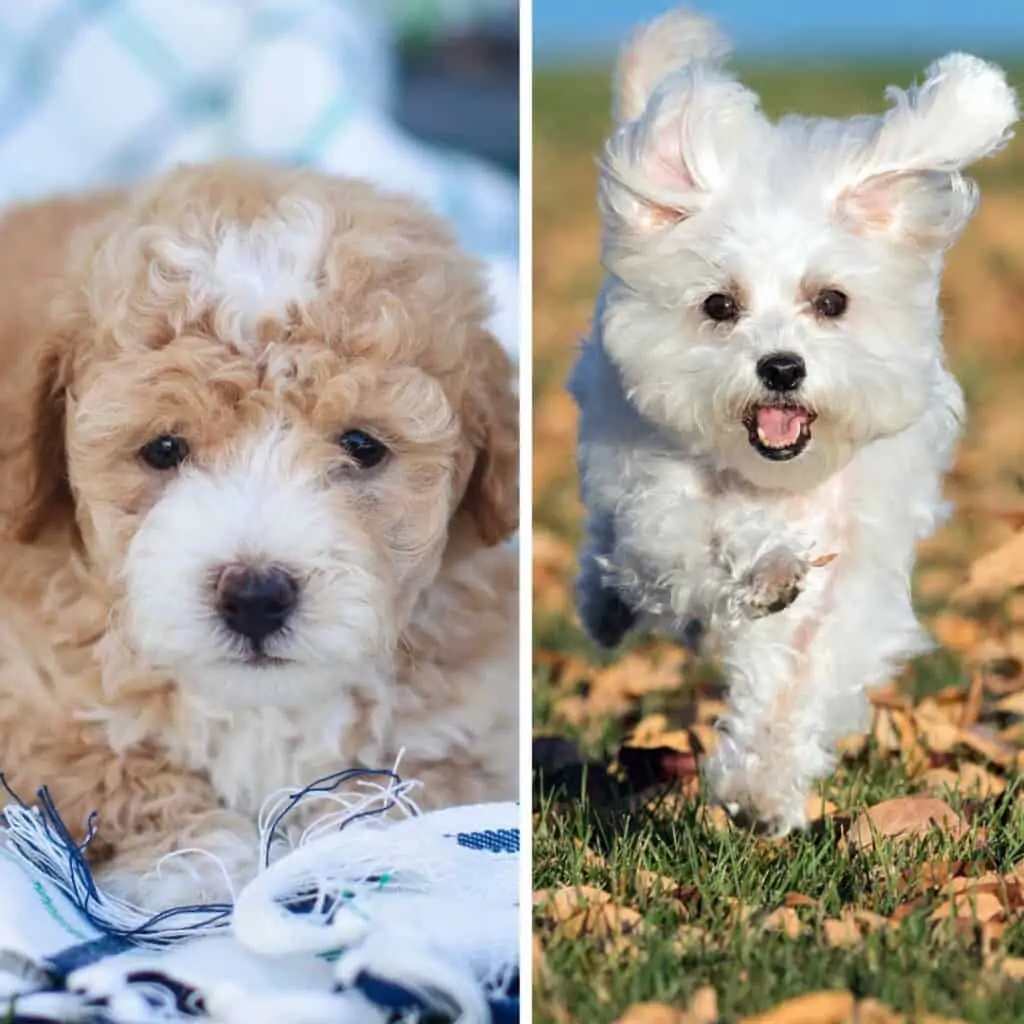 The health of your dog's coat and skin beneath is so essential that it is worth investing in any of the best brushes for a Maltese on our list. Moreover, Malteses are a specific breed of dog whose skin tends to get irritated very easily. Virtually every grooming tool on this list works well with sensitive skin while effectively detangling and removing loose hair.
The brush that you ultimately decide on will depend on your specific needs. However, no matter the problem, one of these brushes on this list can handle it.