Best Brush for Poodles – In-Depth Review of the 5 Best 
Who doesn't love their Poodle? With their curly hair and upbeat personality, a Poodle is arguably one of the easiest dogs to love.
(Although we openly admit we love all dog breeds!)
Poodles deserve all the love and attention you give them. They especially deserve a brush that works like magic on their beautiful hair. These highly intelligent creatures are also some of the most gorgeous, and they require a bit of attention. So what is the best brush for Poodles?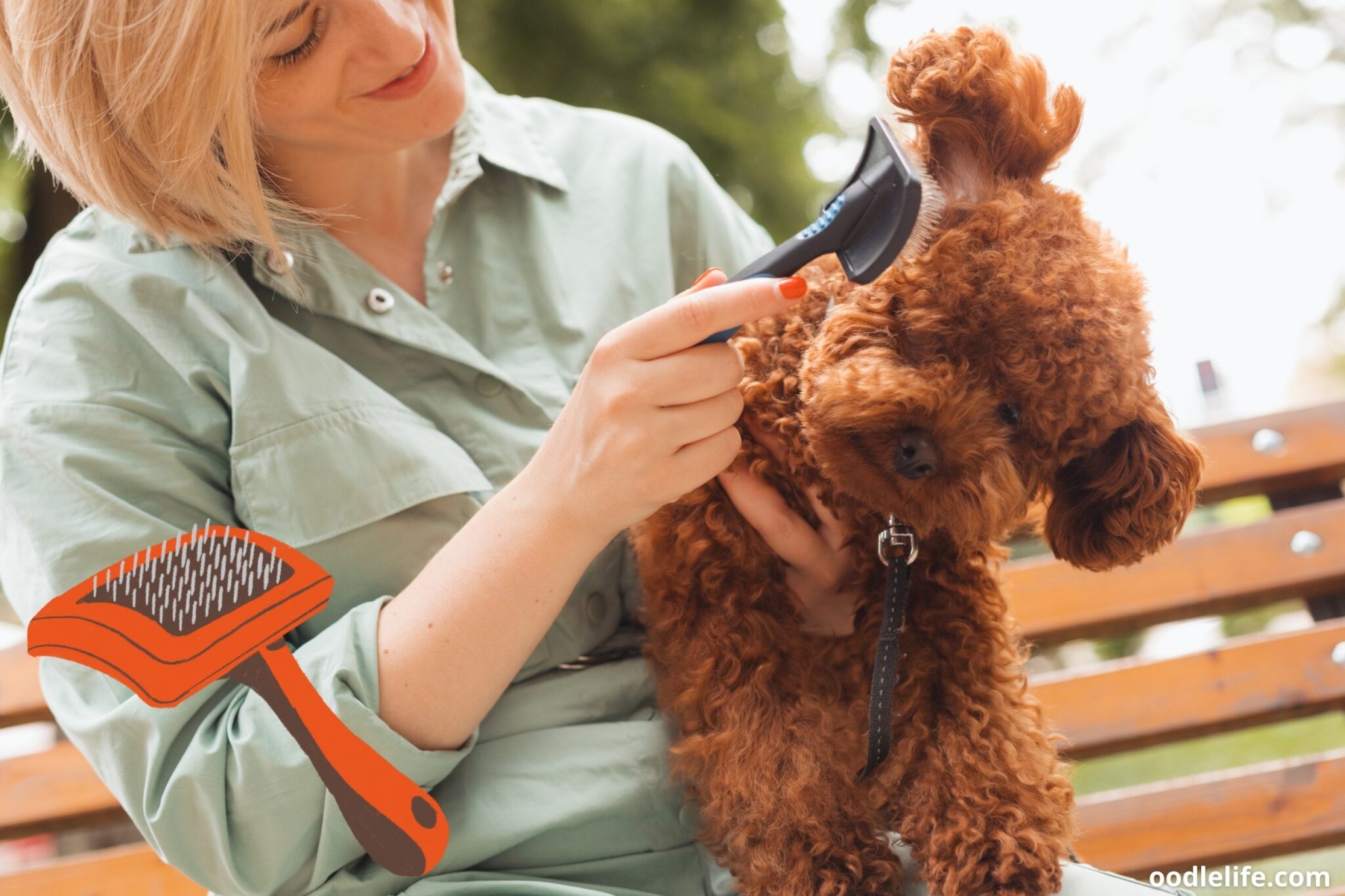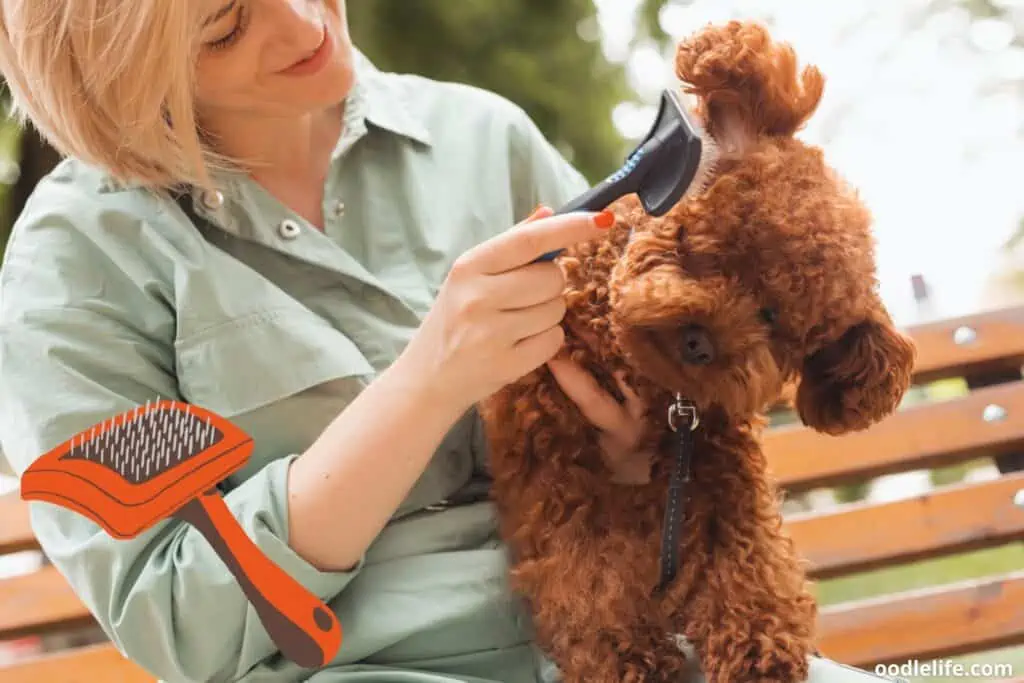 The best brush we've tested remains the Chris Christensen long bristle slicker brush. A "buy it for life" option that works great in removing tangles, mats, and loose fur that other brushes might miss.
But that's not the only brush option we found.
We want to help you take care of your Poodle in the best way possible. That's why we've compiled this list of the best brushes for Poodles on the market.
The Best of the Best
Pros:

Professional groomer quality

German made steel

Perfect for coat maintenance

Pros:

Decent build quality

Slicker density high

Good for thick coats

Pros:

Perfect for detangling

Helps with every brush

Quality Lifetime steel
Nothing Compares
Pros:
Professional groomer quality

German made steel

Perfect for coat maintenance
Budget Pick
Pros:
Decent build quality

Slicker density high

Good for thick coats
The Perfect Comb
Pros:
Perfect for detangling

Helps with every brush

Quality Lifetime steel
The best brushes out there for Poodles are the ones that make your life easier while also making your Poodle look wonderful. Working through tangles and luscious curls, the brush you get for your Poodle should be practical and gentle.
Poodles are notoriously affectionate, so grooming them should be a joy and a privilege. Keeping your furry companion looking their best is just one of the great ways you can show them how much you love them.
This means two challenges for Poodle coats
Finding a durable brush for a Poodle coat that does not bend or break with frequent use
Efficiently and easily grooming the coat (saving time)
And combatting coat tangles and matts that a single layer of dog hair can have
And for as much as your Poodle loves you, they deserve a little extra attention. So let's look at the best brushes available and see if we can get you and your Poodle the best of the best.
The Best Overall Brush for Poodle Dogs (You will love this brush)
Chris Christensen Big G Dog Slicker Brush, Groom Like a Professional, Fluff Detangle Style, Saves Time Energy, Coral, Medium
GROOMERS MIRACLE BRUSH - Best slicker brush for removing matts, fluffing and brushing your dog. A fantastic de-shedding tool Premium "comfort glide" pins will not scratch your dog. 30% more pins...
GROOMGRIP - Ergonomic handle with fantastic comfort grip. Will not slip out of your hand. Makes grooming easier for both home groomers and salon groomers alike.
DOG BREEDS - Poodles, Doodles, Goldendoodles, Bernerdoodles, Aussiedoodles, Collies, Shelties and Retrievers will all love this brush and you will love the results you get.
SIZING - Baby - Head: 2 3/8" x 2 3/8". Body: 7 1/2", Medium - Head: 3 7/8" x 2 3/8". Body: 7 1/2", Large - Head: 3 7/8" x 3 3/8". Body: 8"
WHY CHRIS CHRISTENSEN - When perfection is the only option turn to Chris Christensen products. The finest products for any dog or cat and any groomer either at home or in the salon. Our products are...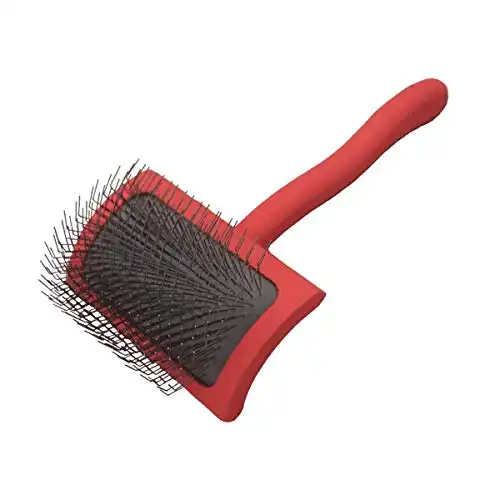 We earn a commission if you make a purchase, at no additional cost to you.
The best brush for Poodle dogs is hands down is the Chris Christensen Long Pin Slicker Brush. The build quality of this brush reduces the risk of brush burn harming your dog's skin.
This brush is perfect for Poodle coats because the long pins help to remove the dirt and debris while being gentle on the skin.
By breeders and dog owners, it is regarded to be the best slicker brush on the market. All Poodle Mix breed coat types can benefit from this brush. Perfect for Toy, Mini and Standard Poodles. Brush burn is prevented and the dog's skin is looked after. With built-for-life attention to detail, the device has excellent build quality.
Why is this the number one recommended Poodle brush in owner and grooming Facebook groups? Well it is due to the attention to detail and strength of this long-lasting product.
Customers have left thousands of positive reviews, which are backed up by excellent evaluations from real dog groomers. When groomers use a product professionally, it indicates that it is of high quality.
I appreciate how flexible the densely packed bristles are. It's just relaxing for me to manage a Poodle coat with this brush.
I still use a cost-effective steel comb for finishing, but I rarely encounter any problems. This is a brush that gets used on a twice-a-week schedule.
Highly Rated Backup Brush (Hertzco Basic Slicker)
Hertzko Self-Cleaning Slicker Brush for Dogs, Cats - The Ultimate Dog Brush for Shedding Hair, Fur - Comb for Grooming Long Haired & Short Haired Dogs, Cats, Rabbits & More, Deshedding Tool, C...
$29.99
$16.49 ($16.49 / Count)
#1 Cat & Dog Brush - Voted best overall for 2022 by Spruce Pets; trusted by millions of pet owners
Effective - Reduces shedding, detangles, removes dirt & debris, keeps coat looking shiny and healthy
Versatile - Great for cats & dogs of all fur types
Easy to Clean - Simply retract bristles with the push of a button, then wipe away collected fur
Smart Design - Fine, angled bristles, ergonomic comfort grip, and push-button retraction make it easy to keep your pet looking happy & healthy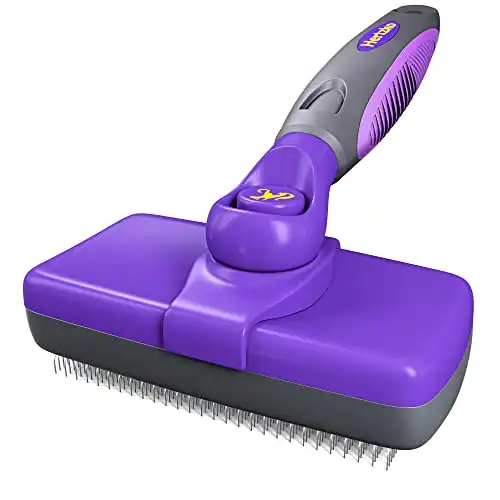 We earn a commission if you make a purchase, at no additional cost to you.
The HERTZKO Self-Cleaning Slicker Brush is the best brush that we found. It's slick and smooth, and it produces a great shine in your Poodle's hair. Overall, it's got great features that other brushes just can't match.
The brush has a plastic frame, but it's strong and durable. It will work its way through the toughest knots and tangles and will leave you and your Poodle feeling pretty good about yourselves.
This is one of the most popular pet brushes on the market. In the United States, it's one of the most loved and purchased. What makes it so great for Poodles is the way it glides through nasty mats and rats' nests. It gently removes any loose hair in the process, giving your Poodle a complete make-over with a simple brushing.
The brush works through tangles without hurting your Poodle. The bristle design eliminates the potential for scratching your pet's skin, a common problem with other grooming brushes.
With an anti-slip grip designed for wrist protection and a firm hold, the brush won't fall out of your hands while you use it.
It's also easy to clean! No more digging through the bristles with your fingernails to get all the hair out. Simply press the button, retract the bristles, and remove the hair. The whole process is a joy for you and your Poodle.
The Second-Best Option (Doodle Brush)
The runner-up for the best brush after the Chris Christensen for Poodles award is The Doodle Brush, a double-headed brush explicitly designed for Poodles and Labradoodles.
The Doodle Brush - the Ultimate Brush for Labradoodles & other Poodle-crosses (Double Head)
DESIGNED BY A PROFESSIONAL LABRADOODLE BREEDER – This dog slicker brush, also known as a goldendoodle brush or golden doodle brush, was specifically designed by a professional Labradoodle breeder in...
VERSATILE DOG BRUSHES – Our dog brushes, including the slicker brush and dog brish, are designed to be versatile and cater to different grooming needs. They are essential tools for maintaining a...
HIGHLY-EFFECTIVE LONG HAIR DOG BRUSH – The Doodle Brush is not only great for Labradoodles and other Doodle breeds but also highly effective for shedding and grooming non-Doodle breeds. It serves as...
GREAT FOR UNDERCOATS – In addition to its effectiveness as a Poodle grooming brush, this flexible slicker brush is also ideal for dogs with thick undercoats. It can be used as a golden retriever...
EASILY ELIMINATE KNOTS, TANGLES, AND MATTING – Unlike most traditional dog slicker brushes, this dog detangler brush, or slicker brush for dogs, has long, curved pins on a flexible head. These pins,...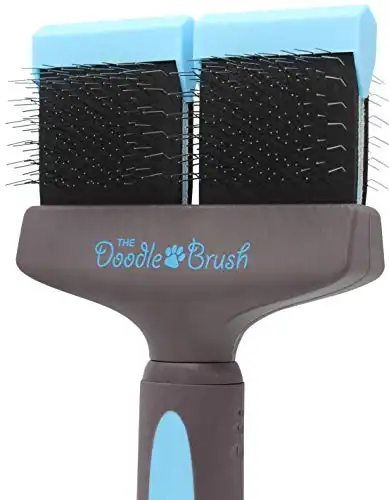 We earn a commission if you make a purchase, at no additional cost to you.
With long, curved bristles, The Doodle Brush glides through tangles and nasty matting that other brushes can't fix. It doesn't snag like other brushes tend to do, and it won't scratch your furry friend on the undercoat.
The secret to the success of The Doodle Brush is the double, flexible head that moves with your dog's coat instead of snagging and tugging painfully. This makes the job easy for all parties involved and helps your Poodle relax while you give them the grooming they deserve.
We love The Doodle Brush because it's slick, efficient, easy to use, and clean. The flexible bristles move out of the way with ease when it's time to get the fur out. If you use the end of a comb to dig the hair out, it should take no time at all.
The Doodle Brush comes highly rated, with dozens of satisfied customers enjoying using the brush on their furry friends.
Best for Tough Tangles (Poodle Pet Detangler)
Now, sometimes the tangles on a Poodle are just too tough to work through with a regular brush. You can pull and pull, but they won't come out. All you succeed at is getting frustrated and hurting your dog. And we know that you don't want to do that.
Detangling Pet Comb with Long & Short Stainless Steel Teeth for Removing Matted Fur, Knots & Tangles – Detangler Tool Accessories for Safe & Gentle DIY Dog & Cat Grooming (Grooming C...
#1 DOG AND CAT COMB - Best rated in 2022 by Pet Keen, Groomers' Land and more, and trusted by millions of pet owners.
2-IN-1 DETANGLER COMB: Simplify the grooming process by using our dual length pet combs for dematting, detangling & combing. It features both long & short metal teeth, so it cuts time in HALF!
FOR LONG, SHORT HAIR: Unlike the average dog combs for grooming, this one can be used to care for long-haired or short-haired breeds. Use it to comb the hair of pomeranians, poodles, persian kitties,...
STAINLESS STEEL TEETH: The long & short teeth featured on this 2-in-1 pet comb with handle are made out of solid stainless steel to ensure they're strong enough to effectively remove knots & mats.
ANTI-SLIP HANDLE GRIP: You don't have to worry about being too cautious when using our pet combs for cats, dogs & other small animals. It has been enhanced with a non-slip handle to help avoid...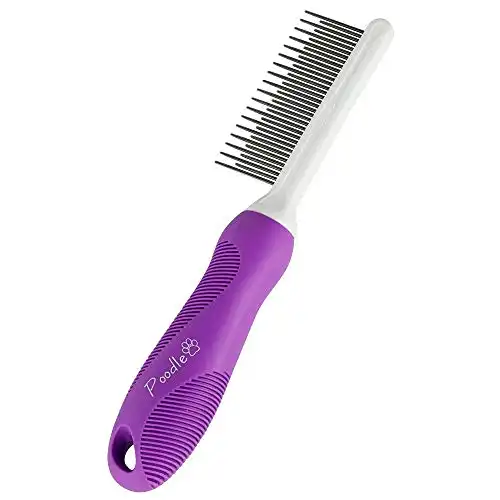 We earn a commission if you make a purchase, at no additional cost to you.
That's why the Poodle Pet Detangling Comb is next on our list. It's the perfect solution to the tangle problem, providing a quick and harmless way to work through those tough tangles without hurting anyone involved in the process.
This comb has short, stainless steel teeth that work through those tough clumps of hair with little effort. The teeth are dual-length, helping them glide through your pet's coat with ease and comfort.
An anti-slip handle gives you a good grip, so the brush doesn't slide around in your hand. And it's comfortable to hold, whereas other brushes often make your hand cramp or your wrist hurt.
The tools provided by Poodle Pet are often among the highest-rated pet grooming accessories. Professionals love them, and it's easy to see why. But at $12.99, there's no reason you and your Poodle can't enjoy the simple pleasure of a great brush as well.
Solid Budget Option
If you need a quick, cheap, easy option that gets the job done and comes in at a starter price, then the Wet Brush Pet Brush is the ultimate choice. A simple brush that doubles as a detangler, the Wet Brush is one of the best economic choices on the market.
Wet Brush Pet Brush, Ultimate Groomer 2-in-1 Detangler - Teal, Blue
Pet Detangler: Meet the PetBrush 2-in-1 Detangle by Wet Brush, a two sided brush that quickly and gently glides through mats and tangles. Your furry friend will love this painless brush that will keep...
Soft, Shiny & Pain-Free Grooming: Now you can groom your pet's hair pain-free! With this detangler, your pet will not only look good but feel great too! Our detangler grooms and massages for a...
Untangle Your World: IntelliFlex bristles glide through tangles and dead hair with ease, with 45% less breakage and 55% less effort for 100% happier hair.
All Hair Vibes Welcome: This brush works great for daily grooming to prevent your cat & dog from getting matted and tangled fur.
Love at First Brush: Often imitated, never duplicated – Wet Brush transforms your daily hair experience, solving the struggle of detangling.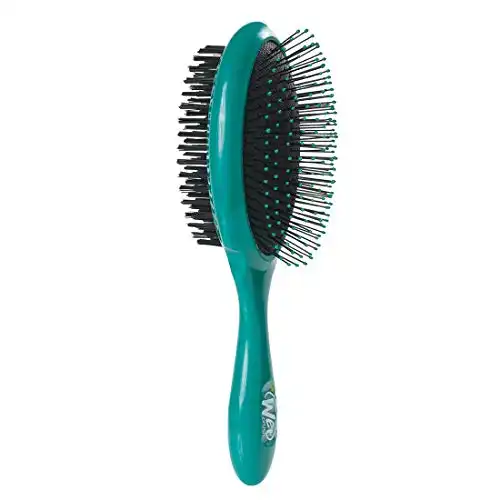 We earn a commission if you make a purchase, at no additional cost to you.
The brush works great on all kinds of hair, meaning your Poodles' curly mane will benefit from the 2-in-1 feature of the Wet Brush. This double-sided tool has ultrasoft detangling bristles that are comfortable on your four-legged friend. The brush glides through even tough tangles and leaves your dog's coat looking slick and shiny.
The Wet Brush saves you time and energy in your pet grooming routine. The brushes are flexible but firm, and they have a common-sense ergonomic grip that makes holding on to them easy and comfortable.
Regardless of your Poodles' age, this brush will help keep their hair looking as young and healthy as ever. There's no need to fret about your older Poodle losing hair unnecessarily. This brush is gentle enough to remove loose hair without pulling or yanking.
We don't think there's any better option for the starter price. The Wet Brush will save you time and money as a cheap, convenient, and effective grooming tool. And best of all, your Poodle is going to love the extra attention of the double-sided detangling masterpiece.
Keep This in Mind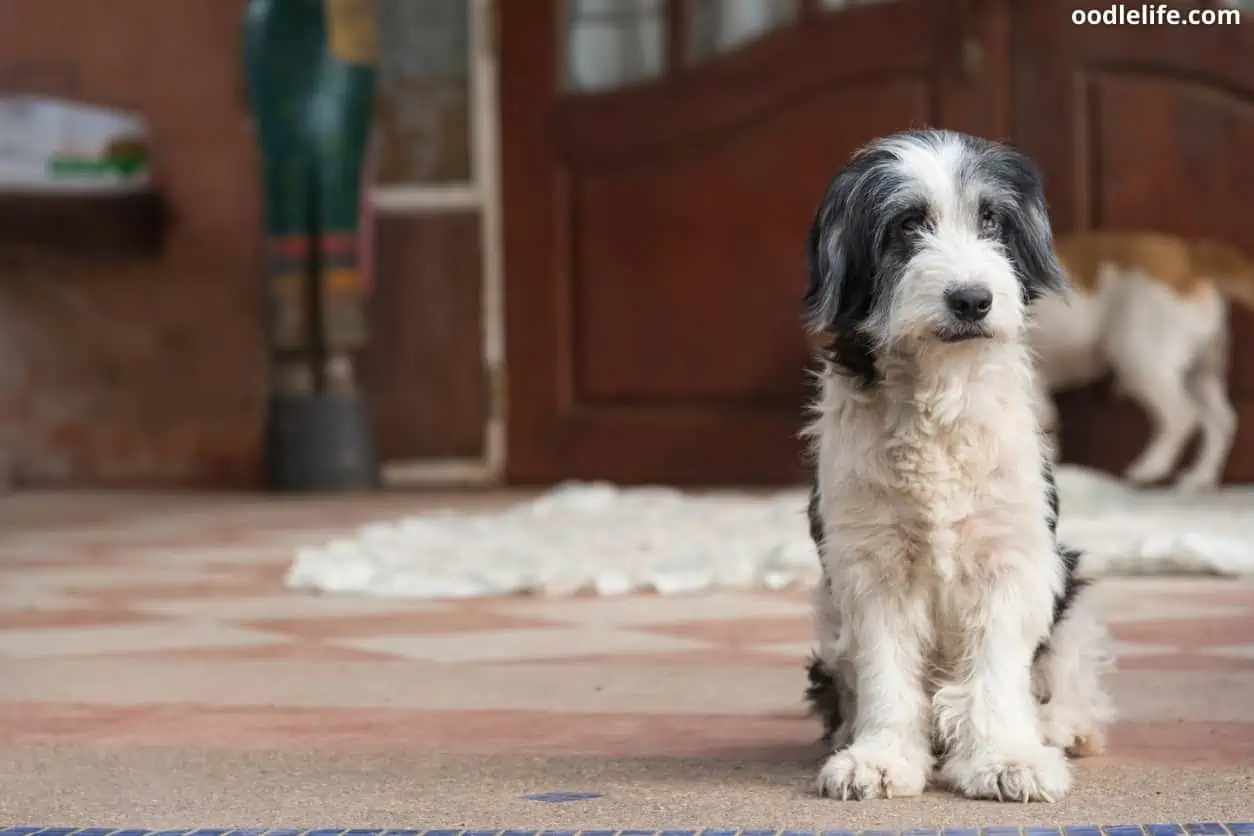 The search for an effective and convenient Poodle brush shouldn't be difficult. There are a few essential things to keep in mind when you want to find something to help your furry friend look their best:
Teeth/bristle material
Flexibility
Durability
Ease of use
Detangling ratings
Grip design
If you can keep these things at the front of your mind when it's time to shop for the best brush for Poodles, you'll have no problems finding a great option!
Picking A Poodle Brush
When it's time to pick a Poodle brush, make sure that you're looking for something that's known to work for Poodles. They have uniquely curly hair that can be prone to tangling. Finding a brush that works well on Poodles specifically will make you and your Poodle happier.
You also want to look for something that's going to sit comfortably in your hand. There's nothing more annoying than constantly losing your grip on the dog brush. It can frustrate you and hurt your dog.
Find a brush that has durable, flexible bristles. Bristles that can move and bend with the hair usually work tough tangles out much easier than bristles that are stiff and inflexible.
Having an extra comb on hand might be a good idea for your Poodle grooming routine. Sometimes a comb can pick through more challenging spots that a standard brush just can't work out. Something with stainless steel teeth set at dual length will likely work best for you and the pup.
Best Brush for Poodles Conclusion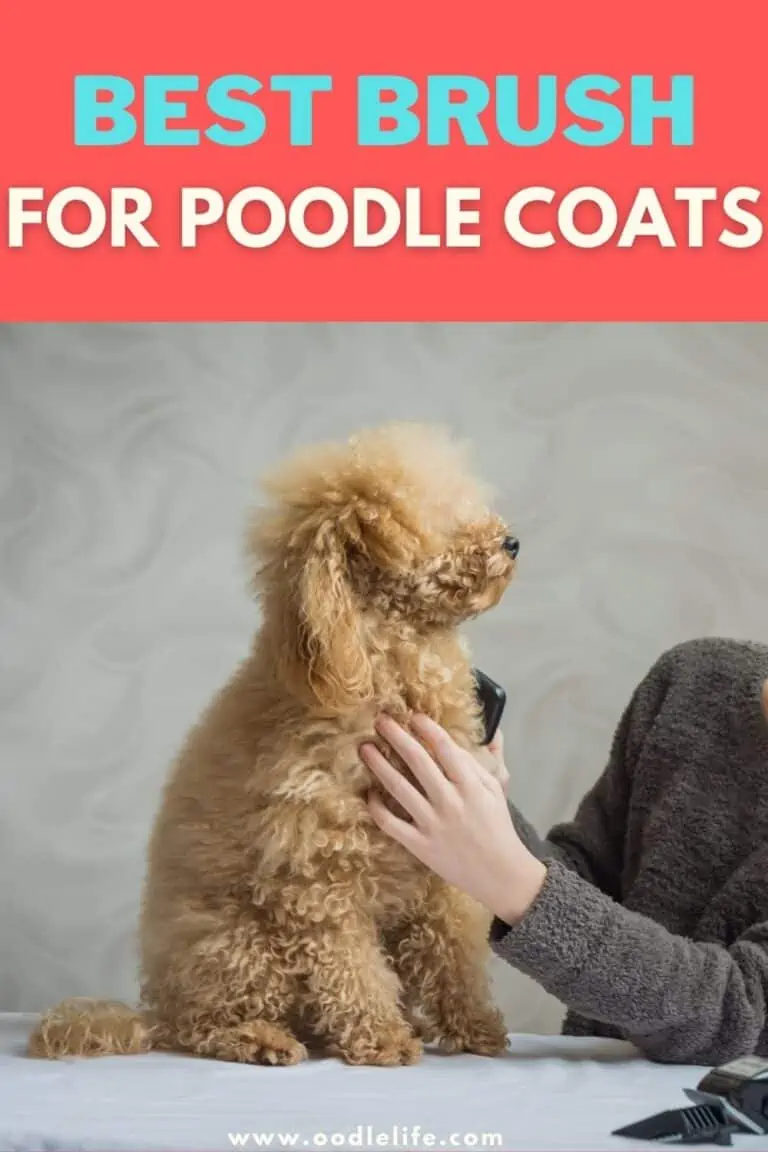 So there you have it! Picking a new brush for your furry family member shouldn't be stressful, especially now that you know what to look for in a brush. Brushing and washing is vital to ensure a rich healthy coat and odor-free Poodle.
We think that the Chris Christensen long bristle slicker brush is undoubtedly the best brush on the market for Poodles. But there's no reason to worry about whether or not you'll be able to find something that works.
The truth is, there's something out there for every breed. You just have to know where to look.