Best Dog Camera Treat Dispenser (2023 Reviews)
Our fur babies deserve nothing but the best. As much as we would love to, we cannot spend all hours at home with our dogs. Fortunately, dog treat dispensers with cameras allow you to keep an eye on your pet while away from home.
As a dog expert, I get asked all the time about tricks and tips to help a dog deal with separation anxiety. Luckily today we have a variety of budget-friendly, easy-to-use, smart devices.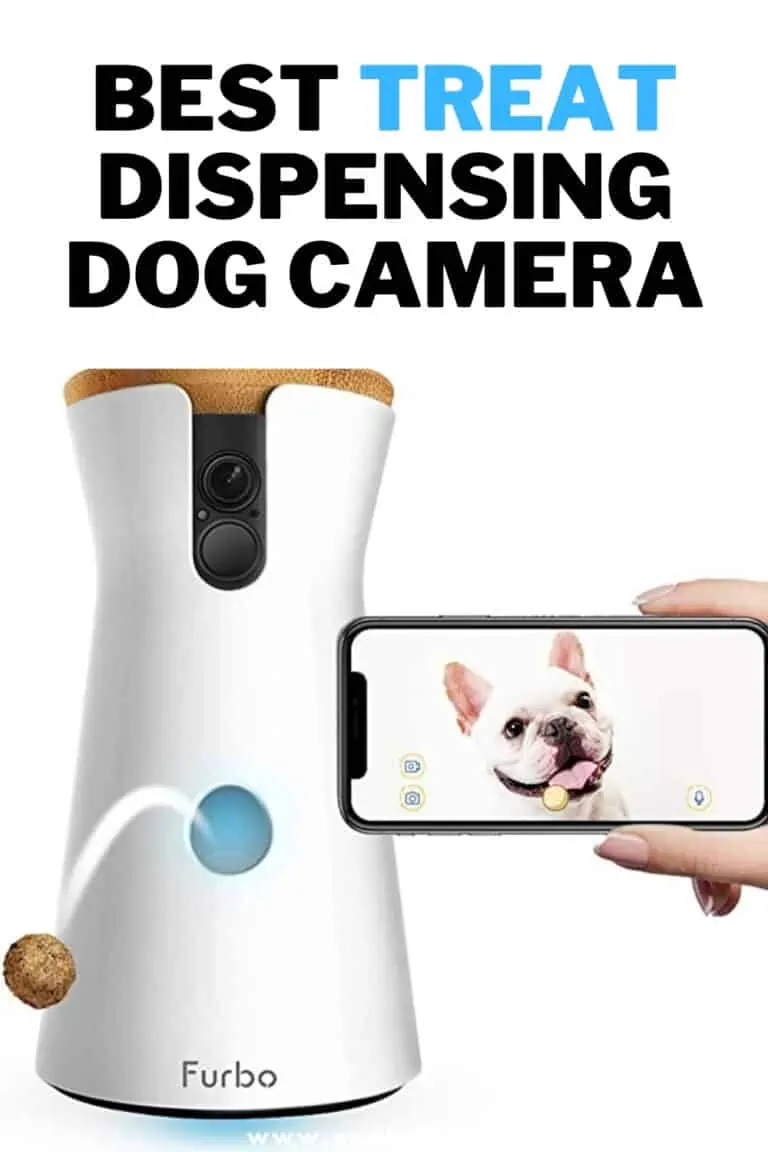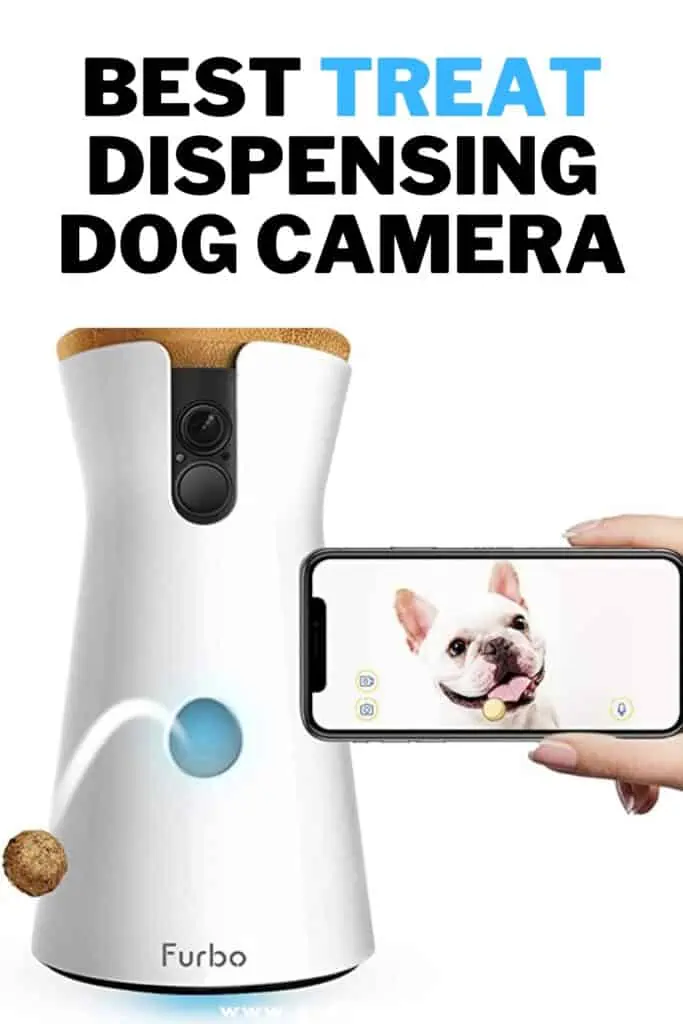 Whether you are a busy pet parent or you need a gift for an animal-lover friend, a dog camera treat dispenser is a must-have. We've researched and narrowed down the choices to only the top best dog camera treat dispensers on the market. We evaluated and compared brands with the following criteria: customer reviews, price, app integration, video quality, unique features, product attractiveness, and treat dispensing.
Read on for the best overall dog camera treat dispenser and some notable competitors, including budget-friendly, interactive, and popular products.
Best Overall: Petcube Bites 2
Petcube Bites 2 is the ultimate, award-winning pet monitoring device. This is our pick for the best dog camera treat dispenser.
You can purchase it on their website, Amazon, and Chewy. If you purchase the Petcube Bites 2 through the official website, you will receive a one-year limited warranty. The Petcube Bites 2 comes with a USB cable, power adapter, guide, and mounting kit.
Petcube Bites 2 Wi-Fi Pet Camera with Treat Dispenser & Alexa Built-in
🎥 Ultimate pet monitoring – With Petcube Bites Wi-Fi pet camera, watch your pet with 1080p full HD video, 160° ultra-wide angle view, and night vision. See up close with 4x zoom. 🔊Hear & speak with high-quality 2-way audio.
🚀Quick 2-minute setup – Petcube Bites 2 is the only pet camera to support 2.4Ghz and 5Ghz Wi-Fi connections. iOS 11 and higher, Android 7.1.2 and higher are required.
🍖Treat your pet remotely – Toss treats short, medium, or long distance or schedule automatic treat dispensing via the free Petcube app. Supports a wide range of dry, crunchy dog and cat treats. 1. 5 lbs treat capacity.
🔔 Smart sound & motion alerts – Real-time notifications tell you when your pet is active and you need to check in.
🎶 Built-in Alexa assistant – Play music, answer questions, hear the news, control smart home devices, order your pet's favourite treats, and more
We earn a commission if you make a purchase, at no additional cost to you.
Customer Reviews
Reviewers raved about the quick set-up and helpful Petcube service team. They also gave kudos to the sleek design and the video quality. It received four out of five stars overall on Amazon.
App-Integration
This model has Wi-Fi functionality and comes with built-in Amazon Alexa. It is the only pet camera that has 2.4Ghz and 5Ghz wi-fi capabilities. You must have iOS 11, Android 7.1.2., or higher to set up this model.
Video Quality
The PetCube Bites 2 has a 160º wide-angle view and includes sound and motion detection. The video quality is 1080p HD. It also has 4x digital zoom capabilities and night vision.
Unique Features
Two-way audio: Communicate with your companion while you are away from home
Real-time notifications
24/7 licensed veterinarians available on the app: Message pictures and videos from the Petcube cameras directly to a professional
Petcube Care: Optional add-on subscription includes Cloud-backed video history and smart alerts
Product Attractiveness
The sleek Petcube Bites 2 comes in matte silver and consists of high-quality aluminum. It is "pet-proof" and mountable—this model includes a wall mounting kit.
Treat-Dispensing
The Petcube Bites 2 is compatible with multiple treats. This model has a more advanced treat-distribution system than the original Petcube Bites model. You can control the number of treats and the distance that they must travel. You can also set your dispenser to autoplay mode if you are too busy to toss the treats on your own. It can hold up to 1.5 pounds of treats.
Best on a Budget: Petzi Treat Cam
This treat cam is a simple yet effective camera and treat-dispensing device. Petzi Treat Cam's four core commands are "see", "speak", "snap", and "treat."
Wi-Fi Pet Camera & Treat Dispenser
A fun and easy way to connect with and treat your pet from anywhere
Watch the excitement on your pet's face when you pop in
Dispense your pet's favorite treat with the Petzi treat launcher for a big smile, say hello to your pet through the high quality one-way audio
Dedicated iOS and Android app that controls the device and allows content to be shared socially
Capture candid photos of your pet to save or share on your favorite social site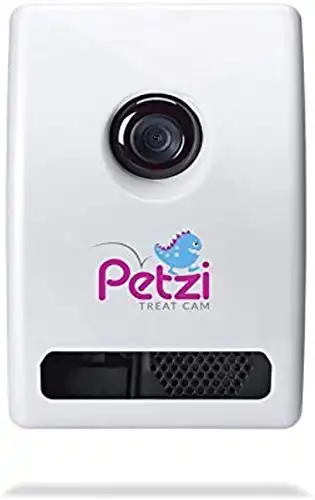 We earn a commission if you make a purchase, at no additional cost to you.
Customer Reviews
Reviewers loved that this treat cam is compatible with various treat sizes. They also praised the video quality, easy installation, and product appearance. A few customers noted connectivity issues but complemented Petzi's customer service.
App-Integration
The Petzi app lets you talk, see, and deliver treats to your pets right from your phone. It is compatible with iOs and Android.
Video Quality
The Petzi Treat Cam has built-in HD video, high-quality audio, and a night vision camera.
Unique Features
Petzi's social network: Join a social network for owners and their fur babies to share photos with fellow pet-lovers.
Amazon Dash Replenishment: Monitor treat levels and set up automatic reordering when your supply gets low
Product Attractiveness
The Petzi's compact and mountable design makes for a high-quality, budget-friendly addition to any fur parent's home.
Treat-Dispensing
The Petzi Treat Cam is compatible with a variety of treats. This model comes with Amazon Dash Replenishment to ensure your pet never runs out of snacks.
Most Interactive: PupPod Interactive Dog Camera
The PupPod Interactive Dog Camera is the ultimate mental stimulation camera and treat-tosser. This unique dog camera dispenses treats during game sessions and can help your pup learn tricks and commands. You can reward your dog for solving puzzles and encourage them to play and follow commands.
PupPod Rocker Training Treat Tossing Camera Dispenser & Puzzle Dog Toy – Dispenses Dog Treats – Puppy Treat Game – Electronic Pet Training Tool for Use with Smartphones
TURN MEALTIME INTO A FUN ACTIVITY. Give working breeds and high energy dogs a way to burn off energy and relax. Dogs can work for up to an hour to earn a normal meal. More exercise for the same...
PIECE OF MIND. Check-in on your dog when away from home for piece of mind. Use the "Watch and Treat" feature to stream HD video from the feeder to your smartphone and give 'em a treat from anywhere.
LEARNING THROUGH POSITIVE REINFORCEMENT. Learning through positive reinfocement. The PupPod game is based on operant conditioning, which is the foundation of clicker training, so the user experience...
REDUCE SEPARATION ANXIETY AND BARKING. The mental stimulation required to earn food rewards tires dogs out and a tired dog is more relaxed. Earning rewards with the doorbell sound can reduce doorbell...
ENRICHMENT MEETS TECHNOLOGY. Download product updates to get new features. The updates we've already shipped have been heavily influenced by customer feedback, so let us know what you'd like to see...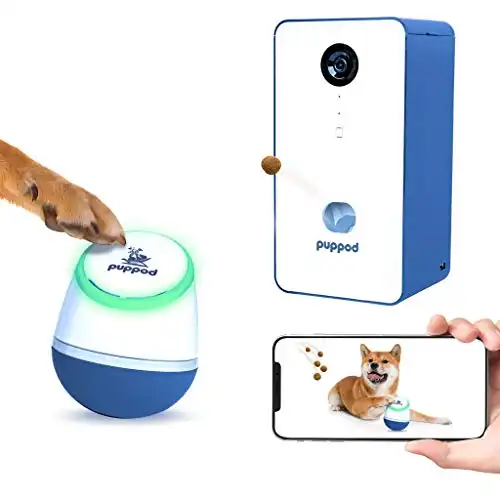 We earn a commission if you make a purchase, at no additional cost to you.
The PupPod is packed with unique features and enrichment opportunities for your pet. It comes with a camera-equipped feeder and rocker puzzle toy for mental stimulation.
This dog camera is available for purchase on PupPod's website and Amazon. PupPod offers a free 45-day trial if you purchase the camera from their site. There is also a one-year warranty for manufacturing defects.
Customer Reviews
Pet owners raved about PupPod's interactive properties. They love how the PupPod keeps their pets entertained and out of trouble. Reviewers also praised the dedicated staff.
App-Integration
The PupPod mobile app allows you to control the feeder and play with your dog away from home. PupPod offers a smartphone dog treat game with a variety of levels. You can track gameplay and live-stream video from the feeder.
Video Quality
The PupPod's video streams at 1080p resolution. It offers a 160° view range.
Unique Features
Enrichment games: Multi-level game changes as your dog develops
Use food to encourage mental and physical stimulation
Reward sounds: Encourage certain behaviors by associating reward sounds with common triggers like doorbells and passing cars (desensitize your dog to sounds they hate)
Product Attractiveness
The PupPod and its matching rocker puzzle toy have a sleek, white design. The feeder/camera is mountable.
Treat-Dispensing
The treat-tossing camera lets you dispense treats and cue different sound and light settings to signal treat time.
The Trusted Brand: Furbo
Furbo is an honorable mention in our lineup of dog camera treat dispensers. With over 20,000 online reviews, Furbo is a trustworthy brand endorsed by big names like Ellen Degeneres, Buzzfeed, Forbes, and Wired. Furbo has been approved by thousands of veterinarians and professional dog trainers.
Furbo Dog Camera: Treat Tossing, Full HD Wifi Pet Camera and 2-Way Audio, Designed for Dogs, Compatible with Alexa (As Seen On Ellen)
1080p Full HD Camera & Night Vision: livestream video to monitor your pet on your phone with a 160-degree wide-angle view, day & night.
2-Way Audio & BARKING ALERT: Furbo's BARKING SENSOR detects when your dog is barking. It sends push notifications to your smartphone when it detects barking. Know what's going on at home and talk...
Fun TREAT TOSSING: TOSS a treat to your dogs via the free Furbo iOS/Android app. Fill it with your dogs' favorite treats & play a game of catch.
Easy 3-Step Setup: 1) plug in to a power outlet using its USB cord 2) download the Furbo app 3) connect to your home wifi.
Stable internet connection & Wifi signal are recommended for best performance.
We earn a commission if you make a purchase, at no additional cost to you.
This product is available via Furbo's website and Amazon. Furbo offers a free 90-day trial and a 30-day free trial of Furbo Dog Nanny with every purchase. Furbo Dog Nanny is a monitoring service with real-time alerts such as Dog Activity alert and Dog Selfie Alert. These alerts are automatically recorded and backed with cloud-recording technology.
Furbo's free trial also includes Doggie Diary: a minute-long highlight of your pup's day. You can download and save it.
Customer Reviews
Furbo has a plethora of positive reviews from thousands of satisfied customers. Many rave about its movement-detection capabilities and night-vision video quality.
App-Integration
The Furbo app, compatible with iOS and Android, lets you take pictures and videos, toss treats, and communicate with your dog through your phone.
Video Quality
Furbo has 1080p Full HD video quality with 4x zoom capabilities. Its wide-angle lens can extend 160° and features infrared night vision.
Unique Features
Extensive motion detection: Movement detection alerts and can even detect when your dog is facing the camera
Furbo Dog Nanny
Doggie Diary
Person Alert: Furbo can alert you when a person walks into its frame
Cloud-backed event recording is triggered by movement and activity
Product Attractiveness
The Furbo has a compact design and an attractive bamboo wood cover. It has a similar build as many other pet dispensers.
Treat-Dispensing
The Furbo has standard treat-dispensing capabilities. With the Furbo app, you'll be able to control treat-tossing from your phone.
Wrapping it Up: Best Dog Camera Treat Dispenser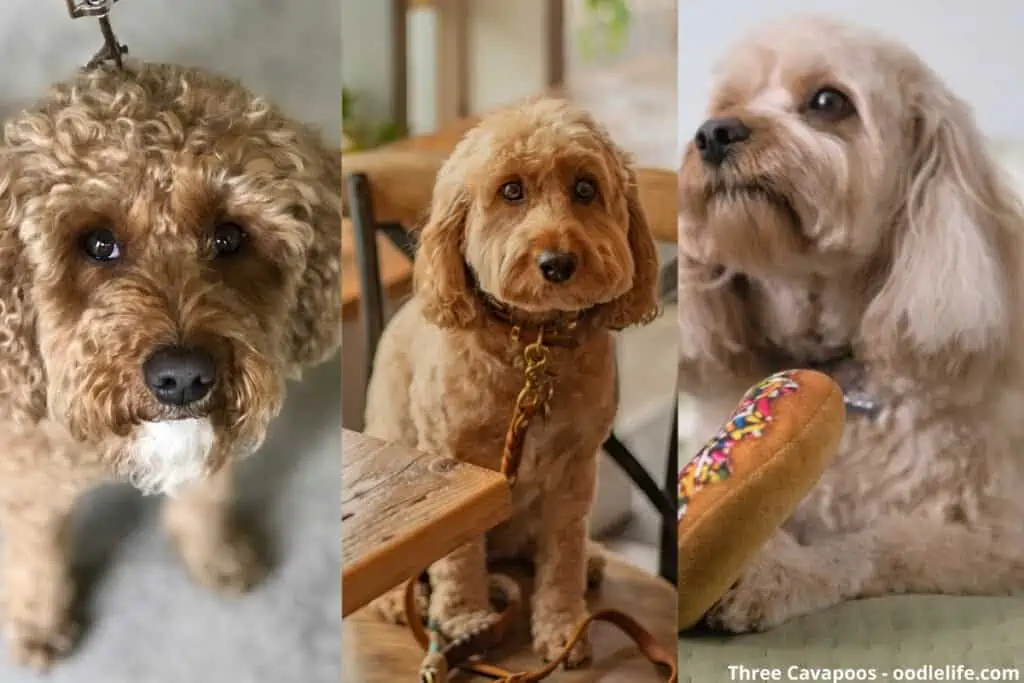 Our list has looked at some of the best dog camera treat dispensers on the market. There's no question that the Petcube Bites 2 ranks at the top with its sleek, attractive design and 24/7 vet availability.
A dog camera treat dispenser can have a transformative effect on pet owners and pets alike. They can be valuable tools in helping fur babies learn and stay in touch with their owners when they're home alone. With an array of impressive features that go beyond cameras and treats, getting one would make an excellent addition to any home.