5 Best Dog Doormat Choices in 2023
All dog owners have experienced the issue of their beloved four-legged friends tracking in dirt, mud, and other debris from outside. As humans, we can take off our shoes when we enter our homes to keep the floors cleaner. But unless you have made the time and financial commitment to training your dog to be okay with booties, they don't have this luxury.
One solution many pet parents have found for dirty paws is a dog doormat. This simple and functional piece of decor can help you keep a clean dog and, thus, a clean home.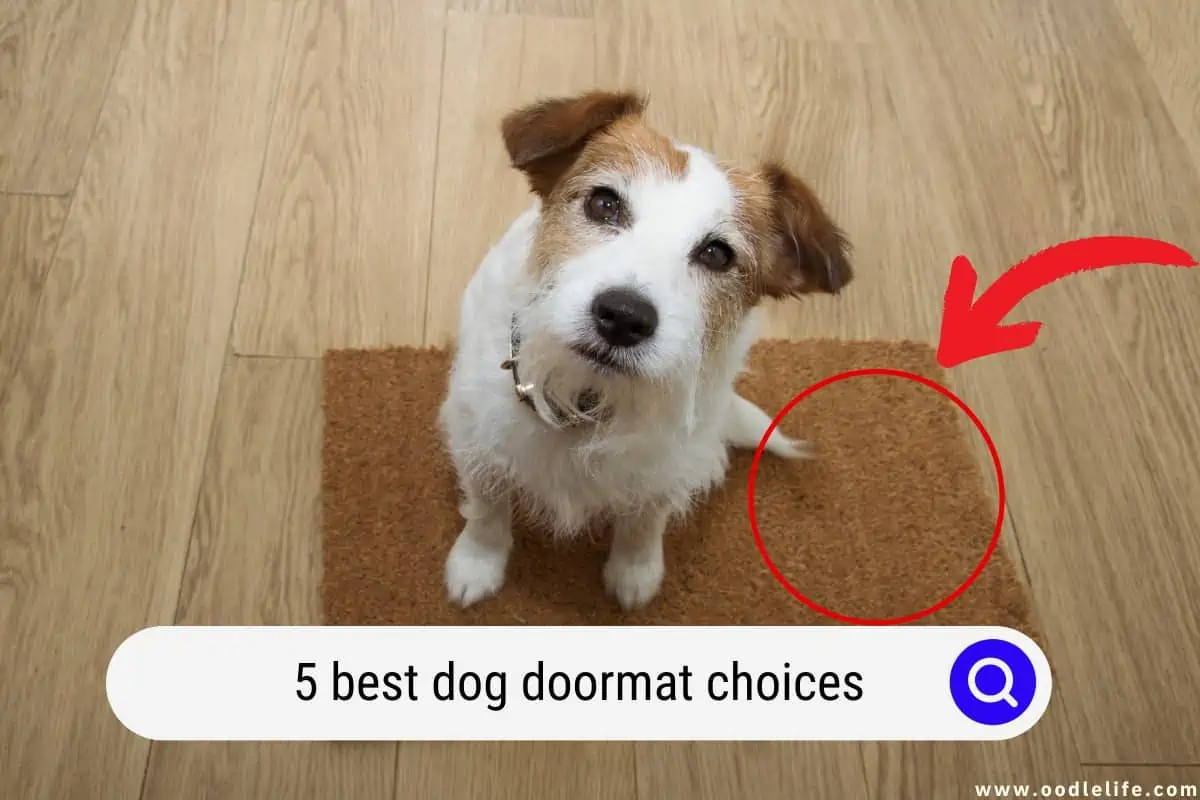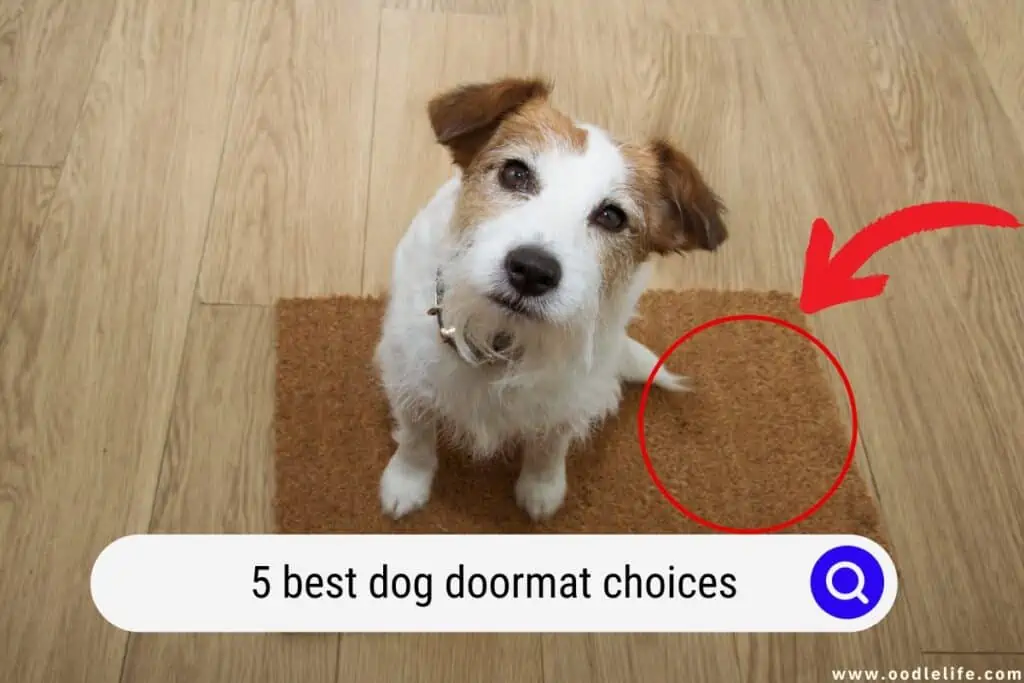 But with hundreds of options, deciding which is the best dog doormat can be overwhelming. That is where we come in! We've done the research and rounded up the best five dog doormats you can buy in 2022 to prevent muddy paw prints from appearing all over the floors of your home. 
This article will cover the reasons why we love these top 5 picks and dive deeper into the details about dog doormats in general. We will also answer some of the most frequently asked questions about the best dog doormat and training your dog to use it.
Why Do I Need a Dog Doormat?
There are a few reasons why you might want to invest in a dog doormat. The primary reason is to minimize messes and dirt from outside being tracked into your home. 
Beyond keeping the floors and carpet visually cleaner, a dog doormat will help your home environment stay hygienic by trapping all kinds of bacteria that can be brought inside from the outdoors. 
While a dog doormat is not a perfect solution and will never be able to prevent 100% of dirt from being tracked inside, it can go a long way in keeping this issue to a minimum.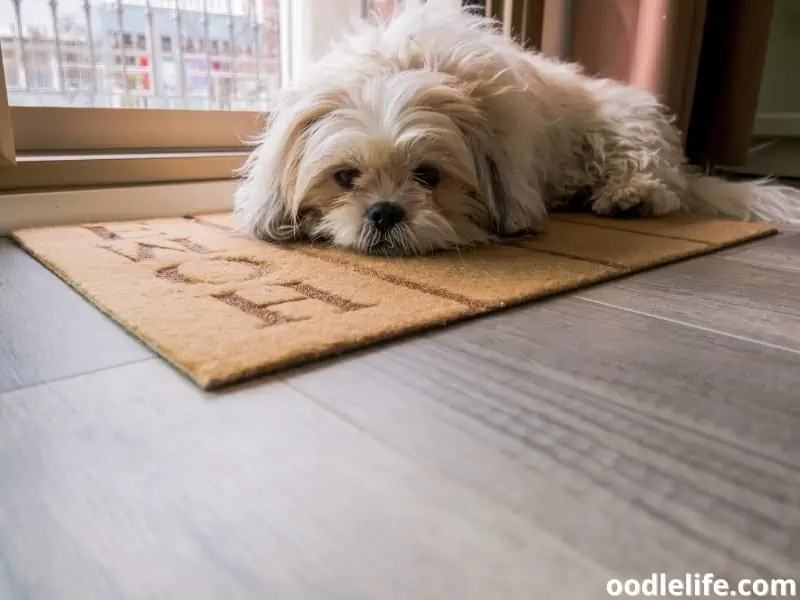 Things To Consider When Purchasing a Dog Doormat
When setting out to purchase a dog doormat for your home, there are various elements to consider. The most essential factors include:
Durability: Dogs will be dogs, meaning you can count on their paws trampling over the mat several times daily. A sturdy and durable dog mat is key to longevity and performance.
Absorption: For those rainy days, your dog mat will need the ability to absorb all the water your dog attempts to bring into your home.
Traction: Ensuring that your dog mat is non-slip is essential to it staying in place when he walks over it into your home.
Washability: Dogs get dirty, which means so will your dog mat. Having the ability to machine wash it is a necessary convenience.
Appearance: You want your dog mat to look good! The appearance of your dog mat can match your dog's personality or the vibe of your home.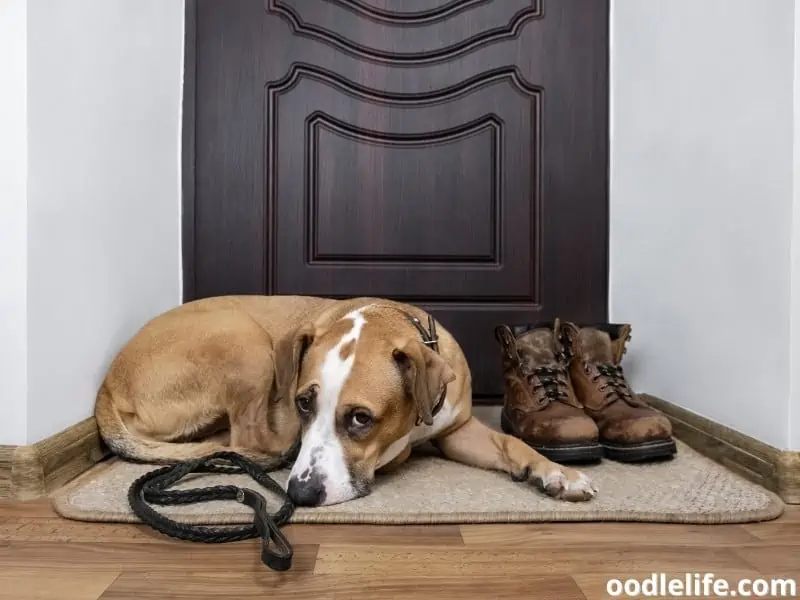 Our Top 5 Best Dog Doormat Options
In no particular order, here are our top picks for dog doormats.
Internet's Best Chenille Dog Doormat
For excellent reasons, the Internet's Best Chenille Dog Doormat has over 1,000 5-star ratings on Amazon. It comes in two different sizes and three different colors, but the material is the main advantage that sets it apart from the competition. 
Internet's Best Chenille Dog Doormat - 60 x 30 - Absorbent Surface - Non-Skid Bottom - Protects Floors - Tan
$59.96
$55.96 ($55.96 / Count)
SOFT & ABSORBENT TOP: designed with high quality microfiber to absorb more water while also drying faster than the average doormat. Can also provide a soft and comfy spot for your dog to rest.
NON-SKID BOTTOM: helps keep the doormat in place keeping you from having to straighten after each use (Clean floor before placing for best result).
CLEAN FLOORS/CAR FLOORS: microfiber bristles help trap dirt and mud from your pup's paws keeping your floors cleaner. Place dog doormat near the front door, back door, laundry room, car back, car...
EASY CARE: dog doormat is machine washable.
Dimensions: 60"L x 30"W x 1.0"H. Weight: 7.5 LBS. Color: Tan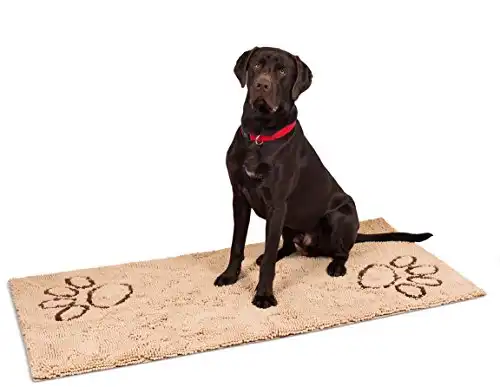 We earn a commission if you make a purchase, at no additional cost to you.
It is constructed with durability and functionality in mind. The top is made of soft, microfiber bristles that clean your dog's paws, and the bottom is non-skid, so it doesn't slip and slide around while your dog is walking on it.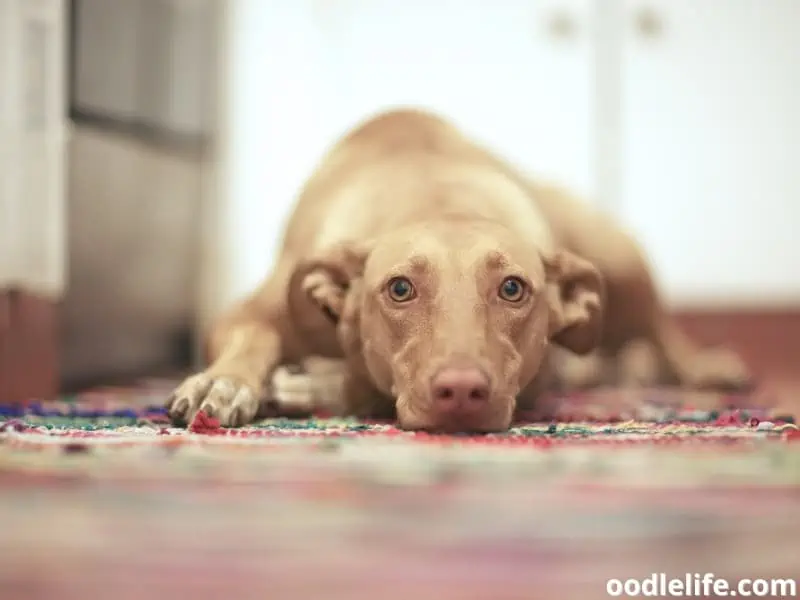 Dog Gone Smart Dirty Dog Microfiber Doormat
The Dog Gone Smart Dirty Dog Microfiber Doormat is available in a wide range of sizes and colors to fit into any space's size and interior design. It has a GSM absorption rate of 3,000, compared to competitors, who claim only between 900 and 1500. This feature helps the mat soak up water and mud instantly.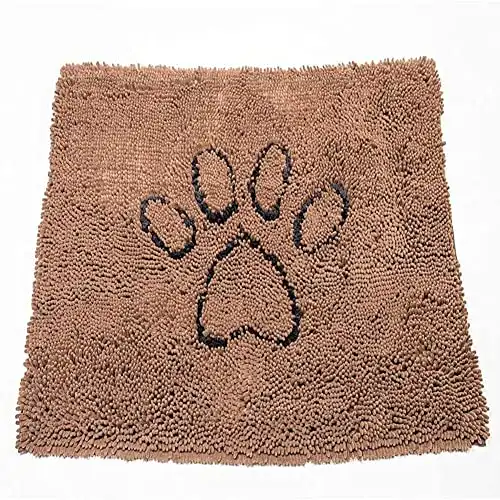 We earn a commission if you make a purchase, at no additional cost to you.
Another great reason to purchase this mat is that the company Dog Gone Smart is a family-owned and operated business that donates a portion of its proceeds to animal rescues around the United States!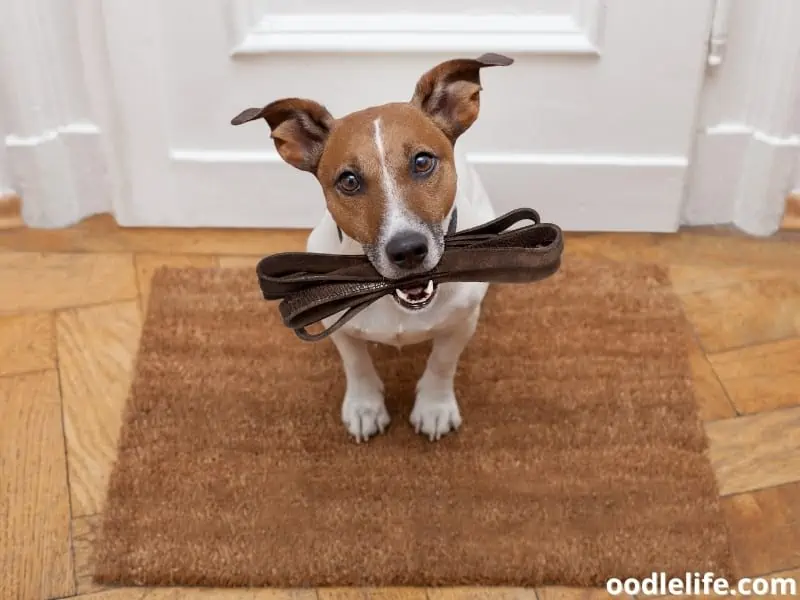 SPOT Chenille Microfiber Dog Doormat
Although the SPOT Chenille Microfiber Dog Doormat doesn't offer the size and color options that some of its competitors do, the somewhat basic design is an affordable and functional option that earned itself a spot in our top 5 picks.

We earn a commission if you make a purchase, at no additional cost to you.
This mat can absorb ten times its weight in water, an impressive feature that sets it apart from the competition. Additionally, you can throw it in the washing machine for simple and efficient cleaning. 
This award-winning design also features anti-bacterial and anti-odor technology, which helps keep it smelling fresh in between washes. Additionally, one of the best features of this mat is its low price point, which ensures you get excellent value for money.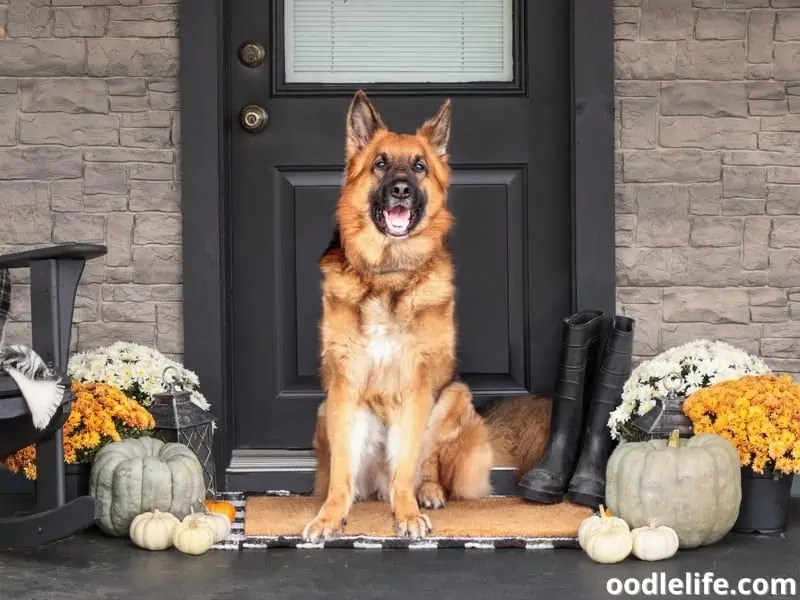 MAYSHINE Large Soft Plush Microfiber Bathroom Rug or Floor Runner Shag Carpet
This option from the company MAYSHINE is the only mat on this list that is not specifically designed for dogs. However, it still made our top 5 because it meets all the criteria we look for in a dog doormat: comfort, absorbency, and how easy it is to clean. 
Extra Long Soft Plush Chenille Bathroom Runner Rug, Absorbent Microfiber Bath Mat, Machine Washable, Non-Slip Grip, Shag Carpet Great for Bath, Shower, Bedroom, or Door Mat (Gray, 31x59)
3 LAYER LUXURY! 1 INCH CHENILLE PILE : Our mats made are made of 100% ultra-soft 1 inch tall plush chenille microfiber which keeps your feet nice and warm, your floors dry, and ensures you dont slip...
FOAM ANTI FATIGUE LAYER 🙂 A 6mm sponge foam layer inside relieves pressure and fatigue on your feet, and keeps your feet insulated from the cold floor. Use our mat as a nice cushion and avoid fatigue...
ANTI SLIP SAFETY LAYER: Make sure you don't slip on your tile with our slip safe bath mat rug. An anti slip coating underneath our mat helps keep it firmly in place. (WARNING: as long as you don't...
MACHINE WASH AND DRY: Our mats are easy to clean, just toss them in the wash! DIRECTIONS : Put bath rugs in a laundry bag (to preserve the fibers), use cold water only (and no bleach), and hang to air...
ABOUT US: We know our mats and rugs! We work hand in hand with our factory to use the highest quality materials so that we only deliver top notch products. Need Help? Please contact us and we will...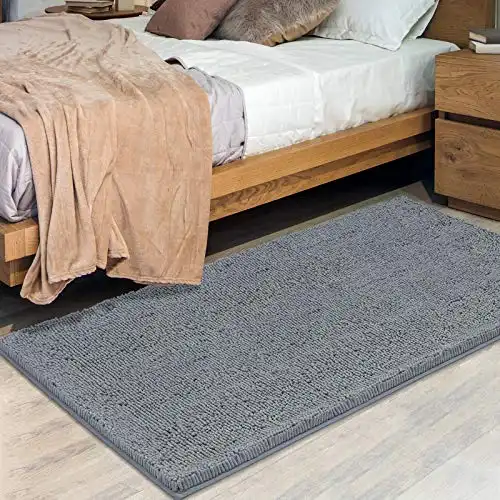 We earn a commission if you make a purchase, at no additional cost to you.
This mat also features a layer of foam sponge for comfort and an anti-slip coating on the bottom that helps it stay in place. Additionally, it comes in a wide range of colors and sizes, making it a practical option and an incredibly stylish one. 
The humans in your family will love this mat just as much as the dogs!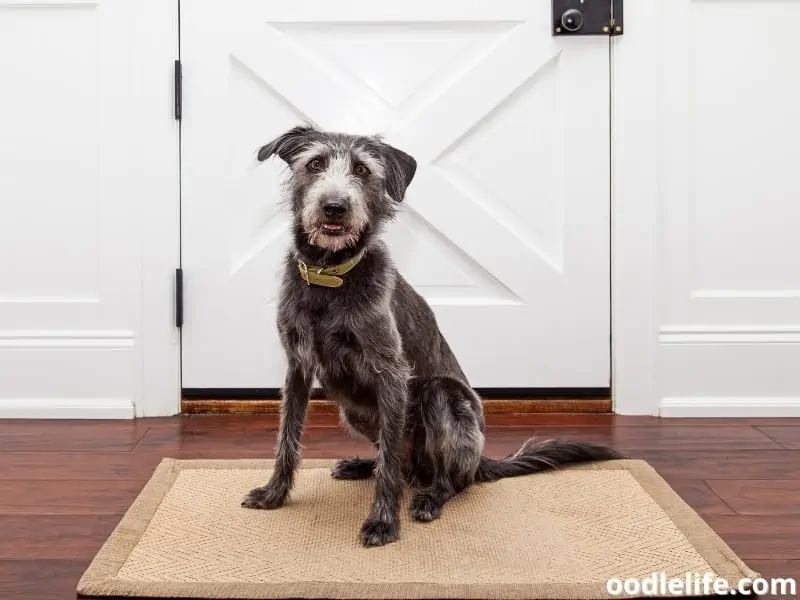 iPrimio Dog Extra Thick MicroFiber Pet and Dog Door Mat
This iPrimio Dog Extra Thick MicroFiber Pet and Dog Doormat made our top 5 picks because of how absorbent it is, how effortless it is to wash and maintain, and its soft and comfortable microfiber bristles.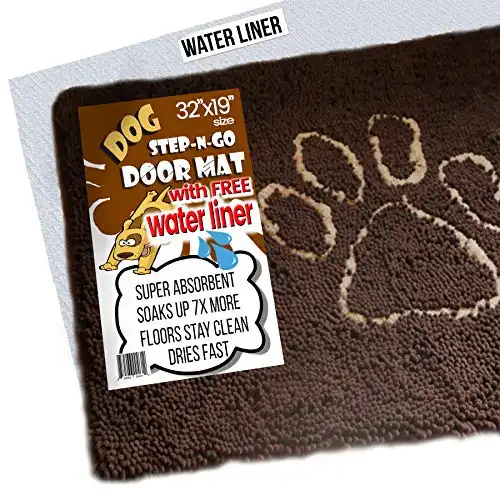 We earn a commission if you make a purchase, at no additional cost to you.
What sets it apart from other options on this list is the built-in waterproof liner, perfect for wet dogs coming in from a swim or a walk in the rain. This also makes it a great option as a mat to put under food and water bowls!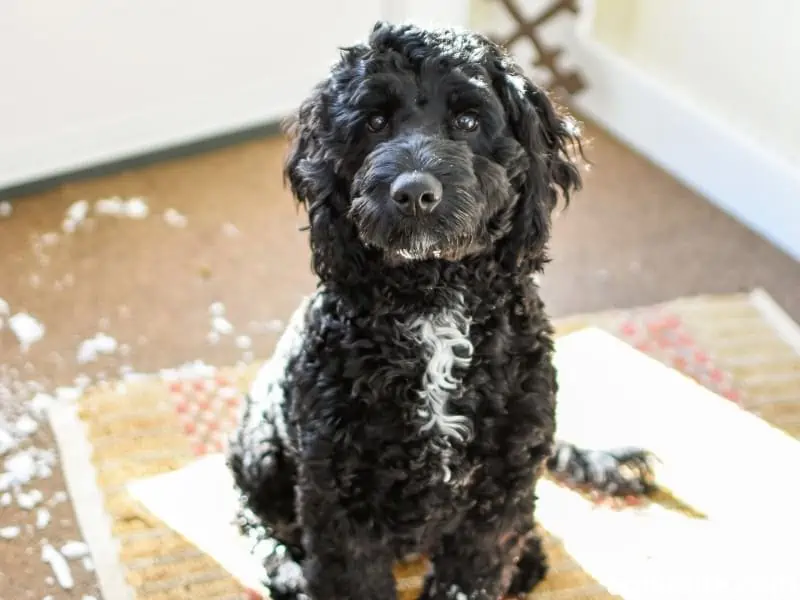 Frequently Asked Questions
Do you still have questions about finding the best dog doormat for your home? Here are some answers to the most frequently asked questions.
Do I have to train my dog to use a dog doormat?
The short answer is yes; you will have to do some light training with your pup so that they become comfortable with their dog doormat. But training is a beautiful way to increase your bond with your dog and tire them out by stimulating their brains.
When you first bring the new doormat into your home, introduce it slowly to your dog. Let them approach it independently and observe, touch, and sniff it. A slow introduction will help ensure that they are entirely comfortable with the new object and don't view it as something scary.
If your dog seems apprehensive initially, you can help them by tossing some treats onto the mat to encourage them to approach and interact with it.
Over time, get your dog to walk back and forth across the mat, thereby rubbing off most of the mud and dirt they picked up from outside. It will be challenging to teach your dog to wipe their paws, but with the right mat, stepping on it a few times will be sufficient to minimize debris.
It is crucial to approach training your dog to use a doormat with patience and positive reinforcement. Using force to get your dog to behave how you want will only cause them fear and anxiety and is less effective than positive reinforcement training techniques.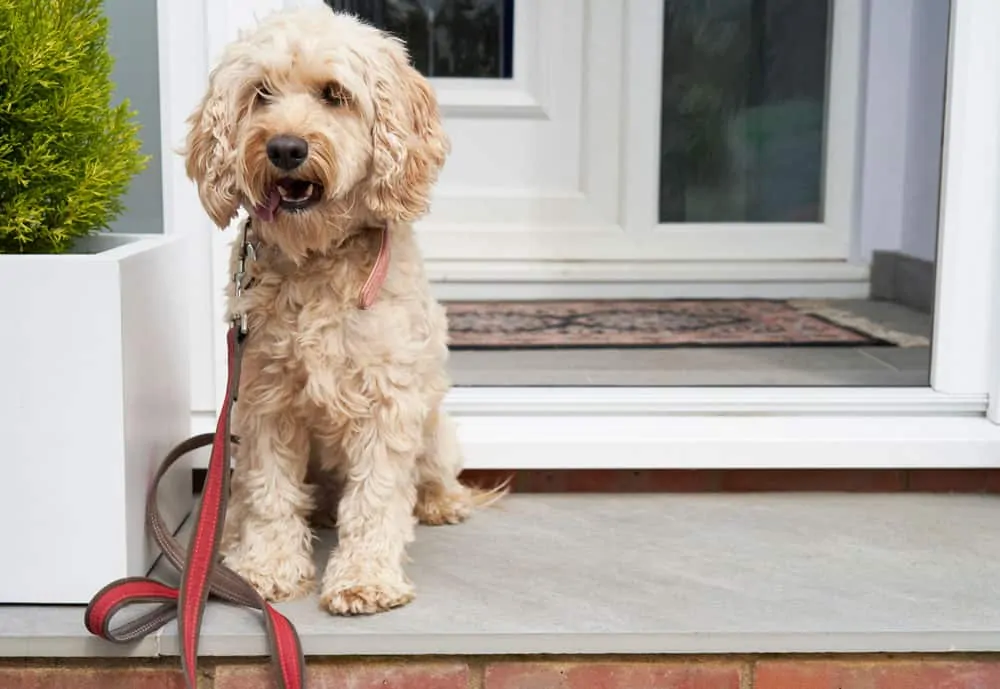 Can I use a regular doormat to wipe my dog's paws?
While it is possible to use a regular doormat to wipe your dog's paws, a few reasons why a doormat explicitly designed for dogs may be a better option. 
First, dog doormats have softer bristles and are more comfortable for your pup to step on. Your dogs have sensitive skin on their paw pads, and if the bristles on your mat are too spiky or hard, they will not be comfortable to step on. And your pup won't want to use the mat if they're physically uncomfortable!
Additionally, dog doormats tend to be easier to clean than regular doormats. They get a lot of use and will need to be cleaned frequently. Some brands are even machine washable!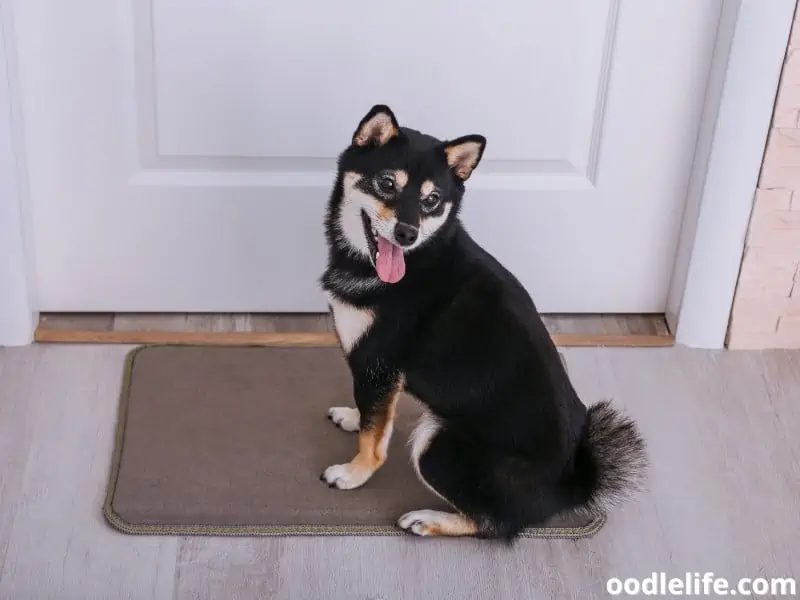 Final Thoughts: The Best Dog Doormat Choices
Have we convinced you that it's time to invest in a dog doormat to help keep your pup and your home clean and sanitary? After reading about the top 5 best dog doormat choices, you have all the information necessary to decide which is the right option for you!