Best Dog Food for Great Danes [5 Best]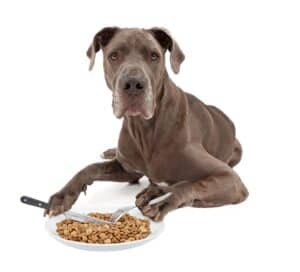 Big dogs have big appetite, and big risk of nutritional troubles if you make the wrong food choice. Carefully select what your Great Dane eats – health starts with intake and diet.
If you are lucky enough to own a Great Dane, you will know how affectionate and loving they are.
What better way to return this love than to feed your gentle giants a delicious and healthy dinner?
We understand the importance of giving your dog the right diet – full of the vital nutrients, organic, and tasty.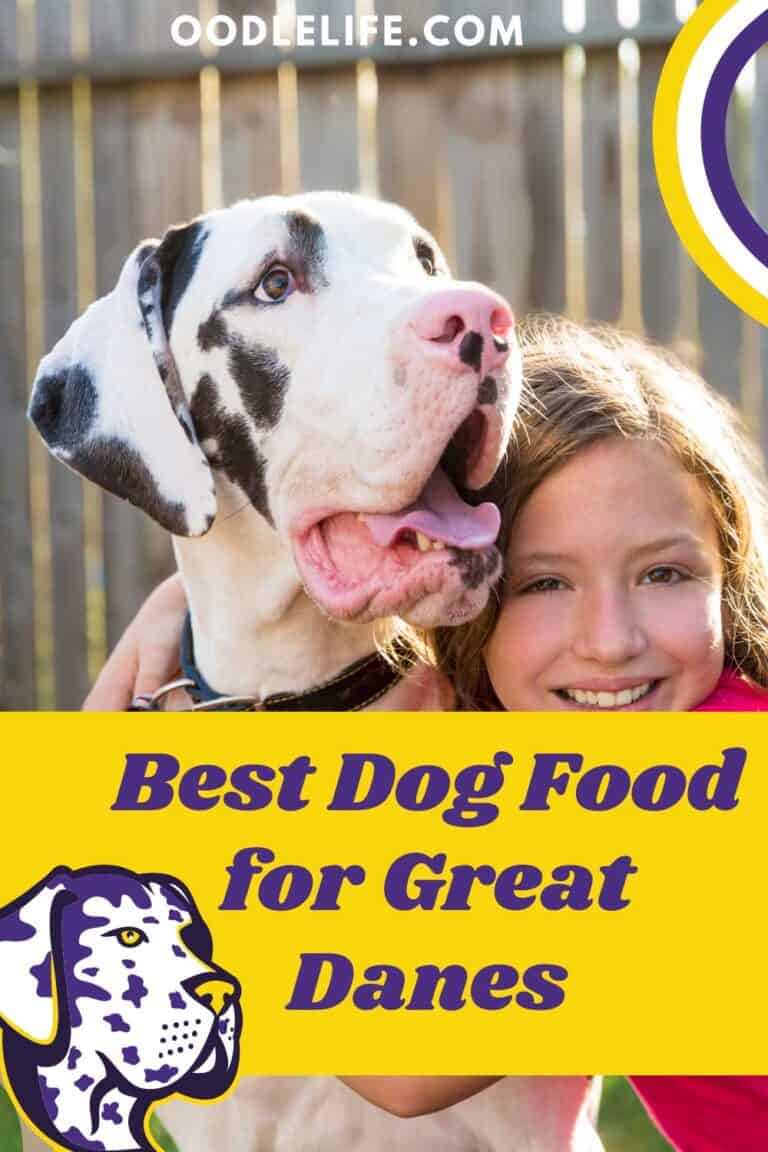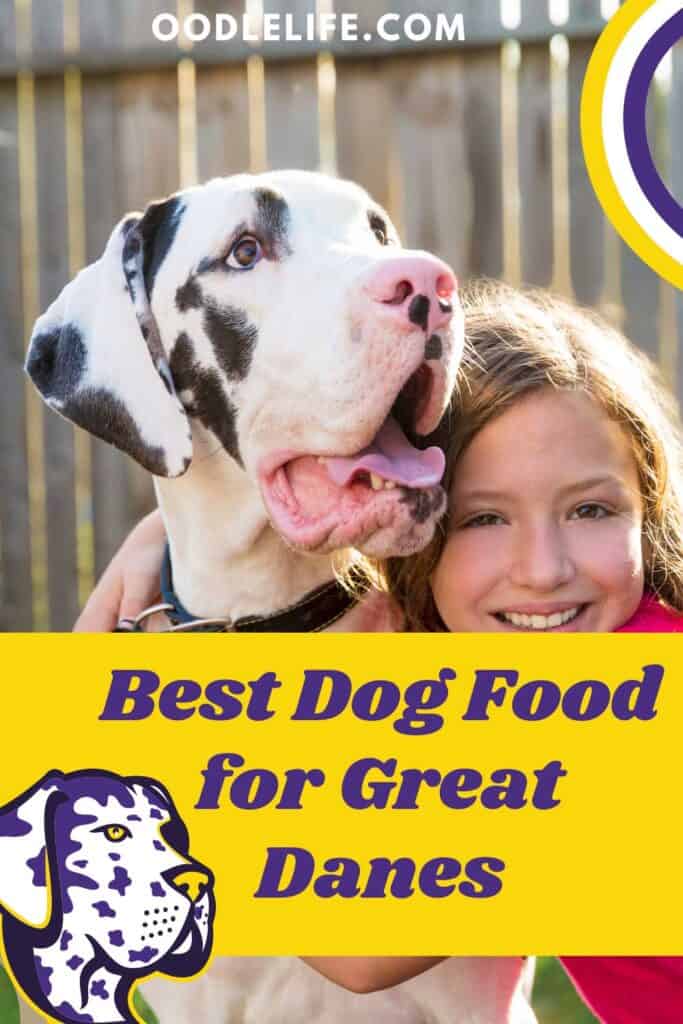 Great Danes are a really special breed, but they can come with an abundance of health issues if they are not fed properly.
They also have an unfortunately finite lifespan due to their size, so it is important to offer them the best quality of life when they are your responsibility – and this starts with giving them the best food possible.
To help you find the ideal meal for your gentle giant, we have found the best dog food for Great Danes.
We have also compiled a handy buyer's guide and FAQ section for some useful tips and any unanswered questions.
In a rush?
Our top pick is the Hill's Science Diet Large Breed Dog Food, containing no corn, wheat, or soy.
This dog food has everything you need for your gentle giants, including easily digestible ingredients, essential acids for a healthy skin and coat, and protein to promote muscle growth.
Full of energy, this dog food is most ideal for Great Danes who love to exercise and need the right amount and type of food to burn off the calories.
Hill's Science Diet is one of the most trusted brands of dog food on the market.
Not only is the food made in the USA with global ingredients, Hill's Science Diet donates money from their profit to over 100,000 homeless pets daily.
This dog food is a dry kibble filled with a variety of nutrients, ranging from glucosamine and chondroitin to promote healthy joints, omega-6 and vitamin E to maintain a healthy skin and coat, and high levels of protein to keep your dog's muscles strong and lean.
The protein content is 23%, and the fat content is 16.4%, which is around the veterinarian recommendation of content levels for Great Danes.
This is ideal for Great Danes due to their fast metabolism, so this high energy dog food is most beneficial for dogs who like to exercise.
If your dog struggles with skin or digestive issues, this food is perfect.
The nutrients that are included are designed to treat those with sensitivity without creating harsh itchiness or redness, or stomach problems.
Pros:
Beneficial for skin and digestion issues
High protein for energetic dogs
Trusted and ethical brand
Made in the USA
Full of essential nutrients and vitamins
Cons:
Sale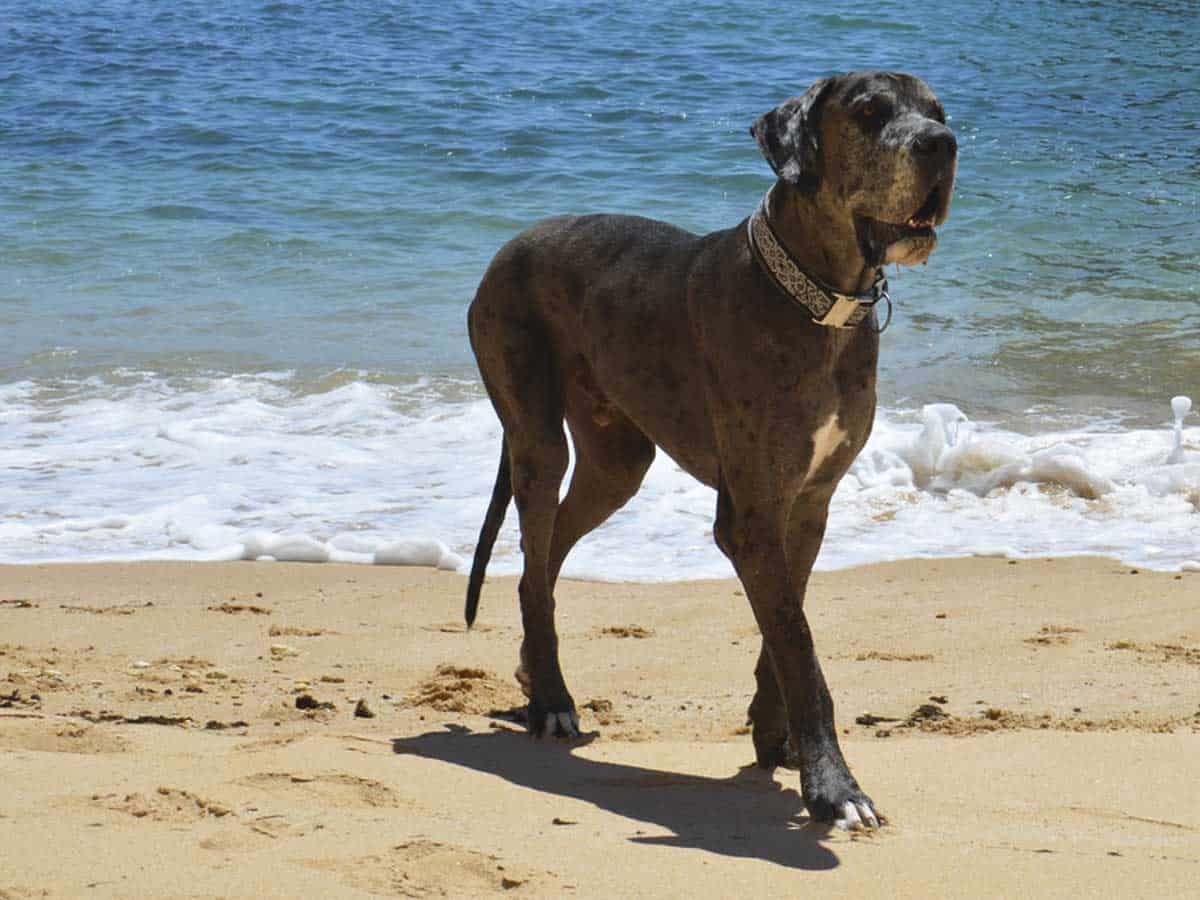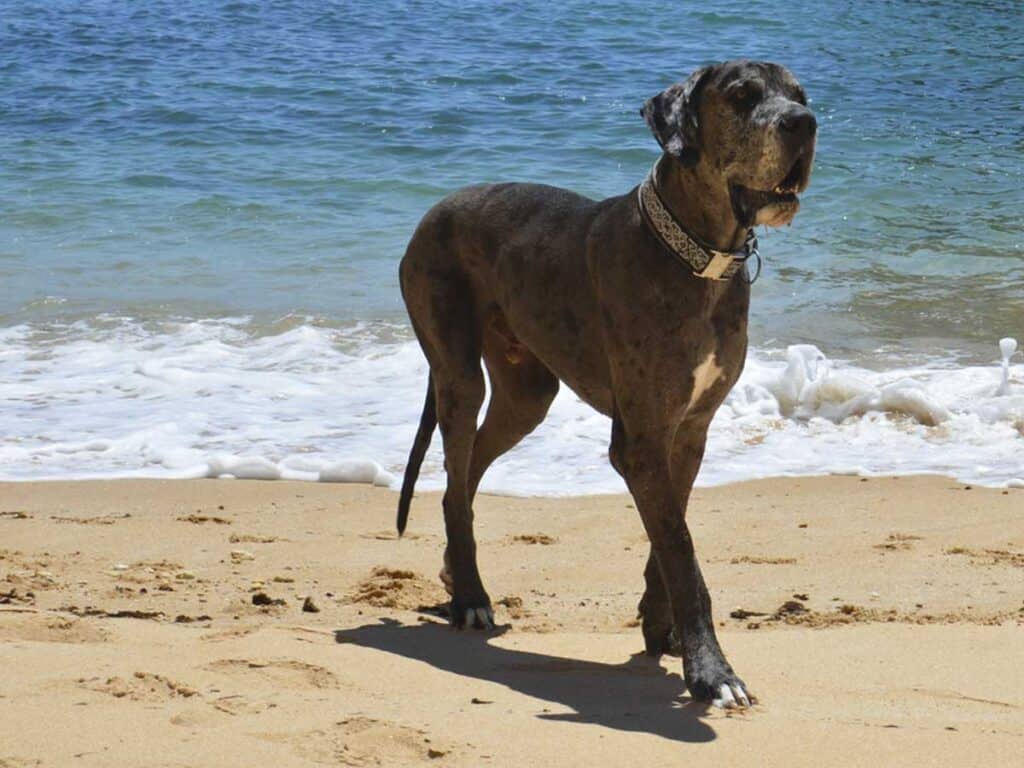 Holistic Select's dry food for large and giant breeds is ideal for Great Danes, because it is designed with their body size in mind.
This dog food is filled with calcium and phosphorus to keep the quality of the bones strong – something that is really important for large breeds.
Likewise, glucosamine and chondroitin are beneficial for joints and hips. This is good for both energetic and lazy Great Danes, as this food will work to prevent injuries or limping.
This dog food is all about increasing energy. The recipe is potato-free, so all of the carbohydrates are better for digestion.
Speaking of digestion, the recipe also includes natural fibers to promote a healthier stool and to reduce diarrhea.
The Holistic Select's dog food is made in the USA with globally sourced ingredients, making it an ethical brand.
Pros:
Filled with vital nutrients
Beneficial for bones and joints
Digestive benefits to promote healthy stool
Promotes healthy coat
Cons:
Kibble size is slightly small
Holistic Select Natural Dry Dog Food, Large & Giant Breed Adult Recipe, 30-Pound Bag
DIGESTIVE HEALTH: Optimal levels of protein plus prebiotics and probiotics, digestive enzymes, and dietary fiber in this dog food enhance digestion for your large breed dog
HEALTHY HIPS AND JOINTS: Calcium, phosphorus, glucosamine and chondroitin maintain bone strength and joint health
WHOLE BODY HEALTH: Supported by omega fatty acids, antioxidants, glucosamine, probiotics and taurine for a healthy heart
Made in the USA using only the finest globally sourced ingredients, we prepare each of our diets in our own state of the art facility; we craft delicious natural recipes with wholesome ingredients chosen for their nutritional benefits
QUALITY NUTRITION: We craft delicious natural recipes with wholesome ingredients that your pup will love, chosen for their nutritional benefits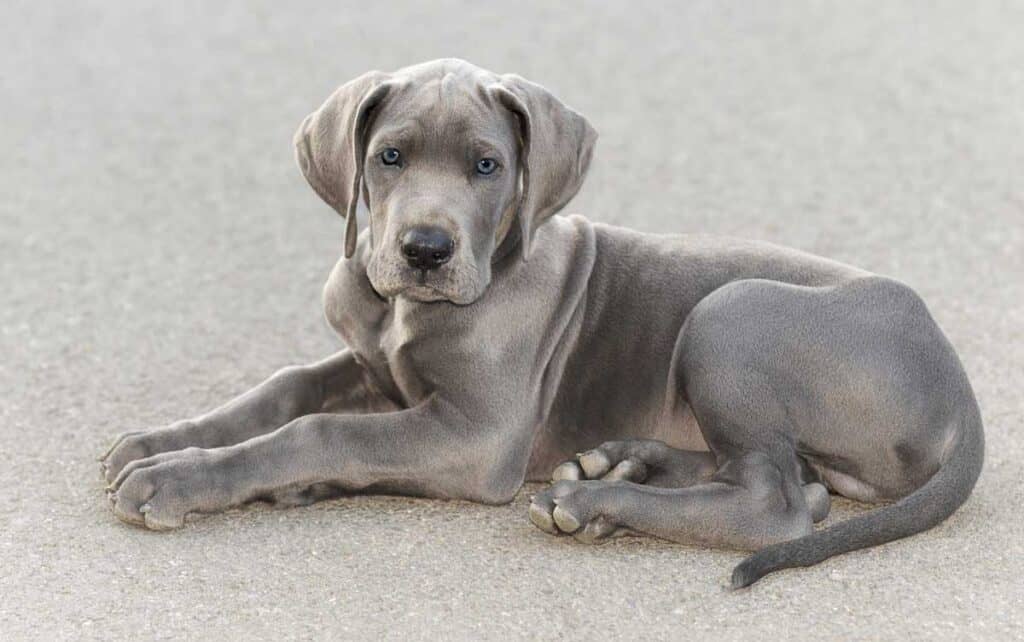 Royal Canin is one of the most well-known brands of dog food on the market, which is why it makes this list.
This trusted brand offers an ideal recipe for gentle giants who need specific dietary requirements.
The kibble comes in a good size, which is highly beneficial for oral hygiene.
The chunk size is also useful for helping dogs to eat slower, as they are encouraged to chew their food rather than swallowing it.
The recipe itself includes glucosamine and chondroitin for hips and joints, taurine for a healthy heart, and is full of fibers to improve digestion and the quality of stool.
The recipe also includes antioxidants to improve cellular health.
This mixture of nutrients is ideal for energetic dogs as well as lazier dogs who need a healthy cardiovascular and joint system to help their large bodies.
Pros:
Filled with necessary nutrients
Appropriate kibble size for oral hygiene and to promote slower eating
Fibrous for a healthy digestion and stool
Good for joint and bone health
Cons:
Buying dog food online risks bag breakages
Royal Canin Giant Breed Adult Dry Dog Food, 35 lb bag
GIANT BREED DOG FOOD: Royal Canin Giant Breed Adult Dry Dog Food is precise dog nutrition specifically made for extra-large breed dogs 2 years and older that weigh over 100 lb
BONE AND JOINT HEALTH: Glucosamine, chondroitin, and EPA & DHA help support bone and joint health
VITALITY SUPPORT: An exclusive vitality complex of antioxidants for dogs promotes cellular health
HEART HEALTH: Nutrients, including taurine, support heart health
HEALTHY DIGESTION: Easy-to-digest proteins and a balanced blend of fibers provides digestive support
The clue is in the name with this dog food – Wellness Complete Health is all about improving the wellness of your gentle giant.
It is not filled with unnecessary artificial preservatives or meat byproducts.
Instead, this recipe boasts high quality proteins and grains, made in the USA and with globally sourced and non GMO ingredients.
If your dog has a sensitivity to grain recipes, this brand also offers a grain-free version.
The recipe itself includes glucosamine and chondroitin to promote healthy bones and joints, essential omega fatty acids for a hydrated and shiny coat and skin, and is fibrous to improve digestion and the quality of stool.
This dog food has various calorie levels depending on the weight of the dog, and is filled with protein for energy.
It also contains taurine to support a healthy heart and antioxidants for the immune system.
What's more, the kibble size is appropriate for large breeds, as the larger chunks will encourage chewing.
Smaller chunks are eaten faster and often inhaled, which could increase the chance of choking.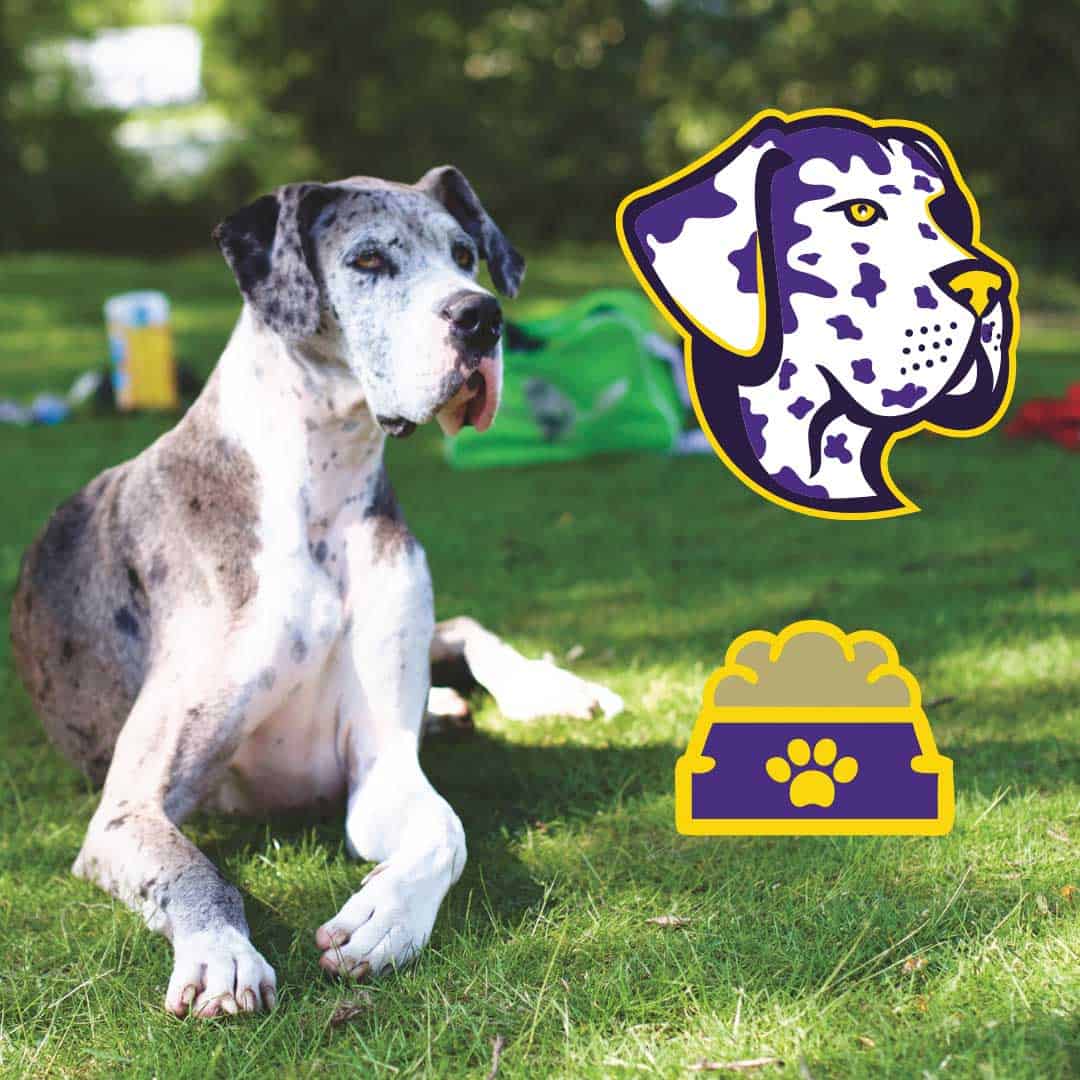 Pros:
Non GMO and globally sourced ingredients
Made in the USA
Filled with vital nutrients, vitamins and minerals
Appropriate kibble size
Cons:
Bag design has changed, they are no longer ziplock
Wellness Natural Pet Food Complete Health Natural Dry Large Breed Dog Food, Chicken & Rice, 30-Pound Bag
This adult large breed dry dog food's ingredient is chicken; high quality protein with wholesome grains like rice
Our crunchy kibble has no meat byproducts, fillers, or artificial preservatives
Designed to support the unique health needs of larger dogs through nutrient-rich whole foods; glucosamine to support joint and bone health for dogs
Made in the USA using only the finest globally sourced ingredients
Spend a lifetime with Wellness natural dog food; we offer recipes for puppy, adult, and senior dogs as well as grain free dog treats, meal toppers, and wet food options too
The final product on our list is the Solid Gold Hund-N-Flocken' dog food.
The unique name was inspired by the founder of the brand, in case you were wondering.
This dog food is made in the USA and made with globally sourced ingredients.
The recipe includes a bunch of ingredients defined as superfoods, including blueberries, lentils, carrots, almond oil, and cranberries.
Blueberries in particular offer a great antioxidant value for a healthy immune system.
The lamb is also naturally sourced and real meat, not artificially flavored, and is an excellent form of protein.
It is also free from wheat, corn, soy, and artificial preservatives – ideal for encouraging good and healthy energy levels through natural ingredients.
For the dog's coat and skin, the recipe includes egg protein as an amino acid.
This particular recipe also involves brown rice and pearled barley, perfect for improving the quality of stool and supporting the digestive system.
The kibble size is large and flat to encourage proper chewing.
Pros:
Natural ingredients
Made in the USA
Filled with nutrients, vitamins and minerals
Good kibble size
Cons:
Packaging designs may vary, which could create confusion
Sale
Solid Gold Hund-N-Flocken Natural Adult Dry Dog Food with Real Lamb , Brown Rice And Barley 15 lb bag
NATURAL INGREDIENTS: Solid Gold Hund-N-Flocken goes beyond the basics to provide the best fully natural nutrient profile derived from grass-fed lamb, healthy whole grains and a unique blend of 20 nutritious superfoods promoting overall wellness.
MADE IN THE USA: Our products are carefully crafted from the highest quality globally sourced holistic ingredients and manufactured in the United States. No longer worry about where your pets food is coming from.
SUPERFOOD DENSE: Formulated with Solid Gold's unique 20 Nutrient Rich Superfoods like pumpkin, cranberries, blueberries, carrots, broccoli, almond oil, kelp and lentils to provide a powerful source of natural vitamins and nutrients to nourish your pet .
REAL LAMB: Natural sustainably sourced meat is the first ingredient in all of our foods providing your dog with real protein free from meat by-product meal, corn, wheat, soy, sugar, artificial preservatives or flavors added, which are common allergens for dogs optimizing your pet's energy levels while allowing them to thrive.
OPTIMIZED FOR FULL-BODY HEALTH : Specifically formulated to enhance your dog's coat, sharp mind and optimal energy levels, with ocean-fish meal sourced from the pristine waters of the Atlantic Ocean and Bering Sea. Egg protein provides essential amino acids, vitamins and minerals to support muscle growth and metabolism in all breeds.
Best Dog Food for Great Danes Buyer's Guide
What to Look For in Food For a Great Dane
Due to the sheer size of Great Danes, they have specific dietary requirements to maintain a good quality of life.
Some may assume that their size means they need larger portions, but this isn't always the case.
The nutrients they need and portion sizes they require are fairly specific, so this is what we recommend.
Our top tip – invest in an elevated dog feeder!
Great Danes are tall dogs, which means that feeding from a bowl on the floor can be uncomfortable for their necks and may affect their digestion.
Elevated dog feeders allow them to eat their food properly without the risk of choking.
Portion sizes
It's not about feeding them a larger volume of food, Great Danes simply require more calories than small dogs.
This is because they have a naturally fast metabolism, which means the more energetic they are, the more calories they need to burn.
Too much food can lead to obesity and can cause injuries and health problems, particularly surrounding their joints.
For adult Great Danes, we recommend feeding them between 2500 and 3000 calories per day.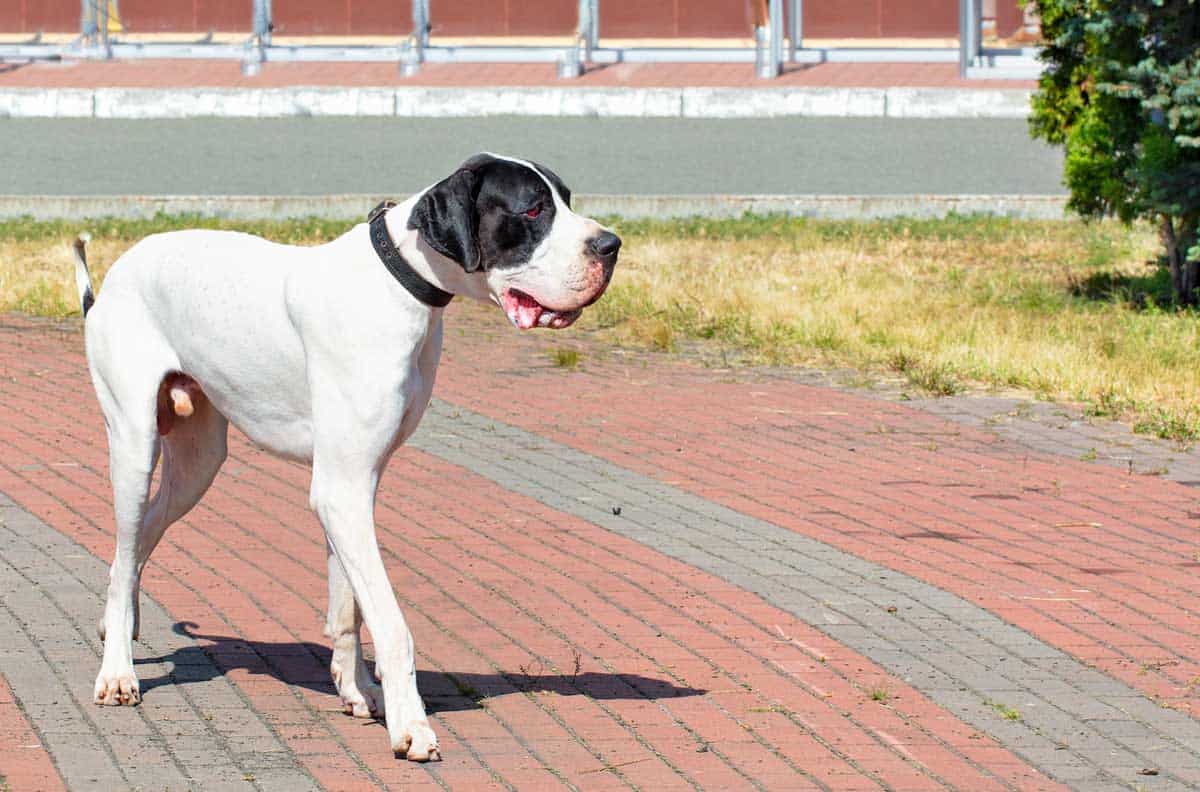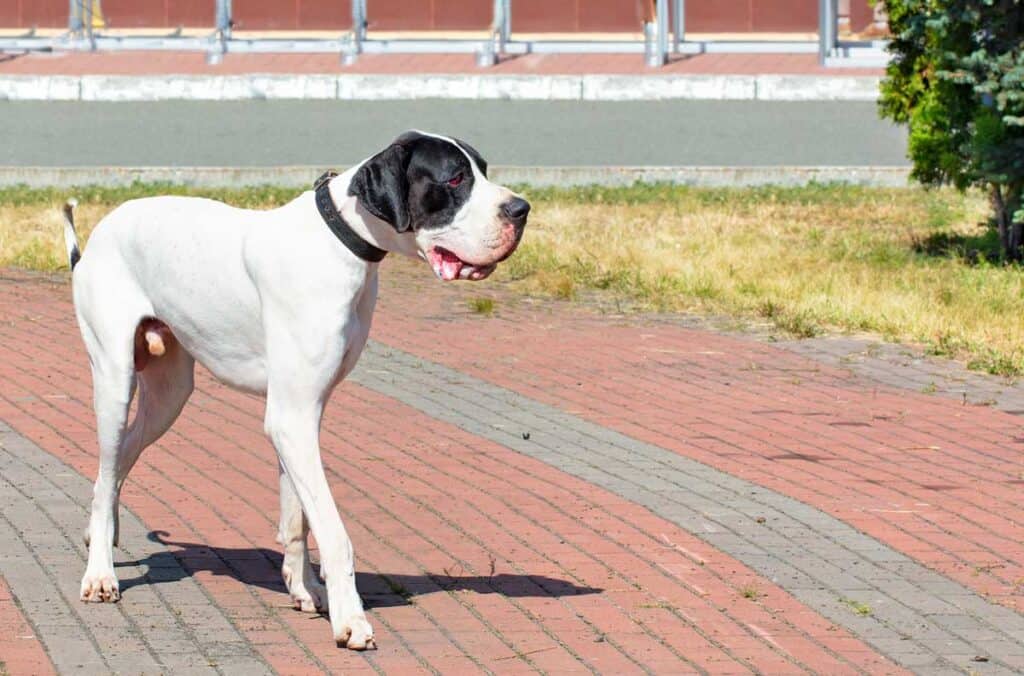 Nutritional Value
Veterinarians recommend looking for food with 23% protein and 12% fat for Great Danes, as this will offer enough energy to provide for their body sizes.
The key nutrients and vitamins to look out for in dog food include:
Fibre for digestion and stool
Fatty acids (omega-6) for healthy skin and coat
Antioxidants for the immune system
Glucosamine and chondroitin for healthy joints and bones
Taurine for a healthy heart
The best brands to look for will have recipes that are made in the USA with globally sourced, non GMO ingredients.
This is for your peace of mind, so you know exactly where the food is coming from.
Always avoid artificial preservative and flavorings and GMO products.
How to Change Dog Food
Humans eat different meals every day, because our bodies can adapt to it.
A dog cannot adapt to different foods quickly, so you cannot expect them to eat a strange and new formula without them either ignoring it or suffering from a poorly stomach.
The best way to change their food is gradually over the course of a week (potentially more if they are very fussy).
You will need to give them 75% of their old food mixed with 25% of their new food on the first day, gradually increasing the percentage of the new food each day.
Hopefully by day 7, they will have transitioned completely to the new food without disrupting their stomachs.
Kibble vs Wet Food
One of the biggest debates in the dog feeding world is: which is better for my dog – kibble or wet food? Fortunately for you, each has their pros and cons.
Kibble (Dry food)
Kibble is generally the most popular form of dog food, as the crunchy biscuits are perfect for oral hygiene.
Kibble works to force the dogs to crunch and chew their food rather than swallow it whole, so it improves the strength of their jaw muscles.
The biscuit is designed to not stick in between the dog's teeth, as each bite almost acts as a natural toothbrush that will prevent bits of food from lingering in the mouth.
This is incredibly beneficial, as food that lingers between teeth can often lead to gum disease or tooth rot.
Bare in mind that the size of your dog's jaw will determine the size of the kibble.
For Great Danes, they will need the biggest kibble on offer, so they actually eat the food without swallowing smaller parts and potentially choking. Smaller dogs, likewise, require smaller kibble sizes.
Wet food
Generally speaking, most dogs prefer the taste of wet food. Wet food is the equivalent to a roast dinner for humans, but that does not mean it will be beneficial for them in the long run.
Wet dog food, unlike kibble, does linger in the mouth for longer – which means smelly breath and potential gum problems if the food is not removed.
Wet food contains more protein and fat which is beneficial for energetic dogs, but can increase the chances of obesity.
Wet food is also more costly due to constant replacements and is more likely to spoil than dry food.
Health Issues
Great Danes, like most giant dogs, do not come without the risk of health problems. Here are the top issues to consider:
Joint problems: Great Danes are heavy animals, which causes strain on their joints and particularly their hips. Always keep them exercising regularly, and look for food that contains glucosamine and chondroitin to promote healthy joints.
Dilated cardiomyopathy: Great Danes are larger dogs, which means their organs will be bigger. This condition is when the heart grows too large, which causes oxygenation problems.
Bloat: This is quite common for most dogs, so always make sure to let the dog rest for around 40 minutes after eating before they exercise. Extreme bloat can lead to gastric torsion, which can twist the stomach.
Hypertrophic Osteodystrophy: This is when bones and tissue can become painful and uncomfortable. Whilst Great Danes grow quickly and do require high protein, excessive protein can actually be the culprit of this.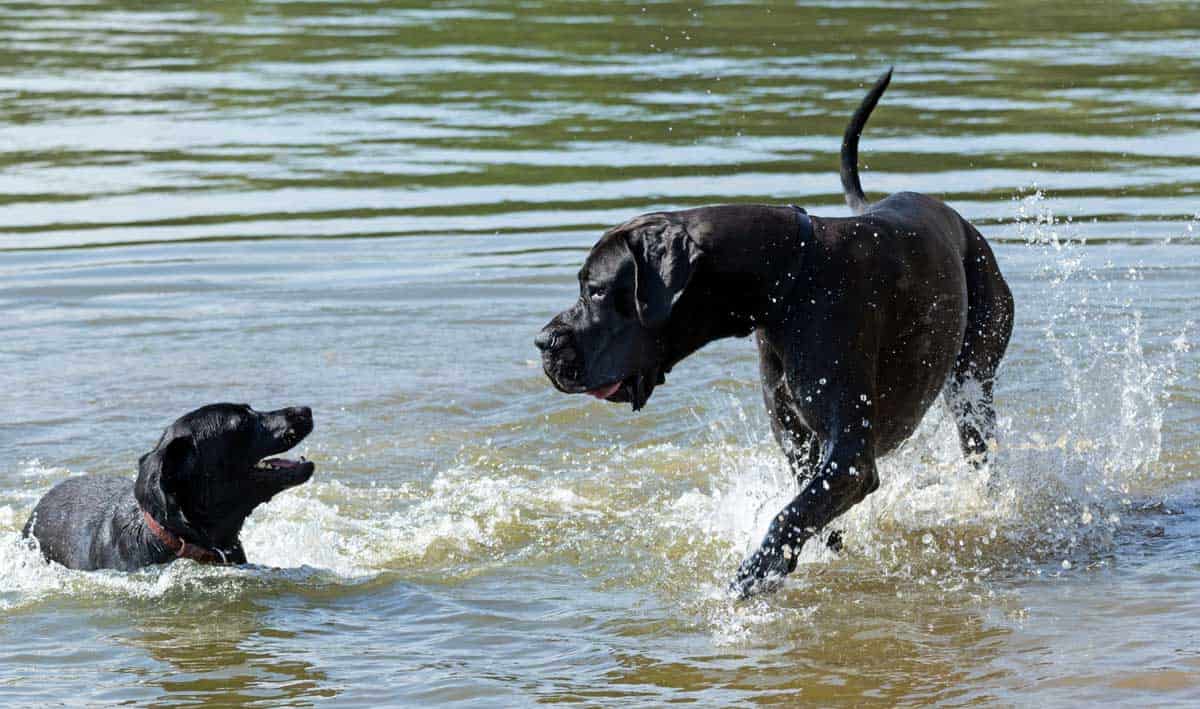 Frequently Asked Questions
What human food can I feed a Great Dane?
There are general rules about feeding any type of dogs human food, so here is what you can feed them:
Bananas
Apples
Blueberries, raspberries, blackberries
Carrots
Broccoli
Cauliflower
Pears
Oranges
And here is what you should not feed them:
Chocolate
Large amounts of dairy
Avocado
Onions
Garlic
Raisins
Alcohol
Caffeine
Tomatoes
What age is a Great Dane fully grown?
Giant dog breeds usually take up to 3 years to reach their full grown size and weight. At 18 months, they should have grown into their paws.
Usually their paws are an indicator of how large they will be, but for Great Danes this is inevitable regardless of paw size.
How do I increase the lifespan of my Great Dane?
Great Danes unfortunately only have a lifespan of between 6-8 years, but there are records of some living up to 10 years old. This all comes down to good care and maintenance.
One of the biggest factors of improving the length of their lifespan is the quality of their food.
Giving them a healthy and high quality diet will prevent the risk of potential health problems.
Due to their size, most of your focus will need to be on the strength and quality of the bones, joints, and muscles.
This can be achieved through a strict diet of protein and fat, without it being too excessive.
They also require frequent exercise to prevent their bodies from getting obese.
If you are looking to buy a Great Dane, make sure you choose your puppy from a reputable breeder.
The breeder should be selling the pups with right intentions rather than for money, and this will give you a chance to meet the puppy's parents to examine their health.
How do I firm up my dog's stool?
This all comes down to a fibrous diet! Each dog will have their own version of a "normal" stool, which is something you will come to assume overtime. Some dogs have naturally firmer stool than others.
If your dog has diarrhea, cooked rice is an excellent way to settle their stomach whilst firming their stool.
You should also avoid giving them dairy, or any food that is not natural and filled with meat by-products. Real meat is a great source of protein and is vital for their digestive system.
If inconsistent stool is concerning you, then take your dog to the vets.