7 Best Dog Grooming Books (2023 Update)
Grooming your dog is not just about beauty. It's a necessary practice for keeping your pet's healthy fur coat, lessening shedding, and preventing diseases. 
However, each dog breed has different grooming needs, and there are many approaches to hair management. Becoming a great groomer starts with an all-encompassing book of breeding know-how. With the right resources, any pet owner can expertly groom their breed in the right way.
Poodle Coats
Grooming Basics
No Knowledge Needed
Serious Reference
Poodle Coats
Grooming Basics
No Knowledge Needed
Serious Reference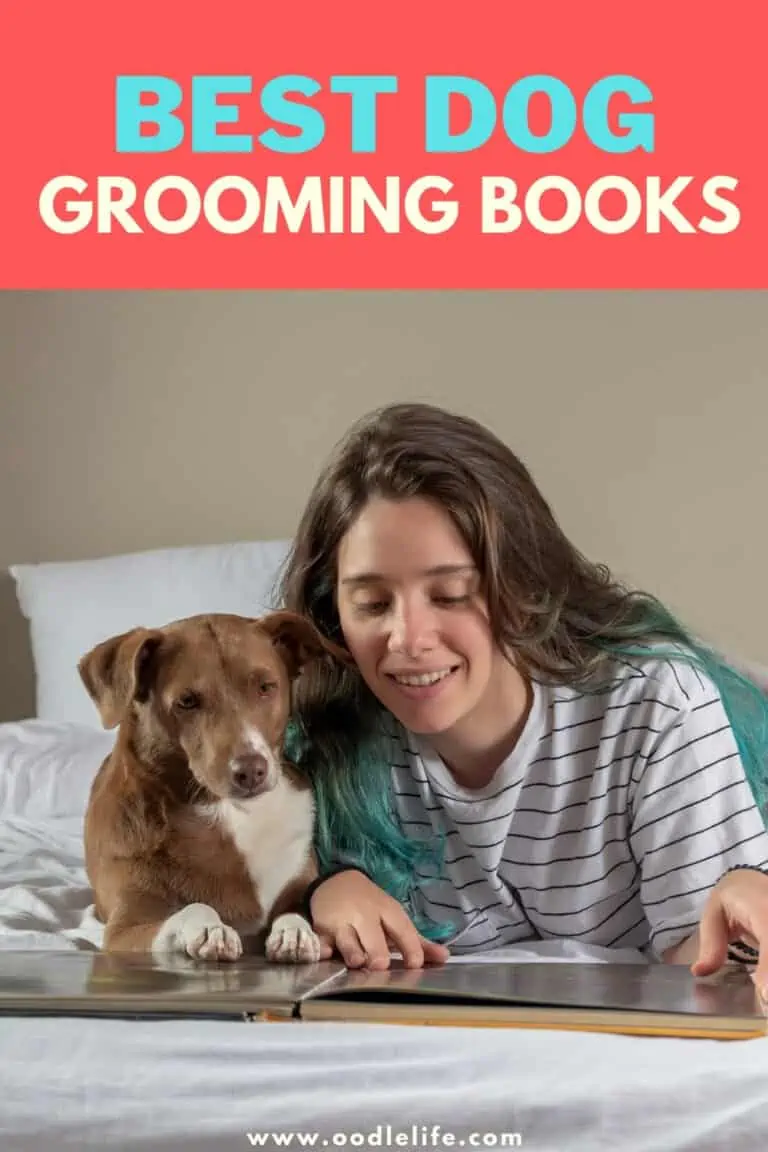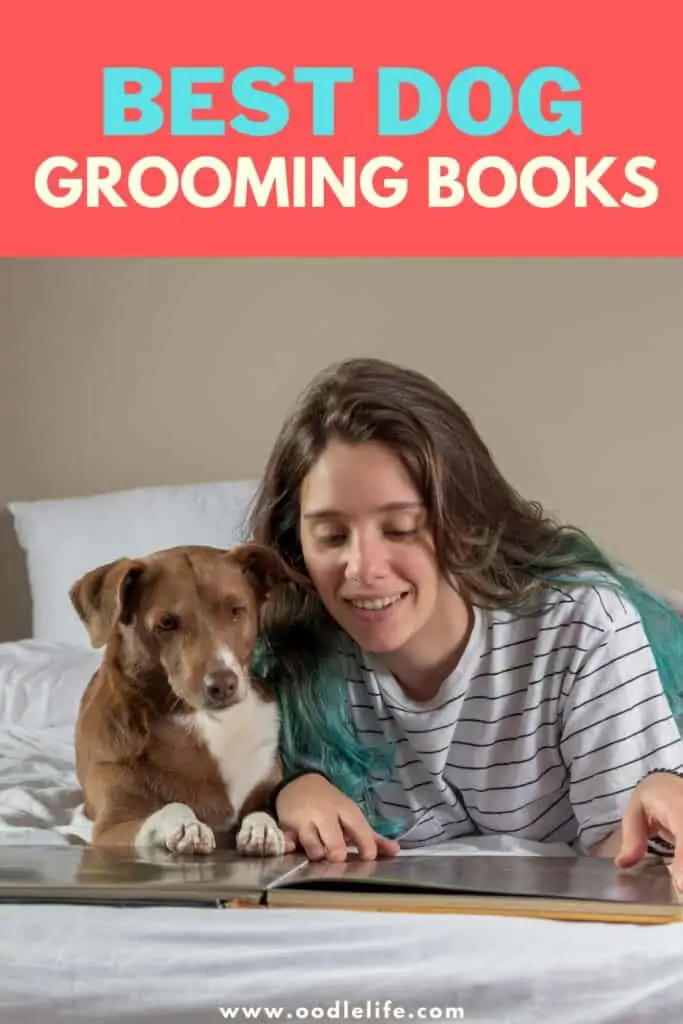 I've gathered the seven best dog grooming books for all skill levels. Let's talk a little about each of them, what they teach, and how they stand out. I hope that by the end of this article, you will find the perfect resource for your pet's needs.
Canine Handbooks Series by Linda Whitwam
The Canine Handbooks series is a set of 19 books, each covering a specific dog breed in detail. Many hair-care intensive varieties like Poodles, Goldendoodles, and Cavapoos are featured in the collection. Whitwam's series is a holistic take on these certain breeds covering maintenance, health, exercise, and more.
We earn a commission if you make a purchase, at no additional cost to you.
Each book has over 100 photos, guides, and references for pet owners. Most of them were published in the last five years so the information is recent and accurate. This book series is available as paperbacks or as an ebook through Kindle.
The only drawback of Linda Whitwam's series is that there is not a book for every breed. If you are a pet owner with several canine breeds, you may want a more general encyclopedia to accommodate them all.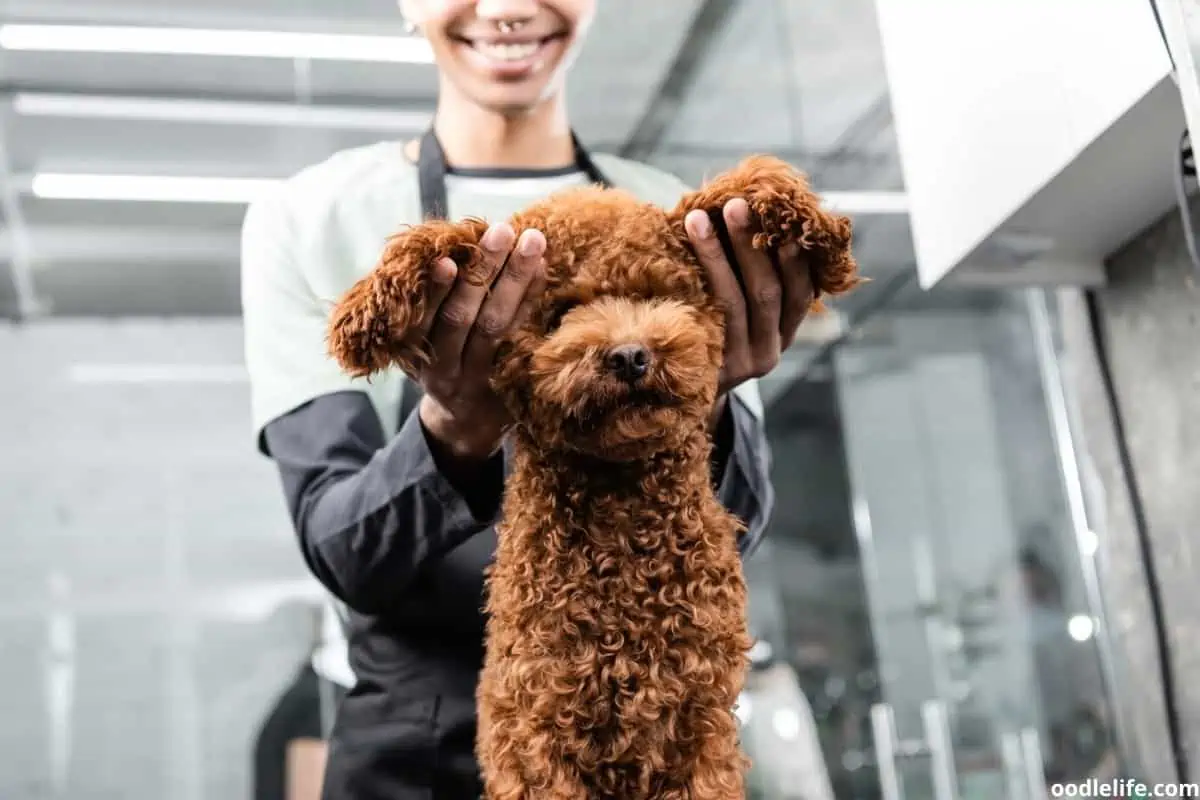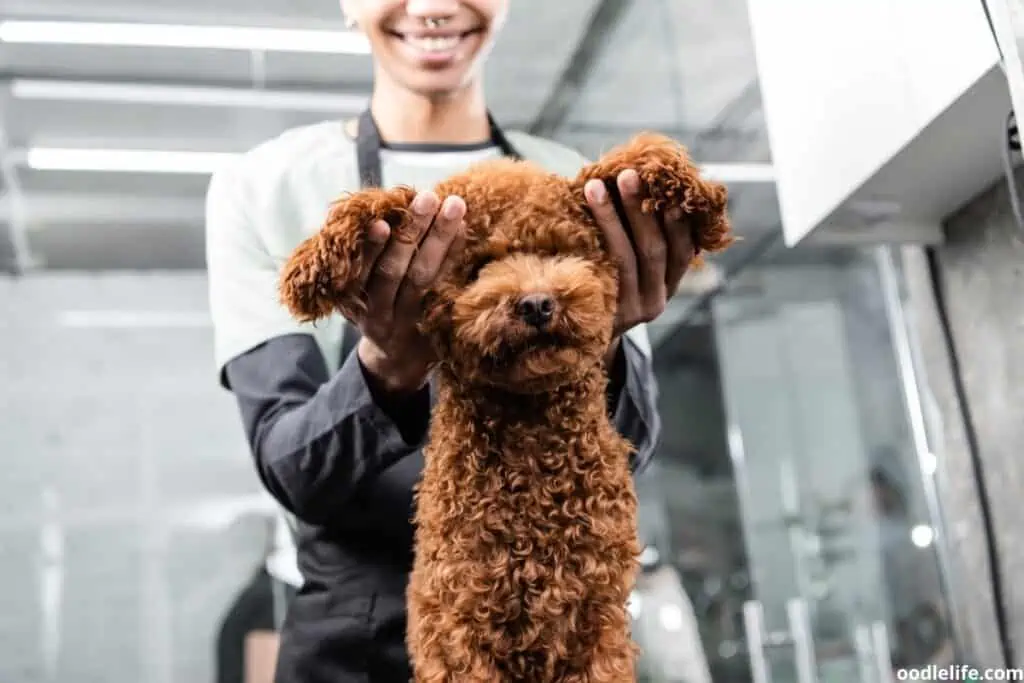 The Professional Groomers Textbook by Joanne Angus
The last two books have been guides for pet owners, but the Professional Groomers Textbook is a step above. It is a fantastic resource for initiated and experienced dog stylists. With 173 pages of guides and information, the grooming instructions are clear and easy to follow.
We earn a commission if you make a purchase, at no additional cost to you.
However, this isn't a hobbyist's book. This heavy-duty tome works best in the hands of professionals working at a groomer's. It's a significant investment compared to the other books on this list.
As a result, it isn't the most accessible option for most pet owners.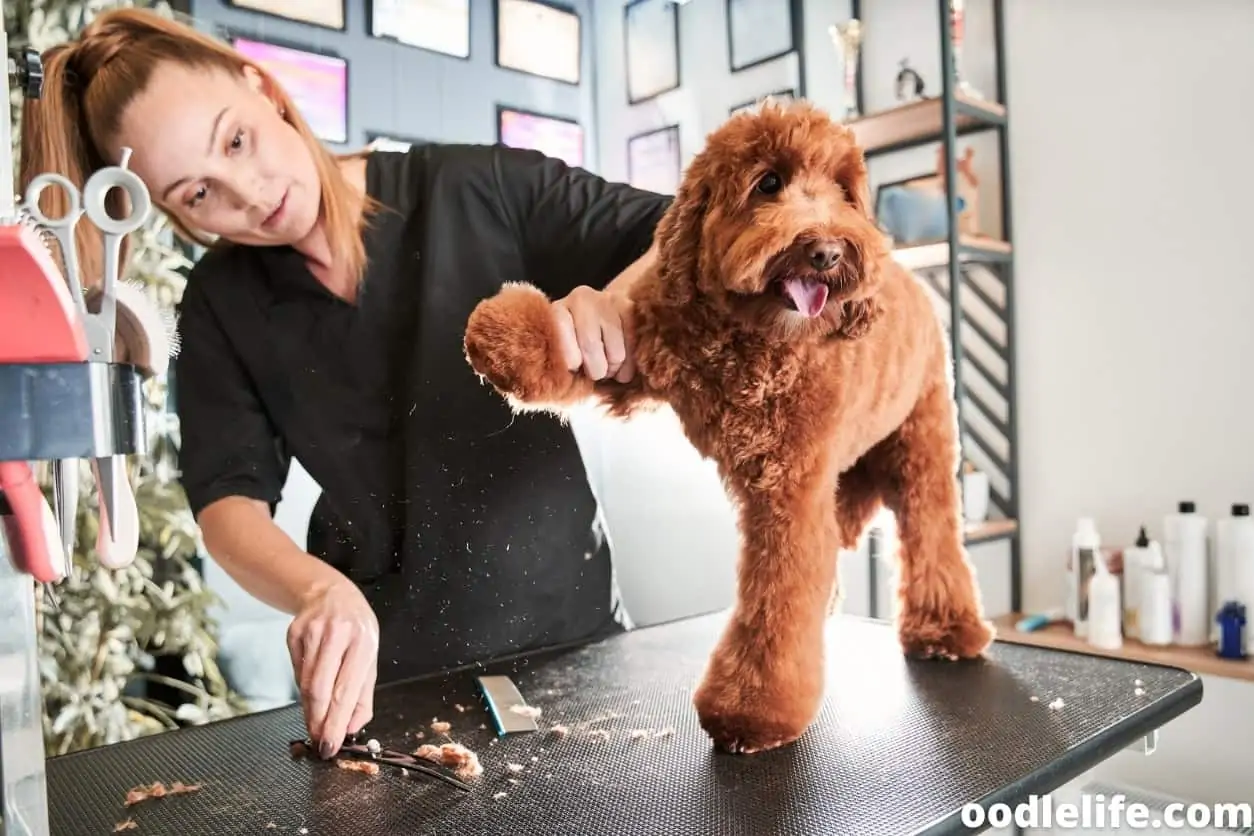 Notes From the Grooming Table by Melissa Verplank
Verplank's book is another book for professional groomers. It comes with over 600 pages of information, diagrams, photos, and references for taking care of over 200 breeds. It details the specifics of the tools, techniques, and procedures real-world groomers encounter with dogs.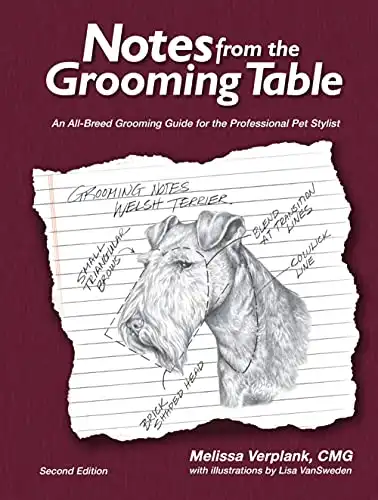 We earn a commission if you make a purchase, at no additional cost to you.
Versus the Professional Groomers Textbook, this tome has a few trade-offs. While the information is slightly older, this book is cheaper and more information-rich than Joanne Angus's collection. It's a heavy book, so it isn't the most practical to carry around.
However, I think it's a fantastic resource for serious salon workers who want to improve their skills.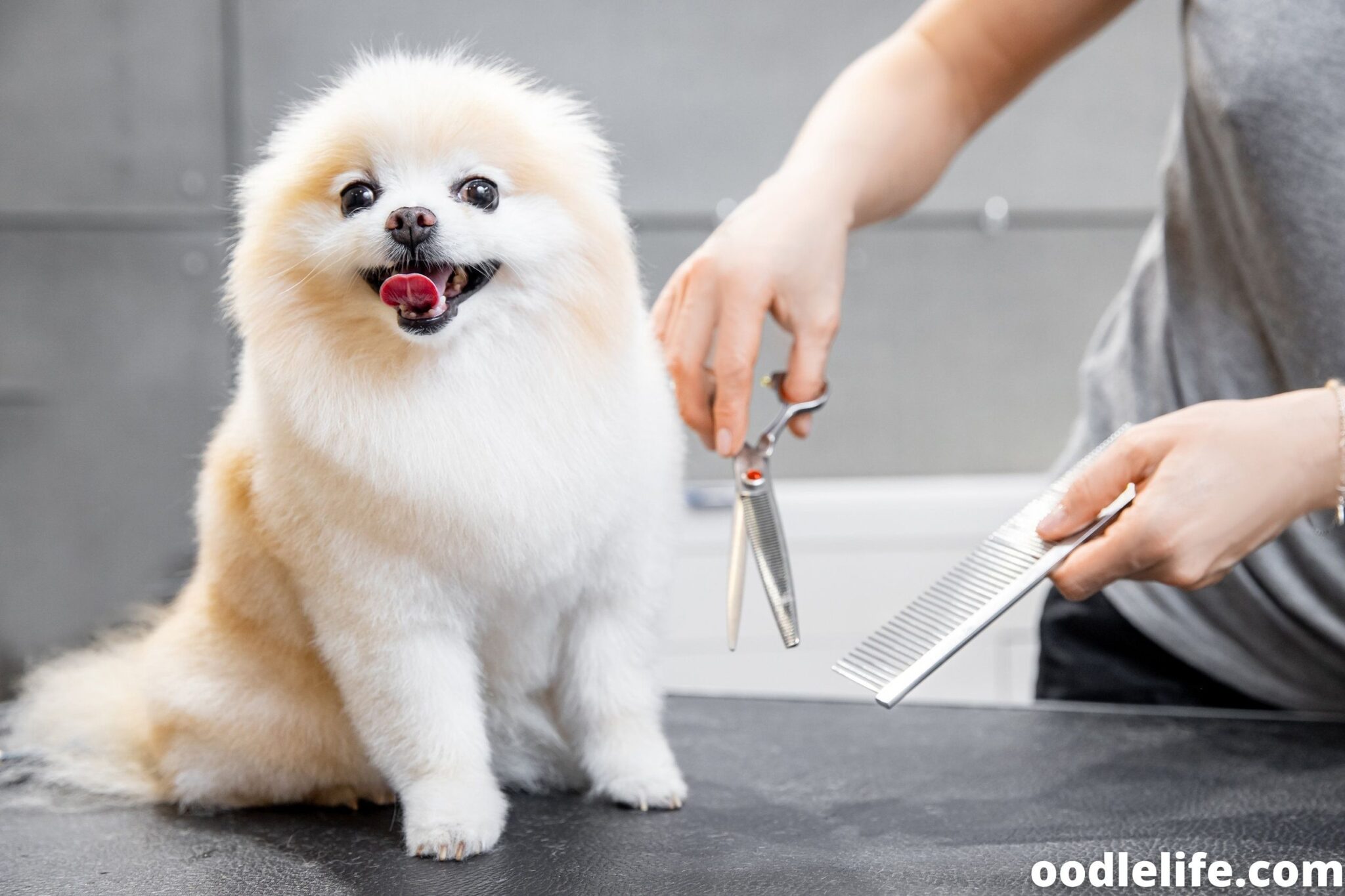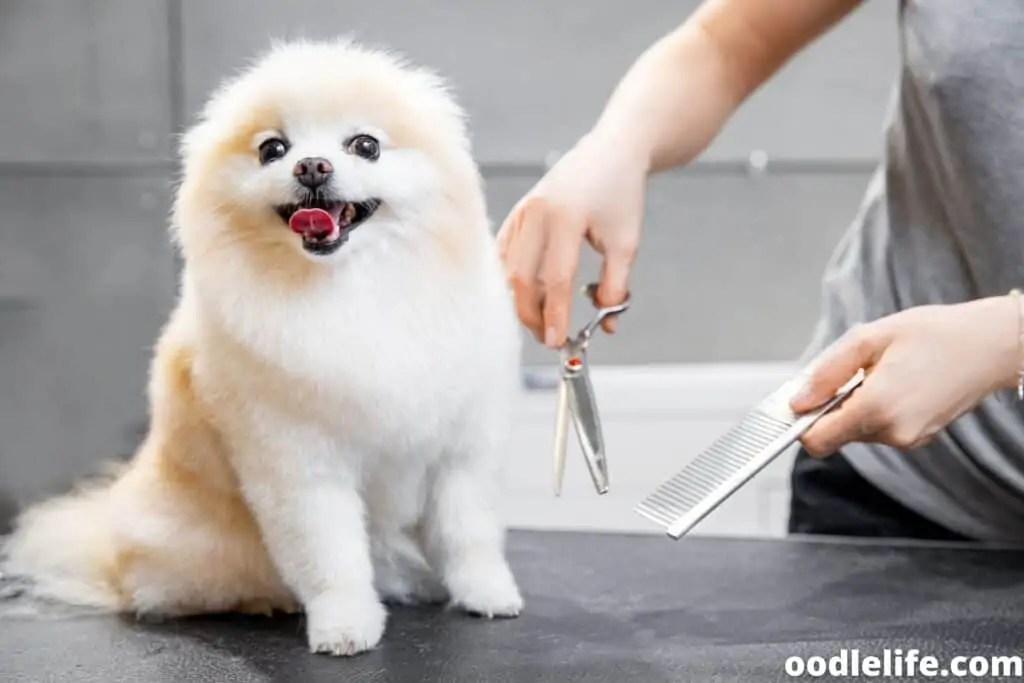 Dog Grooming For Dummies by Margaret H. Bonham
The For Dummies book series has beginner information on hundreds of topics, and their dog grooming volume is helpful for novices. This 384-page guidebook teaches you how to take care of certain coat types for both dog shows and home health practices. It is particularly in-depth about Poodle cutting and makes a decent all-around practice guide.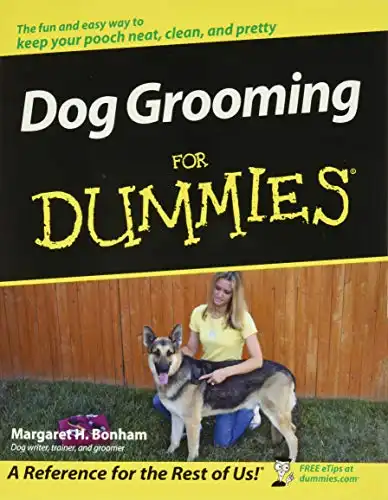 We earn a commission if you make a purchase, at no additional cost to you.
The pros of this book are its accessibility and its availability. The volume contains humor that helps the reader stay engaged. It doesn't cost much and is easy to find online and at bookstores.
The downside is that this information is old since the book was published in 2006. It may also not be as in-depth as you would like, so I recommend trying out this book as a source of supplemental knowledge. Pair it with a good video series online or a more in-depth guide.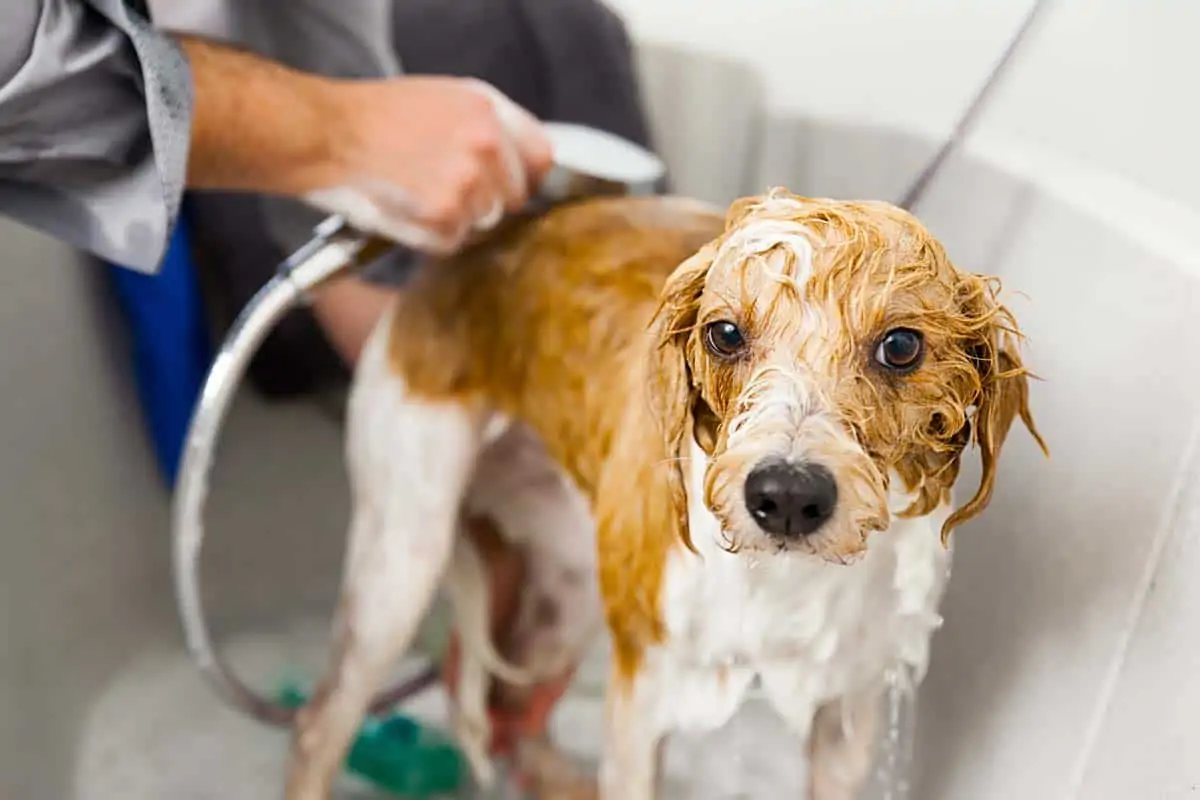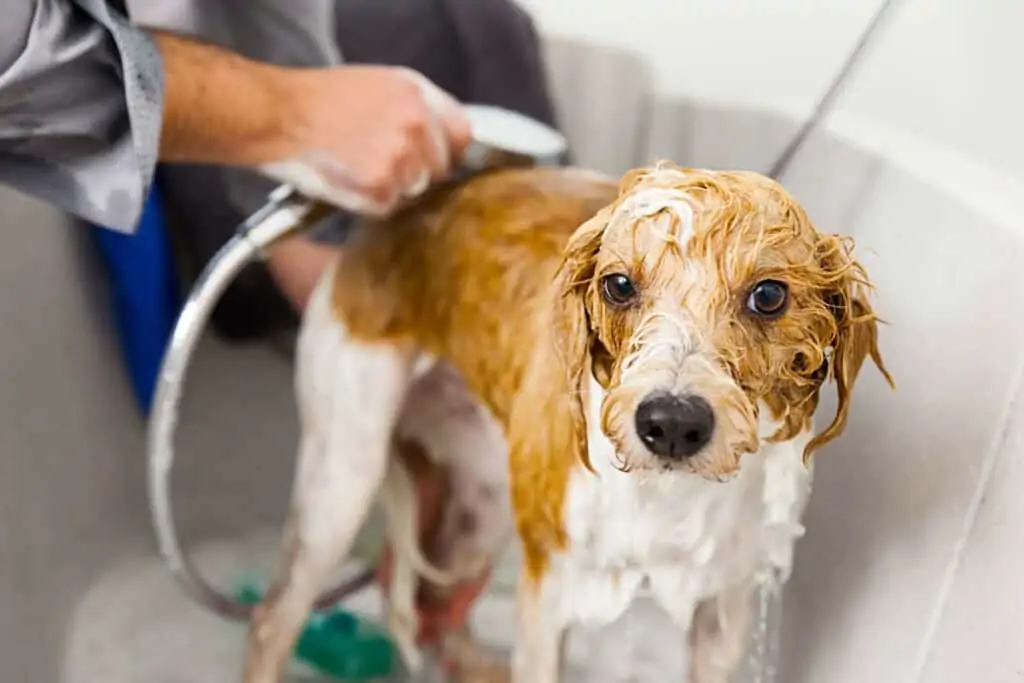 Complete Guide to Dog Grooming (Animal Planet) by Eve Adamson
Adamson's guide gives the reader a detailed explanation of grooming hair, teeth, claws, and even the lesser-discussed areas. It is a beginner-friendly guide best suited for owners wanting to groom at home. People who work in salons or have a repertoire of experience may not find this book as useful as others. 
We earn a commission if you make a purchase, at no additional cost to you.
This volume combines the information from the grooming textbooks with the readability, familiarity, and accessibility of a beginner book. It has 256 pages covering almost every American Kennel Club-recognized breed. The product is available as a hardback or a Kindle ebook and is incredibly affordable for a book so dense.
There are some downsides, however. Namely, there are no step-by-step pictures for any grooming procedures. It also doesn't describe using clippers in satisfactory detail.
All in all, I think this is a decent, economical book for supplementing your grooming knowledge.
Poodle Clipping and Grooming: The International Reference by Shirlee Kalstone
Poodles are one of the most diverse and labor-intensive breeds to groom. This last product is a well-rounded guidebook for Poodle owners and upscale salon proprietors. It is a very nuanced volume full of worldwide information.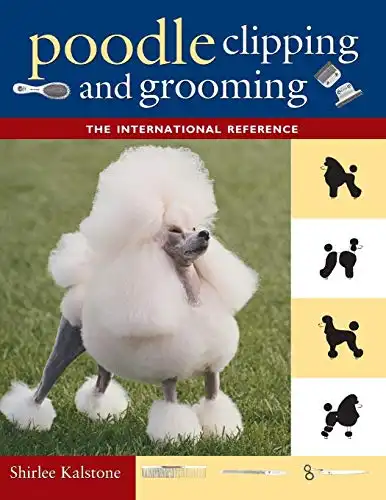 We earn a commission if you make a purchase, at no additional cost to you.
Each of its 247 pages is full of color photos, step-by-step instructions, and expert advice.
There is no stone left unturned in this volume. You will learn how to clip near the eyes, stomach, neck, and ears of your Poodle for the perfect appeal. You can apply some of what you learn to other dogs, especially the routine maintenance tips.
For as dense and informational as this volume is, it doesn't cost the price of a salon textbook.
However, even though it holds up well, it is still an old book, first published in 2000. If you own a Poodle, I think you won't regret picking up this volume.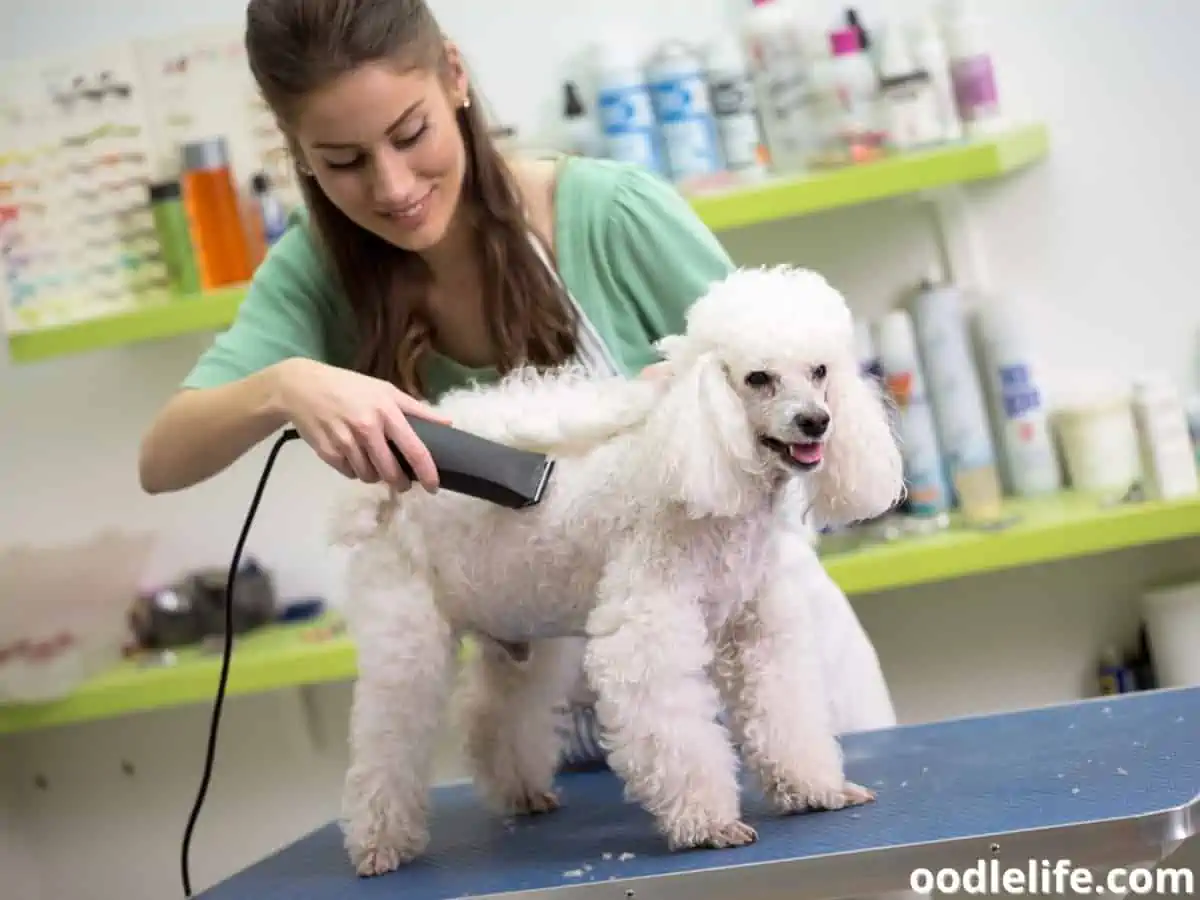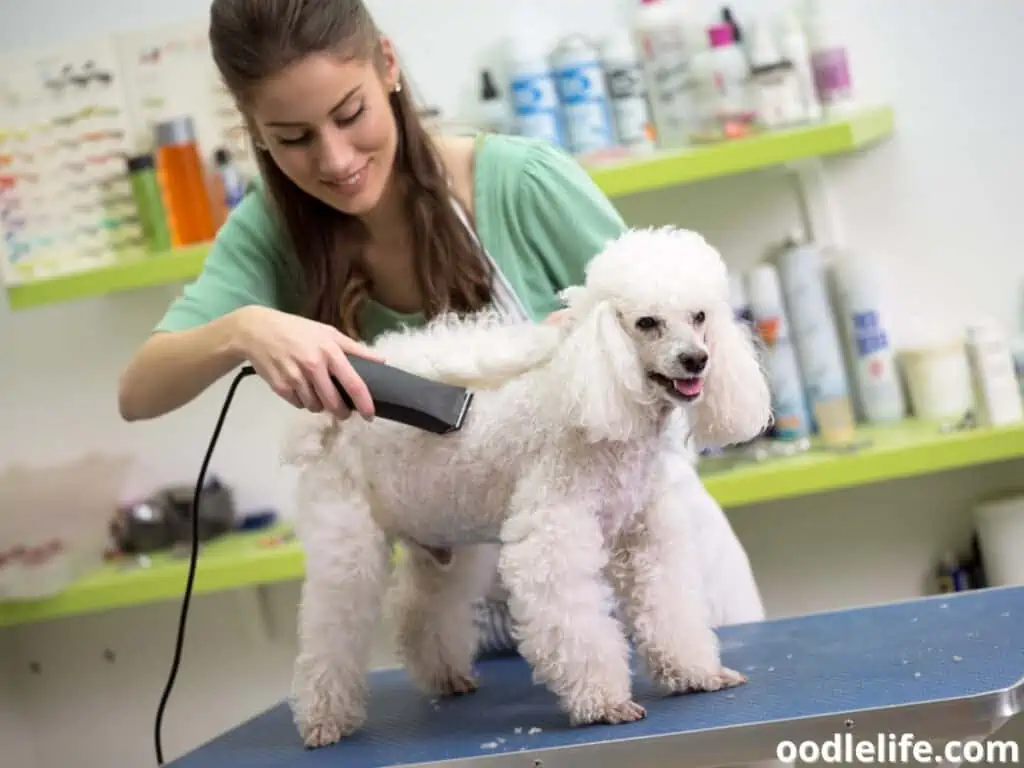 The Complete Dog Breed Book by Dorling Kindersley
We earn a commission if you make a purchase, at no additional cost to you.
This book by the far-flung London-based publisher, DK, is a comprehensive almanac of dog breeds. It describes their behavior, diet, and other needs, including grooming. Reading the book leaves you with a holistic understanding of your dog.
Several canine experts worked with DK to compile one of the best pet glossaries money can buy.
The grooming indexes come with diagrams and step-by-step photographic sequences that are just as reliable as watching a video. It's effortless to follow along with the book as you brush and shampoo your pet.
You can buy the book as a hardback or paperback. It's also available as a Kindle ebook for anyone who wants more convenient access.
Let's talk about the cons. While this is an awesome resource for getting an overview of dog care, it's mostly general information. For breeds like Poodles or others with intensive hair grooming, you may want to seek a more specific book.
But for newcomers, this one is an asset to own.
Conclusion
We've taken a look at seven of the best dog grooming books. Many are general while others are specific, and there's a representative of every skill level in this list. Whether you're a newcomer to grooming your pet or an experienced stylist, the right information is just a few pages away.
Your dogs will thank you for the time you spend taking care of them!