6 Best Dog Harness for Goldendoodles (Our Favorites)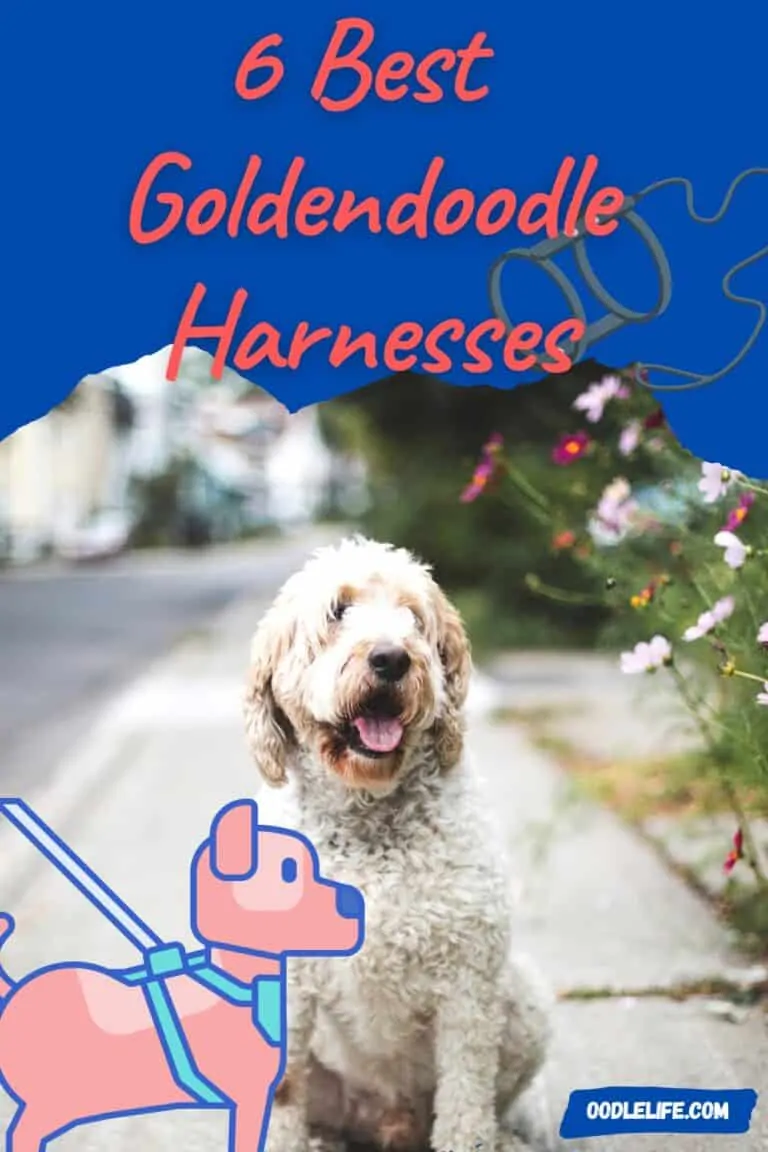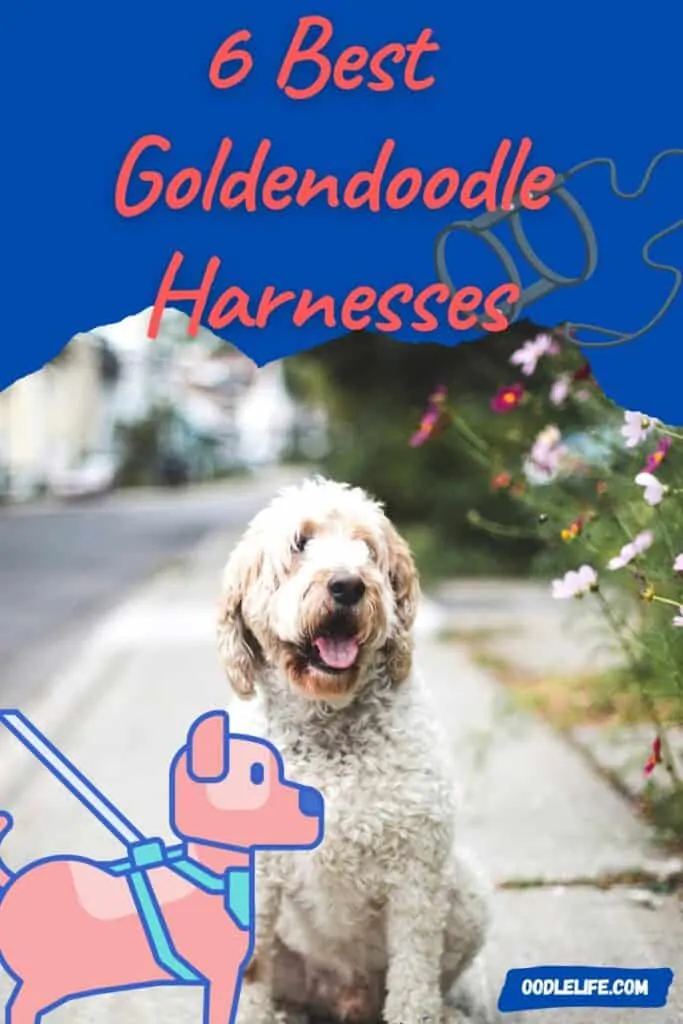 Top 6 Dog Harness for Goldendoodles
Pros:

Remarkable value

Easy use

Washable

Adjustable

Pros:

High end quality

No pull

Durable

Performance focus

Pros:

Great for travel

Good for water

Easy step in design
Remarkable Value
Pros:
Remarkable value

Easy use

Washable

Adjustable
Performance Pick
Pros:
High end quality

No pull

Durable

Performance focus
Step In Pick
Pros:
Great for travel

Good for water

Easy step in design
08/02/2023 09:35 am GMT
If you have an active dog like the Goldendoodle, you will need to pick up a harness for them. Attaching a leash to a collar can cause injury to dogs of all sizes. Happy, loving, and energetic Goldendoodles can be easily injured by the forces of a leash-to-collar attachment.
Harnesses help to spread the strain over the larger area of the dog. Basically, it is a lot safer and more comfortable for your Goldendoodle to be rocking a kickass harness.
But what are the very best dog harness for Goldendoodles? What factors should be considered before investing in a long lasting product?
With so many different Goldendoodle harnesses on the market, how do you choose the right one for your furry friend? Well, you could spend an age trawling through website after website, not sure whether you are purchasing the right thing. Alternatively, you can just let us do the hard work for you. Below, you will find a list of what we firmly believe are the best dog harnesses for Goldendoodles.
The Best Dog Harness for Goldendoodles – PoyPet No Pull Dog Harness
With so many features packed into the PoyPet No Pull Dog Harness, it is pretty tough to know where to begin.
If your dog is not a fan of putting on harnesses, then this may be the best route to go down. This dog harness has been designed to be dead simple to put on. All you need to do is use the 3 quick-release buckles. You don't have to put the harness over the dog's head or anything. It just clips into place with the minimum of adjustment. This means that your dog can be out and about with no hassle at all.
The design of the harness is also meant to discourage pulling from the dog. Now, we cannot promise that your dog isn't going to pull when wearing this. However, the team behind PoyPet has designed something so comfortable for your Goldendoodle that it probably isn't going to want to pull. Even if it did, the no-choke design means that it will not cause them any pain or discomfort. 
We particularly love the fact that there are two places to put the leash. You have a clip at the front of the harness and a clip at the back. If your Goldendoodle really loves pulling, then clip the leash onto the front. It will be almost impossible to do that.
The harness has been lined with a reflective material. This means that your dog could be spotted when it's a bit darker outside. Although, you should probably remember that this is going to be more of a safeguard. You should never rely on a dog harness to ensure that your dog can be spotted by vehicles.
To cap it all off, because your dog's chances of wearing a dog collar are small when they are wearing a dog harness, there is a small mesh pouch on the front of this one. It has been designed to hold a name card. This means that if your dog happens to go missing, the finders will know how to get in touch with you!
All dog harnesses should allow easy and safe tethering to a seatbelt for driving. It is vitally important to safely secure dogs when driving for their safety and for your own.
Puppia Soft Harness
This is a simple harness, so do not expect it to be boasting all of the bells and whistles that the PoyPet offers. The Puppia Soft Harness has been designed for those that need a harness for their Goldendoodle but are trying to stick to a budget.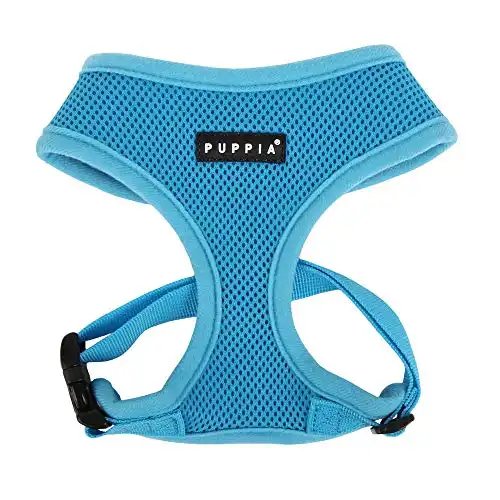 We earn a commission if you make a purchase, at no additional cost to you.
The Puppia Soft Harness is constructed from polyester. This means multiple things. The first that it is incredibly soft and flexible. This means that it is going to be comfortable for your dog to wear. If they do end up pulling, then it is not going to cause them any discomfort.
Polyester is also ridiculously tough as a material. We see no reason why this Puppia Soft Harness wouldn't give you years and years of happy use. Unless your Goldendoodle is a particularly feisty puller, they aren't ever going to be breaking this.
One of the 'features' that people seem to love the most about polyester, however, is that it is easy to clean. You can just throw it in the washing machine, and it will be squeaky clean after just one wash cycle. This means that it is the perfect harness if you are one of those people that really enjoys taking their dog out on long and muddy walks (or hikes and hunts!).
Perhaps the real highlight of this soft harness is that it comes in about a dozen colors. This way, you can choose the right color to reflect your or your Goldendoodle's personality.
RUFFWEAR Web Master
We will put aside the fact that RUFFWEAR is clearly the best possible name for a dog accessory company. Luckily, the team at RUFFWEAR is not only brilliant at coming up with names for companies, but they also make some stellar products.
For active dogs
RUFFWEAR Multi-Use Support Dog Harness, Hiking and Trail Running, Service and Working, Everyday
Super secure: Anatomically designed for canine companions with a nose for adventure; Ideal for challenging terrains, working dogs, service dog handlers, and amputee dogs
Lift and assist: Made for maneuvering, the padded, reinforced handle is designed to safely and comfortably help your dog up and over obstacles
Customizable fit: 5 convenient points of adjustment for full range of motion; 2 sturdy leash connection points; Anodized aluminum V-ring and webbing loop
Built to last: Durable construction for a high-performance, lightweight feel; Resilient, rugged, and made for year-round use; With reflective trim and safety light loop (Beacon light sold separately)
Padded for comfort: Foam-padded straps provide lasting comfort without hindering movement; Designated area for patches and signage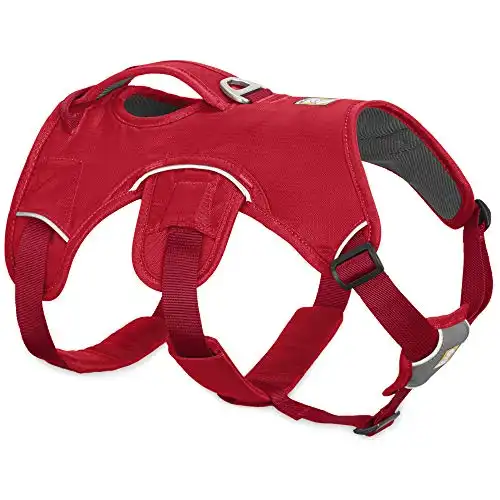 We earn a commission if you make a purchase, at no additional cost to you.
The RUFFWEAR Web Master may look like a complicated piece of kit. However, we promise you it isn't. It is going to be surprisingly easy to attach this to your Goldendoodle. Once you are used to it, you should clip the harness onto your pet in under a minute. Assuming that you purchase the right size for your dog, it will provide a perfect fit too!
This product has been built for those pet owners that crave a life of adventure and want to bring their dog along for the ride. There are a couple of features that help with this.
Firstly, all of the straps on the RUFFWEAR Web Master are padded. This means that your dog will be able to wear it for hours and hours on end without any discomfort, even if they enjoy pulling.
There is also a handy handle on the top of the harness that can make it a bit easier to lift your pet over obstacles. Obviously, with the average Goldendoodle weighing 30lbs, you probably won't want to support them with that handle alone. Still, if you provide support underneath their body, they should be simple to lift up.
If you aren't using the handle, then many owners of this harness have used it to attach a light. This is great for night walking. In fact, this is the primary use of the handle for this harness. You may be surprised to know that this harness is used extensively in rescue services.
Julius K9
The Julius K9 works in a bit of a different way to the other harnesses on this list. We put it down to the fact that it comes from Europe. They really love to do things a little bit differently over there!
Performance Pick
Julius-K9, IDC Powerharness for Performance
Many sizes available (Goldendoodle to Poodle, Small dog to Large)
Professional control for urban walks: IDC Powerharness is your dog harness for bustling days, early morning walks, and getting around safely. It is a harness you can fit in one move and count on when you need it.
Interchangeable hook & loop patches: You can choose from countless different patch options to express your dog's personality, mood, or to display useful information on your harness.
Sturdy construction for everyday use: The handle atop the harness allows you to control your dog with confidence. Reliability and durability are guaranteed by the shatterproof buckle, and the use of first class materials. The reflective elements of the harness ensure good visibility, and the first class lining provides comfort.
One-click fit for daily use: To make your bustling days go smooth, the harness can be fitted in a single move.
We earn a commission if you make a purchase, at no additional cost to you.
Despite the slightly different design, the Julius K9 is still going to provide perfect protection for your Goldendoodle should they pull a little bit too hard. The pressure will spread around the area just below their neck, their back, and their belly.
The design of Julius K9 means that it is going to take mere seconds to clip everything into place. One strap under the belly. One strap around the area below the neck, and you are done. Simple!
This is a dog harness that professional dog handlers often use, which should give you an idea as to the build quality. It is built to last, no matter how rugged the conditions get. It is even water repellent, which means that it doesn't get soaking wet, causing discomfort for your dog.
Oh, and as an added touch, the team that makes the Julius K9 can also make a harness patch. You get one included in the box, but they can make one up with your own text if you want. This is a great way to share your dog's name and address, or maybe just share a thought-provoking quote. It is your choice! Of course, there will be an extra fee for this.
Eagloo Harness Adjustable Harness
The Eagloo Harness Adjustable Harness is pretty similar in design to the first one that we mentioned. It is just not as rugged. So, if you liked the PoyPet option but felt that it was a bit out of your range, then check out the Eagloo option.
As with all of the dog harnesses that we have talked about so far, the Eagloo harness will be comfortable for your dog to wear. It is highly breathable, and it has been padded in all the right places. This means that your dog could probably wear it for hours and hours on end without any complaints!
It doesn't take too long to get it connected up to your dog—just two buckles to clip into place. If you find that it doesn't fit your Goldendoodle quite right, you have four different adjustment points to make sure you get it perfect. This means a more comfortable and, perhaps more importantly, happier dog!
Don't worry about the lower price in comparison to the PoyPet option either. The construction means that this harness is still going to last years, even if your dog is a terribly lousy puller.
Embark Adventure Dog Harness
We are going to wrap up this list with a dog harness from Embark Adventure. As the name suggests, this is for the dog that enjoys being outside. Which, to be honest, is pretty much every single dog.
Embark Adventure XL Dog Harness No-Pull Dog Harnesses
THE ULTIMATE ADVENTURE DOG HARNESS - A dog vest harness active lifestyles: go together for an easy walk, run / running, hiking, swimming or camping. Great for sport & enjoying outdoor freedom.
HIGHLY ADJUSTABLE & EASY ON AND OFF - Longer straps with extra adjustment space help you find a snug fit for your dogs / puppy.
HEAVY DUTY & EXTRA DURABLE - Made from strong military-grade nylon that exceeds the national pulling strength guidelines by at least 130 LBS!
ALLOWS SAFE NO PULL TRAINING - The position of the back leash attachment and soft padding around the neck help protect your dog's trachea from strong pulling
SUPER COMFORTABLE & STYLISH –Highly comfortable easy walk harness for dogs.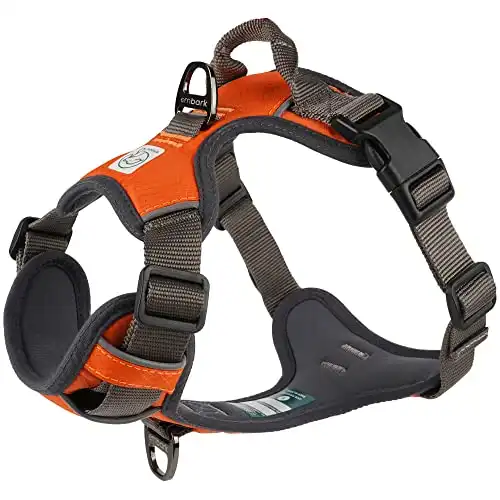 We earn a commission if you make a purchase, at no additional cost to you.
This harness is easy to use. The first time you clip it onto your dog, you will need to make a small amount of adjustment. However, you have a lot of leeway in the straps. This means that you will be able to get the most perfect and comfortable fit for your pet. Once all that adjustment is made, it never changes. You can just clip on and clip off the harness whenever you want, safe in the knowledge that it will be correctly adjusted to your dog still.
This harness has been built with strength in mind. These harnesses have been tested to well more than any pulling strength that a dog is capable of by all accounts. The harness has still managed to hold together. So, don't worry, your dog is not going to be tearing this to shreds because they pulled a little too hard. You can't say this for many of the cheaper options on the market (none of which we included on this list, of course)
If you want a quality, dependable dog harness for your Goldendoodle, then this is perfect.
Conclusion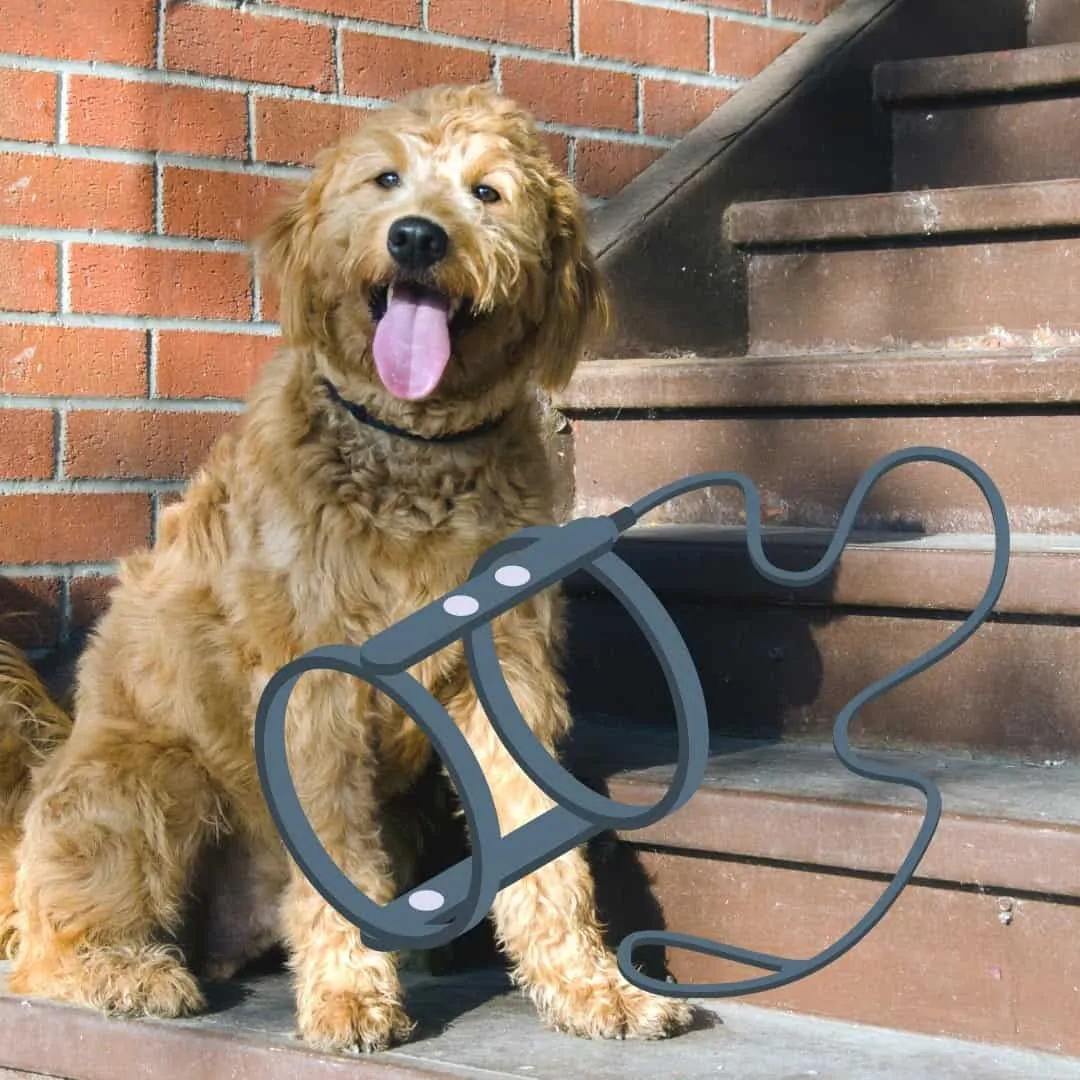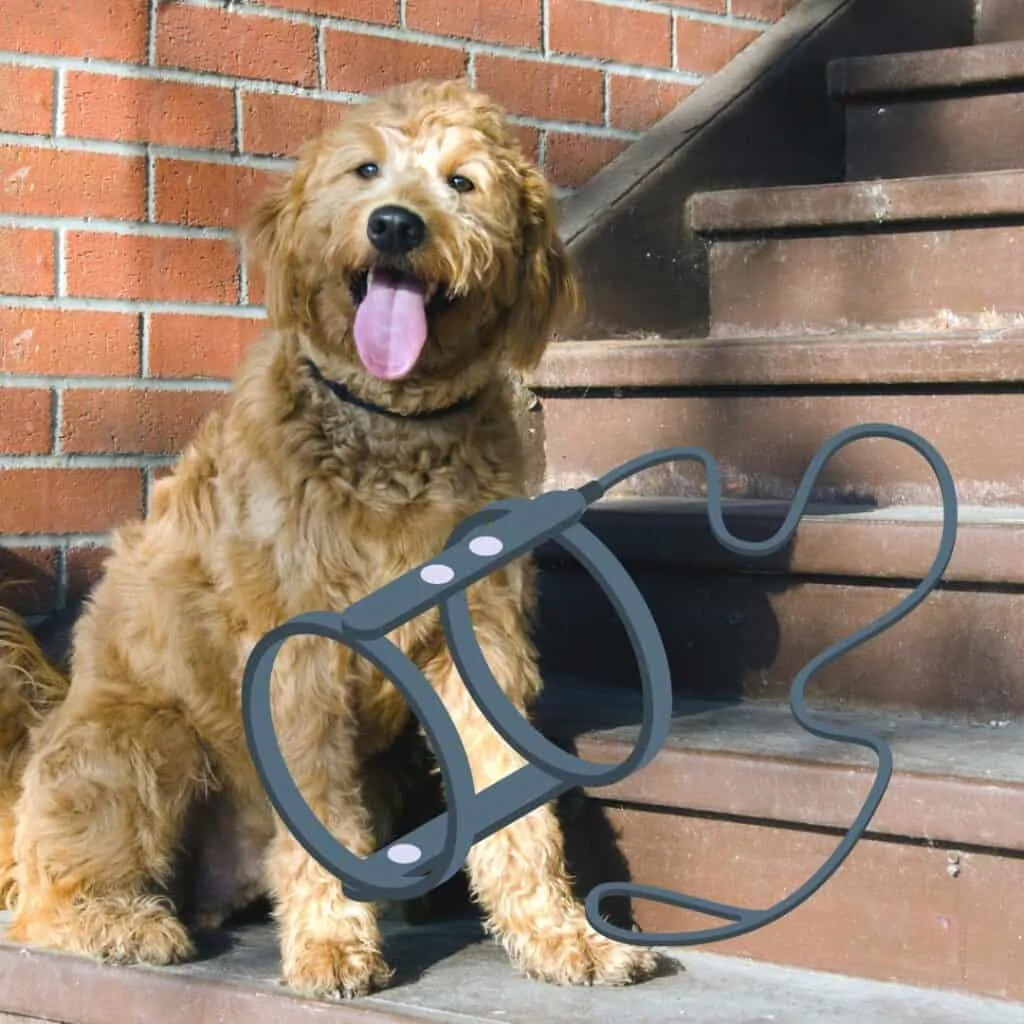 We have included six different dog harnesses for Goldendoodles here. We promise you, all of them are going to be brilliant at their job. We suggest you go through and take a look at each of them individually. Whichever one you buy, we can assure you that you will be more than happy with it.