8 Best Extra-Large Dog Blankets
Winter is slowly setting in and your four-legged has started shivering due to the cold. You decide that being indoors may be the best solution but the shivering doesn't stop and being a first-time dog owner, you don't know what to do.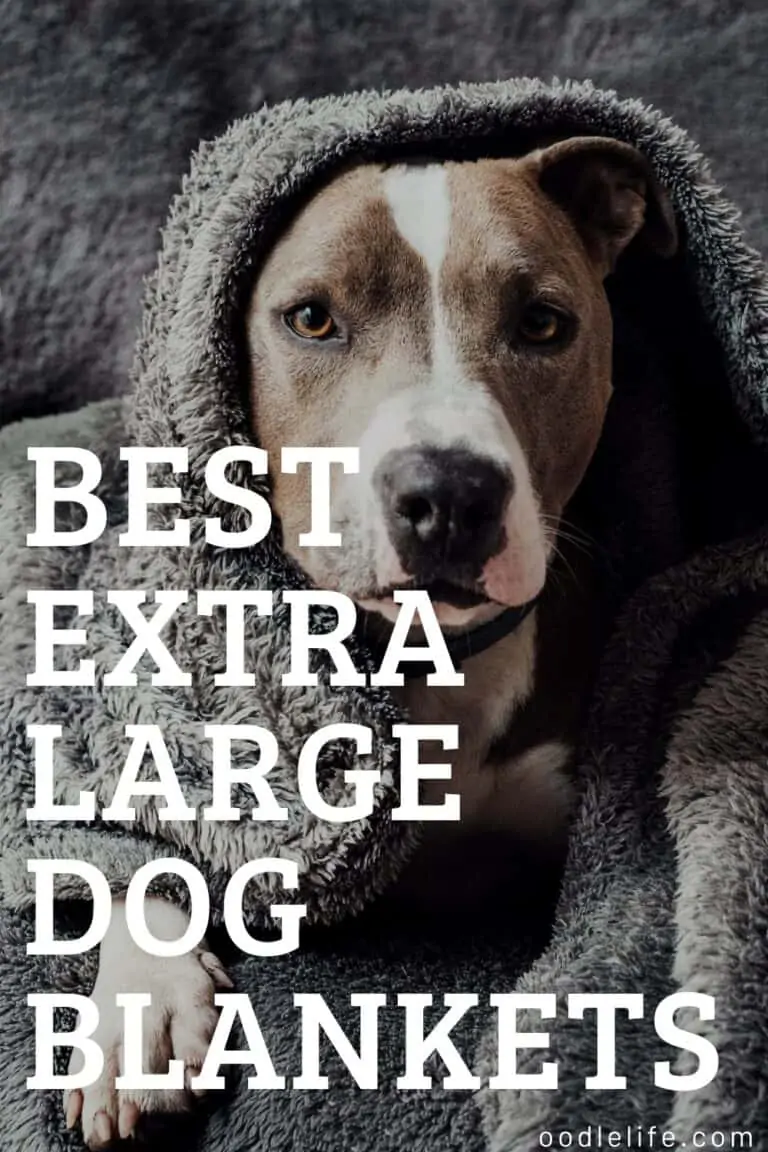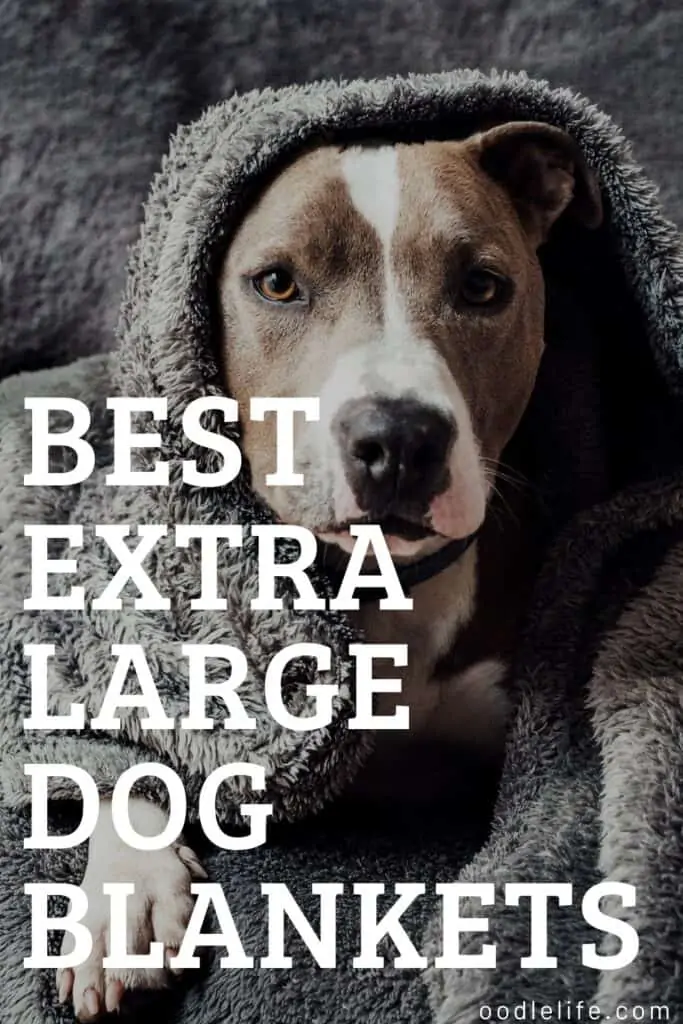 Or maybe you brought a furry friend home and didn't know about the shedding. You find your house and your car full of fur, and no matter how well you clean, the house is a mess again.
Maybe it's the weather, maybe it's the house. If you keep finding your dog looking for a place to cozy up, a blanket might be exactly what you're looking for. But where do you begin to look for the right one?
Don't worry!
In this article, we have compiled all the information you need to buy the right blanket for your dog, whatever your needs may be.
No spare time? Here are the top five picks. We have a detailed break down and three runner ups in the article below.
However, if you are specifically looking for extra-large blankets, then you can check out the list below.
Best Extra-Large Dog Blankets
PetAmi Waterproof Dog Blanket
PetAmi Waterproof Dog Blanket for Couch, Sofa | Grey Waterproof Sherpa Pet Blanket for Large Dogs, Puppies | Super Soft Washable Microfiber Fleece | Reversible Design | 50 x 40 (Charcoal)
100% WATERPROOF & LEAKPROOF- Perfect for your pet to lounge and nap on your sofa. Thick warm sherpa and fleece makes this waterproof pet blanket suitable for indoor and outdoor use. We have reinforced...
PROTECTS FURNITURE/PET BEDS - Protects your furniture from scratching, chewing, fur, and shedding while keeping your pet comfortable and furniture free of fur and urine. Also great as a pet car...
WARM AND COMFORTABLE - Equipped with sherpa lining and microfiber fleece, this blanket is reversible. This pet throw blanket features soft, plush plaid design that will keep you warm and cozy while...
VERSATILE - Protect your couch, bed, and home goods from chewing, scratching, and shedding while keeping your pet dry and comfortable. Also great to help keep unwanted pet hair and fur from sofas and...
HIGH QUALITY & DURABLE - Made with 460 GSM premium microfiber polyester, this blanket is soft, lightweight, yet durable. It is easy to care for and MACHINE WASHABLE, tumble dry low.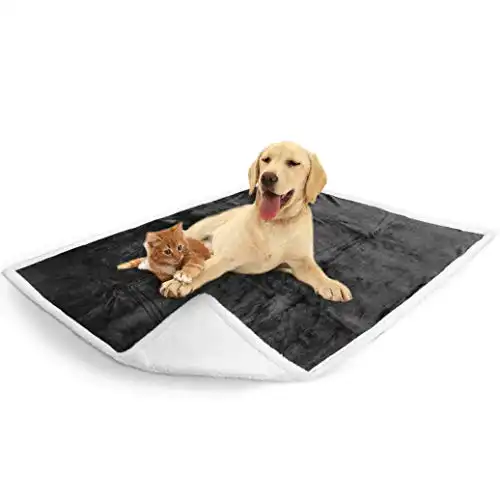 We earn a commission if you make a purchase, at no additional cost to you.
If you want a blanket that can be used both indoors and outdoors, then this is the one for you.
Made of thick Sherpa fleece, this blanket is so soft, it'll be a struggle getting your pet away from it! It also has reversible microfiber that makes it comfortable on both sides.
The thick Sherpa fleece also protects your furniture from the tough love of your dog. You can now let your dog play on any couch, bed, or car without any worry.
Available in 4 sizes, it can be used as a cover for any surface your pet loves to nap on. The blanket is portable and light, so you can use it as a pet mat or car blanket.
Key Features:
Allisandro Extra Softness and Fluffy Lightweight Micro Plush Fleece Pet Blanket
If you are looking for the fluffiest gift to pamper your furry companion, look no further. This blanket is as soft and light as it looks.
Extra Softness and Fluffy Lightweight Micro Plush Fleece Pet Blanket for Small Dogs, Puppies, Cats and Kittens, Vivid Color, 32 x 24 Inches
[ Dedicated Design] Delicate sewing, high-quality materials, lovable and beautiful design in multiple sizes and colors. This cute pet blanket is suitable for daily use and ideal for your pets to sleep...
[Fuzzy and Warm] Made with Premium 350 GSM Micropulsh Fleece fabric, which makes your pets have the softest, sunggest and coziest felling.
[ Furniture Protection] This pet blankets can be used as a furniture cover, which can protecting protecting your furniture from scratching, clawing and chewing.
[ Travel & Outdoors] Easily fold or roll up. It's an ideal bedding companion for your pets when camping, traveling, or any other outdoor activities.
[ Easy Care] Dust, pet hair, or ... saliva? No worries. We designed this fluffy dog blankets to be machine washable. Just clean it with the gentle cycle and tumble dry on low!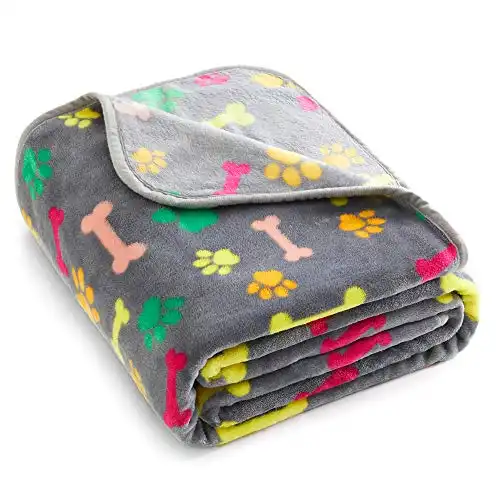 We earn a commission if you make a purchase, at no additional cost to you.
Easily identifiable by their cute paw and bone design, these blankets can be used in the colder months as a throw blanketto keep your pets warm indoors as well as outdoors.
You no longer have to worry about furniture either. This blanket may look delicate but it is made to take any rough handling and will protect surfaces from claws and scratches.
You can also take it out for some outdoor fun, like camping!
Key Features:
Ameritex Waterproof Dog Blanket
Moisture is a big concern for some dog owners and can prevent them from letting their dog move around freely. With the Ameritex blanket, this is no longer an issue.
Ameritex Waterproof Dog Blanket for Bed Couch Sofa (82x82 Inches, Green+Navy Blue)
WATERPROOF - Guaranteed!This premium protector prevents almost all types of moisture and liquids from leaking through. Perfect for those with dogs and cats!
APPLICATION -Suitable for all types of furnitures,especially for sofa and bed.The super soft and luxurious blanket can surely make you share happy time with your pet
TWO LOOKS IN ONE - Ameritex waterproof furniture cover is reversible and provide two colors to match your furniture
MACHINE WASHABLE - Easy to clean. Machine wash cold and tumble dry low
100% MONEY-BACK GUARANTEE - Our products are ensured with a 100% money-back guarantee,and please contact us if you experience any issues!Your satisfaction is our FIRST priority!
We earn a commission if you make a purchase, at no additional cost to you.
The blanket acts as a reversible waterproof cover to protect your furniture and car seats from all kinds of liquids that your dog may bring in. If you are worried that all this will wear out the blanket, fear not! Made of machine-washable fabric, any dirt or grime can be easily cleaned and your blanket is ready to use, good as new.
Key Features:
PetFusion Premium Pet Blanket
If you think you need to buy a different blanket for every season, then a reversible micro plush is the solution for you.
PetFusion Premium Pet Blanket, Multiple Sizes for Dogs & Cats. [Reversible Micro Plush]. 100% Soft Polyester, Gray, Medium (44 x 34) (PF-PB2A)
ULTRA SOFT & COZY: (I) 100% polyester Micro Plush blanket is great for puppies & kittens! (II) Environmentally safe small dog blanket suited for all 4 seasons. (III) Calming dog blanket provides your...
PROTECTS FURNITURE/PET BEDS: (I) Protect your furniture from scratching, clawing, & unwanted pet hair. (II) Great puppy blanket for crate, car, couch, bed, and floor!
PREMIUM MATERIALS & CONSTRUCTION: (I) Premium Shed (pill) resistant fabric. (II) Dense fibers produce a durable dog blanket. (III) Stylish in-seam & premium quality stitching makes this an ideal...
DOUBLE LAYER REVERSIBLE: (I) Medium or light gray, you choose! Our pet blankets for dogs perfectly blend comfort and style (II) 200 GSM. (III) 44 X 31 inches.
We earn a commission if you make a purchase, at no additional cost to you.
Many apartment dogs occasionally suffer from anxiety due to the hectic city life. This is the perfect blanket for them. Its ultra-soft and cozy fabric makes your pet feel safe without it getting too warm.
It is made from dense fibers and premium polyester that is shed-resistant, thus keeping your cleaning task to a minimum.
The blanket will also protect your surfaces from claw marks, scratching, and chewing.
Key Features:
ANWA Dog Blanket
Is your dog not sleeping well? Do you also suffer from sleepless nights because your furry friend keeps waking you up?
Dog Blanket for Large Dogs, Washable Dog Blanket, Pet Throw Blanket for Dog
BETTER MATERIAL BETTER SLEEP: A dog blanket is a must-have pet supplies for your furry friend, Just like blankets for people offer warmth and comfort, blankets for dogs provide our four-legged best...
5 SIZE AVAILABLE FROM SMALL TO EXTRA LARGE: Depending on the size of your dog, you'll need a different size of blanket. If the blanket is too small, your dog will not be able to get much cover from...
SUPER EASY TO MAINTENANCE: Your dog blanket will probably get messy with continued use by your dog. It's important that you'll be able to wash the dog blanket as needed. The best dog blankets are...
MULTI WAYS TO USE: The dog blanket makes pets' sleeping bedding much cozier, By using a dog blanket, you can add some warmth to a dog crate, an outdoor dog kennel, or just as furniture protector. You...
7-24 ONLINE SERVICE: This blanket for dogs is well constructed, thick and fluffy – ideal for keeping pets warm and comfortable. Bare floors can be too harsh during cold weather, and this blanket...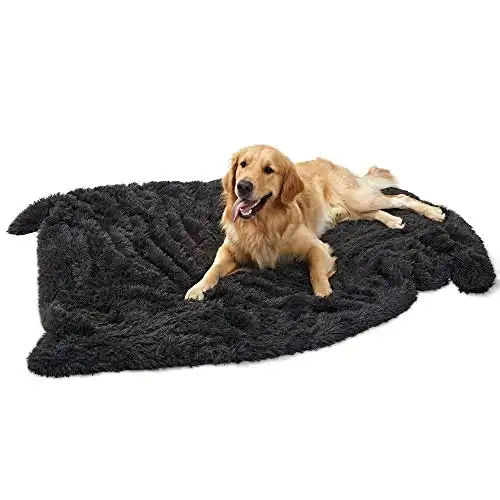 We earn a commission if you make a purchase, at no additional cost to you.
The ANWA dog blanket is intended for those looking to help their dogs sleep better. It keeps your dog warm and cozy, helping them sleep better. The blanket will also protect your furniture when your dog gets restless and moves around the house too much.
Not only that, but the blanket will also allow you to bring your dog along on any trips outside. Take the ANWA blanketalong with you for a car ride, a camping trip, or hike. It can take all the strain of the trip and still be easily cleaned.
Key Features:
Fuguitex Waterproof Dog Blanket
For pets that love to stay indoors with their human companions, the Fuguitex offers just the right snuggling corner.
fuguitex Waterproof Dog Blanket Bed Cover Dog Crystal Velvet Fuzzy Cozy Plush Pet Blanket Throw Blanket for Couch Sofa(40" 60",Cream+Beige)
OPTIONAL SIZES: In order to fit everyone's needs, we offer various dimensions of fuguitex dog blanket to choose. (40"*60",52"*80", 68"*80",80"*82", 80"*102")
WATERPROOF: Compare to the dog blankets on the market, our innovated dog blanket highlights 100% waterproof. This innovated dog blanket with two waterproof coating on both side and an internal...
REVERSIBLE: With soft plush on one side and fuzzy velvet on the other, your dogs, cats, or other pets would love to snuggle up on this warm and cozy blanket.
FURNITURE PROTECT: Protect your furniture, beds, sofa, couch and cars from the ravages of pets, children and incontinent adults, the dog blanket will pay for themselves off over time.
EASY TO MAINTAIN: fuguitex dog blankets are made to last. Machine washable in cold water, tumble dry. Quick ironing or steam clean when needed. If you have any problem please context us, we will help...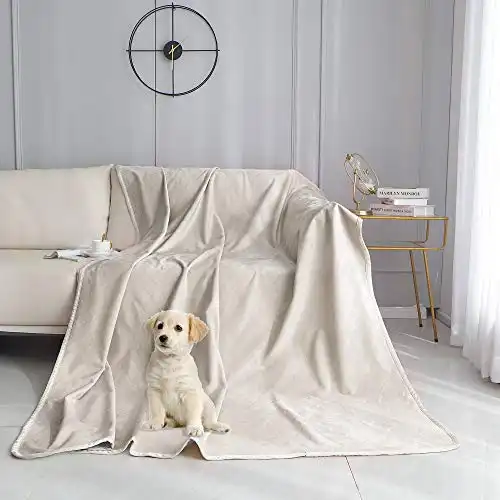 We earn a commission if you make a purchase, at no additional cost to you.
No matter how durable your upholstery is, your pet can wreak havoc upon it within minutes.
Since there's no going back in time to prevent any damage, better to think ahead and use the Fuguitex. It is covered with soft plush and fuzzy velvet that will tempt your dog to curl up on it more often than anything else.
And don't worry about any liquid mess either. The blanket is waterproof on both sides, so there are no leakages and no damages to your sofa.
You can rest easy while your pet lounges as the Fuguitex is made to last a long time. It can also be ironed or steam-cleaned when needed.
Key Features:
PAWZ Road Pet Dog Blanket
Bring in this extra-large road blanket on any journey. You can take your pet along in your car, to your friends' place, or on a road trip, you've been planning.
PAWZ Road Pet Dog Blanket Fleece Fabric Soft and Cute Grey L
LARGE SIZE: 100*120cm(40*47inch), perfect for large and extra Large size dogs, such as Labrador Retriever, German Shepherd Dogs, Golden Retriever, Bulldog, Pointers, Siberian Huskies, Spaniels,...
Premium Material: 100% Double-Sided ultra-soft plush material. This well made pet blanket is ideal for travel and naptime.
Usage: Soft and cozy Keeping pet hair off furniture. Perfect for protecting the couch and bed or placing inside pet carrier, Car & RV.
Easy Care: Machine washable and fine with tumble dry, never shed or fade
Buy with Confidence: We provide professional before and after customer service. 100% satisfaction guarantee. Any question or concerns feel free to reach us.
We earn a commission if you make a purchase, at no additional cost to you.
It can withstand any form of attack from your loving pet, be it the hair, claws, teeth, or just sleepy snuggles!
But that doesn't mean you can't use the blanket at home. The double-sided velvet is soft enough that your pet will nap on it anywhere, anytime.
Key Features:
Alfa Blanket
Just like its name, this blanket is 3 layers of love for your furry companion.
Alpha Paw Cozy Calming Blanket with Premium Quality Polyester Fluffy Sherpa Fabric to Help with Anxiety and Stress Relief, for Cats and Dogs (White, Medium (32"x40"))
EFFORTLESS COMFORT: Every pet deserves a comfortable place to rest, which is exactly what we aim to achieve with our plush calming blankets. A smooth, downy feel will relieve even the most anxious pet...
QUALITY MATERIALS: Each Cozy Calming Blanket is crafted with premium quality polyester sherpa fabric to ensure the warmest, most snug experience for your fur baby. Whether it be on the couch or at the...
HELPS WITH ANXIETY RELIEF: This anti-anxiety blanket for dogs is soft, cozy, and designed to mimic the comfort of their mother's fur. The nostalgic feeling of warmth and security will keep your dog...
SUITABLE FOR CATS AND DOGS: Pamper your fur baby, whether it's a cat or a dog! Kitties will also reap the same benefits as dogs, and also deserve the same pampering. Spoil your extended four-legged...
AVAILABLE IN MULTIPLE SIZES AND COLORS: These blankets are now available in three great colors: Blue, white, and beige, which can all look PAWfect in any home! The soft sherpa material can also act as...
We earn a commission if you make a purchase, at no additional cost to you.
Now you don't have to leave your dog behind on those lazy summer picnics or trips to the beach! Take them along for any trip or just a drive with this Loving Blanket. Its microfleece is breathable, leakproof, waterproof, and reversible!
Key Features:
Why Buy a Dog Blanket for Your Dog?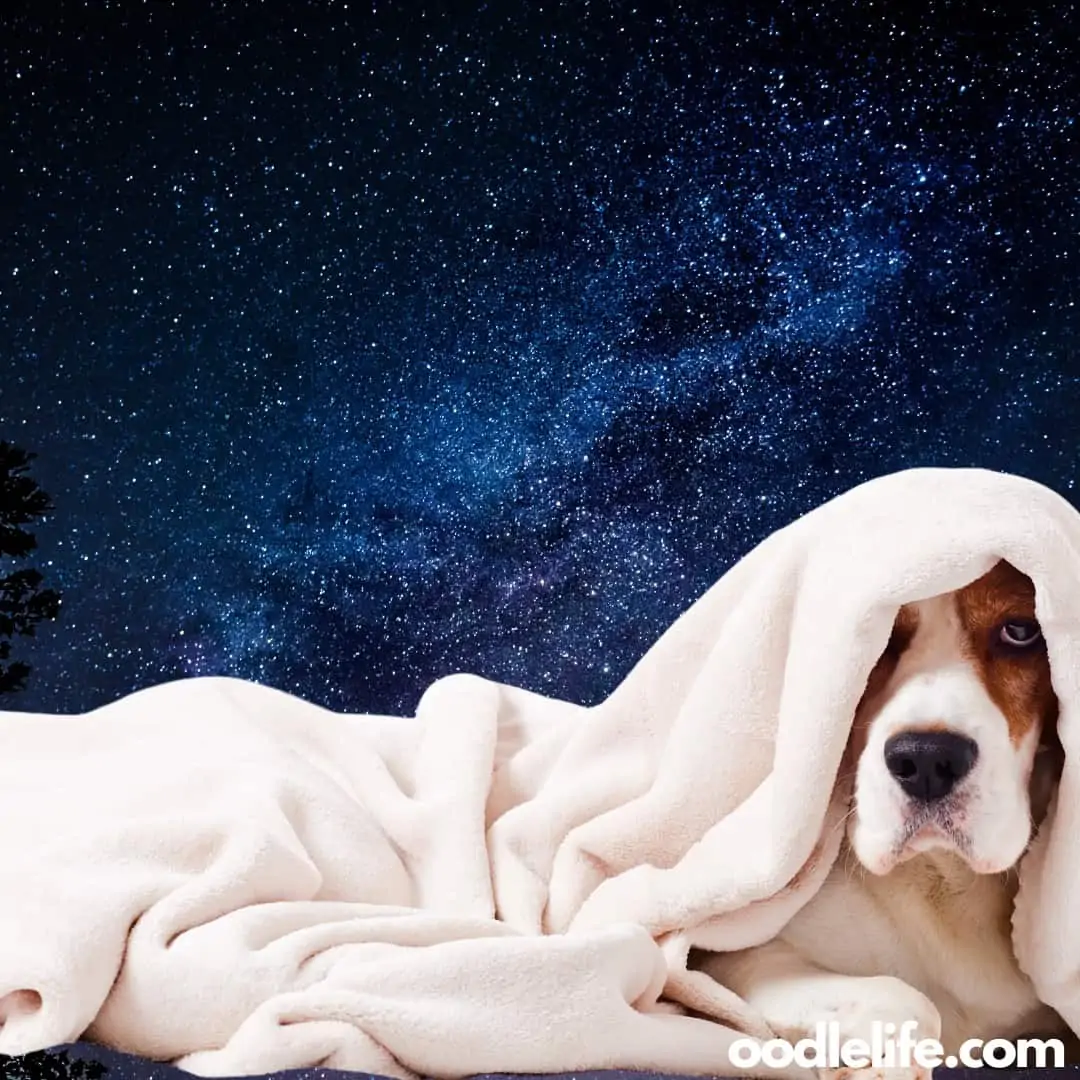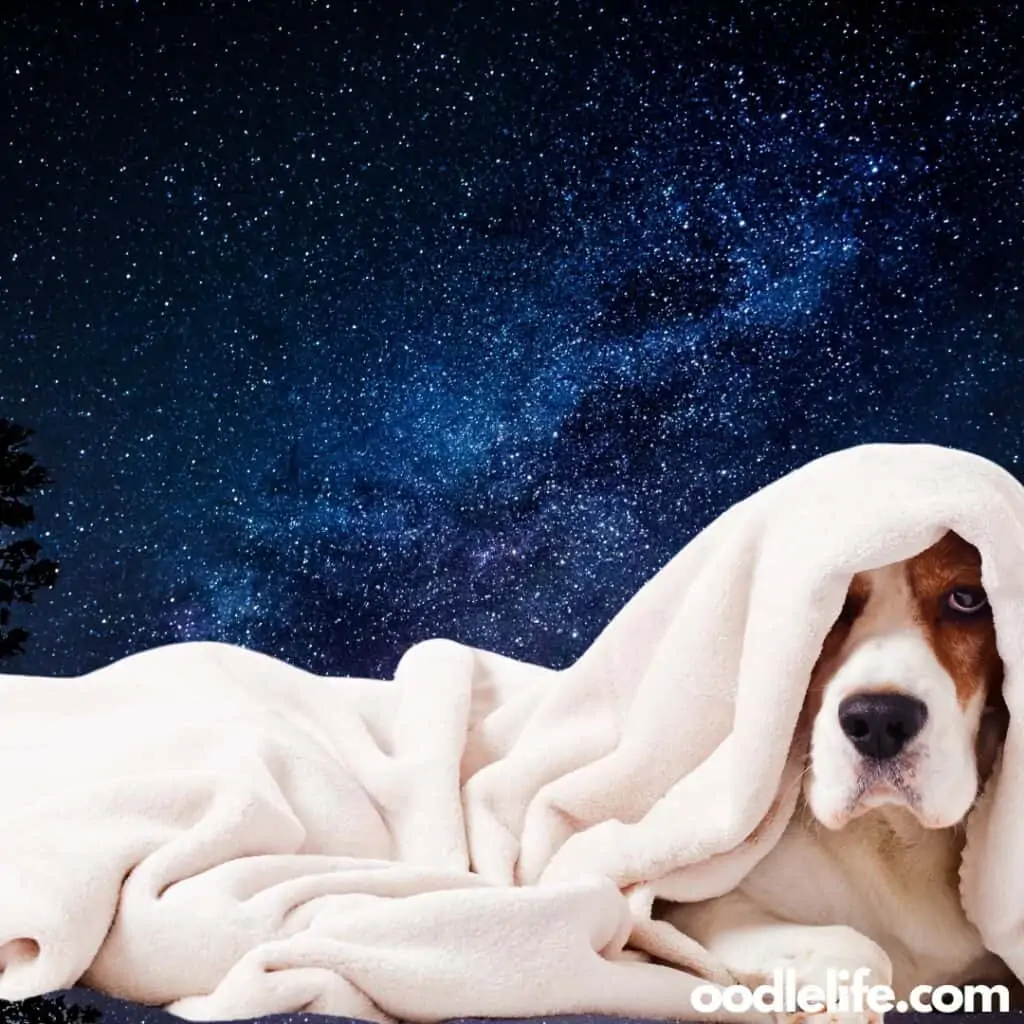 You may wonder whether you need a dog blanket. If you think your old blanket may work just fine, we have news for you. Your old blankets have worn out and are no longer of any use to your dog. A cozy and comfortable blanket is not something to scrimp on if you want to keep your pet snuggly and warm.
Here are a few reasons why your dog may need its temperature drop blanket:
Shorter or Thinner Coat
If your dog has a thin or short coat, it may catch a cold far more easily. Having a blanket will give them the warm benefit of a thick coat.
Designer Dogs
If you have a small pup that you need to carry around with you, or a designer dog that accompanies you everywhere, you can benefit from having a blanket with you to make sure your dog is safe and less prone to accidents.
Health and Age
Dogs, when young, are usually healthy and happy. But as they age, they are much like humans. Their immunity becomes weaker and the smallest temperature changes affect them more. Look for signs of shivering and lazy behavior to know whether your dog may be experiencing cold. Arthritic dogs, in particular, need to be protected from colder climates at all costs.
Types of Flooring
The temperature of floors can change drastically in certain seasons. Dogs can find it difficult to adjust in certain homes if the floors are too hot or too cold as their paws touch the floor directly. Bringing in a blanket will not only make your dogfeel more comfortable but also tell you a lot about the temperature of the floor by looking at what the dog prefers more, the floor or the bed.
Anxiety-Prone
At times when your dog is stressed or anxious for some reason, a blanket can help soothe them. The warmth and coziness of a blanket can help ease their anxiety and make them feel more comfortable.
Weight
Skinny or smaller dogs can catch a cold very easily. If they struggle to adapt to colder temperatures, then you may need blankets to keep them warm. However, this doesn't mean large dogs do not feel cold – they are simply better equipped to handle temperature drops.
Training Days
If your dog is undergoing training, it may be urinating on and clawing at the furniture. Such activities will occur less if they have a blanket around them. A blanket not only protects your upholstery but also becomes a toy for your dog to play with, making them less likely to play with the furniture.
Car Damage
Dogs can do serious damage to your car if not properly trained. While we can't train your dog for you, we can suggest blankets that can protect the interior of your car.
Better Sleep
If you live in a place that gets colder at night, then it may disrupt your dog's sleep. Having a blanket gives them the option to snuggle into it when needed.
Factors to Consider When Buying an Extra-Large Dog Blanket
But before you rush to buy a plushy, snuggly blanket for your dog, here are a few things you should take into account.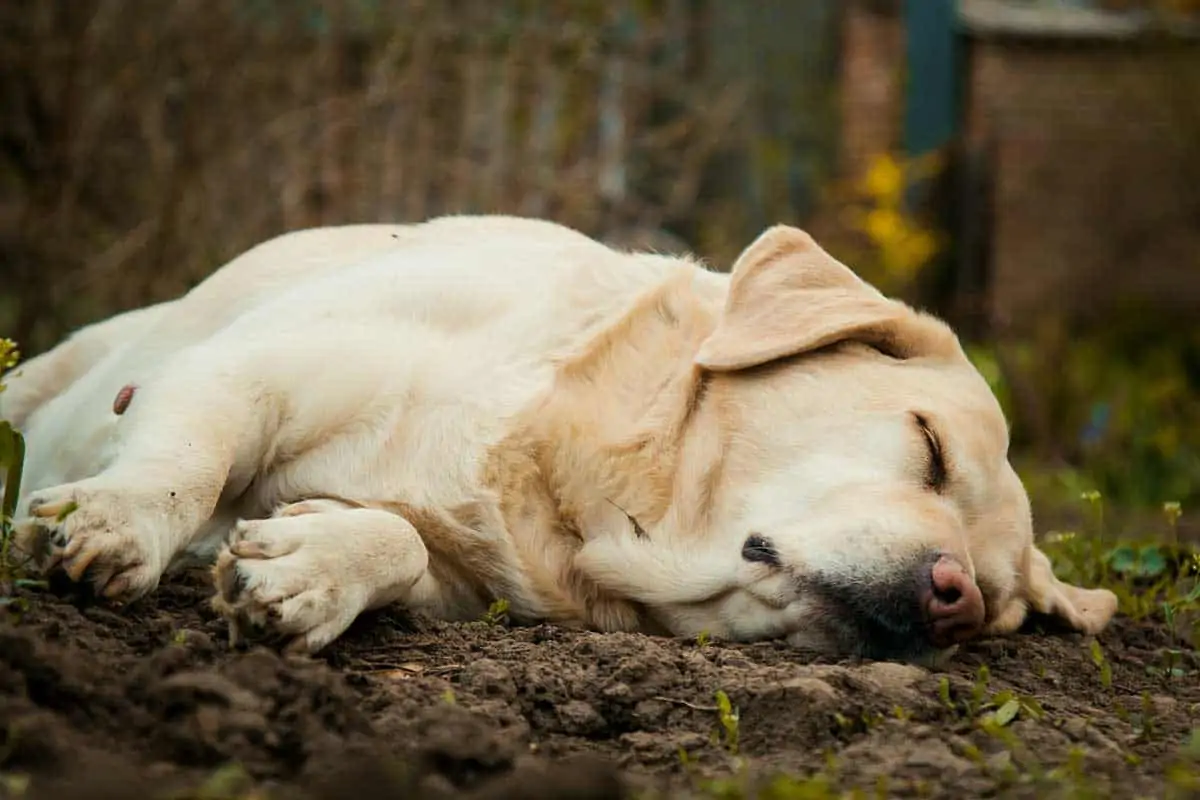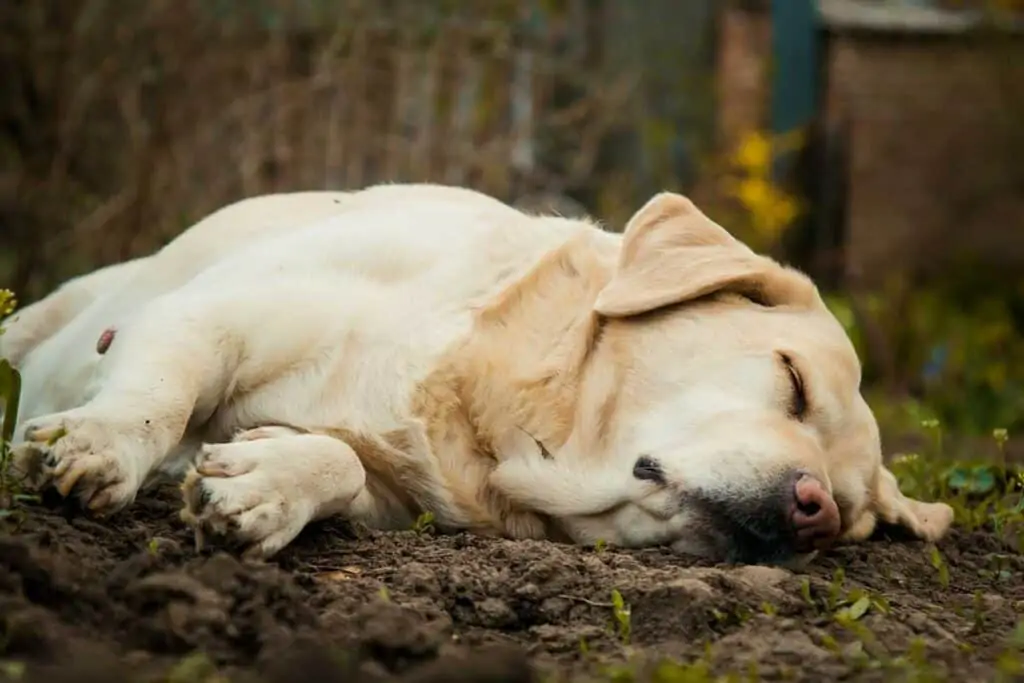 Purpose
What purpose does the blanket serve? Is it for the protection of the dog or to protect other things from your dog?
A blanket needs to be soft and comfortable if it has to protect the dog. But if the blanket is to protect your furniture or your car, it will have to be more durable and larger.
Durability
We all know our dogs have a lot of tricks up their sleeves. They can turn anything into a plaything. Always be prepared for a surprise and make sure you check the blanket for its chew resistance.
See more dog videos on our Oodle Life video.
Material
Coral fleece, microfiber, or cotton fabrics are commonly used to make dog blankets. All of them serve different purposes. They could be breathable, durable, or water-resistant. Prioritize your dog's needs before you choose a material.
Dog owners often compromise on this aspect and wonder why their pet doesn't like its blanket. If you want your dog to be truly comfortable, then make sure you buy the softest blanket.
However, blankets built for resistance will also have to be sturdy, otherwise, the dog will easily rip it.
Thickness
A thin blanket is no good for a dog during winter. No matter the thickness of its coat, you should always have a thick blanket around. Thick blankets are also better for a dog's sleep.
Cleaning
A dog blanket will collect all kinds of dirt the dog brings. Hair, drool, and mud is but not easy to clean. You do not want your blanket to get worn out after a single wash. Make sure you do your research and look for the blanket's machine-wash features.
Size
The size of the dog is an easy indicator of the size of blanket you should buy. Blankets that are used at home can be larger than your dog, if you're using the blanket outside, they should be the proper size.
Conclusion
The type of dog will decide the type of blanket you need to buy. A large dog may look tough, but they also feel cold. Similarly, drops in temperatures can also affect dogs with thick coats that are used in colder climates. A blanket will save you and your dog from such unexpected changes in the weather.
When choosing a dog blanket, remember that it is not the same as buying one for yourself. If your dog has certain special needs, make sure you talk to your veterinarian. And if you're a new dog parent, look into bedding and additional requirements when you bring your fur-baby home. It will help you prepare your house to welcome a furry companion!