What Are the Best French Bulldog Shoes (2023 Update)
French Bulldogs are a terrific breed for many homes for their big, playful personality. These four-legged companions love to travel with their humans, but sometimes they need protective wear to keep them safe and happy.
French Bulldog shoes can ensure that you protect your best friend's feet in any circumstances.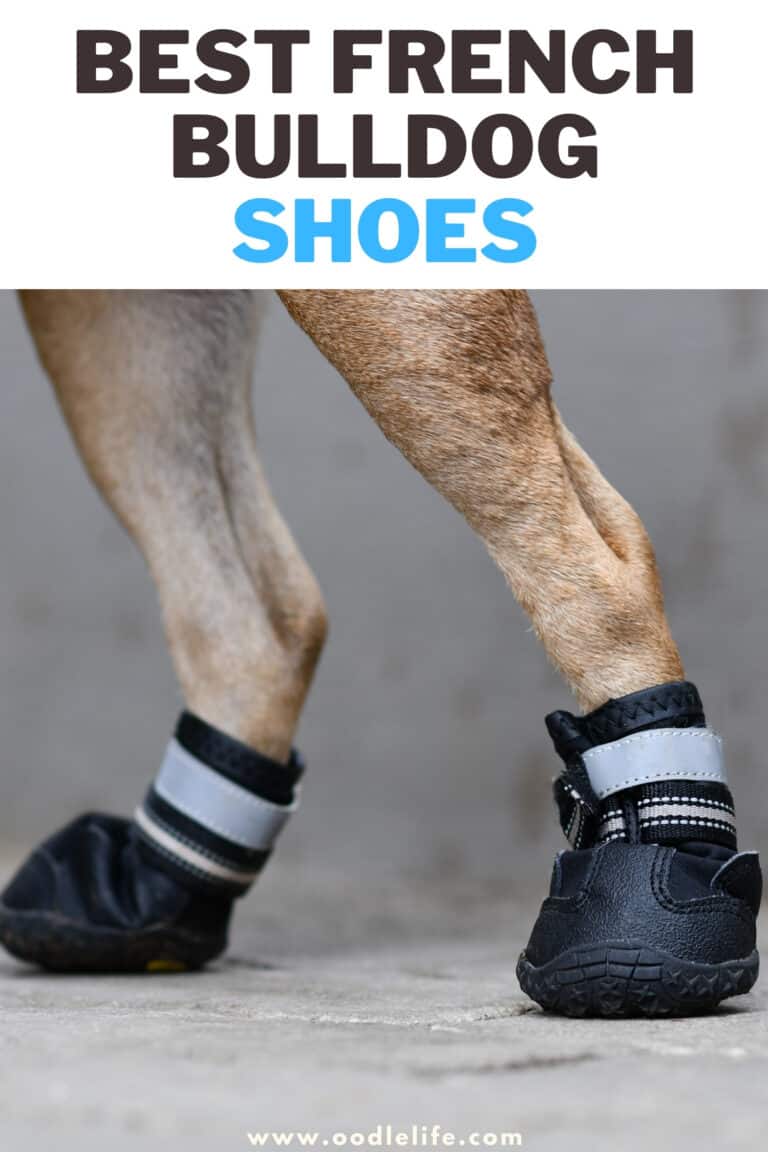 Why Do French Bulldogs Need Shoes?
Shoes can be beneficial for your canine companion for various reasons. Some situations where your pup may require footwear include:
Walking on hot surfaces, such as pavement, sand, or gravel
Spending time outdoors in cold weather
Avoiding wet paws in the rain
Preventing allergy flare-ups
Improving grip and mobility
And of course, for style
Many of these circumstances require shoes to help protect your dog's sensitive paws. So whether it is from hot pavement in the summer, salt on sidewalks in the winter, or ice and snow, using French Bulldog shoes will help.
Additionally, some dogs suffer from allergies, and wearing booties and shoes will ensure their skin remains clean and free of allergens. If you notice your Frenchie biting or chewing at his feet because of skin allergies, putting shoes on will help him heal. They will also prevent him from continually licking or biting his feet, causing further problems.
Another reason your French Bulldog may require footwear is when they age and have problems walking steadily. Using shoes can help maintain ample grip, reducing the risk of your pup slipping and falling, especially on slick surfaces.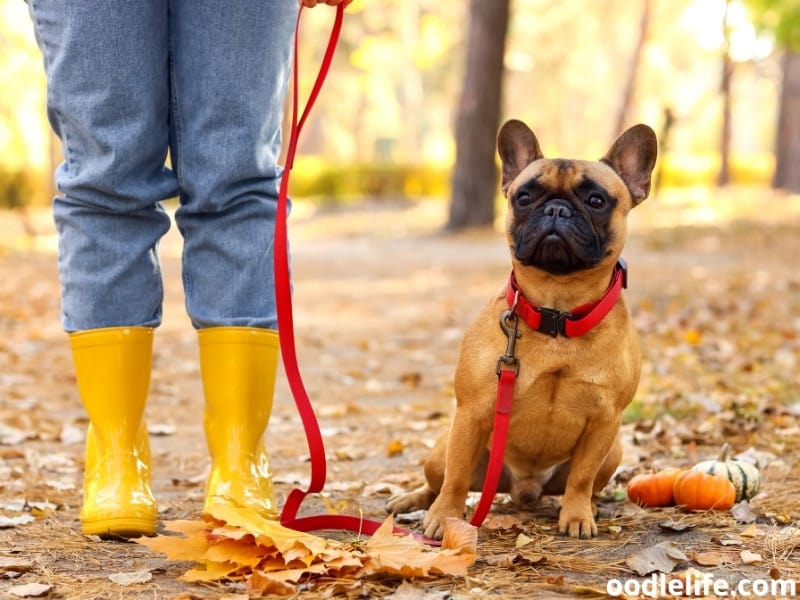 What Are the Best French Bulldog Shoes?
If you are on the hunt for the best French Bulldog shoes, this guide covers every possible situation so your four-legged friend will have the best choice possible.
If you are in a hurry to grab some new footwear for your best friend, here is a quick summary of our top choices for the best French Bulldog shoes.
While one pair of dog shoes will help your best friend on walks, having more than one pair for different situations can also be beneficial. But, of course, you have more than one pair of shoes, so why shouldn't your beloved French Bulldog have some also?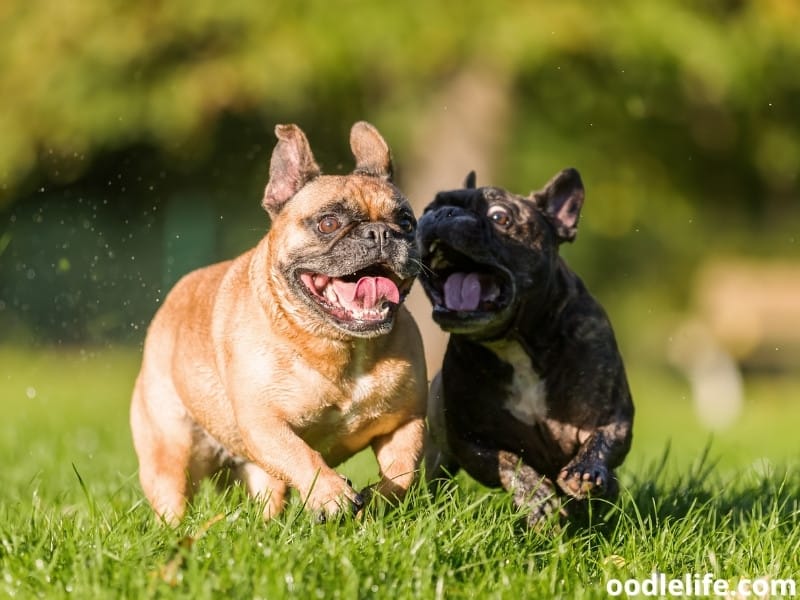 Product Review: A Closer Look
Let's take a closer look at the pros and cons of each product we include here in our guide to the best French Bulldog shoes. It may help you narrow down which option is suitable for your pet or prompt you to purchase more than one pair.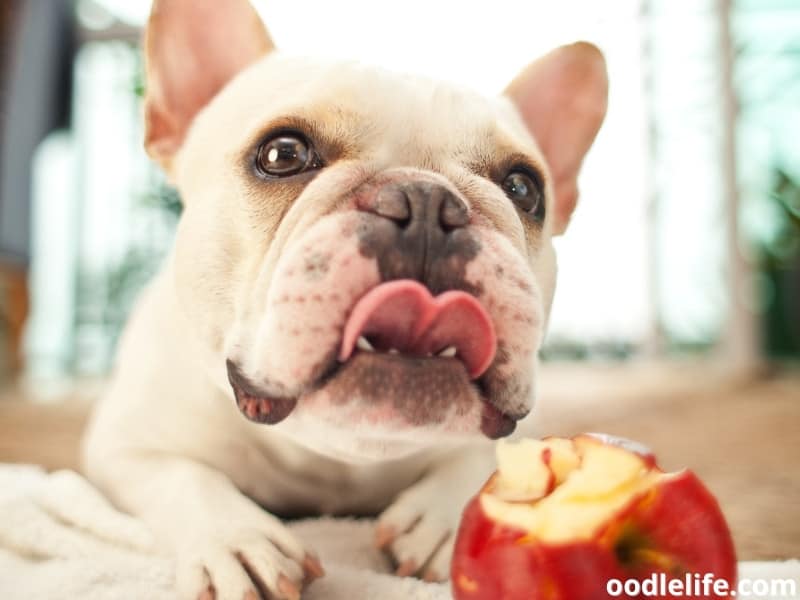 Hcpet Breathable Dog Shoes: Best Choice Overall
The Hcpet Breathable Dog Shoes come in six different colors and eight sizes, so you are sure to find a pair to suit your French Bulldog. They are easy to use, affordable, contain an anti-slip grip, and are perfect for use both inside and outdoors.
Hcpet Dog Boots Breathable Dog Shoes for Small Medium Large Dogs, Anti-Slip Puppy Booties Paw Protector with Reflective Straps 4Pcs
Size 1 : Width 1.57 inch for 10-23 lbs. Great for Mini Poodle; Schnauzer; Papillon; Corgi; West Highland Terrier etc. Please refer to the picture size chart, choose the right size for your puppy.
Anti-Slip Boots for Dogs : Dog booties are soft to paws, doggy shoes effectively protect dog claws from sharp thorns, hot pavement and glass. The paw wear can help dogs to stand up on hardwood floors easier
Adjustable Dog Hiking Boots : Easy to put on / off, Hcpet dog shoes are fastened firmly by 27M reflective straps, which enhance visibility helping your pet dog walk safely at night
Breathable Paw Protection For Dogs : Prevent damage done from your dog's nails to your home, hardwood floor, vehicles and visitors. Great for wound and injury protection during activity and rest time. Prevent chewing and licking without overheating
New Friend Dog Paw Shoes : Don't worry when your dogs start to walk with new shoes but not in a normal pace even prance. You can try to encourage and guide your love dog to adapt to Hcpet dog boots
Pros
Easy to slip on and off
Sports 3M reflective strips on the straps
Durable soles
Cons
Hand-wash and air-dry only
Xanday Mesh Dog Shoes: Best Anti-Slip Shoes
The Xanday Mesh Dog Shoes are a terrific choice for any dog owner who likes to take their pet on walks where there might be hot pavement or slippery surfaces. These shoes sport an extreme tread grip, making them one of the best anti-slip shoes you can buy for your French Bulldog.
Xanday Breathable Dog Boots,Mesh Dog Shoes,Paw Protectors with Reflective and Adjustable Straps and Wear-Resisting Soles,4pcs(3,Black)
1.MEASURE: According to the last picture, measure your dogs' right size and choose the suitable one. Different size available: 1(LW: 1.61''X1.54''), 2(LW: 1.85''X1.73''), 3(LW: 2.08''X1.93''), 4(LW: 2.32''X2.17''), 5(LW: 2.56''X2.32''), 6(LW: 2.79''X2.56''), 7(LW: 3.03''X2.76'') , 8(LW: 3.26''X2.95'');
2.BREATHABLE VAMP AND WEAR-RESISTING SOLES: Using the breathing sandwich netting, keeps paw dry, as rainy or hot weather would not be a bother for you and your lovely dogs' walking. The wear-resisting sole protects from thorns and hot pavements. Suitable for all weather, especially for Spring, Summer and Autumn;
3.NO MORE SLIPPING, CONVENIENT AND WASHABLE: Easy to put on / off. The shoe expands with reflective and adjustable straps to ensure a suitable fit and a safety walking in the night. Hand washable;
4.HIGH QUALITY MATERIAL AND FASHIONABLE DESIGN: Use high quality fabrics, very light and softly touch, no hurt for your pets' paws. Keep a smoothly adventure or walking. Fashionable design makes a eye-catching for your lovely dogs;
5.HIGH QUALITY: If you are not satisfied with the goods you received, we will replace or refund your purchase.
Pros
Exceptional tread grip
Breathable material
Soles are wear-resistant
Cons
Zunea Breathable Mesh Booties: Best Summer Shoes
If you need a pair of French Bulldog shoes for those hot summer days, the Zunea Breathable Mesh Booties are perfect. These shoes will keep your pet's feet cool with the mesh material allowing airflow while protecting the bottoms of their paws from hot surfaces.
Pros
Perfect for beach days
Uses durable materials
Ideal for indoor use for stability
Cons
The sizing runs smaller than average
WINSOON Australia Winter Shoes: Best Winter Boots
If you need to protect your four-legged friend's feet during those cold winter months, the WINSOON Australia Winter Shoes are the best solution. These fleece-lined booties will keep their feet warm, while the pliable leather ensures natural foot movement during walks.
Sale
WINSOON Puppy Dog Shoes for Small Dogs Medium and Large Dogs,Dog Winter Boots,Pet Paw Protectors Covers, Snow Booties for Hiking Set of 4 (Size 5, Black)
[ DOG BOOTS INSOLE DIMENSION ] – Size 1: 1"(L) x 3/4"(W) for 1-3lbs, Size 2: 1-3/16"(L) x 1"(W)for 2-4lbs, Size 3: 1-3/8"(L) x 1-3/16"(W) for 3-6lbs, Size 4 : 1-9/16"(L) x 1-3/8"(W) for 5-7lbs, Size 5 : 1-3/4"(L) x 1-1/2"(W) for 6-11lbs, Size 6 : 2"(L) x 1-5/8"(W) 10-17lbs, Size 7 : 2-3/16"(L) x 1-7/8"(W) for 15-25lbs, Size 8 : 2-1/2"(L) x 2"(W) for 25-35lbs. Please follow size chart to choose correct boots for your dogs.
[ WINTER DOG BOOTIES ] - 4 Pack shoes sold together, made of soft PU leather material, anti-slip rubber soles let your puppy moves freely and safely in outside/inside activities, durable paw protectors can keep them warm, dry and comfort in cold weather.
[ EASY TO WEAR CUTE & DURABLE ] - Our Dog pet shoes are lightweight, look cute and could be easily put on/off, protect against heat pavement/sand and keep cold/snow away, secure clean paws all season around. Adjustable Velcro straps ensure a tight fit, so these running shoes for dogs doesn't get kicked out.
[ DESIGN FOR COMFORT & PROTECTION ] – WINSOON Dog Boots are fleece lined, conform to its natural paw shape, and provide a natural feeling of traction for your pup. Dogs will feel safer and being protected with our shoes on.
[ GREAT GIFT FOR DOG LOVERS ] – Fashionable puppy shoes is so useful when walking the dog. For perfect fit, keeps the paws flat to fully opened, then measure from the bottom of the big heel pad to the tip of the longest toe nail. If the paw is in-between two sizes, choose the larger size.
Pros
Keeps your dog's feet warm
Uses lightweight materials
Soft leather ensures natural foot movement
Cons
QUMY Waterproof Shoes: Best Waterproof Shoes
If your French Bulldog loves to play in the water or you both live somewhere with high precipitation, the QUMY Waterproof Shoes are a terrific investment. The water-resistant material help keep your pet's feet dry and comfortable, even on rainy days.
QUMY Dog Boots Waterproof Shoes for Large Dogs with Reflective Straps Rugged Anti-Slip Sole Black 4PCS (Size 6: 2.6''x3.0''(W*L) for 52-65 lbs, Red)
Please mainly refer to the width, weight can only be used as an additional reference; Size 2: 1.8''x2.4''(W*L) for 18-27 lbs; size 3: 2.0''x2.5''(W*L) for 23-33 lb; size 4: 2.2''x2.6''(W*L) for 31-40 lbs; size 5: 2.4''x2.8''(W*L) for 40-55 lbs; size 6: 2.6''x3.0''(W*L) for 52-65 lbs; size 7: 2.8''x3.2"(W*L) for 63-75 lbs; size 8: 3.0''x3.3"(W*L) for 74-88 lbs. Measurements refer to the inside dimensions of the shoe, please choose the corresponding size for the width of the dog's paws.
SECURE and ADJUSTABLE: Easy to put on / off. These dog shoes expands with a wide split seam opening and two adjustable and reflective straps to ensure a tight fit, also make your dog safe at night.
RUGGED: Tough anti-slip sole of dog boots provides stability and traction, protection from sharp thorns and hot pavement.
QUALITY: The dog boots have a rugged sole and high quality fabrics that are then sewn together to ensure they are ready for your adventure.
FASHIONABLE: QUMY dog boots are with cute pet paw embroidery, paws side is the outside, soft and hand washable.
Pros
Offers extra-extended opening to slip on easier
Durable, water-resistant materials
Includes two secure straps to keep them in place
Cons
Are not meant for swimming or walking through deep water
EXPAWLORER Reflective Rugged Dog Shoes: Best Versatile Shoes
The EXPAWLORER Reflective Rugged Dog Shoes are one of the best versatile options for French Bulldogs in the market today. These shoes can keep your pet's feet dry in the rain, warm in the winter, and protected from hot surfaces in the summer.
EXPAWLORER Waterproof Dog Boots Reflective Non Slip Pet Booties for Medium Large Dogs Black 4 Pcs (1(2.01"x1.65"), Black)
Size 1: 2.01"x1.65" (L*W) for 6-16 lbs. Great for Yorkshire Terrier, Pome ranian, Bichon Frise, etc Please measure the size correctly by checking the video guidance before purchasing.
Reflective material and fasteners straps provides visibility and safety at night, waterproof material keeps your dogs paws dry in rain or snow
Easy to put on and take off as the shoe expands to put on and the two fasteners straps ensure a tight fit.
Flexible lug design and grooved soles gives your dog better control and protect paws from the cold weather.
The size is the size inside the boots, not boots size outside; Choose size according to width is better
Pros
Uses hook and loop fasteners for a secure fit
Offers ergonomic shape for optimal fit
Ideal for all seasons
Cons
They might be too stiff at first
Buying Guide: How To Choose the Best French Bulldog Shoes for Your Pet?
Knowing which brands of dog shoes are terrific for French Bulldogs is only the first step in the process. Even the best shoes will not benefit your friend if they do not fit right or serve their purpose.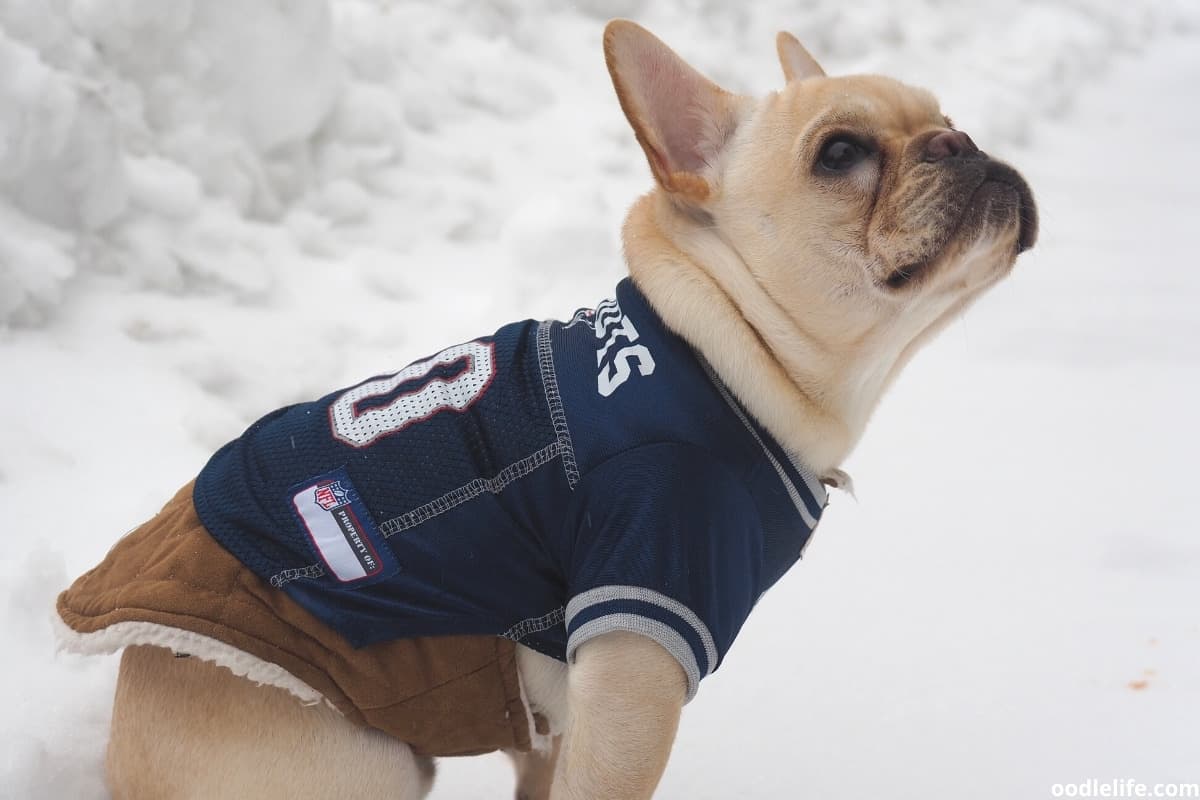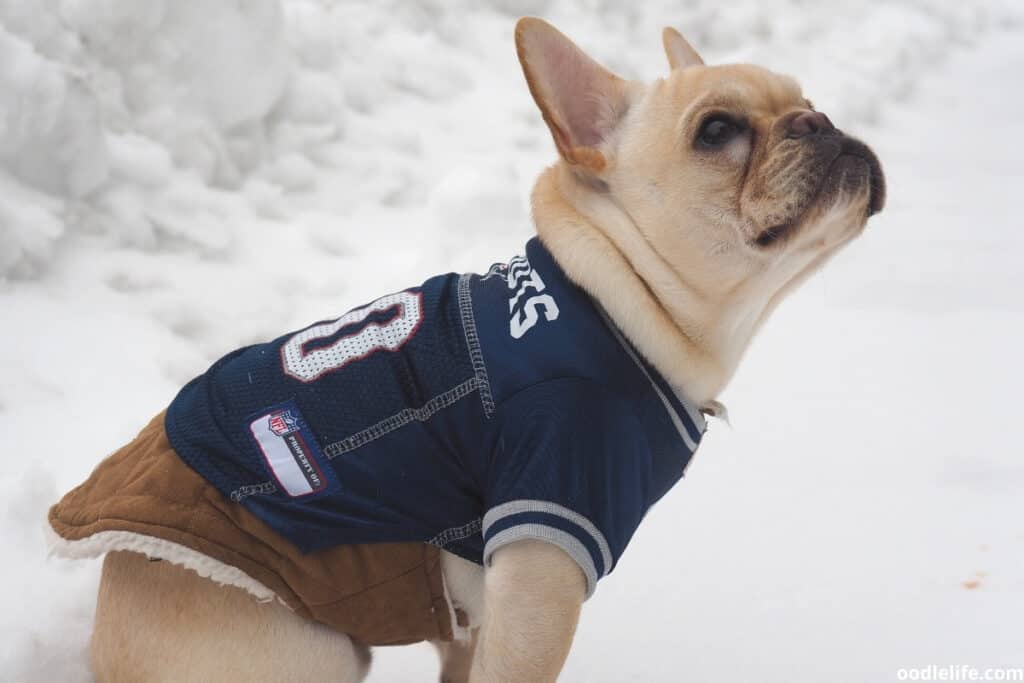 Measure the Paw Accurately
Dog shoes will have a sizing chart that includes the measurements for each size. You must measure your pet's paw accurately. This way, you can choose footwear that is not too small that it could hurt their feet or too large that they will slip off while walking.
It is easy to place your Frenchie's paw on a piece of paper and trace around the outside for size. Then, measure the widest part across your pet's footprint to determine the size you should be looking for when purchasing dog shoes.
Consider the Use
While it may be nice to have warm winter shoes for your French Bulldog, they will not be the best choice when strolling down the beach. Each situation may require alternative footwear, so having more than one type of footwear can be helpful.
The Takeaway
Finding the best French Bulldog shoes for your best friend will be easier when you recognize how to measure their paws and compare each manufacturer's guidelines.
Of course, each brand of dog shoes will be different, so double-checking the sizing is critical. Some dog shoes will require you to select a size up, while others may not. You must find the best fit for your Frenchie to give them the best protection possible.
Once you have the perfect fit, your French Bulldog's feet will be protected and comfortable. They will love tagging along with you on your travels, even in extreme weather conditions. Protecting your best friend's feet will keep them healthy and happy for years by your side.