The 3 Best Harnesses for Yorkie Dogs (2023)
It's no secret that every dog owner wants what's best for their dog. When it comes to small dogs such as Yorkies, it's crucial to address their specific needs and comfort levels when preparing for walks and outdoor adventures.
Buying the right harness for your Yorkie is one of the best ways to ensure that they're safe, healthy, and comfortable during walks. Luckily, there are so many brands out there that design their harnesses, collars, and leashes around small dogs' specific needs.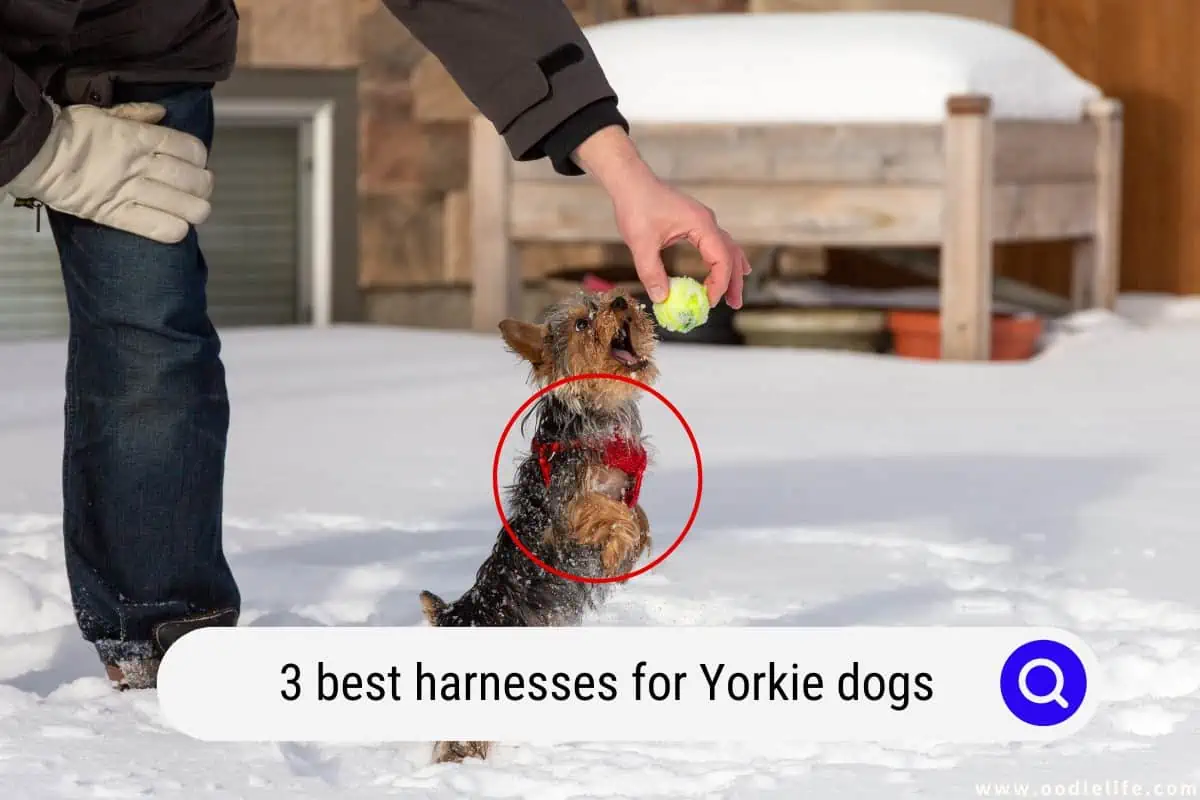 Here are three of the best harnesses for Yorkie dogs that will ensure that every pet is safe, secure, and happy whenever they leave the house.
Finding the Best Harness for Yorkies
There are so many factors to keep in mind when choosing the right harness for your Yorkie. The right harness should have a soft, lightweight material, fit comfortably and securely, and prevent any pressure or strain on the neck if your Yorkie pulls.
With all of these factors in mind, we've put together a guide to three of the best harnesses for Yorkies.
For those wondering what kind of leash I use, I typically use a retractable flexi leash for a well behaved small dog like a Yorkie. Here is my hands on review after three years of heavy use with Labradoodle Max.
1. Chai's Choice Premium Outdoor Adventure Dog Harness
Chai's Choice is known for its high-quality, durable pet products that ensure comfort and safety for pets of every size. With this company's outdoor adventure dog harness, you can feel safe and comforted knowing your Yorkie is as safe, secure, and comfortable as possible.
Chai's Choice Best Outdoor Adventure Dog Harness. 3M Reflective Vest Caution - Please Measure Dog Before Ordering! Matching Leash and Collar Available (X-Small, Bright Orange)
STYLISH & DURABLE - Outer layer made of scratch-resistant oxford material. Lightweight Duraflex buckle with large loading capacity greatly improves tensile strength
ERGONOMIC DESIGN - Ease of use putting on and taking off harness. Comfortable lightweight mesh lining with soft sponge padding in chest and belly
STRAP ADJUSTMENT - Push then pull straps through buckle for a custom fitting. Two leash attachment points: Zinc-alloy D-ring on dog's back and webbing with Zinc-alloy O-ring on dog's chest
SAFETY FEATURES - Nylon webbing with 3M reflective material for good visibility at night and sturdy handle for easy seat belt attachment while riding in your car
CHAI'S CHOICE - Based in Sarasota, FL, Chai's Choice offers high quality pet products and is owned by a retired US Navy veteran
We earn a commission if you make a purchase, at no additional cost to you.
This durable and long-lasting harness is made from a scratch-resistant oxford material that can withstand heavy outdoor use in any environment. Along with the durable outer layer, there's also soft sponge padding in the chest and belly to prevent any pressure or discomfort for your Yorkie.
There are two leash attachment points: A strong Zinc-alloy D-ring on the back and webbing with an O-ring on the chest. The sturdy handles also allow for easy seat belt attachment in cars for additional safety.
Sizes range from extra-small to extra-large, and Chai's Choice offers a handy sizing guide to help determine the best fit for your dog. While the extra-small will generally fit most Yorkies, ensure you measure your dog's chest circumference before ordering to guarantee the right fit.
And if the harness doesn't fit your dog perfectly right away, don't stress about it. This outdoor harness comes with adjustable pull-through straps for a custom, secure fit on every dog.
While the ergonomic design is fantastic for hiking and outdoor adventures, it's also ideal for everyday walks. It's soft and lightweight for comfort in all weather conditions and has a 3M reflective material for extra safety and visibility on nighttime walks.
Along with all the features designed for comfort and safety, Chai's Choice Premium Harness is affordable, easy to put on, and stylish, with over ten different color options to choose from.
Pros:
Ergonomic design ensures a comfortable fit on any size dog
Several additional safety and security features
Affordable price for a durable, high-quality harness
Cons:
Pull-through straps can be difficult to adjust while on the dog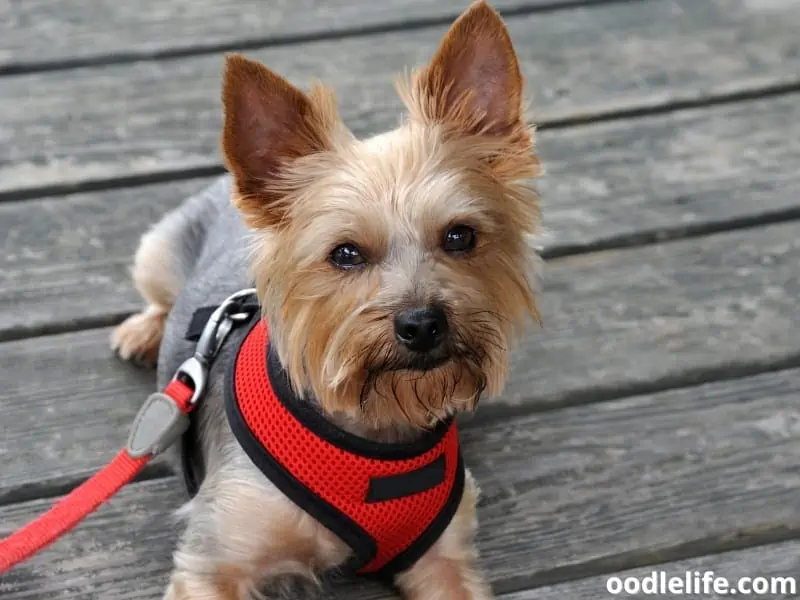 2. Hounds Design Freedom No Pull Dog Harness
While mesh harnesses are generally softer, step-in harnesses such as the 2 Hounds Design Freedom No Pull Dog Harness are another great option. These step-in designs are perfect for small, wriggly dogs that pull on walks or resist getting into their harness.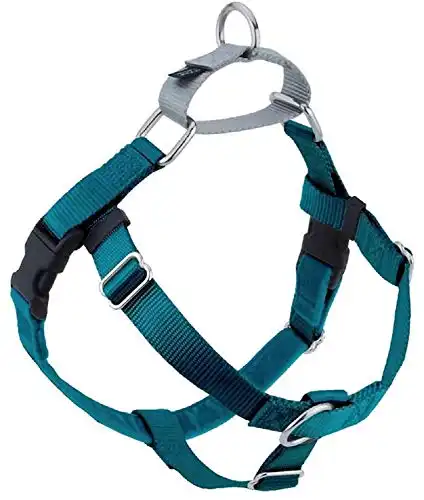 We earn a commission if you make a purchase, at no additional cost to you.
If this style of harness sounds like the best fit for your small dog, you might want to try out this 2 Hounds nylon harness.
Dog owners who constantly deal with pulling or yanking on leashes will love how easy this harness makes it to control the leash and reinforce good behavior. This harness is recommended by veterinarians and dog trainers, as it allows you to communicate better and train your dog on walks.
The two connection points make it easy to keep your dog secure and close by on walks, while the patented control loop helps with training and control. The durable stainless steel hardware and strong nylon webbing ensure that you and your dog can enjoy this harness for years, even with heavy everyday use.
Pulling on collars and harnesses can often cause choking and damage to the trachea. 2 Hounds specially designed their harness to prevent any discomfort or health problems associated with pulling. The straps sit below their trachea but above their leg muscles, offering full freedom and range of motion on walks without any potential health risks.
And for even more comfort, the harness is made with a Swiss Velvet lining to prevent chafing and soreness.
The harness comes in 19 bright and stylish color options, as well as seven different sizes. For Yorkies and other small dogs, the extra small harness tends to have the best fit. You can also adjust the straps on four adjustment points to find the right fit for your dog.
One downside of step-in harnesses compared to mesh or vest harnesses is that they're easier for dogs to chew through. Luckily, 2 Hounds offers a chewing replacement guarantee for their Freedom No Pull Harness.
Pros:
Design is fantastic for training and offers control and comfort for dogs that pull
2 Hounds offers a chew replacement warranty
The soft, comfortable design prevents chafing and discomfort
Cons:
Easier for puppies to chew on than other harness styles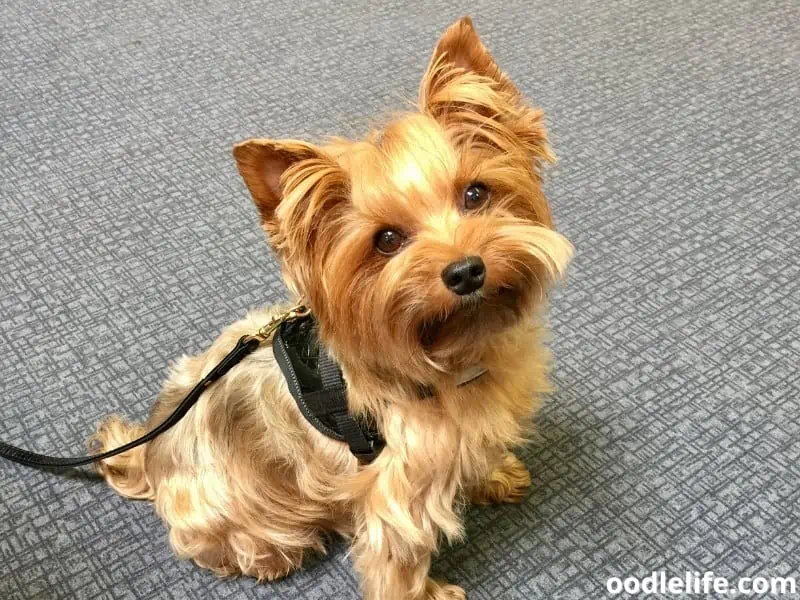 Kurgo Tru-Fit Dog Harness
The Kurgo Tru-Fit Dog Harness is a perfect everyday walking harness for any small dog. Kurgo is a reputable pet supply company known for its durable and safe outdoor pet gear, so you can be sure your Yorkie is in good hands with any of its high-quality products.
Kurgo Dog Harness | Pet Walking Harness | Extra Small | Black | No Pull Harness Front Clip Feature for Training Included | Car Seat Belt | Tru-Fit Quick Release Style
Everyday Dog Harness - Comfortable, lightweight walking harness with 5 easy adjustable points and plastic quick release buckles to make it easy to take on and take off when on the go. Suitable for...
No-Pull Training Clip - Pet harness has a front D-Ring to use as leash attachment to train dogs not to pull; it will turn them around when try to pull; also features a back leash ring for regular...
Includes Dog seat belt - Comes with dog seat belt 10-inch tether that can be used during car travel as a pet seat belt to restrain dogs and prevent distracted driving: or as a training tether. Harness...
Size and Fit - Extra Small fits dogs with neck 9-13 inches and chest 12-18 inches; Please refer to Kurgo size chart for information on how to properly measure your dog
We earn a commission if you make a purchase, at no additional cost to you.
The Kurgo Tru-Fit Harness has a size range of extra small to extra large and includes five adjustment points to perfectly and securely conform to your dog's body. An extra small or small should fit most Yorkies, but be sure to take your pet's measurements before buying.
This harness is another brilliant choice if you're training your Yorkie puppy or have a dog that likes to pull. The harness includes a back leash ring for regular walks or runs, as well as a front D-ring that's ideal for no-pull training.
The comfortable, lightweight nylon is guaranteed to prevent discomfort, pain, or chafing, even with everyday use. And with straightforward on-and-off quick-release buckles and a simple overhead design, you won't have any problems getting your active, excited Yorkie into its harness.
The buckles are plastic, which is generally less durable than stainless steel and metal hardware. However, the rest of the harness is a durable, heavy-duty, machine-washable material intended for long-term use.
The Kurgo Tru-Fit Dog Harness features several unique safety features, such as the reflective trim for better visibility. Your purchase even comes with a dog seatbelt tether for safer car travel with your dog.
Pros:
Five adjustable points for a secure fit
Front D-ring is great for leash training and more control on walks
Every purchase comes with a seat belt tether
Cons:
Plastic buckles are less durable than metal options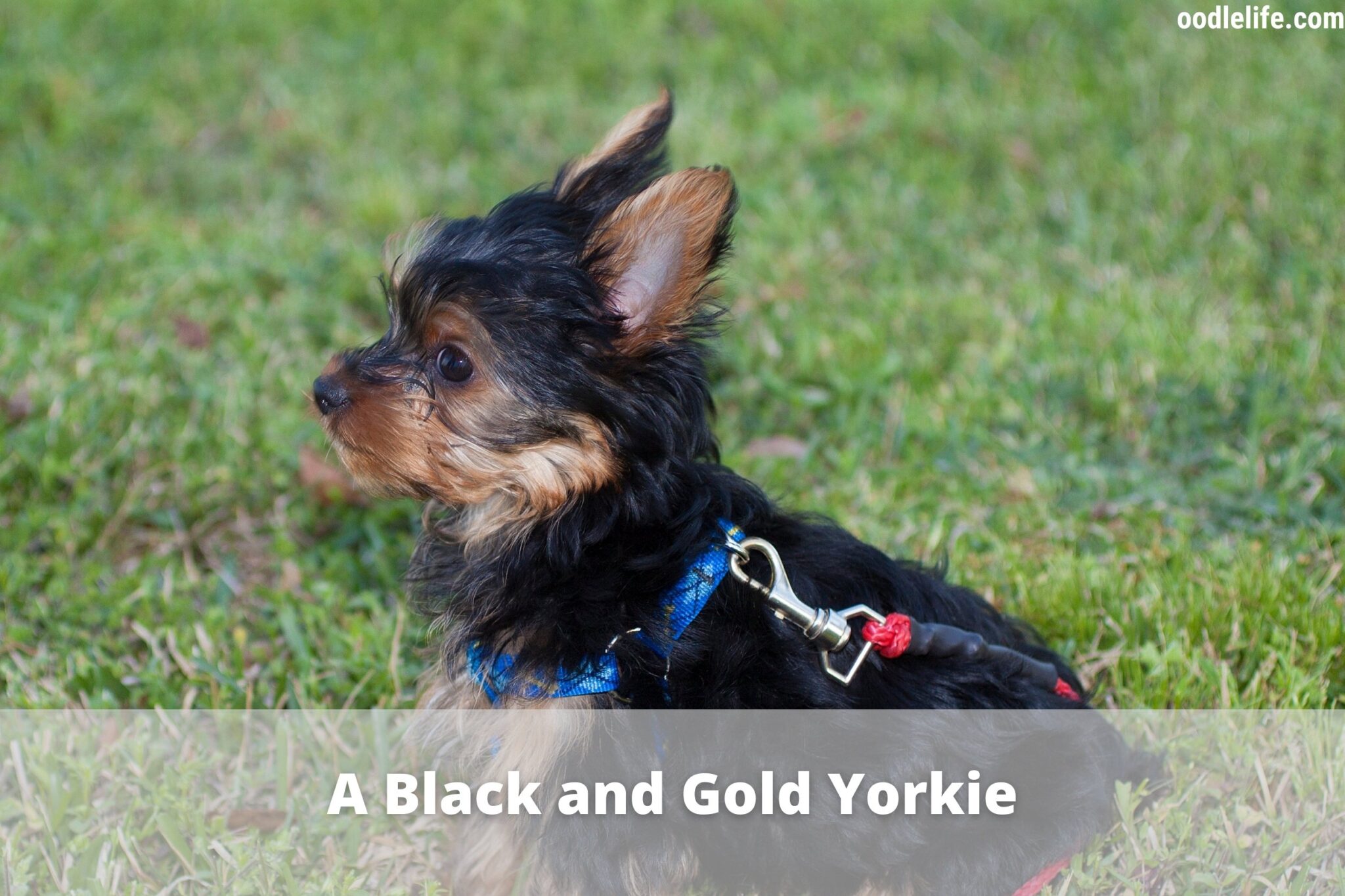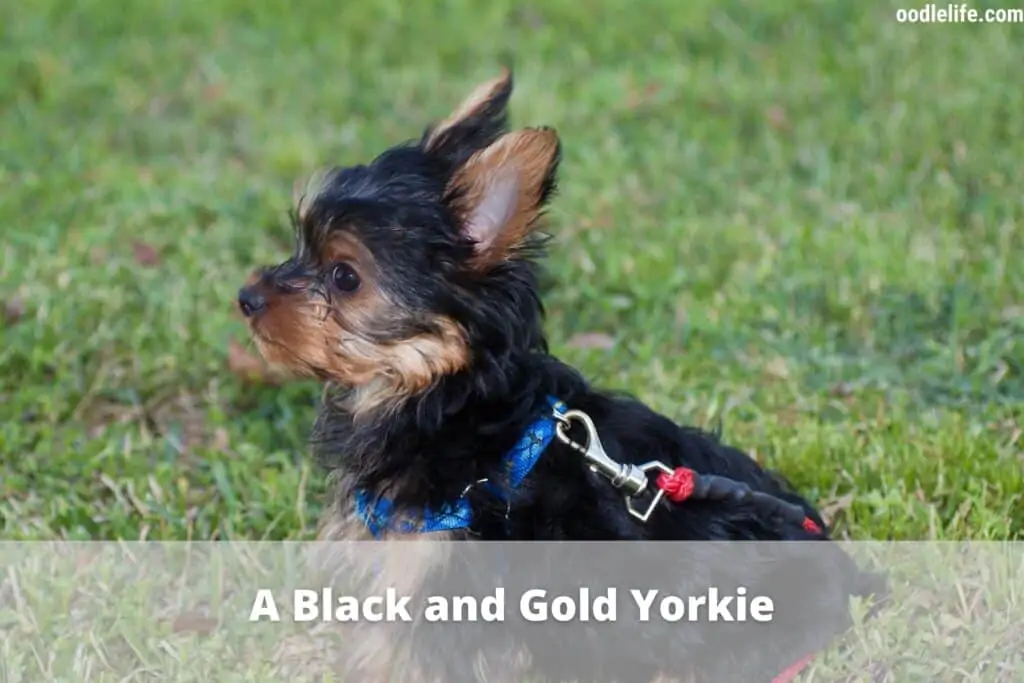 Choosing the Right Harness for Your Yorkie
Finding the perfect harness to keep your pet comfortable and safe can feel daunting. That's why we've put together a guide to three of the best harnesses for Yorkie dogs that you can buy today.
Once you find the best solution for you and your dog, you're ready to start enjoying safer, more exciting outdoor adventures with your Yorkie by your side.