Best Dog Steps for Cars (2023)
Sometimes, you want to take your dog in the car to visit the park, meet up with a friend, or when traveling. However, getting them to go into the car and hop out can pose some challenges, especially if you have a smaller or more nervous dog.
To make the process easier, you should look into dog steps for car transportation to quickly get your dog in and out. You can pick an ideal set of steps for your furry friend as you go through the best options and see what they offer.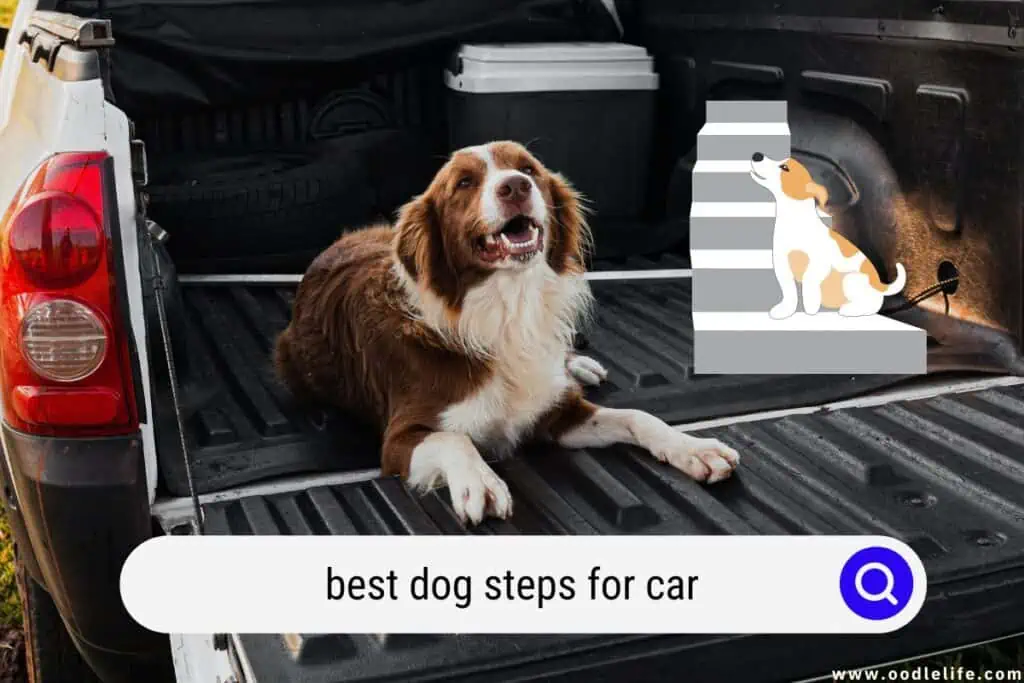 The Benefits of Dog Steps for Car Use
As you look into dog steps for car needs, you'll wonder about their benefits. You'll have to consider why the product exists to help you see how the steps can make life easier for you and your furry friend.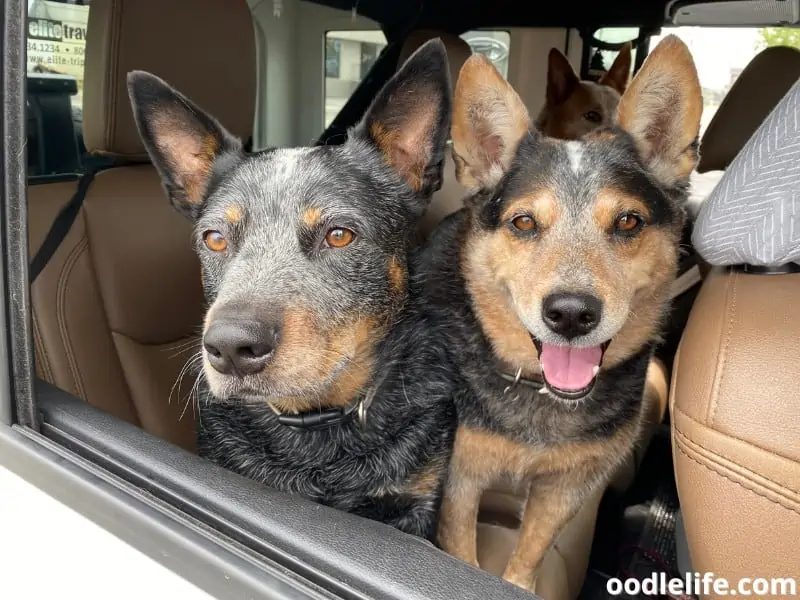 Keeping your dog safe.
Streamlining transportation.
Encouraging more travel with your dog.
Above all else, car steps will help you keep your dog safe. For example, instead of expecting them to hop into the back or try to get into the car, you can make it easy for them to walk there. The same applies to getting out of the car since you don't want them to sprain a paw.
You can also streamline transportation to make it faster for you and your furry friend. Instead of trying to get your dog to hop in and out, you'll set up the stairs. You can then train your dog to use the steps whenever you put them into place, saving more time.
You may plan to bring your dog to the park more or have more dog dates, so a pair of stairs will encourage you to make those trips. Once you put money into them, you'll have a reason to do those activities more, so you don't waste the money.
While dog steps provide more benefits for you to enjoy, these crucial ones make them stand out. If you could use them and want to keep your dog safe while getting in and out of a car, you should look into different steps and see what you want.
The Best Dog Steps for Car Transportation
Now that you understand how dog steps help you, you'll want to find the best options on the market. That way, you can see what they offer, choose your favorite stairs, and order them to make traveling with your dog easier.
Mewang Wood Pet Stairs
Mewang wood pet stairs have a foldable setup and offer between two and four steps, depending on your choice. In addition, they have a design where you can choose between a ramp and steps based on the situation.
MEWANG Wood Pet Stairs/Pet Steps - Foldable 3 Levels Dog Stairs & Ramp Perfect for Beds and Cars - Portable Dog/Cat Ladder Up to 110 Pounds
2-IN-1 CONVERTIBLE DESIGN: Converts simply from 3-steps to a ramp to make it easy for older or arthritic pets to reach sofas, beds, cars, and more. Suitable for old, weak and sick pets.
STURDY AND SAFE: Sturdy wood construction for strong support can hold pets up to 110 pounds.
COMFORTABLE ACCESS: Fabric covered ramp and stairs provide traction for your pet's paws.
EASY STORAGE AND PORTABLE: Lightweight and sturdy, this pet stairs can be easily moved, shifted, and stored for convenient accessibility.
DIMENSION: 27.6" L x 18.5" W x 19.5" H; Step Size: 15.7" x 9.06", This foldable stair is suitable for small to medium-sized pets to reach sofas or beds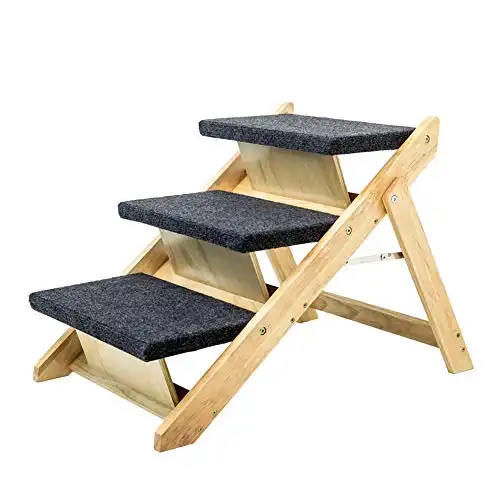 We earn a commission if you make a purchase, at no additional cost to you.
The two-step option has an 18.5-inch length, 17.2-inch width, and 13-inch height. The three-step option has dimensions of 27.6-by-18.5-by-19.5 inches, while the four-step choice has 30.9-by-18.5-by-25.6 inches.
It supports 110 pounds, weighs almost 20 pounds for the four steps option, and has wood and carpet as its material.
The wood means it could warp or become damaged if you put it in the rain, meaning it might not work in certain climates. The steps also weigh more than other options, so it might not work for people who don't want to deal with heavy loads.
However, it easily folds down to simplify storage. The carpeted steps protect your dog's paws, so they don't get injured while walking up the steps. The stairs work best if you want to switch between a ramp or steps based on the situation.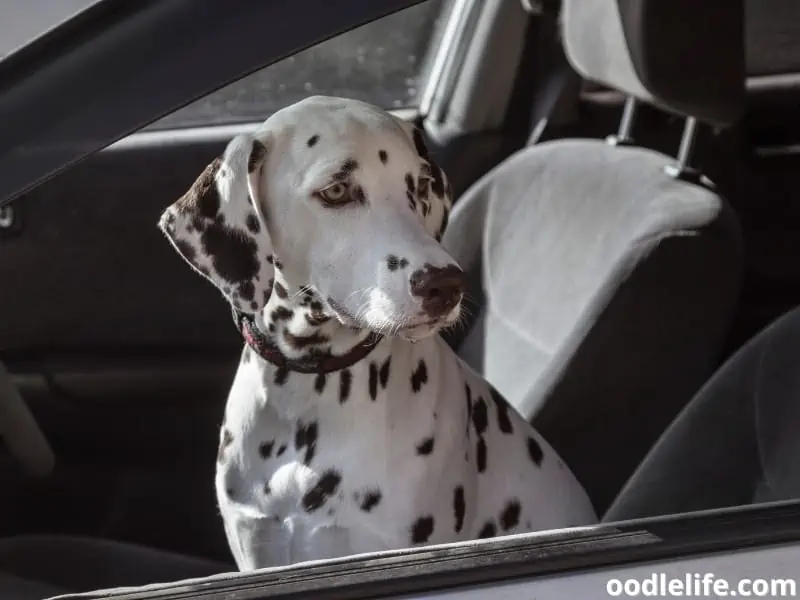 PetSafe Folding Dog Ramp
If you wish to get a flat surface for your dog, you should buy the PetSafe Folding Dog Ramp. The ramp has a balanced and consistent slope, allowing you to position it at the back of the car for your dog to go up it quickly.
We earn a commission if you make a purchase, at no additional cost to you.
The ramp is 62 inches long and 16 inches wide. It supports up to 150 pounds and can fold in half to make storage easier. It also weighs about 10 pounds and has a non-slip surface.
Some people may not like how it's flat since dogs may find it intimidating to go down. Also, the longer size may cause it to become inconvenient to use in areas where you don't have much space behind your car.
Despite those points, the folding ramp easily stores and fits into cars. The lightweight design ensures you won't strain when you set it up, so it'll be easy. The non-slip surface also means your dog won't lose footing while using it.
It works best for older or smaller dogs struggling to go up the steps.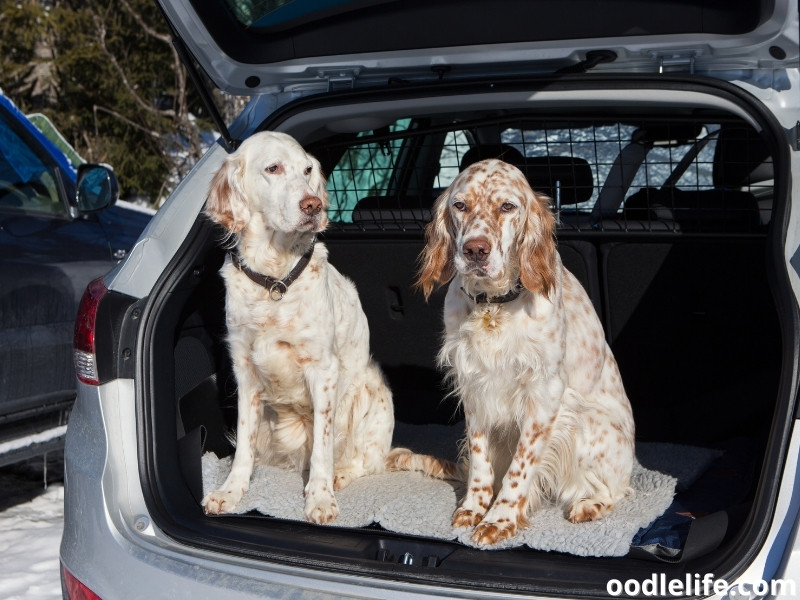 YEP HHO Folding Pet Stairs
Some people want soft fabric for their dogs, making the YEP HHO pet stairs an ideal option. You can choose four or five steps based on what works best for your car's height.
YEP HHO 5 Steps Upgraded Folding Pet Stairs Ramp Lightweight Portable Dog Cat Ladder with Waterproof Surface Great for Cars Trucks SUVs (Black-New)
· ✅ADJUSTABLE PET RAMP HEIGHT AND ANGLE- YEPHHO foldable tall pet stairs' step is 16.5"x 7.08", open adjustable height from 20"-30", adjustable length from 40"-60". High angle for medium to...
· ✅LIGHTWEIGHT AND DURABLE- Our dog ramp uses non-slip oxford cloth(1680D PVC), high-quality fabrics prevent ladders from being scratched by dogs' claws.(enough to hold up to 150lbs large dogs)
· ✅PORTABLE PET RAMP-This Accordion staircase weighs less than 10 pounds highly portable to use anywhere and folds small for convenient storage.Foaming sponges are placed on the front and side of...
· ✅UPGRADED DESIGNED -Reinforcement plates are added to the bottom of each step,which will not be sunk too much when dog on the steps.Bottom rubber pads add traction and improve contact with...
· ✅GOOD FOR PET HEALTH-YEPHHO 5 steps stair protect dogs' joint and knee-Help your dog walk smoothly into the car,good for dogs who has arthritis and knee disease.Protect your dog from severe knee...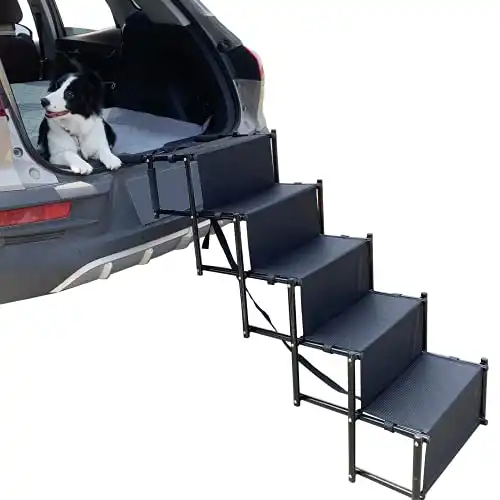 We earn a commission if you make a purchase, at no additional cost to you.
The ramp extends out 51 inches with a 40-inch height, but it also has the option for a 78-inch length with a 30-inch height. It holds up to 150 pounds and folds down to save space. The steps weigh about 10 pounds in total and are made of oxford fabric.
The fabric steps may cause problems for some people since they'll worry about wear and tear. They may also not like the frame since they may worry about how the steps have reinforced plates rather than a solid metal surface under them.
However, the stairs do come with a strap to let you attach it to your car with a carabiner and secure the stairs. It also has an anti-scratch fabric, meaning your dog won't accidentally destroy the stairs when they walk on it.
The adjustable size makes it great for any surface you need to use while getting your dog in the car. They also have rubber pads at the bottom of the steps to keep it in place and prevent the stairs from slipping out.
The stairs work great if you need to use them on the grass, in the dirt, or on any other uneven surface.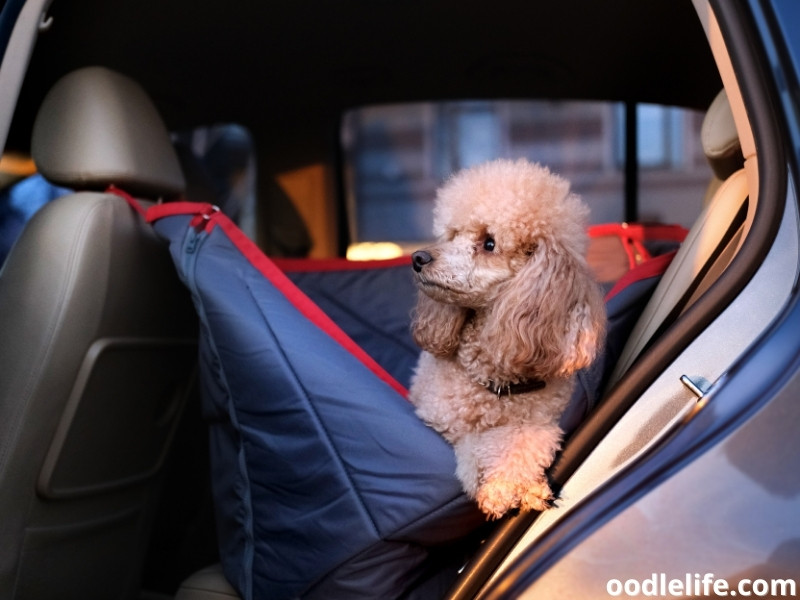 Snagle Paw Dog Car Stairs
The Snagle Paw dog stairs have four steps with anti-slip pads to help your dog make it up and down. The stairs offer a wider design, making it easier for the dog to step onto it and travel.
Widen Foldable Dog Car Stairs, Aluminum Frame 4 Steps Portable &Lightweight Pet Stairs, The Widest and Deepest Ladder on The Market, Nonslip Pet Ramp for Cars, Trucks and SUVs, Support 150 to 200 ...
【Widest Step for Dog's Safty】: Let cuddle time continue with your best friend with the help of the Snagle Paw dog car stair. Our step is 18.9", the widest in the market, it is more stable and...
【Lightweight and Stable】: Our foldable aluminum frame dog stair with the hollow first steps weighs only 13.8lbs, but is built to last and support up to 200lbs, while each step is incredibly...
【No Slipping and Safety Enough】: Nonslip paw print coating surface allows your dog to confidently walk up and down without the steps sliding around or wobbling, while the slip resistant rubber mat...
【Foam Handles for Car Protection】: The handles connected with cars are covered with foam sleeves to increase the friction and the stability. They also help avoid abrasion and the damage to your...
【Easily Use & Multi-function】: The 4 steps dog ladder is perfect for your dog's entering or exiting cars, sedans, SUVs, minivans, trucks, beds, couches, grooming or vet tables. They can fold...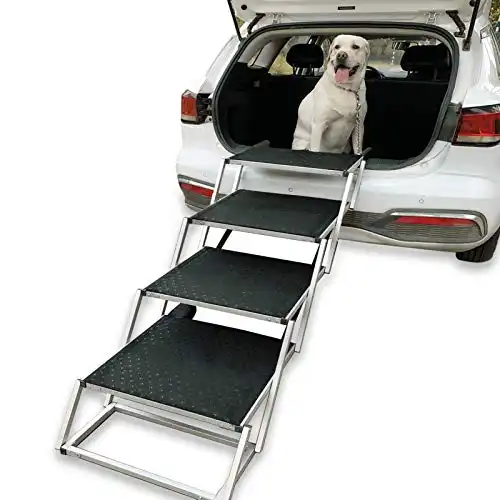 We earn a commission if you make a purchase, at no additional cost to you.
Each step is about 18.9 inches wide. You can adjust the angle to make them 61.4 inches in length and 25.6 inches in height or 47.2 inches in length and 35.4 inches in height. The stairs weigh about 13.8 pounds and support up to 200 pounds.
Some people may dislike the lack of support directly underneath the steps since the steps only have a metal frame. People may not want the steps if they have a smaller or taller car that doesn't fit between the 25.6 and 35.4-inch range.
However, the stairs compress to a conveniently small size, so you won't have problems storing them for later use. The stairs let you attach a carabiner for additional support and includes a carrying strap to make it easier to transport.
If you have a large dog, you'll want to use this option due to its carrying capacity and wider steps.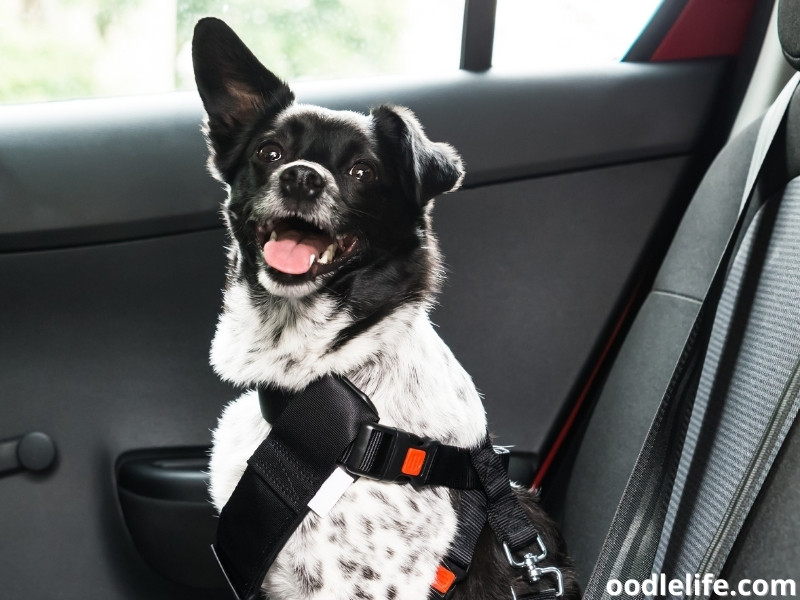 Petmaker Pet Stairs
Some people want to choose the easiest stairs to use, so they'll want to go with the Petmaker pet stairs. These stairs offer four steps and non-slip foam pads on them to keep your furry friend safe.
Pet Stairs Collection - Safe and Durable Indoor or Outdoor Ramp with 4-Step Design - Cat or Dog Steps for Couch, Bed, Truck, SUV, or Car by PETMAKER (Gray)
4-STEP DOG STAIRS - The convenient 4-step design of these pet stairs helps your dog or cat get where they are going, whether you need a dog bed ramp or a way for your furry friend to get into and out...
DURABLE AND EASY TO CLEAN - Made of tough plastic, these durable pet steps are perfect for small dogs, cats, rabbits, or other small animals. They are ideal for both indoor and outdoor use and can be...
SAFETY FEATURES - The built-in side rails keep your pet secure while the non-slip foam pads protect your pet and your floors. Adhesive-back felt step covers provide better traction, and the snap lock...
EASY TO STORE - When collapsed, these compact foldable pet steps easily fit in your closet, under furniture, or in the trunk of your car—perfect for home or travel.
PRODUCT DETAILS - Materials: Heavy-Duty Plastic. Dimensions: (L) 23" x (W) 15" x (H) 19"; Folded: (L) 30" x (W) 15" x (H) 5". Not designed to hold people. Color: Gray.
We earn a commission if you make a purchase, at no additional cost to you.
The staircase has the following as its dimensions: 23-by-15-by-19 inches. The stairs have a plastic frame and weigh over six pounds, making them a lightweight option. It has an overall condensed size compared to other choices.
The stairs don't go as high as other options, limiting the number of cars you can use them on. On top of that, some people may worry about plastic breaking and chipping with time, so they'll have to replace the stairs eventually.
Despite those points, the stairs easily fold up and store away, making them convenient to take with you. The plastic also makes the stairs easy to clean, so you just have to use water with soap to take care of them.
The stairs focus on a low-maintenance approach, making them great as a lower-cost option.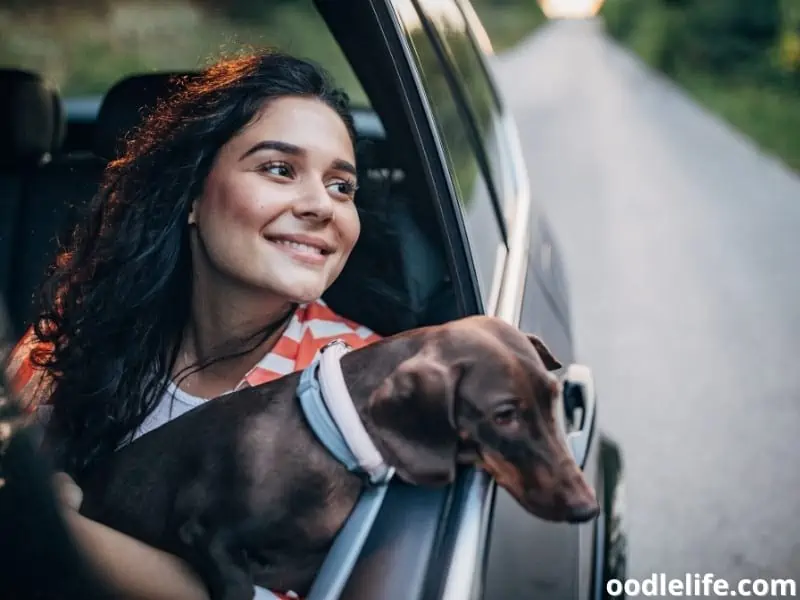 Final Remarks
If you look into the dog steps for car use, you'll find solid options on the market and use them effectively. Ensure you know their differences, so you'll pick the best choices based on what works for your dog.
Since they vary in size, materials, and features, some dog steps might be the best for you, while others might be better for someone else. Ensure you review each option, see what you prefer, and look into more dog products to care for your furry friend.