Thoughtful and Budget-Friendly Gifts for Dog Walkers
Your dog walker is an essential fixture of your and your pet's lives, and many people like to show their gratitude with small gifts for dog walkers or other tokens of appreciation.
Whether you are shopping for your trusted dog walker for the holiday season or a thank-you gift any time of the year, you should have an idea of what they might want or need.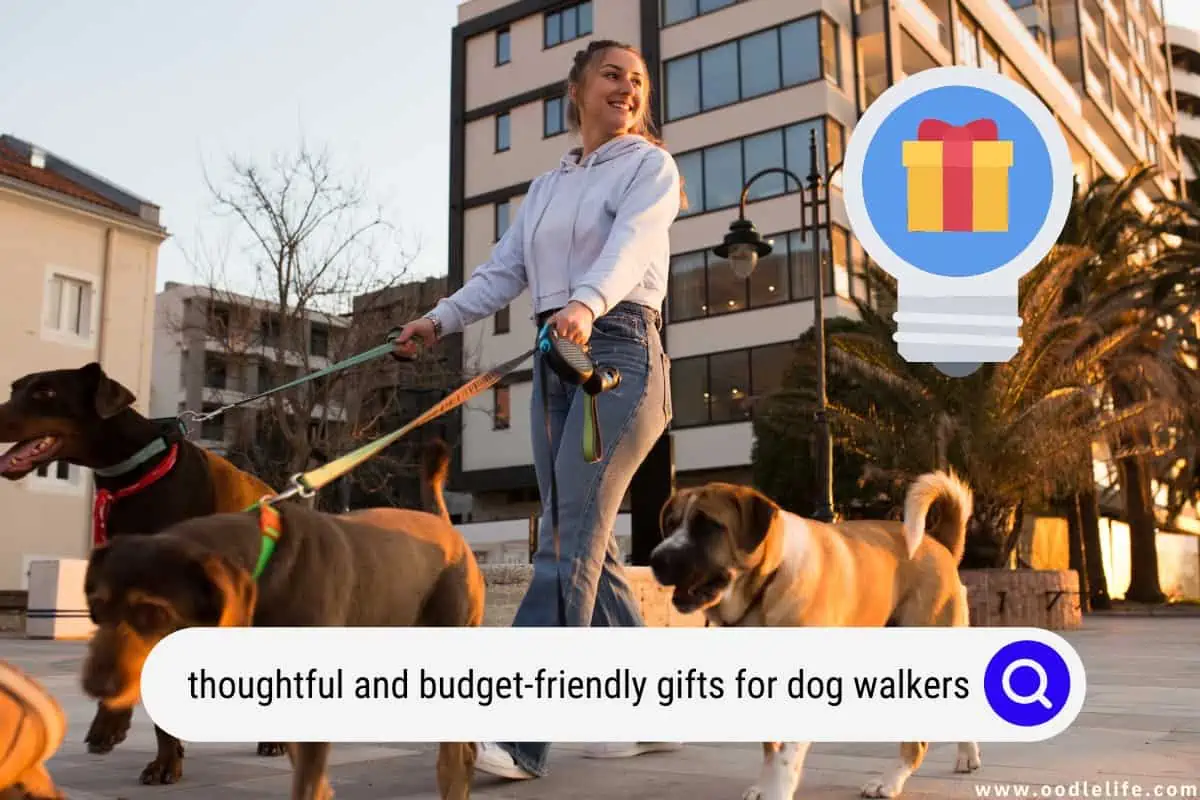 This roundup will go into some of the best gifts to show your dog walker how much you appreciate them. However, we know your dog walker is not the only person on your holiday shopping list, so we curated this list of budget-friendly options that won't break the bank.
Ready to dive into our list of perfect presents for dog walkers? Read on to learn more!
A Yearly Calendar Or Planner
In all likelihood, you are not your dog walker's only client, and you can safely presume that they spend a lot of time planning out their daily and weekly walks to not conflict with one another. This careful scheduling is not quick or straightforward, and you can show your dog walker how much you appreciate their work by getting them a planner to make this part of their job easier.
Planner 2023-2024 - Acadmic Weekly & Monthly Planner 2023-2024 with Tabs, July.2023 - June.2024, 6.5" x 8.5", Hardcover with Back Pocket + Thick Paper + Banded, Twin-Wire Binding - Cute ...
🐾 JULY 2023 - JUNE 2024 - Featuring 12 months of weekly and monthly pages and marked holidays. With weekly and monthly sections for easy planning and scheduling.
🐾 CONTENT DESIGN - 12 months of monthly pages with past and future monthly referencing + 12 months of ample lined weekly pages + 2023-2024 calendar overview + 2023-2025 holiday pages + 2 contact...
🐾 DETAILS - Metal lay-flat twin-wire binding allows for 360° folding over + 12 monthly tabs for quick checking + Quote on the back inside pocket which can hold some cards + Elastic closure band to...
🐾 QUALITY - Thicker paper than normal 2023-2024 planner in the market to reduce ink leakage, erase fraying and shade issues.
🐾 SUPERIOR SERVICE - We will do our best to make you happy if you have any quality problems. Give us a chance and let us show you a great 2023-2024 planner experience!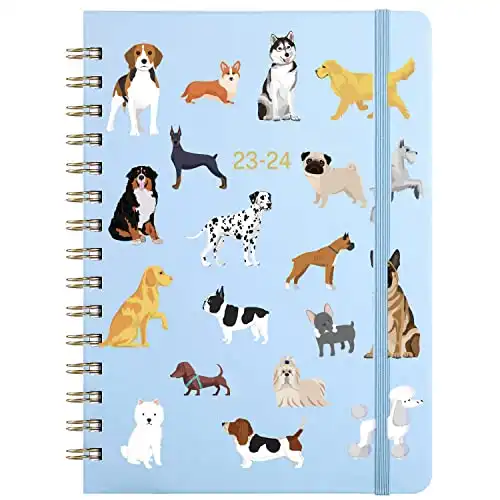 We earn a commission if you make a purchase, at no additional cost to you.
For less than fifteen dollars, you can purchase this weekly and monthly planner with over 2,000 5-star ratings from Amazon. The gorgeous spiral-bound book has a light blue cover decorated with cute illustrations of dogs and interior pages that have subtle, adorable paw prints.
In addition to bookmarkable monthly pages, each spacious weekly page in this planner features enough space for them to write about all of their appointments, walks, and other to-do items not related to their job.
Wireless Headphones
Walking dogs all day, every day can get boring and repetitive without any sort of entertainment. However, wearing wired headphones can be dangerous and inconvenient if the wires get tangled in the leash while picking up poop, crossing the street, or other diversions from the walk.
Soundcore Anker Life P2 True Wireless Earbuds, Clear Sound, USB C, 40H Playtime, IPX7 Waterproof, Wireless Earphones for Work, Home Office
Incredible Sound Loved by 20 Million+ People
40-Hour Playtime: Enjoy 7 hours of listening from a single charge, and extend that to 40 hours with the charging case. When you need power fast, recharge for 10 minutes and get up to 1 hour of...
Superior Sound: Delivers music with a wider soundstage and exceptional accuracy and clarity. BassUp technology intensifies the low end up to 43%.
Ideal for Home Offices: Life P2's microphones pick up your voice so you'll always be heard clearly during phone calls and online meetings.
IPX7 Waterproof: Life P2 wireless earbuds boast IPX7-rated protection that defends against liquids in any weather conditions.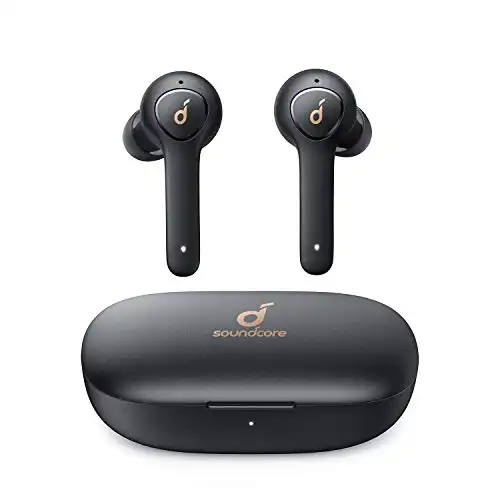 We earn a commission if you make a purchase, at no additional cost to you.
Additionally, noise-canceling headphones can pose issues for dog walkers because they block out external noise. This feature may be great for studying in a public place, but it is a hazard when you need to be on the lookout for traffic, other dogs, and other dangers you may encounter on a walk.
These headphones are wireless and offer a setting that allows the user to hear ambient noise in addition to the music or podcast they are streaming. As a bonus, these headphones are waterproof, meaning your dedicated dog walker can use them in rain and shine!
A Framed Photograph of Your Dog
Depending on how long your dog walker has been working for you, they have probably built a special bond and relationship with your dog.
Amazon Basics Photo Picture Frame - 8" x 10", Black - Pack of 5
$33.07
$29.44 ($9.81 / Count)
Simple, classic photo frames available in silver or black
Display art and photo prints of friends, family, vacations, and more
Includes an easel-back for displaying on a shelf or table top as well as hooks for hanging on the wall
Can be hung horizontally or vertically
Comes with a glass face that will protect prints from wear and damage
We earn a commission if you make a purchase, at no additional cost to you.
A sweet, thoughtful gift would be a framed photograph of them with your dog. This gift is perfect for any occasion but would be especially meaningful as a goodbye present for them to remember your dog by.
This gift can be as inexpensive as a five-dollar frame or a more intricate, professional frame, depending on your budget. If your dog walker is not the sentimental type or has not been working with your dog for very long, you may want to consider a different option from this list.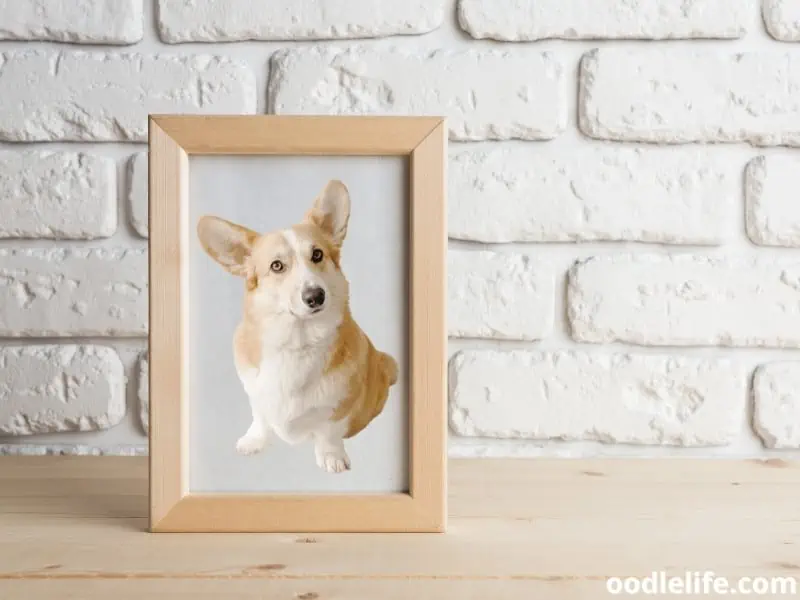 Warm Winter Accessories
If you live in a climate with frigid winters+, you have even more reason to be grateful for your dog walker: they brave the chilliest days full of snow, slush, and ice to make sure that your dog has exercise and socialization when you are too busy to walk them.
HotHands HAND05 Warmers (8 Pair)
Quick, long-lasting heat
Simply open the package and they heat up
Easily fits inside your gloves or pocket
Each warmer provides up to 10 hours of heat
Made in USA
We earn a commission if you make a purchase, at no additional cost to you.
Help make your dog walker's job a little more pleasant by buying them some accessories to stay warm in the winter.
Hats, gloves, scarves, and warm socks are always welcome. Steer clear of mittens since your dog walker will need better dexterity to hold a leash. If your dog walker has these items already, they might love a pack of hot hands to keep their fingers and toes warm during long, chilly walks.
A Portable Neck Fan
Your dog walker will also be grateful for gear that helps with the opposite problem: staying cool on hot, sticky summer walks. Especially if they are a lunchtime walker and help you out during the hottest part of the day, it would be meaningful to give them a tool like a portable neck fan to show your appreciation and that you're looking out for them.
AMACOOL Neck Fan 2600mah Battery Operated Neckband Fan 6-Speed Hand-Free Wearable Personal Fan for Hot Flashes Home Office Travel Outdoor Sports (Navy Blue)
Adjustable 6 Speeds: Brushless advanced motors support 6 speeds wind for any of your purposes, the First Speed is a Natural Wind Mode that blows comfortable air on and off like the wind from mother...
Up to 16hours Battery Life: Built-in Grade A 2600mah Recharageble Battery, lasts max 16hours if set at Nature Wind Mode, minium 2 hours if set at Speed 6 (Highest), juice enough for a day outside; the...
Hands-Free and Wearable: just wear it and stay cool without constantly holding a heavy handheld fan, perfect companion for outdoor festivals, theme park, watching sports, mountaineering, hiking, beach...
Long Hair Friendly: As a professional fan maker, we know how afraid you could be if your hairs get cought by fans, so we developed a safe system with specially made fan blades and covers that blows...
Mini in Size, Big on Performance: only 6.5oz Lightweight, foldable and flexible arms, supports 360 degree angles, you can put it in your bag,hang it on your neck,sit it on you desktop/table,set the...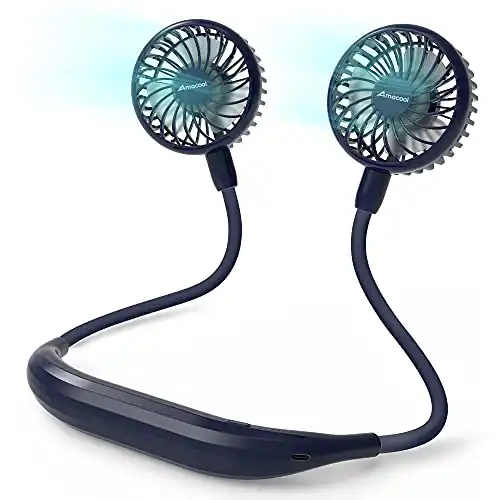 We earn a commission if you make a purchase, at no additional cost to you.
This model comes in six different stylish colors and has a durable battery life that will last them many walks without needing to charge up. The fan has six different speed settings depending on the level of cooling needed, and the straps are soft and adjustable to make you even more comfortable.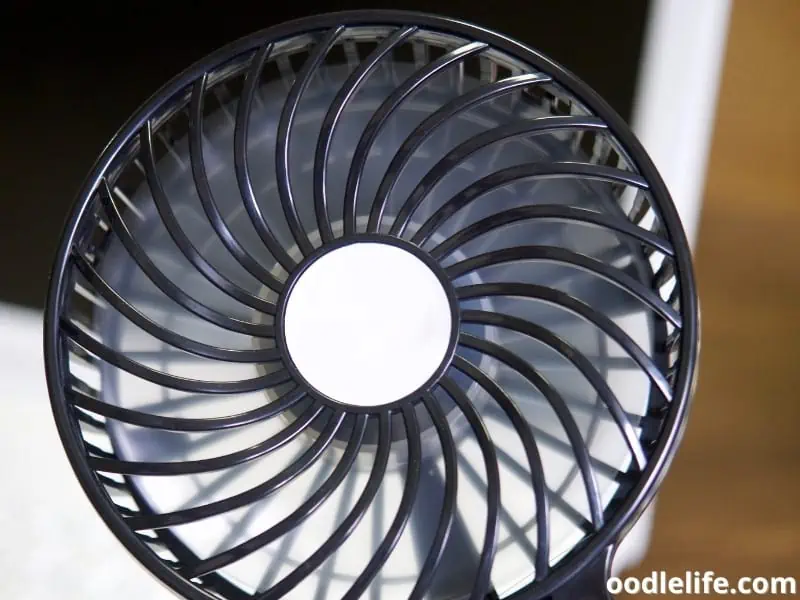 A Pedicure
Your dog walker spends their days powering on the pavement for the sake of your pup. In their line of work, their feet can take a severe beating.
It can be hard to buy comfortable new shoes or insoles for someone without knowing their shoe size, but a fail-proof gift to help their feet recover from miles and miles on sidewalks and trails is a pedicure.
Pedicures vary in price, but basic ones start at around $30 at most salons. Your dog walker will love being pampered, and you can rest assured knowing you have given them a meaningful and pleasurable experience.
A Funny T-Shirt
Does your dog walker have a good sense of humor? Then they might love a t-shirt with a funny dog walker joke on it!
It Was Me. I Let The Dogs Out T Shirt
This Fabulous T-Shirt! Buy now and have a great humorous unique gift delivered to the door, on time!
Lightweight, Classic fit, Double-needle sleeve and bottom hem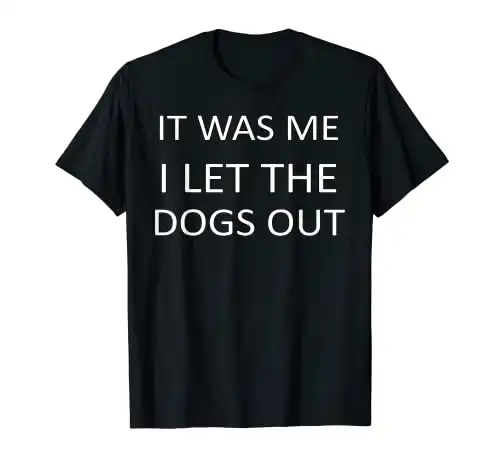 We earn a commission if you make a purchase, at no additional cost to you.
This unisex shirt fits sizes from small up to 3XL and features the text "I let the dogs out." They are made of a super soft cotton blend that will be perfect for staying cool on long walks with your pooch.
A Cute Keychain
If you want to send the message that your dog walker is the best in town, you can pick up a cute keychain for them that has these exact words.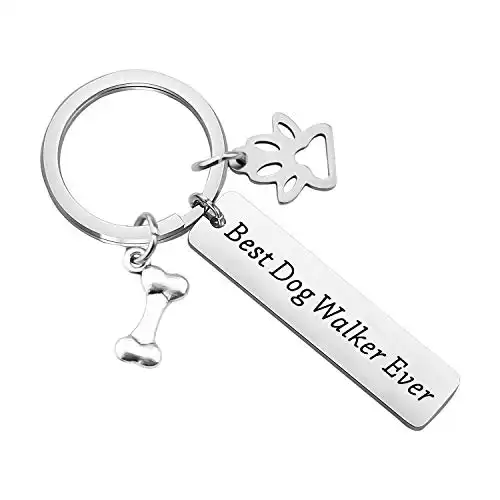 We earn a commission if you make a purchase, at no additional cost to you.
Made of stainless steel, this keychain is hand-stamped with the words "Best Dog Walker Ever" and comes with tiny, delicate paw and bone charms.
If your dog walker needs a key to your house that they use to let your dog out, this would be an excellent gift to include with a house key.
A Handwritten Letter
No gift is less expensive or more meaningful than a handwritten letter. As long as you are genuine, you can use a note to express in words how much your dog walker means to you and your pup.
Be sure to write the letter out by hand (rather than typing it) and use special paper for the full effect. A letter that is handwritten on a post-it note is less meaningful.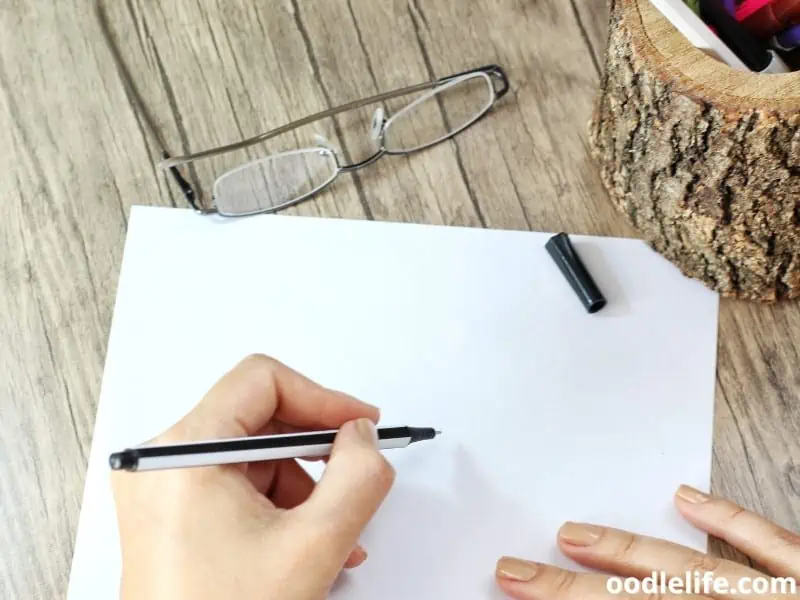 A Starbucks Gift Card
While it might not be the most unique or personalized gift, it's hard to go wrong with a gift card to one of America's most beloved coffee shops.
Primarily if your dog walker works for you early in the morning, they will appreciate a little coffee to keep them going. This is the perfect gift for any budget since you can load the amount of money of your choosing onto the card.
To make this gift a little more personal and thoughtful, you can pair it with a handwritten letter.
Final Thoughts
There you have it! This list includes gift ideas that are dog-themed (since your dog walker loves dogs) and that are more neutral because they indeed have other interests and hobbies outside of their job.
Not every gift idea here will be suitable for your dog walker. However, with a little bit of thought (and even a minimal budget), you can find the perfect gift for the dog walker in your life.