9 Best Goldendoodle Breeders in New York State (2023)
What's cuter than a Golden Retriever and a Poodle? Well, if you have them combined, you'll get the most adorable mix, the Goldendoodle!
Known for its extreme friendliness and its luscious curls, you won't get wrong in having a Goldendoodle in your home.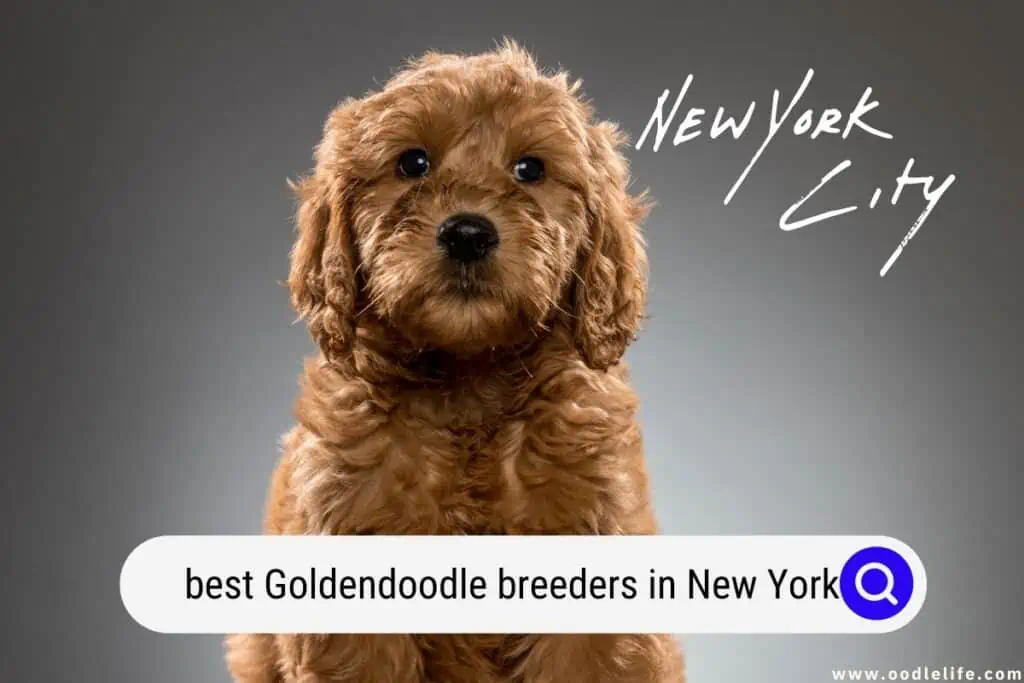 Best of 2023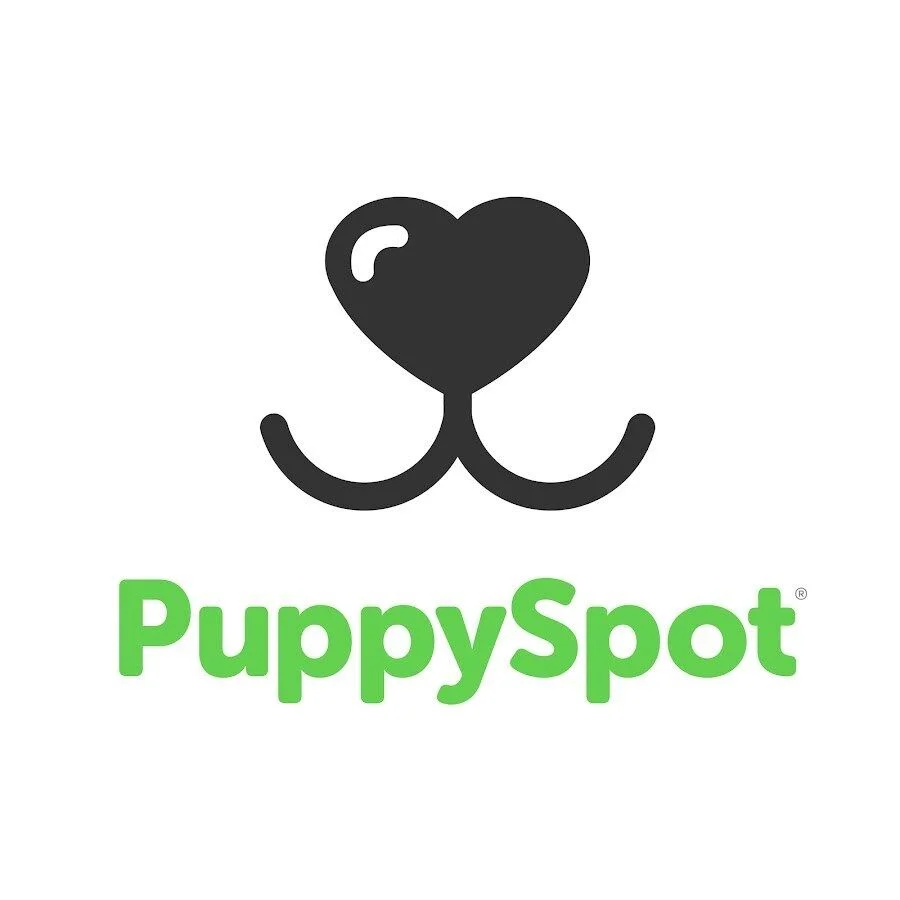 PuppySpot Adoption
PuppySpot is a reputable dog marketplace where you can browse and find compatible puppies right from the comfort of your home. They have placed over 200,000 puppies into homes in the US!
See Puppies and Save $50
First appearing in America during the 90s, Goldendoodles are relatively new in the dog breed scene and are gradually climbing up the limelight ladder as they are considered a designer breed since they've inherited each of the best traits of its purebred parents.
Although Goldendoodles may vary in sizes and appearance, one sure thing about them is they are inevitably charming and lovable.
Mini Goldendoodles of NY
Eenie Mini Miney Doodle!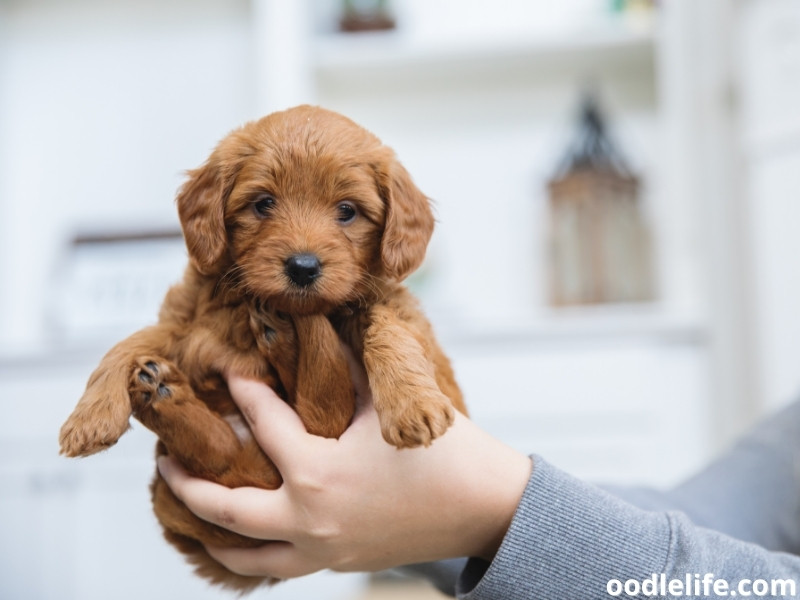 Mini Goldendoodles of New York is a family-run multi-generation breeder of Petite-mini Goldendoodles located in Pine Bush, New York.
Worry no more in choosing just the right size of a Goldendoodle for your home as Mini Goldendoodles of NY is known for offering various sizes of Goldendoodles and specialize breeding petite and Mini Goldendoodles which grow 35 lbs or less.
Like any other breeders, they provide a health guarantee where they assure you that all puppies come with a 2-year health guarantee against hereditary disorders or hereditary illness.
They also offer pre-trained puppies which you may choose from.
If you'd love to have a home-ready puppy perfect for your family, you may opt to choose a puppy with a Housebreaking & Obedience course.
But if you're looking for a potential service dog and still want that designer look, foundations for working dogs is the best choice for you as they can train your Goldendoodles to either be the best guard dog or emotional support animal, or even both.
Breeder Details:
Lakeshore Doodles
Distinctly Different!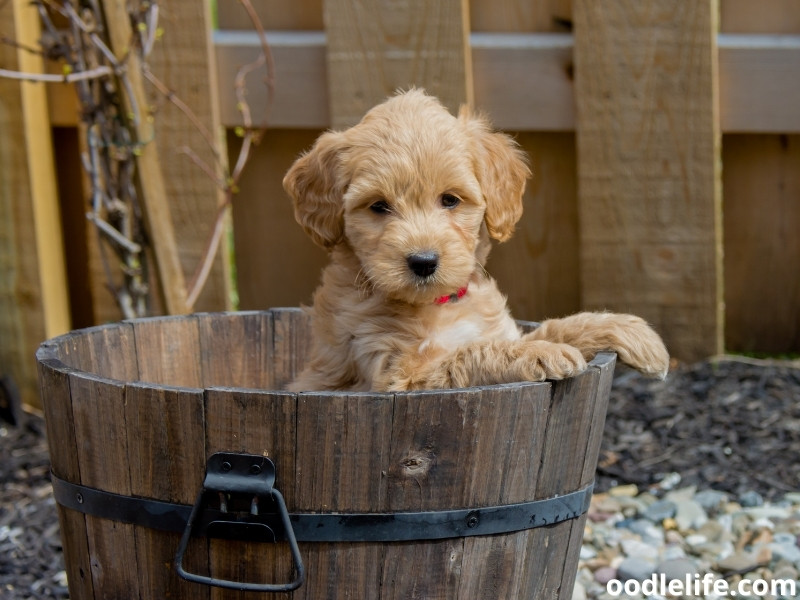 Lakeshore Doodles is known for being distinctly different because of their superior genetics, socialization, selection process, knowledge, and reputation.
They are continually improving their puppies with additional DNA genetic health testing to reduce the likelihood of genetically based health issues.
Lakeshore Doodles believes that by working together, they can help you avoid making impulsive decisions by helping you choose the best puppy from the litter based on the specific needs and energy of your home and family.
In the end, no matter how different your needs are, you'll be able to find the most distinct gentle pup for your home.
Breeder Details:
Golden Beauties Driven to Doodles
Exquisitely Unique!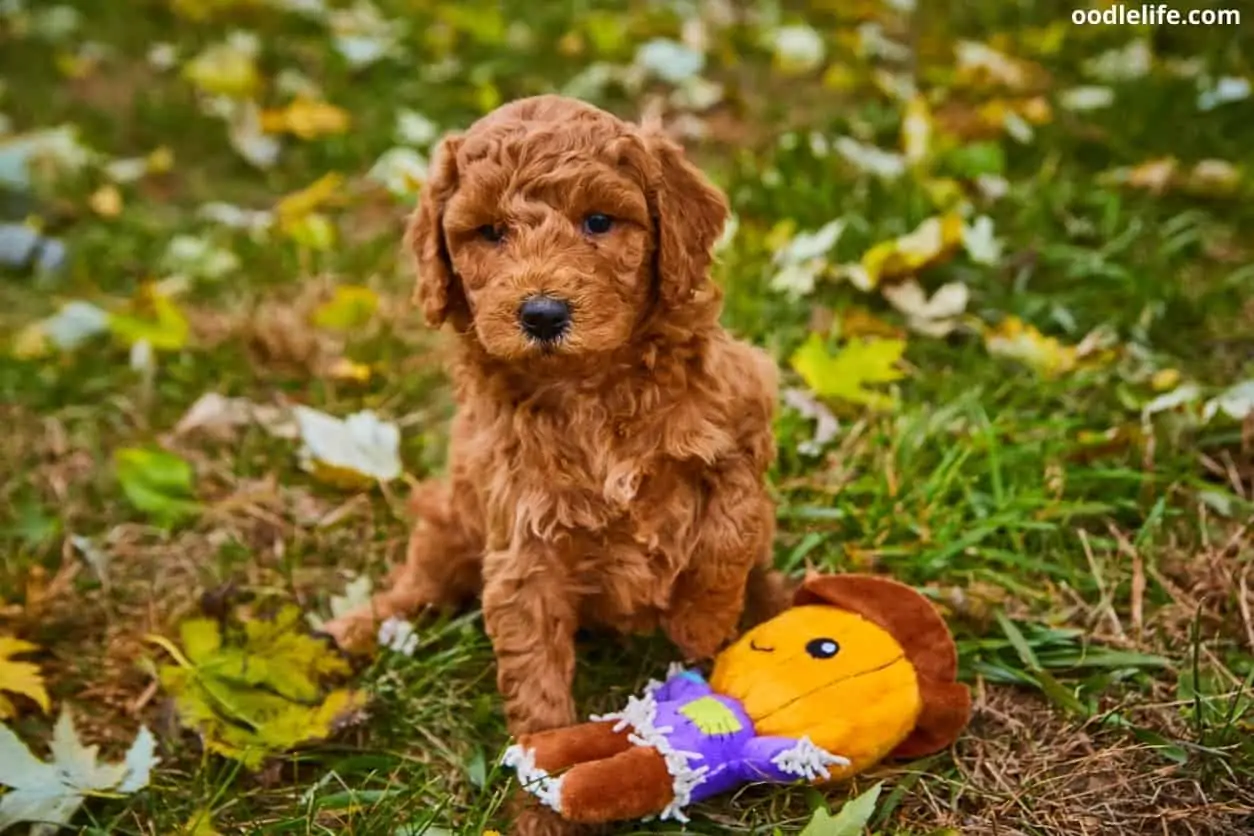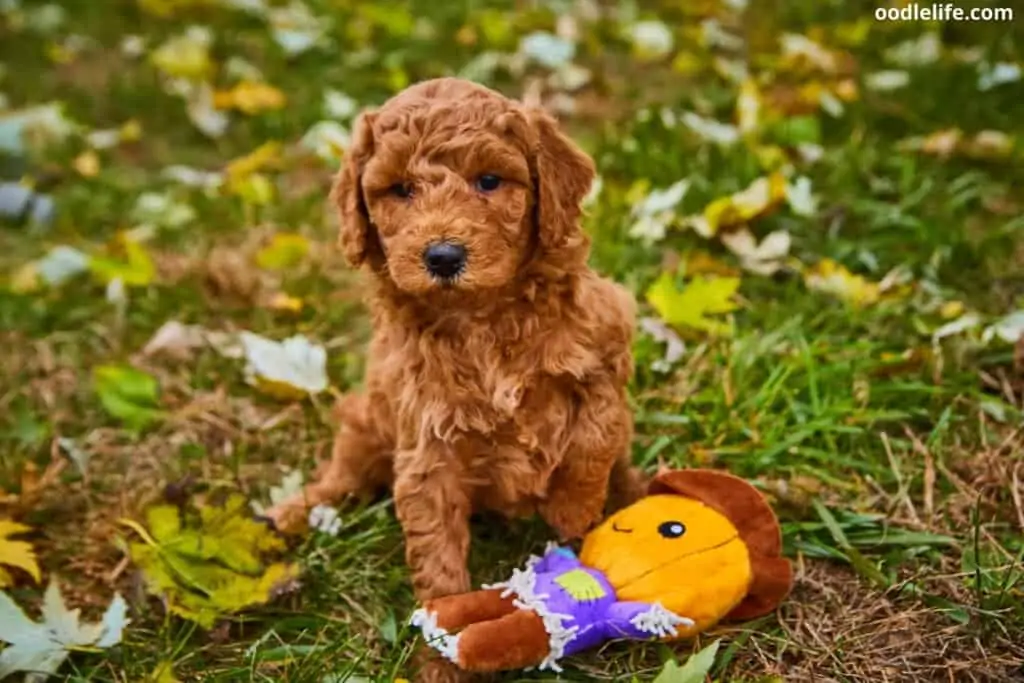 Known to be a home for puppies perfect for being Emotional Support Dogs (ESD), Golden Beauties Driven to Doodles, have successfully bred very loyal and obedient puppies who are attentive to their owner's special needs.
Golden Beauties Driven to Doodles is exquisitely unique as they own and harbor breeding of all their dogs and puppies and do not condone guardian homes. They also breed therapy dogs, require spay/neuter, microchip and vaccinate, and also provide a 6 year health guarantee.
They are a fully state licensed and inspected facility (PD638), a preferred breeder with the Continental Kennel Club, a premium breeder member with the Premium Breeders List, and and honored member of Goddog.com
Moreover, Golden Beauties Driven to Doodles puppies are trained by Stacy Albahari, a well-known Certified Canine Behavior Consultant who has been working with the Human-Canine community for decades devoting quality time to people's pets and rescue dogs both owning as well as fostering rescue dogs on top of dealing with severe canine behavioral issues in other peoples companions.
So if you want anything less than the most exquisite pup, Golden Beauties Driven to Doodles is your go-to.
Breeder Details:
Willowgreen Goldendoodles
Feels like home!
Located in the upstate of New York, in Lowville is Willowgreen Goldendoodles where healthy, temperament, and the right size and curly coated Goldendoodles from F1b micro, mini and medium Goldendoodles are bred.
They are a home-based breeder where all puppies are whelped and raised in a beautiful puppy nursery and enjoy playing outside in their fenced backyard.
All of their studs are AKC registered Poodles, genetically tested for optimum health through Embark, the most scientifically advanced dog DNA test.
Willowgreen Goldendoodles' purpose is to raise healthy happy Goldendoodle puppies that transition to your family with success.
Breeder Details:
Lakeview Doodles
We are family!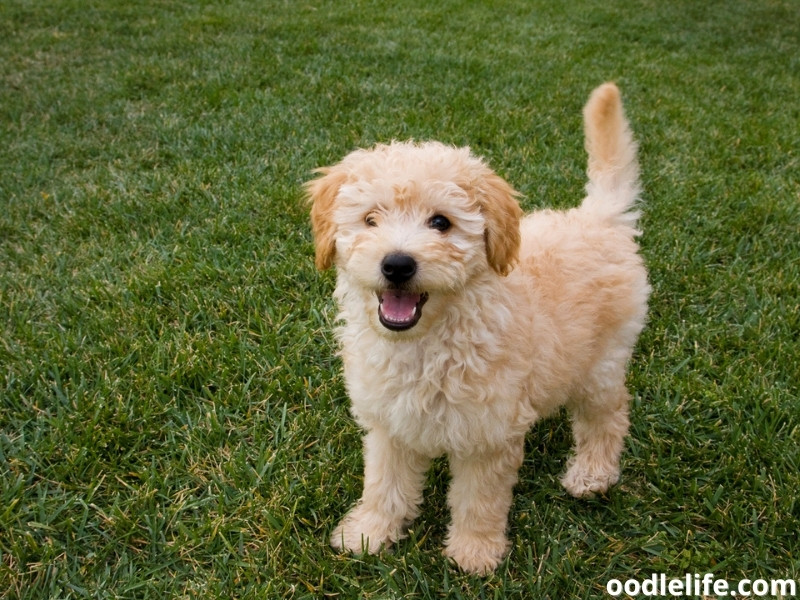 With almost 20 years in the industry of breeding, Lakeview Doodles has been dedicated to breeding high quality, family-raised Miniature, Petite, and Tiny Petite English Goldendoodles, Labradoodles & Double Doodle Puppies.
Lakeview Doodles is a family-run breeder where all their puppies are raised inside their non-smoking, loving home with children.
All of their breeding parents undergo extensive health testing which does not only include full genetic testing for over 200 diseases, but also undergo and have passed all the tests for their hips, elbows, patellas, hearts, and their eyes are checked every other year by their resident ophthalmologist.
Lakeview Doodles dogs also provide their adult dogs their signature haircuts, otherwise known as "The Beth Cut" named after Beth who is the owner of Lakeview Doodles.
Lakeview Doodles believe that they are a puppy heaven and getting a puppy from them is like gaining a whole extra family so if you are ready to have a Goldendoodle as an additional family member, perhaps one of Lakeview Doodles puppies are the perfect match for you.
Breeder Details:
DM Hilltop Fur Family
More than Dog Breeders!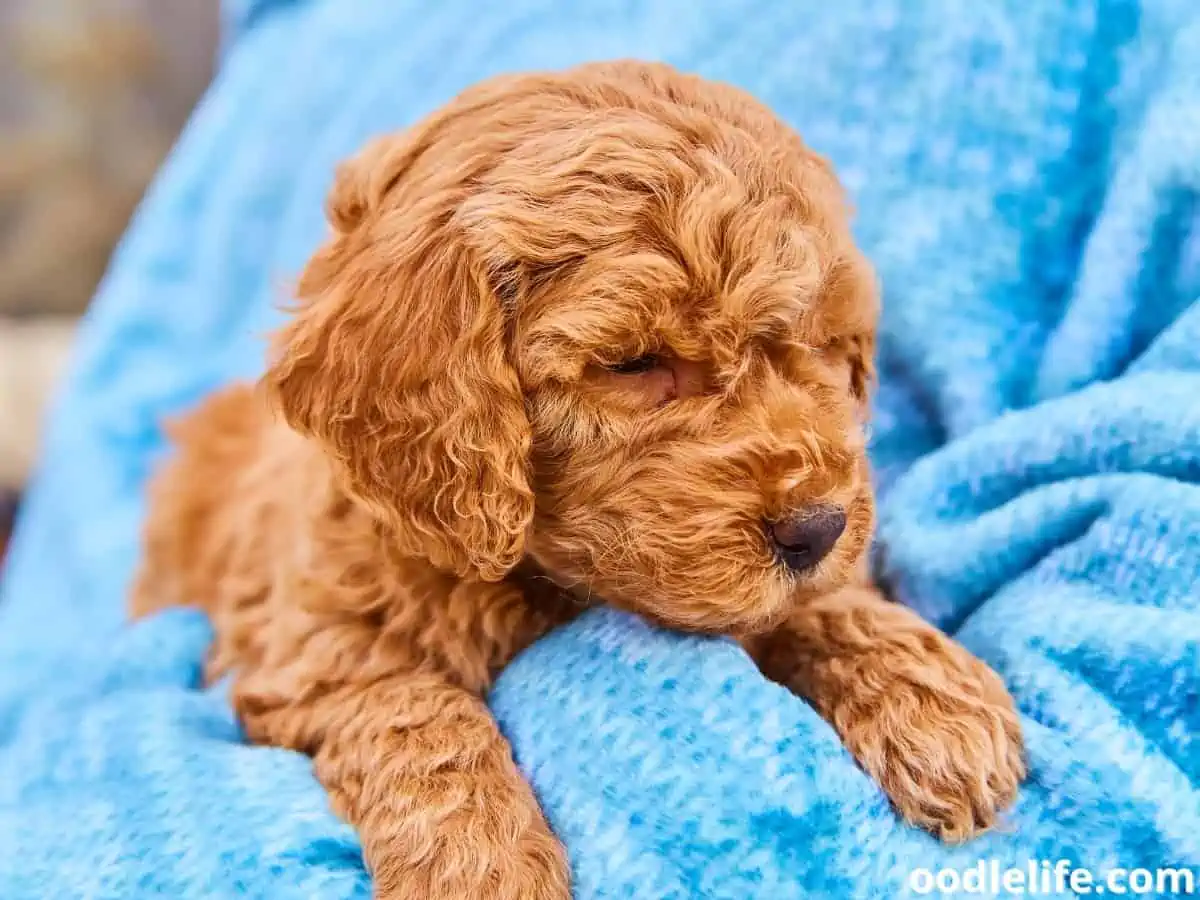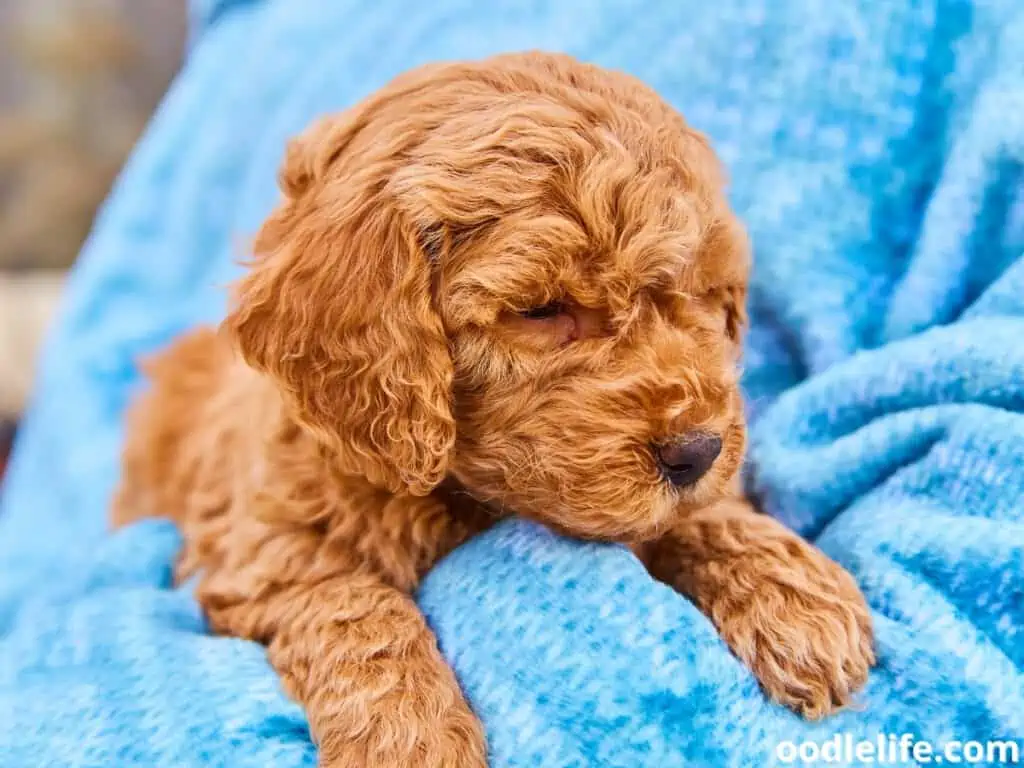 DM Hilltop Fur Family has an uncompromising approach to breeding and raising pups as all of their breeding dogs go through extensive health testing, confirmation and temperament evaluations.
Located in Lowville, New York, DM Hilltop Fur Family follows both Puppy Culture methods and BAB curriculum protocols while also trying to give back to society as they train their pups to become suitable therapy dogs with AKC CGC certifications where they would help locals in need, particularly those with special needs.
They incorporate several steps, each at a specific stage along with desensitizing them to certain sounds & textures.
They put a lot of time into planning their future pairings to produce a healthy and happy puppy to perfectly match a family's wants and needs, and also provide a 2 year health guarantee.
DM Hilltop Fur Family provides a discounted lifetime membership and each Goldendoodle is microchipped to ensure you never lose sight of your Goldendoodle puppy.
Breeder Details:
Toodles Doodles
Too-gooddle to be true!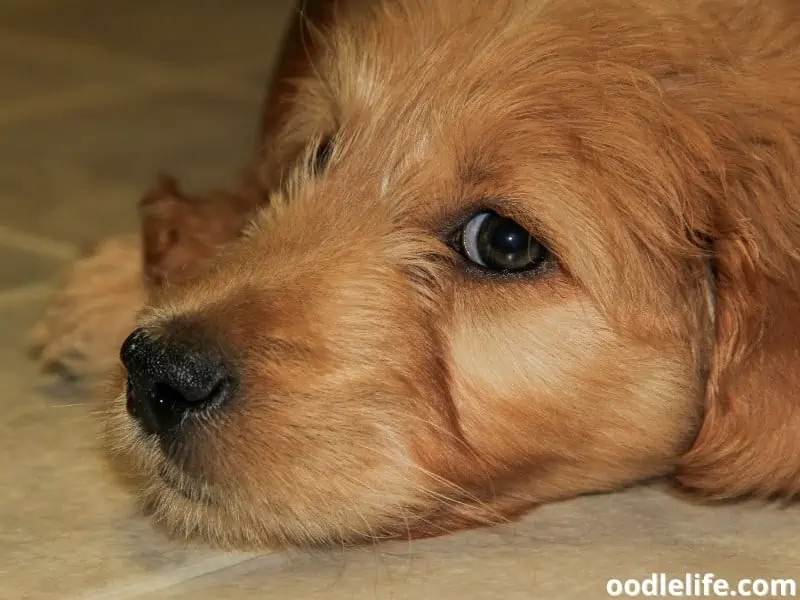 With over 10 years of experience in breeding, Toodles Doodles provides healthy, happy, beautiful Goldendoodle and Irish doodle puppies to forever homes across the U.S, located in Macedon, New York.
Toodles Doodles offers various Goldendoodles from F1, F2b, F1bb, F2, and Flat Coated Goldendoodle.
As a family-operated breeder, every puppy is born in their living room and receives lots of socialization right from the start.
They may be family run, but they are a licensed facility inspected yearly by the state and bi-annually by their local vet as a quality breeder.
Breeder Details:
Celtic Doodles
Tender Love and Care!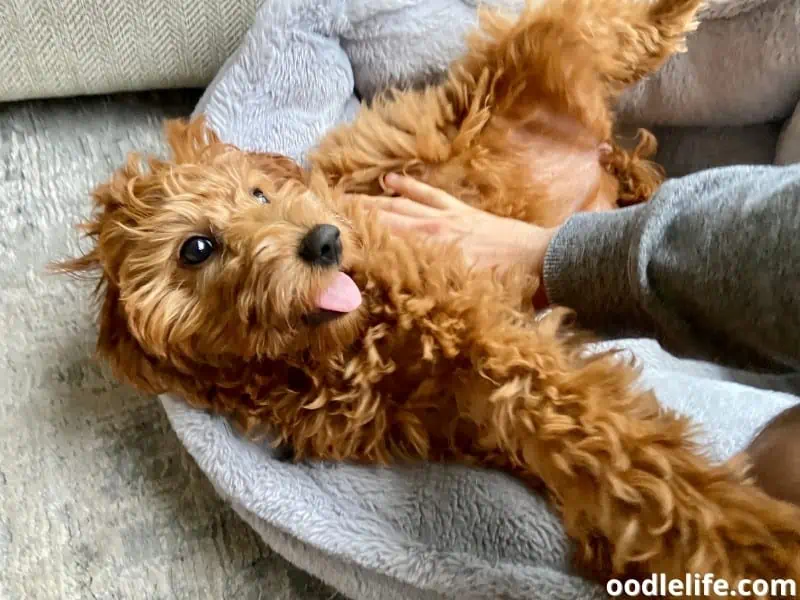 With over 10 years of home-breeding experience, Celtic Doodles have been breeding the perfect miniature English Cream Goldendoodles raised with TLC with an emphasis on socialization, which meets the golden standard recognized by the Golden Association of North America.
All of their puppies come with a 2 year health guarantee and have a full examination by a licensed veterinarian. During the first visit, the puppies also receive their first round of vaccinations.
Celtic Doodles puppies are also potty-trained and well-socialized before going home with their furrever families.
They are located in central New York, particularly in DeRuyters and deliver puppies to most areas in Connecticut, Rhode Island, Massachusetts, Vermont, New Hampshire, Maine, New Jersey, Pennsylvania, Delaware, Maryland, Virginia, North Carolina, and South Carolina.
Breeder Details:
Deans Creek Doodles
Color and Quality!
Goldendoodle puppies at Deans Creek Doodles are home-raised in Vernon, New York City. They offer quality Goldendoodles which colors range from red, cream, dark grey, and apricot. Plenty of colors from which you can choose from.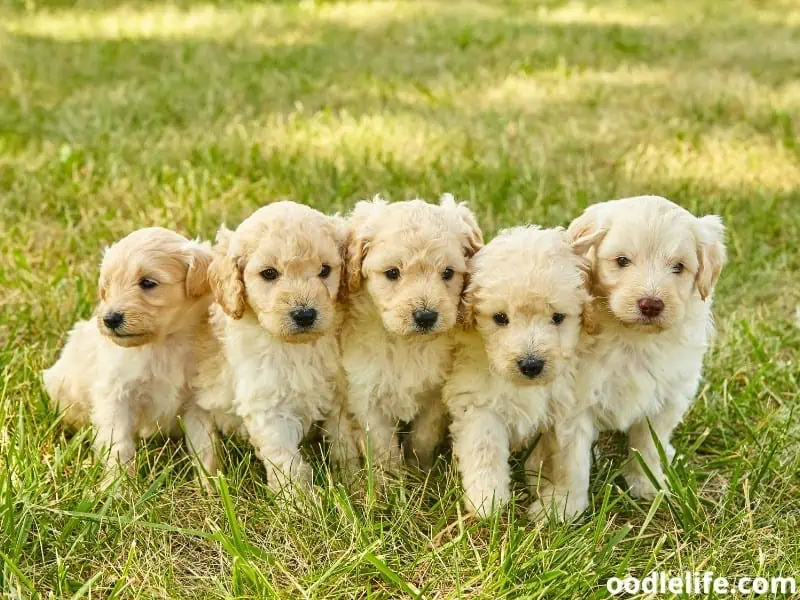 They raise their puppies with Puppy Culture which helps result in well-rounded puppies.
Karen Serianni, CPDT-KA, the owner of Deans Creek Doodles is a certified dog trainer and has been accredited as a Blue Ribbon Breeder by the Goldendoodle Association of America.
Deans Creek Doodles require their pups to be spayed/neutered and they also offer pet health insurance as they value the health of the puppies before they go their families.
Breeder Details: