Best Goldendoodle Breeders in North Carolina (2023 Update)
There are quite several Goldendoodle breeders in North Carolina, which can be confusing for a first-time Doodle owner.
We've listed the best breeders worth considering to help you make the search process easy.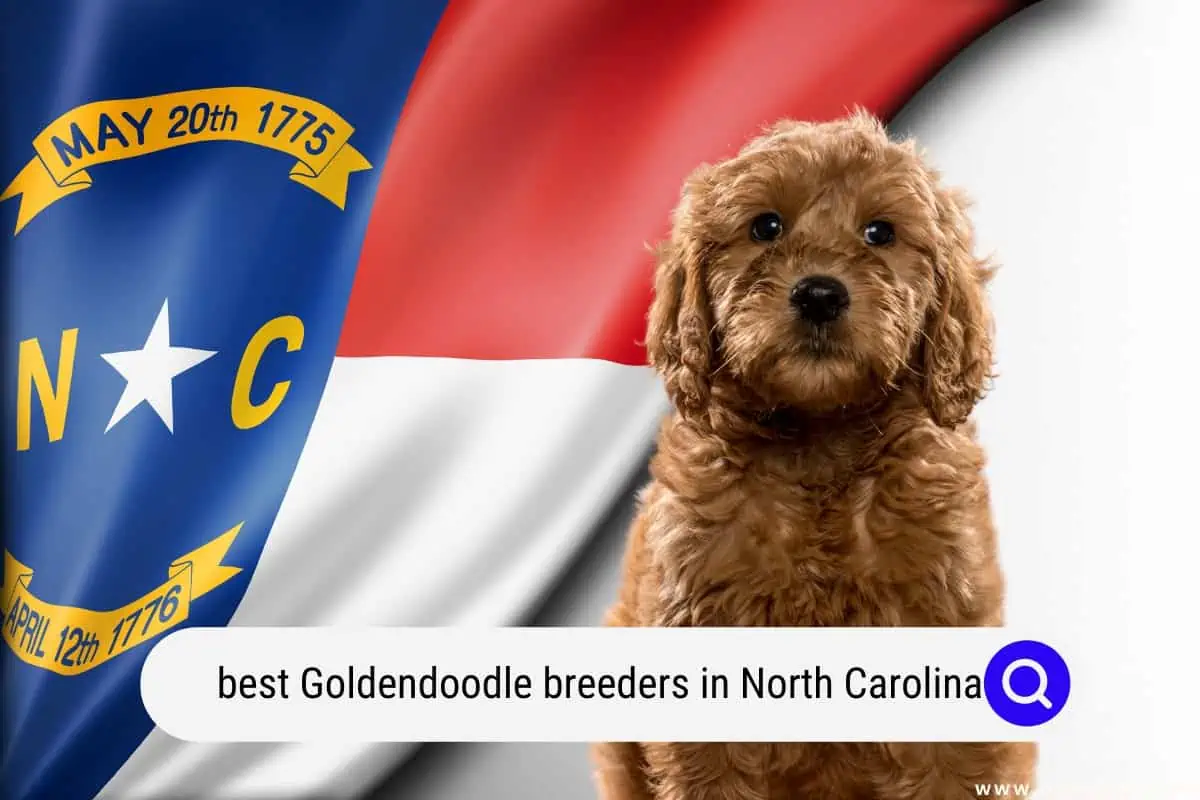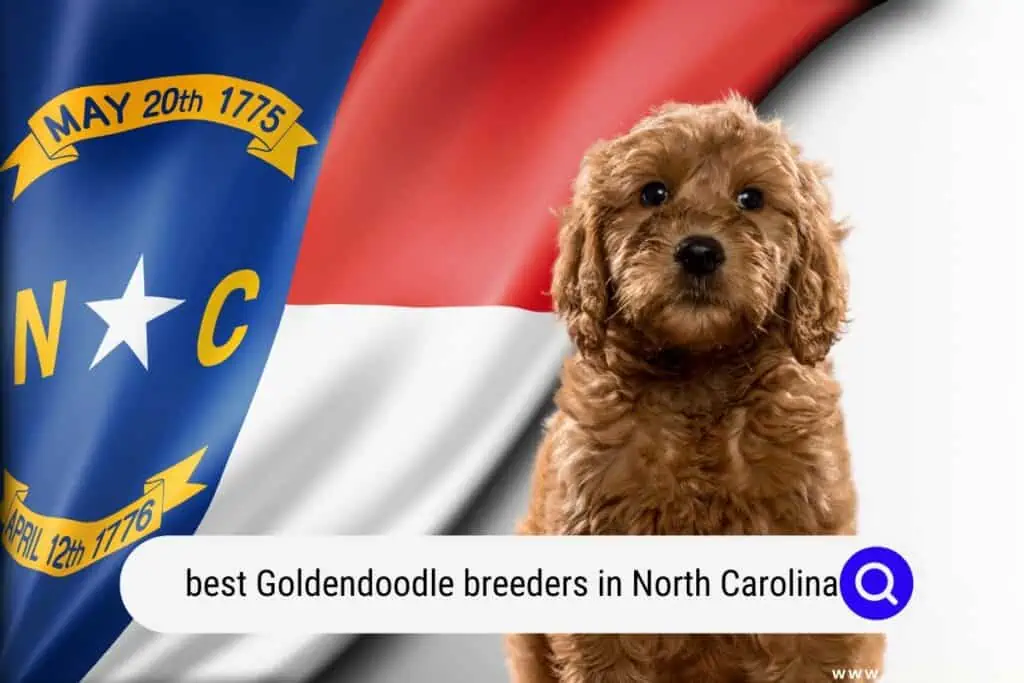 $300 2023 Discount!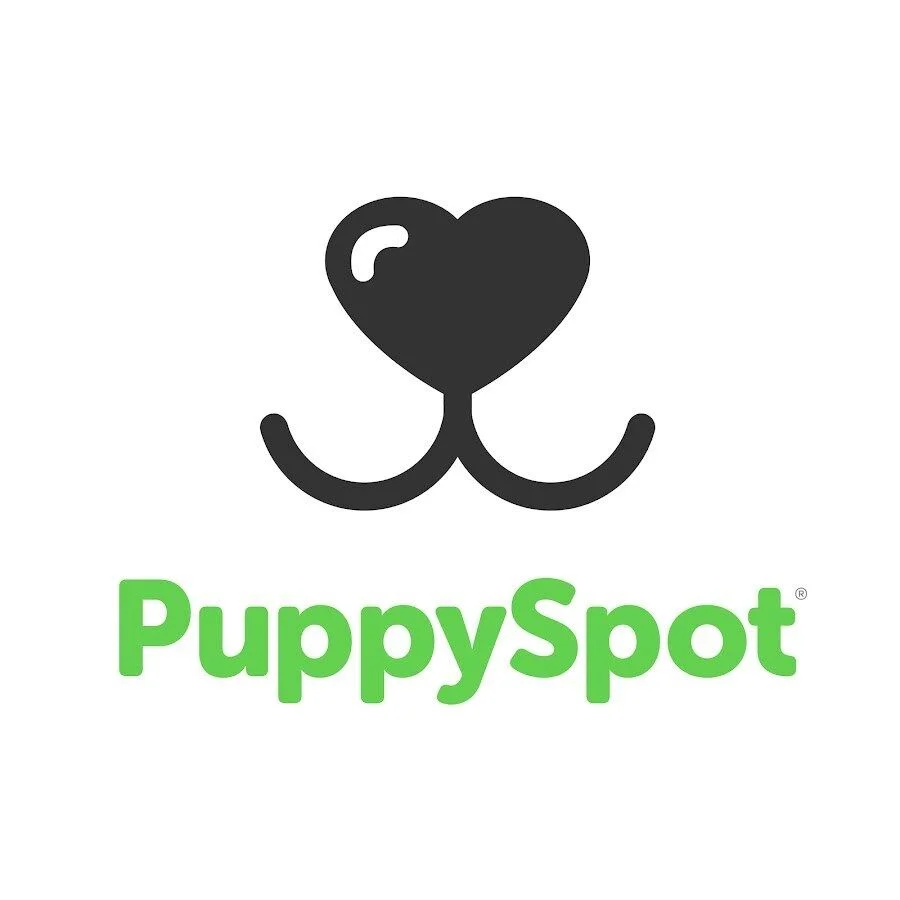 PuppySpot Adoption
PuppySpot is a reputable dog marketplace where you can browse and find compatible puppies right from the comfort of your home. They have placed over 200,000 puppies into homes in the US!
Click through and use the code PUPPY300 for $300 off any puppy adoption.
See Puppies and Save $300
This list focuses on dog breeders with a proven track record.
1. Hummingbird Hill Goldendoodles
Hummingbird Hill Goldendoodles is a reputable dog breeder in North Carolina, and they are more interested in improving the Goldendoodle breed. They focus on improving the breed's intelligence, health, and temperament.
It's a family-owned business that has a strict breeding program. They handpick dog parents based on their health, conformation, and personality. A licensed vet also checks the pets for DNA health defects. This helps to ensure they breed a high-quality Goldendoodle litter.
All puppies get the love, care, and attention that ensure they grow into social and friendly creatures. They eat healthy food and use multivitamins that boost their health and well-being.
Hummingbird Hill Goldendoodles offers a two-year health warranty on their Goldendoodles.
Contact Details:
Website: https://www.humhillgoldendoodles.com/
Phone: (336) 580-4456 or (336) 685-0593
Email: [email protected]
Location: Guilford , North Carolina
2. Peters' Puppies Goldendoodles
Peters' Puppies adds a personal touch to their dog-breeding program. Their pups are well-trained in a way that they can make excellent therapy, family, and service dogs. Peters' Puppies breeds mini, medium, and standard Goldendoodles.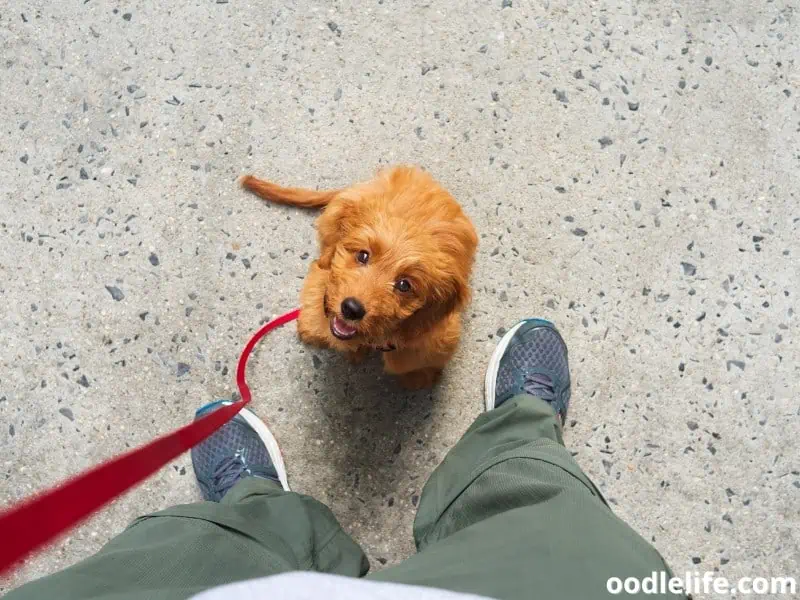 They also have a wide selection of puppies of different colors.
Puppies grow in a family setting where they are car-trained, potty-trained, socialized, and crate-trained before adoption. The breeder has puppy cams installed all over to monitor the pets 24/7. Monitoring all around the clock ensures that dogs get all their basic needs at the right time.
The good thing about Peters' Puppies Goldendoodles is that their dogs get social training from a tender age. When they are ready for adoption, they can easily adjust to new family settings.
Breeding parents undergo evaluation and a selection process to ensure they can produce top-quality breeds. The parents undergo thorough testing for any genetic health complications. Their heart, hips, and elbows get checked before adoption.
If you're selecting a breeder based on reviews, Peters' Puppies ticks all the boxes. They provide their Goldendoodles with a caring and friendly environment. Most clients indicate that the breeder provides an exceptional breeding experience for any new Goldendoodles owner.
Contact Details:
Website: https://peterspuppies.com/
Phone: (585) 455-3478
Email: [email protected] or [email protected]
Location: Henderson, North Carolina
3. Lake Road Doodles
Lake Road Doodles is another amazing place to get your Goldendoodle. Whether you want to get yourself a Goldendoodle right now or shortly, you can always follow up with a pup right from a tender age. Lake Road Doodles normally posts plenty of videos and pictures so people can follow up on their favorite Doodles.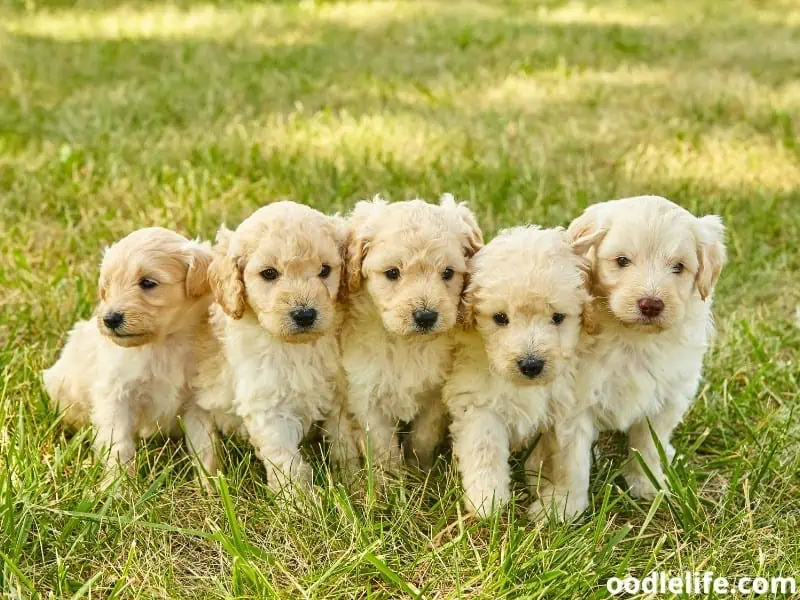 This makes it easy to determine the right time to get yourself a pup.
Lake Road Doodles also boast of their rich experience in breeding dogs, which is partly why most clients prefer working with them. With over ten years of experience breeding Goldendoodles, they know what it takes to bring up a healthy breed. Their positive reviews about their dogs also speak volumes about what they offer.
They have a robust breeding program since they partner with other reputable Goldendoodle breeders within the state. The breeder's sires and dams undergo various health checks to confirm they are healthy.
Puppies at Lake Road Doodles interact with friends and family as part of their socialization program. The pups' socialization protocols include Early Neurological Stimulation and puppy culture. Puppies go through these protocols from day 2 to day 16.
Goldendoodles are also introduced to crate training and potty training before adoption.
Lake Road Doodles offers a 2-year health warranty for each Goldendoodle you take home.
Contact Details:
Website: https://www.lakeroaddoodles.com/
Phone: (252) 339-5556
Email: [email protected]
Location: Hertford, North Carolina
4. Euro Goldendoodles
Euro Goldendoodles stand among the best Goldendoodle breeders in North Carolina as they have been in business for over seven years. They focus on producing teddy bear Goldendoodles and strive to be the best in what they do throughout the country. Euro Goldendoodles have a huge selection of Goldendoodles, making them a great choice for anyone looking for variety.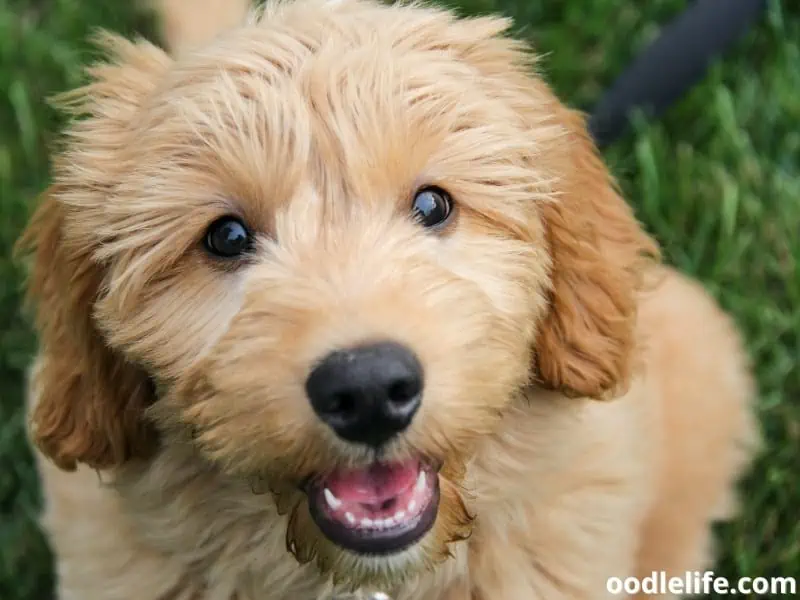 The breeder has an impressive breeding line that offers high-quality Goldendoodles. Parent dogs are normally tested to ensure they don't have any underlying health complications. They strive to ensure the parents are OFA certified and their hearts and eyes vet-checked.
Puppies enjoy a clean and comfortable environment where they can play and interact with people and other animals. They eat quality food and use supplements occasionally to boost their growth and immune system.
Euro Goldendoodles provide their clients with a 3-year health guarantee. It's also important to note that their pups come with a microchip.
Contact Details:
Website: https://eurogoldendoodle.com/
Phone: (704) 990-8034
Email: [email protected]
Location: Mount Holly, North Carolina
5. Triangle Goldendoodles
While Triangle Goldendoodles have only been in business for five years, most clients find them quite responsive. The breeder owners are particularly interested in creating a community of Goldendoodle dogs.
Their puppies grow in a caring and friendly environment where they get the attention and care they deserve. Most of their Goldendoodles grow to serve as service and therapy dogs. Triangle Goldendoodles feature pups that are AKC-certified.
They are the perfect hybrid of Golden Retrievers and Poodles.
Triangle Goldendoodles has a nice selection of dog parents, and this guarantees that they produce quality breeds. The pups portray admirable traits, such as being gentle, social, and lovable.
All puppies eat good quality puppy food. They also get to mingle with people of different age groups.
Besides being well-trained, puppies undergo rigorous health checks before adoption. Triangle Goldendoodles also offers a health guarantee for their puppies.
Contact Details:
Website: http://www.trianglegoldendoodles.com/
Phone: (919) 423-4524
Email: [email protected]
Location: Efland, North Carolina
6. Oopsie Doodles of NC
Oopsie Doodles of NC makes it easy to reserve your sweet puppy through their online platform. Finding your perfect Doodle friend is quite easy. You only need to know what you want in your Goldendoodle, including its color, sex, and social attributes.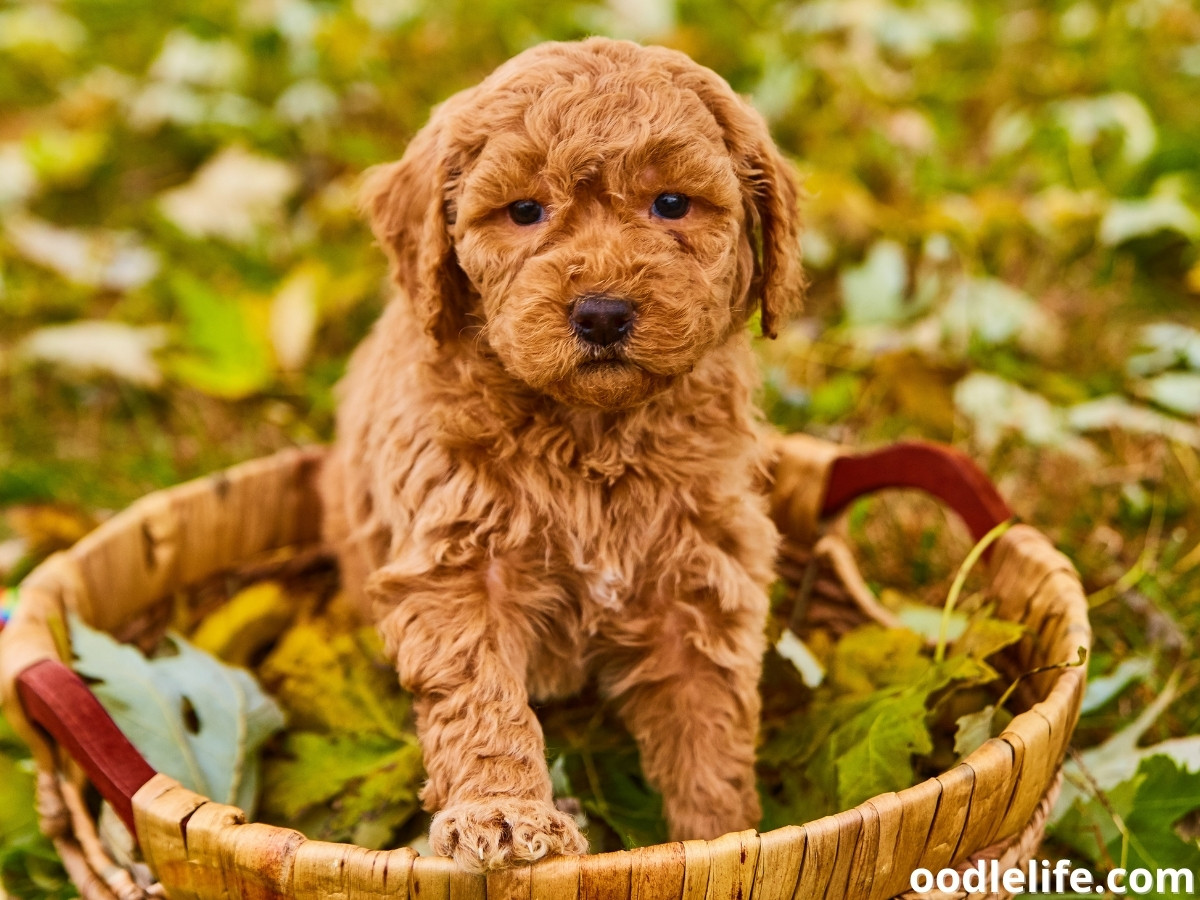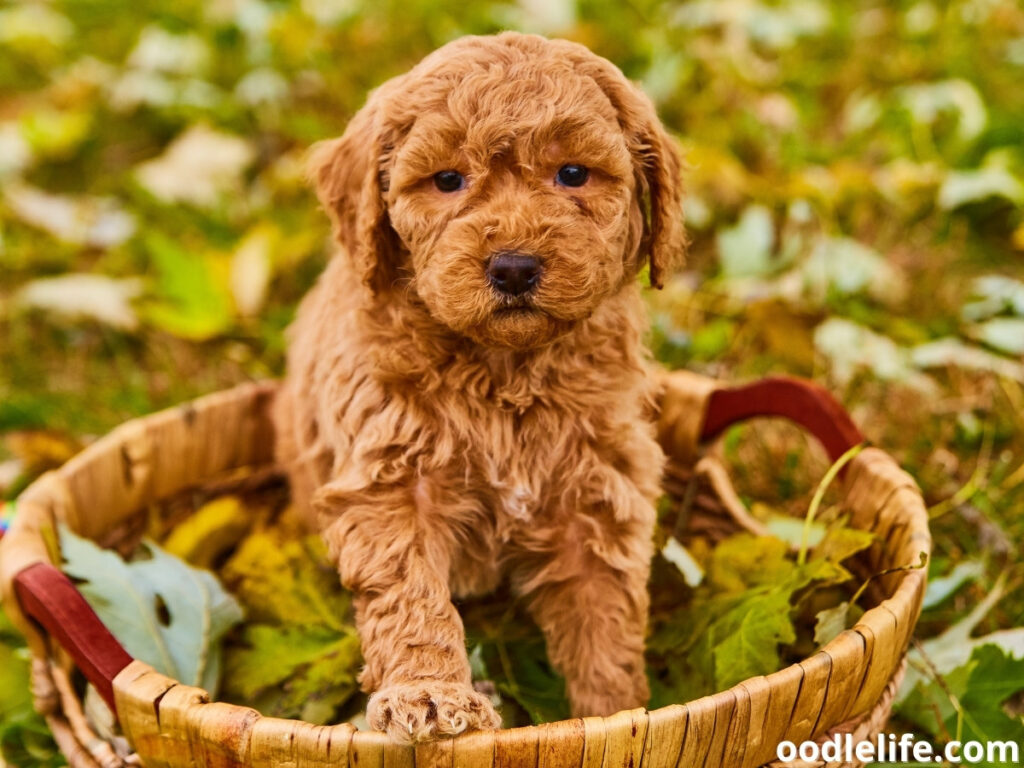 The breeder has over seven years of experience in breeding Doodles. Over the years, they have been doing their best to improve the breed. Through their rich experience raising their dogs, they have raised pups with strong lifetime homes.
Dog parents undergo DNA and OFA testing to guarantee they take home healthy and fit puppies. All puppies from Oopsie Doodles of NC come with a health guarantee.
Contact Details:
Website: https://www.oopsiedoodlesofnc.com/
Phone: (252) 202-9605 or (252) 771-5555
Email: [email protected]
Location: Camden, North Carolina
7. Strong Oaks Goldendoodles
Strong Oaks Goldendoodles produce top-quality Goldendoodles of F1b, F1, and F1bb generations. Their pups come in different colors and ages. The puppies are also well-trained and make a good choice for companionship, therapy, and service dogs.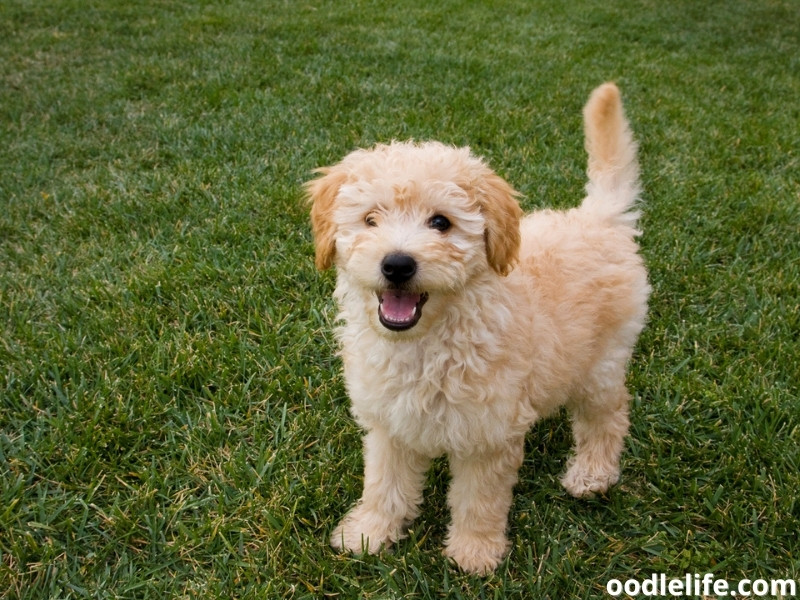 The breeder's program strives to ensure that the Goldendoodles are healthy, intelligent, and have good temperaments.
All dogs are health-tested to ensure they don't suffer from common issues that affect Doodle breeds. For instance, the dogs check to confirm that their eyes, hips, and hearts perform well.
Their puppies are also introduced to Early Neurological Stimulation (ENS) from day 3 to day 16. Part of their socialization protocol is to ensure they mingle with people of different ages. All these guarantee a smooth adoption process in the long run.
Strong Oaks Goldendoodles offer clients a money-back guarantee for their puppies. So, if your puppy has certain health issues, you can choose another or get a refund. However, the pups are normally vet-checked to confirm that they are healthy.
Most reviews indicate that the breeder provides quality Goldendoodles. So, you shouldn't worry about getting a refund or the chances of taking home an unhealthy puppy.
Contact Details:
Website: https://strongoaksgoldendoodles.com/
Phone: (828) 408-3108
Email: [email protected]
Location: Morganton, North Carolina
Conclusion
From this list of the best Goldendoodle breeders in North Carolina, it should be easy for you to find the perfect breeder that meets your Doodle specifications. One of the essential factors to consider when choosing a breeder is their experience in the industry. The last thing you want is to adopt a dog with health issues.
So, pick a breeder near you from this list and choose a puppy to bring home. Remember to confirm with your preferred breeder about the health guarantee they offer on their puppies.