9 Best Puppy Foods For Goldendoodles In 2023
Nutrition is a significant part of all dogs' health, and knowing what foods to give your dog is vital to ensuring they live a long, happy life. However, the number of formulas you have to choose from can make it hard to decide on one.
Every formula brings something different to the table, and you have to understand the various ways in which each of them can affect your Goldendoodle's health. So while I highly encourage you to look at wet dog food in the future, starting off with dry dog food is typically fine, so long as it's a puppy formula and not an adult formula.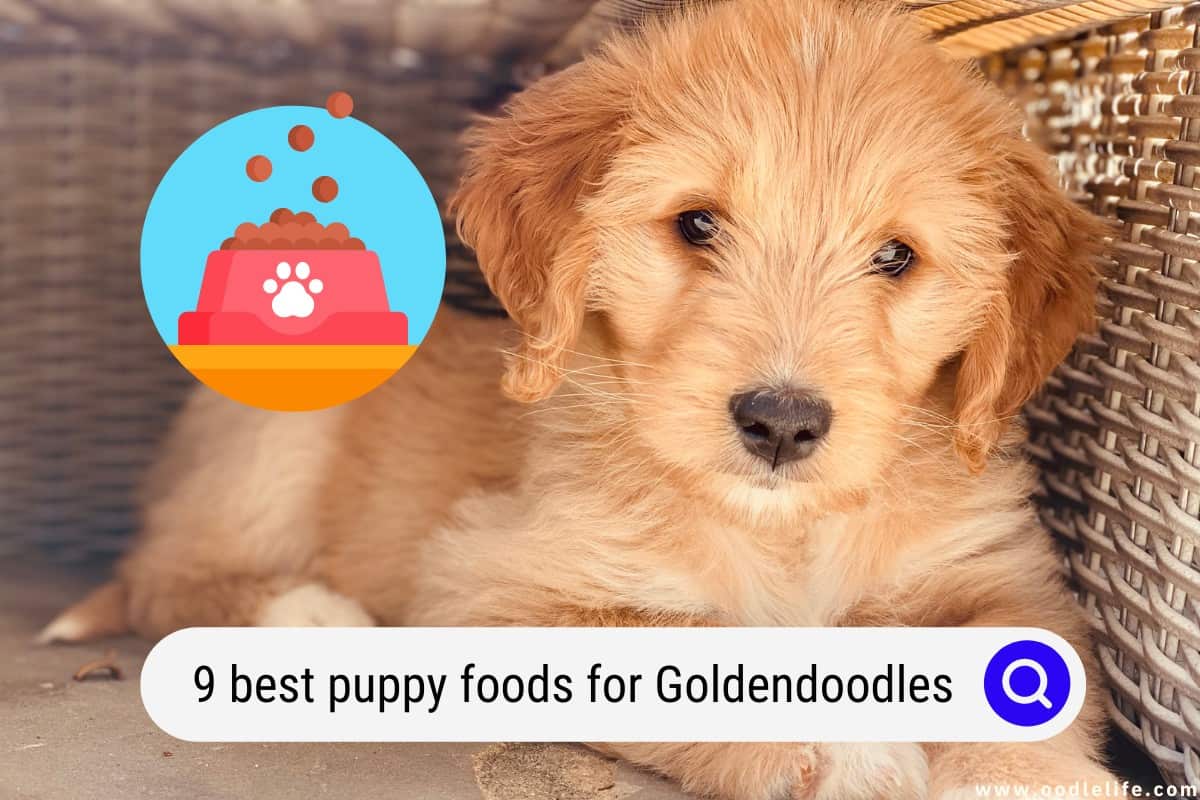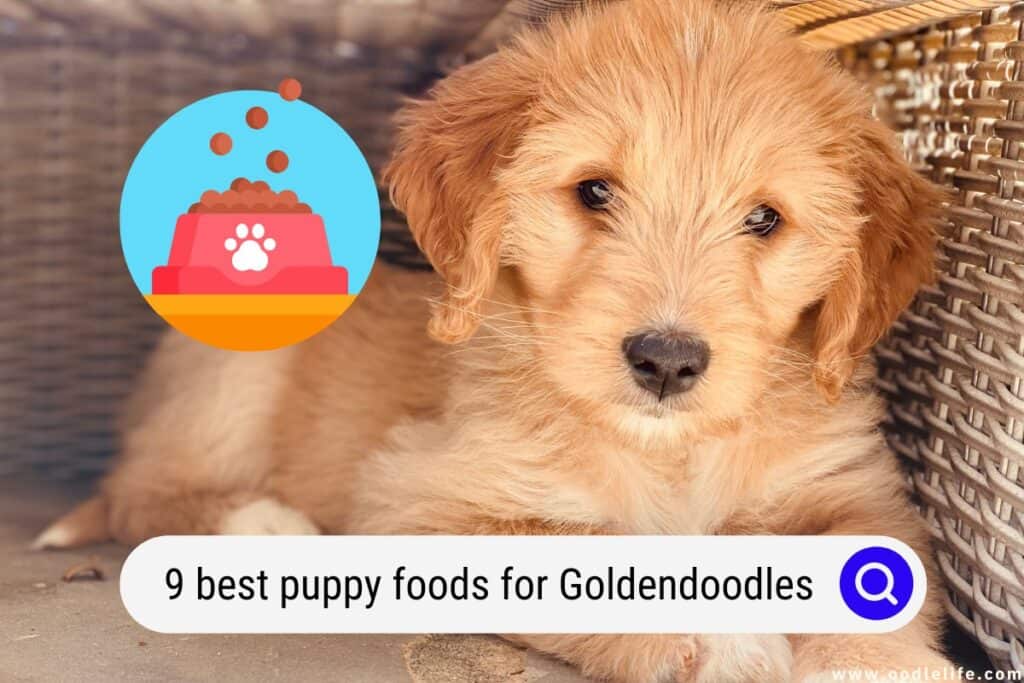 In this guide, I'll go over nine options for the best food for a Goldendoodle puppy and explain everything you need to know about them. So, read on to find the ideal food for your puppy.
Nutro Natural Choice Chicken & Brown Rice Dry Puppy Food
For me, the Nutro Natural Choice Chicken & Brown Rice Dry Puppy Food earns its place on the list of the best food for a Goldendoodle puppy. It brings your puppy all the right blend of ingredients.
NUTRO NATURAL CHOICE Puppy Dry Dog Food, Chicken & Brown Rice Recipe Dog Kibble, 5 lb. Bag
Contains one (1) 5 lb. bag of NUTRO NATURAL CHOICE Puppy Dry Dog Food, Chicken & Brown Rice Recipe for puppies up to 1 year old; real chicken is the ingredient
Made with non-GMO ingredients; no chicken by-product meal, corn, wheat, or soy
High quality protein source is the ingredient in the delicious dry kibble
Supports brain and eye development in puppies with omega-3 fatty acids like DHA
Helps build strong bones and joints with calcium and supports healthy immunity with essential antioxidants
The main ingredient is chicken, which you can never go wrong with because it's an excellent source of protein. Like us, a puppy needs a healthy amount of protein in its diet to develop properly during its growing stages.
However, the chicken is not the only thing that supports this growth. This dog food also features eggs, spinach, pumpkin, and numerous other vegetables that offer many beneficial nutrients. These ensure your puppy's bones grow strong and healthy, which is another crucial factor when considering how active puppies are daily.
They need the right amount of physical strength and energy to move around, and the type of food they eat plays the most significant role in that, which is the main reason I recommend this formula so highly. Still, it's also very affordable, and affordability is something I value greatly in every dog food.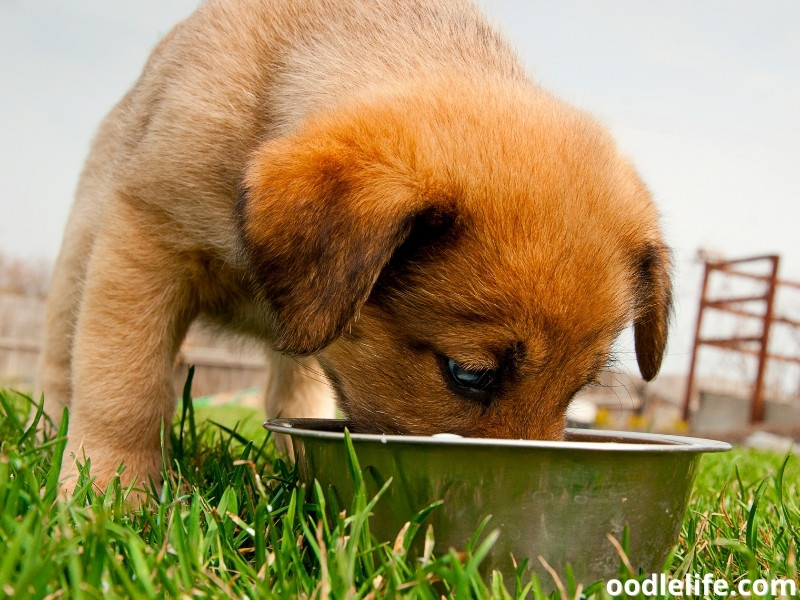 Royal Canin Healthy Dry Puppy Food
The Royal Canin Healthy Dry Puppy Food is a formula that caters specifically to puppies up to 1 year old, which doesn't mean you can't give it to your dog if they're more than a year old. However, dogs under a year old will reap the most benefits from this formula because of all the energy-providing nutrients it contains.
Royal Canin Medium Puppy Dry Dog Food, 17 lb bag
FORMULATED FOR MEDIUM BREED PUPPIES: Royal Canin Medium Puppy Dog Food is tailor-made for puppies up to 1 year old with an expected adult weight of 23-55 lb
HEALTHY ENERGY: Key nutrients meet the high energy needs of medium breed dogs during their short growth period
IMMUNE SUPPORT: An exclusive blend of antioxidants and vitamins promotes healthy development of immune systems
BONE AND JOINT: A specialized mineral blend supports bone and joint health
HEALTHY DIGESTION: Highly digestible proteins and prebiotics promote healthy digestion and optimal stool quality
It's also exceptionally healthy for puppies that suffer from issues with hard stool, as it's highly digestible. Unlike other dog foods, it won't sit on your puppy's stomach for a long time and come out too hard when they go to the bathroom. On top of that, this formula builds your puppy's immune system right from the start.
The only minor drawback I found in the Royal Canin Healthy Dry Puppy Food is that it's best for puppies that will only grow to be 23-55 pounds when they're adults. But, aside from that, this dog food has a lot to love.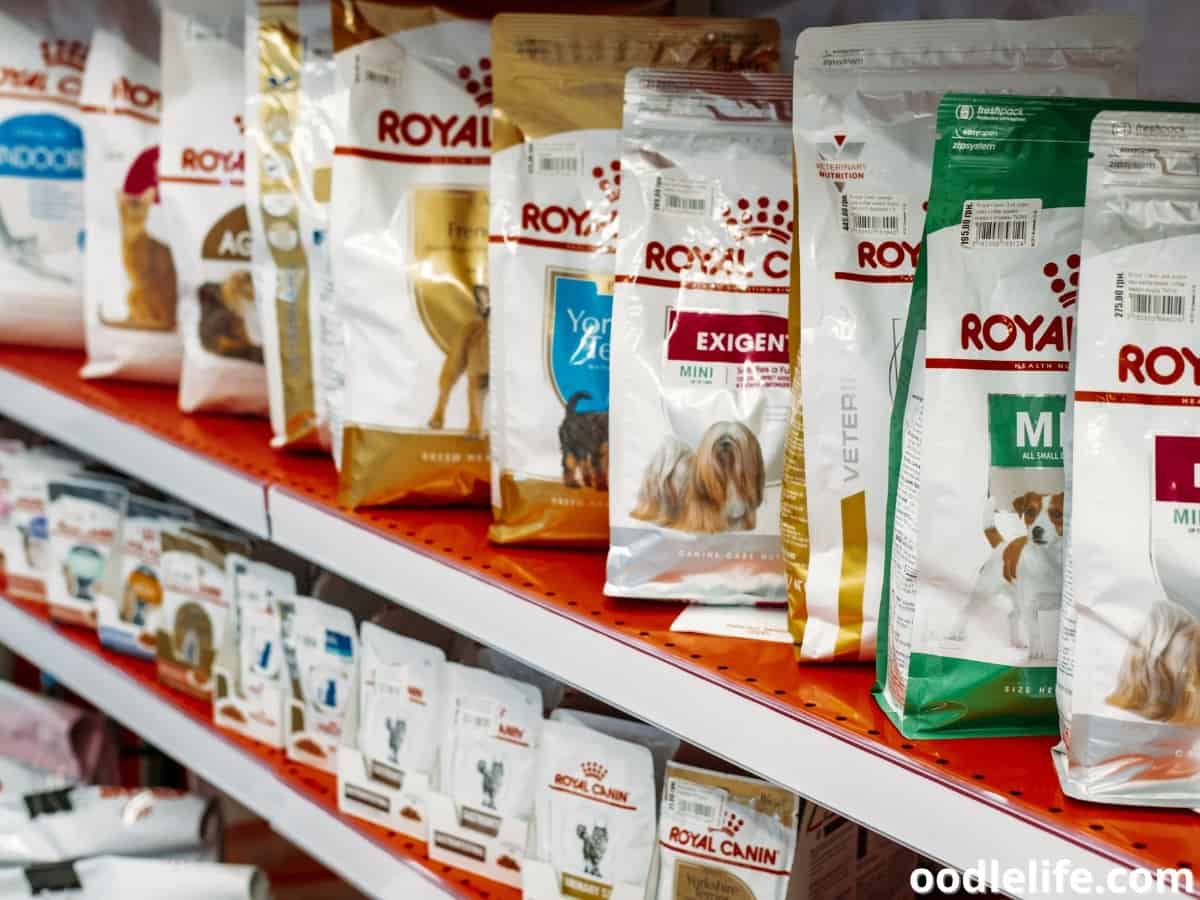 Blue Buffalo Wilderness High Protein Natural Puppy Food
Unlike some other foods, the Blue Buffalo Wilderness High Protein Natural Puppy Food doesn't contain any by-products. There are many different takes on whether you should feed your dog a type of food that has by-products. While by-products aren't necessarily unhealthy, I know many people prefer all-natural options.
Sale
Blue Buffalo Wilderness High Protein, Natural Puppy Dry Dog Food, Chicken 24-lb
MORE CHICKEN IS COMING: An evolution of your dog's formula with more chicken than ever, plus wholesome grains
PACKED WITH REAL CHICKEN: A recipe made to satisfy your puppy's natural love for meat, this high protein puppy dog food features real chicken to help encourage strong muscle growth
HEALTHY INGREDIENTS: BLUE Wilderness grain free puppy food is made with the ingredients to help promote healthy development including DHA and ARA, important fatty acids found in mother's milk, to help support cognitive development and retinal health
ANTIOXIDANT-RICH LIFESOURCE BITS: A precise blend of antioxidants, vitamins and minerals carefully selected by holistic veterinarians and animal nutritionists to support immune system health, life stage needs and a healthy oxidative balance
A NATURAL DOG FOOD: BLUE dry dog food is made with the finest natural ingredients enhanced with vitamins and minerals; BLUE contains NO chicken (or poultry) by-product meals, corn, wheat, soy, artificial flavors or preservatives
Because of that, I chose to include at least a few all-natural options here, and Blue Buffalo Wilderness High Protein Natural Puppy Food is one of the best I came across during my search. It's rich in vitamins and antioxidants that every puppy needs, specifically ARA vitamins that support healthy eyesight growth.
Regarding cons, the only negative I found in this dog food is the price. Because it's a natural formula, it can cost more money than other formulas of similar quality that don't have natural ingredients.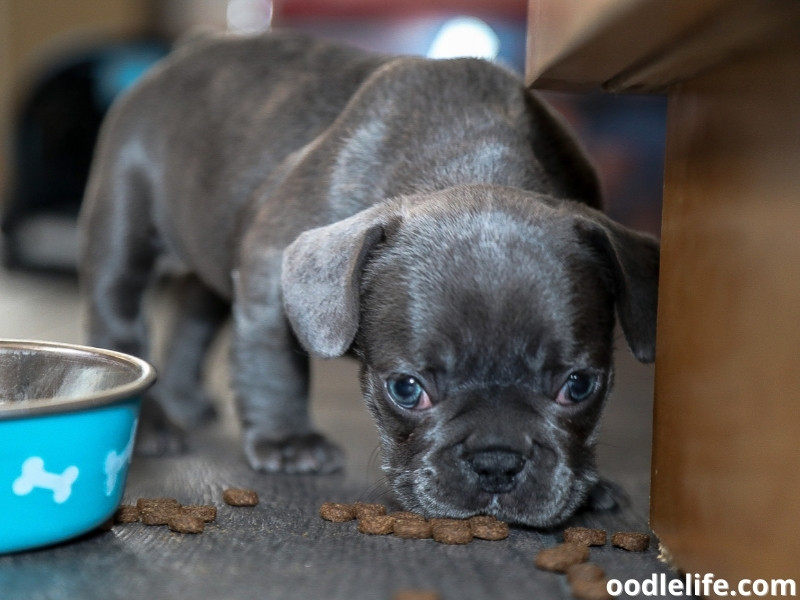 Wellness Complete Health Natural Grain-Free Puppy Food
For a grain-free option, Wellness Complete Health Natural Grain-Free Puppy Food offers a balanced diet that contains no preservatives in the ingredients. Like some other foods on this limit, this one features deboned chicken as the primary source of protein. It also includes whitefish, a species of demersal fish with fins.
Wellness Complete Health Grain-Free Dry Dog Food, Natural Ingredients, Made in USA with Real Meat, For All Lifestages (Chicken, 24-Pound Bag)
GRAIN-FREE ADULT DRY DOG FOOD: High quality protein from chicken, along with healthy fats and fiber are expertly balanced to deliver a complete, grain free food packed with the nutrients your dog needs to thrive.
ALL NATURAL: Created by nutritionists, veterinarians and animal lovers, our recipes provide an ideal balance of nature's finest ingredients, carefully selected to nourish and sustain your dog's wellbeing.
SUPPORTS DIGESTIVE HEALTH & HEALTHY COAT: Supported by antioxidants for strong immune systems, vitamins for healthy eyes and teeth, glucosamine for strong joints, omega fatty acids ensure healthy skin and coat, and probiotics and taurine for a healthy heart.
NO CORN, WHEAT, OR SOY: Adult dry dog food doesn't contain poultry by-products, wheat, wheat gluten, corn, soy, artificial colors, or preservatives.
MADE IN USA: Using only the finest globally sourced ingredients, we prepare each of our diets in our own state of the art facility; recipes crafted with wholesome, non-GMO ingredients chosen for their nutritional benefits.
The main thing I like most about this particular food is that it provides plenty of energy and doesn't contain many ingredients that can cause your Goldendoodle to have an allergic reaction. Additionally, this makes it a bit easier to introduce to your puppy. However, they will have to get accustomed to the chicken and fish.
Because of that, consider feeding your puppy slightly smaller portions than you usually would for the first few times, and then gradually increase the portion sizes.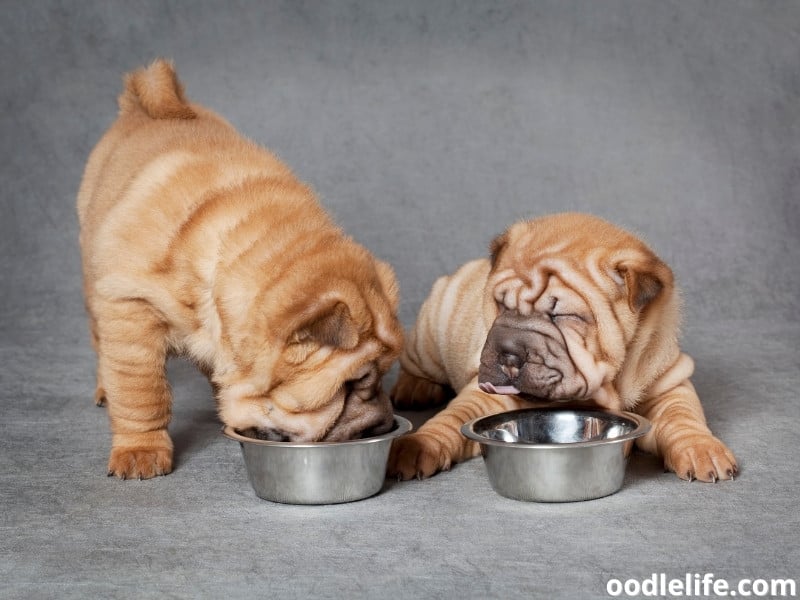 Victor Select Beef Meal And Brown Rice
The Victor Select Beef Meal And Brown Rice Formula provides most of its protein through its beef meal, which is very different from chicken. If you're unfamiliar with a beef meal or other meat meal ingredients, the main thing to know is that the meat in them is nowhere near the same type of meat people consume.
Victor Super Premium Dog Food – Select - Beef Meal & Brown Rice Formula – Gluten Free Beef Meal Dry Dog Food for All Normally Active Dogs of All Life Stages, 40 lbs
BEEF PROTEIN DOG FOOD: VICTOR Beef Meal & Brown Rice super premium dog food is formulated for normally active dogs; this dry dog food is ideal for dogs with allergies to other meat proteins
QUALITY INGREDIENTS: VICTOR's Select line of dry dog kibble offers specific proteins in a variety of formulated blends; this single meat protein dog food is packed with premium-quality beef meal, and made from gluten free grains
FROM PUPPY TO ADULT: Suitable for small dogs, medium dogs and large breed dogs through all life stages, this super premium dog food is formulated to maintain healthy weight and help sustain energy levels
PROPRIETARY VPRO BLEND: Every VICTOR dog kibble formula begins with our exclusive mix of supplements, vitamins and minerals that have been designed to help maximize the genetic potential of every dog, regardless of breed, age, or activity level
MADE IN THE USA: We proudly produce every bag of VICTOR kibble in our own Texas-based facility and do not waver in our commitment to high-quality nutrition; a majority of ingredients come from ranches, farms and other trusted suppliers who are within a day's drive of our East Texas plant
A meat meal is a rendered ingredient, meaning the meat has undergone a rendering process involving numerous steps. There are too many steps to cover them all here, but you should research the meat meal in any dog food to ensure it contains 100% edible ingredients like Victor Select Beef Meal And Brown Rice because not all of them do.
Feeding your puppy meat meal is by no means an inherently bad thing. You just have to take extra steps to ensure that what you're providing them is safe and healthy.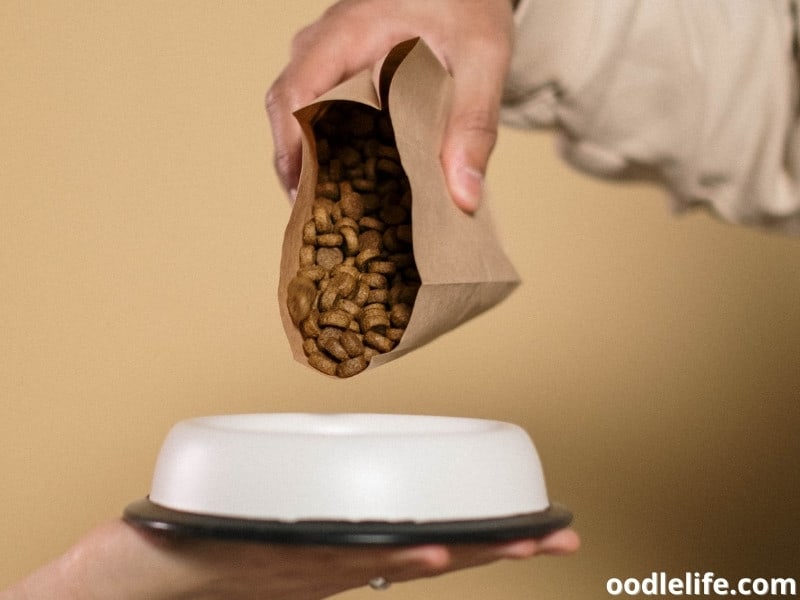 Acana Regionals Grassland
The main ingredients in Acana Regionals Grassland are deboned lamb, deboned duck, eggs, lamb meal, and goat meal. It's another grain-free option that I like for the variety in protein that it gives you. Most dog foods use one type of protein, which is perfectly fine, but your Goldendoodle can benefit from eating multiple types of protein.
Sale
ACANA® Highest Protein, Grasslands, Grain Free Dry Dog Food, 4.5lb
ACANA Regionals Grasslands dog food is nutrient-dense and high in protein, nourishing dogs completely with free-run poultry and freshwater fish
With rich inclusions of quality animal ingredients, ACANA dog food uses meat, organs, cartilage, and bone, delivering the nutrients dogs need naturally
Our Fresh Regional Ingredients are supplied by people we know and trust, from regional farms, ranches, and waters, and delivered to our kitchen fresh or raw
Grain-free, with no gluten, potato, or tapioca, common in today's pet foods, ACANA dog food is crafted from whole, quality animal ingredients for a Biologically Appropriate diet that nourishes dogs according to their natural, biological needs
The price of this dog food is also not as high as some of the others on this list. So, suppose you're looking for a more affordable option that is still of excellent quality. In that case, I strongly recommend considering Acana Regionals Grassland. It's also free of any artificial colors, flavors, and preservatives.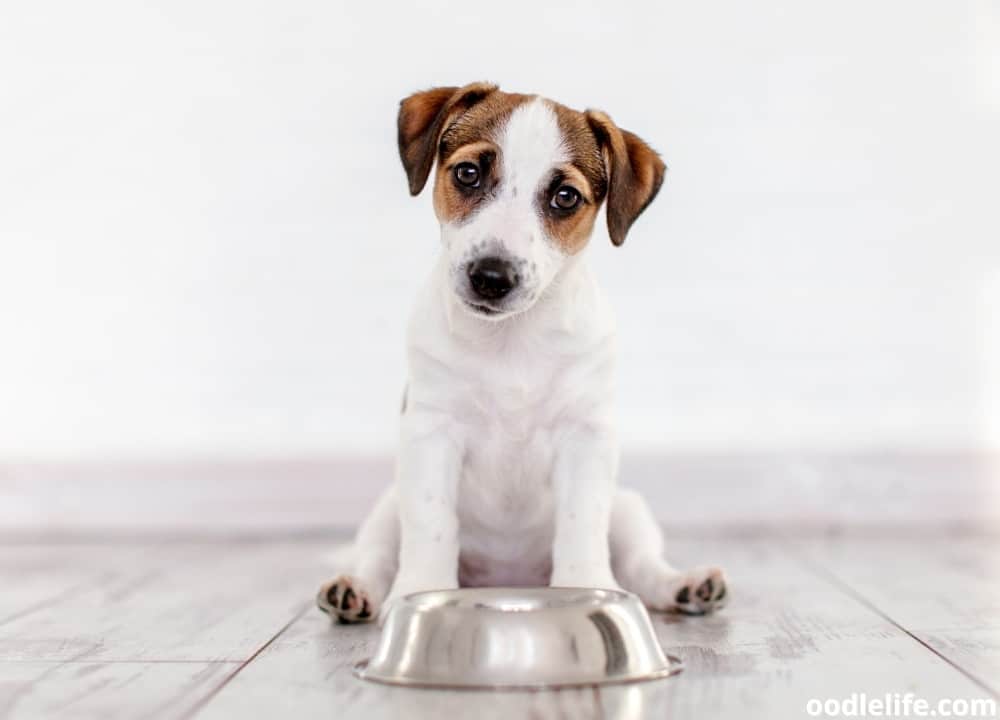 American Journey Active Life
The American Journey Active Life dog food promotes healthy skin and coats thanks to its omega-fatty acids. It's also an excellent formula for fueling the healthy development of your puppy's immune system and muscle growth. The antioxidant-rich wholesome vegetables and brown rice also provide plenty of nutrients that support your puppy's overall health.
This brand is among my highest recommended dog foods because of its well-roundedness. At first, it didn't stand out from the rest much because it didn't seem to provide anything special enough to distinguish itself from the crowd, but the more I looked at it, the more I realized that it doesn't lack in any significant areas, which makes it an incredibly great choice.
The price is a bit high, but I think it's worth the value you'll get with this particular formula.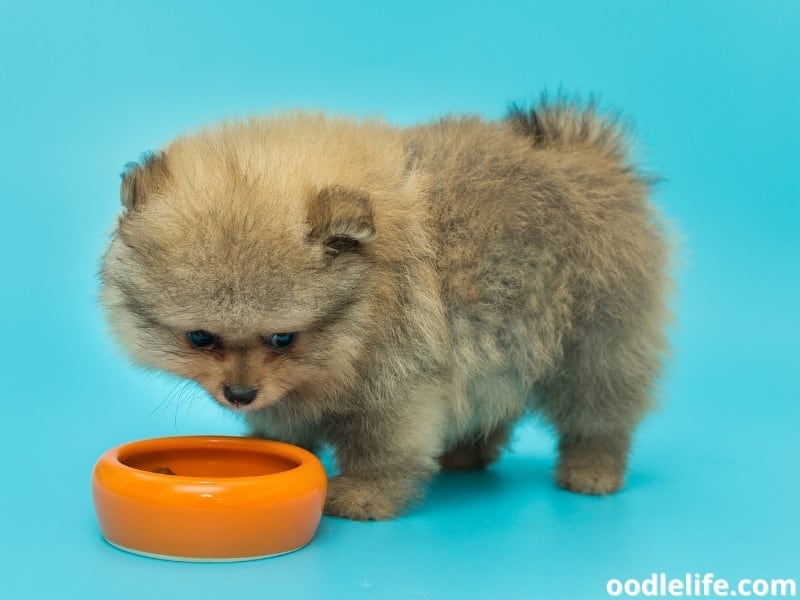 Hill's Science Diet Large Breed Puppy Chicken Meal & Oat Dry Dog Food
For bigger breed puppies, Hill's Science Diet Large Breed Puppy Chicken Meal & Oat Dry Dog Food is another formula I rate highly for how easy it is on the digestive system. Unfortunately, some foods are difficult to digest, and in some cases, that can lead to digestion-related health issues, which no owner wants for their growing Goldendoodle.
Sale
Hill's Science Diet Dry Dog Food, Puppy, Large Breeds, Chicken Meal and Oats Recipe, 30 lb. Bag
A large breed puppy food specially made with an optimal level of calcium for controlled bone growth
Uses a balanced set of minerals to promote strong bones and teeth in large puppies. Caloric content: 3970 kcal/kilogram(394 kcal/cup)
Uses DHA from fish oil to support healthy brain and eye development for growing dogs
High-quality protein helps your large pup build and maintain lean muscle
Made in the USA with global ingredients you can trust
The combination of chicken meal and oats in this formula allows easy digestion. So, it's perfect if your Goldendoodle has a more sensitive stomach regarding food. Also, even though this is for bigger breed puppies, there are multiple kibble sizes, so you can get the best size for your puppy to eat.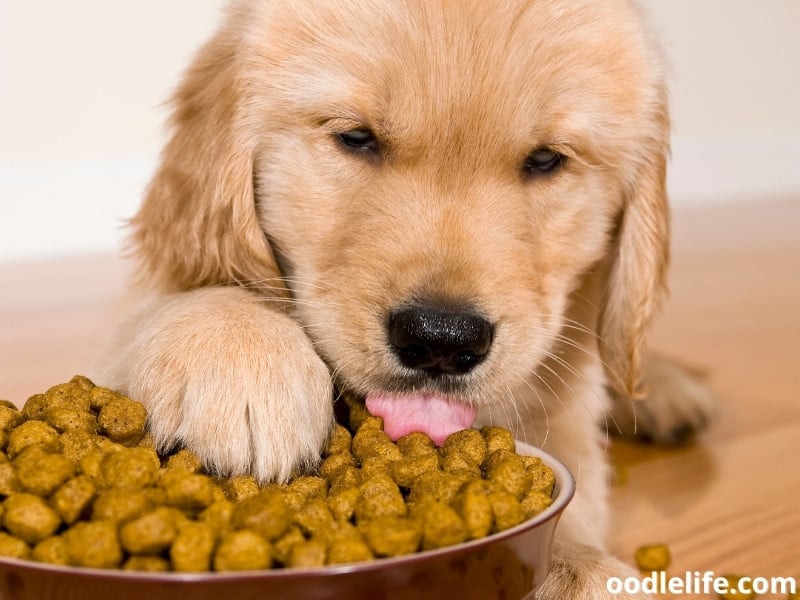 Hill's Science Diet Dry Puppy Food
Another Hill's Science product, the Hill's Science Diet Dry Puppy Food, is the one I recommend the most on this list if you want small kibble.
Sale
Hill's Science Diet Dry Dog Food, Puppy, Small Bites, Chicken Meal & Barley Recipe, 4.5 lb. Bag
This dry puppy food supports the developmental needs of puppies in a small kibble and delicious chicken flavor
This dry food for small-breed puppies provides DHA from fish oil for healthy brain & eye development
Provides your growing little dog with high-quality protein for building lean muscle
Uses a balanced set of minerals to promote strong bones and strong teeth
Made with natural ingredients
It features all-natural ingredients and chicken meal as the primary source of protein. It also contains all the necessary minerals and vitamins for your puppy's brain development, muscle development, and bone strength.
Some people mention how small the size of the kibble bag is, as the largest bag you can get is 15.5lbs, while the smallest is 4.5lbs.
However, depending on how much you feed your Goldendoodle a day, this amount of food can go relatively quickly, so you can spend quite a bit of money on buying new bags frequently.
However, I wouldn't let the cost deter you from buying this dog food, especially if you like what it offers.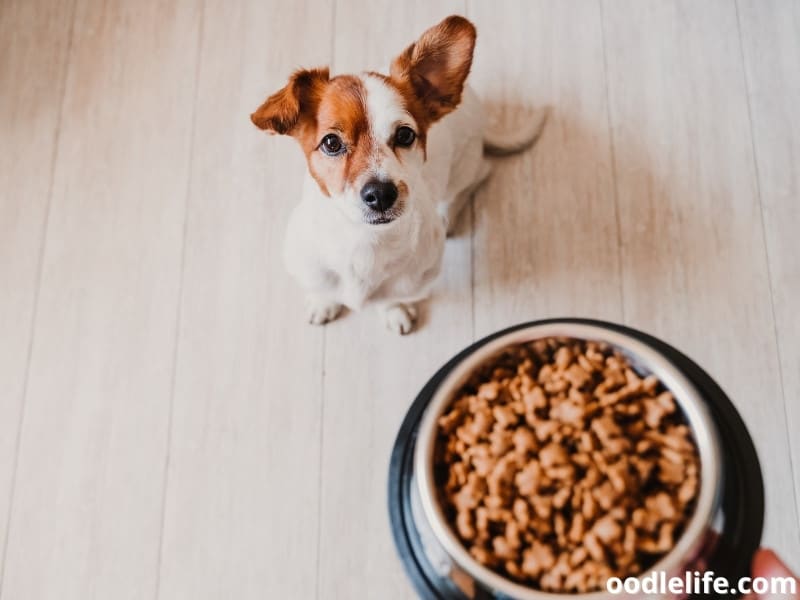 Conclusion
Finding the best food for a Goldendoodle puppy should be a simple process, but unfortunately, it's sometimes far from that. Due to the sheer number of dog foods you can find, deciding on one is difficult because it might not offer your puppy all the things you desire.
My main advice is to save yourself time and headache by remembering that there's no perfect dog food. The ones we went over on this list bring great aspects to the table, but it isn't easy to declare one the undisputed best.
Because of that, determine what aspects you value most in dog food and settle on whichever offers those the best, but don't fear changing foods if you don't like your initial choice.