The Best Goldendoodle Breeders in Ontario (2023 Update)
With their floppy ears and soulful eyes, Goldendoodles are one of the most popular hybrids around. Inheriting the best of both parent breeds, they are loyal, affectionate, loving, and highly unlikely to have aggressive tendencies, making them suitable for most households.
However, like any hybrid dog, they can take over the genetic predispositions of both the parent breeds. For example, both Golden Retrievers and Poodles are prone to hip dysplasia, a genetic condition where the bones of the hip joint don't fit together correctly, leading to pain and lameness.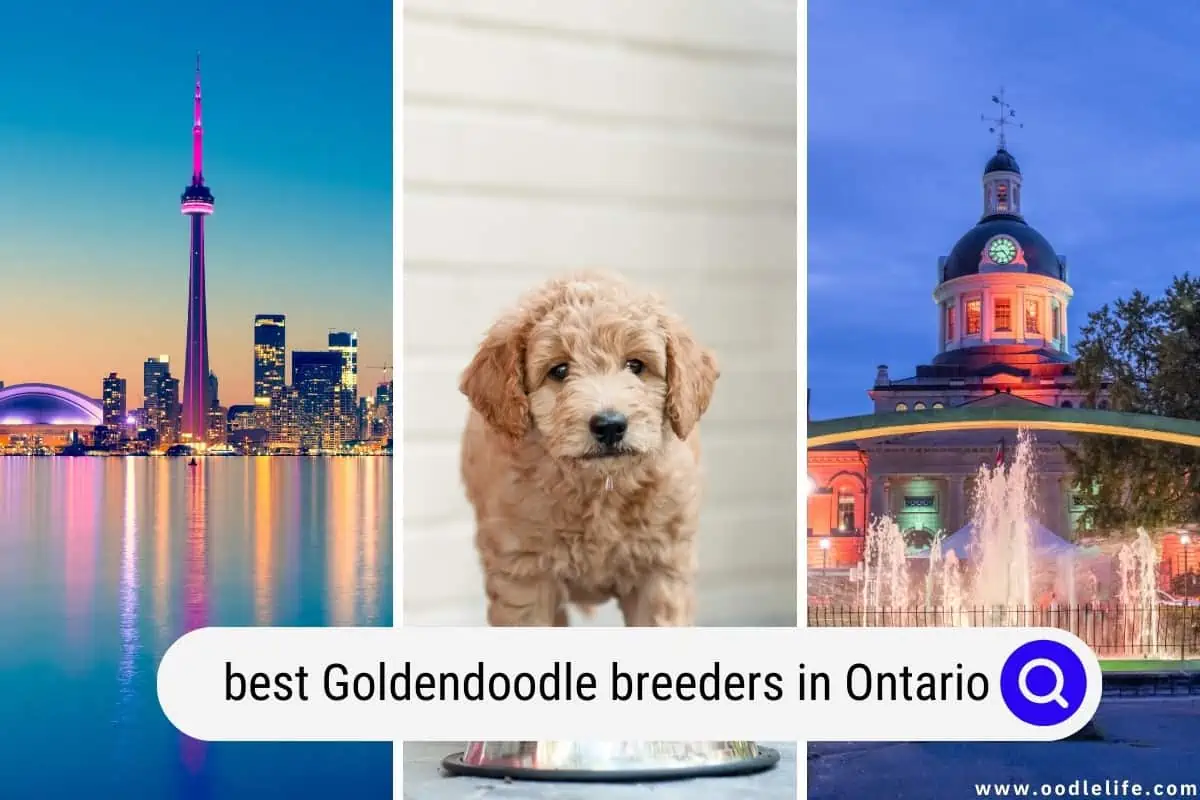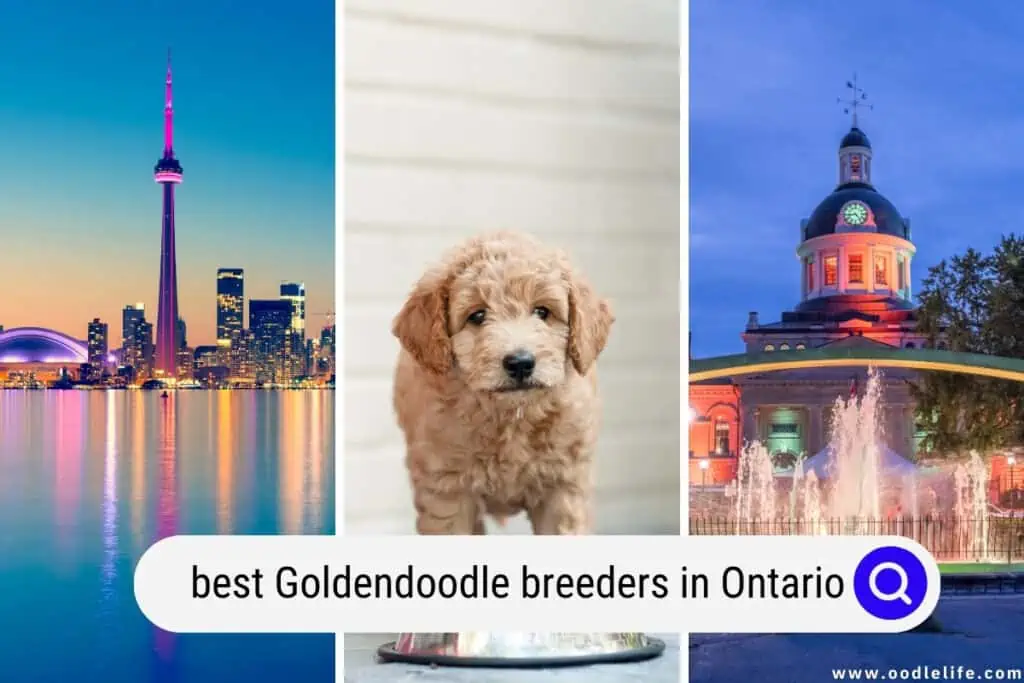 $300 2023 Discount!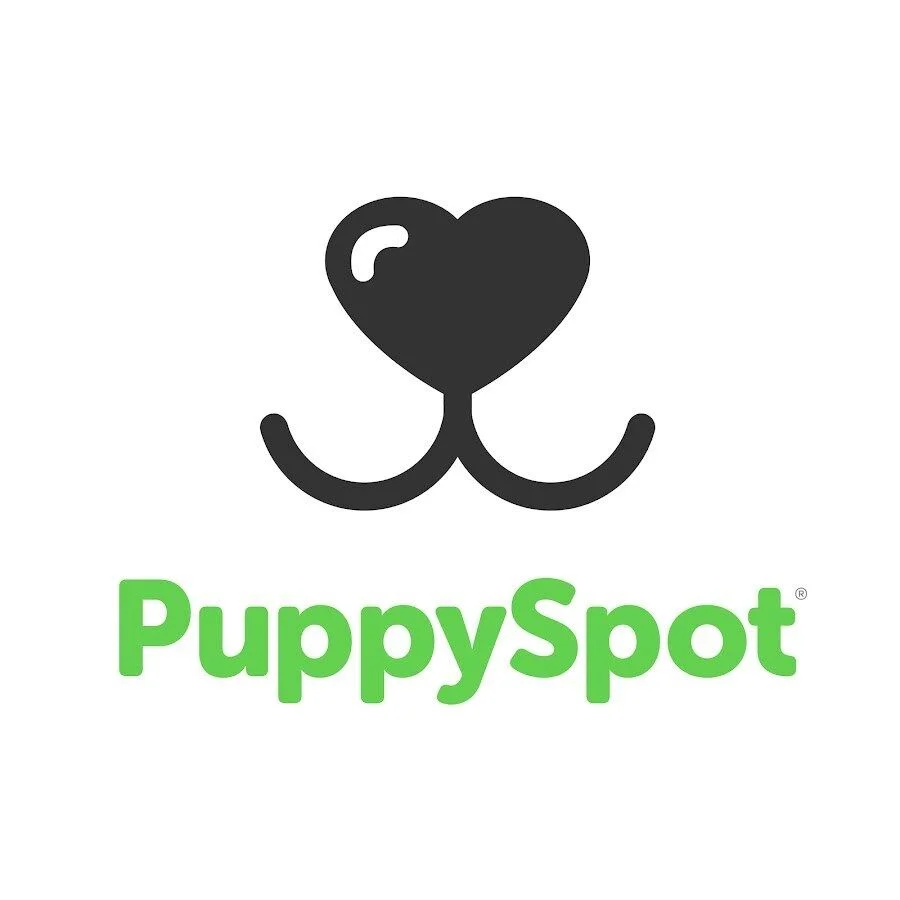 PuppySpot Adoption
PuppySpot is a reputable dog marketplace where you can browse and find compatible puppies right from the comfort of your home. They have placed over 200,000 puppies into homes in the US!
Click through and use the code PUPPY300 for $300 off any puppy adoption.
See Puppies and Save $300
Common signs include limping or becoming less active than usual, difficulty rising, an unusual gait or walk, decreased range of motion of the hips, and difficulty standing after lying down.
Treatment largely depends on how early hip dysplasia is detected and ranges from physical therapy to surgical intervention.
In addition, both breeds are also prone to certain cancers. While cancer is a health issue that affects many dogs regardless of breed, it is especially prevalent in Golden Retrievers and Poodles.
That is why selecting a reputable breeder that knows the vulnerability of Goldendoodles is key to a healthy pooch. Conscientious breeders will meticulously screen for these genetic conditions and strive to eliminate them from the bloodline of their litters.
If you are looking for a Goldendoodle breeder in Ontario, you've come to the right place! Here are some of our favorites.
1. Ridge and Valley Farm
This second-generation family-run breeder believes in ethical and responsible breeding. Their facility is set on 84 acres of beautiful, natural land and the puppies that are bred have plenty of space to romp and place.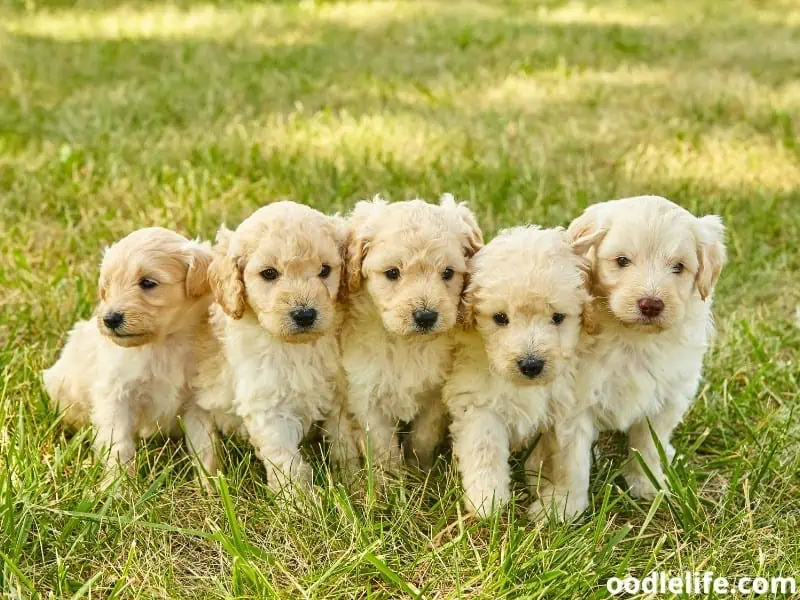 Their pups and dogs are not kenneled but spend their days with the family around the farm playing with each other and growing strong and healthy from the abundant fresh air and constant exercise.
Goldendoodles have been this family's passion since they had their first of the breed, Jake. Other Doodle dogs have since joined the family and proved to be easy to train and gentle with children. The website has a gallery of photos of happy dogs with a wealth of information about the breed.
Extremely intelligent, easy to train, and sociable, their Goldendoodles make excellent service and therapy dogs. They make great companion dogs for first-time or inexperienced owners, young families, and households with seniors.
In addition, their hypoallergenic, low-shedding coats are unlikely to trigger reactions from people with pet allergies.
Ridge and Valley produce only a limited number of Goldendoodles each year and are meticulous in ensuring that their pups go to suitable homes where they can thrive.
Ridge and Valley Information
2. Doodle Creek
One of the most prominent breeders in Ontario, the team at Doodle Creek has loads of experience caring for and loving their Goldendoodle pooches. The breeder has been in business since 2004 and several well-known clients attest to their professionalism and give glowing recommendations.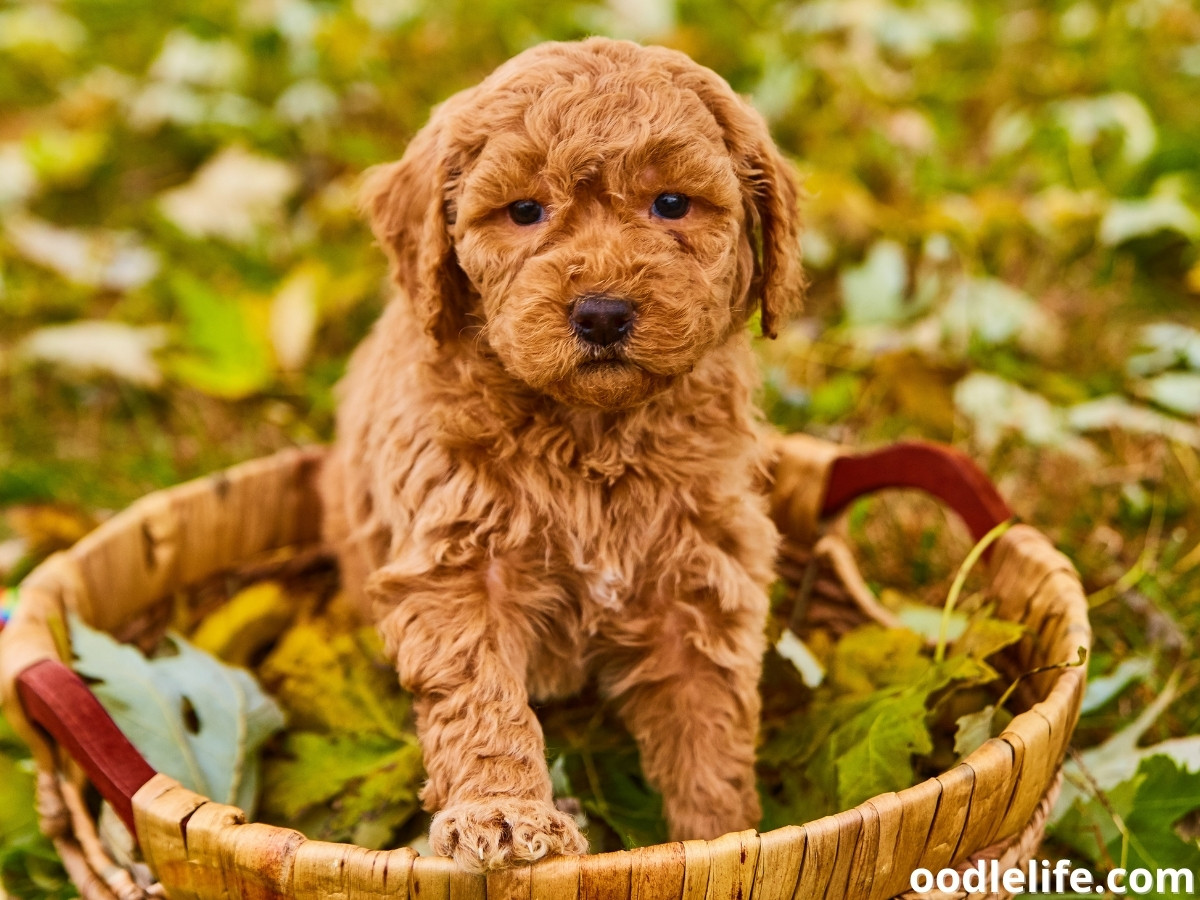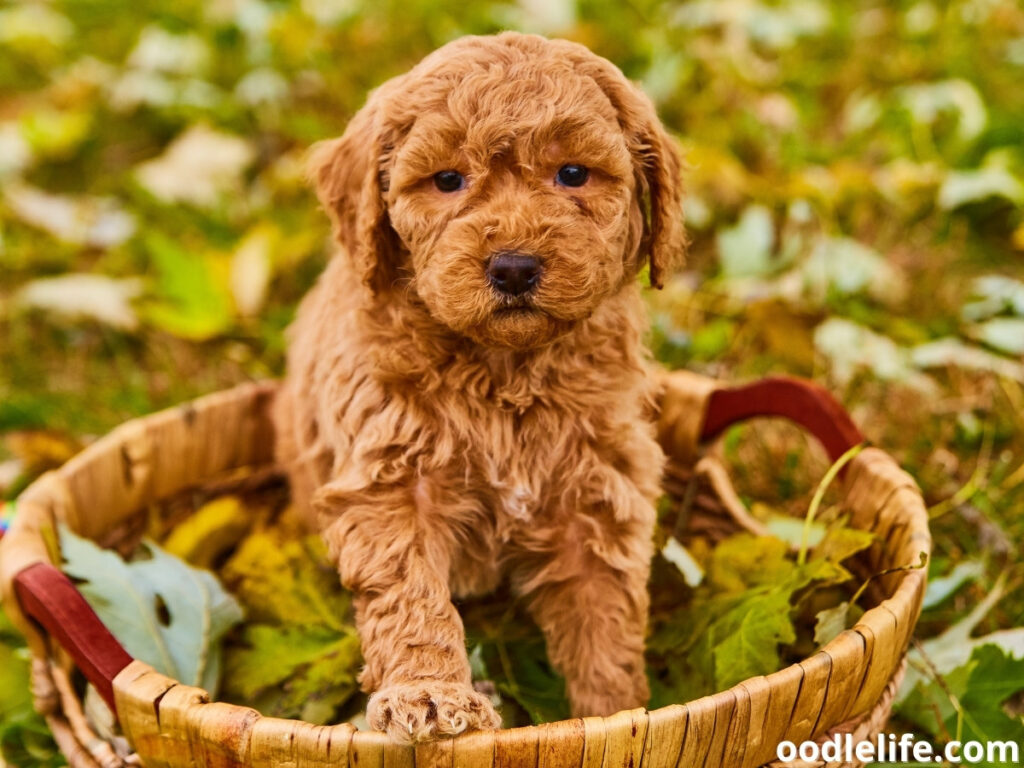 Doodle Creek produces top-quality English and Olde English Goldendoodles from healthy, and vet-checked parent dogs. Temperament and health are some of their top priorities together when breeding in addition to producing pups with low-shedding coats that don't trigger allergies.
Continually striving for excellence, they extensively research their bloodlines to improve the quality of their litters. Prospective dog parents are offered a wealth of information on their new Goldendoodles when it comes to health, training, welfare, and other course options.
Their breeding facility is a bright, cheery 5,400-square-foot building with state-of-the-art amenities. The doggy nursery is divided into spacious, separate suites with glass doors to keep optimal tabs on the pups.
With large windows allowing plenty of sunlight in, there is also underfloor heating and heat laps to maintain an optimal temperature for the pups.
Outside, there is an exercise area that is connected to the nursery where the mothers can relax or exercise while their pups snooze away. Pups will get access to a 1,800-square-foot puppy play area when they are slightly older so that they can romp around with each other and play.
The dedicated staff spend countless hours interacting and socializing with the puppies, giving them extensive exposure to different stimuli so that they grow into well-balanced, calm adult dogs.
All their pups come with a two-year guarantee against genetic conditions and they provide a lifetime of support and advice to their clients.
Doodle Greek Information
3. Goldenbelle Doodles
This kennel prides itself on producing some of the healthiest puppies that are fed with the highest quality food from day one. They specialize in breeding petite, mini, and standard variations of Goldendoodles, Labradoodles, and Bernedoodles.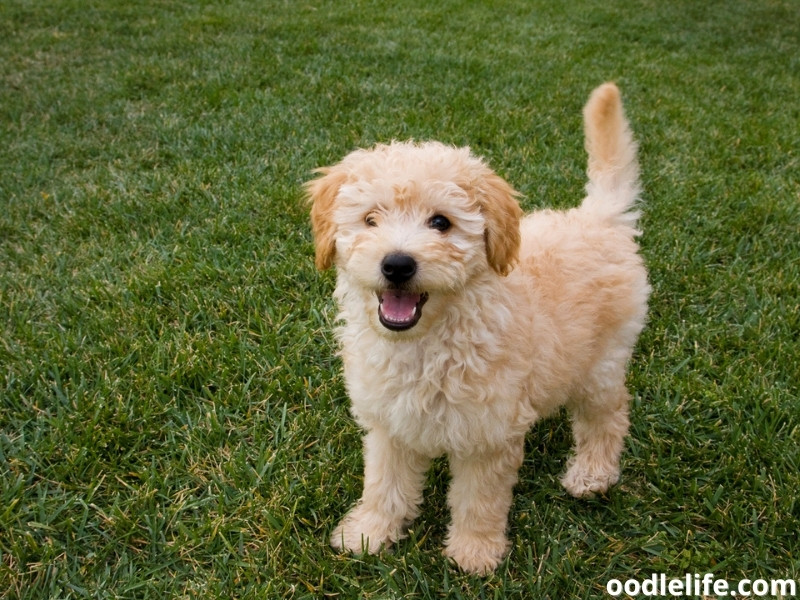 Their primary goal is to find loving forever homes for their litters and to match each pup with a suitable household based on temperament and lifestyle.
All pups are given a daily dose of an immune booster supplement and come vet-checked, microchipped, vaccinated, and dewormed. They are also given their first dose of heartworm and flea prevention.
When a purchase is made, they provide a four-year health warranty and loads of support to their clients. They take special care in providing early and extensive socialization, enabling their pups to easily transition to their permanent homes.
All their pups are wonderful companion dogs that are curious and playful with excellent temperaments. To get a pup from them, you'll need to apply on their site and pay a deposit to be put on the list for a pup from their next litter.
Goldenbelle Information
4. Crosshill Doodles
Cross Hill breeds several dog breeds in addition to the Goldendoodle, which is their most popular breed by far. They have a property on the farm that allows their dogs plenty of space to roam and play.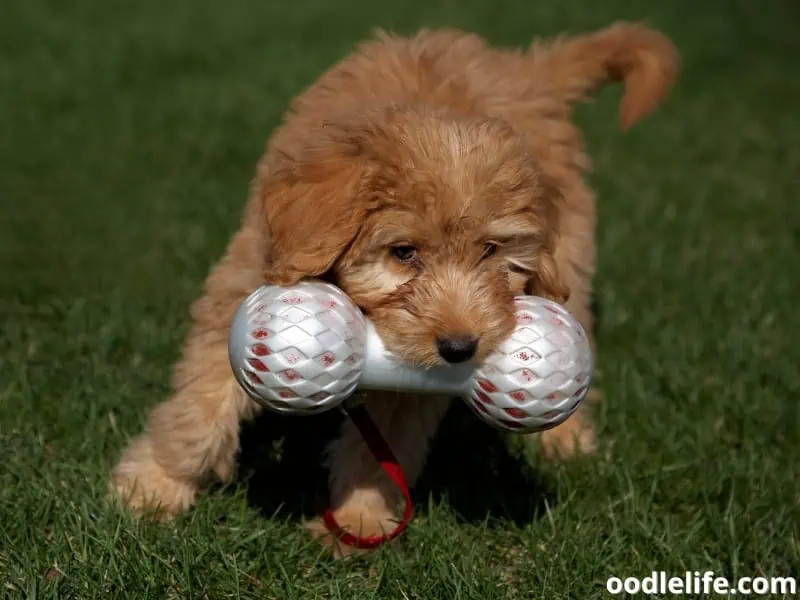 Their up-to-date website has a gallery of photos of the parent pairs and puppies so you can stay updated on their well-being. They also provide extensive information on nutrition, puppy food, and FAQs relating to Goldendoodles.
Crosshill breeds both Medium and Standard-sized Goldendoodle pups in various coat colors. If you're thinking of a pup from them, you can contact them and fill out an application form.
Crosshill Doodles Information
5. Goldendoodles of Niagra
Goldendoodles of Niagra have a vast amount of experience with the breed and all their puppies are extensively socialized from an early age.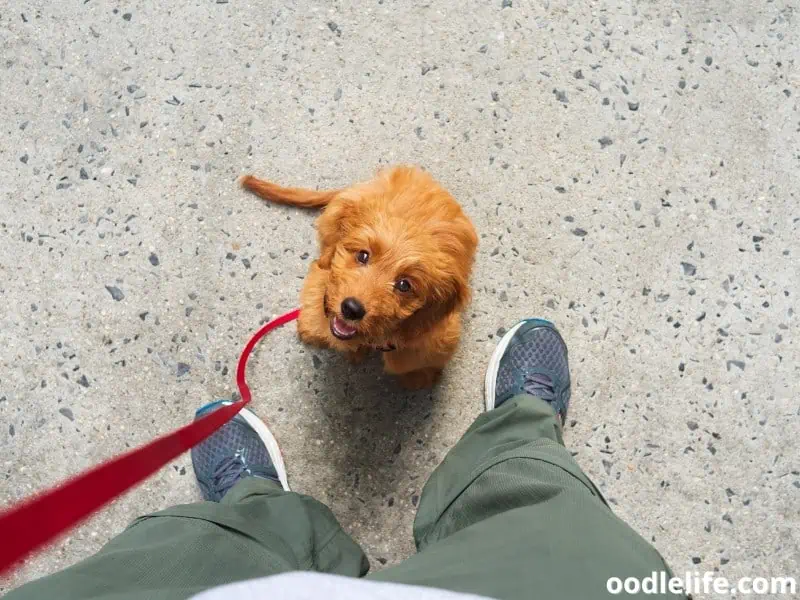 They have a well-established routine that includes walks, meals, sleep time, and bath time. All their parent pairs are meticulously screened for genetic conditions and pups are dewormed, vaccinated, and microchipped before going to their forever homes.
The breeders enjoy keeping in touch with their clients and receiving updates on how the pups are doing. They also organize an annual get-together for Doodles to congregate for a fun afternoon of swimming, socialization, and training.
Goldendoodles of Niagra Information
6. Willow Lane Farms
Willow Lane Farms are respected Goldendoodle breeders and have been for decades. They breed wavy, flat, and curly coat types, giving you plenty to choose from according to your preferences. Prospective clients are encouraged to visit and hand-pick their new puppy according to each pup's temperament and personality.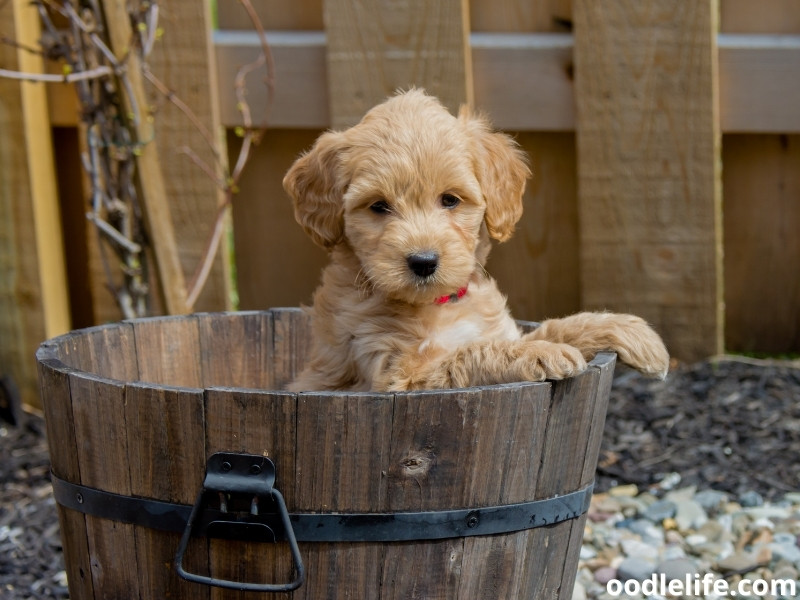 Although they can ship their pups across Canada, the US, and Europe, they prefer it if you visit their facilities and check out your prospective pup.
Their dogs have plenty of space to roam and exercise, and they are provided with early socialization with people and other dogs. Their breeding dams are retired early at five years and go to loving new homes that are painstakingly selected for them.
Willow Lane Farms Information
Final Thoughts
Still can't find your perfect Goldendoodle buddy? You might have to check out breeders in the neighboring provinces of Quebec and Manitoba. However, there is a minefield of puppy mills and unscrupulous breeders to navigate, and you certainly don't want to unknowingly support a cruel and unethical business.
When it comes to finding a reliable Goldendoodle breeder, doing your research is key. Start by asking friends and family first – they may know of Goldendoodles in their network that you could contact to make arrangements.
It's also necessary to read through reviews online and visit any forums related to Goldendoodles to see what people are saying about them. Check out their website and any social media accounts, as well as get information on their puppies' parents and lineage.
You should be able to get a good sense of how the puppy was bred as well as how your pup will look when grown up!
Finally, when you're ready, always make sure to visit the breeder or place of origin in person before buying or adopting so you can ask questions and gauge if it's the right fit for you. Good luck with your search!