Best Labradoodle Breeders in Australia (2023 Update)
Labradoodles are one of the more recent Poodle crosses to emerge, and they are deeply rooted in Australian history.
They were the brainwave of Wally Conron, who wanted a hypoallergenic guide dog he could present to partially-sighted people. Labradors were already popular as guide dogs, and Poodles' combination of a hypoallergenic coat, intelligence, and eager-to-please manner made them perfect candidates for the project.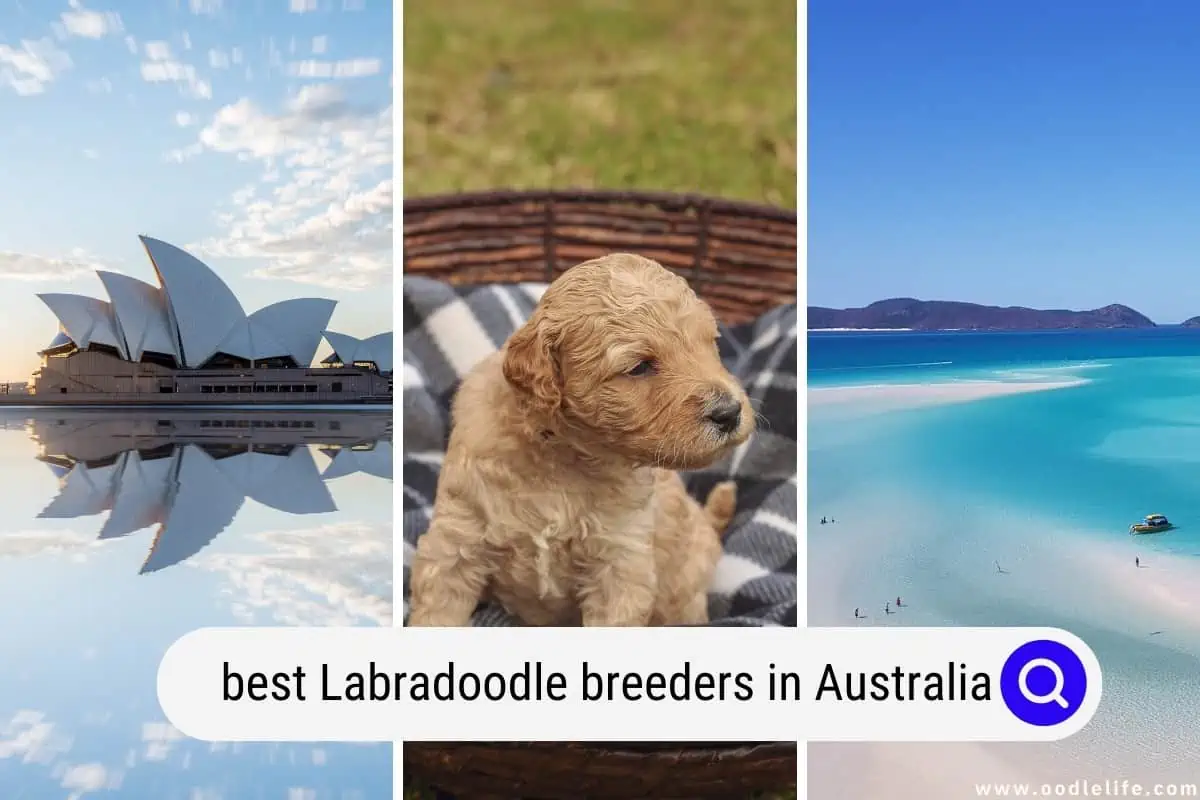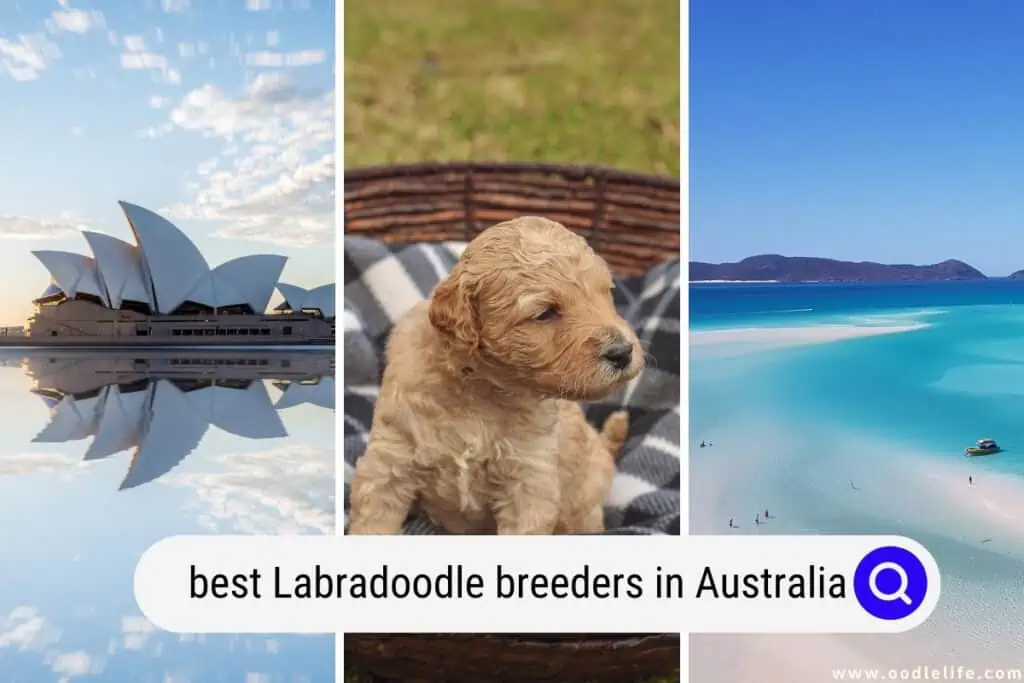 $300 2023 Discount!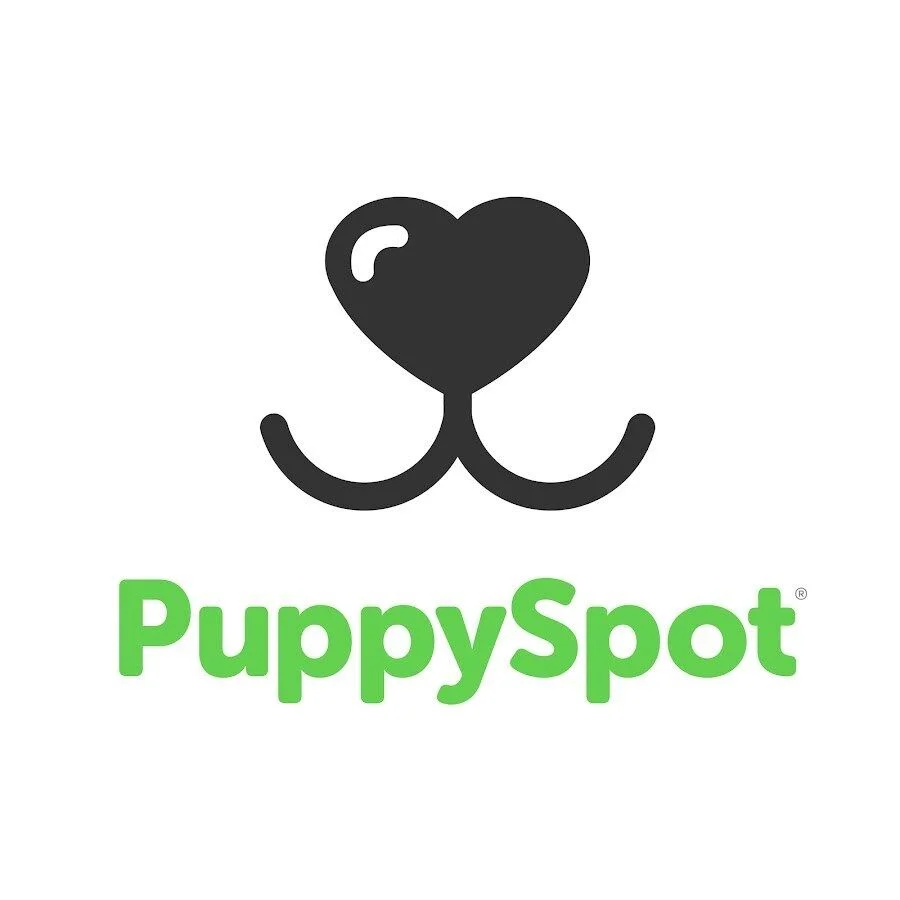 PuppySpot Adoption
PuppySpot is a reputable dog marketplace where you can browse and find compatible puppies right from the comfort of your home. They have placed over 200,000 puppies into homes in the US!
Click through and use the code PUPPY300 for $300 off any puppy adoption.
See Puppies and Save $300
The result was the widely successful Labradoodle. Its popularity quickly expanded beyond the realms of the Royal Guide Dog society, and they remain a beloved pet today.
But for a quality Labradoodle, you must find an excellent breeder. So, where are the best Labradoodle breeders in Australia?
1. Kooee Labradoodles
Kooee Labradoodles breed Miniature and Medium-sized Labradoodles to be beloved household pets. 
From the moment they arrive, these puppies get lots of hands-on care, ensuring they socialize quickly. It also helps them acclimatize to a variety of different situations.
They are dedicated to producing healthy Labradoodle puppies. Consequently, all their dogs are health-screened before breeding. And while there are no breed standards for most hybrid dogs, Kooee Labradoodles is an accredited member of Australia's Labradoodle Association.
At six weeks old, all puppies receive a vet check. They also receive their initial round of vaccinations and deworming care before adoption.
Even after the puppies are rehomed, Kooee Labradoodles offers ongoing support to their clients. They offer advice on everything from training to behavior, which is especially beneficial for first-time dog owners. 
Contact Details:
Website: https://www.kooeelabradoodles.com.au/
Phone: 0400 939 253
Email: [email protected]
Location: Kimbriki, New South Wales
2. Sands Australian Labradoodles
Sands Australian Labradoodles is another excellent Labradoodle breeder in Australia.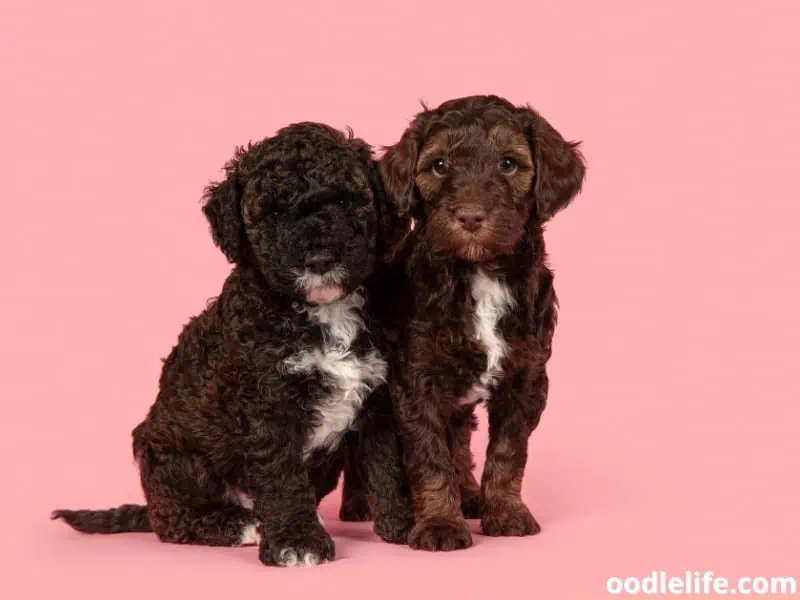 The family-run organization hails from Queensland and prides itself on the bond their animals develop with their people.
They offer extensive support to the nursing mother and her litter for the first three weeks. Once it's safe for the puppies to socialize more widely, they become an integral part of family life. They quickly acclimatize to children, cats, and other dogs.
That ensures that when you take your Labradoodle puppy home, it will readily adapt to its new environment.
They offer puppies by application and a Guardian program that allows you to become part of a breeding dog's life. Afterward, the retired breeder becomes a full-time part of your home. It's an excellent way for first-time owners to get the support they need with training while still bonding with a young dog.
Additionally, Sands Australian Labradoodles now fly their puppies out-of-state for owners who live too far away to afford the trip. They embark on this process with the same care as they do everything related to their puppies.
For extra transparency, they disclose their breeder identification number and the standards they adhere to. 
Contact Details:
Website: https://www.sands-australian-labradoodles.com/
Email: [email protected] 
Location: Queensland, Australia
3. Green Valley Labradoodles
Green Valley Labradoodles breed their puppies to ensure they meet the standards outlined by the Australian Labradoodle Association.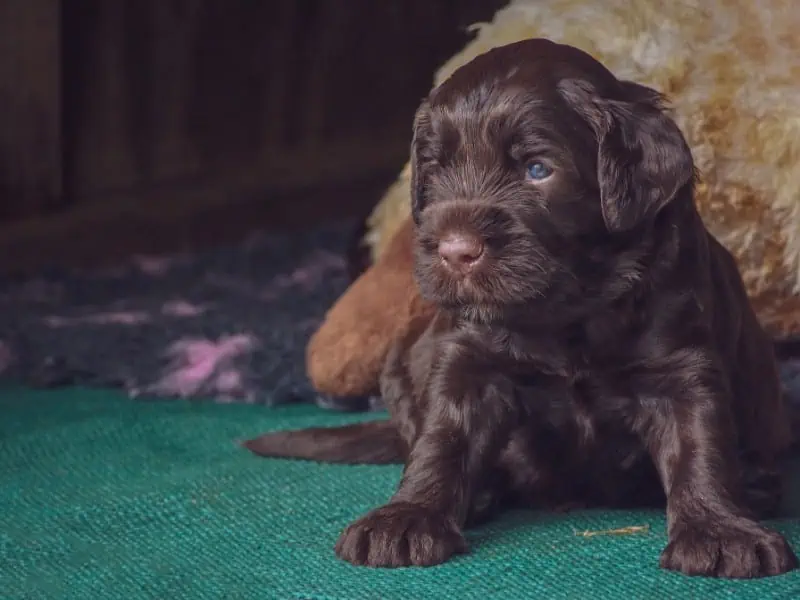 They curate their breeding dogs carefully for health and temperament. All their dogs are thoroughly health-screened and genetically tested before rehoming. The breeders are always happy to discuss their dogs' histories with prospective owners to help them feel confident that the Labradoodle they receive is as healthy as possible.
All puppies at Green Valley get raised in a family environment. This allows them to socialize from an early age with as many people and animals as possible.
Green Valley is also happy to ship its puppies inter-state and overseas. However, they stipulate that for international transport, the quarantine regulations apply to canine transport.
Their website offers a variety of resources, including a detailed puppy care checklist to ensure you have everything your Labradoodle puppy needs when they arrive home. They're also happy to offer training tips and advice.
They also offer a guardian program for people happy to receive a slightly older dog. The guardian program allows you to raise and train the puppy to their standards before briefly returning them to Green Valley for breeding. You remain an integral part of your guardian dog's life throughout the process.
It's a gratifying experience and ensures the dogs retire somewhere familiar and stress-free. 
Contact Details:
Website: https://greenvalleylabradoodles.com.au/
Email: [email protected]
Location: Brisbane, Australia
4. Alpen Ridge Labradoodles
Rather than kennel their dogs, Alpen Ridge relies on a guardian program to give its breeding dogs a family environment. It helps socialize the dogs and lets them settle easily into home life when they retire from breeding.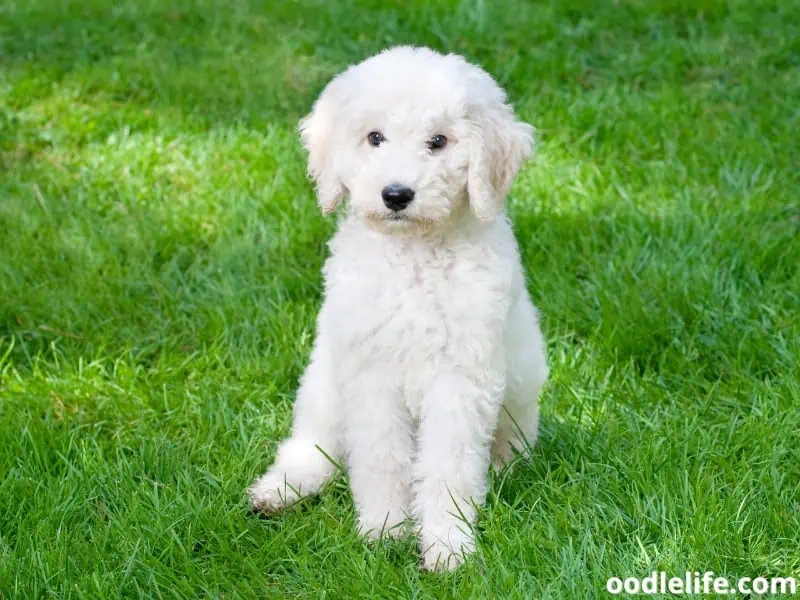 Alpen Ridge has 20 years of breeding experience. They pride themselves on prioritizing their dogs, who have their litters at the home of the breeding family. The puppies then get raised as part of the household and acclimatize to many different people, animals, and scenarios before rehoming.
They have extensively researched the best ways to breed their dogs. All dogs are thoroughly tested for health and genetics.
Both puppy adoption and guardianship are available by application through the website. 
Contact Details:
Website: https://labradoodledogs.com.au/
Phone: 0401 948 180
Email: [email protected]
Location: Athelstone, South Australia
5. Siena Labradoodles
Another accredited Labradoodle breeder in Australia is Siena Labradoodles. They specialize in Miniature and Medium-sized Labradoodles.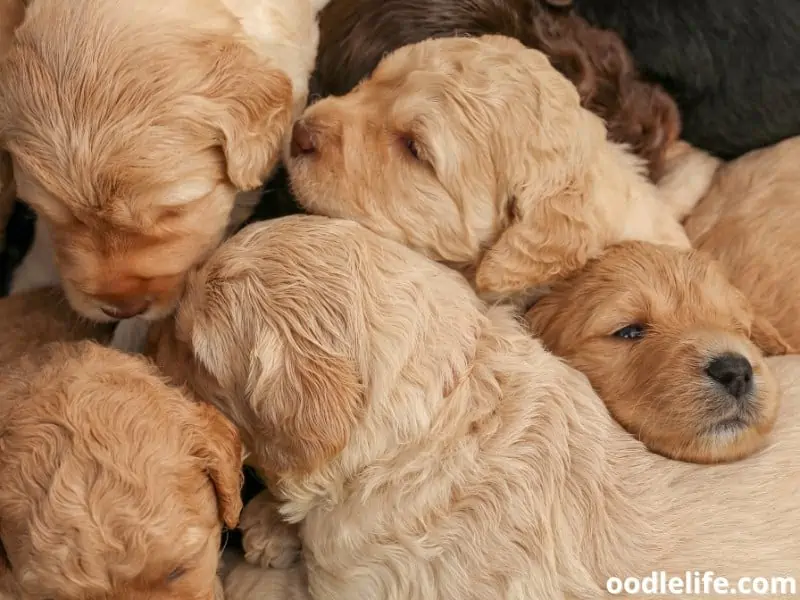 Their main priority is to produce healthy, affectionate Labradoodle puppies. In keeping with the ethical standards of the Australian Labradoodle Association, all parents and puppies undergo extensive DNA screening to uncover potentially inherited problems.
The puppies grow up in a family environment and learn to socialize early. They have access to the breeders' home and extensive outdoor acreage. The result is an adaptable, well-socialized Labradoodle.
Before rehoming, all Siena Labradoodles' puppies are:
Microchipped
Dewormed
Vaccinated
Neutered/spayed
Vet checked
They arrive in their new home with a comprehensive puppy care package and a three-year health guarantee. 
Contact Details:
Website: https://www.sienalabradoodles.com/
Email: [email protected]
Location: Victoria, Australia
6. Eungai Labradoodles
Last but not least on this list of Labradoodle breeders in Australia is Eungai Labradoodles grow up either with Eugnai breeders or carefully selected guardian families. This ensures the puppies receive as many social experiences as possible before entering their new homes.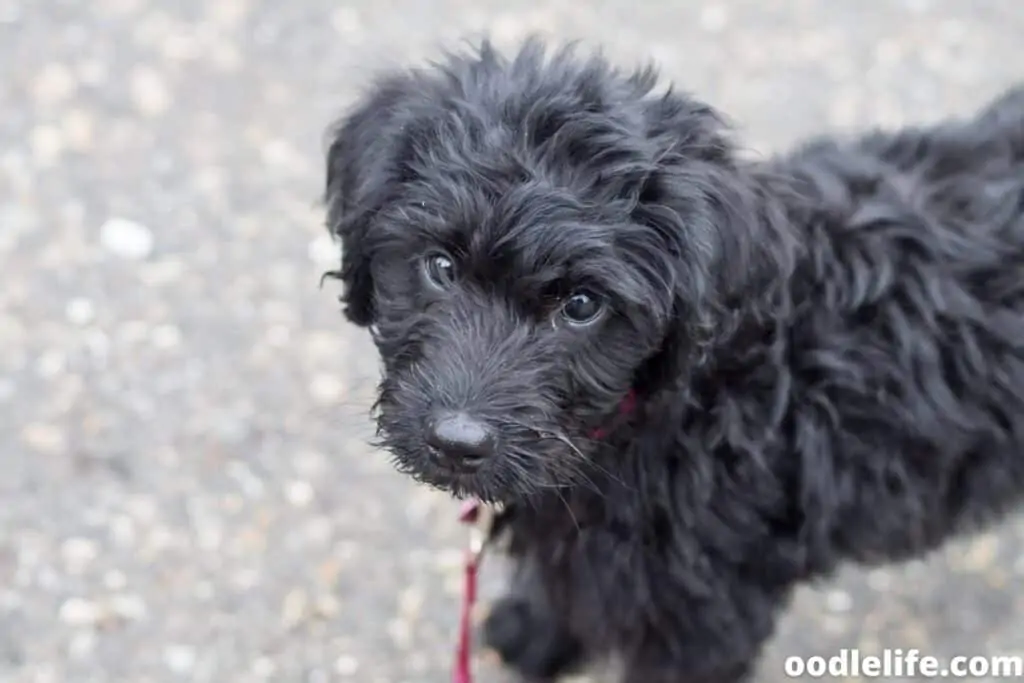 They also adhere to the Puppy Culture program to ensure their dogs acclimatize to as many situations as possible.
They breed all sizes of Labradoodle to the standards of the Australian Labradoodle Association. Consequently, all dogs are vetted thoroughly for underlying health conditions. The puppies born at Eungai Labradoodles come with a lifetime genetic guarantee.
After two or three years, the dames are spayed and sent to guardians to enjoy a happy canine life as household companions. 
Contact Details:
Website: https://eungailabradoodlesco.ipage.com/
Email: [email protected]
Location: Perth, Western Australia
Conclusion
Labradoodles make excellent pets and service animals. Unsurprisingly, they continue to enjoy as much popularity as they do.
Accordingly, there are many reputable Labradoodle breeders in Australia. But because of the size of Australia and the distance between its states, visiting potential puppies can take time and effort.
With that in mind, always look for a breeder willing to talk extensively about their dogs and litters. If you can find a breeder prepared to ship interstate, that's even better.
However you go about the adoption process, a reputable breeder guarantees you a dog that is healthy, happy, and an affectionate companion to spend your life with.