Best Labradoodle Breeders in Colorado (2023 Update)
Labradoodles are affectionate, loving, playful, and a joy to have as a pet. Additionally, their coats shed minimally, making them great companions for individuals suffering from allergies.
You'll find that most of the breeders below are members of the Australian Labradoodle Association of America and the Worldwide Australian Labradoodle Association, or they at least belong to an organization that mandates health checks and they acknowledge excellent breeding practices.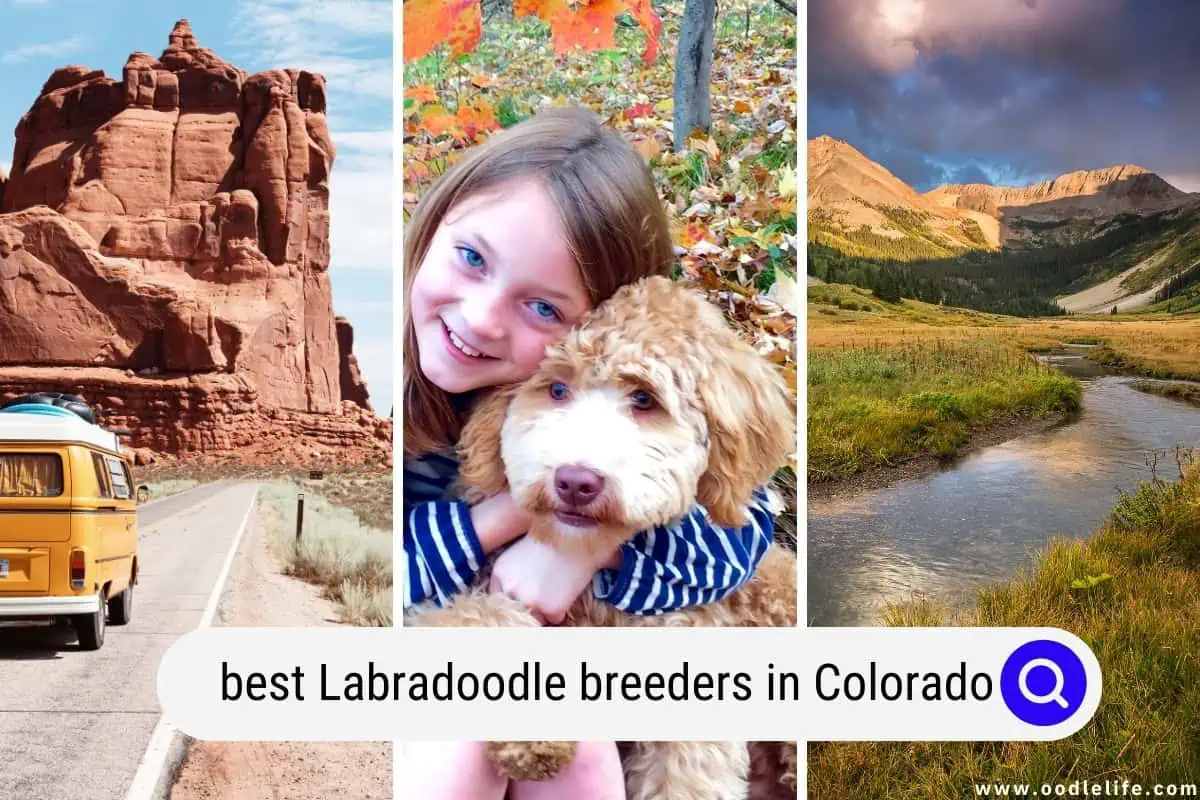 $300 2023 Discount!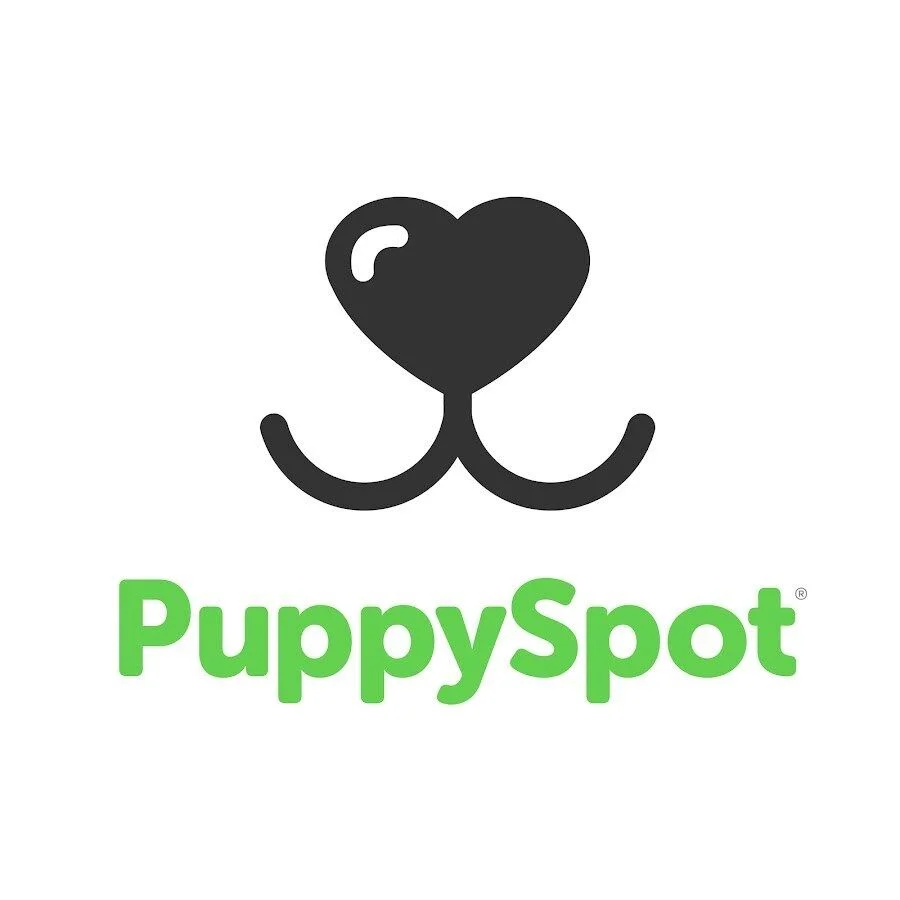 PuppySpot Adoption
PuppySpot is a reputable dog marketplace where you can browse and find compatible puppies right from the comfort of your home. They have placed over 200,000 puppies into homes in the US!
Click through and use the code PUPPY300 for $300 off any puppy adoption.
See Puppies and Save $300
Regardless of the breed your looking for—Standard, Large, or a Mini Labradoodle, we've taken the liberty of compiling a list of the best Labradoodle breeders in Colorado.
1. GorgeousDoodles
GorgeousDoodles is a business that's a family with a focus on breeding non-shedding and multi-generational Australian Labradoodles with the most quality genetic background.
This organization endeavors to breed Doodles of various sizes, from Standard and Medium to Petite Mini Labradoodles, in the state of Colorado.
GorgeousDoodles breed each new litter from dogs that have been thoroughly tested, and they implement many enrichment programs, like behavioral shaping, early potty training, socialization, crate training, and sound stimulation.
The Good Dog Grant has been awarded to this breeder, and consequently, they're recognized by the ALAA club.
Your puppy will have their first vaccines, a microchip, and a pedigree. You can neuter or spay them before they reach their new home. However, if your veterinarian performs the procedures, they'll pay your vet $175 towards the fees.
Contact Details:
Website: https://www.gorgeousdoodles.com/
Phone: (360) 910 0491 or (720) 544-3735
Email: [email protected]
Location: Granby, Colorado
2. Mountain Sun Doodles
This is a modest family-owned business that specializes in breeding Mini to Medium-sized Australian Labradoodles that are multi-generational.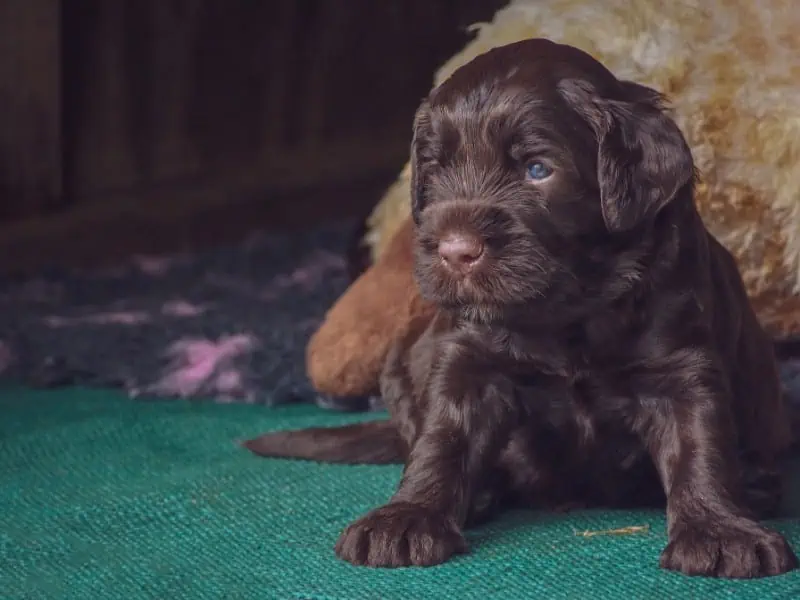 Mountain Sun Doodles is one of the best breeders for Labradoodles in Colorado. Moreover, Mountain Sun is dedicated to providing the best care for its dogs. At the facility, the puppies are socialized, stimulated, handled, and carefully nurtured.
Additionally, they conduct temperament testing to place all their pups into the best forever homes. They even introduce the puppies to clicker, lure, and crate training.
Recently, Mountain Sun Doodles has developed a partnership with many notable organizations to ensure a well-rounded training and nurturing program for their puppies.
The company goes the extra mile and partners with BAXTER & Bella providing all the necessary resources to facilitate optimal animal ownership and canine companionship experience.
Contact Details:
Website: https://www.mountainsunlabradoodles.com/
Phone: (720) 610-7522
Email: [email protected]
Location: Louisville, Colorado
3. MileHigh Doodles
You don't have to worry about poor quality when you select a beautiful Labradoodle from MileHigh Doodles. They only offer allergy-friendly, high-quality, happy Australian Labradoodles. They're a Silver Paw Breeder of the ALAA, and they participate in other programs for the betterment of the breed concerning training and nutrition.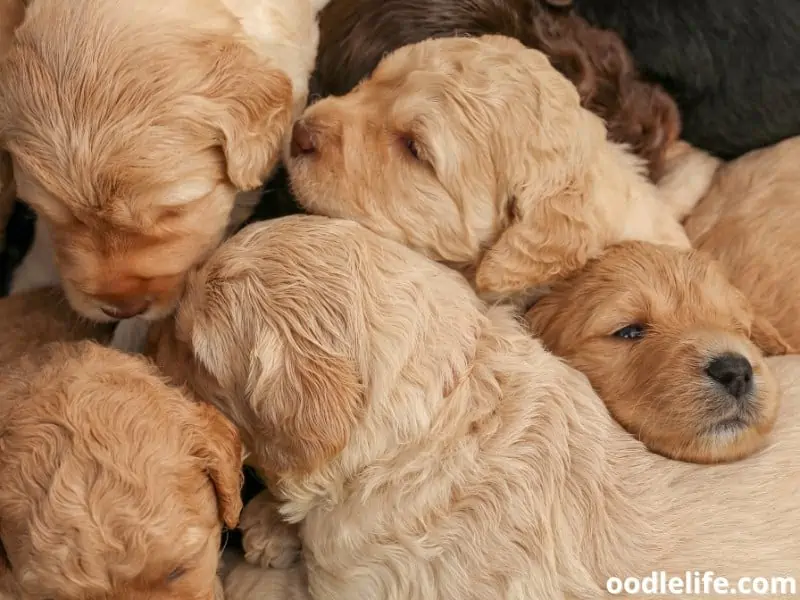 This breeder focuses on quality over quantity, as they never have many puppies available. Instead, they ensure they give all their love, attention, and resources to the pups in their care. Whether in their home or the guardian home community, you can rest assured that these pups are adequately tended to.
They receive an aptitude test when they are seven weeks old, which helps facilitate finding the best fit for the family. These puppies are kind, groomed well, and fun-loving.
All puppies leave the breeder dewormed, with their vaccines, a microchip, ALAA registration, and a two-year health guarantee. They'll also come with treats, food, training support, and more.
Contact Details:
Website: https://www.milehighdoodles.com/
Phone: (303) 915-3413
Email: [email protected]
Location: Littleton, Colorado
4. Colorado Mountain Labradoodles
CO Mountain is amongst the best Labradoodle breeders in Colorado. This small breeding organization is home-based, focusing on Medium and Standard-sized Australian Labradoodles.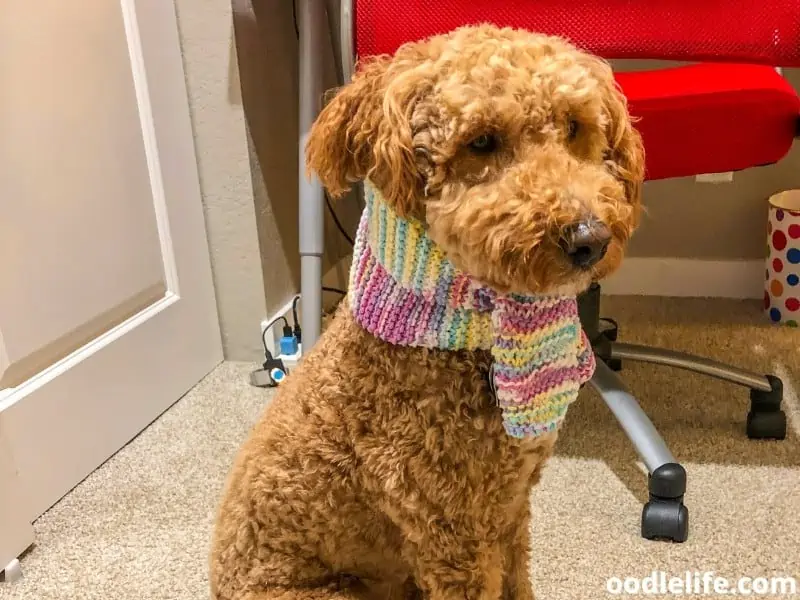 They breed to provide a friendly dog for families in need, puppy enjoyment, and further the development of Labradoodles with excellent temperaments, confirmation, and health. The family also offers continuous lifetime support.
Colorado Mountain Labradoodles utilize the puppy culture method of rearing and training, temperament evaluation tests, early neurological stimulation, and more.
The Australian Labradoodles they breed are easy to train and very intelligent and sociable. Colorado Mountain Labradoodles ensure that your puppy is already familiar with basic commands like stay, come, down, and sit. You can trust this breeder for a well-cared-for and well-adjusted puppy that's healthy and happy.
Contact Details:
Website: https://coloradomountainlabradoodles.com/
Phone: (719) 214-5330
Email: [email protected]
Location: Pueblo West, Colorado
5. Agape Labradoodles
Agape specializes in breeding Mini and Medium multi-generational Labradoodles within their home or a guardian's home. They love animals and are ethical breeders seeking to provide a kind and welcoming family with a healthy and loving canine companion.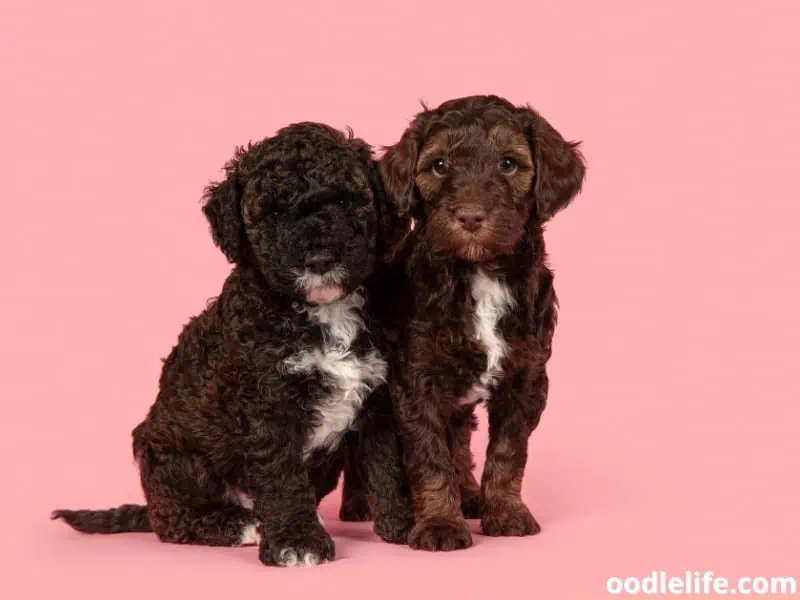 Agape ensures that all puppies receive constant love and affection from birth, along with socialization skills. They treat their pets as part of the family, allowing visitors after they've gotten their first vaccines when they turn seven weeks old.
This reputable breeder participates in the ENS program, which offers neurological stimulation for all puppies. It also contributes to stress tolerance, heart health, a fortified immune system, and overall proper development.
They provide families with a two-year health certificate guarantee, and they send the pups home with a microchip, as well as their first deworming and shots.
Lastly, Agape is an accredited Silver Paw Breeder with ALAA and WALA, and they're recommended by Good Dog.
Contact Details:
Website: https://agapelabradoodles.com/
Facebook: Agape Labradoodles
Phone: (720) 802-6990
Email: [email protected]
Location: Evergreen, Colorado
This highly recommended breeder may not be producing puppies at the moment, reach out to them and let us know if you have any luck!
6. Penny Lane Labradoodles
If you select Penny Lane Labradoodles to bring a pup into your home, you're in good hands. What began as a mom's search to find the best companion for her daughter has become a passion for providing the same companionship and love for others.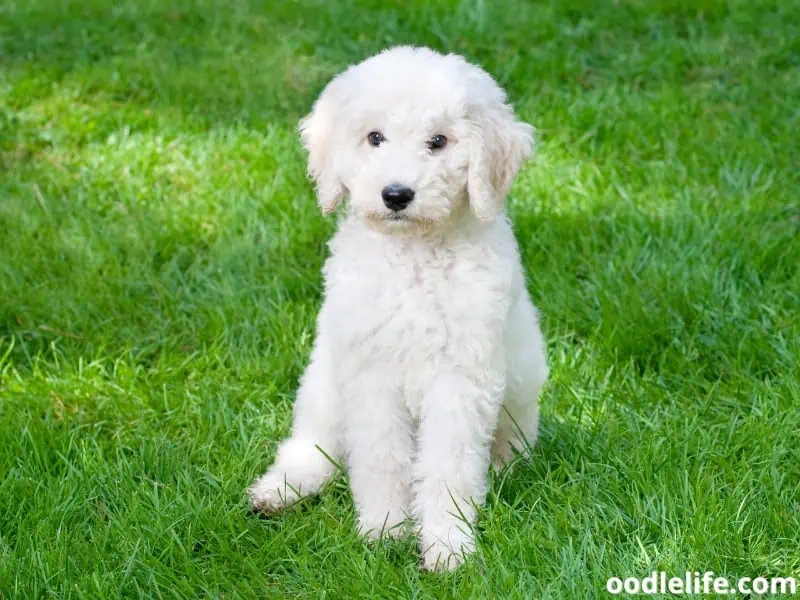 Penny Lane specializes in Standard and Medium Labradoodles with calm temperaments that are excellent options for those concerned that they won't be able to train their pup properly.
This breeder uses the guardian program because they can't correctly care for all the dogs they have in their home alone. This option allows the dogs to stay with a family that'll love and care for them after retirement.
The puppies' health, happiness, and socialization are paramount. They'll come to your home having been introduced to clicker and crate training, a two-year health guarantee, a microchip, and their first vaccines.
Penny Lane is a member of the ALAA, as well as Raising the Breeder Bar, an accredited breeder training and education program.
Contact Details:
Website: https://www.pennylanelabradoodles.com/
Email: [email protected] or [email protected]
Location: Colorado Springs, Colorado
7. Rocky Mountain Labradoodles
Rocky Mountain Labradoodles breed Standard and Medium Australian Labradoodle puppies.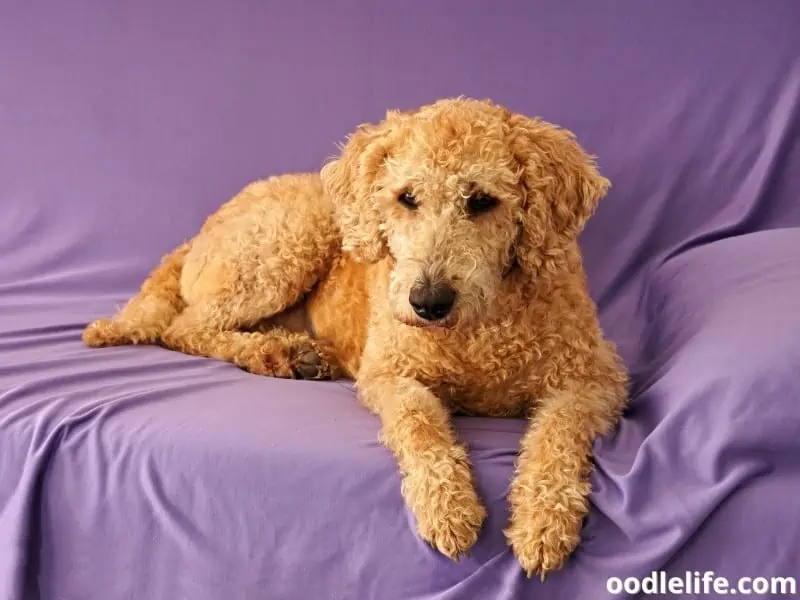 For starters, they are excellent breeders who prioritize Doodle health over everything.
All puppies are genetically tested for disorders, intelligence, low shedding, and allergies. Rocky Mountain only gives the highest quality dog food to ensure your puppies grow strong and receive all necessary nutrients until they reach their forever home.
All puppies are born in the "birth room," a comfortable environment for moms and babies to stay relaxed during the birth process. Additionally, puppies undergo a detailed development plan that includes an introduction to potty training, socialization, grooming, sounds, toys, and more.
You'll receive a dog fully prepared to integrate into your family after eight weeks, with the necessary experiences and skills to lead a happy life with the right folks. Every pup comes with treats, food, a microchip, a two-year guarantee, vaccinations, a collar and leash, and other goodies. Rocky Mountain is also ALAA-certified.
Contact Details:
Website: https://rockymtnlabradoodles.com/
Phone: (719) 784-2198
Email: [email protected]
Location: Wetmore, Colorado
Conclusion
It can be tricky to find a suitable and trustworthy Labradoodle breeder. It's essential to read reviews and visit the facility, if permissible, to get an idea of the environment that your puppy will be exposed to before you receive them.
There's usually a waitlist for a dog because Labradoodles are a popular breed, so you'll want to begin your search for the perfect pup months in advance. It's a huge responsibility to care for, love, and provide for a dog, so ensure that you're up for the challenge when you bring these lovely companions to your home.
Hopefully, our list of Labradoodle breeders in Colorado can get you started in the right direction to finding the best fit for your needs.
Good luck!