Best Labradoodle Breeders in Florida (2023 Update)
A cross between Labrador Retrievers and a Poodle, Labradoodles are among the best family dogs you can find. Labradoodles truly combine the best traits of both breeds, making them outgoing, friendly, and extremely intelligent dogs.
This loyal, hypoallergenic dog breed makes a fantastic family companion, so it's no surprise it's become one of the most popular mixed breeds today. And with so much demand for this beautiful breed, finding the right Labradoodle breeder for you can feel overwhelming.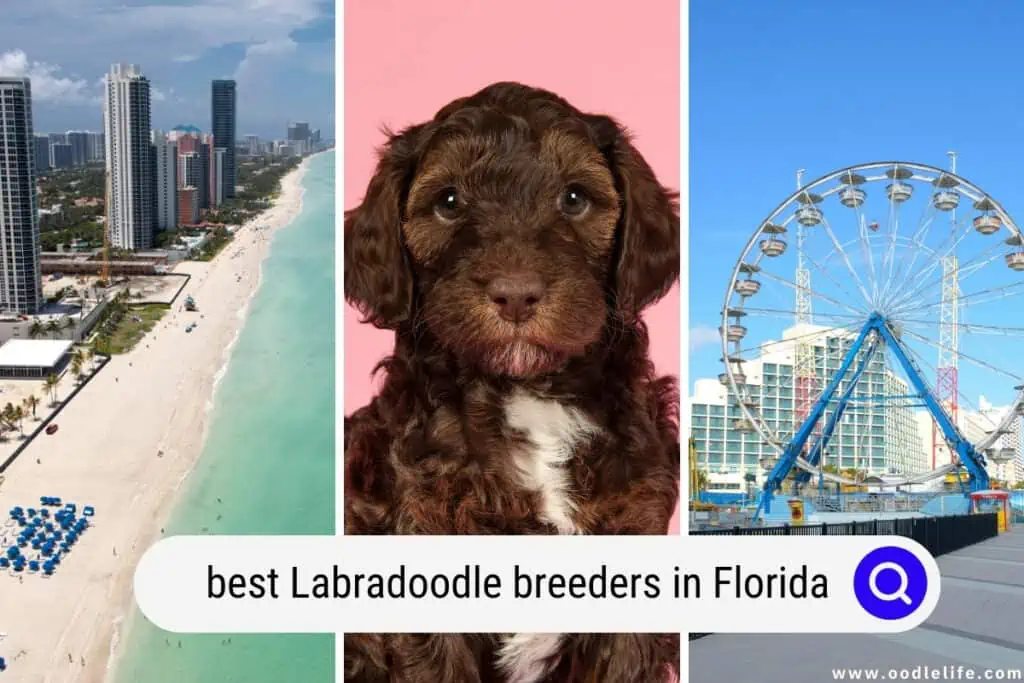 $300 2023 Discount!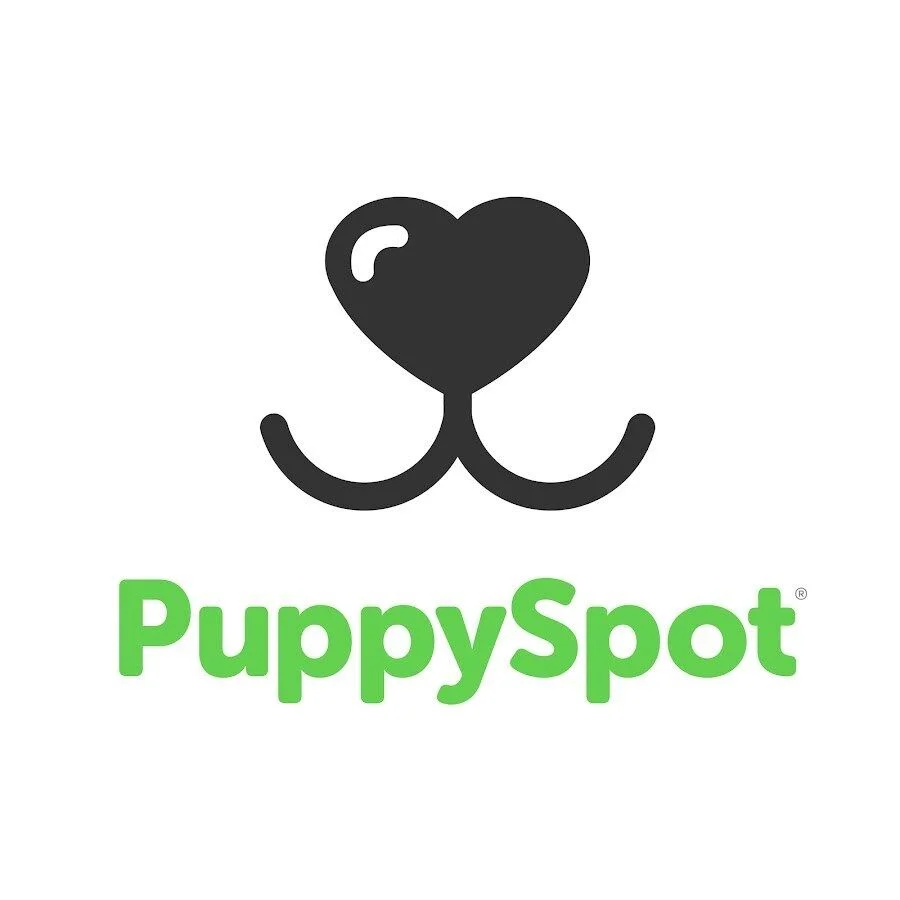 PuppySpot Adoption
PuppySpot is a reputable dog marketplace where you can browse and find compatible puppies right from the comfort of your home. They have placed over 200,000 puppies into homes in the US!
Click through and use the code PUPPY300 for $300 off any puppy adoption.
See Puppies and Save $300
Are you looking for a Labradoodle to add to your family in Florida? Here are six of the top Labradoodle breeders in Florida you can visit today.
1. The House of Doodles
The House of Doodles, located in Port St. Lucie, is dedicated to creating a happy, healthy, and safe environment for every Labradoodle in its care. If you buy a Doodle from this multi-generational breeder, you can feel confident that your new furry friend has a great temperament and is ready to adjust to its new home. 
This ethical and well-respected breeder offers many puppies available for adoption. You can find American and Australian Labradoodles in miniature, medium, and occasionally standard sizes.
The House of Doodles does everything it can to prepare its puppies for the best start in life and their new homes, including:
Completing extensive health testing
Access to high-quality food and veterinary care
Providing vitamins, probiotics, and healthy treats and snacks
Every Doodle under this breeder's care also lives in a house or a loving guardian home to ensure the best care possible.
And not only does The House of Doodles care for the Doodles under their roof, but they also provide continued support for the families that buy from them. They offer a guide to basic Doodle care and always welcome questions and updates about their puppies.
Contact Details:
Website: https://www.thehouseofdoodles.com/
Phone: (772) 519-1217
Email: [email protected]
Location: Port St. Lucie, Florida
2. Labradoodle Lane of Florida
Labradoodle Lane in Dade City, Florida, is a highly reputable Labradoodle breeder dedicated to helping families find their perfect companion. They're a member of the Australian Labradoodle Association of America, so you can feel secure that their puppies are bred and raised under a strict ethics code.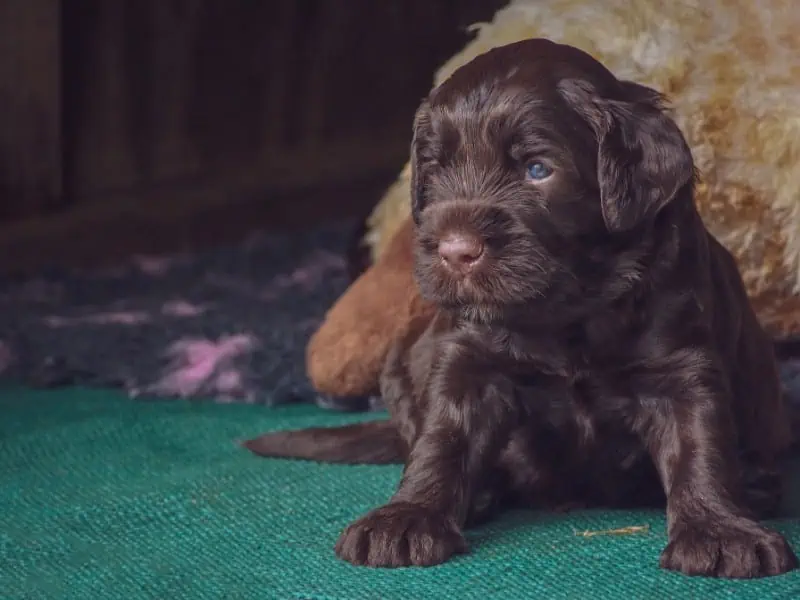 As a member of the ALAA, they're incredibly passionate about providing their dogs and customers with the best experience possible. Through seminars and roundtables, they continue to learn about the breed and how to ensure happy, healthy, and well-socialized puppies.
At eight weeks old, every puppy receives a vet exam, a health certificate, all of their vaccinations, and a microchip. They also receive temperament testing to ensure every dog is given to a family that matches their needs and personality.
When you come to pick up your new dog, you'll receive a puppy package with everything needed to help your Labradoodle adjust to their new home. This includes all of their health records, training/development information, several toys, a collar, and a three-day food supply.
With lifetime support, continued educational resources, and assistance from the breeder, you'll never be alone in training, raising, and caring for your puppy.
Contact Details:
Website: https://www.labradoodlelane.com/
Phone: (813) 838-1291
Email: [email protected]
Location: Dade City, Florida
3. Seaspray Australian Labradoodles
Seaspray Australian Labradoodles prides itself on raising healthy, socialized, and trained Labradoodle puppies. Working closely with True Blue Labradoodles, Seaspray has been safely breeding a variety of Labradoodles for over 15 years.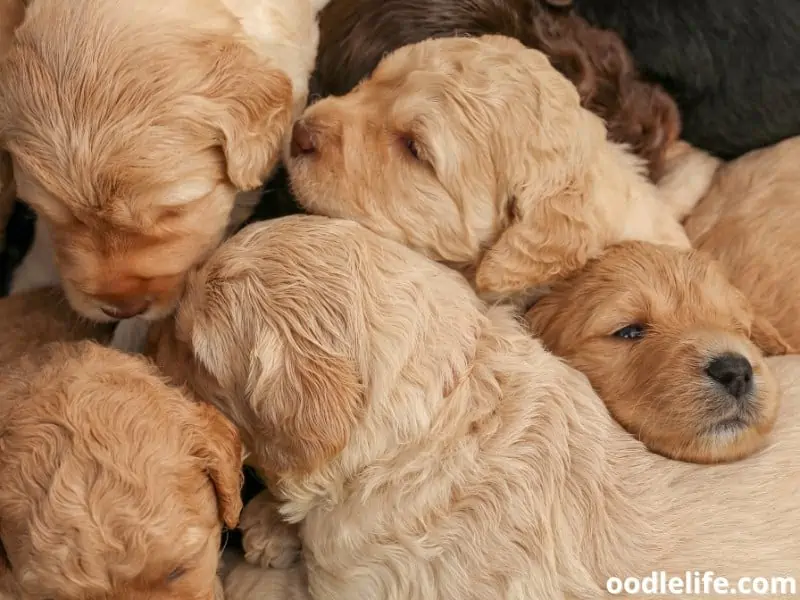 Every puppy at Seaspray Australian Labradoodles receives extensive training, socialization, and vet care. When you pick up a dog from this ethical breeder, you can be sure it's received all current vaccinations, worming, and a microchip. You'll also be sent home with a gift package and a two-year genetic health guarantee.
Along with everyday socialization, dogs receive individual attention to prepare them for any situation. They are trained to:
Be around young kids and strangers
Handle noise and music; and
Adjust to daily routines
After all of their training, every dog is prepared to transition easily to a new home.
Seaspray stands out from other Labradoodle breeders in Florida because of its passion and dedication to protecting the well-being of all of its dogs. Both breeding dogs and puppies are treated like family members and receive plenty of exercise and love. So if you're looking for a guaranteed ethical breeder with well-loved dogs, this is a top choice.
Be sure to take a look at their live puppy cam to learn more about the available pups!
Contact Details:
Website: https://www.seasprayaustralianlabradoodles.com/
Phone: (352) 504-6618
Email: [email protected]
Location: St. Pete Beach, Florida | Ocala, Florida
4. Doodles Sanctuary
Doodles Sanctuary in Hernando, Florida, is a go-to breeding destination for every Doodle mix. From Whoodles to Bernedoodles and Labradoodles, this trusted sanctuary is home to a huge variety of friendly, lovable, and adorable Doodle puppies.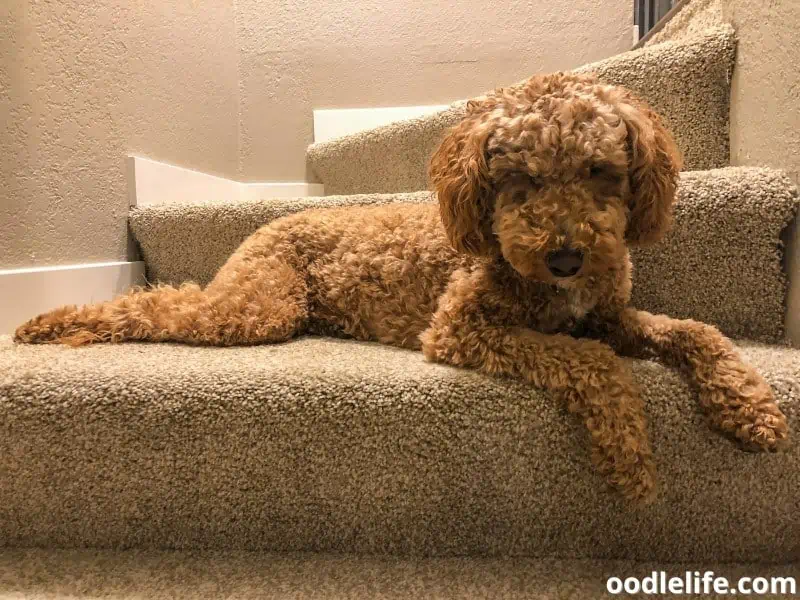 Labradoodle puppies at Doodles Sanctuary range in size from mini to standard. They also sell stud and retired breeding dogs if you want to bring home an older Labradoodle.
Every dog interacts with children daily during their stay at the sanctuary. They're well-socialized and get plenty of exercise and playtime, so you can be sure your new dog will get along with family members of every age.
It's no secret that bringing home a new puppy and training them is a ton of work. That's why Doodles Sanctuary litter box trains every dog. This prepares them for housebreaking and makes the transition to a new home simple and easy.
Contact Details:
Website: https://www.doodlessanctuary.com/
Phone: (352) 516-2843
Email: [email protected] or [email protected]
Location: Hernando, Florida
5. Tampa Bay Australian Labradoodles
Based out of the Tampa Bay area, Tampa Bay Australian Labradoodles boasts some of the healthiest, happiest, well-bred Labradoodles you can find in the area. These breeders are passionate about treating every dog like family, so you can feel secure knowing they prioritize the puppies' health and happiness.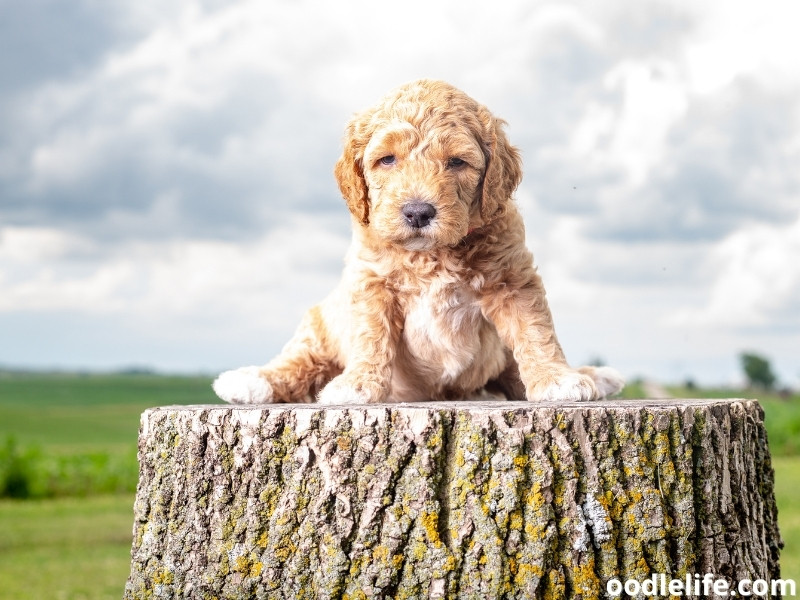 Both breeding dogs and Labradoodle puppies are raised in a home and receive all the necessary exercise, care, and socialization they need to thrive with a new family. They're also potty trained, leash trained, and introduced to crates.
This multi-generational breeder also uses a unique neurological stimulation program on all of their young puppies. This "Superdog Program" leads to improved cardiovascular health, greater resistance to disease, and other health benefits.
Because the puppies are raised in a home, the breeders become familiar with each dog's behavior and temperament and can perfectly match them with a family. Every dog also goes home with updated vaccines, deworming, a microchip, a spay/neuter contract, and a two-year health warranty.
Contact Details:
Website: https://www.tampabaylabradoodles.com/
Phone: (727) 641-6059
Email: [email protected]
Location: Tampa Bay, Florida
6. Memory Lake Labradoodle
Open since 2005, Memory Lake Labradoodle in southwest Florida is a reputable, ethical breeder known for placing healthy, happy, and well-trained Labradoodles into loving homes.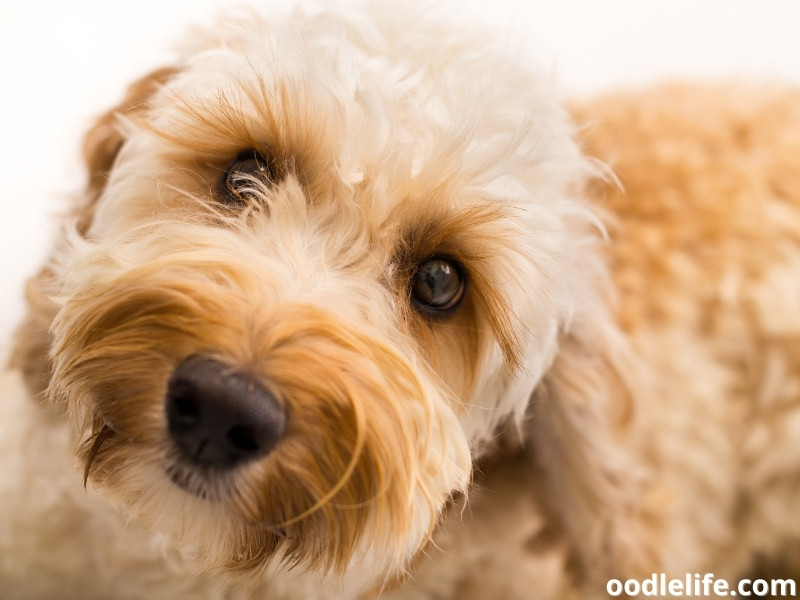 At Memory Lake, all breeding dogs live in trusted guardian homes, so every Labradoodle in their care is loved and socialized.
While they don't always have puppies available for sale, they keep potential adopters up to date on future litters. Once the puppies are born, they're always trained and socialized before being placed in their forever home.
Memory Lake's Australian Labradoodle pups range in size and color, so you can easily find the perfect dog to meet your family's needs. They have Miniature to Medium Labradoodles in various colors, from chocolates to reds, caramels, and more.
Every Australian Labradoodle in their care also undergoes extensive health screenings to test for common health problems found in these breeds. 
Contact Details:
Website: https://memorylakelabradoodle.com/
Phone: (239) 425-5897
Email: [email protected]
Location: Cape Coral, Florida
Conclusion
If you're looking for a new family companion, there are so many fantastic Labradoodle breeders in Florida that can match you with the perfect dog.
There are plenty of ethical breeders throughout Florida that can send you home with a loving, socialized, and healthy Labradoodle puppy. Whether you're looking for a mini, medium, or standard dog or have a specific color preference, there's a breeder out there that can meet your needs.
Once you find the right choice, you're ready to book a visit and meet the newest member of your family!