11 Great Toys for Labradoodles [Our Favorites]
Labradoodles are a breed of dog beloved by many due to their good-natured personalities, level of energy, and hypoallergenic qualities. Not only are they perfect for those with dandruff and animal allergies, but they are also patient dogs that excel in jobs as therapy dogs or emotional support dogs.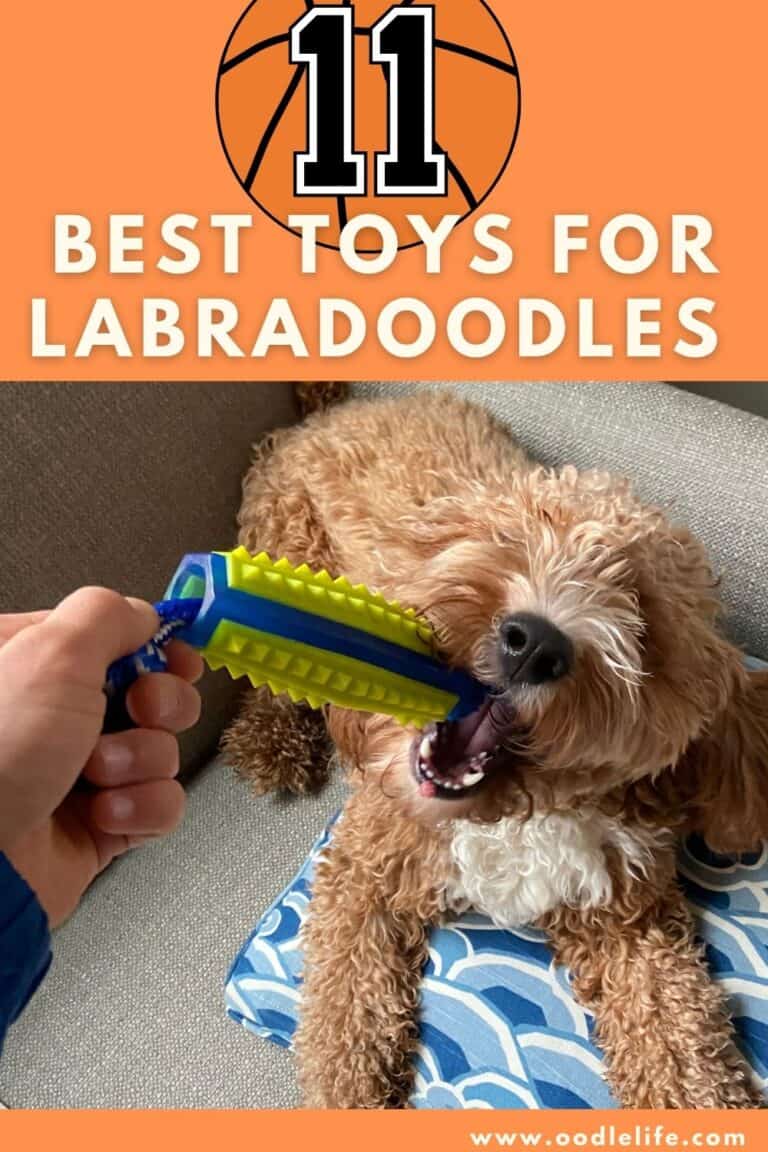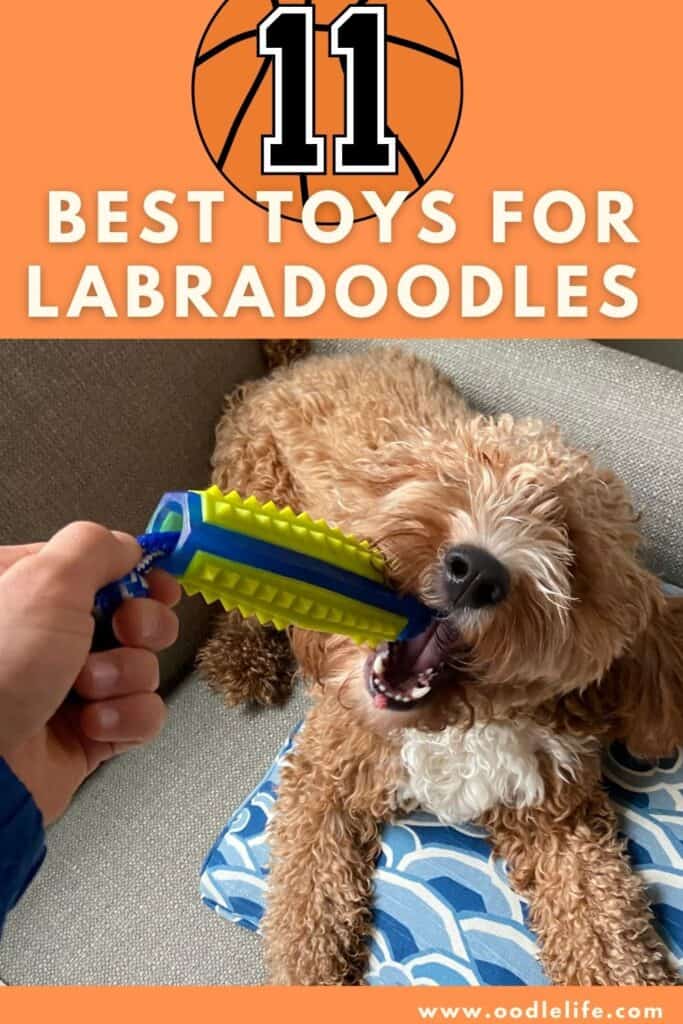 If you have a Labradoodle in your life, you know that the most important aspects of caring for your dog include feeding, bathing, walking, and playing with it. While you can technically play with your dog with any toy, it is important to get a toy that is suitable to your breed so that it can get the most out of its daily exercise and playtime routine.
To learn more about the greatest and more exciting toys for Labradoodles available today, continue reading below.
The Importance of Playing with Your Labradoodle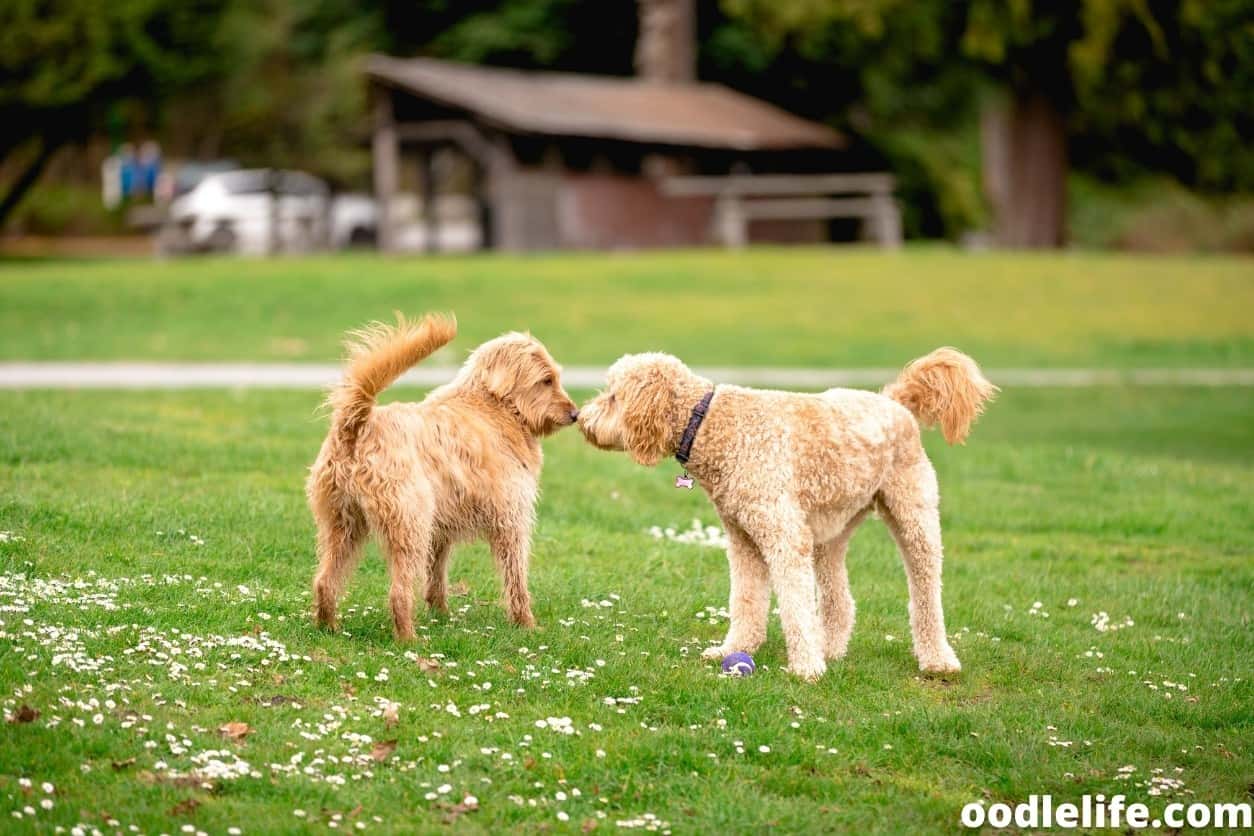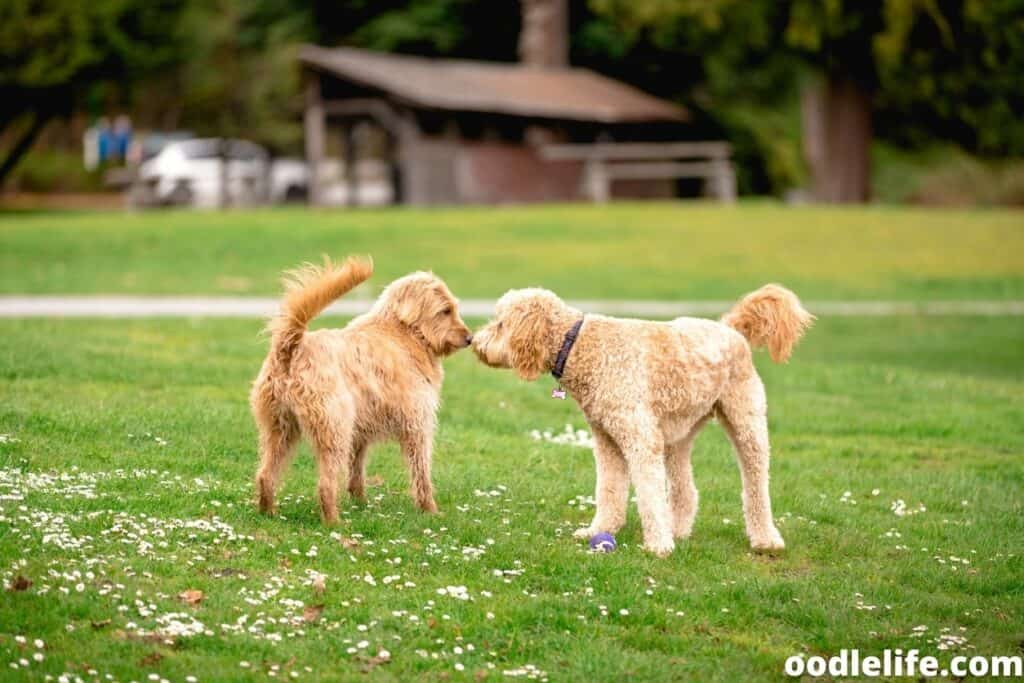 Playing with your Labradoodle is imperative to maintaining, increasing, and improving both its physical health and emotional well-being. From dog puzzles and hide-and-go-seek to search and return games or even fetch, Labradoodles love to be entertained and play all day long.
If you do not have time every single day to both walk and have a play session with your excitable Labradoodle pup, Labradoodles are also great at entertaining themselves. They enjoy chewing toys, treats, dispensing toys, and stuffed animals that they can chew, bite, tear, carry, and cuddle with.
Playing with your Labradoodle is not only engaging, fun, and stimulating for your pet, but it will also prevent your Labradoodle from becoming depressed, anxious, destructive to your home or belongings, and even aggressive.
Bad behaviors that Labradoodles can pick up when feeling bored and under-stimulated due to lack of available toys or playtime include tearing furniture, chewing clothes, sudden biting or snipping, going through the trash, fighting with other pets, scratching furniture, wood, and doors, and barking and growling loudly.
To avoid an unhappy Labradoodle, make sure they have a variety of their favorite toys available to them throughout the day.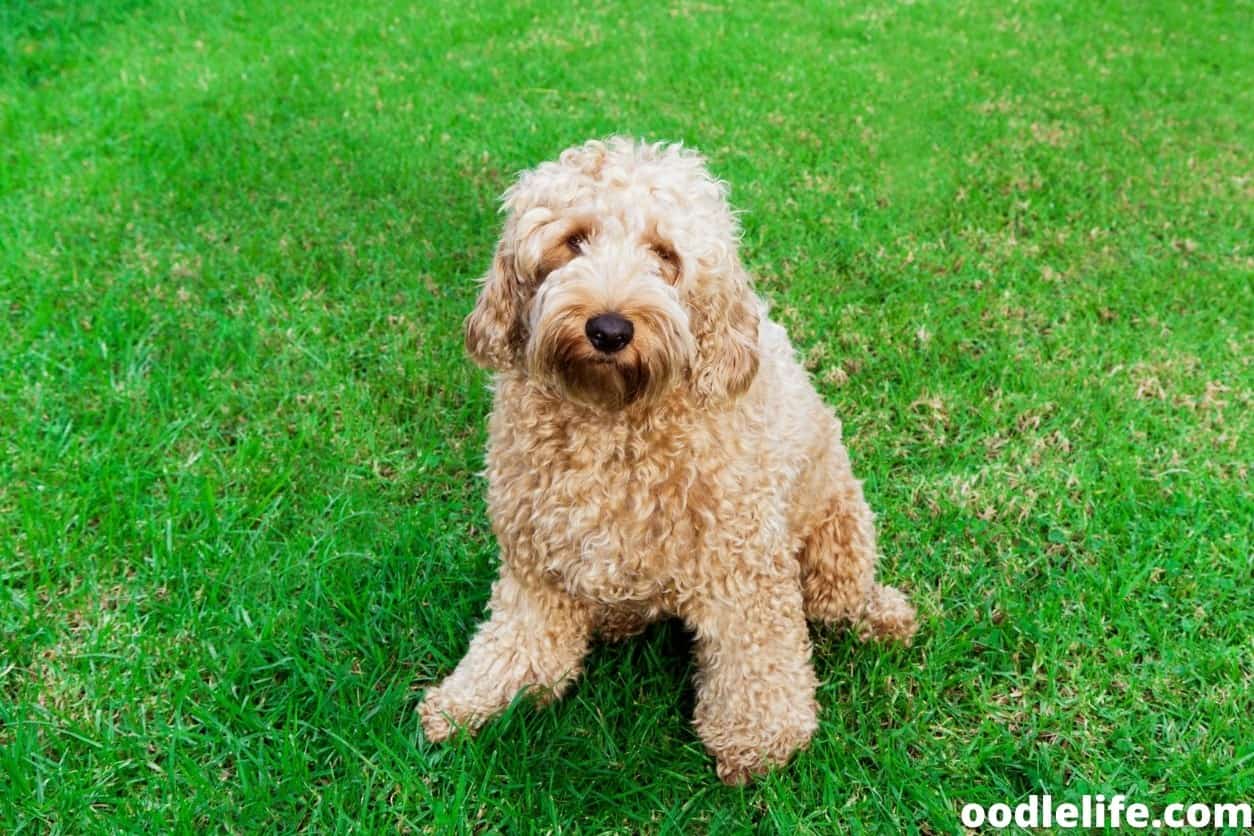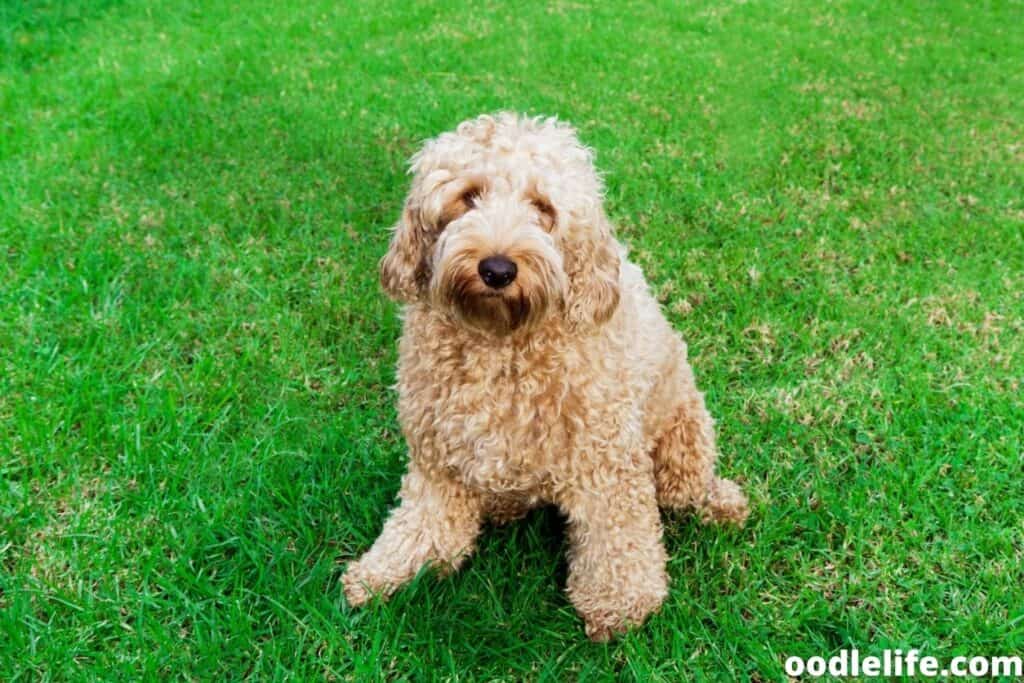 Prickles Ball Toy
One of the best toys for Labradoodle includes the Patchwork Prickles Ball Toy. This toy comes from the Patchwork Pet company's line of dog toys, and each contains a small noise-making squeaky ball inside of a larger rubber ball or toy shape.
The Prickles Ball Toy comes in different sizes, including small, medium, and large. Its variety of shapes include cacti, koalas, fruits, and pigs. At around $10 per toy, the Prickles Ball is one of the most-purchased toys for Labradoodles dogs.
Starmark Interactive Bob-A-Lot
Sale
Starmark Treat Dispensing Bob-a-Lot Dog Toy
Adjustable treat dispensing toy
Large chamber fits whole meals
Weighted bottom wobbles. New adjustment gate on the bottom accommodates a larger kibble size and is easier to adjust
The Package Width Of The Product Is 5.4 Inches
The Starmark Interactive Bob-A-Lot comes in two sizes for Labradoodle, including small and large. Complete with an internal chamber that holds your Ldbradoodle's favorite treats, it dispenses as the dog plays to create a sense of mystery and curiosity for a growing dog.
With a curved, wobbling bottom and a thinner cylinder-like top, this toy is shaped specifically for the mouth of a Labradoodle, making it easier to pick up and walk around with.
Goughnuts Ring Toy
Sale
Goughnuts Original Medium Dog Chew Toy Ring for Aggressive Chewers from 30-70 Pounds in Green. Durable Rubber Dog Chew Toy for Medium Breeds and Power Chewers
Same Rubber the Astronauts Use - Seriously: Our reinforced natural rubber is designed by engineers that make rubber for spaceships and aircraft. UNIQUE DURABILITY FOR UNIQUE DOGS: We have multiple rubber recipes to better suit all dog types. Please reference the sizing sheet in the images.
Multiple Sizes Perfectly Fit Your Pooch: We have sizes for every type of dog jaw and chewing intensity. After many years designing chew toys, we found it's healthiest to use a toy that reduces leverage in the dog's jaw, by forcing the jaw to stay more open while chewing. Follow our sizing chart in the images! This is the medium size for dogs 30-70 Pounds.
Save Money and Your Sanity: ruined pillows, couches, or clothes that have been chewed up. No more wasting money on interactive dog toys that break in a week. Save your money with our chew toys that will last a lifetime AND be satisfying and safe for your dog to chew on. Veterinarian recommended.
For Strong Chewers: This toy is sized for strong chewers 30-70 pounds with our orignal rubber. Floats like an ice cube. Red Safety indicator core indicates if you should remove this power chewing toy from your dog and return to Goughnuts for a replacement
Most Durable Toy On the Market, Guaranteed: Lifetime Warranty - You're backed by Amazon's money back guarantee, and Goughnuts lifetime warranty. Family company, made in the USA
The Goughnuts Ring Toy is number 3 on our list of the 11 great toys for Labradoodles because it is considered the sturdiest dog toy on the market today. Made in California, this dog toy is shaped like a ring and can float, bounce, flex, and stand up, making it perfect for playing a long game of fetch.
With 4 sizes and 6 colors to choose from, this 21 dollar toy is a great investment for your money. With a long-lasting guarantee, Goughnuts also has a replacement policy that says it will send you a new Ring Toy if your dog ever destroys the one you have.
Sodapup Coffee Treat Dispensing Toy
SodaPup Coffee Cup Dog Toy - Dog Puzzle Toys - Treat Dispensing Dog Toys - Dog Enrichment Toys - Sturdy Dog Toys - Green - Large
SLOW FEEDER DOG TOY: This coffee dog toy features treat inserts on the end of the coffee cup dog toy leaving the treat slightly concealed to engage the dog for slow dog feeding to aid in healthy digestion, and interactive chewing.
DENTAL CARE & DURABLE CHEWING TOY: Each of our dog enrichment toys is crafted with natural rubber compound to withstand the wear, tear, and play of large dogs up to 60 lbs. This chewing toy also helps to eliminate plaque as a dental dog care.
DOG FOOD PUZZLE & CANINE ENRICHMENT: Engage your dog with our dog coffee toy. Each creates mental stimulation for dogs, features a vibrant color and engages dog with unique shape and texture to support learning and healthy play.
FDA COMPLIANT & DOG SAFE: Our coffee puzzle toys for dogs are non-toxic and biodegradable. Each dog treat toy is produced with strict safety standards. Our dog food puzzle shaped as a coffee cup is safe for your pup.
MADE IN USA: We manufacture our products in the U.S. Each of our toys for dogs comply with the highest quality standards. Our durable toys for dogs provide local jobs and on-site prescence.
The Sodapup Coffee Treat Dispensing Toy from Soda Pup/True Dogs LLC is a cute little coffee-shaped toy for all of the coffee-loving dog owners out there. Made of a natural compounded rubber in the United States, this toy is great for dental hygiene and is filled with treats to encourage chewing while gradually feeding snacks to your Labradoodle.
Labradoodles in particular love this toy because it challenges their intellect. They tend to get bored easily and love the smell of their treats hiding inside this FDA-approved puzzle. Perfect for solo play or playtime with the family, it comes in 2 sizes and 2 colors including red and green.
Benebone Real Flavor Wishbone
Sale
Benebone Wishbone Durable Dog Chew Toy for Aggressive Chewers, Made in USA, Large, Real Bacon Flavor
DURABLE, LONG-LASTING – Super chewer? Bring it on. Benebones are tougher than real bones and last for weeks.
REAL BACON! – We use only 100% REAL BACON for flavor. Trust us, dogs can tell the difference.
EASY TO PICK UP AND CHEW – The Wishbone is curved for a paw-friendly grip so your pup can quickly grab it and get a good chew going. Think about it: dogs don't have thumbs.
USA MADE – We make and source everything in the USA.
HAPPINESS, GUARANTEED – Have an issue? Want to chat? Reach out to us directly and you'll get a real person whose sole job is to make you and your pup happy.
The Benebone Real Flavor Durable Wishbone Dog Chew Toy is perfect for Labradoodles because they are specifically made with aggressive chewers in mind. This toy comes in 3 delicious flavors that will encourage your dog to play and chew it enthusiastically.
For meat-loving dogs, chicken and bacon flavors are available. For Labradoodle owners that prefer to keep their dog toys vegetarian, there is a yummy peanut butter flavor that your Labradoodle won't be able to resist.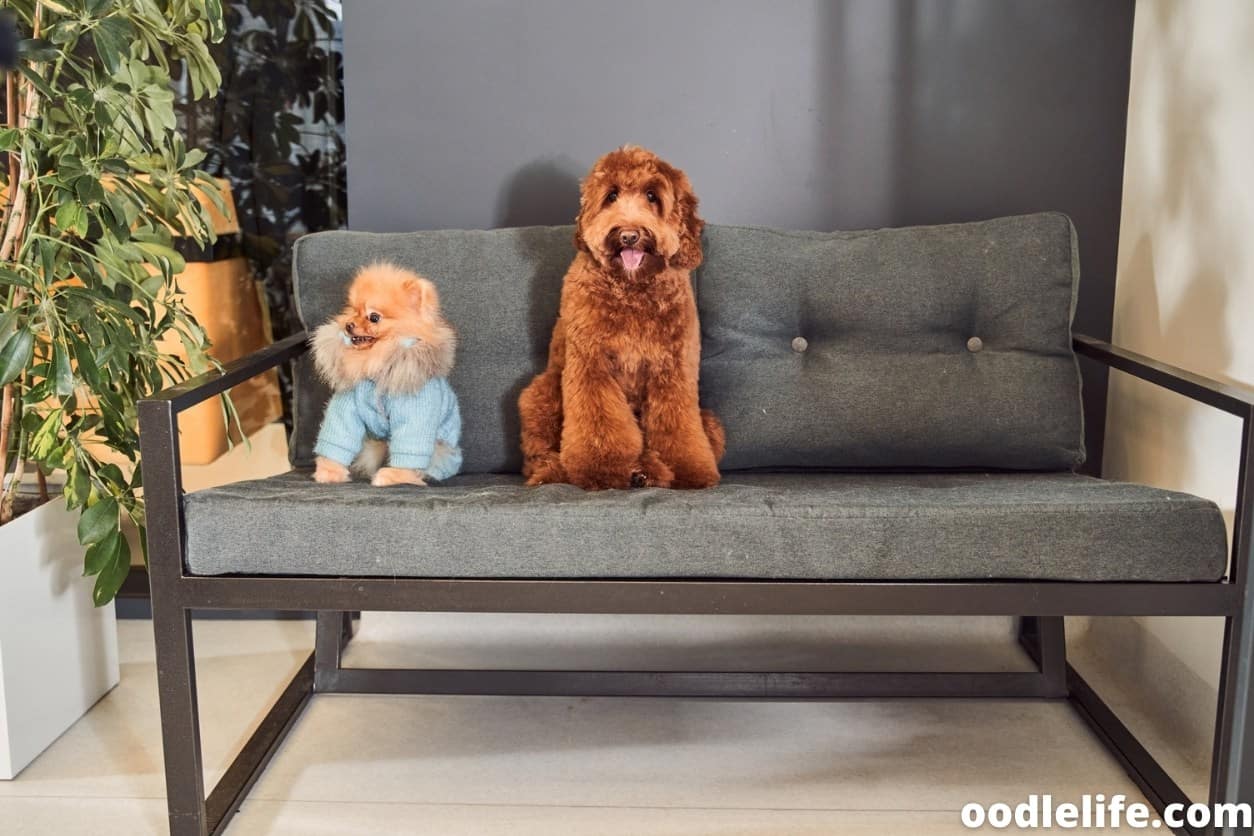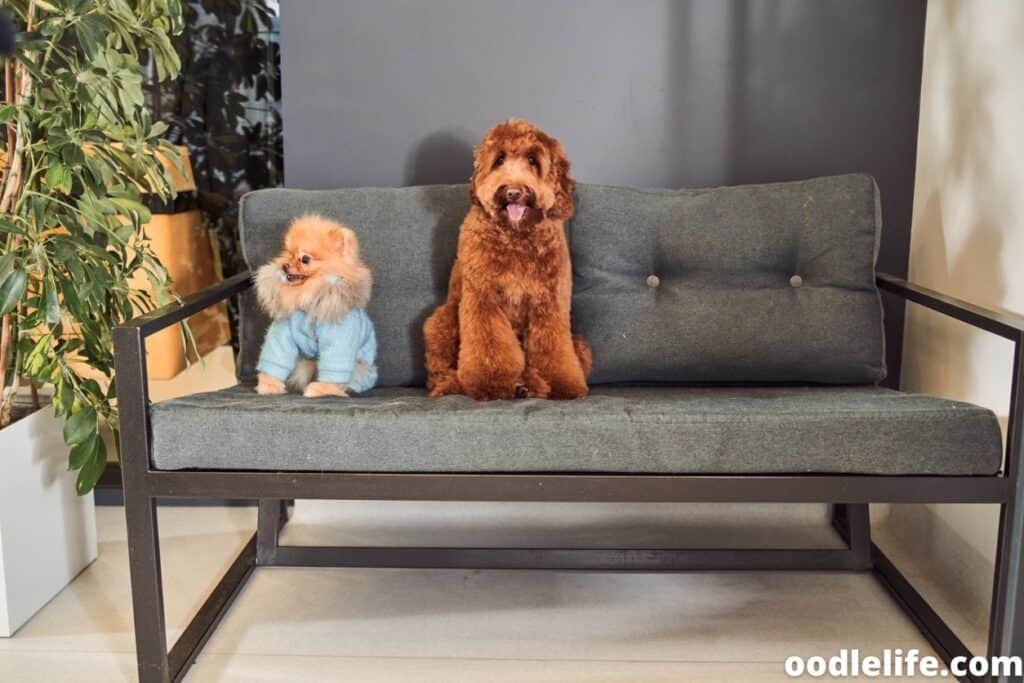 Outward Hound Nina Ottosson Puzzle Toy
Sale
Outward Hound Nina Ottosson Dog Worker Green Interactive Treat Puzzle Dog Toy
INTERMEDIATE LEVEL FUN: The Dog Hide N' Slide level 2 intermediate dog puzzle is a fun hide-and-seek challenge that requires your pup to learn how combined actions lead to a tasty reward! Great for dogs who have mastered level 1 puzzles.
CHALLENGE YOUR DOG'S MIND: The Dog Hide N' Slide is an interactive treat puzzle game that works your dog's mind while reducing boredom and destructive behavior. Swivel to hide treats under the flippers or place them in the blocks through the top opening for an added challenge! Your pup will need to take sequential steps to release the final rewards!
NON-REMOVABLE PARTS & DURABLE COMPOSITE WOOD DESIGN: Made with a non-slip base and a unique plastic and wood composite, the Dog Hide N' Slide is a game that is built to last for hours and hours of fun! Train your pup not to chew on the toy by removing it after the treats have been eaten. Non-removable parts make it a safe and easy to clean choice.
BPA, PVC & PHTHALATE-FREE: Nina Ottosson by Outward Hound interactive treat dog puzzles are designed with your pet's health in mind from food safe materials that you can trust with your dog. Easy to clean with warm water and soap between uses.
PLAY IT SAFE: No toy is indestructible. Do not leave toys with unsupervised pets. Remove and replace toy if damaged.
The number 6 best toy for Labradoodles on our list is the Outward Hound Nina Ottosson Puzzle Toy. This toy is considered somewhat eco-friendly because it is made from a wood-plastic composite instead of all rubber or plastic.
This dog puzzle is a good stimulation tool for Labradoodles, especially when playing alone because it takes both interest and concentration. To operate and solve this game, your dog must interact by pushing levers and swiveling flippers to reach hidden treats and goodies. By following a series of steps, they will push blocks into holes to release their treats.
KONG Jumbler Ball
KONG Jumbler Ball L/XL -ASSORTED
Squeaker and tumbling interior ball entice play
Ideal for interactive fun
Handles make pick up and shaking easy
Available in two shapes: Ball and Football
The KONG Jumbler Ball is a unique toy that takes into consideration how much Labradoodles love tennis balls. Not only is this see-through dog toy great for chewing and tossing, but it also contains within it a tennis ball for your dog's enjoyment.
Available in both medium and large sizes, this toy weighs roughly 1 pound and is great for Labradoodles of all ages. Your Labradoodle will be entertained and occupied for hours trying to figure out how to reach the tennis ball inside of the jumbler itself.
TUFFY Zoo Animal Elephant
For anyone who loves cute, cuddly, and comforting stuffed animals, you'll probably love the TUFFY Zoo Animal Elephant for Labradoodles. Considered the world's strongest soft stuffed animal dog toy, this plush elephant weighs only 726 grams and can easily be carried around on walks to the park or through the backyard.
While this tough plush stuffy is both waterproof and machine washable, it is unfortunately not meant to be chewed by Labradoodles as chewing will ruin the fabric, seams, and stitches.
JW PET Hol-Ee Roller Dog Toy
Sale
JW Pet Hol-ee Roller Original Do It All Dog Toy Puzzle Ball, Natural Rubber, Assorted Colors, Medium
Dog Chew Toy: The Hol-ee Roller is the Do It All Puzzle Ball; Made from soft, stretchy natural rubber that is great for gentle chewers and teething puppies; Tug it, fetch it, chew it or stuff it with toys and treats
Entertaining and Enriching: This chew and puzzle toy helps keep your dog entertained and provides essential mental stimulation; Natural rubber is gentle on your dog's gums as they chew and teethe
JW Pet Toy Collection: Created especially for dogs, our full line of versatile and durable chew, tug, and fetch toys are thoughtfully designed to enrich your dog's playtime
Intelligent Designs, Happy Pets: JW pet products are designed to improve the lives of pets and owners. Try our full line of dog treat dispensers, squeaker toys, brushes, interactive cat toys and more
Just For Pets: Petmate makes a variety of pet products for dogs, cats, birds, and other furry friends; Check out our brands such as Aspen Pet, Arm and Hammer, Booda, Chuckit and more
The JW PET Hol-Ee Roller Dog Toy is a rubber ball that has the makeup of a honeycomb shape or geodome. Not only is this ball soft and malleable making it easy to carry, but it is also easily grabbable with paws.
This interactive dog toy can be filled with food, snacks, and treats to encourage interest and also used to play fetch after a nice long walk to the park. At only $8 and with 4 available colors including lime green, bright red, purple, and deep blue, it's perfect for both mature adult Labradoodles and rambunctious teething puppies.
Chuckit! Paraflight Flyer
Sale
ChuckIt! Paraflight Flyer Dog Frisbee Toy Floats On Water; Gentle On Dog's Teeth And Gums; Large
10 INCH FRISBEE: Ideal frisbee for dogs for high-flying games of fetch, designed for long-distance flight The Paraflight fetch toy floats in water - great for playing at the pool, beach or lake
DURABLE DESIGN: This large dog frisbee features a multilayer nylon interior with soft rubber edges that's gentle on puppy's gums and teeth. Frisbee gradually descends for jumping and catching mid flight
PET TOYS: Get ready for bonding fun with your dogs and cats. Check out a variety of our pet toy products such as frisbees, perches mirrors for birds, prey wand toys for cats, plush toys, light-up interactive dog toys and more
CHUCKIT FETCH TOYS: Chuckit creates toys that enrich the human-animal bond. Bright colors help dogs and puppies stay engaged. Checkout Chuckit for ball launchers, bouncy balls, frisbees, indoor dog toys, glow toys, and so much more
JUST FOR PETS: Petmate makes a variety of pet products for dogs, cats, chickens other small furry friends Check out our brands such as Aspen Pet, Arm Hammer, Booda, Chuckit, JW, and more
Labradoodles are excellent runners who love to fly through the air and catch frisbees. This is why the Chuckit! Paraflight Flyer is perfect for Labradoodles of all ages. With an aerodynamic shape, this flexible disc can fly high and far, giving your dog the heart-pumping exercise it requires.
The Chuckit! is both waterproof and floats, as well as machine washable. At only around $8, its multi-layer interior and dual seam nylon rubber edging make it a durable and long-lasting investment for your four-legged best friend. Use it during the day or a night due to its high-visibility neon-bright orange and blue colors.
Starmark Treat Dispensing Bob-A-Lot Dog Toy
Starmark Bob-A-Lot Interactive Pet Toy, Large
Exercises and feeds your dog at the same time
The Large bottom Chamber fits up to 3 cups of Food - enough for a full meal
Adjustable openings at the top and bottom accommodate most types of dog Food and allow you to regulate the difficulty level
Weighted anti-slip bottom makes the toy wobble erratically enticing your dog to play
The Starmark Treat Dispensing Bob-A-Lot Dog Toy is another snack-related treat with a rubber bottom for dispensing dog treats. Its top is small enough to fit in the mouth of an adolescent or adult Labradoodle dog and its filling chamber can fit up to three whole cups of dog food.
This toy is meant to be a solo playtime toy to keep your Labradoodle company while it is either home alone or playing by itself in a different room than its owner. Along with challenging your Labradoodle, this Bob-A-Lot Dog Toy will be entertained for hours by this puzzle-like experience.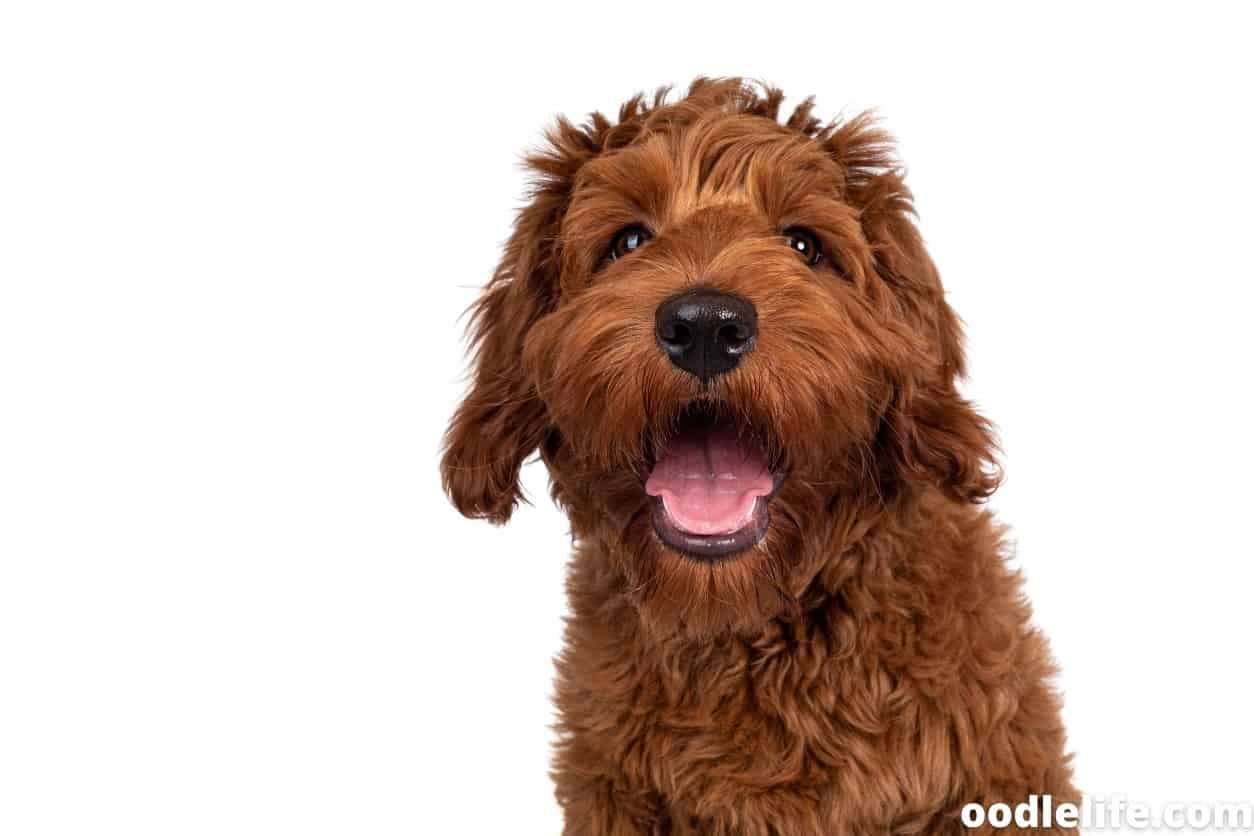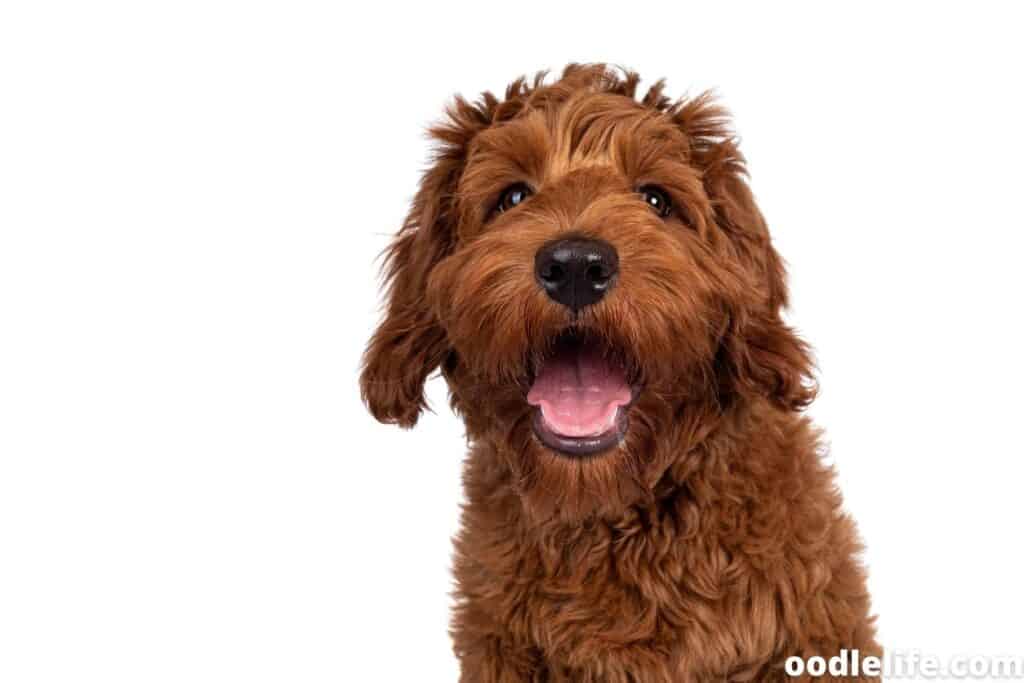 Toys Your Labradoodle Will Thank You For
For any Labradoodle owner, picking the perfect toy for your dog is about cost, comfort, material makeup, engagement, and the health of your pet.
From high-quality snack dispensing interactive toys like the Starmark Treat Dispensing Bob-A-Lot Dog Toy, Outward Hound Nina Ottosson Puzzle Toy, and Sodapup Coffee Treat Dispensing Toy to toys made for playing fetch like the Chuckit! Paraflight Flyer, choosing the best toys for your Labradoodle is made easy.
With these 11 great toys for Labradoodles, your dog will be excited for playtime every day of the week.