Best Labradoodle Breeders in Massachusetts (2023 Update)
Labradoodles are among the most popular designer Doodle breeds nationwide because of their energetic nature, low-shedding coats, and trainability.
If you're interested in bringing home this fantastic Poodle and Labrador mix and live in Massachusetts, several breeders across the state offer puppies for sale.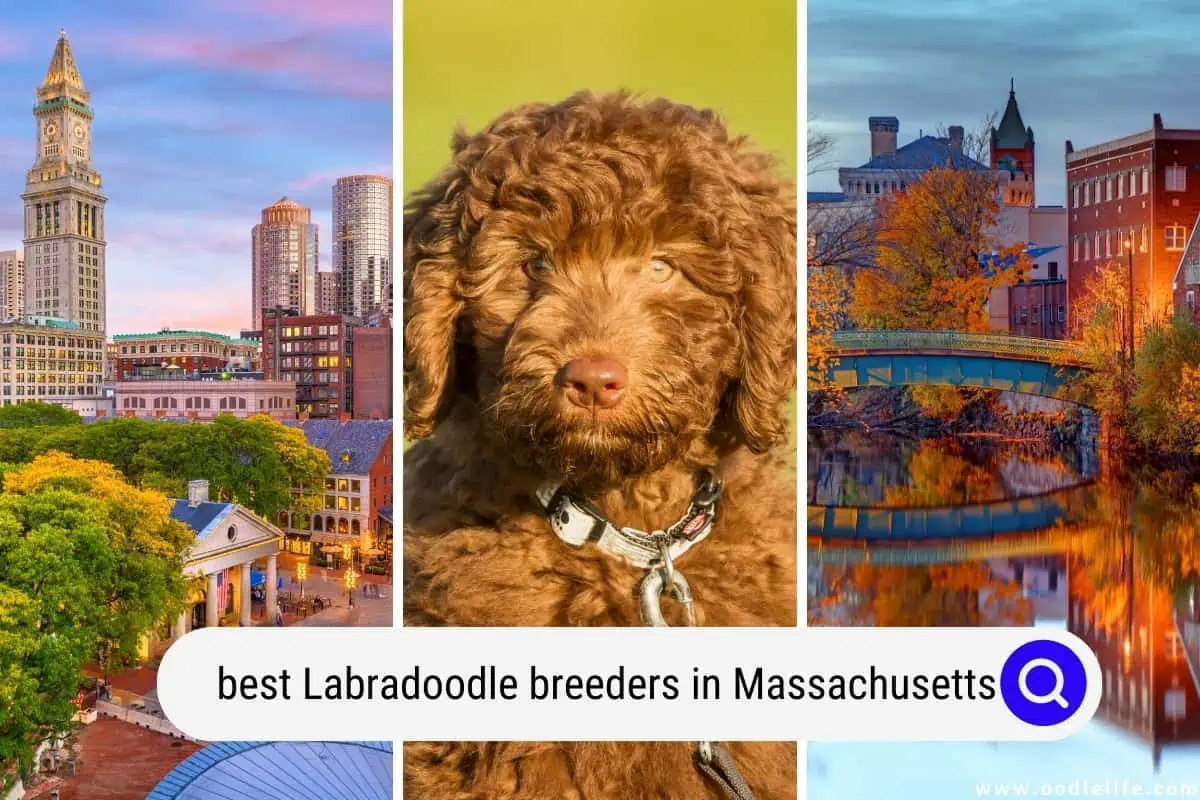 $300 2023 Discount!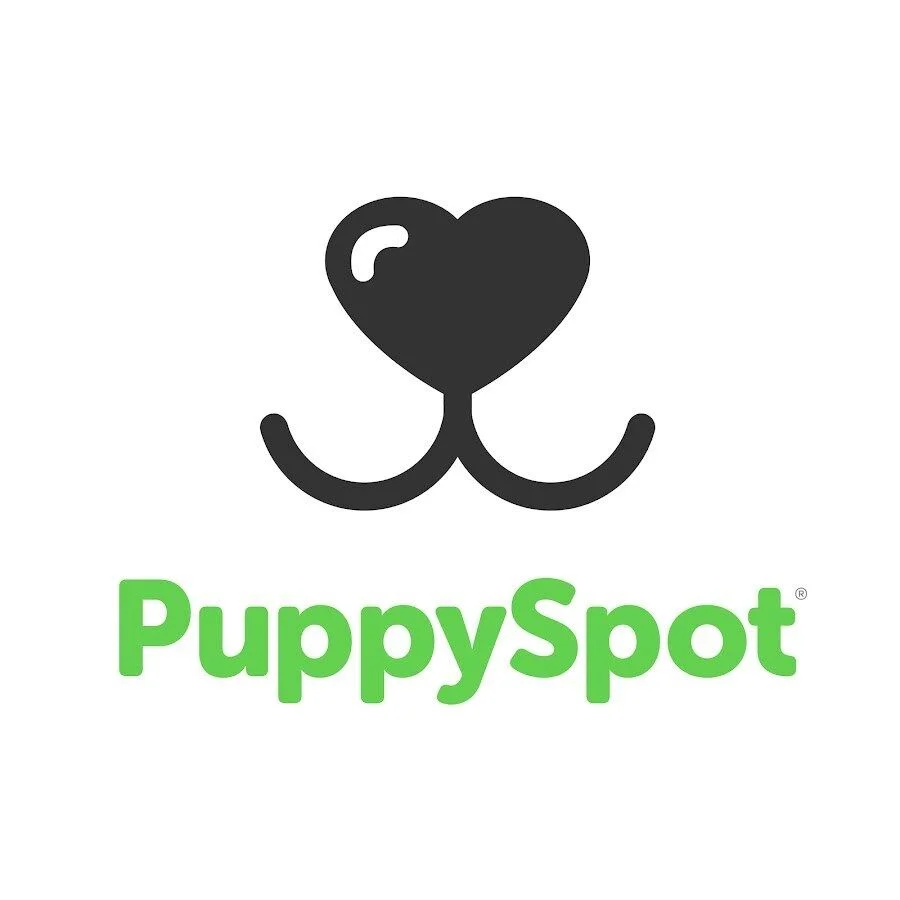 PuppySpot Adoption
PuppySpot is a reputable dog marketplace where you can browse and find compatible puppies right from the comfort of your home. They have placed over 200,000 puppies into homes in the US!
Click through and use the code PUPPY300 for $300 off any puppy adoption.
See Puppies and Save $300
Check out this list of the best Labradoodle breeders in Massachusetts to help you save time while narrowing down your options.
1. Tango Wool Labradoodles
The first option you should consider reaching out to on this list of the top Labradoodle breeders in Massachusetts is Tango Wool Labradoodles, located in the state's Western region.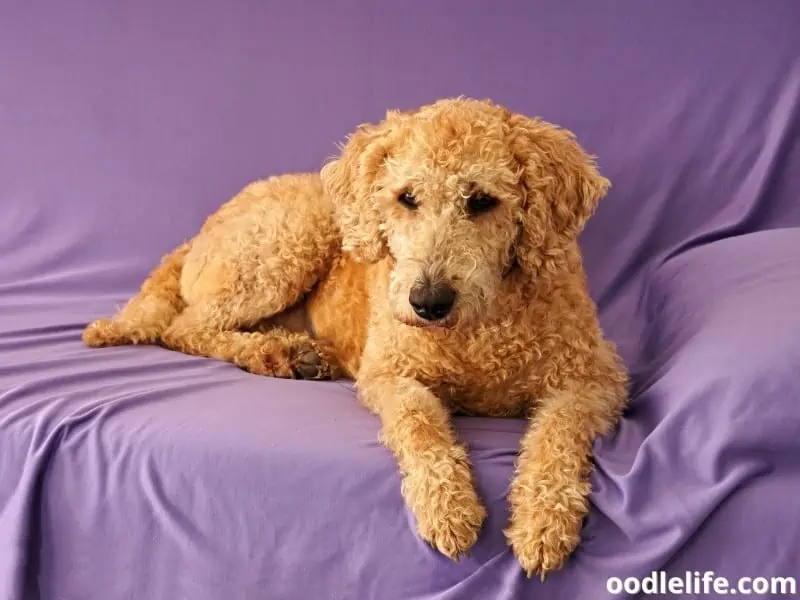 Marci Southard specializes in breeding Australian Labradoodles of many sizes and colors as loving canine companions and received recognition from several Labradoodle-centric organizations, including the Australian Labradoodle Association of America and the World Australian Labradoodle Association.
Marci prioritizes testing her sires and dams for breed-specific health problems to reduce the chances of future Labradoodle litters from inheriting them, such as cardiac issues and patellar luxation. Many of the dogs in her breeding program reside in guardian homes.
The puppy selection process occurs after seven weeks, but eligible families can bring their puppies home after eight to nine weeks. All Labradoodles go home with a two-year health guarantee, up-to-date health records, microchip registration, and scented toys.
Breeder Details:
2. Lucky Dog Australian Labradoodles
One of the best Labradoodle breeders in Massachusetts, less than an hour from Boston, is Lucky Dog Australian Labradoodles. They raise their Australian Labradoodle puppies within their home and give them the love and care they deserve until they're old enough for their new homes.
This breeder's sires and dams have health clearances for several congenital health conditions, from underdeveloped hips to elbow and eye issues. The puppies get socialized and accustomed to loud noises at an early age. The breeder also begins initial potty and crate training.
The breeder requires interested applicants to send a $500 deposit for placement on their reservation list. Puppy selection occurs after seven weeks, while pickup happens after eight weeks.
Besides going home with up-to-date health records and a two-year health guarantee, all Labradoodles come with their parents' pedigree records, a puppy care manual, and a sample of puppy food.
Breeder Details:
3. Forest Hill Australian Labradoodles
Forest Hill Australian Labradoodles is a small home breeder near Cape Ann's coastline. Bradley Crate raises his puppies within his home with his family to ensure they develop in a stable environment. He's a proud member of the Australian Labradoodle Club of America, ALAA, and WALA.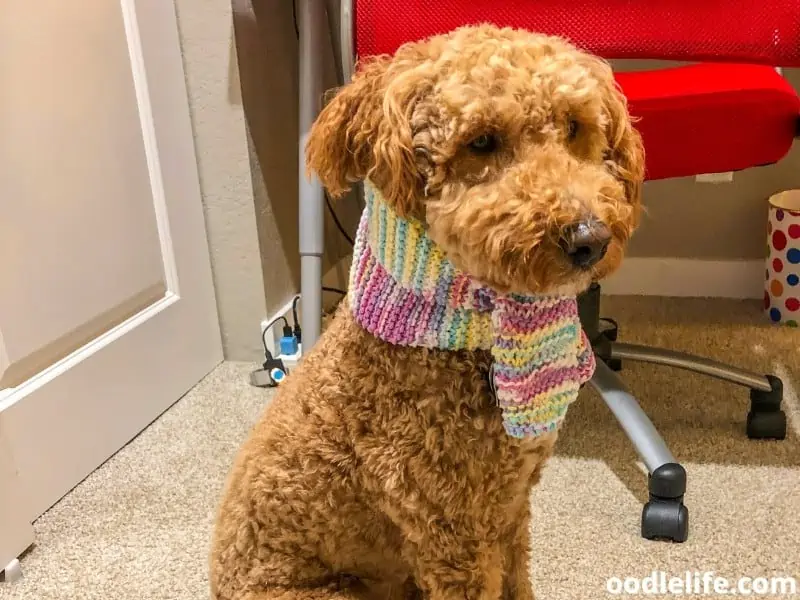 Bradley tests his dogs for several health issues to ensure they meet breed standards established by ALAA, ALCA, and WALA, while puppies have a three-year health guarantee. He incorporates Puppy Culture curriculums to ensure Labradoodle litters get socialized and develop soundly.
All puppies go to their new homes after eight weeks. The breeder incorporates a strict spay or neuter policy requiring new owners to get their dogs fixed when they're eight or nine months old.
Breeder Details:
4. New England Labradoodles
Another one of the best Labradoodle breeders in Massachusetts recognized by ALAA is New England Labradoodles, helmed by Christi Morais. She and her family raise multi-gen Australian Labradoodles inside her home while prioritizing their temperament and health. Her home has a private whelping room for her breeding program's mothers.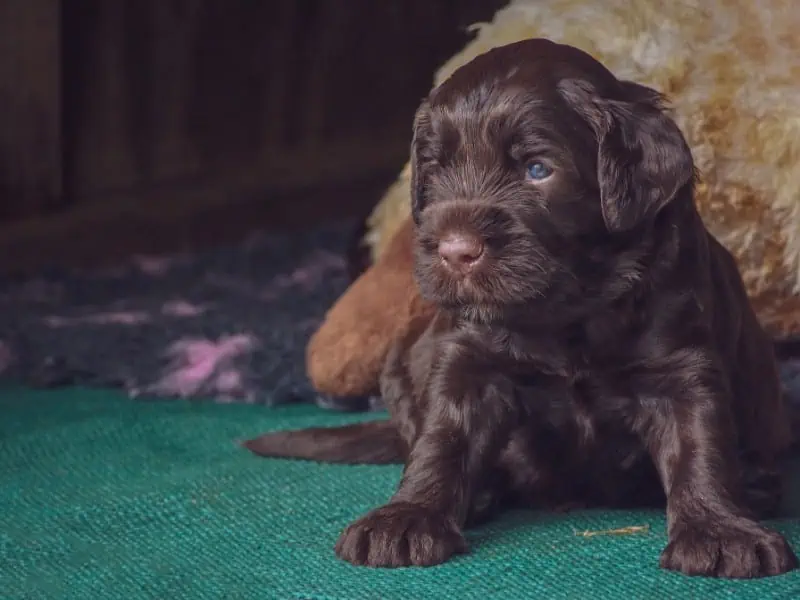 All dogs in Christ's breeding program get tested for eye, heart, and patellar issues, among other genetic health problems. The puppies get socialized, introduced to riding in cars, and introduced to grooming.
Eight-week-old Labradoodles go home with a two-year health guarantee, pedigree records, a sample of dog food, and a scented toy and blanket. The breeder offers flight nanny services for out-of-state owners for an additional fee.
Breeder Details:
5. Juniper Hill Labradoodles
You can find Juniper Hill Labradoodles about 23 miles northeast of Boston. This home-based breeder specializes in raising multi-gen Miniature Australian Labradoodles for families interested in a low-shedding canine companion.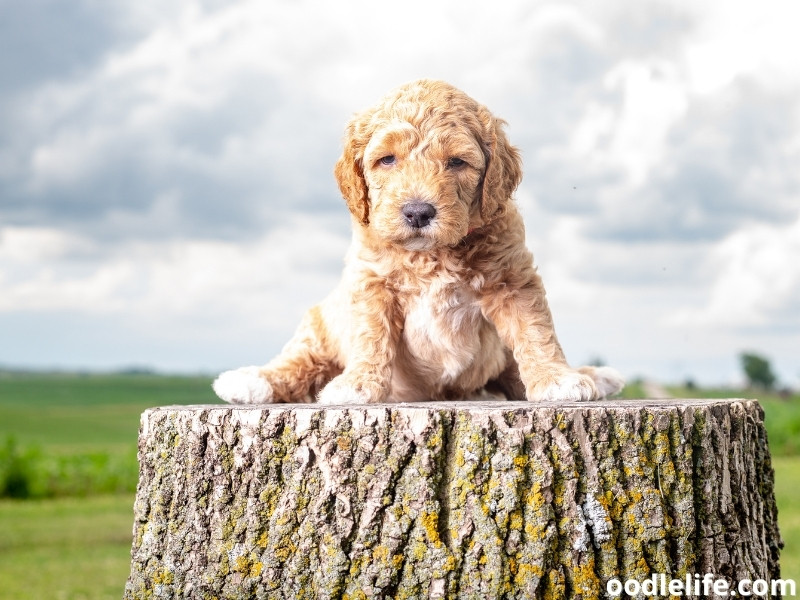 Like most reputable Labradoodle breeders in Massachusetts, they test their dogs for health issues before producing litters. The breeder has eight acres of land the puppies can explore and play on, including a refreshing pond for swimming.
All Labradoodle puppies go home vaccinated, dewormed, and microchipped. New owners will receive a package with a bed, toys, and a small bag of puppy food. Although this breeder doesn't offer shipping services, they can meet you at Boston's airport if you want to fly in to pick up your puppy.
Breeder Details:
6. Draycot Meadows Australian Labradoodles
Jill Leczynski, the owner of Draycot Meadows Australian Labradoodles, raises her multi-gen Australian Labradoodle puppies on 50 acres of farmland north of Boston. She breeds her Labradoodles for temperance and health.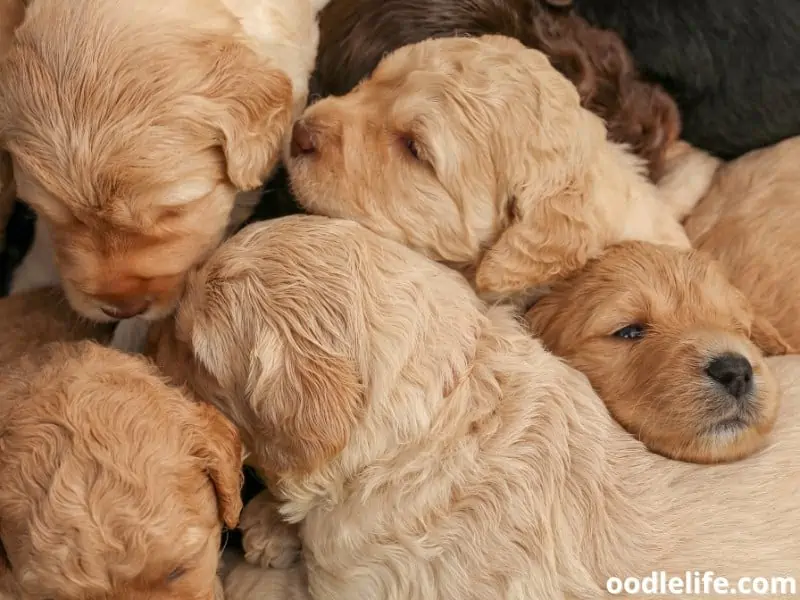 Most of the dogs in Jill's breeding program live in local guardian homes until they're needed to produce litters. The breeder carefully selects each dog based on their health and temperance to ensure they meet ALAA and WALA breed standards. During this period, the puppies get socialized daily and undergo Puppy Culture curriculums.
Eligible applicants will receive weekly litter updates via email and schedule a virtual visit to choose a puppy after six weeks. All puppies undergo a temperament test before going home with their new families and have a three-generation pedigree record. This breeder offers a two-year health guarantee and microchip registration for her puppies.
Breeder Details:
7. Joys Labradoodles
Located about an hour southeast of Worcester, Joys Labradoodles is another excellent breeder option for families interested in this Doodle breed. Like most responsible breeders, Melissa Velasquez raises her puppies in her home and monitors their health and temperament before letting families take them home.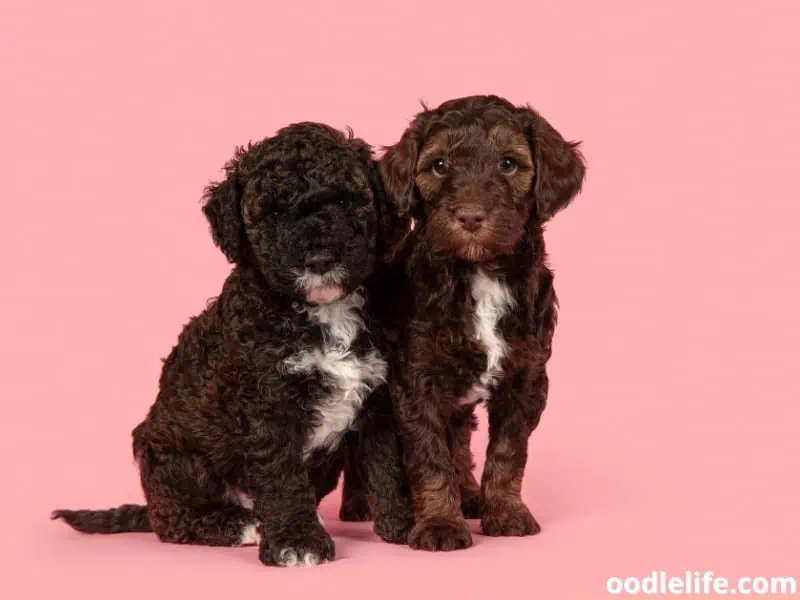 The dogs in Melissa's breeding program undergo thorough genetic health testing and are ALAA-registered. All puppies have a two-year health guarantee and up-to-date shots and deworming once they return to their new homes.
The average wait time for this breeder's reservation list is six months to a year. Melissa will transfer applicants' deposits to the next Labradoodle litter if the litters are smaller than expected. Since she doesn't offer out-of-state shipping, eligible families must visit the breeder to pick up their puppies.
Breeder Details:
8. Atlantic Labradoodles
If you're looking for Labradoodle breeders in Massachusetts with ALAA recognition, look no further than Atlantic Labradoodles. Since 2019, Shirley Brewer has produced Australian Labradoodle litters with excellent health and sound temperaments.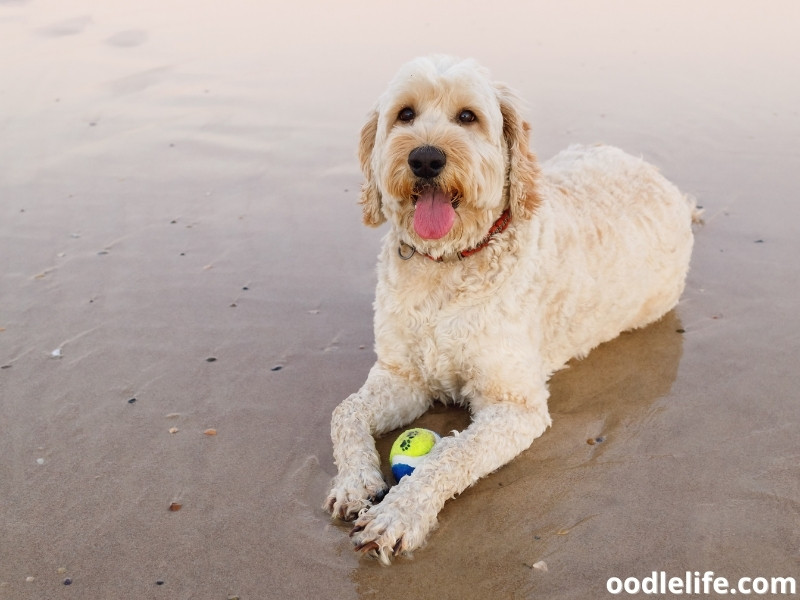 All sires and dams get tested for breed-specific health issues and have ALAA registration. Size-wise, most of Shirley's litters offer Medium Australian Labradoodles and a wide selection of colors. The puppies socialize with children and older dogs and undergo initial crate training.
Eight-week-old Labradoodles go to their new homes with a two-year health guarantee, pedigree records, up-to-date vet records, and a month of free pet insurance.
Breeder Details:
Conclusion
The best Labradoodle breeders in Massachusetts should showcase their breedable dogs' health clearances and testing information, answer any interested applicants' questions, and provide a safe, social, and loving environment to enhance every puppy's development.
If you're ready for a new puppy, consider contacting these breeders to see if they have any litters available or have room on their waitlist.