5 Best Portable Camping Dog Fences (2023) That WORK
If you have an active and adventurous dog, bringing them along on a camping trip is one of the best activities to do together. It's the perfect opportunity to enjoy incredible outdoor adventures, burn off lots of energy, and have a unique bonding experience. Of course, if you bring your dog to an unfamiliar camping area, it's crucial to keep them safe and close by as they roam and explore their new terrain.
Portable camping dog fences are a great way to protect your companion during any outdoor adventure. Whether you're planning a weekend getaway, a long-term RV trip, or just want a safe and spacious place for your dog to run around outside, here are five of the best portable dog fences that really work.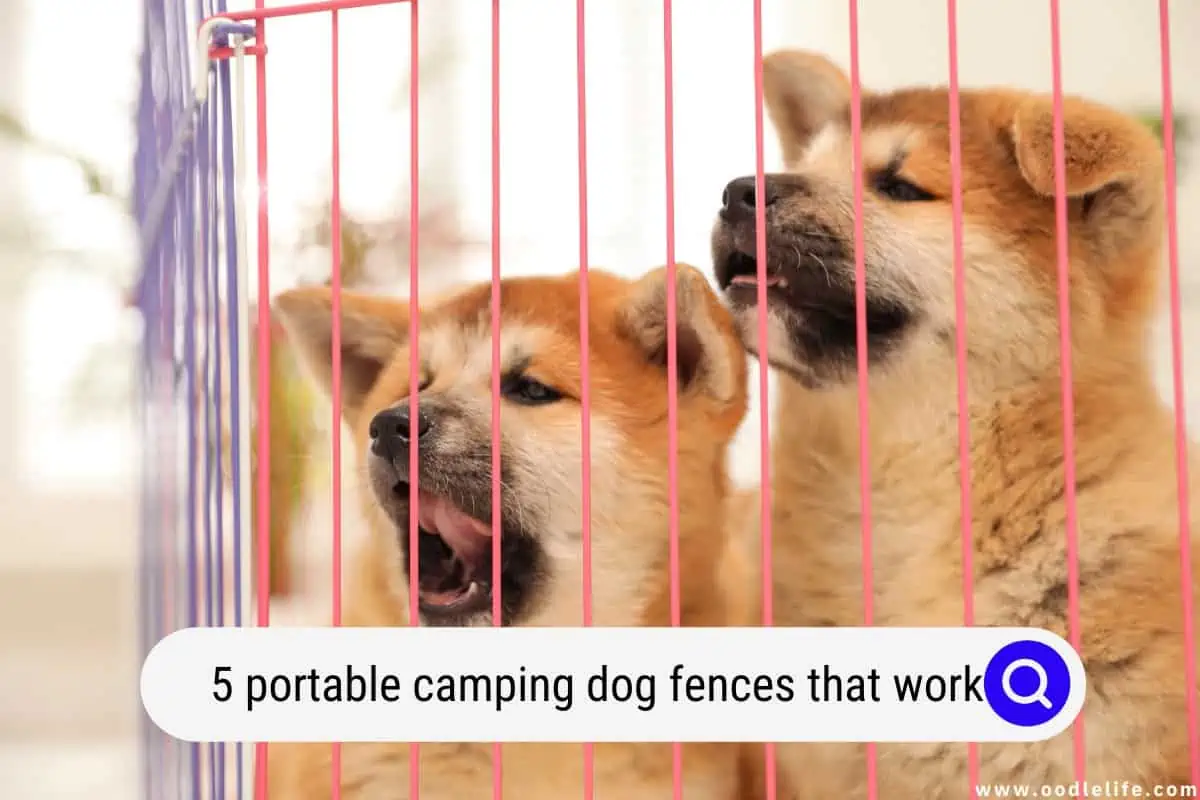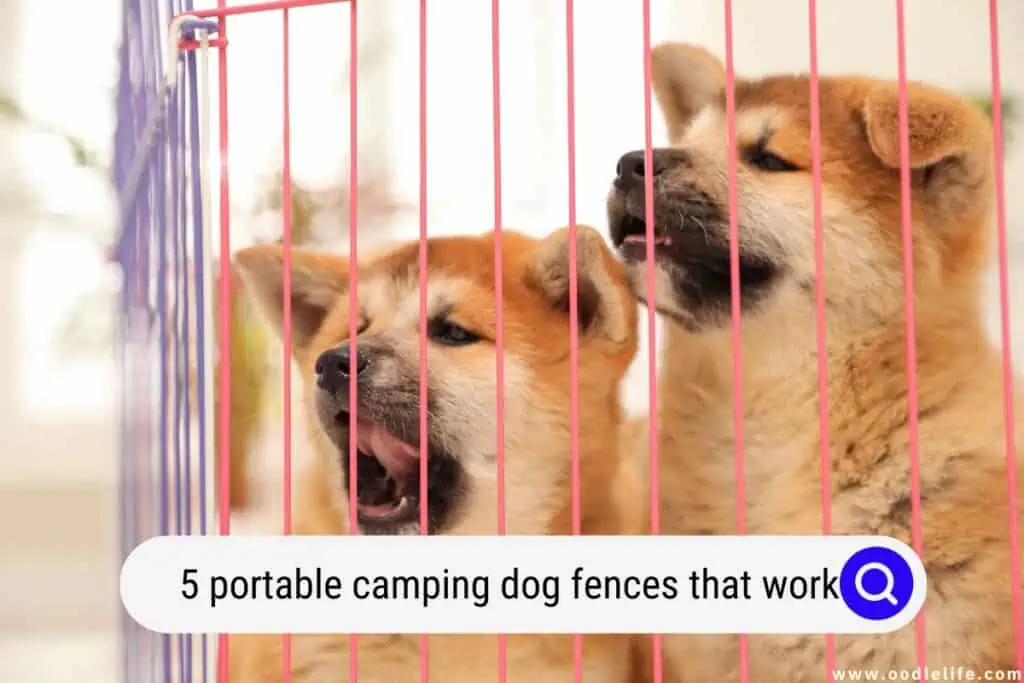 5 Best Portable Camping Dog Fences
Here's your guide to five of the best portable camping dog fences you can buy for your next dog-friendly camping trip.
Paws & Pals Portable Dog Fence Playpen
Paws & Pals is known for their durable, high-quality pet supplies, and this portable wire dog fence is no exception. With impressive versatility, a sturdy design, and an affordable price, this is one of the best camping dog fences you can find on the market.
This playpen comes in three sizes—24", 32", and 40"—so you can easily find the perfect fit for your pet. It also uses an adjustable eight-panel design that allows for several different configurations.
The metal wires come with a rust-resistant coating for heavy-duty long-term use. And with connecting rods that double as anchoring stakes, this is the perfect fence for outdoor use in all weather conditions.
Other key features of this portable playpen include:
Rounded edges for additional animal safety
An easy-to-use build in latched door.
A light, foldable design for extra portability.
Straightforward, tool-free construction.
No matter what size your pet is, this functional and sturdy portable dog fence has something to suit every dog owner's needs.
Yaheetech Dog PlayPen
For any dog owners wanting to ensure their pet has plenty of space to roam, run around, and safely explore in the great outdoors, the Yaheetech Dog PlayPen is a top choice. This premium iron playpen ranges from 4 to 24 panels, so even large, adventurous dogs will have ample space to explore their surroundings.
Yaheetech Dog Playpen, 24 Panels 40 Inch Height x 32 Inch Width Small Animals Pen Heavy Duty Pet Fence for Puppy/Cat/Rabbit Extra Large Foldable Pet Exercise Pen for RV Camping Garden Outdoor Indoor
【Reinforced Details for Sturdy Structure】Well-constructed for excellent sturdiness. Boasting the thicker wire diameter and dense wires to bring the closer wire gaps provides a safe, enclosed area...
【Great for Camping】The foldable and portable design of this puppy playpen allows for hassle-free transfer from your residence to your vehicle, making it a perfect addition for those looking to go...
【No Tools Required】Simply unfold, shape, and connect the dog playpen together, exercise pen can be set up in seconds and folds flat for easy storage or travel.
【Creating Different Shapes】Sold in a set of 24 panels. Each panel of this versatile dog playpen measures 68 cm W × 100 cm H × 1.5 cm Thickness / 27″ W × 39.5″ H × 0.6″ Thickness. By...
【Not Just for Dogs】This dynamic and expandable pet fence is not limited to dogs and is suitable for small or medium-sized animals such as toy poodles, corgis, rabbits, ducks, bunnies, and puppies....
We earn a commission if you make a purchase, at no additional cost to you.
Along with the different panel options, you can choose between a 24″, 32", and 40" tall fence. That range means the playpen can suit the smallest of dogs, such as Chihuahuas, up to large dogs, like Labradors and Shepherds. 
The high-quality design is made from premium reinforced iron that remains sturdy and rigid over time, even when knocked into by active, energetic dogs.
Yaheetech has incorporated additional safety into the design with thick wires, lots of welding spots, durable metal stakes, and no sharp edges. These extra safety measures guarantee a safe and secure place for your dog to play during your camping trip.
While this playpen is large and heavy-duty, it's nevertheless extremely easy to take on your travels. The lightweight panels don't require any tools or complicated assembly, and the carrying configuration makes it simple to transfer to campsites by car or RV.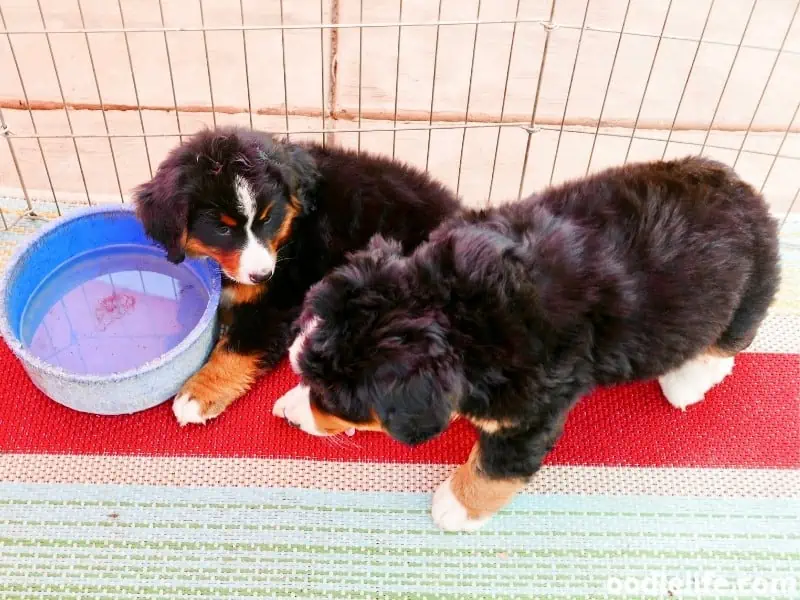 Zampa Dog Portable Playpen
If you're searching for a comfortable and spacious playpen for your active dog, you can't go wrong with this Zampa Portable Playpen. Made from high-quality metal with a soft mesh exterior, this pen from Zampa is designed to keep your dog safe, secure, and comfortable in any outdoor environment.
You can choose between sizes ranging from extra small to extra large, making it easy to find a fit that works perfectly for your camping companion. Zampa has a convenient size guide to make purchasing the right size much easier for dog owners.
Along with the functional design, this portable pen includes several other appealing features, such as:
A water bottle holder.
Exterior side pockets for extra pet supply storage.
Reinforced corners and protected seams.
Four different color options.
All size options come with eight panels, each made from a weather-resistant, easy-to-clean mesh material. There's even a detachable mesh roof for extra security for your pet.
With a soft, lightweight design, this portable camping dog fence is a breeze to take with you wherever you go. It folds completely flat, is easy to carry, and can pop up in seconds with no assembly when you arrive at your camping destination.
Every purchase includes a carrying case and four sturdy spikes for outdoor use.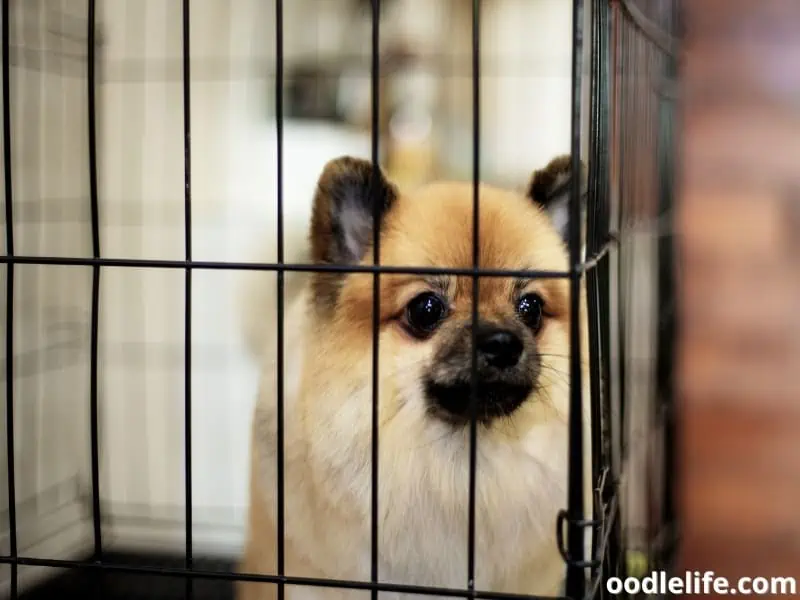 North States Mypet Petyard Passage With Lockable Pet Door
While metal camping dog fences are generally the most durable options, plastic portable camping dog fences offer a lightweight, sturdy, and affordable alternative. With a durable and strong plastic build, the North States Mypet Petyard Passage enclosure is an excellent option for any camping trip.
North States MyPet 34.4 Sq. Ft. Petyard Passage: Made in USA, 8-panel pet enclosure with lockable pet door. Freestanding. (26" Tall, Brown)
WORRY-FREE SAFETY: Keep your pet contained and home safe with the MyPet 8-Panel Petyard Passage. This enclosure features a lockable door made of strong, durable plastic and comes in an attractive...
AMAZING VALUE & CONVENIENT LOCKING PET DOOR: This enclosure features a small swinging door, IDEAL to allow pets enter in and out of the area, but also locks to securely contain your furry friends.
CONFIGURABLE FOR ANY SPACE: The 8-panel play yard is 26" Tall and encloses up to 34. 4 square feet of space. It can be made smaller by removing 2 panels at a time to create a smaller play area or a...
SAFE FOR YOUR FLOORS: Thanks to the durable skid-resistant pads, This play yard will stay put and won't scratch or damage flooring.
EASILY PORTABLE: With foldable panels and convenient carry strap, this lightweight yard is easy to move, perfect for travel, and can be used both indoors and outdoors. Proudly made in the USA.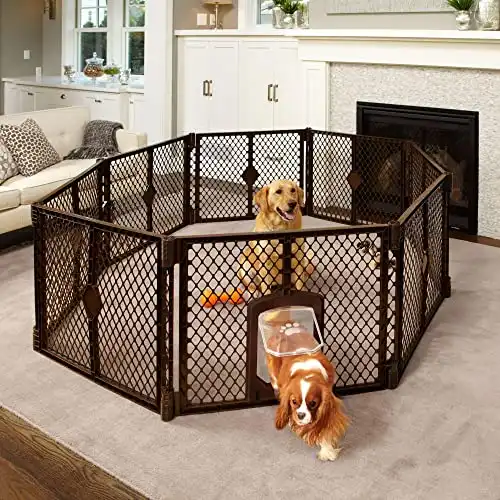 We earn a commission if you make a purchase, at no additional cost to you.
The brown plastic finish is weather-resistant and easy to clean with only soap and water, making it ideal for outdoor or indoor use. The 8-panel enclosure can be adjusted to any size or configuration, and the 26" tall fence creates a safe, contained play area for most small to medium dogs.
The Petyard Passage comes with a swinging dog door that allows your pet the freedom to explore in safe environments. Mypet has door locks to keep your pet safely contained, which can be invaluable when camping or traveling in an unfamiliar area. The skid-resistant pads also keep it securely locked in place in any environment.
Preconnected, interlocking panels add even more convenience and functionality to this design. The Passage can be assembled easily in minutes, and the lightweight fence easily folds down for simple transportation. And when you purchase this portable dog fence, you'll receive a carrying strap.
This durable plastic fence is safe, secure, and exceedingly versatile. If you're looking for a fence that can easily be used both indoors and outdoors in any environment, the Petyard passage might be the right choice for you.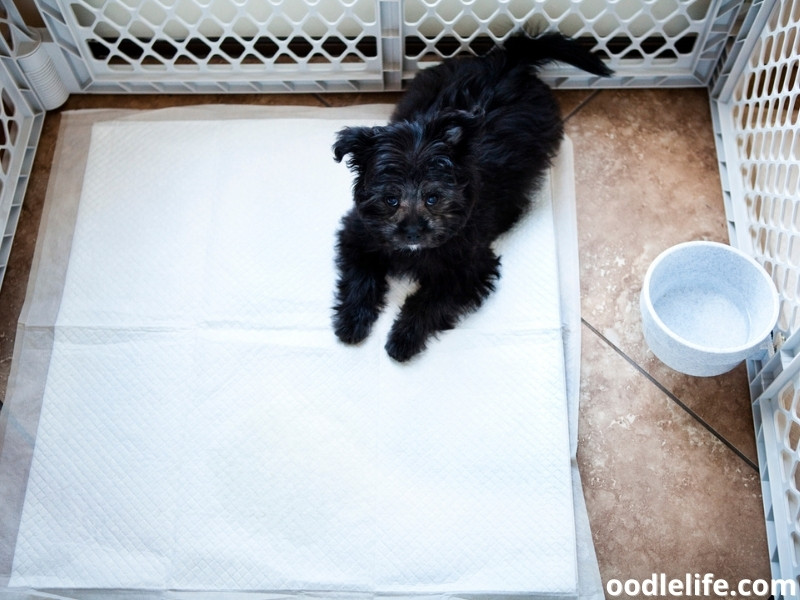 Amazon Basics Foldable Metal Dog and Pet Exercise Playpen
For a reliable, budget-friendly portable camping dog fence, consider this metal exercise playpen from Amazon Basics.
This simple but durable foldable pen features strong, rust-proof iron bars that can withstand forces from even the most active dog. In addition, it's sturdy enough to withstand inclement weather.
The Amazon Basics playpen offers an impressive variety of options that suit any dog's needs. You can choose from sizes ranging from the extra small 24" tall fence to the large 48" tall fence option. Moreover, you can select styles with and without a secure door with two side-bolt latches.
I'm a big fan of the simplicity of this design, as it makes the playpen exceptionally convenient and easy to set up at any camping site. The playpen includes eight side panels that unfold and connect with no tools necessary. It also folds completely flat for compact storage and portability.
This purchase includes eight sturdy ground anchors for additional security and rigidity during outdoor use.
It has to be noted this pen lacks many of the features of its more luxurious alternatives. But with a simple and dependable design, spacious and versatile size options, and budget-friendly pricing, this is a fantastic way to protect your dog as they play and run outdoors at any campsite.
Final Thoughts
It's no secret that dog owners want to provide the best for their furry companions. With any of these portable camping dog fences, you can create unforgettable camping experiences with your dog by your side, all while keeping them safe, happy, and secure.
Be sure to check out some of the crucial features before making your purchase, such as size, durability, portability, and material. Once you find the dog fence that suits all of your needs, you're ready to plan the perfect dog-friendly camping trip and create lasting memories.