3 Best Dog Playpens WITH Floors (2023)
Dog playpens are the perfect solution for owners looking for something safe to place their dogs in if they're too busy to watch them or don't want them to wander the house when they leave to run errands.
Many are large enough to provide space for puppies to have fun or nap, but some models are suitable for older dogs or larger breeds.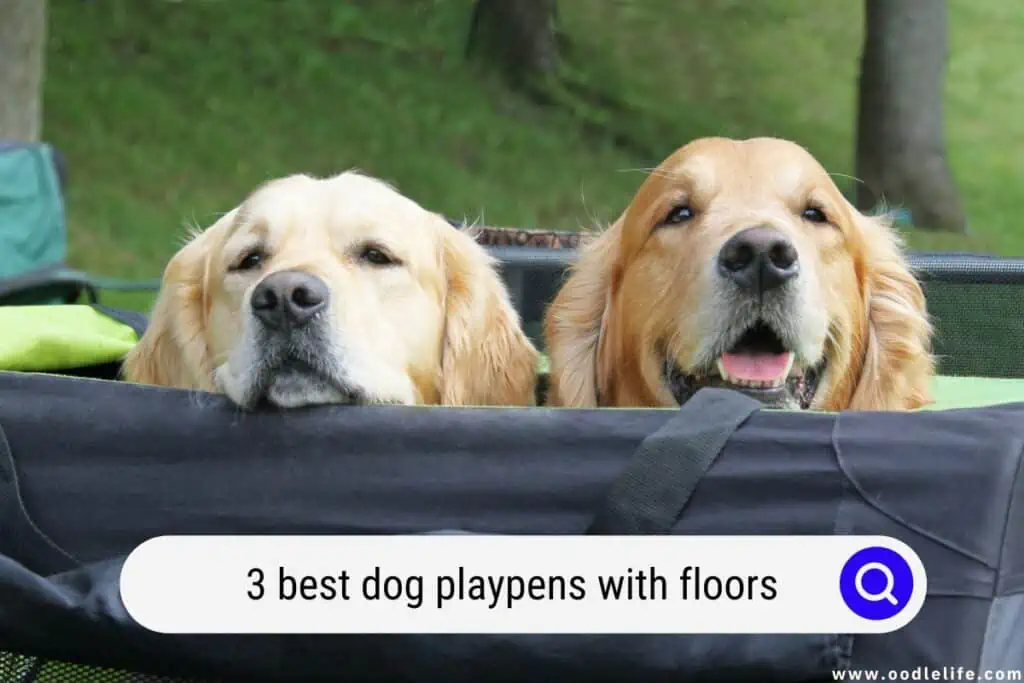 Check out my list of the top three options for the best dog playpen with a floor if you need help finding a model you can use for indoor and outdoor fun.
Best Overall – DONORO Dog Playpen
First up on this list is the best overall pick for the best dog playpen with a floor, the DONORO Dog Playpen. This octagonal pen has two zippable doorways and a polyester mesh wall and roof, providing excellent ventilation for your dog when placed indoors or outdoors. The mesh keeps most bugs from entering the pen.
DONORO Dog Playpen 46" Portable Pet Play Pens for Small Medium Dogs, Cat Playpen Indoor/Outdoor with Carring Case, Removable Zipper Top and Bottom
Portable dog playpen with carrying case is ideal for indoor and outdoor use. Sets up in seconds and requires no assembly, folds flat when not in use for easy carrying and storing.
Dimensions: Playpen Size: 46"(Diameter) x 23" (Height); Panel Size: 17-1/4" W x 23" H; Door Size: 13" W x 17" H; Mesh Cover Diameter: 34-1/2". Roomy 8-Panel design dog play pen with removable...
Cat playpen with protected seams and reinforced corners ensure your pet's safety. Made from durable quality & water-resistant materials makes it a great playpen for small and meduim dogs.
Two doors with locking zippers for safety and security: removed for indoor use & closed for outdoor use. There are also two accessory pockets, a water bottle pocket and holder on the rabbit/chicken...
Lightweight but strong, makes this portable pet playpen ideal for traveling, camping, suitable for cats, rabbits, kitten, bunny and so on.
We earn a commission if you make a purchase, at no additional cost to you.
This playpen's 600D Oxford fabric flooring is water-resistant and removable, making it easier to clean dirt stains and spills than pens with non-removable bottoms.
This dog playpen doesn't require tools to assemble and folds flat when transported from place to place or stored. It's available in four sizes: small, medium, large, and extra-large, making it an ideal dog playpen for most breeds.
Although this dog playpen with a floor comes in several sizes, it can run smaller than advertised. Consider measuring your dog's height before ordering this model to ensure it can fit through the doorway.
The top zipper might have trouble staying in place after extended use, making it more likely for a dog to escape if they push the mesh hard enough.
Pros:
Available in several sizes.
Made with sturdy 600D Oxford material.
Removable and washable bottom.
Doesn't require tool assembly.
Breathable mesh walls, doors, and roof.
Cons:
Sizing can be off.
Faulty top zipper.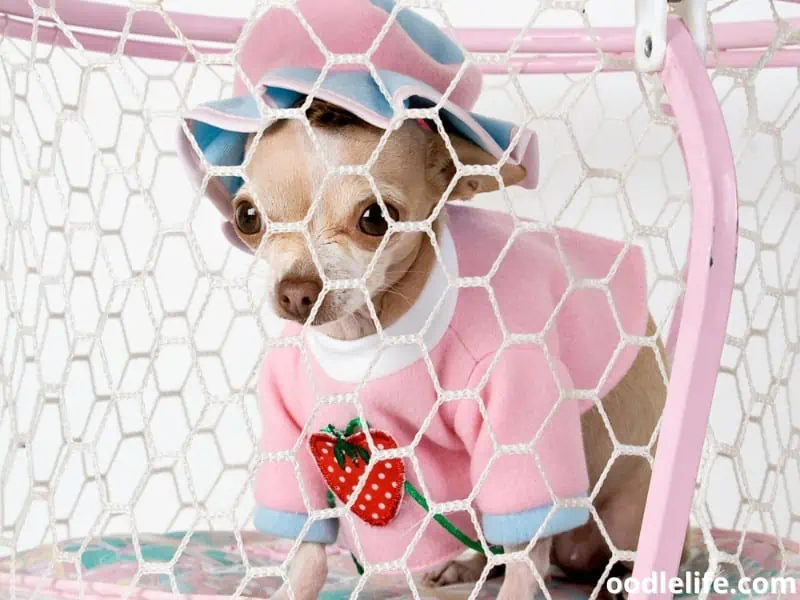 Best Budget Pick – Blumoo Portable Pet Playpen
Finding an affordable dog playpen with a floor can be challenging if you have a limited pet budget. Thankfully, the Blumoo Portable Pet Playpen provides a safe spot for your dog to play without being too expensive for wary owners.
Portable Pet Playpen, Foldable Dog Playpens, Indoor/Outdoor Pet Exercise Kennel Tent Mesh Shade Cover Travel Dog Play Tent for Puppies/Dogs/Cats/Rabbits (S: 28"*28"*18", Brown)
Lightweight and durable: Made from Durable quality materials, our pet playpen is very lightweight but built to last makes this ideal for traveling, camping, and easy mobility.
Spacious & Comfort: Perfect size for most pets. S: 28"*28"*18", M:35"*35"*24".This dog playpen keeps your pet stay in this pet playpen secure, spacious interior to take more fun for your pet.
Safe and secure: The Top-quality zippers ensure that your pets will be safe and secure! The bottom and top mesh panels are all zippers, better than Velcro ones, to prevent your dog escape. Open mesh...
Easy to Use: Pops up in seconds with no need for any assembly, folds flat when not in use for very easy carrying and storing.
Indoor and outdoor use: This portable, versatile, pet playpen makes it easy to take your pet with you, wherever you go. Allows for your small lovely pet to go in and out of the tent comfortably with...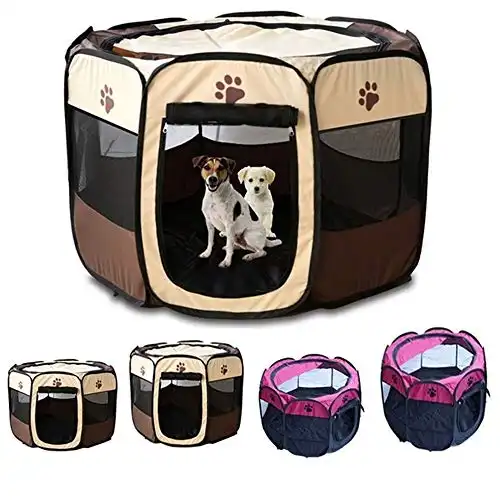 We earn a commission if you make a purchase, at no additional cost to you.
Like many dog playpens, it's made with quality mesh and 600D Oxford fabric to ensure durability. This model's sizing options are ideal for small and medium-sized dog breeds. The Blumoo is available in four colors: brown, blue, gray, and rose. Each size option offers plenty of interior space for a dog to play or nap when you're busy doing a few errands.
Although this small and medium-sized playpen is ideal for breeds like Pomeranians and Bulldogs, it doesn't offer size options for large breeds like Mastiffs and Great Danes.
Despite being easy to assemble, the playpen's frame might make it collapse if your dog puts enough force on its sides.
The washable Oxford floor isn't waterproof and might leak from the bottom if you don't place absorbent potty pads under it. The playpen isn't chew-proof against heavy chewers, so you'll need to keep an eye on it when your dog acts rambunctious, especially when placed outdoors.
Pros:
Ideal for small and medium-sized breeds.
Spacious interior.
Affordable.
Excellent color options.
Easy to assemble.
Cons:
Not ideal for fully-grown large and extra-large breeds.
The pen's frame is prone to collapsing.
The floor isn't waterproof.
It isn't chew-proof.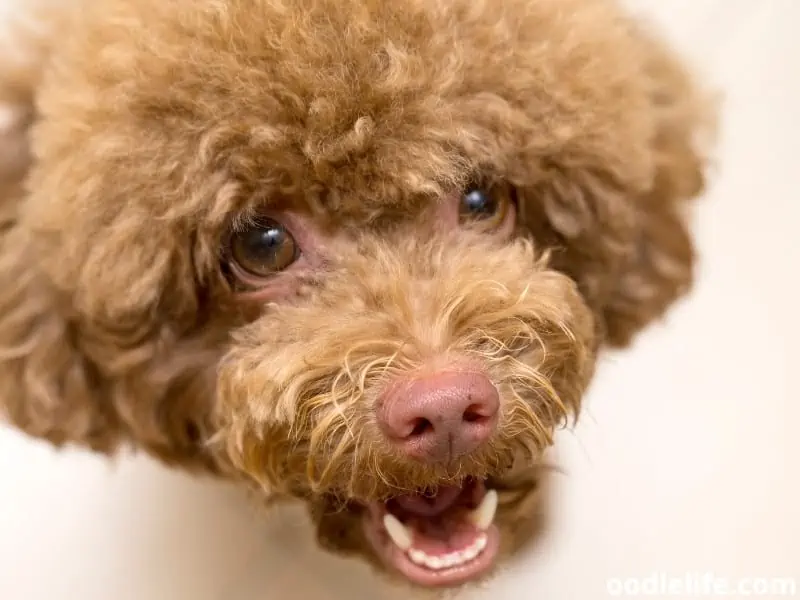 Best Option with Sturdy Support – TASDISE Portable Pet Playpen
One issue many dog owners have when choosing the perfect playpen for their canine companions is the quality of its structure. Owners who need to leave their dogs in a playpen for an extended period need something that keeps itself rigid without sacrificing comfortable space.
The TASDISE Portable Pet Playpen offers plenty of structural support through eight sturdy metal rods. Although it requires more time to construct than standard playpens, it's worth it if you're looking for a model less likely to collapse on itself.
The TASDISE has a spacious side pocket perfect for storing your dog's toys. Its exterior is made with waterproof fabric, so you don't have to worry about a light drizzle damaging it when placed outside. You can maintain its quality by washing it by hand using cold water and letting it air dry instead of wringing it out or putting it in a tumble dryer.
Size-wise, it's available in small, medium, and large. It comes in green or purple, so it might be ideal for dog owners looking for something colorful to place their furry friends. Like many portable playpens, it offers a 360-degree view through mesh walls.
Despite the TASDISE's enhanced structural support, it has its share of faults, as much as any other dog playpen. Its zipper seam can become faulty over time, so you should consider zipping it carefully to ensure it doesn't loosen. The mesh fabric might be too thin and tearable for owners with dogs who love to chew.
Pros:
Sturdy rods hold it in place.
Spacious side pocket for toys and treats.
Available in small, medium, and large.
Waterproof exterior.
Hand-washable with cold water.
Cons:
Subpar zipper seam.
Thin, tearable mesh.
Not safe for tumble drying.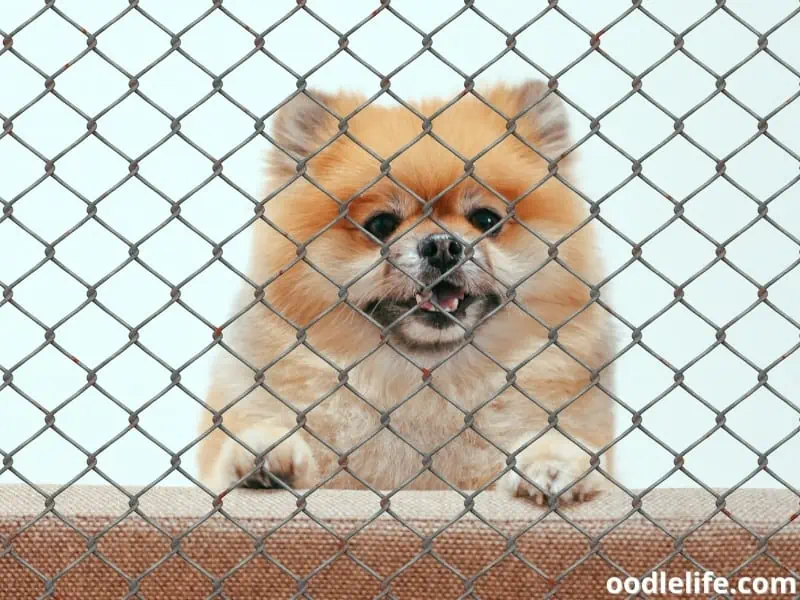 Factors To Consider When Picking the Best Dog Playpen With a Floor
You'll need to consider several components before choosing the best dog playpen with a floor. Your preferences might differ from other owners based on what they think works best for their dogs, so it's essential to know what you want. Here are a few factors you should watch out for when finding the model that meets your needs.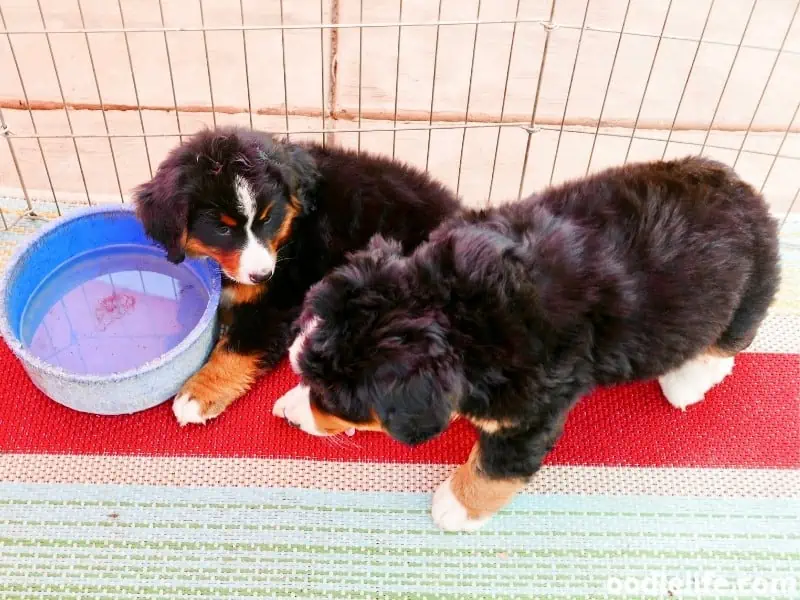 Size
One of the main factors you should consider before buying a dog playpen is its size. Some models might offer more sizes for larger breeds, while others only offer limited options for smaller breeds.
If you own more than one dog, consider sizing up so it can fit both of them. Wider playpens offer more space for your dog to play and are essential if you want to use them as an extra enclosure to rest. Consider measuring your dog before narrowing down your top options.
If you buy a dog playpen when your dog is a puppy, you'll need to find a model that accommodates the puppy's size when they become a full-grown adult without spending extra for replacement enclosures.
Material
A dog playpen's materials can impact any dog owner's decision while narrowing down their top options. Some common materials used for dog playpens with floors include Oxford fabric, mesh fabric, and corrosion-resistant metal alloys, like stainless steel. They shouldn't contain toxic materials like lead.
Durability
If you want your dog's playpen to last a long time, you'll need to consider its durability properties. Metal wire playpens are typically more durable than their mesh and cloth counterparts and won't tear if your dog loves biting through fabric surfaces.
Many lightweight dog playpens have water-resistant properties on their exterior or flooring, making them ideal for accidental spills.
Assembly and Portability
The best dog playpen with a floor should be easy to assemble and transport. Several playpen models let you set them up without tools. Other models might need extra reinforcement from poles to hold them up or stakes to place into the ground. Portable pens can flatten for easier storage, but some models might be harder to disassemble because of their size.
Wire dog playpens are heavier than mesh pens, making them harder to move from place to place. They also take longer to assemble.
Many playpens come with a removable floor, while others are built-in and unremovable, unlike their mesh tops.
Maintenance
Messes are inevitable when raising a dog, so you should consider looking for a playpen that's easy to clean. You can clean most playpen floors with warm water and a rag before letting them dry in the open air.
Ventilation
A playpen's ventilation properties are essential for keeping your dog cool and avoiding heat stroke during the summer. Consider looking for a model incorporating mesh walls and doorways to ensure excellent airflow.
Additional Features
Several dog playpen models offer extra incentives that dog owners might find valuable. An ideal dog playpen includes exterior storage pouches for treats, toys, and a water bottle, a removable mesh roof with partial shade ideal for outdoor use, and multiple doorways to help older dogs enter and exit the pen more easily.
Final Thoughts
The best dog playpen with a floor should be durable, easy to assemble and store, spacious enough to accommodate your dog's size, and easy to transport. Finding the best model can be time-consuming, so we hope this guide can help you narrow down your options and look for the best features that suit your dog's needs.
If your dog is a bit of a troublemaker, consider monitoring them whenever you can to prevent them from biting through the playpen or toppling it over.