5 Best Potty Training Spray for Dogs (Effective 2023) 
Potty training dogs may be one of the most challenging things you will do as an owner. It takes lots of time, patience, and consistency in routine.
Although it's not a complete fix, a potty training spray can help to eliminate a great deal of stress that comes with this process. In addition, these sprays can help mitigate odor if accidents happen.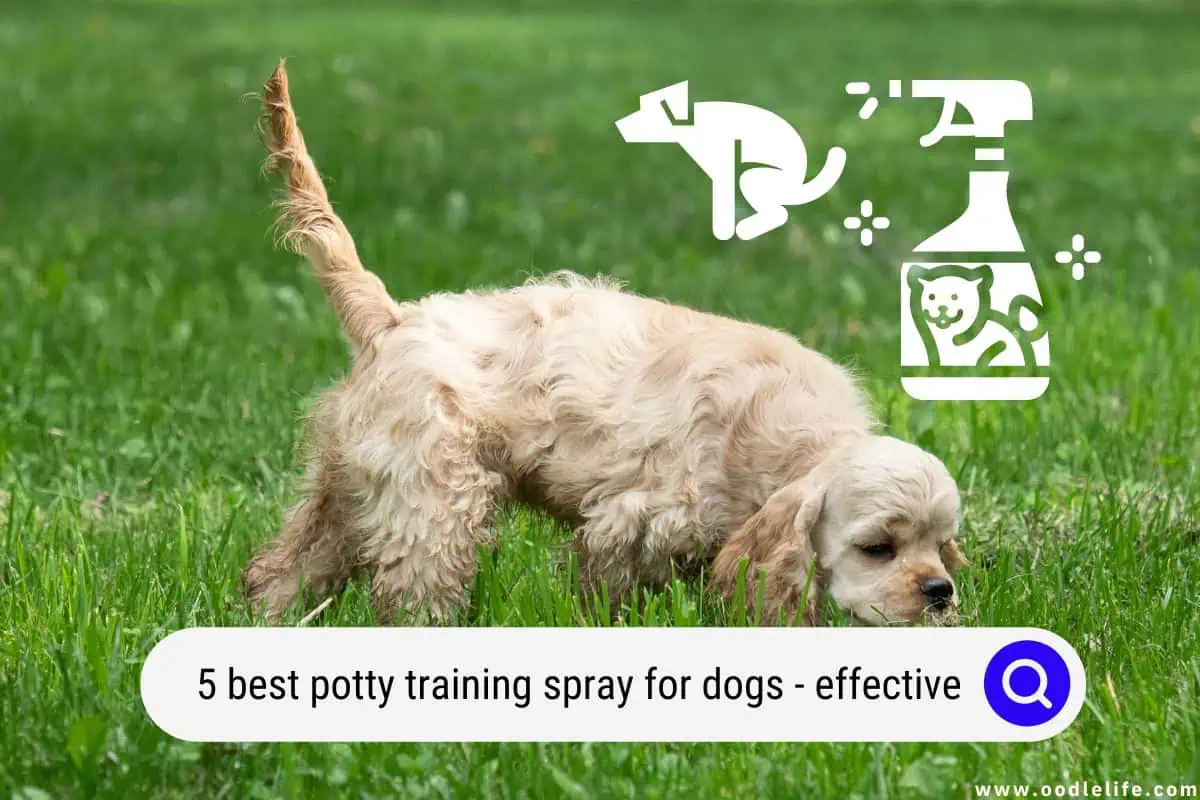 Let's look at the five best potty training sprays for dogs in 2023.
1. Nature's Miracle Housebreaking Potty Training Spray
This unique potty training spray contains pheromones that help direct your dog to the right place to go to the bathroom. It's long-lasting, robust, and can be used outside and indoors.
Nature's Miracle Housebreaking Potty Training Spray 8oz (P5765)
REDUCES HOUSEBREAKING TIME: Attractant pheromone scent with a quick-results formula.
TRAINS DOGS TO KNOW WHERE TO GO: Encourages dogs to go where you want them to relieve themselves
FOR INDOOR AND OUTDOOR USE: Can be used to train inside and outside – simply spray where you want your dog to "go."
LONG-LASTING: Concentrated formula provides long-lasting results that aid in reducing housebreaking time. TRUSTED BRAND: From the maker of Nature's Miracle products, the pet stain and odor removing...
TRUSTED BRAND: From the maker of Nature's Miracle products, the pet stain and odor removing brand you trust… because it works
We earn a commission if you make a purchase, at no additional cost to you.
It comes in a 16oz or an 8oz bottle that is small enough to take with you. It's important to note this spray smells very potent. You shouldn't use this spray in an area where you don't want your dog to go.
Keep this spray away from children, and don't spray it directly on your dog.
Pros:
Long-lasting.
Concentrated.
Contains pheromones.
Promotes good bathroom habits.
Cons: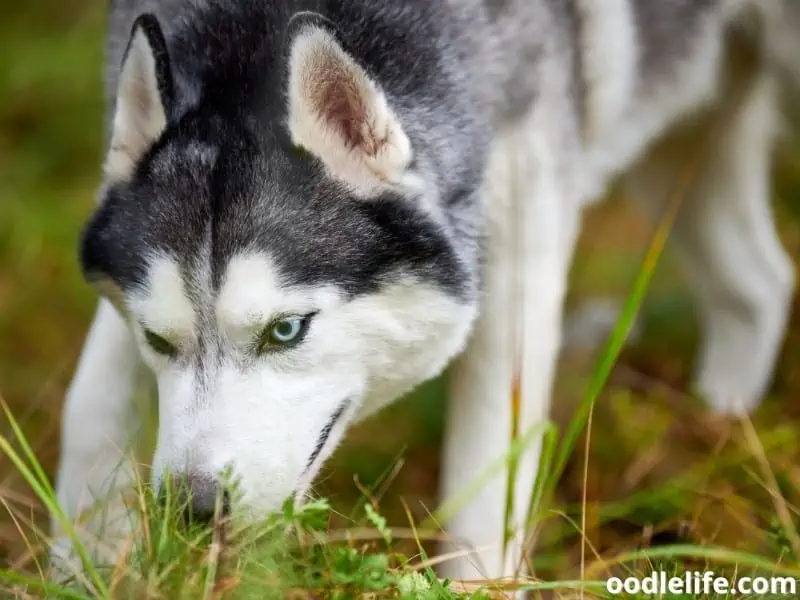 2. Simple Solution Puppy Potty Training Aid
This unique potty training spray was designed with a rewards training system in mind. It assists in decreasing the time it takes to potty train and promotes consistency.
Simple Solution Puppy Aid Training Spray, 16 oz
Scientifically formulated to encourage puppies to urinate in a specific area
Safe for use around pets and children when used as directed
Reduces housetraining time when used as directed
For indoor or outdoor use
16 fl. oz. Trigger Spray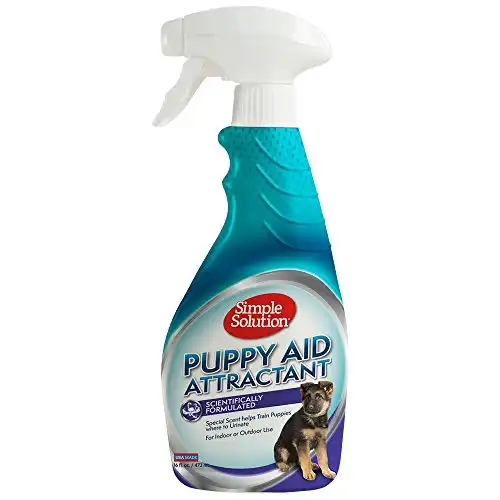 We earn a commission if you make a purchase, at no additional cost to you.
It can be used inside and outside and doesn't contain an overwhelming smell. It's safe to use around kids and the entire family but keep it away from your eyes and mucous membranes.
Although it doesn't contain a strong scent, it is still very effective. It's powerful to a dog's senses and works to encourage discipline and positive habits.
Pros:
It can be used outside and inside.
Promotes housetraining.
Cons:
Some complaints of poor packaging.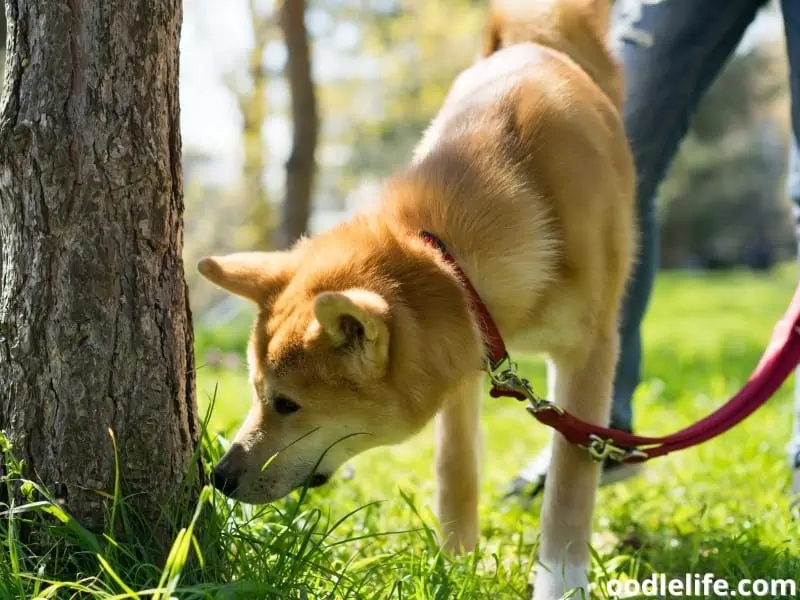 3. Petsafe Skip To My Loo House Dog Training Attractant
The Skip To My Loo House Training Scent stands out from other dog potty training formulas. Its odor mimics urine, prompting your dog to go wherever you have sprayed it.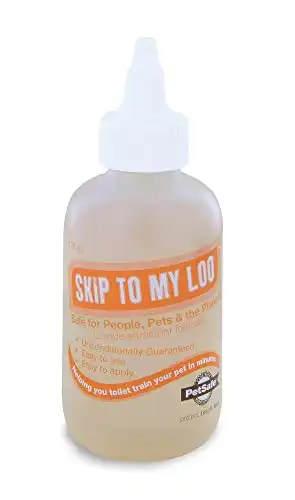 We earn a commission if you make a purchase, at no additional cost to you.
The formula is good for the environment, and the applicator is very simple to use. This spray can be used on adult dogs, puppies, and dogs prone to allergies. It's also made in the U.S. and can be sprayed on pee turf or in the yard.
Pros:
The simple applicator is easy to use.
Can be used on dogs of all ages.
Eco friendly.
Cons:
It may not be effective for every dog.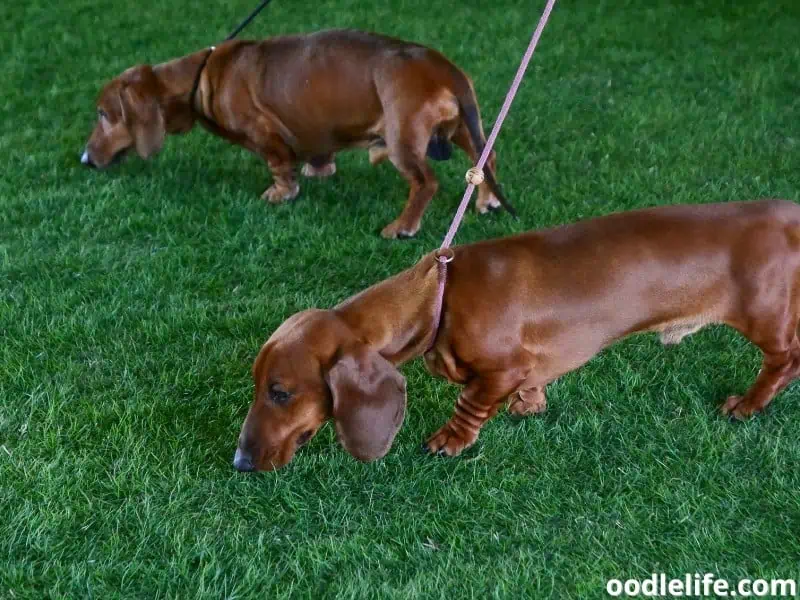 4. Wee-Wee Housebreaking Aid Pump Spray
The potty training spray is designed with a clinical formula that engages your dog and prompts them to use the restroom in the right places.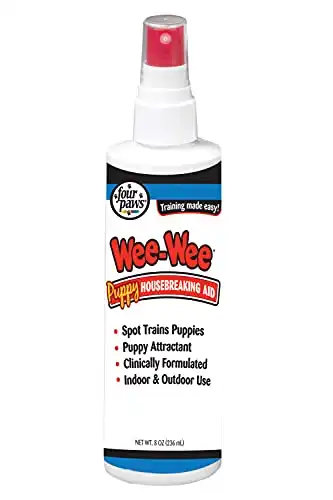 We earn a commission if you make a purchase, at no additional cost to you.
It's rewards-based and is very easy to use. Allow your dog to sniff it after spraying on a potty training pad, and wait. The potent odor & stain eliminator helps to remove odors caused by feces, grass, urine, and even blood.
You can also use the stain and odor spray on various surfaces. But, again, it's best to perform a spot test before use.
Pros:
Fixes odors and assists with housetraining.
Affordable.
Cons:
Some pet owners may find the smell too strong.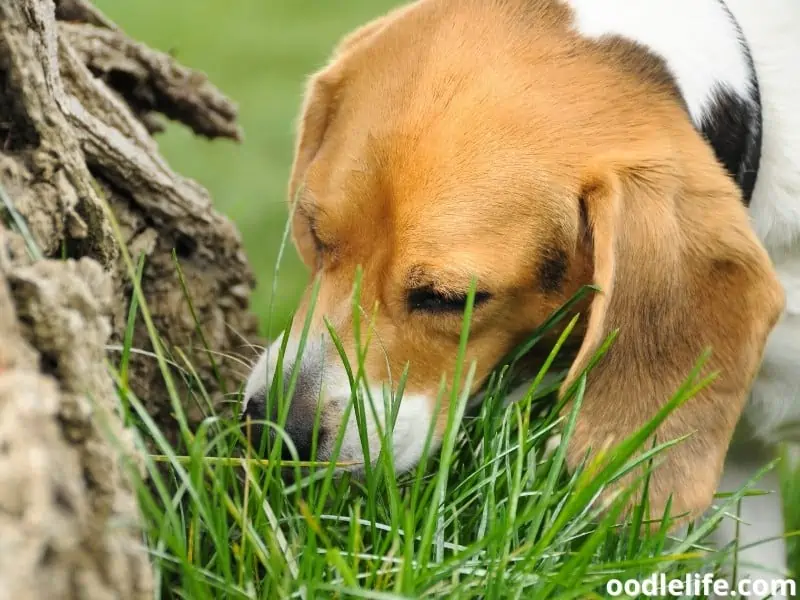 5. American Kennel Club Naturals Don't Go There! Lemongrass Scented Dog Training Spray
The ingredients are all-natural, which means it's free from the following:
Sulfates
Parabens
Phthalates

We earn a commission if you make a purchase, at no additional cost to you.
It also contains zero dyes. The refreshing lemongrass smell is natural and made from organic dog-safe oils.
This spray helps to prevent recurrent accidents around the home. However, it doesn't specifically prompt your dog where to go. Overall, it discourages your dog from urinating, but other housetraining methods may be needed in conjunction with this spray.
Pros:
Made from natural ingredients.
Discourages your dog from making recurrent accidents
Pleasant lemongrass scent.
Cons:
It may not be effective on all dogs.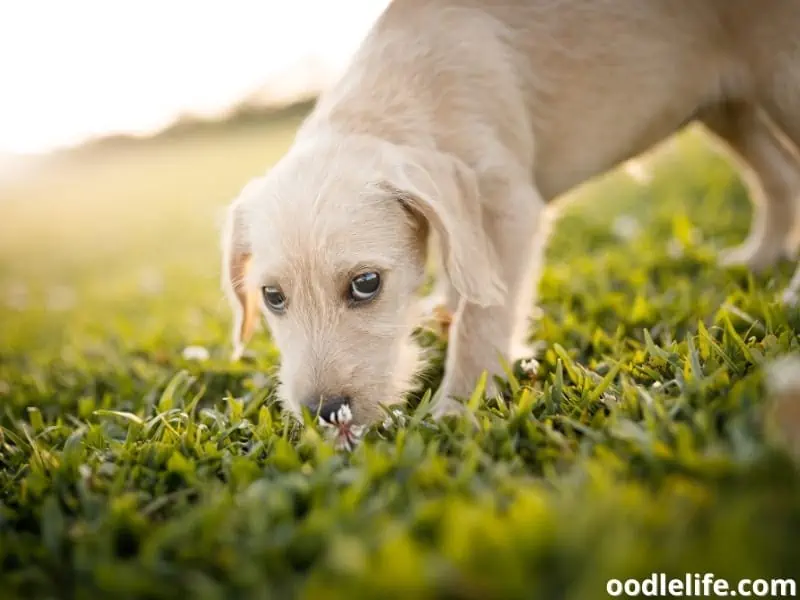 Tips on Properly Potty Training Your Dog
It's essential you potty train your dog the right way. If not, you run the risk of having ruined floors, furniture, and other areas around your home. Potty training takes work and lots of consistency. It's critical you remain firm but also patient throughout the process.
Mistakes will be made along the way, but eventually, your dog will get the hang of it. Here are some tips to make the process smoother:
1. Create and Establish a Routine
Establishing a routine is the most crucial step in house training your dog. Remaining constant in what you're teaching them is even more critical.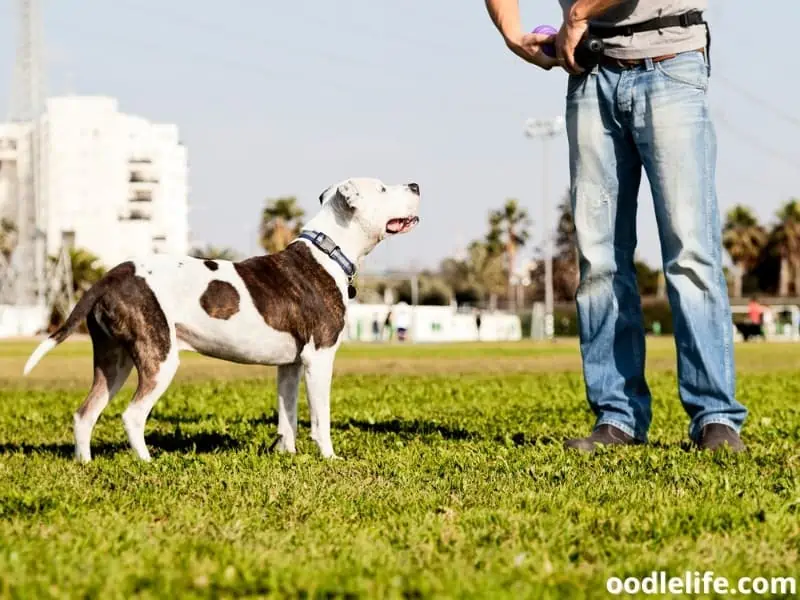 Make sure you take them out regularly. It's recommended to do so at least every two hours. It would help if you also took them outside when they wake up, after they drink or eat, and before they go to sleep at night.
Choose a designated area outside. It also helps to have a code word or a phrase you can train them to listen to. You can reward them after they go to the correct location.
It's essential to practice positive reinforcement during training. Give your dog a treat or some reward each time they go to the right spot. This step is significant as this helps to drive home how important it is for them to go outside.
Ensure you enforce a steady eating schedule. If your dog is on a consistent eating schedule, it's much easier to calculate when they must go to the bathroom. This schedule will make the housetraining process easier for everyone involved.
Decrease the likelihood of them having to go. You can do this by putting their water dish away a few hours before bedtime. Doing this will help to reduce the chances of your dog having to pee during the night. If they need to go in the middle of the night, make it as simple as possible. Don't get too excited or move too fast because they will think you want to play. Walk them outside, let them go, and bring them back inside.
2. Accept There Will Be Mistakes
Your dog will accidentally go in areas they shouldn't throughout the training process. Therefore, you must remain calm and do your best to move forward when mistakes happen.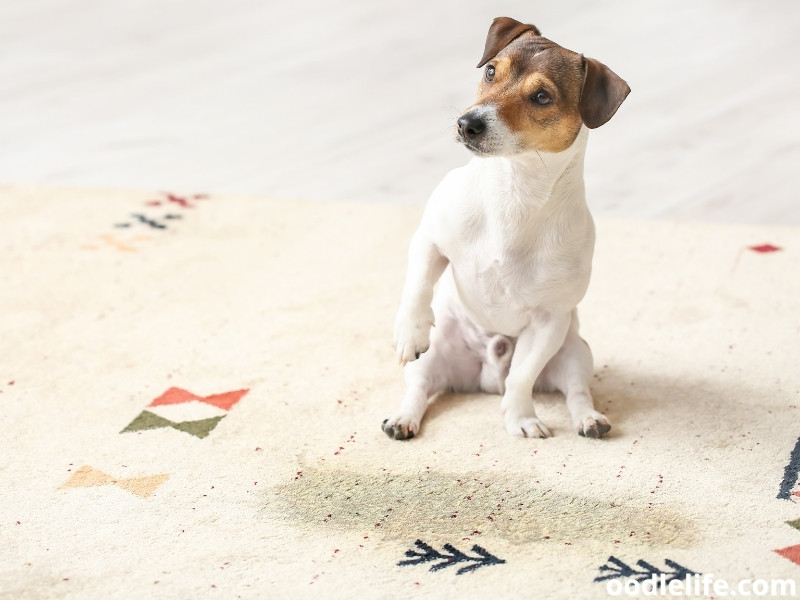 If your dog has an accident, take them to the initial designated spot and see if they finish there. If so, give them a snack as a reward and thank them for doing a great job.
Punishment will only make things worse as it encourages fear in your dog. Anxiety can be crippling and cause them to do the same things except in a more secretive manner.
You must remain firm and stick to proper but healthy discipline. You mustn't go overboard and don't use anger or force to train them.
If a mistake happens, ensure you thoroughly clean the area. If there's any remaining odor, it will encourage your pet to make repeat accidents in that area. You can also use dog-safe scent deterrents.
3. Exercise Supervision
It's essential that you properly supervise your pup as they learn. It may seem daunting, but it will pay off in the end.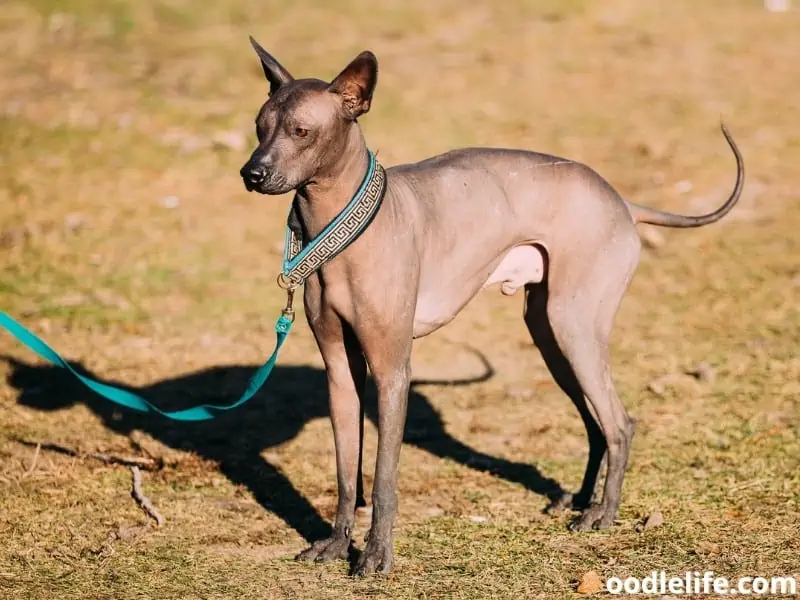 Place them on a leash (at least 6 ft long) and place the leash close by on a solid piece of furniture. Keep a watchful eye for cues that they need to go outside. Some signs and signals your puppy needs to go out include scratching the door, restlessness, circling, sniffing, and squatting.
As soon as you notice these signs, take them out immediately. Be sure to reward them once they are finished.
Once you have more confidence, keep them on a leash outside the yard. This method will give them more freedom and teach them how to go outside and inside correctly.
Proper supervision helps to strengthen discipline in your dog while they learn. It also helps to decrease the number of accidents. If you allow your puppy or dog to go inside the house, it will only cause them to become confused. This confusion will only lengthen the entire process.
Final Thoughts: Best Potty Training Spray for Dogs
Potty training your dog isn't a temporary feat. It's something your dog will work on throughout their lives.
House and potty training spray can strengthen the foundation of their learning experience. In addition, it helps to simplify the process while allowing your dog to grasp the concept.
Even though they will make mistakes and have accidents, these sprays can help to alleviate and reduce the time this process would otherwise take. Many of these sprays also help to prevent odor.