7 Best No Marking Sprays for Dogs (2023)
Dogs are such lovable, wonderful companions. From the way they happily greet you at the door at the end of a hard day to the playful way they run around catching toys, dogs are a joy.
What is often not a joy, however, is marking. As great as your dog may be, it is common for dogs to mark areas with urine, leaving the areas they mark filthy and smelly. While this is often an exasperating problem, there is help!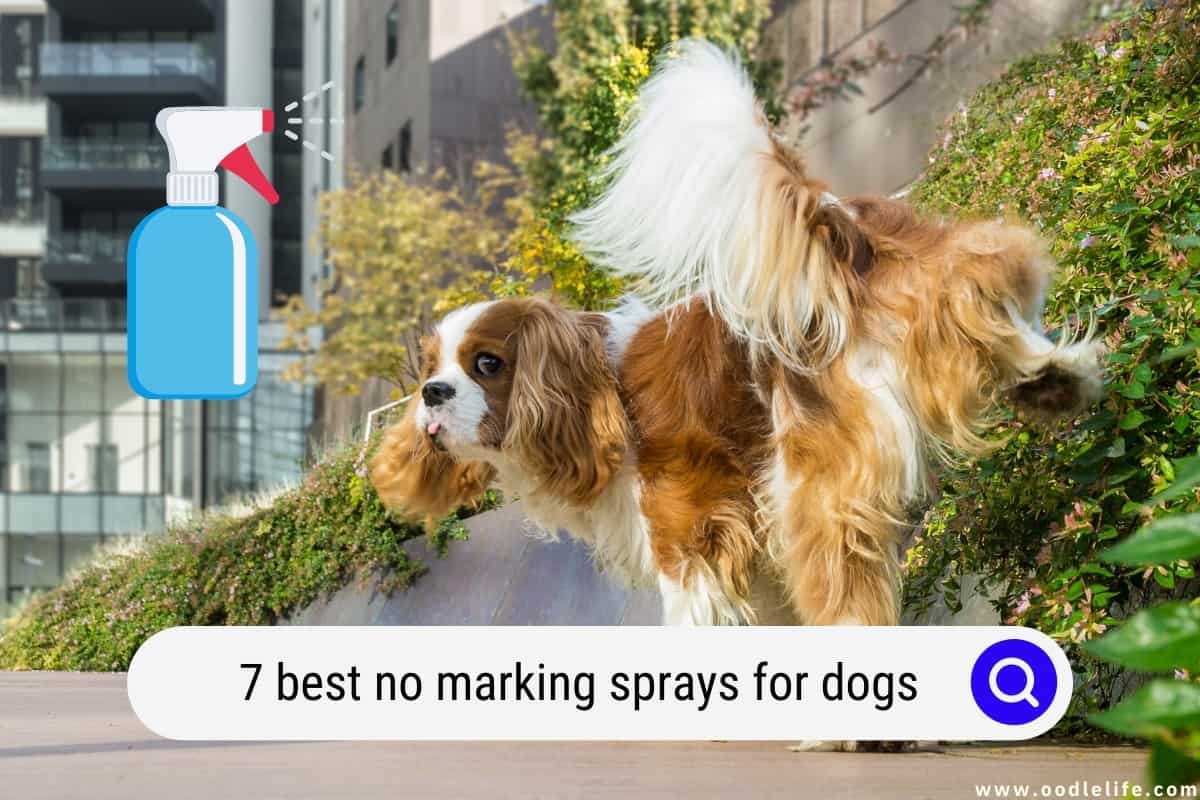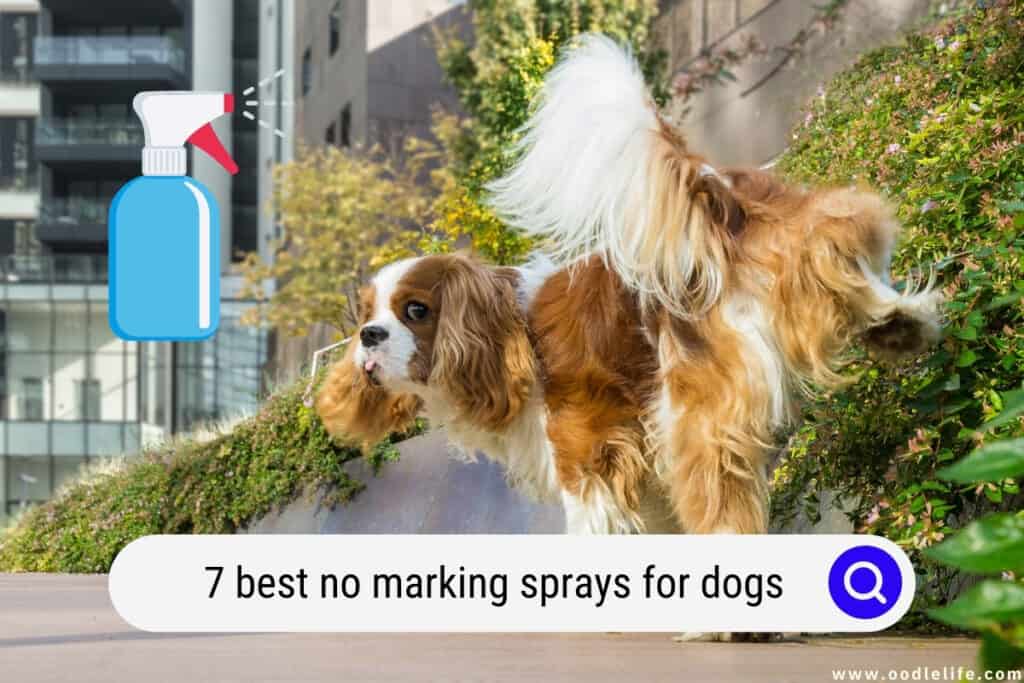 No marking sprays for dogs often work wonders.
These sprays help mask the odor created by dog urine and discourage dogs from marking in the same area again. Read on to learn more about the seven best no marking sprays for dogs.
Why Do Dogs Mark?
As annoying as marking may be, it may be helpful to know that it is normal. Your dog isn't necessarily defective because they mark; rather, dogs communicate with you and other animals through marking.
Dogs mark because their urine leaves an odor that is their way of communicating what they consider their territory. When marking occurs, it is usually in response to something new. If your dog visits a new place or smells a novel smell, they may mark to communicate.
Marking can also occur when introducing something else that is new. Sometimes marking is a response to fear or stress. Marking also sometimes occurs in response to sexual activation or hormonal shifts.
Whatever the reason for your dog's marking, you are likely ready to do something about it. When faced with a dog who keeps marking, no marking sprays are a great resource. Using the seven best no marking sprays for dogs, you can eliminate unwanted odor while helping your dog not to continue marking in that spot.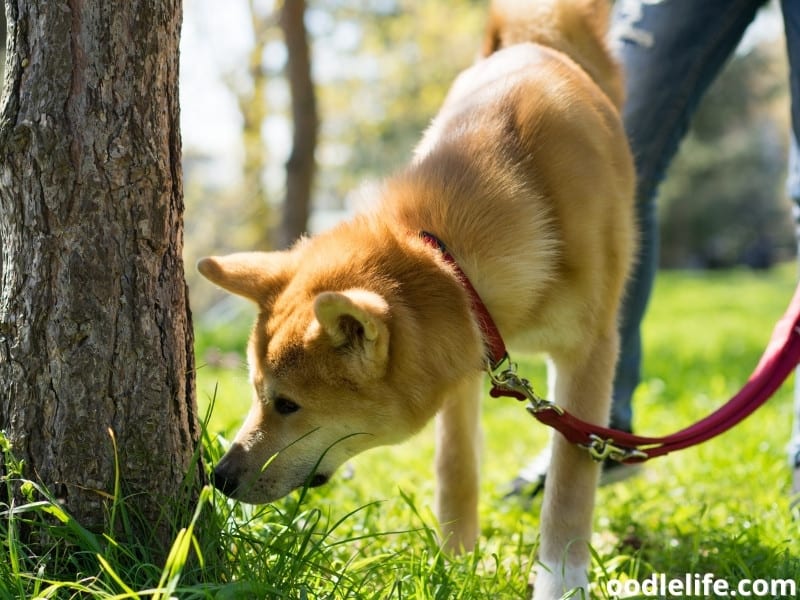 What Are the Best No Marking Sprays for Dogs?
We have tried and tested no marking sprays from across the market. While there are many options to choose from, we were able to narrow down to the seven best no marking sprays for dogs on the market. If you want to stop your dog from marking and cover-up that terrible urine smell, we recommend the following sprays:
1. Nature's Miracle No More Marking Stain & Odor Remover With Repellent
This product from Nature's Miracle remains our favorite no marking spray for dogs overall. Why is it our favorite? Because it works, smells great, and is easy to use.
Sale
Nature's Miracle No More Marking Stain And Odor Remover With Repellent, 24 Ounces, Helps Discourage Repetitive Pet Marking
HELPS DISCOURAGE REPETITIVE MARKING: Designed to help prevent pets from revisiting and marking the same spot twice
HELPS REMOVE STAINS AND ODORS: Removes even tough, deep-set urine stains
REPELLENT FORMULA: Lemongrass and cinnamon scents help discourage pets from returning to the area
TRUSTED BRAND: From the maker of Nature's Miracle products, the pet stain and odor removing brand you trust…because it works
GUARANTEED: Guaranteed to work or your money back – see product label for details
Based on our experience with no marking sprays for dogs, Nature's Miracle is at the head of the pack in terms of effectiveness. With Nature's Miracle, you have the best chance at your pet discontinuing marking where you do not want them to. You will find this is the case because Nature's Miracle combines fragrance with a strong repellent to deter future marking.
The Nature's Miracle No More Marking Stain & Odor Remover with Repellent is a breeze to use. Just pour it on and let it dry. It's that easy.
Nature's Miracle is enzymatic, so give the enzymes the time they need to work in cleaning dog urine and removing its odor.
After pouring Nature's Miracle's spray over the spot you no longer want your dog to mark, let it dry thoroughly before revisiting that spot. Once this spray is fully dried, you should expect marking in that area to stop completely.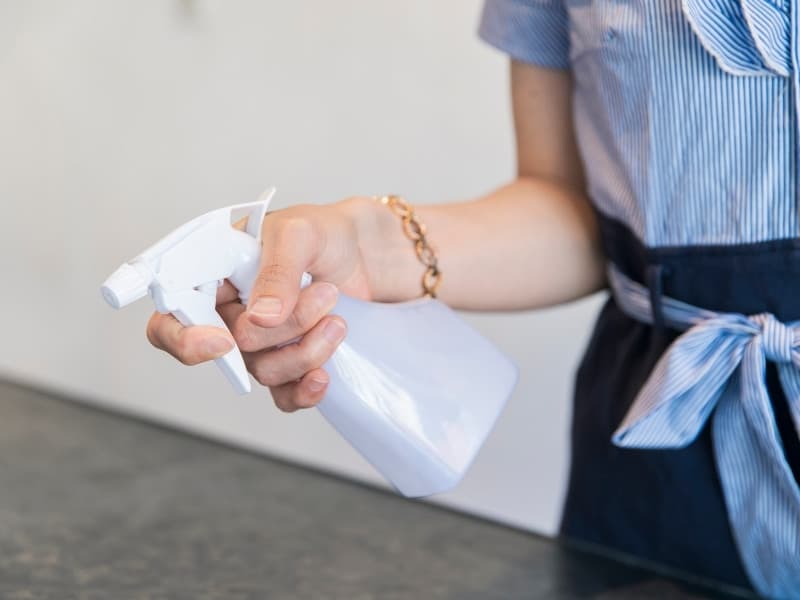 2. Bodhi Dog Not Here! Spray for Puppies and Dogs
We love this no-marking spray for dogs from Bodhi for many reasons. First, this spray is entirely safe for dogs, using non-toxic, natural ingredients sourced from local providers. Moreover, this Bodhi product is cruelty-free, so your conscious can ease, knowing that the manufacturer created this product ethically.
Bodhi Dog Not Here! Spray | Trains Your Pet Where Not to Urinate | Training Corrector for Puppies & Dogs | for Indoor & Outdoor Use | No More Marking | Made in The USA
TRAIN YOUR PET NOT TO RE-MARK OR RE-SOIL AREAS: Our Not Here! Spray deters your furry friend from revisiting and marking the same spot twice. No need to yell or swat, simply spray those areas your pet frequently visits with our Not Here! Spray. Our special formula will eliminate the need to re-urinate in that area in a safe and humane way.
FOR INDOOR & OUTDOOR TRAINING: Our Not Here! Spray works effectively for both indoor and outdoor training. After cleaning the soiled area thoroughly, let the area dry then apply Not Here! Spray. Repeat if necessary. Our formula can also be used on indoor plants as well and contains no harsh chemicals or odors and is safe to use on most fabrics.
USE IN CONJUNCTION WITH A HOUSEBREAKING TRAINING PLAN: When our Not Here! Spray is sprayed on a soiled area, the formula will eliminate the scent so your pet will not want to use that area anymore. Our formula acts as a deterrent therefore your puppy will not come back to the area to urinate. We stand behind the quality of our products.
HELP SHORTEN HOUSE BREAKING TIME: Consistency and positive potty training reinforcement are essential to help shorten housebreaking time. Remember the length of the training time will depend on each individual pet. Make sure to always reinforce good potty training behavior with praise, pets, and treats! For best results, use in conjunction with a housebreaking training plan.
OUR ETHICAL FAMILY COMMITMENT: Proudly made in the USA using socially responsible practices, locally sourced and sustainable ingredients, animal cruelty-free production and eco-friendly recyclable packaging. If you don't love our Not Here! Spray, please let us know. We are a small family-owned business of pet lovers committed to making great products that are safe for you, your pets and the planet!
We found the Bodhi Dog Not Here! Spray for Puppies and Dogs effective for both indoor and outdoor use. This is great if your dog is marking in the house or outdoors where you do not want them to mark.
To use, identify the place you do not want your dog or puppy to mark, thoroughly cover the area with Bodhi's spray, and watch your dog's marking behavior change for the better.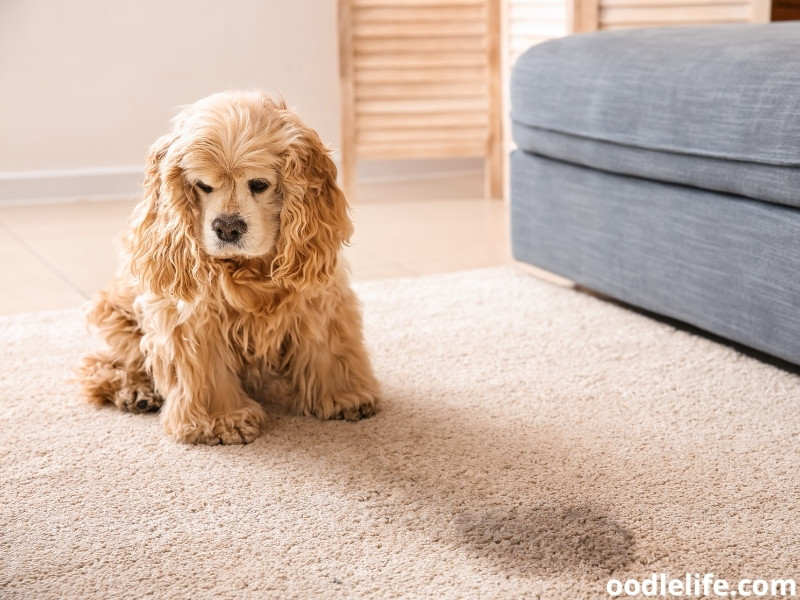 3. Angry Orange Odor Eliminator and Enzyme Carpet Cleaner for Pets
When it comes to fragrance, you won't find one stronger than this spray from Angry Orange. When looking to cover up a pungent urine odor smell, we recommend this no marking spray for dogs.
Sale
Angry Orange Odor Eliminator & Pet Stain Remover - Carpet Cleaner for Pets, Citrus Scented Dog Urine Deodorizing Spray and Enzyme Cleaner for Home Use
DUAL ACTION - Our stain remover and pet odor eliminator for home will help you enjoy having your furry friends around without the messes! Our enzyme-active pet carpet cleaner tackles stains, smells, and even pet urine, feces and vomit.
DESTROY STAINS AND SMELLS - This extremely effective dog urine odor eliminator spray doesn't just mask foul odors and stains, it destroys them upon contact to ensure up to 80 hours of freshness.
MULTI-SURFACE USE - A versatile odor eliminator and carpet stain remover that can clean it all! This multi-surface enzyme cleaner for dog urine works great on most surfaces, from carpet to hardwood floors, fabric, turf, and more.
CITRUS SCENT - Made from citrus enzymes and other natural ingredients, this pet stain and odor remover leaves a fruity fragrance behind with every spritz! Safe for both pets and children. (Do not spray directly onto either, though.)
CUSTOMER SATISFACTION - Add this enzymatic cleaner to the top of your list of pet supplies for dogs and puppies. If you have any questions or concerns about your purchase, reach out to our support team.
What we love about this product is it combines a cleanser with an odor remover. Remember, you should thoroughly clean your dog's area to stop the marking for good. With Angry Orange's spray, you can do just that.
Angry Orange's no marking spray for dogs is effective because it doesn't just cover up odor and stains it eliminates them completely. As a bio-enzymatic formula, the Odor Eliminator from Angry Orange is one of the best urine odor elimination sprays available. Moreover, it works on various surfaces, from fabric to tile and hardwood.
4. PetSafe SSSCAT Spray Pet Deterrent
This innovative product from PetSafe is quickly becoming a favorite among owners looking for a great no marking spray for dogs. What makes this product so original? It uses a motion sensor to deter your dog from marking.
PetSafe SSSCAT Spray Pet Deterrent, Motion Activated Pet Proofing Repellent for Cats and Dogs, Environmentally Friendly
PROTECT FURNITURE: Place SSSCAT Spray Deterrent on countertops, next to the trash can or near rooms to keep curious pets out of certain areas of your home
MOTION-ACTIVATED: When your pet is within 3 feet of the spray deterrent, the motion-activated sensor releases a quick burst of spray
SAFE FOR PETS: This odorless and harmless spray is safe to use around your pets and does not leave any stains or residue on your furniture
REPLACEMENT CAN AVAILABLE: Each can of spray deterrent holds approximately 80-100 sprays; when your current can is out of spray, simply purchase a SSSCAT Replacement Can
BATTERY OPERATED: Motion sensor requires 4 AAA batteries to operate (batteries not included)
To use the PetSafe SSCAT Spray Pet Deterrent, place the can of no marking spray within three feet of the area where your dog has been marking. When your pet comes within three feet of the can, it will release a small spray that keeps them from marking in that area.
No need to worry about your dog's health, this product is safe for use around pets. Additionally, it won't leave any residue, stains, or unwanted odors on the surfaces on which the spray lands.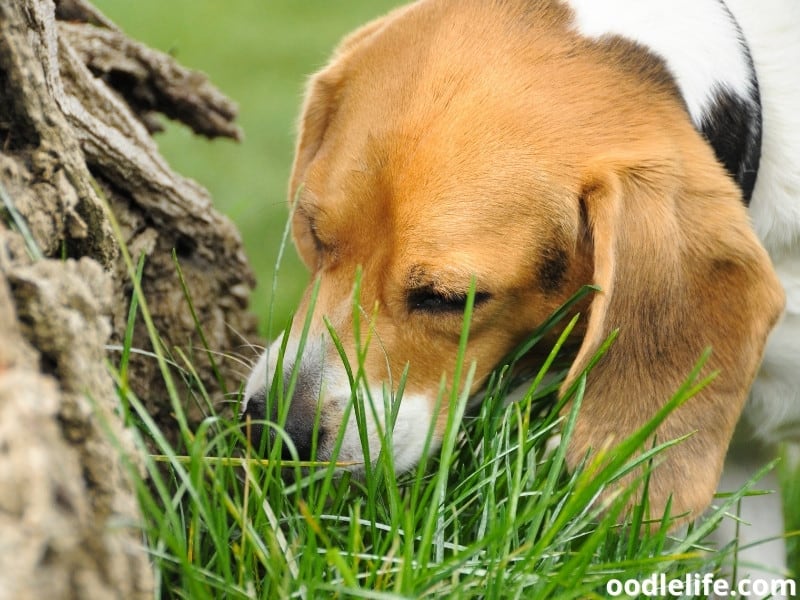 5. Rocco & Roxie Stain & Odor Eliminator for Strong Odor
Rocco & Roxie is a proven brand pet owners have come to prefer for many of their pet's needs. When it comes to this no-marking spray for dogs, Rocco & Roxie delivers. This product is powerful, effective, and easy to use.
Rocco & Roxie Stain & Odor Eliminator for Strong Odor - Enzyme-Powered Pet Odor Eliminator for Home - Carpet Stain Remover for Cats and Dog Pee - Enzymatic Cat Urine Destroyer - Carpet Cleaner Spray
CERTIFIED GENTLE AND SAFE Chlorine free and color safe. Safe to use around pets and children. No hazardous propellants, no residue left behind. So gentle it's been Certified Safe for all carpets, earning the Seal of Approval by the trusted Carpet and Rug Institute (CRI)
ELIMINATES STAINS, ODORS AND RESIDUE If it's gross, it's gone. Not just the stain, but the stink. From stinky yellow pet urine and feces to vomit and other organic spills, our professional strength formula tackles them all.
EVERY SURFACE, EVERY TIME For use on carpets, floors, furniture, clothing, litter boxes, kennels, carriers, all pet living and sleeping areas—anywhere stains happen.
ENZYME ACTIVATED The key is getting to the problem deep-down. This spray contains natural enzymes that are activated on contact with odors and stains, feeding on ammonia crystals and organic matter until they are completely eliminated.
100% SATISFACTION GUARANTEED An Amazon best seller—for a reason. If your stains and odors aren't gone, neither is your money. We'll refund it in full.
Why does this no marking spray for dogs work so well? It works well because enzymes that feed on organic matter, including urine ammonia crystals, power this spray. Spray this product on surfaces you no longer wish your dog to mark, and let the enzymes work their magic.
If you are unsatisfied with this product, Rocco & Roxie offers a 100% satisfaction guarantee. For this reason, there is no risk in trying the Stain & Odor Eliminator from Rocco and Roxie. If it doesn't work for you, contact the company. They will refund your purchase.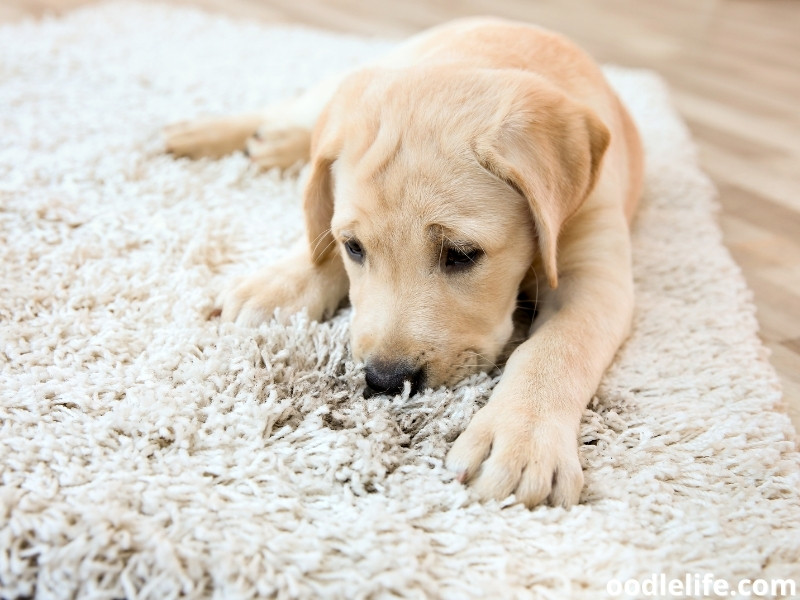 6. Pet Organics No-Go! Housebreaking Aid
If you are committed to all-natural, organic products for your dog, look no further than this no-marking spray from Pet Organics. This product is safe and easy to use, featuring a pleasant smell.
We especially love this product for small spaces. Other products we recommend are powerful in odor and spray capabilities. This might be overwhelming in a small area.
Small areas amplify smells. Also, you may not want to spray on surfaces other than the one your dog is marking.
This small bottle has limited spritzing capabilities, making it ideal for small or hard-to-reach places. Furthermore, you'll find the scent of this product more gentle than the others, something you may prefer if you're sensitive to strong smells or live in a tight, confined space.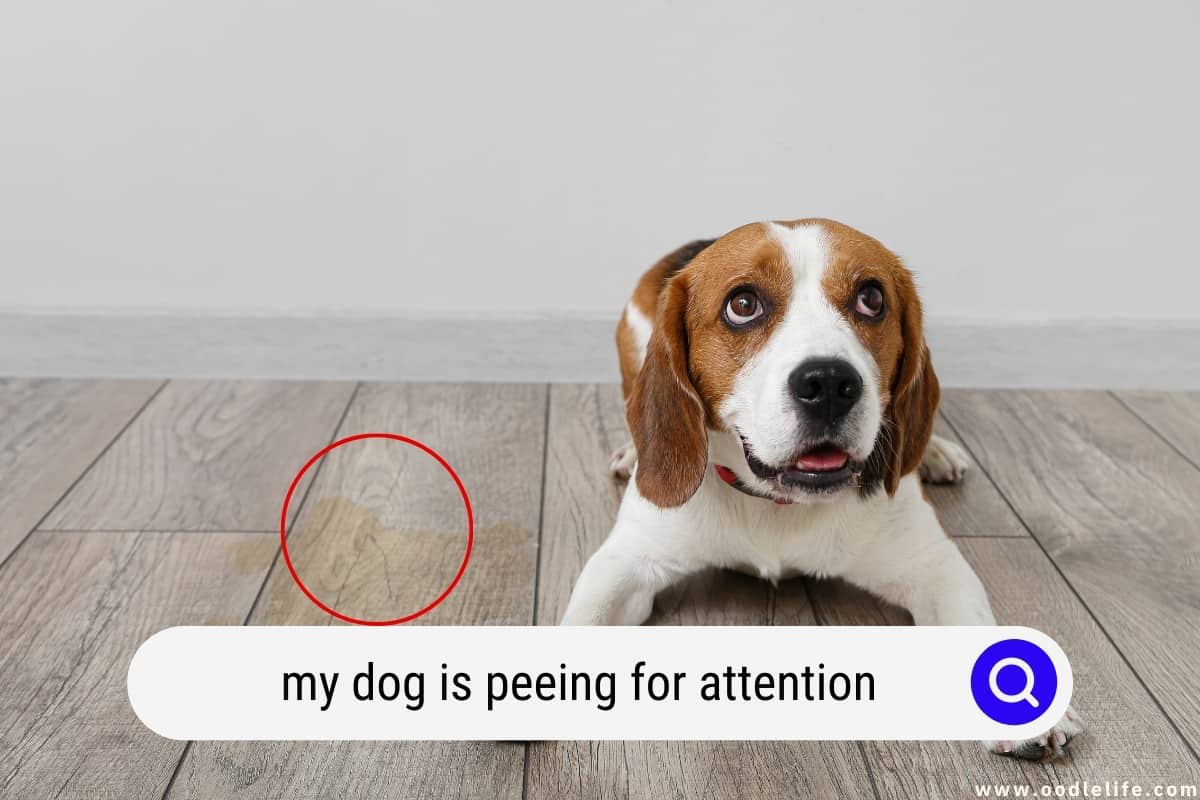 7. Skout's Honor: Stop Marking! Preventative Deterrent Spray for Dogs
This product is excellent if you're looking for a preventative spray before marking or urination starts. Manufacturers of this no-marking spray for dogs designed the product to keep dogs away from spaces where you do not want them.
Skout's Honor uses a combination of lemongrass and peppermint essential oils in their spray to prevent dogs from marking. This combination eliminates marking and prevents it from starting yet remains a pleasant aroma for your home or other spaces where you spend time with your dog.
One of the things we love about Skout's Honor is that for every bottle of Stop Marking! Preventative Deterrent Spray for Dogs they sell, the company donates a day's worth of food to an animal who needs it. When you buy this product, you'll know that you're not only stopping your marking problem but also helping a needy animal at the same time.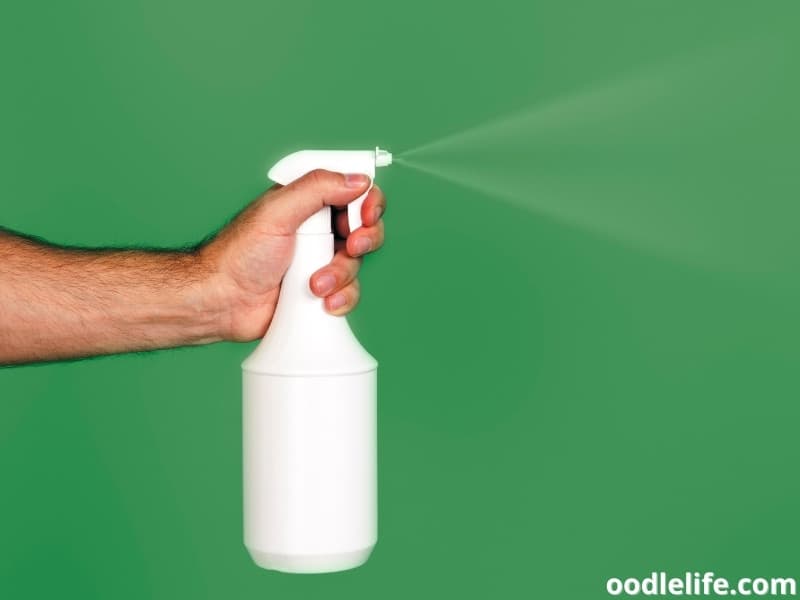 Wrap Up
Marking is a pesky problem for any dog owner, but one that can be solved. We recommend these seven best no marking sprays for dogs to solve all your marking problems. We wish you luck as you work to prevent and eliminate marking with your beloved dog!