Purina Pro Plan vs Science Diet (2023) Unbiased Comparison
Choosing the right dog food can feel like navigating a nutritional maze. With so many options available, how do you decide what's best for your four-legged family member? Two brands that often make it to the top of pet owners' lists are Purina Pro Plan and Science Diet.
Both come highly recommended, but they offer different approaches to canine nutrition.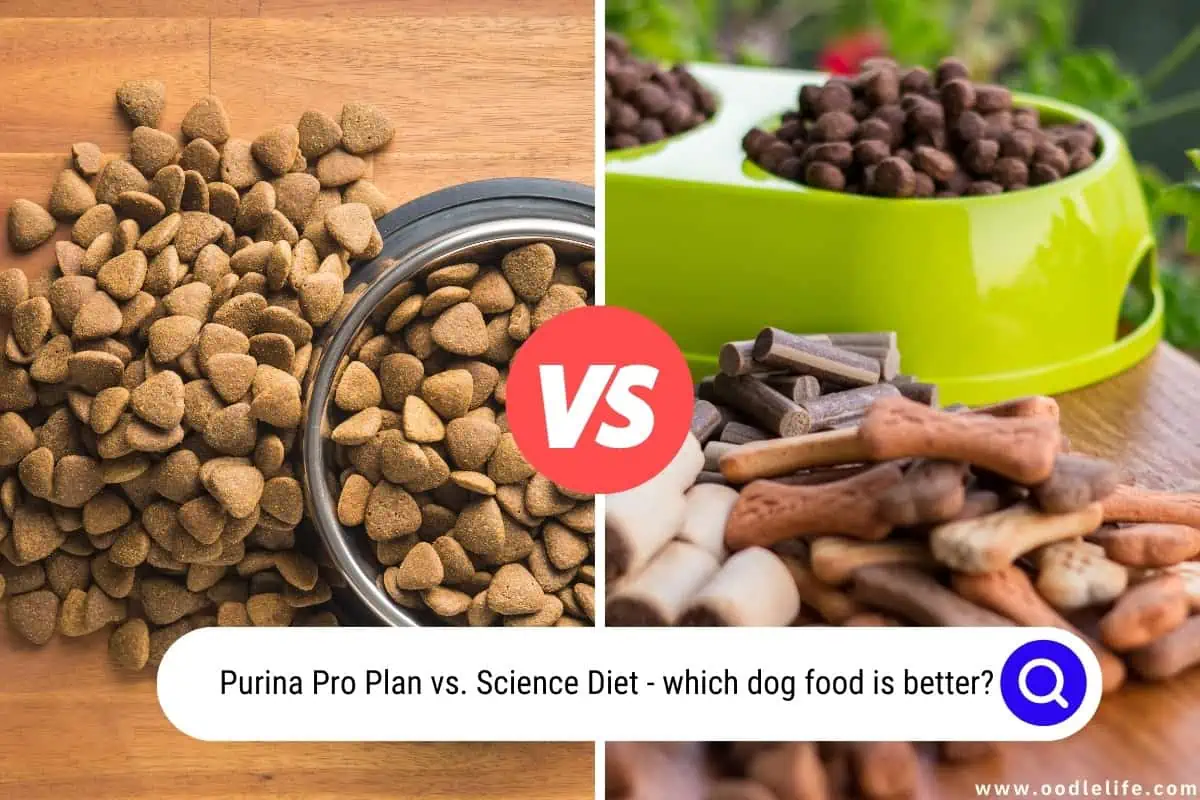 Which one should you fill your dog's bowl with? In this article, we'll break down the key differences between Purina Pro Plan and Science Diet to help you make an informed decision for your pup's dietary needs.
| Feature | Purina Pro Plan | Science Diet |
| --- | --- | --- |
| Nutritional Focus | High-protein formulas designed for various life stages and specific needs like sensitive skin or weight management. | Formulas centered around natural ingredients with specific lines targeting age, size, and health concerns. |
| Ingredient Quality | Uses real meat as the first ingredient, and includes prebiotic fiber for digestive health. | Often features real meat, fruits, and vegetables, and avoids artificial preservatives. |
| Veterinary Endorsements | Recommended by many veterinarians for its specialized focus on gut health and high protein content. | Frequently vet-recommended for its research-backed, health-specific formulas. |
| Price Range | Generally mid-range, offering various options to suit different budgets. | Slightly higher in price, reflecting its emphasis on natural ingredients and specialized formulas. |
| Product Range | Offers a wide variety of dry and wet foods, as well as snacks and meal enhancements. | Extensive range including dry, wet, and specialty foods tailored to specific health needs. |
| Flavor Variety | Extensive flavor options including chicken, beef, salmon, and lamb. | Varied flavors such as chicken, lamb, beef, and fish to cater to different canine palates. |
| Age Specific Options | Features products specifically designed for puppies, adults, and senior dogs. | Provides age-specific formulas from puppyhood to senior years. |
| Specialized Formulas | Offers unique lines like Savor, Focus, and Sport tailored to different needs. | Specializes in health-focused options for issues like skin sensitivity, weight control, and joint health. |
Both Purina Pro Plan and Science Diet offer high-quality, nutritious options that cater to a variety of canine needs. Your choice will depend on your dog's specific health requirements, taste preferences, and your budget.
Purina Pro Plan Overview
Purina Pro Plan is a popular dog food brand under the umbrella of Nestlé Purina Petcare, specializing in providing high-quality ingredients and nutrition for every life stage of your furry friend. With a history rooted in research and veterinarian insights, Purina Pro Plan aims to cater to each dog's individual needs through a wide variety of recipes.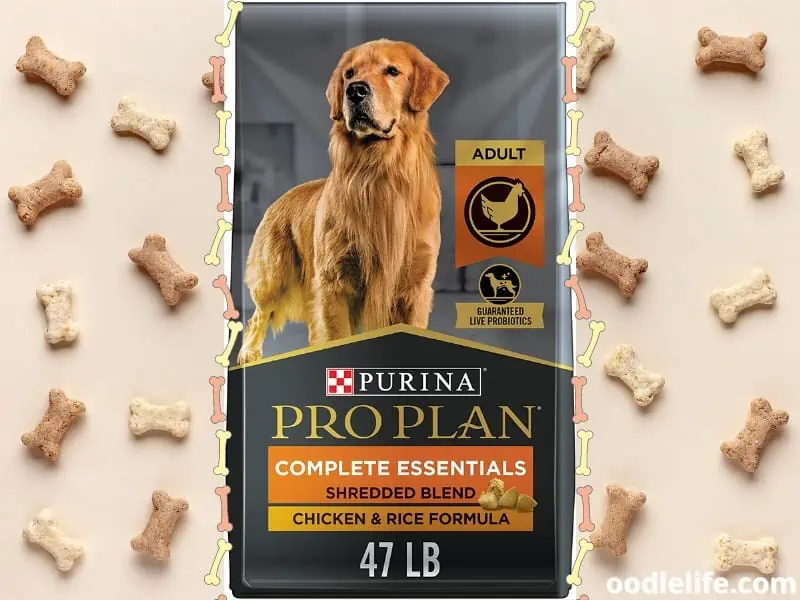 One of the standout features of Purina Pro Plan is its diversified protein sources, ranging from chicken and turkey to beef and fish oil. This varied protein offering ensures your dog gets all the essential amino acids and nutrition to support their overall health. Moreover, their recipes are crafted without fillers, preservatives, or soy to ensure your pet gets only the best.
Grains are a point of contention among dog food aficionados, but Purina Pro Plan covers both sides of the debate. They offer both grain-inclusive and grain-free options, so you can choose whichever suits your adult dogs, puppies, or senior dogs' dietary needs.
As with any respectable pet food brand, Purina Pro Plan adheres to the guidelines set forth by the Association of American Feed Control Officials (AAFCO). This means that every formula meets or exceeds the nutritional standards for your dog's specific needs. Additionally, Purina Pro Plan has a strong recall history, meaning they take product safety and quality seriously and actively work on maintaining high standards.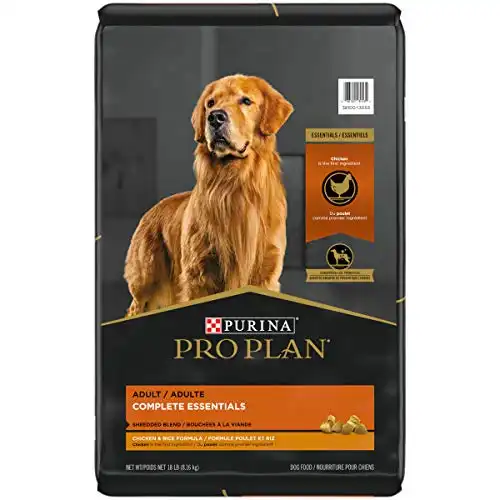 We earn a commission if you make a purchase, at no additional cost to you.
When it comes to specialized diets, Purina Pro Plan has you covered. They offer various formulas designed to target specific health concerns such as weight management, joint support, and even brain health to keep your dog's cognitive functions sharp.
Of course, taste is important too, and many positive reviews show that dogs enjoy the flavors Purina Pro Plan has to offer. Their fish oil-infused recipes especially tend to win over those picky eaters who turn their noses up at more conventional dog food options.
In conclusion, Purina Pro Plan is a solid, confident choice for pet owners seeking a versatile and nutritious option for their beloved canine companions. And with a reputation backed by decades of research and a passion for pet well-being, it's clear to see why Purina Pro Plan remains a popular brand. Just remember to introduce new food gradually into your dog's diet, as sudden changes can lead to a bone of contention – and we all know that's ruff news for everyone involved.
Science Diet Overview
Science Diet is a popular dog food brand known for its high-quality ingredients and variety of recipes catering to different dog breeds, sizes, ages, and specific nutritional needs. The brand, owned by Hill's Pet Nutrition, is backed by a team of veterinary nutritionists and undergoes rigorous quality control measures.
Hill's Science Diet Dry Dog Food, Adult, Small Bites, Lamb Meal & Brown Rice Recipe, 33 lb. Bag
A dry dog food with quality, easy-to-digest ingredients to fuel the energy needs of adult canines, with a small kibble and savory lamb flavor
This dry food for small-breed dogs provides omega-6s & vitamin E for healthy skin & coat
Provides your adult little dog with high-quality protein to maintain muscle
Promotes healthy digestion for your adult dog with natural fibers
Made with natural ingredients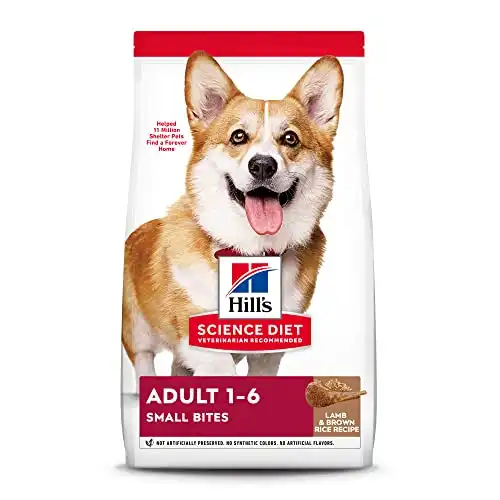 We earn a commission if you make a purchase, at no additional cost to you.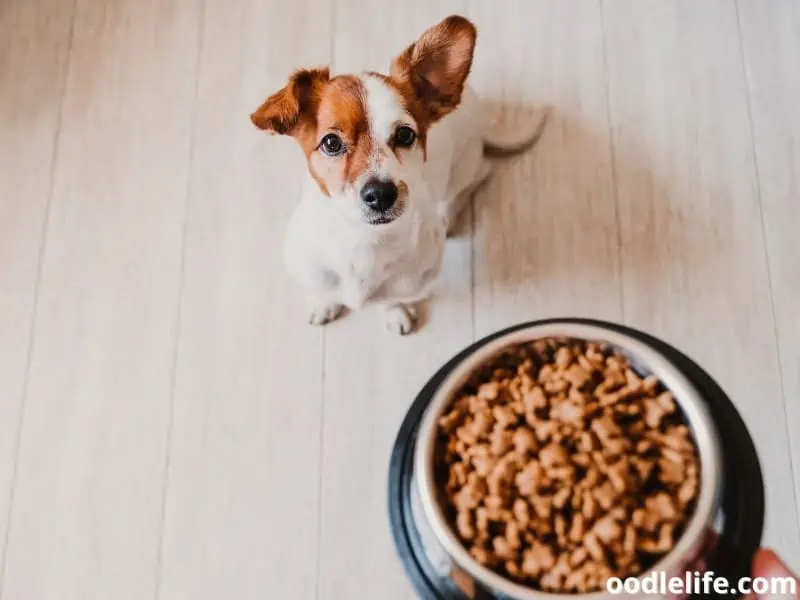 The brand offers a wide range of dry dog food, wet dog food, and dog treats, appealing to pet owners looking for well-balanced nutrition for their furry friends. Science Diet recipes include real meat sources such as chicken, beef, turkey, and fish, which provide essential amino acids and help support muscle growth and overall health.
One key feature of Science Diet is the expertise of their veterinary nutritionists, who design recipes based on the specific needs and life stages of dogs. There are specialized formulas for puppies, adult dogs, and senior dogs, as well as well-tailored recipes for small breeds, large breeds, weight management, and sensitive skin or stomach issues.
This attention to detail can be seen in some of the brand's unique features, such as the inclusion of fish oil for omega-6 fatty acids, probiotics for healthy digestion, and glucosamine for joint health. The brand's recipes also focus on using whole grains like rice and wheat to provide a steady source of carbohydrates and fiber for sustained energy and healthy digestion.
In terms of recall history, Science Diet has had a few incidents in the past. Some of the issues include elevated levels of vitamin D in some dog food batches and potential salmonella contamination. However, the brand is committed to resolving these issues promptly and maintaining rigorous quality control.
Science Diet strives to be affordable while maintaining a high standard of quality, making it an appealing choice for pet parents comparing it to other dog food brands like Purina Pro Plan. So, if you're in the market for a pet food brand that is confident, knowledgeable, and neutral, Science Diet is worth considering – and you certainly won't find any artificial colors or controversial ingredients at the doggie dinner table.
Whether your dog is a couch-loving Corgi or a hiking-happy Hound, Science Diet's range of recipes ensures that every dog, like their humans, enjoys a nutritious and well-balanced meal. After all, a happy and healthy dog is the perfect companion for those midnight snack raids or morning jogs (even if it's just a brisk walk to the fridge).