Royal Canin vs Purina Pro Plan [Food Comparison]
As a new pet owner, one of the questions that probably lingers at the top of your mind when it comes to caring for your pet is: 'What diet is best for my dog? If anything, deciding on the right diet for your pet can be one of the odious tasks you'll perform as a dog owner.
There's a bunch of dog food products with sumptuous appearance thrusts at your face, pining for you to pick and choose them for your dog. However, the make-up of some of these dog foods might not be compatible with your dog.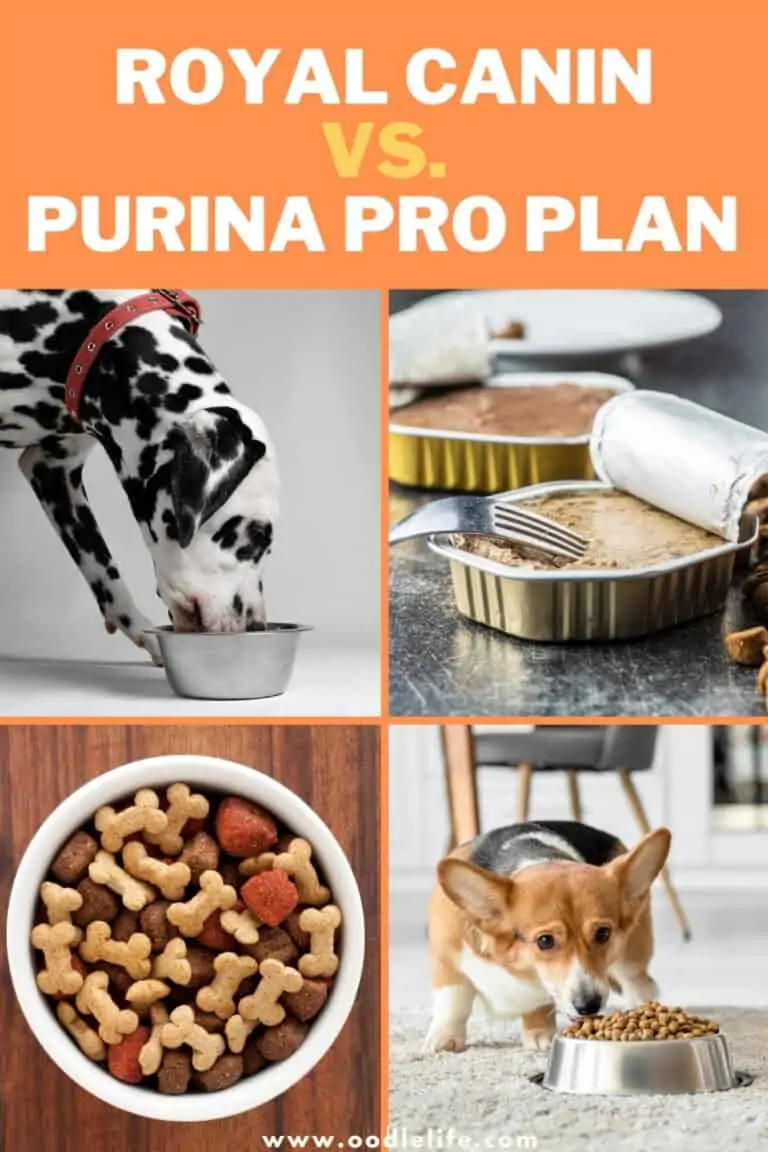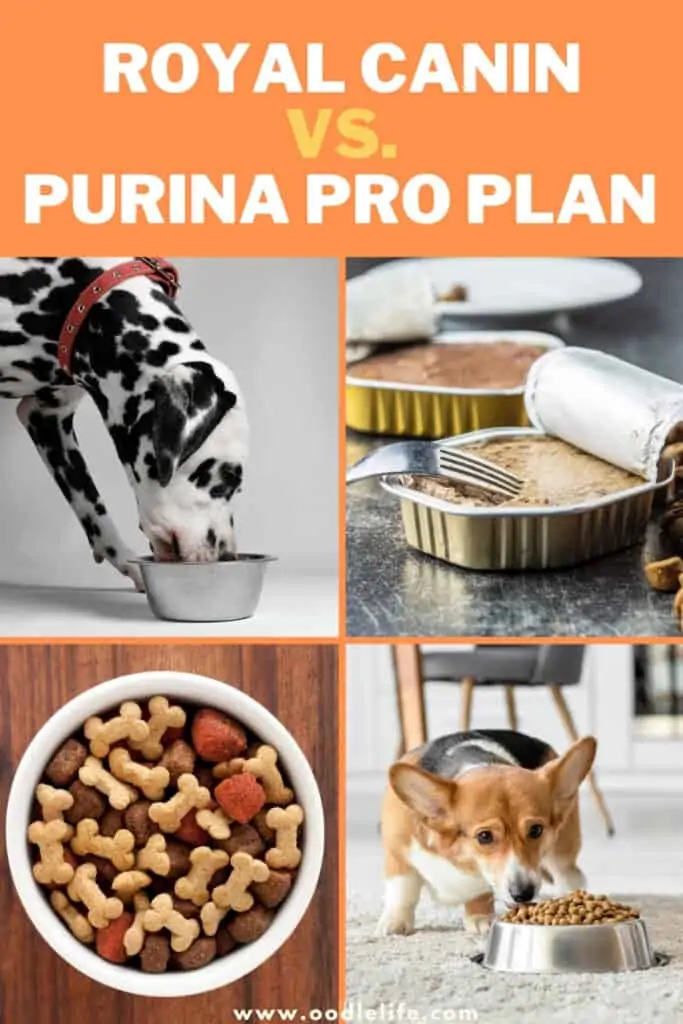 For instance, Labradoodles are known for having tendencies to be bloated and that is obvious in their standard size. That being said, the quantity or amount of high-calorie treats or foods should be reduced.
You don't want your Doodle to become obese.
Moving forward in this article, We'll examine two impressive food formulas with a wide range of healthy food options you can pick for your dog. At the end of your read, you'd be able to make smart food decisions for your lovely canine.
Learning the pros and cons of these food formulas will tilt you in the direction of making the best food decision for your pet. And it will be a walk in the park for you.
As an affiliate, we sometimes earn a commission if you purchase dog food from Amazon or Chewy links. It does not change the price for you, and it will never change our reviews.
How To Decide On The Perfect Meal for Your Dog?
When it comes to the choice of food and quantity intake for your pet, the physiological makeup of your pooch is a major determining factor. This means that the age, size, weight, and allergic reactions of your pet need to be taken into account to pick the right diet.
For instance, if your dog is weighty or has been diagnosed with a particular health condition, the Royal Canin formula might be a go-to diet for your pet.
Well, It is because Royal Canin diet formulas are an exclusive set of vet-recommended food for specific pets with specific conditions like gastrointestinal problems.
Now that's a lot-specific you'd say, but we want you to get how specific it can be.
The Purina Pro Plan diet formula presents a wide range of generic food options for dogs.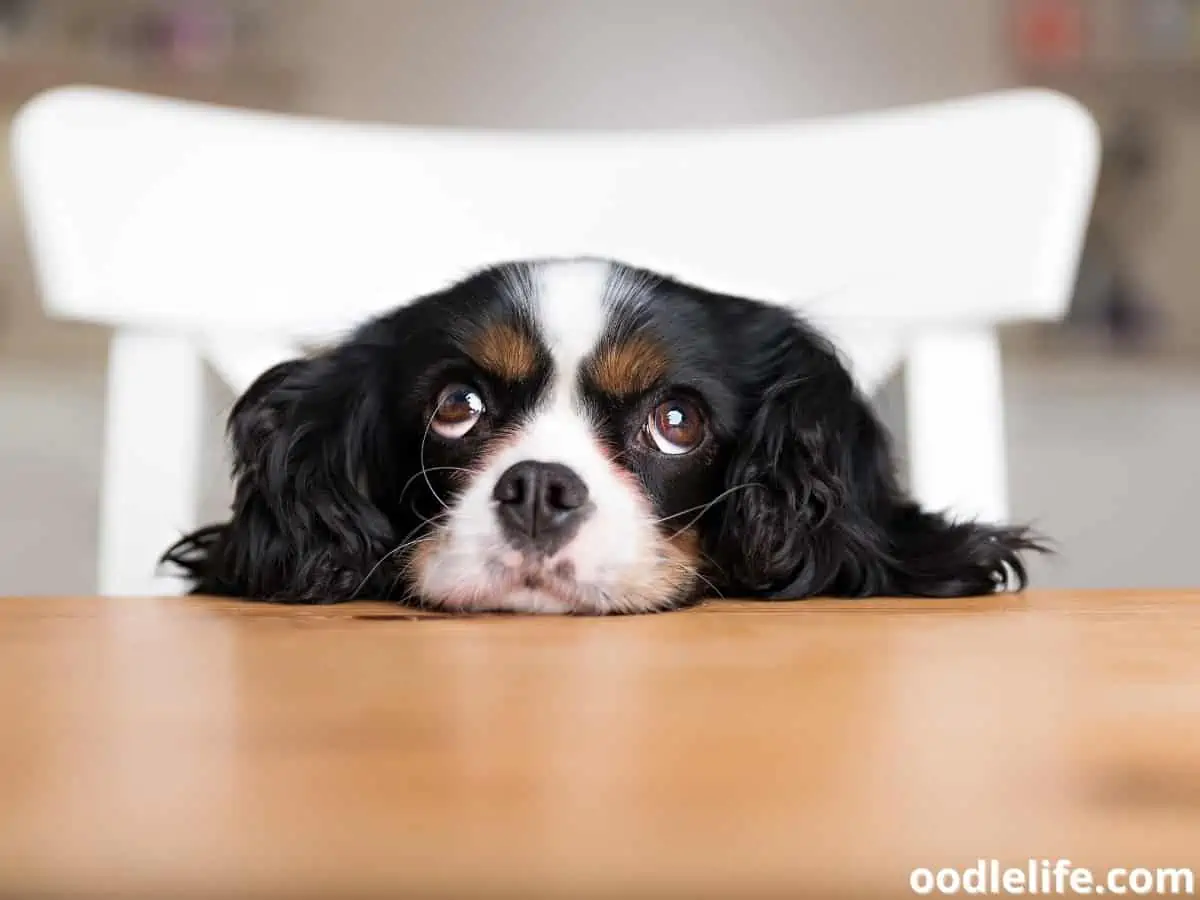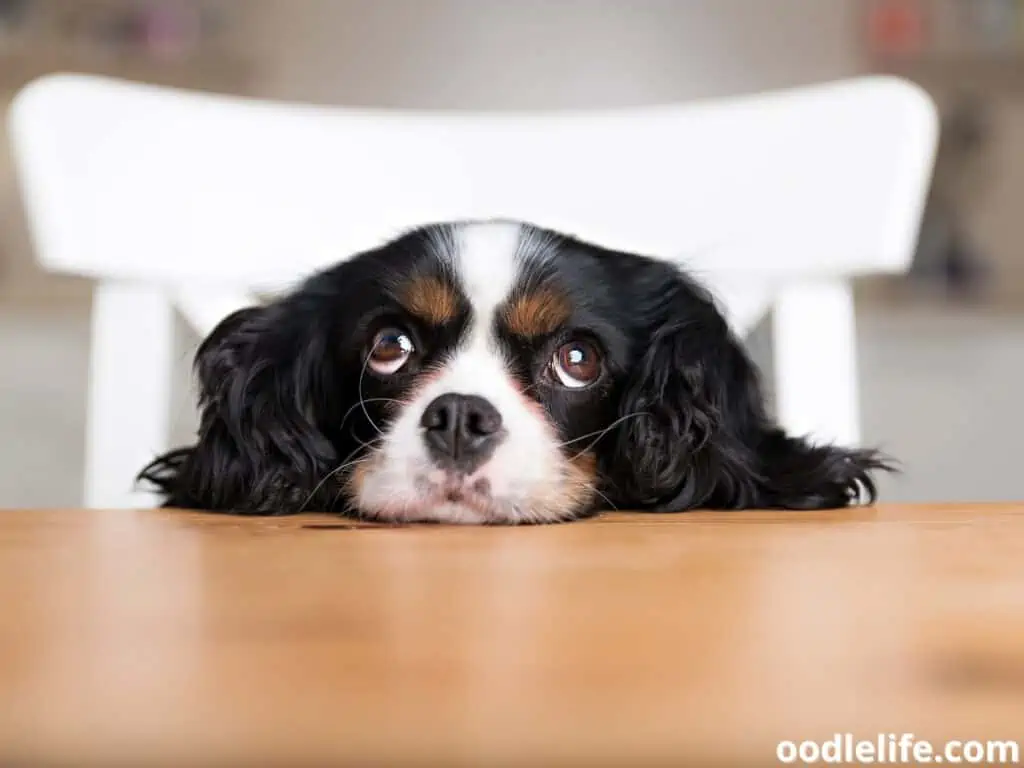 Comparing The Purina Pro Plan To Royal Canin
Before we jump into the specifics of each of these brands, let's take a look at some similarities between Purina Pro Plan and Royal Canin.
One notable similarity between them is the fact that they both offer a variety of high-quality food that improves the well-being of your canine pet.
We earn a commission if you make a purchase, at no additional cost to you.
Purina Pro Plan: Pros And Cons
Purina Pro Plan is a high-quality nutritious diet formula with over 140 recipes to help your pet thrive, live and perform better at every stage of their lives. This ingenious high-end nutrition was formulated by a big team of scientists.
Like every known thing in life, there are bad sides as much as good sides. Here are some of the pros and cons of Purina Pro Plans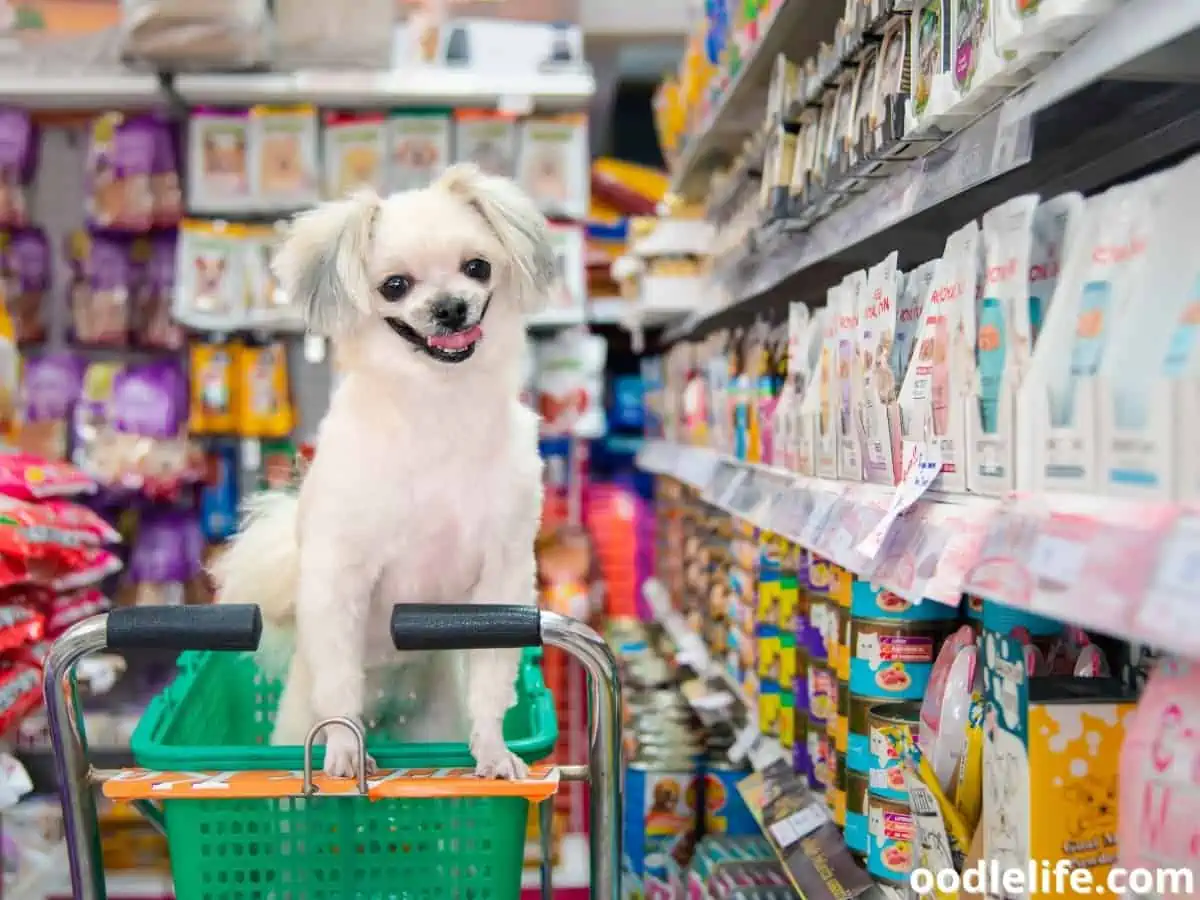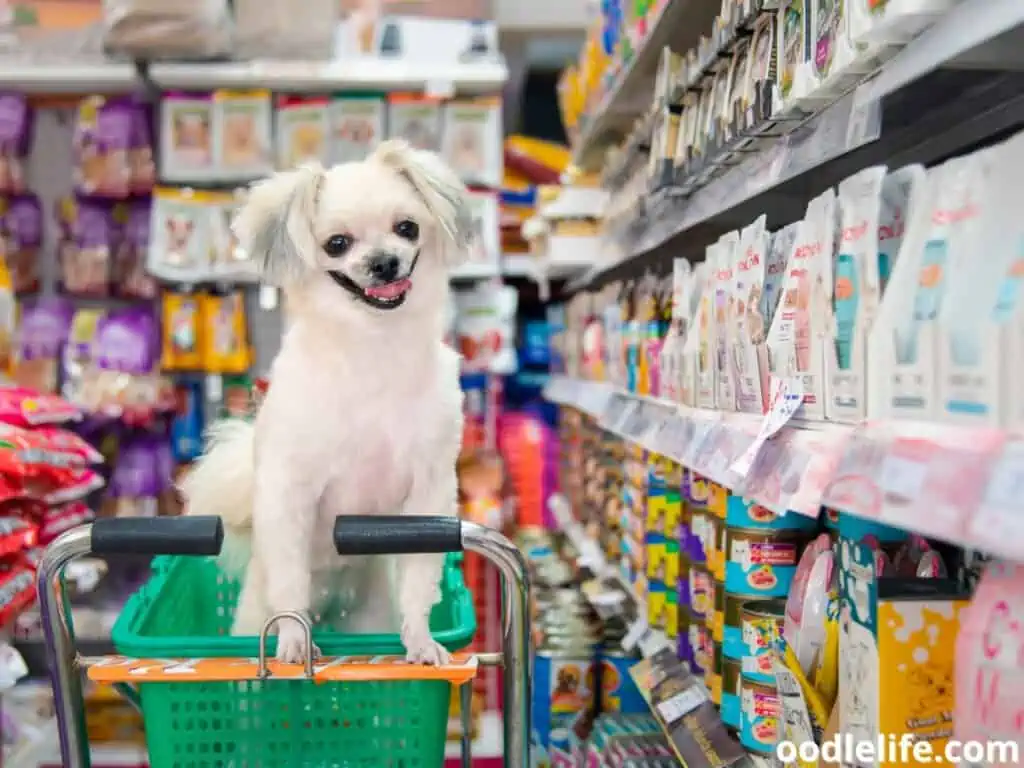 Pros 
Purina Pro Plan is quite affordable and accessible in pet stores
The formula provides you with numerous range of food choices to suit your Poodle's gutsy desires
Purina Pro Plan formulas are fortified with guaranteed live probiotics which help balance bacterial levels in your pet's intestines
Purina has a high protein content
Cons
Purina Pro plan formulas usually contain Plant ingredients
There is an increment of protein content in the formulas
Now the next question that's probably popping into your mind is 'How is plant protein increment a disadvantage?'
Well, here's how:
While your Poodle pets or dogs require a substantial amount of protein, proteins generated from plant-based ingredients do little to benefit your dog. In contrast, you might want to look into foods like meat, fish, poultry products, etc. that naturally have protein in high quantities.
Royal Canin: Pros and Cons
In the same way as Purina Pro Plan, Royal Canin is devoted to creating nutritious food for your pet, to help them thrive and live their best possible lives with you.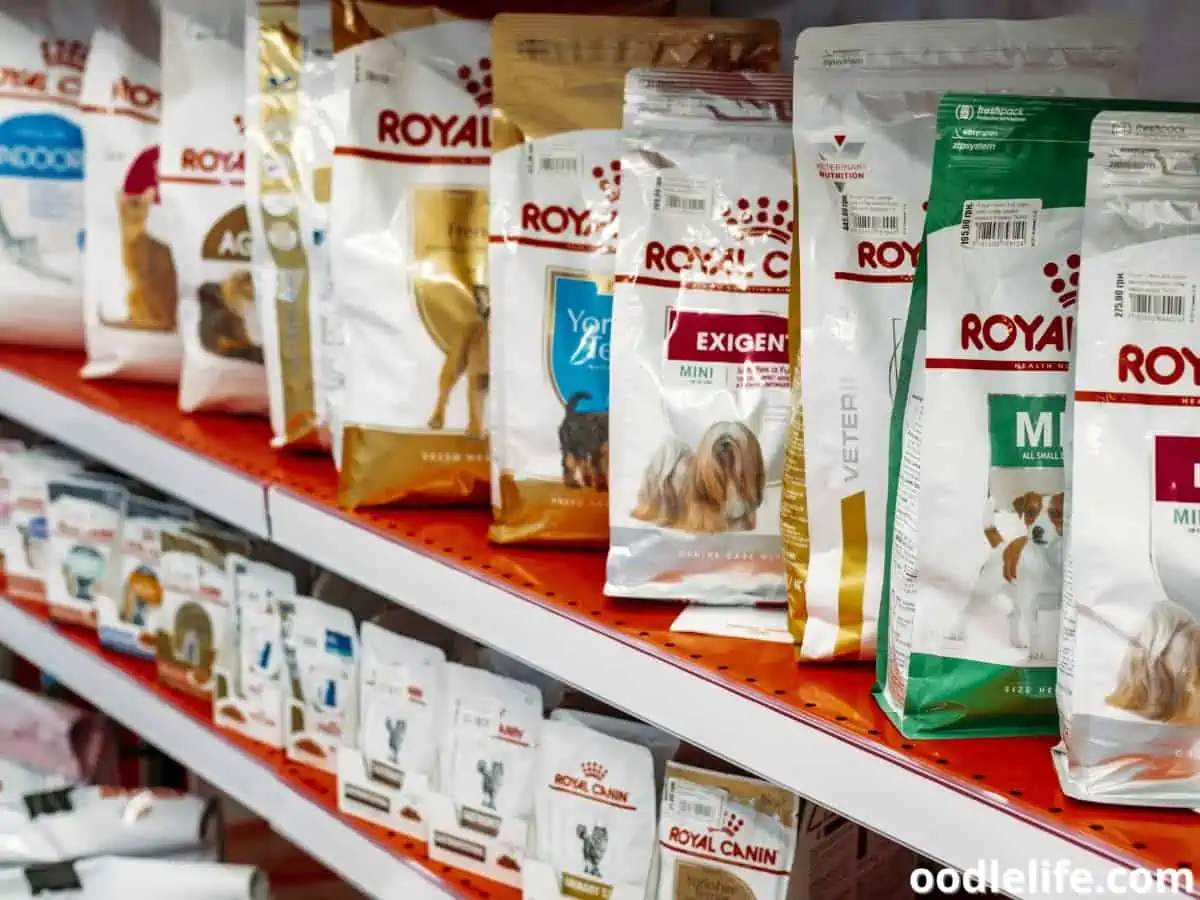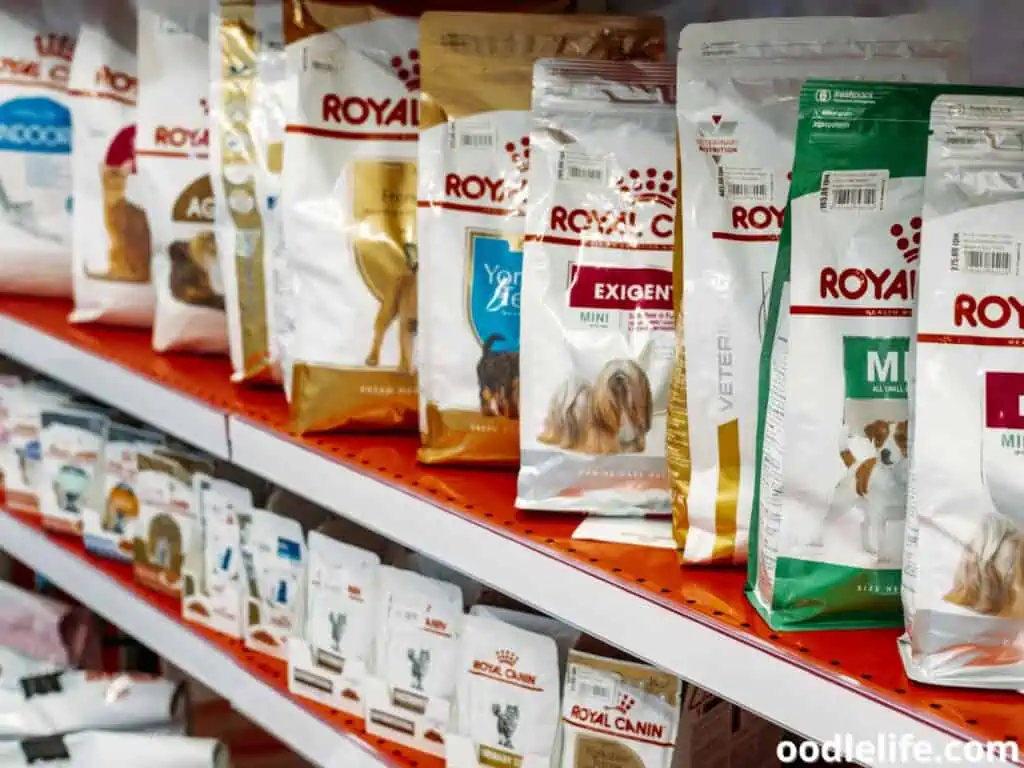 As an affiliate, we sometimes earn a commission if you purchase dog food from Amazon or Chewy links. It does not change the price for you, and it will never change our reviews.
Pros
It can satisfy the specific needs of your dog.
It can repair nutritional lags in your dog.
Cons
They require a vet's prescription/limited places you can order [though online ordering means most big box stores to stock now]
It is exclusive to online ordering and in some countries requires a subscription
Royal Canin Medium Breed Adult Dry Dog Food, 30 pounds. Bag
MEDIUM BREED DOG FOOD: Royal Canin Medium Breed Adult Dry Dog Food is precise nutrition specifically made for dogs 1–7 years old weighing 23–55 lb
IMMUNE SUPPORT: A blend of prebiotics and antioxidants for dogs supports natural defenses for immune support
SKIN AND COAT HEALTH: Optimal levels of EPA and DHA maintain healthy skin and a healthy dog coat
HEALTHY DIGESTION: Easy-to-digest proteins and a balanced supply of fiber promote dog digestive health
SPECIALIZED KIBBLE: Palatable, medium breed adult dog food has an exclusive kibble design to encourage chewing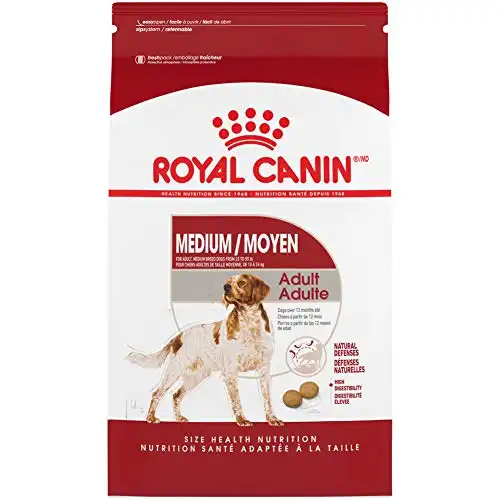 We earn a commission if you make a purchase, at no additional cost to you.
Selecting A Dog Food Type
As a new dog owner, you've probably taken inventory of what you can feed your new pet. If you have, you must have probably come across tons of dog food companies that load their products with bold claims and glittering buzzwords.
To solve your puzzles about the best practices for feeding your new pet. One of the most fundamental questions asked is… What's better, wet or dry food?
The truth is, not only is it hectic to select the best diet for your Poodle. Even the most basic choice of wet versus dry dog food can be overwhelming.
Wet vs Dry Food
Now here's the catch. Dog food comes in dry and wet variants. How often should you pick up the wet food as against the dry food variants for your dog? To answer that, here's something you need to understand first.
Both dry and wet food provide nutritious balanced diets for your dog. The major difference is in the way they are processed.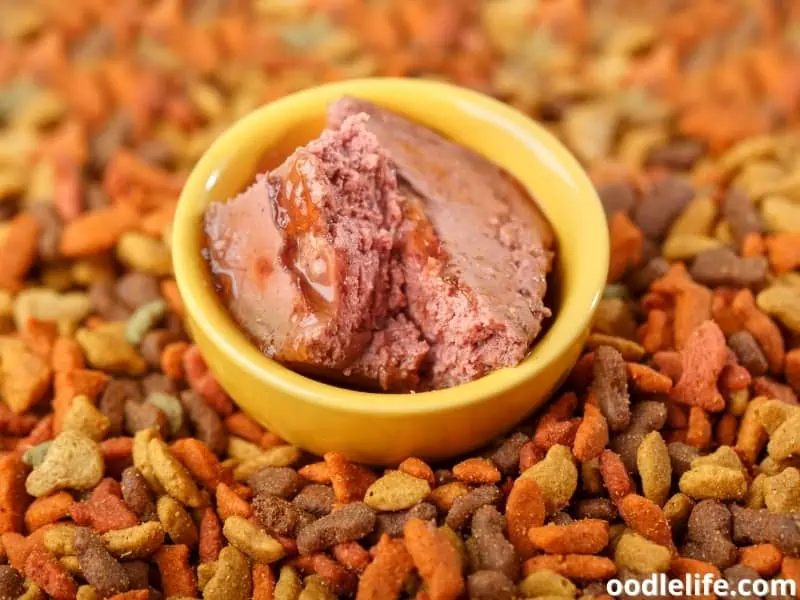 How Is Wet Dog Food Processed?
The processing of wet dog food involves the grinding of protein or meat ingredients. Followed by the addition of vitamins, minerals, and grains. Afterward, the food is cooked, sterilized, and canned.
This explains how wet food is characterized by about 78% of moisture content.
What Are the Benefits of Wet food?
If your Poodle doesn't get hydrated as extensively as it should, or if they have a medical condition that requires regular hydration, then you should consider feeding him with wet food choices from any of the two choice food brands enumerated in this article.
The high moisture content in wet foods will help balance the hydration level of your four-legged furry canine. Additionally, if your Poodle has a delicate mastication ability, wet food is your best shot at ensuring your pet can eat without trouble.
Moreover, if you're on a weight management plan for your dog, wet food gives your dog so much satisfaction that they don't always have the urge to consume food in large quantities.
Royal Canin and Purina Pro Plan come in dry and wet food variants, so based on the formula you decide to opt for, you can equally decide on whether your Poodle needs more wet or dry foods.
Now, let's talk about dry food formulas.
How Is Dry Food Processed?
Just like wet foods, dry foods involve the grinding of proteins. But instead of adding gravy that makes it moist, and canning the product, the meat mixture is pulverized to create a consistent dough that can be cooked.
Once cooked, the dough is extruded through specifically shaped holes to form kibble. The kibble then undergoes a drying process and is sprayed with fats, oils, vitamins, and minerals, packaged before the fats and oils can spoil. Some dry dog food diets like Purina Pro Plan also add live probiotics to aid in digestive and immune health.
What Are the Benefits of Dry Foods?
There are lots of advantages to feeding your pooch with dry food formulas. One of them is to enhance the dental health of your dog. A dog does not have an option but to chew up dry foods.
Chewing prevents the buildup of tartar in the teeth.
Moreover, dry diets are much easier to measure than wet diets, and they won't spoil if your dog does not finish his portion at once.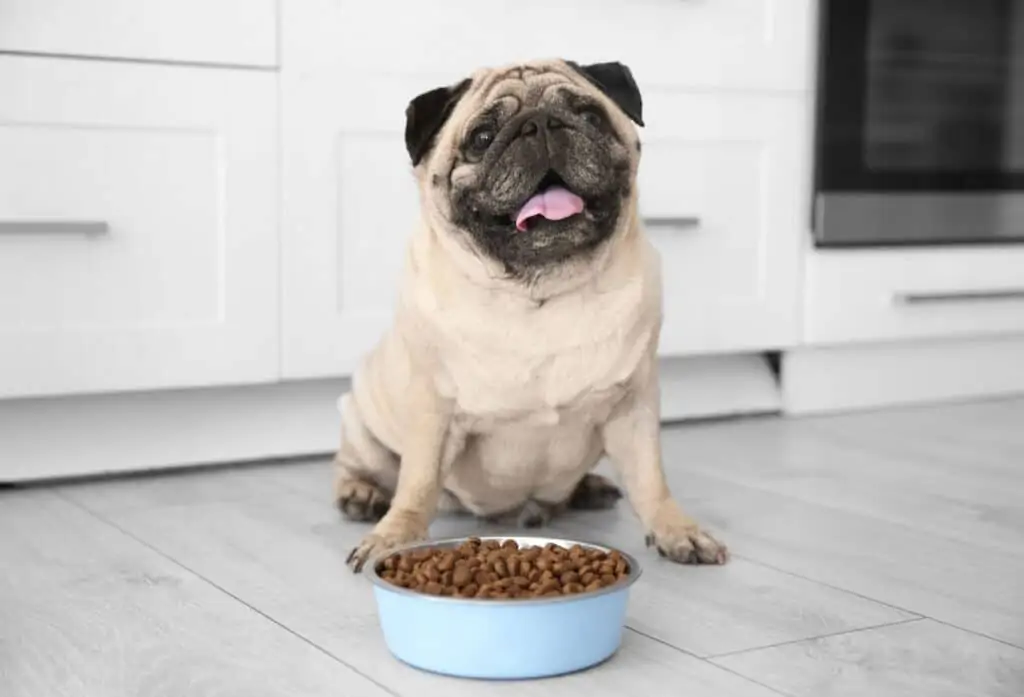 Conclusion
The differences between dogs go beyond the mere difference in the breed. Differences also extend to dogs of the same breeds depending on their peculiar individual traits.
For a Labradoodle, it would be best to take wet foods down a notch or do a wet and dry food mix. This is so that the weight of the Doodle can be maintained.
Knowing that every dog is different. There are small dogs, big dogs, active dogs, dogs with sensitive stomachs, and dogs with dietary sensitivities.
Now that you've seen the merits and demerits of having the two different food formulas, you can go ahead and decide the best food for your dog.
On a final note, the best choice for most pets is the Purina Pro Plan, as it is more nutritious than Royal Canin. However, if your pet has a health issue you might also want to subscribe to the Royal Canin. Even though it is high-priced and of great value, it is worth the asking price.