Is Tea Tree Dog Shampoo Safe? (2023 Puppy Update)
Tea tree oil's popularity as an active element in dog shampoos has increased over the last decade. Although this oil has tremendous benefits for humans, you may wonder if tea tree dog shampoo is safe because our furry friends are pretty sensitive.
Tea tree dog shampoos aren't safe when used undiluted. Concentrated tea tree oil in these products can cause tremors, lethargy, depression signs, ataxia, and paresis in dogs. The severity of these side effects varies due to factors like age and weight.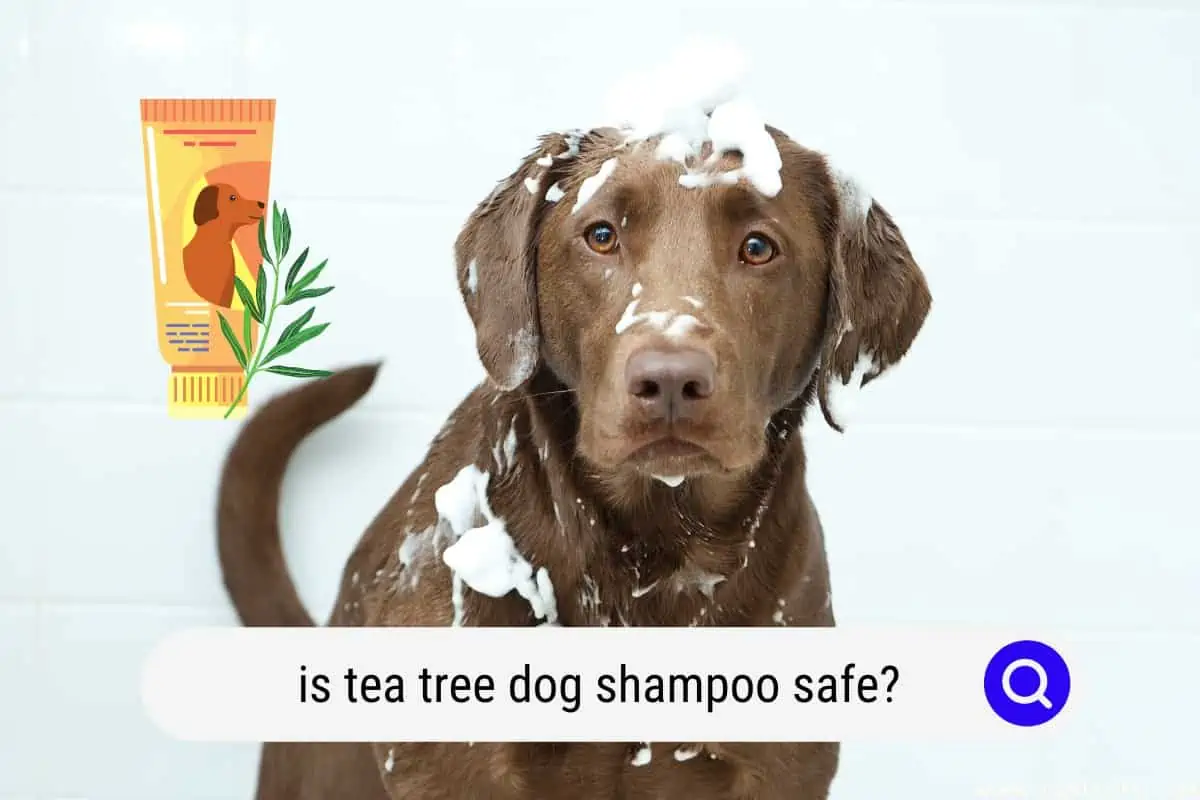 We've taken the time to explain why tea tree dog shampoos are unsafe. This post also discusses why some dog shampoos include tea tree oil and a review of tea tree dog shampoos.
Why Is Tea Tree Dog Shampoo Unsafe?
Tea tree dog shampoos are unsafe for dogs as they contain chemicals like terpenes which are toxic to dogs. Although these chemicals have medicinal benefits like fighting bacteria and fungal infections, they may cause fatal side effects to your four-legged friend when consumed in high concentrations.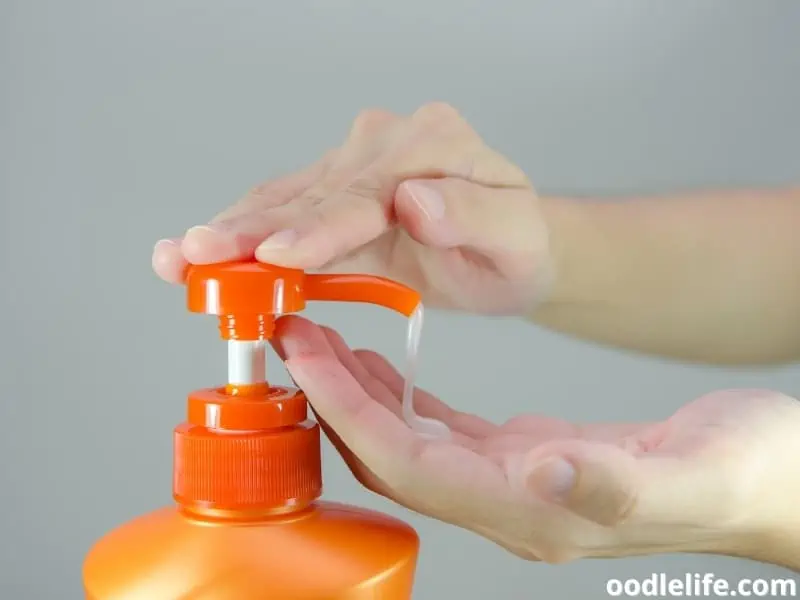 Dogs' bodies quickly absorb terpenes regardless of the mode of intake, meaning that the toxicity level is the same whether you apply the shampoo to the dog's skin or if your furry friend drinks it accidentally.
The severity of terpenes toxicity varies according to the amount your dog absorbs or ingests. Your dog may drool, vomit, show weakness, seem paralyzed, and have trouble walking if they absorb small amounts of terpenes.
However, if dogs take in high amounts of these chemicals, they may show signs like seizures, tremors, low levels of consciousness, or even coma. Terpenes toxicity symptoms may take two to twelve hours after absorption to show. Therefore, keep an eye on your dog after the exposure to identify if they need urgent help.
Call a vet if your dog shows signs of terpenes toxicity. There's no specific treatment for terpenes, as different toxicity levels require varying measures. Your dog will only need skin decontamination by bathing them with gentle dish soap if they show mild illness.
On the other hand, severe symptoms like seizures, tremors, and vomiting should each be treated with the appropriate medications. The veterinarian may administer these medications as intravenous fluids for easy absorption into the dog's system.
Additionally, your dog may need liver protectants if exposed to high amounts of terpenes, for instance, if they accidentally drink a lot of shampoos. Tea tree oil leads to the excretion of excess liver enzymes, causing severe damage to the organ.
Why Do Some Shampoos Have Tea Tree Oil?
Tea tree oil is mainly included in shampoos to help manage skin conditions, provide hotspot and itch relief, eliminate odors, and reduce inflammation. Using it in small diluted portions can be beneficial.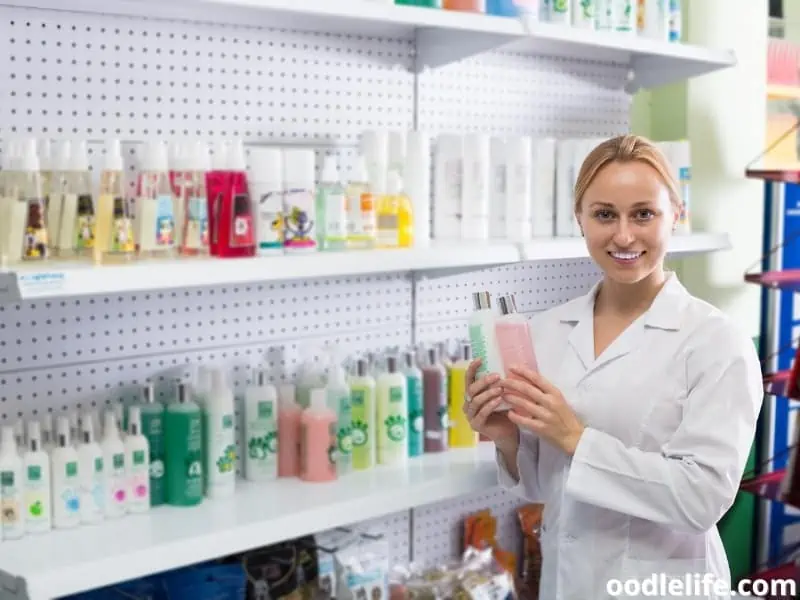 This oil has antifungal and antibacterial benefits for dogs. According to a study published in the National Library of Medicine, this essential oil proved efficient in treating dogs with dermatitis, including pruritic skin lesions and skin folds.
With such benefits, tea tree oil has slowly made its way into animal products like dog shampoos. Many brands dilute tea tree oil before using it in dog shampoos. Tea tree oil concentrations of 0 to 0.1 percent are safe to use on your furry friend.
Concentrated amounts of tea tree oil are toxic to dogs.
Inspect dog shampoos' labeling or packaging to ensure they contain less than one percent of the oil's concentration before purchasing. Also, ensure you get your products from a reputable company, as some brands may lie about their products' contents.
Conducting a skin test on your dog to confirm if they are allergic to tea tree oil shampoos is advisable. If the shampoo has a thick consistency, ensure you rinse it thoroughly. Your pup may lick the residue, making them susceptible to health complications.
To be entirely sure if tea tree dog shampoo is safe for your pooch, confirm with the vet. This is crucial as your dog may have underlying complications that might worsen after using these products.
Below are popular dog shampoos infused with tea tree oil.
John Paul Pet Australian Tea Tree Shampoo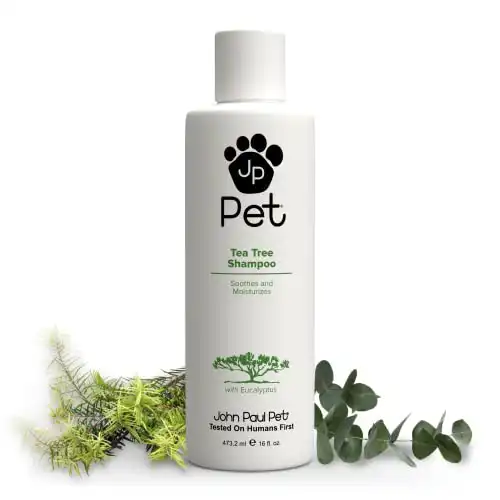 We earn a commission if you make a purchase, at no additional cost to you.
Veterinary Formula Clinical Care Shampoo
Veterinary Formula Clinical Care Dog Shampoo with Oatmeal and Tea Tree Oil, 16 oz – Fast-Acting, Gentle Medicated Shampoo for Dogs
SOOTHING OATMEAL – This dog shampoo sensitive skin promotes healthy skin and coat by adding moisture and gently cleansing dry, flaky skin. Not suitable for cats.
FAST ACTING – Our colloidal oatmeal shampoo for dogs with tea tree oil provides quick and effective results to help shed dry skin and promote normal coat health.
VET-RECOMMENDED – The paraben, dye, and soap-free pet shampoo is made with gentle cleansers and without damaging detergents. Wash and soak on skin and coat for 10-15 minutes.
FORMULATED FOR DOGS – Oatmeal and tea tree dog shampoo is for use on dogs over 12 weeks of age; Due to the tea tree oil content of this shampoo, it is not safe to use on cats.
EFFECTIVE & AFFORDABLE – Our products are created with powerful ingredients at an affordable price. We know dogs and cats are more than just pets because we are pet parents too.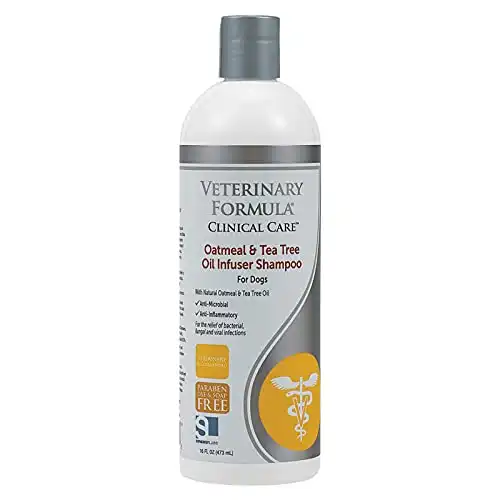 We earn a commission if you make a purchase, at no additional cost to you.
Tropiclean Oatmeal and Tea Tree Pet Shampoo
Tropiclean Oatmeal and Tea Tree Pet Shampoo, 20oz
EFFECTIVE ITCH RELIEF – A dog itch relief shampoo that helps sooth dry, irritated skin and provides a comforting oatmeal and tea tree scent.
MEDICATED FORMULA – Our tea tree dog shampoo is formulated with beta hydroxy, an anti-inflammatory agent, to help provide long lasting itch relief.
FEEL-GOOD INGREDIENTS – Effective formula is derived from natural ingredients such as moisturizing oatmeal and calming aloe.
PET PARENT APPROVED – A gentle dog wash that's paraben, dye, soap and cruelty free and suitable for use on dogs and cats 12 weeks or older.
TROPICLEAN - For all-over relief pair this dog shampoo for itchy skin with our hypoallergenic wipes.
We earn a commission if you make a purchase, at no additional cost to you.
Pros and Cons of Tea Tree Dog Shampoos
Tea tree dog shampoos can be beneficial and, at the same time, detrimental to your dog.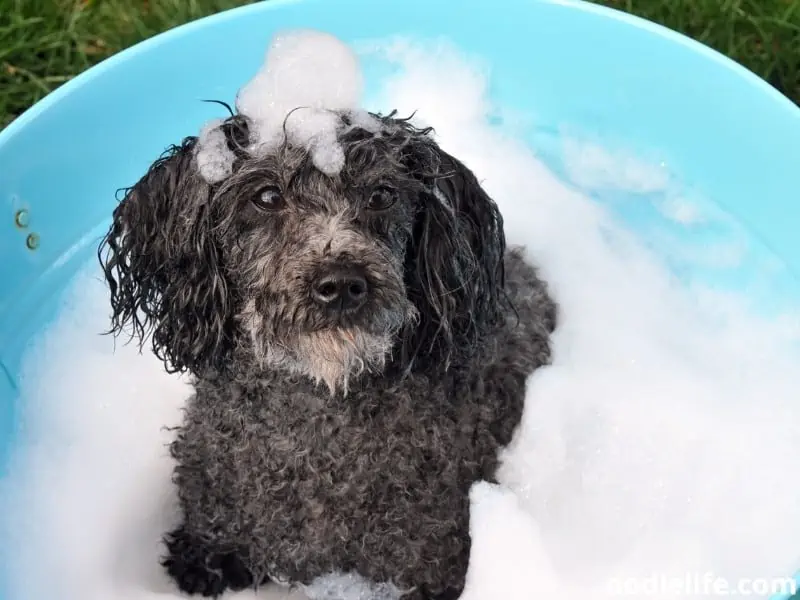 Advantages of using tea tree dog shampoos include:
Treating dog ears: Tea tree oil is rich in gamma-terpinene, which helps treat ear problems like ear mites and ringworm infections.
Soothing skin: Using tea tree shampoos will help soothe your dog's skin after continuous itching. However, you shouldn't use it on broken skin as the toxic chemicals may enter the dog's system, which is dangerous for its health.
Improving dogs' coats: Tea tree shampoos have several benefits to dogs' coats. Aside from treating canine acne, ringworm, pyoderma, and yeast infections, these products will also make your furry friend's coat soft and shiny.
Getting rid of fleas and ticks: Using tea tree shampoos will help keep fleas and ticks away from your dog.
Although tea tree shampoos have several benefits, these products may have adverse effects on dogs in specific scenarios. Some of these instances include:
If you use a shampoo whose tea tree concentration is more than one percent.
If the dog ingests the shampoo.
If you don't thoroughly rinse off the products.
If you use the products on small dogs (those under six weeks old).
Symptoms of tea tree poisoning include drooling, vomiting, muscle tremors, rash, seizures, incoordination, coma, or even death. These symptoms may show immediately or two to twelve hours after exposure. Therefore, monitor your pooch and call the vet if they get worse.
Tea tree oil poisoning mostly happens when your dog licks its fur after bathing. Your vet may inquire about the amount of tea tree oil ingestion before administering treatment. Blood work may come in handy if the veterinarian wishes to ascertain the state of your dog's liver and kidney.
Wrap Up
Tea tree dog shampoo has several health benefits for dogs when used in the appropriate concentrations. However, this product is unsafe for dogs when used in undiluted states. Before exposing your four-legged friend to these products, you should first test the products on them and confirm with the veterinarian.