7 Best Hypoallergenic Dog Shampoos (2023 Home Grooming)
You're lounging on the couch enjoying some downtime with your pooch when out of the corner of your eye, you see your pooch frantically scratching itself and clearly irritated with something. Maybe he might even rub his face on a rough, abrasive surface like the carpet or rug.
While some scratching is normal (who doesn't like a good scratch every once in a while?), excessive scratching is not. Newsflash! Your dog may have a skin allergy.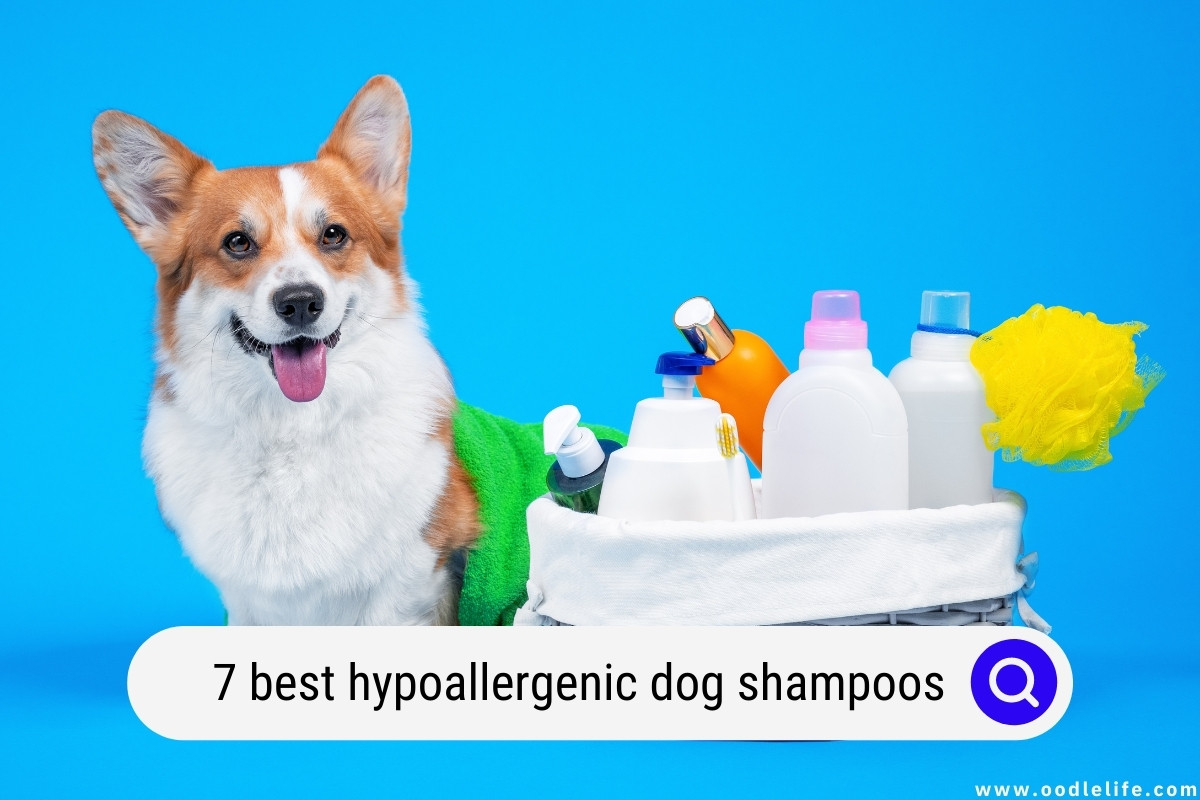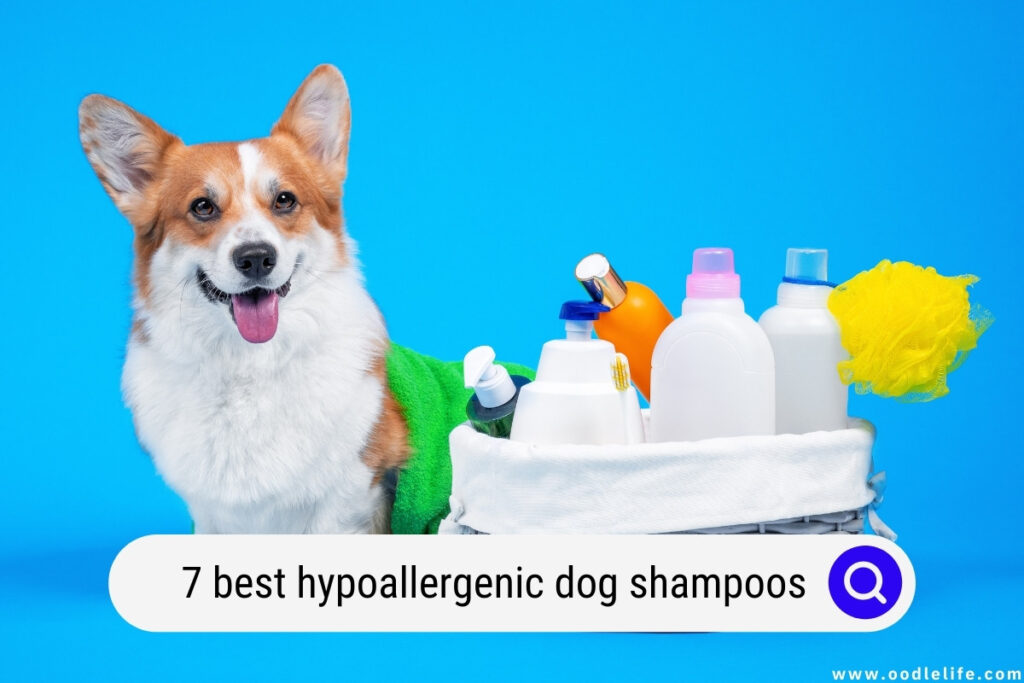 Excessive scratching is one of the most common symptoms of a skin allergy in dogs. Dogs may also chew or lick at their skin to try to relieve the itchiness. When left untreated, skin allergies can lead to hair loss, open sores, and secondary infections.
Causes Of Allergies In Dogs
There are a variety of things that can cause skin allergies in dogs. Some of the most common causes include food allergies, contact allergies, and allergies to environmental factors such as pollen or mold.
Food Allergies
Food allergies are often the most difficult to diagnose, as they can be caused by any number of ingredients in your dog's food. Common culprits are chicken, dairy, beef, soy, and wheat.
If you suspect your dog has a food allergy, it's important to work with your veterinarian to determine which ingredients are causing the problem. Once you know what your dog is allergic to, you can avoid those ingredients in their food and keep them healthy and happy.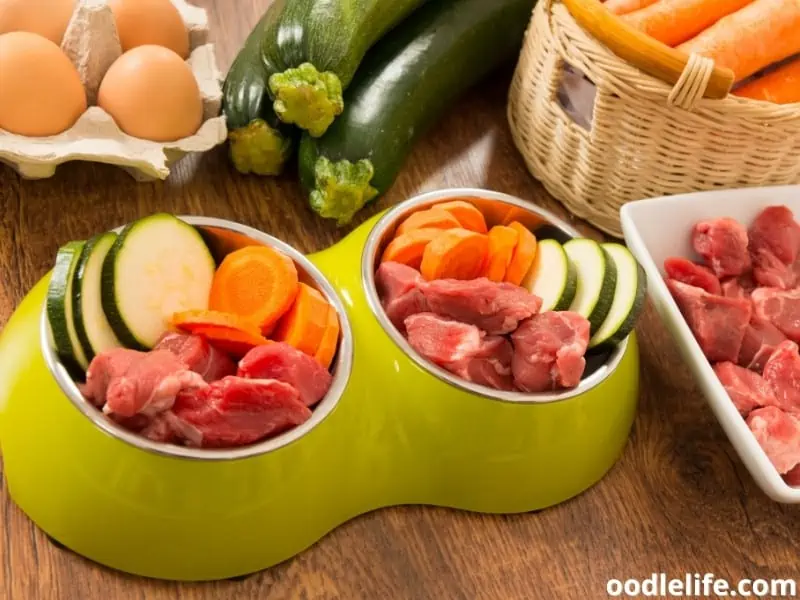 Contact Allergies
Contact allergies are caused by things that your dog's skin comes into contact with, such as certain fabrics or chemicals. If you notice your dog is itching and scratching more when they're around certain things, it's possible they have a contact allergy.
Common culprits are laundry detergents, floor cleaners, soap, and shampoos. Avoiding the irritants is the best way to prevent these allergies from causing problems.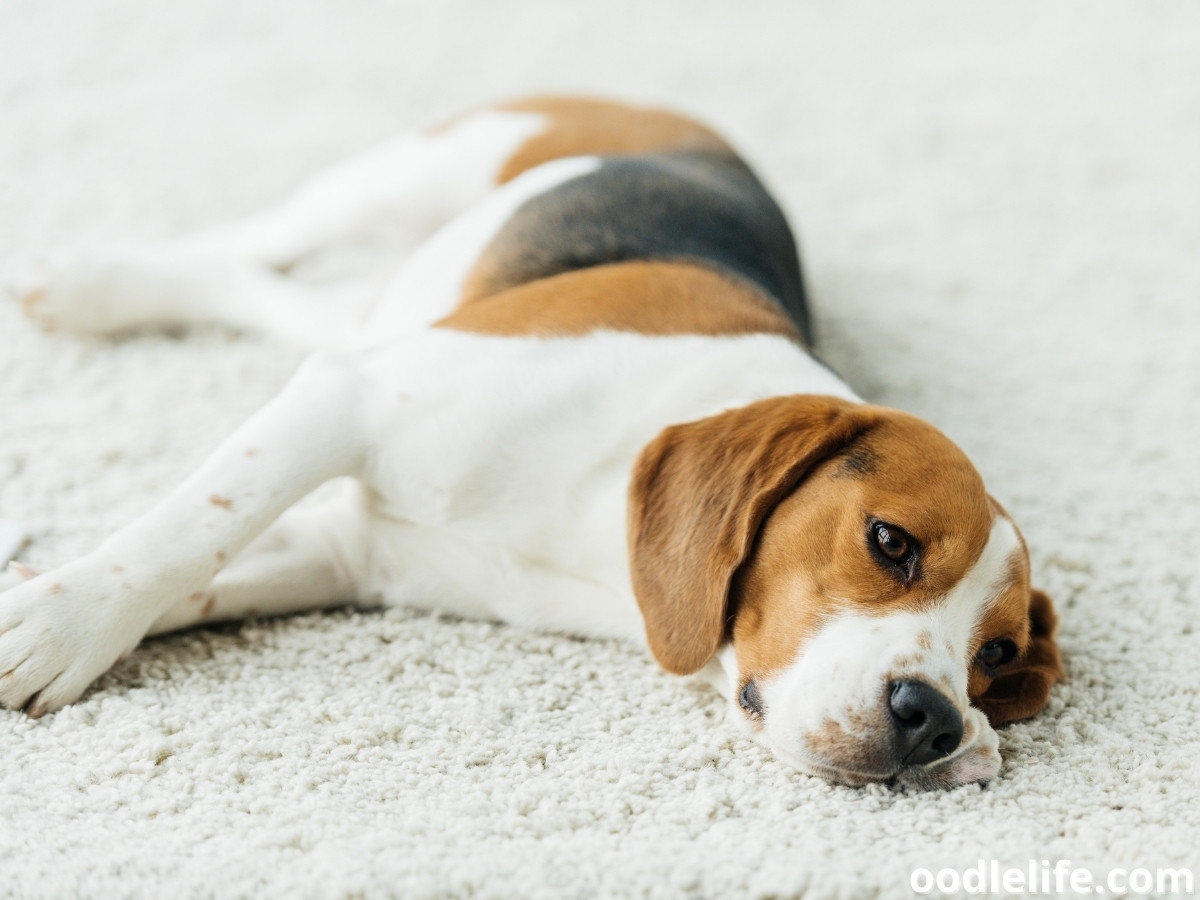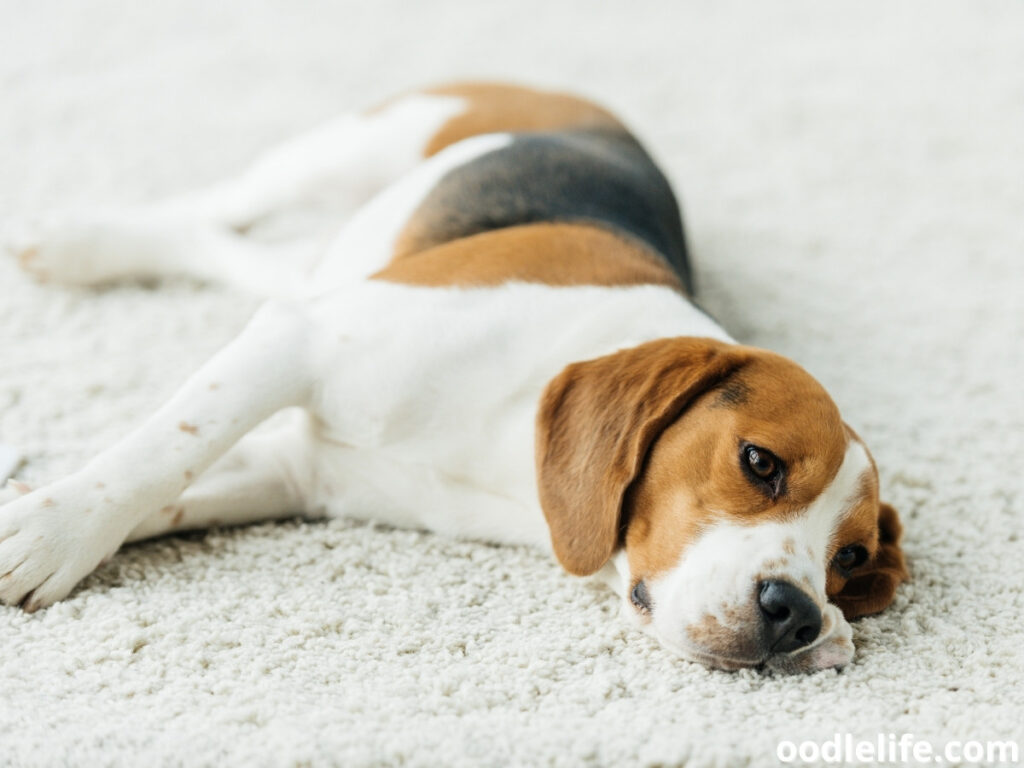 Environmental Allergies
Environmental allergies are caused by things in your dog's environment, such as pollen or mold. These allergies can be difficult to avoid, but there are some steps you can take to help your dog if they're affected.
For example, if your dog is allergic to pollen, you can try to keep them inside during peak pollen hours and make sure they're well-groomed to remove any pollen that's clinging to their fur.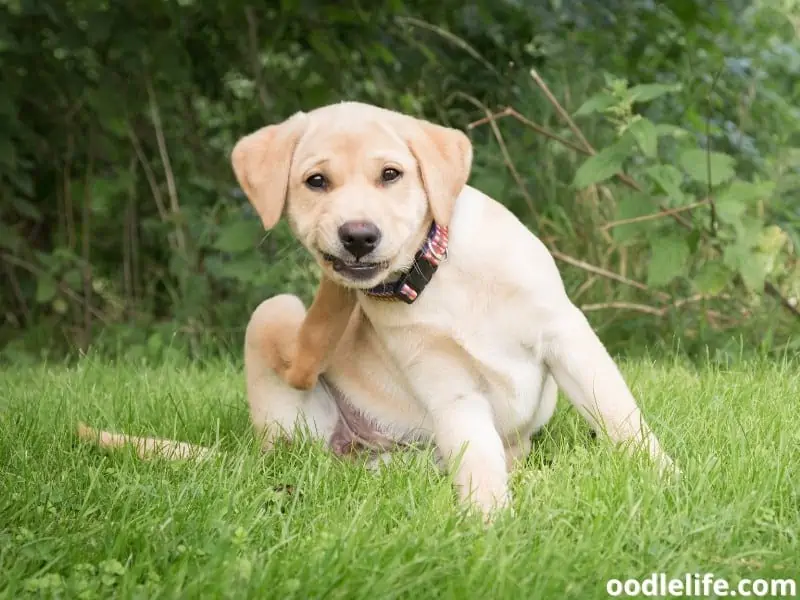 Best Hypoallergenic Shampoos For Dogs
Regardless of the reason, your itchy-scratchy dog will benefit greatly from a hypoallergenic shampoo that is easy on the skin to prevent aggravating his skin condition.
Hypoallergenic shampoos are made with fewer ingredients than regular shampoos, which can help to reduce the chances of an allergic reaction. You might also want to avoid using any shampoo with fragrances, as these can often be the cause of skin allergies.
If your dog's skin is particularly dry or irritated, you may want to consider using a moisturizing shampoo to help soothe their skin.
Looking for a hypoallergenic shampoo? Here are our favorites!
1. 4-Legger Unscented Dog Shampoo
Made using a gentle formula and cruelty-free ingredients, the 4-legger hypoallergenic shampoo is a top pick because it is free from sulfates and detergents. This is our top pick since it is certified organic and the natural ingredients reduce the chance of a negative reaction.
4-Legger Aloe Dog Shampoo All Natural and USDA Certified Organic Dog Shampoo - Hypoallergenic and Unscented for Sensitive Skin - USA - 8 oz
TRUE ORGANIC DOG SHAMPOO - 4legger is the first and only aloe based natural dog shampoo approved by the National Organic Program to use the USDA Seal to relieve itchy skin, moisturize dry skin, and...
HYPOALLERGENIC DOG SHAMPOO - Safe and non-toxic organic dog shampoo for dogs with ultra sensitive skin, are aroma sensitive, or when you want to add your own essential oils. Concentrated - a little...
HOLISTIC ALL NATURAL DOG SHAMPOO - Veterinarian recommended aloe dog shampoo combines organic aloe juice with organic coconut oil, shea butter, olive, sunflower, and jojoba to create this gentle...
ALOE DOG SHAMPOO - Aloe acts as a natural conditioner to make your dog's coat look shinier, glossier, and healthier while working to restore your dog's dandruff, flaky, or dry skin - Unscented and...
WAGGING TAIL GUARANTEE - Our planet friendly 100% biodegradable ingredients are sustainably sourced, cruelty free, vegan, USA made in small batches to ensure quality. We're pet parents who truly care...
We earn a commission if you make a purchase, at no additional cost to you.
In addition, there are no additional scents or artificial thickeners in this shampoo, reducing the risk of a reaction. Eco-friendly shoppers will enjoy purchasing this shampoo as it is biodegradable. Moreover, the consistency is thinner than a traditional shampoo, which is why a little amount will go a long way.
For itchy dogs with sensitive skin, this shampoo is an excellent choice.
Pros
100% non-toxic formula.
Vegan ingredients.
Lessens dander.
Cons
The shampoo is not tear-free.
Can leave a sticky residue.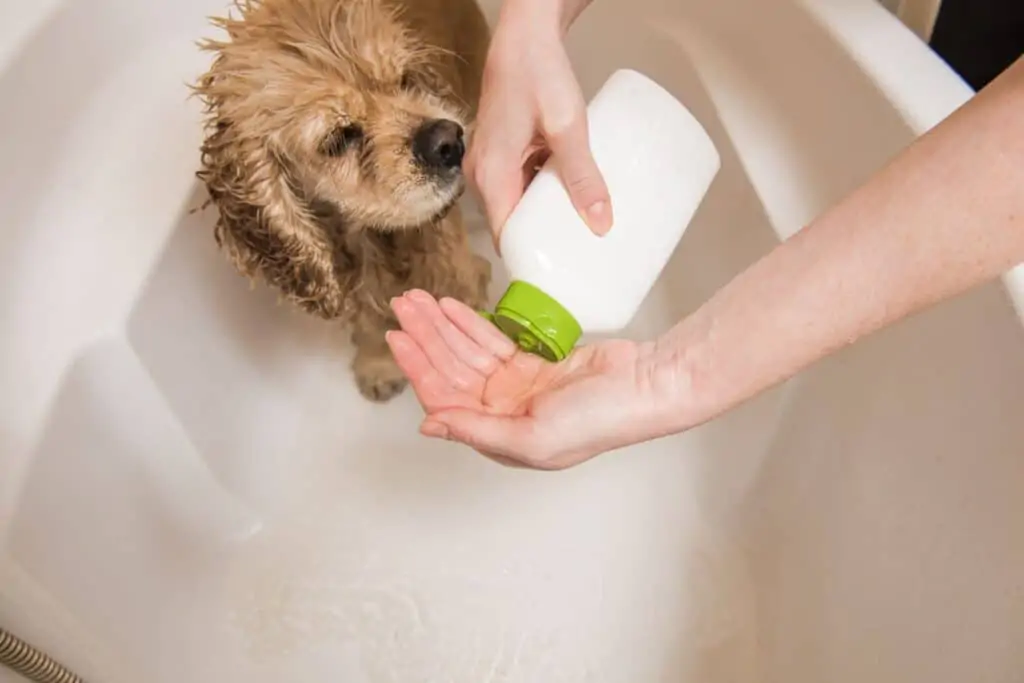 2. Vet's Best Hypoallergenic Shampoo for Dogs
Trusted for more than 30 years, Vet's has one of the best hypoallergenic shampoos for your dog. It is gentle on your furry companion, making it safe for dogs that have hot spots or other allergies.
Vet's Best Hypo-Allergenic Shampoo for Dogs | Dog Shampoo for Sensitive Skin | Relieves Discomfort from Dry, Itchy Skin | Cleans, Moisturizes, and Conditions Skin and Coat
RELIEF FOR SENSITIVE SKIN - Vet's Best Hypo-Allergenic Dog Shampoo for sensitive skin is a gentle, soap-free shampoo for dogs that relieves itching and helps to smooth dry, brittle coats
NATURAL REMEDY- Veterinarian formulated blend of key natural, plant-based ingredients like Aloe Vera and Vitamin E to comfort sensitive skin and relieve your pet's allergies
USE AS NEEDED - Vet's Best Hypo-Allergenic Dog Shampoo may be used as often as necessary to remove allergens without drying out your dog's skin
WORKS WITH OTHER TREATMENTS – Our shampoo will not affect other dog treatments such as topical flea and tick control products
TOTAL CARE- Vet's Best Hypo-Allergenic Dog Shampoo is part of our complete treatment system for dry and sensitive skin. Use with Vet's Best Moisture Mist and Vet's Best Ear Relief Wash & Dry
We earn a commission if you make a purchase, at no additional cost to you.
This shampoo contains four primary ingredients including aloe vera and vitamin E which reduces the risk of reactions and moisturize, soothe, and cleanse your dog's irritated skin.
This shampoo is slightly thinner than most but that does not affect its ability to smooth out brittle and dry coats. It uses natural ingredients to relieve pet allergies and works perfectly with other treatments like tick control products.
Pros
Designed by vets.
Soap-free shampoo.
It will not interfere with other treatments such as flea meds.
Cons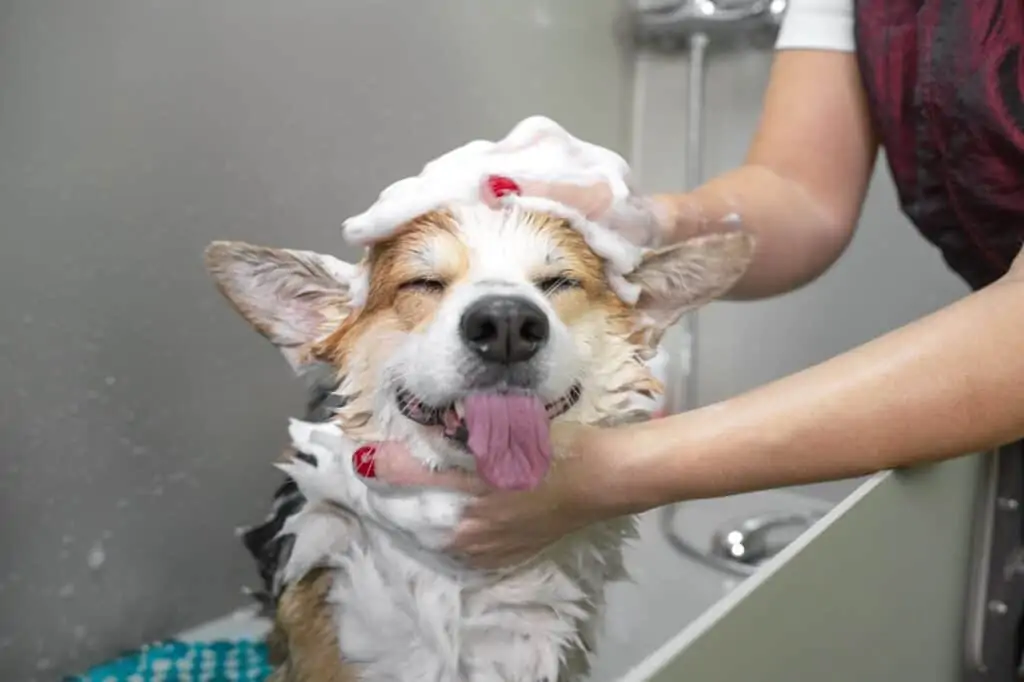 3. Burt's Bees Hypoallergenic Dog Shampoo
If you are in the market for a good hypoallergenic shampoo that will give you value for money, then Burt's Bees Dog shampoo is your go-to option. Made using the finest quality ingredients and a pH-balanced formula, this shampoo is free from fragrance, harsh chemicals, colorants, and sulfates.
Burt's Bees for Dogs Hypoallergenic Dog Shampoo with Shea Butter & Honey | Shampoo for Dogs with Dry or Sensitive Skin | Cruelty Free, Sulfate & Paraben Free, pH Balanced for Dogs -| 16 O...
DID YOU KNOW DOG SKIN DIFFERS FROM HUMAN'S - Dogs' skin is less acidic than human skin, so human shampoos destroy a dog's skin protective barrier, leaving your pet vulnerable to itchy flaking
NO. 1 PET GROOMING BRAND IN THE USA*-See why millions of pet parents entrust their pet's health and hygiene to Burt's Bees for Pets. This natural shampoo for dogs is no exception
CLEANS AND SOFTENS - Burt's Bees Hypoallergenic Shampoo for dogs is a gentle cleanser that freshens up your dog's coat without drying out their skin. This sensitive dog shampoo provides itch relief...
NO SULFATES, COLORANTS, ADDED FRAGRANCE OR HARSH CHEMICALS - This formula is free of fragrances, sulfates, colorants, and harsh chemicals. That's what makes Burt's Bees for Pets a natural dog company...
SAFE FOR ALL DOGS AND PUPPIES - This hypoallergenic dog shampoo tearless and pH balanced for dogs and puppies of all ages, so it's perfect to add to your puppy supplies kit or dog grooming supplies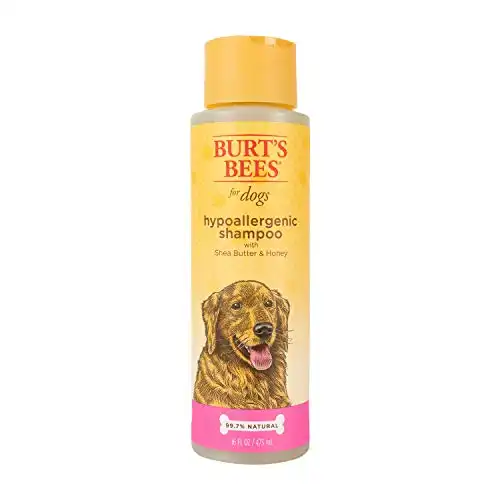 We earn a commission if you make a purchase, at no additional cost to you.
Ingredients such as honey and shea butter moisturize and give your pet's coat a perfect shine. The all-natural shampoo is ideal for sensitive dog skin and will relieve itchiness.
Pros
Offers quality ingredients at an affordable price.
It is gentle and mild, making it perfect for sensitive skin.
pH balanced formula specifically to meet canine needs.
Cons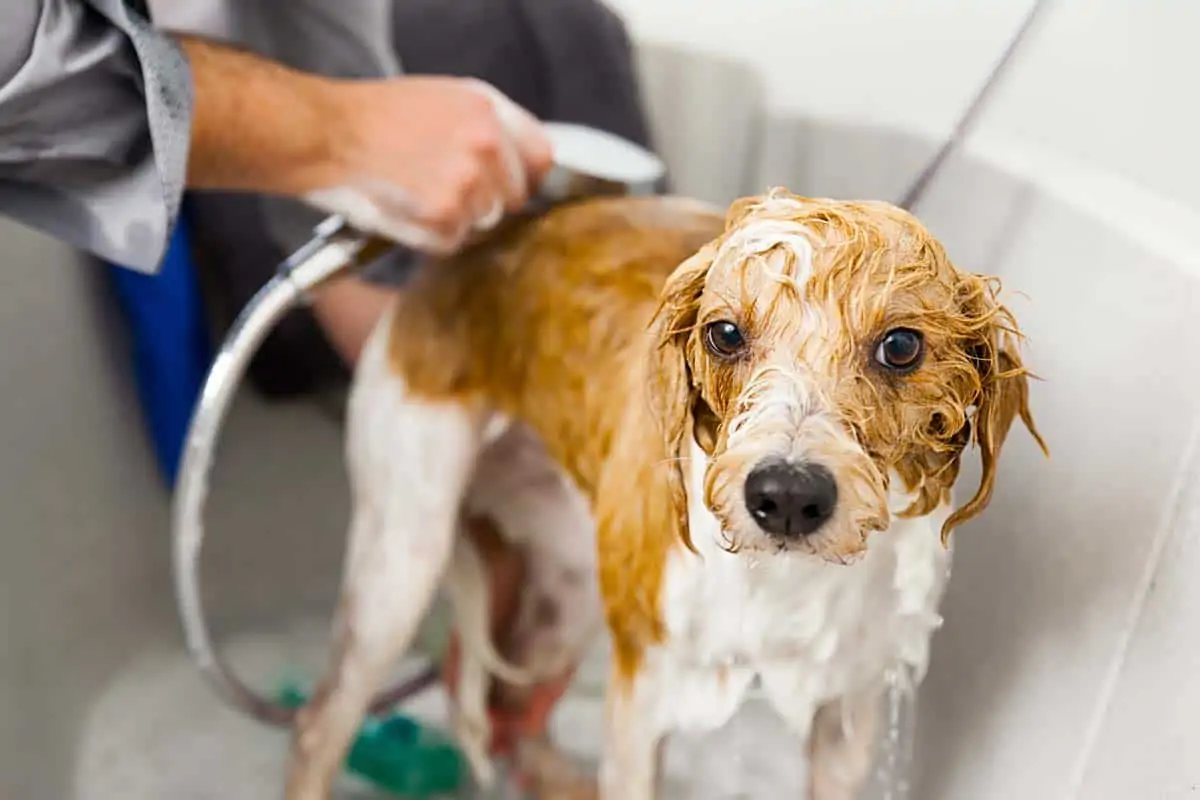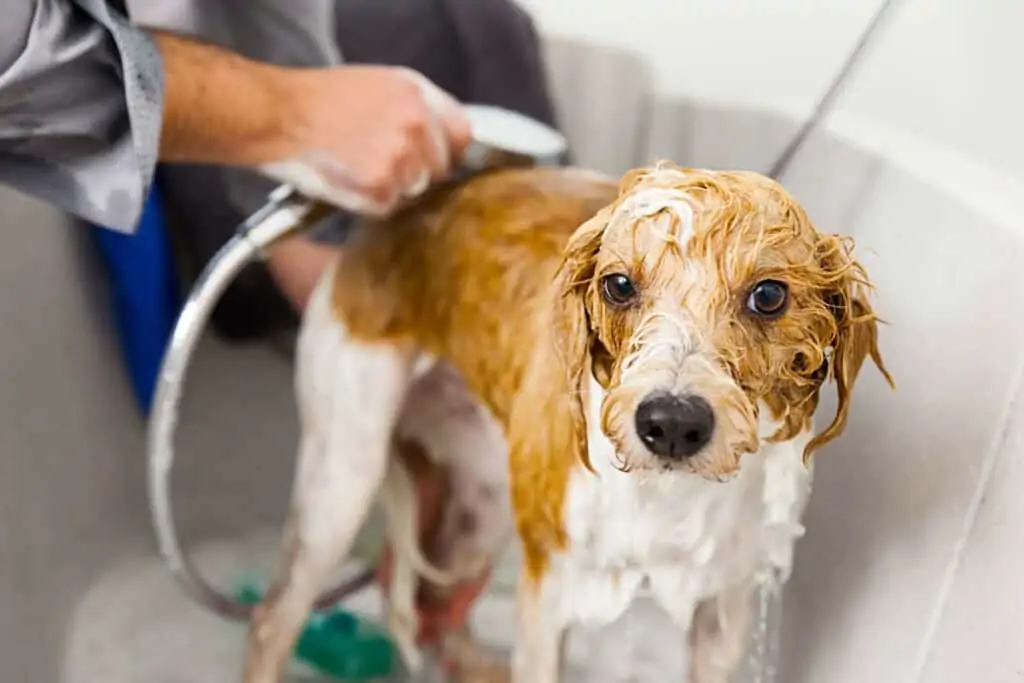 4. Rocco & Roxie Calm Shampoo
With a 4.5 star rating, Rocco & Roxie Calm dog shampoo is ideal for puppies or dogs that have EXTREMELY sensitive skin. Made using a natural formula and with safe, top-quality ingredients, this hypoallergenic shampoo will calm, clean, and restore your dog's coat.
Rocco & Roxie Dog Shampoo for All Dogs & Puppies - Soothe Oatmeal Shampoo for Dry Itchy Skin, Calm Hypoallergenic Shampoo for Sensitive Puppy Skin, and Shine Argan Oil Conditioning Shampoo
BABY YOUR BABY - For tender new puppy skin or dogs with sensitive dermal conditions, our kindest shampoo is formulated to cleanse while being extra gentle. No tears or angry allergies allowed!
NATURE'S BEST INGREDIENTS - Made with aloe vera extract, which smoothes the cuticle surface and seals in moisture for skin and coat; restorative rosemary, to stimulate follicle growth; and gentle...
SAFE, EFFECTIVE, NATURAL - No masking dyes. No drying alcohols. No parabens that can mess up a dog's endocrine system. All of the good stuff, none of the bad: that's what Rocco & Roxie is all...
MAKE BATH TIME A BREEZE - Wash away a day of play in minutes. Our formula is easy to shampoo in, easy to rinse out completely. Towel dry or whole-body shake? Maybe a little of both.
100% GUARANTEE - We want you to be completely satisfied. We want your dog to look and feel her best. If this shampoo doesn't do both, don't work yourself into a lather—we'll send your money...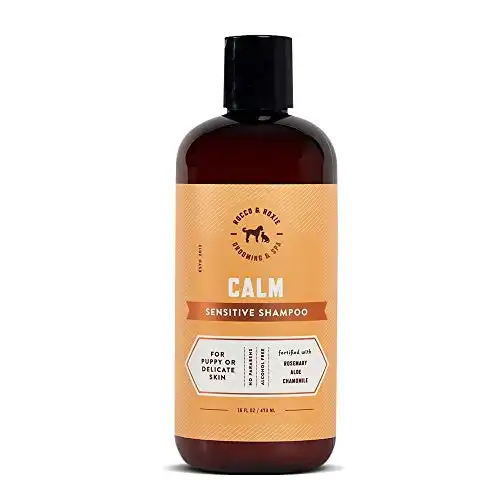 We earn a commission if you make a purchase, at no additional cost to you.
It offers a no-tear blend along with unmatched moisture and softness. Creamy shea butter, aloe vera, oat extracts, and olive oil come together to provide a calming effect. In addition, aloe vera gives a soothing impact and fights dry skin.
This easy-to-use shampoo does not have paraben, phthalates, or mineral oil, reducing the chance of negative reactions.
Pros
The formula is easy to shampoo in and rinse out.
It is perfect for puppies and dogs with epidermis conditions.
Cleans away smelly grime and muck without causing irritation to the skin.
Cons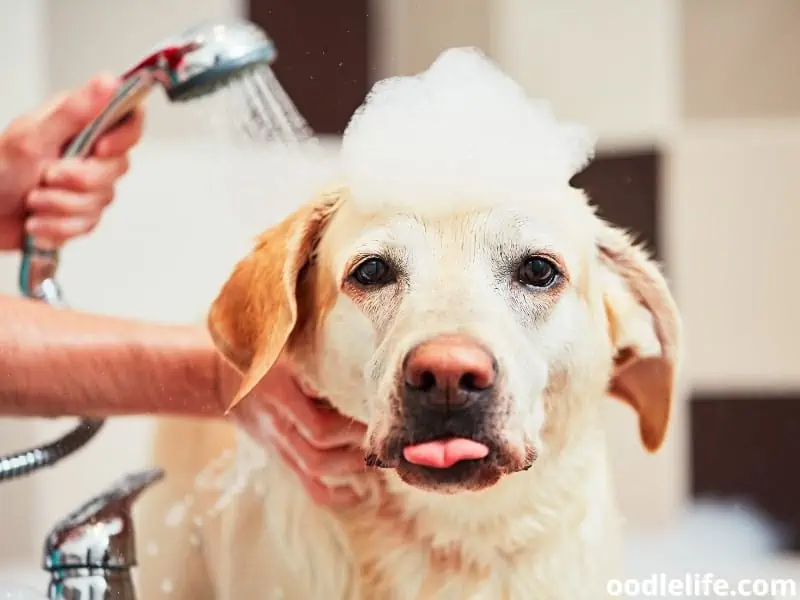 5. Earthbath Oatmeal and Aloe Shampoo
5th on the list is the famous Earthbath Oatmeal and Aloe Dog Shampoo, the perfect choice for pooches who have sensitive, dry, and itchy skin. Oatmeal and aloe vera blend together to promote healing, soothe irritated skin and rehydrate dryness.
earthbath Oatmeal & Aloe Pet Shampoo - Vanilla & Almond, Itchy & Dry Skin Relief, Soap-Free, for Dogs & Cats, 100% Biodegradable & Cruelty Free, Give Your Pet That Heavenly Scent -...
ADDRESS DRY, ITCHY, AND FLAKY SKIN - Colloidal Oatmeal and Organic Aloe Vera help combat skin irritation, promote healing, and re-moisturize sensitive, dry skin
BRILLIANTLY CLEAN & SOFT - This luxurious shampoo is soap free and pH-balanced to clean and deodorize safely and thoroughly, leaving your pet's coat and skin plush and smelling better than ever before
SAFETY FIRST - Our Oatmeal & Aloe, Vanilla & Almond Shampoo will not wash off topical flea applications. Safe for all animals over 6 weeks old
KNOW WHAT YOU'RE GETTING - What goes into our products is just as important as what doesn't. This product contains no soap, gluten, DEA, parabens, synthetic dyes, sulfates, or phthalates, and is...
100% MONEY BACK GUARANTEE - We are so sure you will love this product that we will refund your money if you are not satisfied for any reason. You have nothing to lose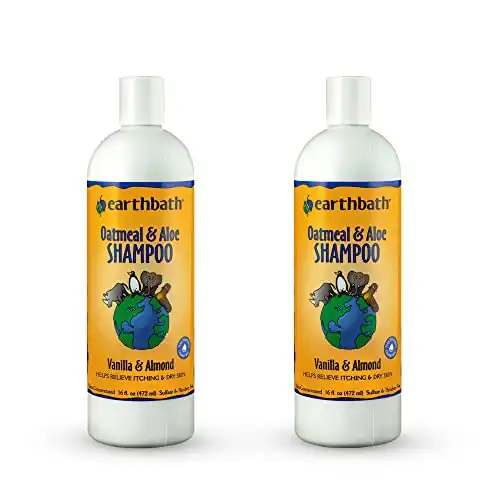 We earn a commission if you make a purchase, at no additional cost to you.
Affordably priced, this Earthbath shampoo will moisturize and revitalize the coat, reducing dryness and maintaining the shine. This chemical-free shampoo is also pH balanced that soothes irritated skin. We love that this shampoo is cruelty-free, vegan, and biodegradable!
Pros
Made with all-natural 100% organic ingredients.
Reduces the urge to scratch.
It has a pleasant smell given the natural formula.
Moisturizes and heals the skin.
Cons
The natural scent is not for everyone.
It is NOT a tearless formula.
6. Nature's Miracle Oatmeal Dog Shampoo
Ideal for sensitive skin, the Nature's Miracle Oatmeal Shampoo is soap-free and will soothe itchy skin. This dog shampoo comprises honey, oatmeal, and sage that cleans the dirtiest of dogs and improves fur softness. Honey and sage make it a great smelling shampoo that works into the coat easily.
Nature's Miracle Oatmeal Shampoo for Dogs, 32 Ounces, Oatmilk and Aloe Scent
FOR DOGS ONLY: Specially formulated shampoo for dogs.
OATMILK & ALOE SCENT: Freshens with a light scent, leaves your dog smelling nice and clean.
ODOR NEUTRALIZING FORMULA: Helps neutralize odors and leaves no wet dog smell.
ENRICHED WITH ALOE & VITAMIN B5: Provides moisture and shine.
SOOTHES PETS' SKIN: Safe for pets when used and stored as directed.
We earn a commission if you make a purchase, at no additional cost to you.
You can use this shampoo with flea and tick products without irritating your pup's skin. This hypoallergenic shampoo offers 4-in-1 benefits including cleansing the coat, neutralizing odors, and soothing skin.
The soap-free formula ensures that the tick and flea medication doesn't wash away. Your dog will love the soothing effect this product has on the skin. Moreover, the shampoo will not leave an overpowering smell.
Pros
Comes in a large 32-ounce bottle.
Safe to use with flea products.
Smells great and has a long-lasting effect.
Cons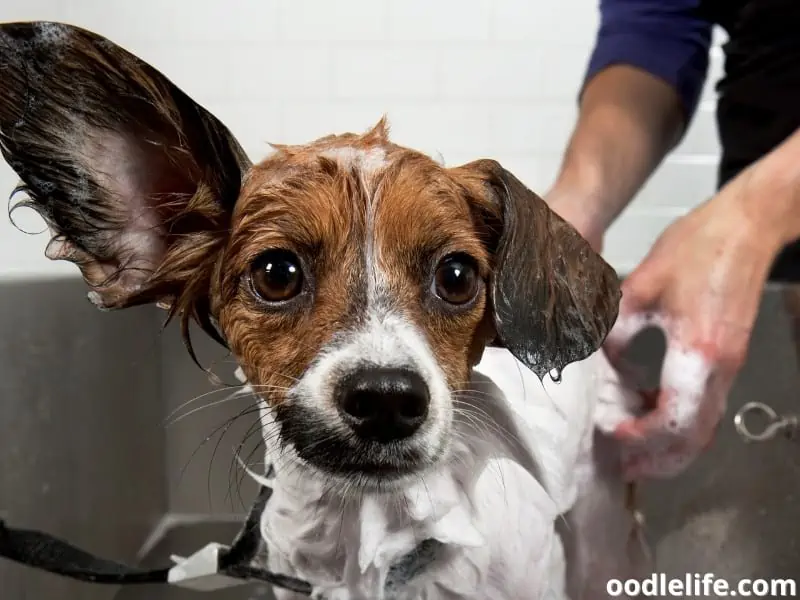 7. Fieldworks Moosh Natural Dog Shampoo
Looking for cruelty, preservative, and sulfate-free dog shampoo? The Moosh Natural Dog shampoo offers the perfect blend of aloe vera, nutmeg, argan oil, and bentonite clay which enhances the coat's silkiness and shine.
Moosh Natural Dog Shampoo – Promotes Healthy Hair, Coat and Skin. Helps Hot Spots, Dry Itchy Skin. Pet Odor Eliminator – Grooming Shampoo. Shea Butter, Argan Oil, Aloe Vera, Bentonite Clay
WHY WASH YOUR 4 LEGGED LOVE ONE IN A BUCKET OF CHEMICALS? When we say Natural and Organic – We mean 100% Natural and Organic! No sulfates. No preservatives. No chemicals. and easy to rinse. ALWAYS...
ITCHY SKIN or HOT SPOTS? We are the only dog shampoo with Bentonite Clay. This clay has been known for centuries for natural healing abilities. It leaves your dogs fur squeaky clean and calm, soothed...
SKIN ISSUES? We use Argon Oil. Rich in emollients, it moisturizes, conditions and reduces skin issues and flaking. SHEA BUTTER and ALOE VERA Soothe, soften and moisturize the skin as well as leave...
ESSENTIAL OILS Leave your best friend smelling naturally great – no fake perfumes! ECO-FRIENDLY – Safe for lakes and streams as well as your dog. Remember, your dog cleans and grooms himself by...
VERY CONCETRATED – We have a reducer in the neck of the bottle which allow you to control the amount you squeeze out. (SEE VIDEO). MADE IN USA IN SMALL BATCHES – We are committed to excellence and...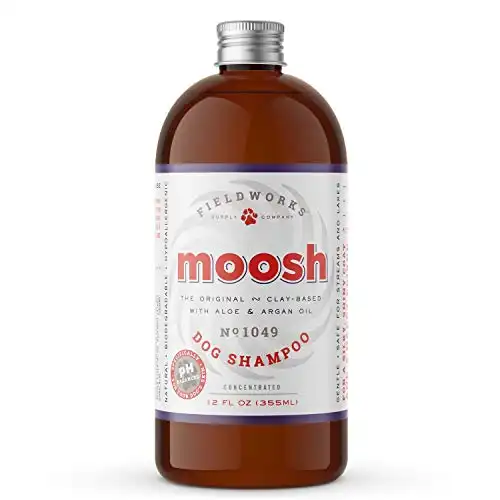 We earn a commission if you make a purchase, at no additional cost to you.
These all-natural ingredients will fully moisturize the coat and will calm any hot spots, while the bentonite clay will prevent itchiness, eliminate fungal infections, and naturally promote healing in the skin.
Argan oil, shea butter, and aloe vera work together to remove flakey skin and improve dryness. With this toxin-free shampoo, your dog can safely groom itself without fear of toxicity, in addition to enjoying smooth, clean skin!
Pros
Itchy skin clears up with this shampoo.
The shampoo smells fresh and cleans out nicely.
It is an eco-friendly shampoo that rinses out easily.
Herbal formula repels ticks and fleas.
Cons
Some might find the fragrance of all the essential oils intense.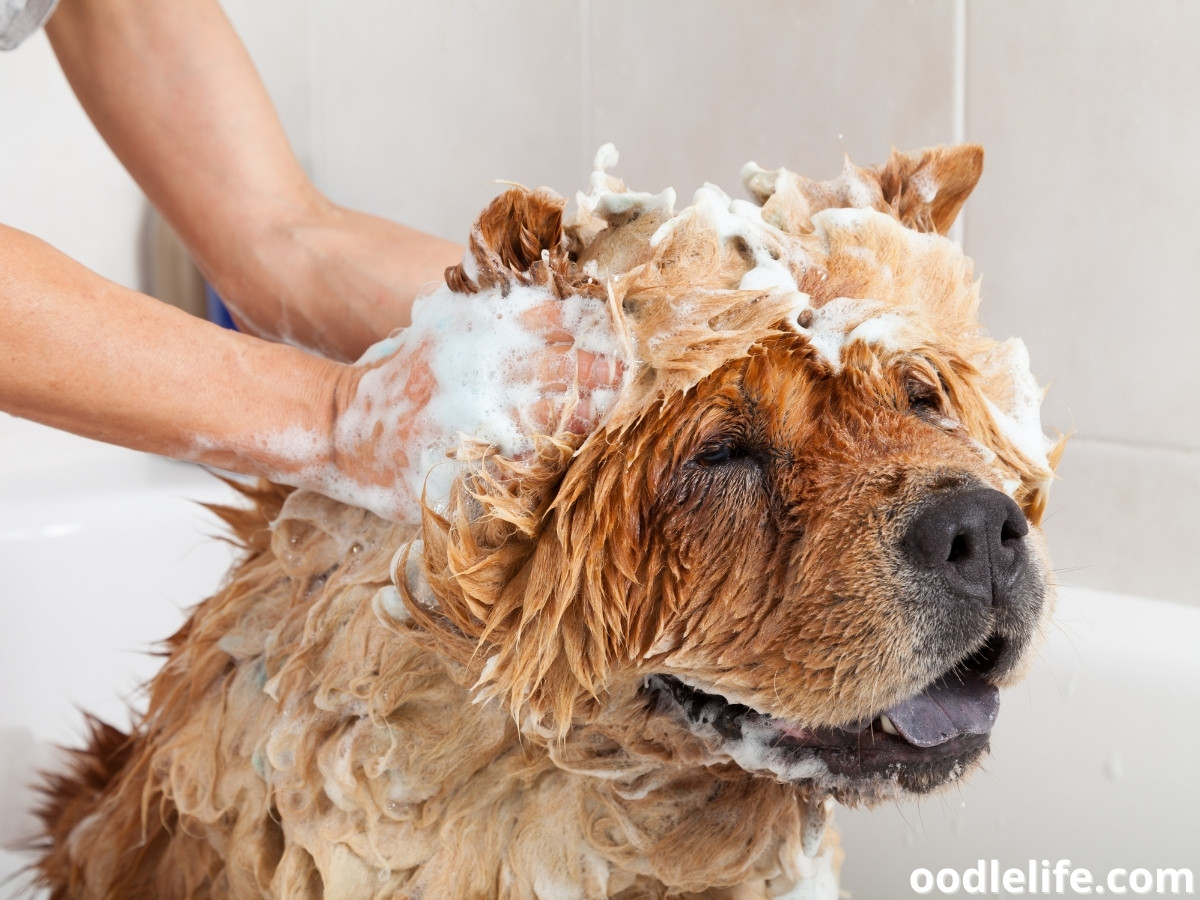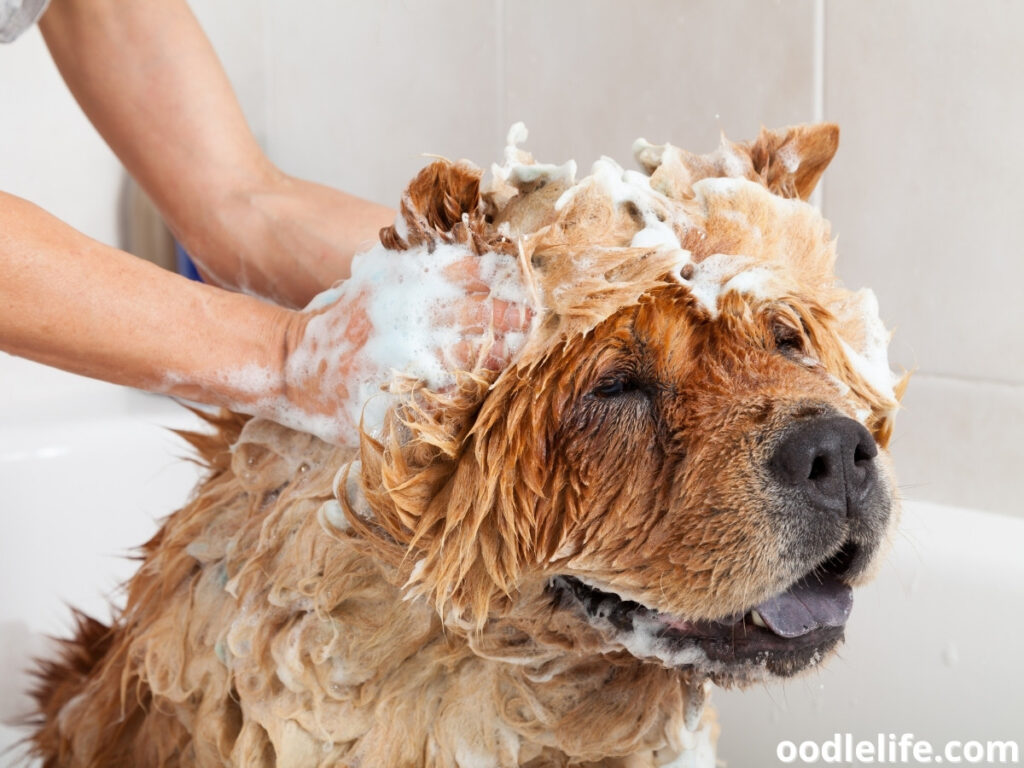 Final Thoughts
If you have ever had an incessant itch, you'd know that is no fun at all. Excessively scratching is enough to turn the most amicable pooch into an irritated, moody mess, not to mention the potential infections and skin complications that come with it.
With these shampoos, we hope that we have helped minimize your pooch's discomfort as well as reduce the risk of any further aggravation to a skin condition. Good luck!