5 Best Under-the-Bed Blockers for Pets (2023) Plus DIY 
The crawlspace under the bed is a place beloved by nervous cats and skittish dogs everywhere. It's also the ideal spot to hide sticks, favorite balls, and other toys your pets don't want you to find.
There's nothing inherently wrong with this unless, as our dog does, the pet in question expects you to retrieve their lost toys. And then retrieve them again. And again.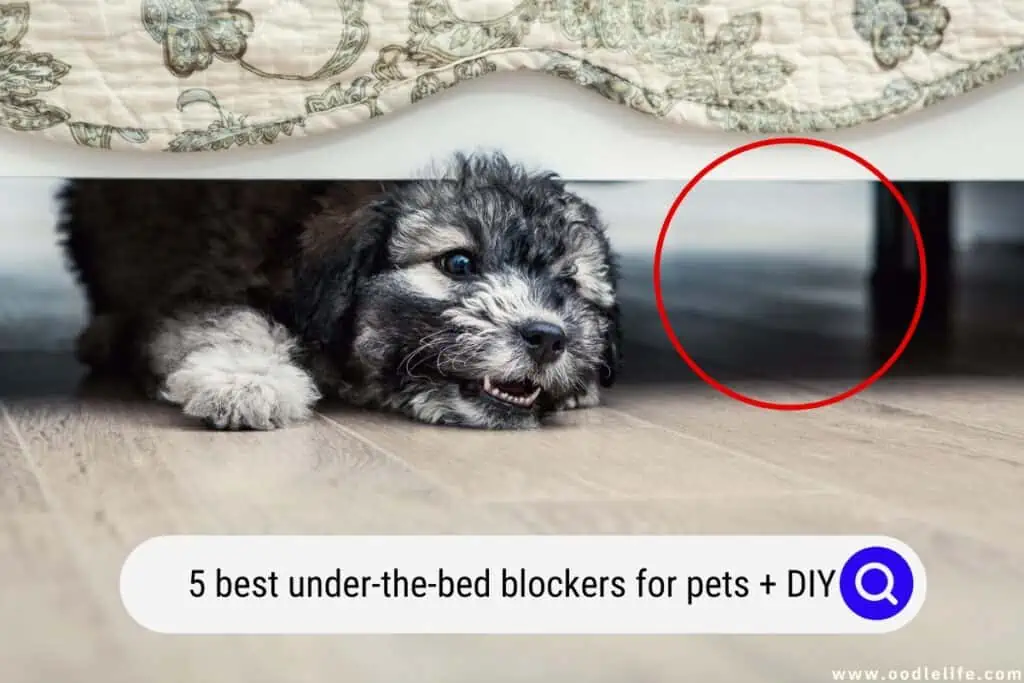 If that scenario sounds familiar, it's no wonder you want to find the best under-the-bed blockers for pets.
5 Best Under the Bed Blockers for Pets
We've researched these thoroughly and will explore the five best options. Additionally, we'll tell you how to create your own under-the-bed blocker to keep your pets and their toys from getting up to mischief.
Bowerbird Toy Blockers for Bed and Couch
We consider Bowerbird's toy blockers the best under-the-bed blocker for pets. It stands out because it's available in several sizes and features comprehensive instructions on how to use it most effectively.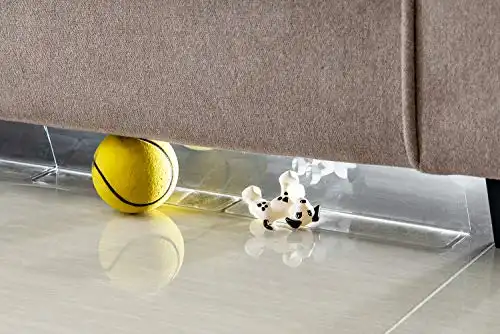 We earn a commission if you make a purchase, at no additional cost to you.
Another standout feature of Bowbird's under-the-bed pet blockers is that it's reversible. You can make it clear and seemingly invisible or camouflage it with wood or tile.
We also like that you don't have to keep the Bowerbird pet blocker up forever. Most pets, and dogs especially, respond to consistently reinforced feedback. That includes the nonverbal message sent by a barrier that prevents them from getting under the bed.
Once they learn it's not somewhere they or their endless balls are welcome, you can take the blocker down. It rolls up for convenient storage.
However, it does take some assembly. It's not enough to slide this blocker into place. You'll have to affix it to the bed with screws.
But customers agree the instructions are easy to interpret. And once set up, the barrier is durable and effective.
Our only concern with this under-the-bed pet blocker is that it does its job too well. Clear, wooden or tiled it blends in so effectively you may forget it's there and stub your toe on it.
Pros:
Rolls up for easy storage when not in use.
Blends in with wood, tile, laminate, or clear.
Adheres effectively to bed and floor, preventing trip hazards.
Cons:
Hard to determine the appropriate size for furniture.
Dust can weaken the adhesive and cause the blockers to come loose.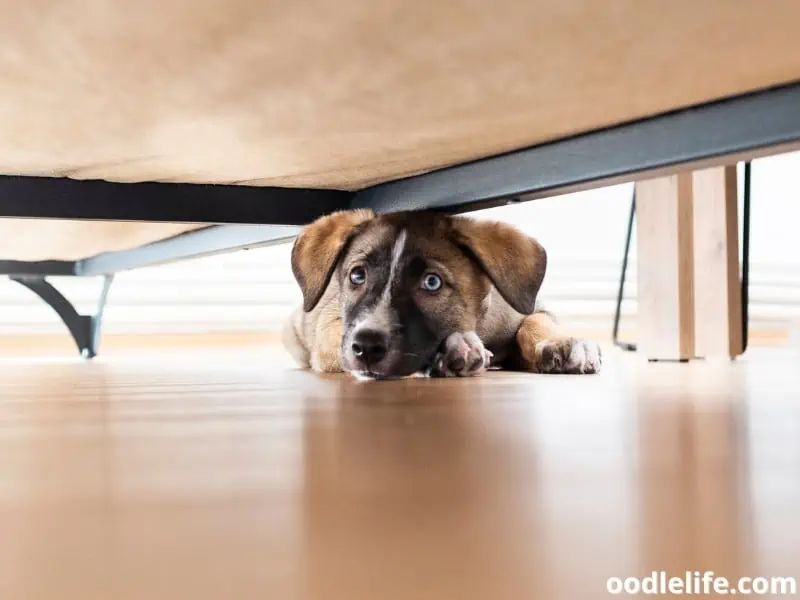 Preventative Pet Blocker
Whereas the previous under-the-bed pet blocker required some assembly, this blocker is much more straightforward.
Prevents All Pets & Toys from Getting Under Furniture
BLOCKERS keeps missing toys and pets from getting lodged under your furniture
No more barking and scratching for lost toys
No more urine under the couch or bed from the pets
No more chewed through cords from small pets
BEST UNDER COUCH & BED BLOCKER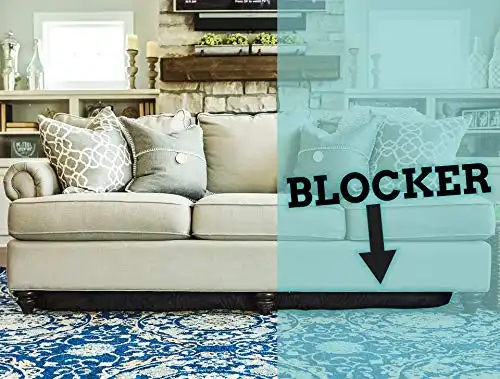 We earn a commission if you make a purchase, at no additional cost to you.
All you have to do is slide it under the couch. It makes an effective barrier for pets and toys. With the blocker in place, you won't have to worry about retrieving a favorite tennis ball from under the sofa or enduring the mournful bark of a bereft dog.
The blocker is cylindrical and uses memory foam-type material to mold to the underside of your bed. You cannot cut this blocker to size, so it won't work for smaller furniture pieces, like chairs, but it's perfect for stopping pets from getting under the bed.
The biggest disadvantage of this under-the-bed pet blocker is that it goes in and out of availability so quickly and unpredictably. When it's available, it's an effective way of blocking the underside of your furniture from adventurous pets.
The other slight disadvantage is that this blocker sometimes slides on hardwood floors. But in a carpeted or tiled space, it's an affordable and effective way of protecting the underside of beds and sofas.
Pros:
Affordable.
Minimal setup.
Memory foam creates tight seal between floor and furniture.
Cons:
Can slide on hardwood floors.
Availability can be limited.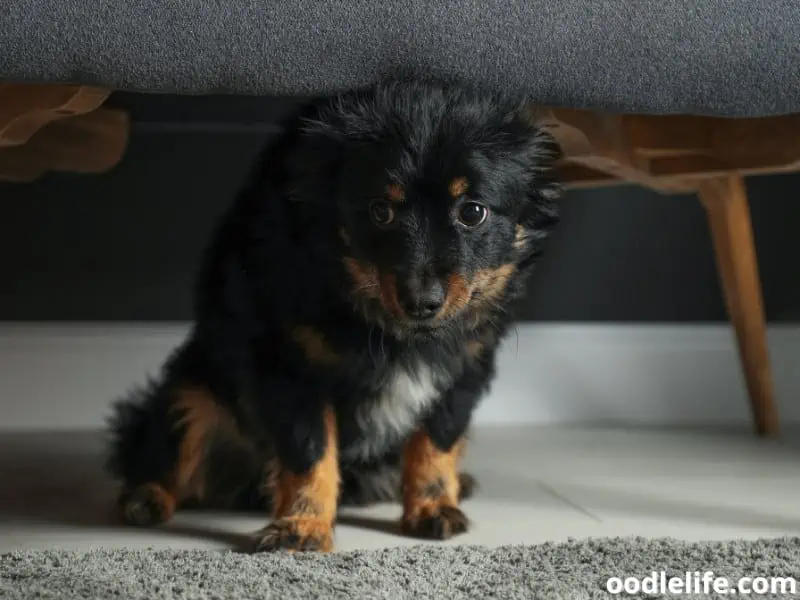 World Backyard Toy Blockers
World Backyard Toy blockers are another of the five best under-the-bed blockers for pets.
World Backyard Toy Blockers for Furniture - Clear Thin PVC Gap Bumper Under Couch, Sofa, Bed, Cabinet to Stop Small Things Going into. (Large 4.7'' High)
No more straining to lift up, bending or kneeling to get things that roll under the couch. Also no need cleaning frequently, since our Bumper Guard will keep dirt and dust from accumulating under...
Easy and Quick Setup, but only can be fixed on hard surface floor such as hardwood ,marble,tile,vinyl,etc. Non-residue tape technology makes our blocker strong enough to prevent things even your small...
BPA free safe waterproof PVC material, the blocker has been chamfered and has no sharp burrs to protect your family and pets. The height of 4.7 inches meets the needs of tall furniture.
4.7"H×16"L×5 pieces PVC flat with about 80 degree angle. With this angle ,the PVC Sheet more powerful to stop things, place the blockers inward the edge of your couch to get the best performance of...
The Gap Blocker is transparent ,which means that it will not block light while maintaining its beauty, so nothing will change after installing,and can look through it clearly once needed.
We earn a commission if you make a purchase, at no additional cost to you.
Their adhesive bottom ensures the fit is snug. It also prevents the blocker from sliding, despite your pet's best efforts to make it budge.
One of the reasons this blocker stands out is that it's available in several sizes. That's convenient since no two beds have the same floor-to-bedframe gap. But it also means you can keep dogs and cats of all sizes and shapes from hiding under the bed.
Aesthetically speaking, these under-the-bed blockers are clear, so they camouflage with your bedroom décor. The disadvantage is that when they accrue dust, it's noticeable.
However, the blockers clean easily. One of the most effective ways to clean them is by applying a damp washcloth.
When you no longer need the bed blocker, it rolls up and stores easily.
Pros:
Stores easily.
Easy to clean.
Several sizes available.
Cons:
Adhesive less effective on some surfaces, like hardwood.
When incorrectly sized, pets can get trapped behind blocker.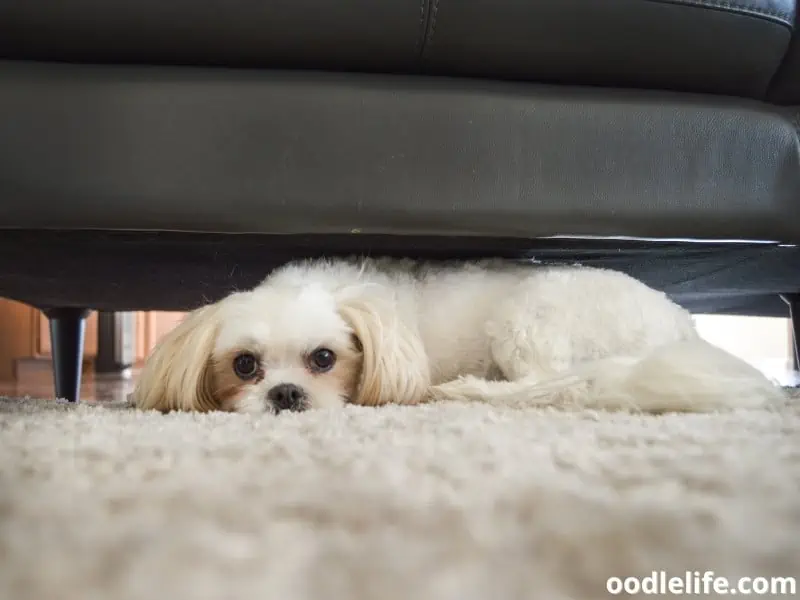 Toy Blocker and Gap Bumper
This toy blocker and gap bumper is another of the best under-the-bed blockers on the market. It's BPA-safe, which is important for pet owners with animals that might try to chew their way around the barrier.
QIYIHOME 5-Pack Toy Blocker, Extra High Size Gap Bumper for Under Furniture, BPA Free Safe PVC with Strong Adhesive, Stop Things Going Under Sofa Couch or Bed, Easy to Install 9.5" Height
【HIGH QUALITY MATERIAL】The under bed blocker made of BPA free safe waterproof PVC with super strong adhesive, keep simple and elegant when stick on the floor Easy removable and washable. No damage...
【NEW EXTRA TALL SIZE AND EASY INSTALLATION 】The Size: 16" L x 9.5" H x 5 Pieces. It can seal gap reach up to 9.5"H and cuttable for lower gap. Fast and easy installation within 2 minutes. Fit any...
【WIDELY APPLICATION OF GAP BUMPER 】This bed gap blocker can firmly adhere to the hard surface floor, like the wood ,marble,tile,vinyl,etc. Up to 78.7" long can stop anythings from going under each...
【SAY GOODBYE BENDING, DIRT AND DUST】No more bending or kneeling to get stuff that roll under the couch, effectively block pet balls and kids toys. Keeps dirt and dust and don't lose anything...
【OUR PROMISE: 】MONEY BACK GUARANTEE – If you're not satisfied with the quality of our Gap Bumper, please contact us and you will receive your money back. Meanwhile, enjoy your cleaner...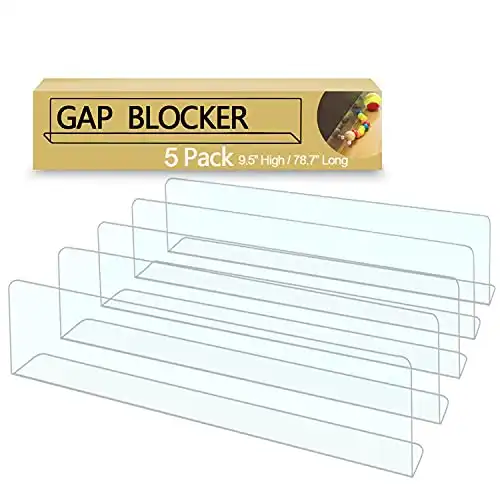 We earn a commission if you make a purchase, at no additional cost to you.
There are also several options. Customers can choose between packs of five, eight, and ten depending on how many blockers they need.
However, unlike other under-the-bed blockers on this list, the toy blocker and gap bumper only come in one size. It stops gaps up to three inches high. If you need to stop up something larger, it's worth investigating other options.
That said, it's a widely applicable bed blocker that works on:
Wood
Marble
Tile
Carpeting
Additionally, it helps keep dust to a minimum. When it builds up on the bed blocker, you can easily wipe it down. There's none of the hassles of wrestling a vacuum cleaner under the bed.
We also recommend this blocker because it's clear. You won't notice it when you come into a room because it doesn't distract from your existing décor. And whereas some blockers cannot be cut, these one can, ensuring you get an under-the-bed blocker that is the right size for your purposes.
Pros:
Versatile blocker that works on a variety of different surfaces.
Choose from several packs containing different numbers of blockers depending on your needs.
BPA-safe.
Cons:
Only one size.
Difficult to cut to fit.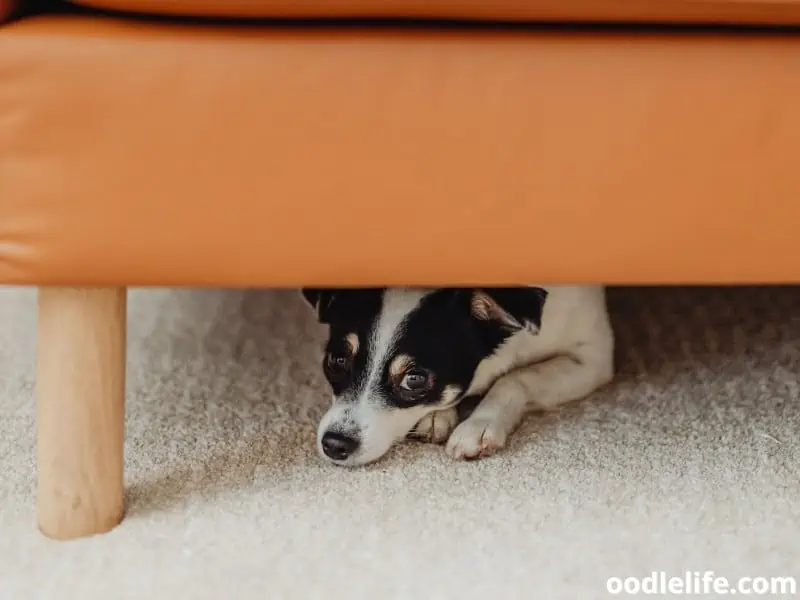 Zodight Toy Blockers for Furniture
Last but not least our recommendation for the best under-the-bed blockers for pets is the Zodight Toy Blockers for furniture.
Zodight Toy Blockers for Furniture, Clear Blocking Board Under Furniture, Pet Baffle Board, Strong Adhesive Baffle, Adjustable Gap Bumper for Sofa, Bed (8 Pack/3.2 Inch)
🏡🏡Stronger Toy Blockers🏡🏡---Our toy blockers are made of premium pvc material, which has a longer service life. Baffle is very flexible and durable, it can bend and fits almost all gaps...
🏡🏡High Stickiness and Residue Free🏡🏡---Traceless tape with super strong double-sided adhesive. It is made of high-quality nano PU adhesive. Transparent and flexible, easy to remove, it...
🏡🏡Easy to Cut and Use🏡🏡---These toy blockers can be cut to length according to actual needs, use the tape in the package to install without tools. (Please contact us after the traceless...
🏡🏡Package Contents🏡🏡---8 X Toy Blockers, 1 X Traceless Tape. It is an ideal choice to block pets, toys, robot vacuum, and even children from entering under furniture. (Please Remove the...
🏡🏡100% Money Back Guarantee🏡🏡---We have 90-day money back and 12-month replacement warranty for all customers. If the blocking board don't meet your need or any defect, please contact us...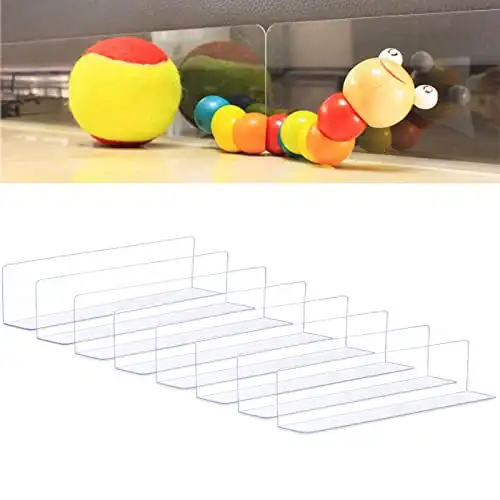 We earn a commission if you make a purchase, at no additional cost to you.
They are a clear PVC material that stops any gap up to three inches high. What sets them apart from other blockers on this list is their durability. They stand up effectively to determined diggers and chewers.
They also use a heavy-duty adhesive that sticks to various materials. The catch is that because it's so effective, you need to place the blocker precisely when you install it. Otherwise, it can be difficult to unstick and reposition.
There is some assembly involved. Every package includes a roll of adhesive and eight blockers. So, you will need to apply the adhesive to the blockers yourself.
But it's still considerably less fuss than mucking around with screws and DIY could be.
Pros:
Affordable.
Good availability.
Durable.
Cons:
Some assembly required.
Blocks can be hard to reposition if incorrectly placed.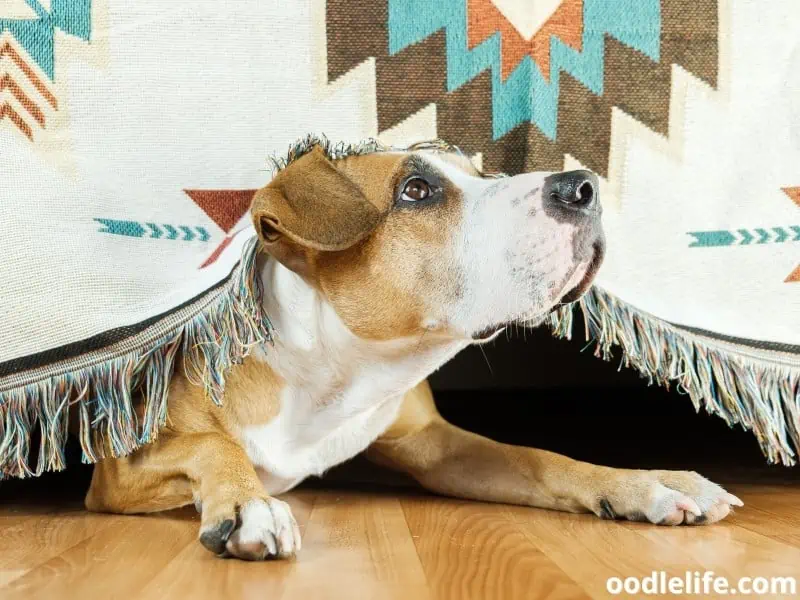 DIY Bed Blockers for Pets
So, those are the best under-the-bed blockers for pets that you can buy online. But what if you want to solve the problem more quickly than it takes for a company to deliver?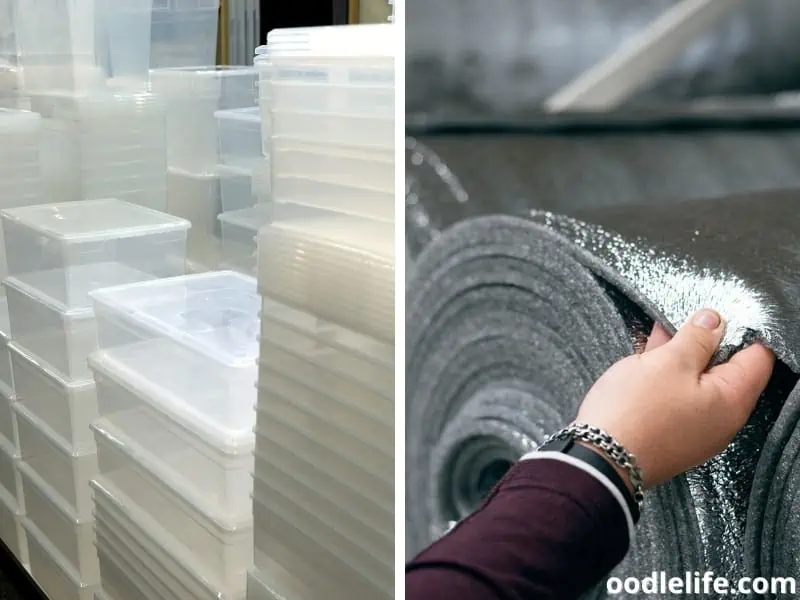 Your other option is to make your own bed blockers for pets.
Lest you think this could get fancy, there are several effective ways to block off your bed without any tools.
Plastic Storage Boxes
One of the most effective is to use storage boxes. Pets only want to hide under the bed if there's space to crawl under there. Stopping the gap with plastic storage boxes is a quick and affordable way of stopping the problem.
It also gives you a convenient place to store things that would otherwise clutter up your house, like tubes of Christmas paper.
Insulation
Another DIY solution for creating an under-the-bed blocker for pets is repurposing left-over insulation.
This is an ideal solution because it can easily mold to the size of the gap you need to fill.
Once you have cut an appropriate length of insulation, use Ziploc ties to keep it in place.
The only drawback to this technique is that it won't work on aggressive chewers or adventurous diggers. A determined enough pet can and will find a way around insulation, and when they do, you may be looking at tidying up a considerable mess.
Final Thoughts
When looking for the best under-the-bed blockers for pets, you should prioritize pet blockers that clean easily, require minimal assembly, and are durable.
The point of these pet blockers is to make less work for you, not more. So you don't want something that requires hours of setup or routine dusting.
It's also possible to make your own bed blocker using everything from insulation to carefully stacked books.
What matters is that you make the space inaccessible with under-the-bed blockers for pets. With time, they'll learn they can't go there and find other places to play.