5 Best Dog Bones for Aggressive Chewers
Dogs of all shapes and sizes have a natural desire to chew. They have originated from wolves, after all.
Chewing is as natural to dogs as cleaning themselves is – they do it when they're bored, when they're playful, and chewing comes with multiple health benefits. Except for when a dog is an aggressive chewer, where problems may arise.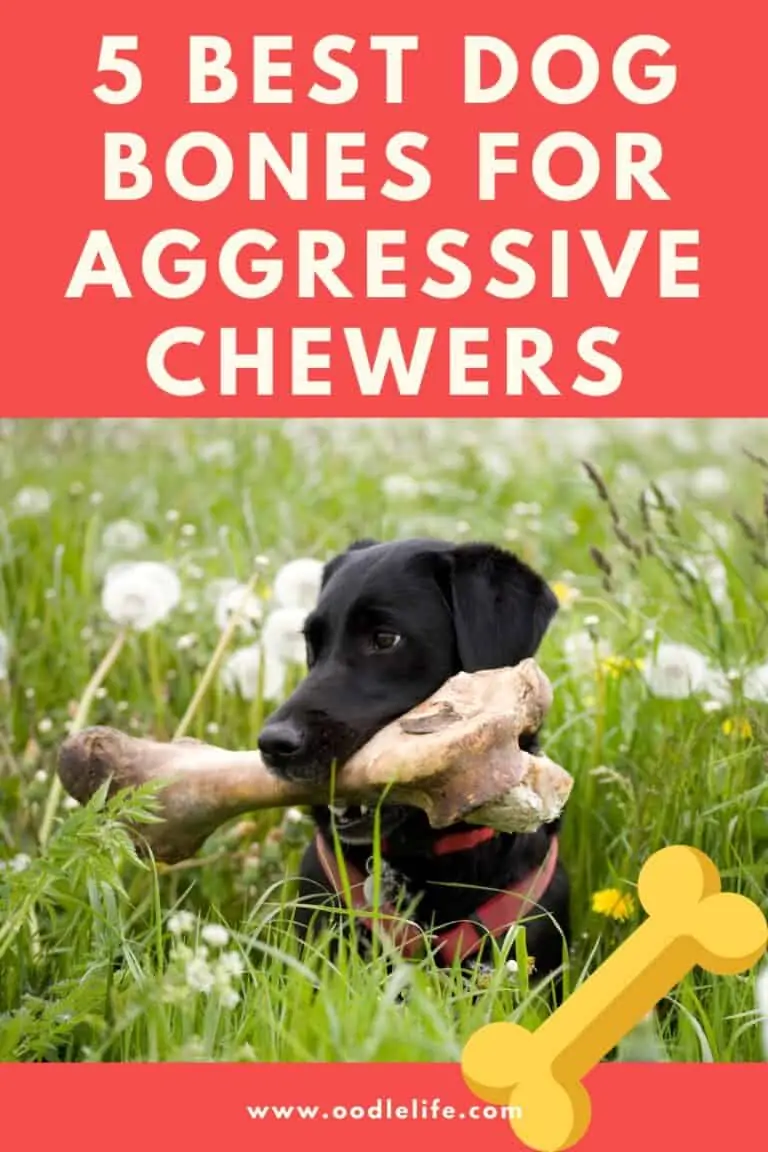 Aggressive chewers can't just chew on anything. Real bones can splinter and break their teeth, small toys can easily be swallowed or choked, and soft bones and chews won't satisfy their need to chew. It's a bit of a catch-22 situation.
We understand the importance of providing aggressive chewers with the right type of dog bone to satisfy their chewing wishes. The answer to most people's problems is edible dog bones, which are both enjoyable to chew and provide the dog with a healthier alternative to real bones.
Here are the best dog bones for aggressive chewers, ranging from toys to dental chews to suit every need!
Aggressive chewers would benefit most from an edible bone that offers nutritious value and great taste, such as this shin bone. This is a slow-roasted shin bone that is stuffed with a meaty filling which is long-lasting and ideal for aggressive chewers who need to pass the time when their owners are away at work.
Providing your pooch with a toy or snack that is healthy is a top priority – the last thing you want is something that breaks upon impact and is a choking risk. The meat-stuffed filling is made from no artificial ingredients, flavorings, or additives, and is free from common allergens such as wheat and gluten. This is very beneficial for a range of dogs, whether they have a sensitive stomach or not.
This particular product is 6" long, but there is a 4" version for small dogs who might struggle to get through the whole bone. As it is made from real bone, it is an eco-friendly alternative to nylon and plastic toys which will not be biodegradable after use.
The only downside to a real bone is the risk of splinters – should the bone begin to look sharp and small parts start to break off, make sure to remove this from your dog as it will become a choking hazard.
Pros:
Tasty and time-consuming – Meat-filled stuffing is a great treat to keep your dog distracted
Can be refilled – Once the filling has gone, the bone can be refilled with peanut butter or other foods
Natural – No artificial flavorings, ingredients, or additives and no common allergens for a healthy treat
Cons:
Real bone – Very aggressive chewers may splinter the bone which can be a choking hazard
EcoKind Pet Treats Stuffed Shin Bone Premium Dog Treat
THE PERFECT TREAT FOR WAGGING TAILS! Surprise your pooch with our slow-roasted stuffed shin bone for dogs! Your furry friend will love the rich meaty flavor and enjoy endless hours of chewing fun!
NEED A HEALTHY SNACK FOR YOUR POOCH? Our 100% digestible dog bone for aggressive chewers contains NO artificial ingredients, NO additives or flavor enhancers, NO gluten, NO soy and NO wheat!
SAY NO TO PLASTIC OR NYLON CHEW TOYS! The Ecokind Pet Treats shin bone for large dogs is a healthier, safer and more delicious alternative to potentially harmful chew toys or low-quality dog chews.
PERFECT FOR EVERY BREED! Rest assured that your doggo will love this beef bone for dogs, since it's ideal for all small, medium-sized and large dogs and all breeds – from Poodles to German...
GET YOUR STUFFED SHIN BONE WITH ZERO RISK! Your dog filled bone is backed by the Ecokind Pet Treats ultimate satisfaction guarantee – which ensure that your pet will love it or you'll get a...
We earn a commission if you make a purchase, at no additional cost to you.
Aggressive chewers are most likely to have dental problems due to their powerful and intense chewing habits. Sometimes, what aggressive chewers need is a type of treat that benefits their oral hygiene and their chewing habits.
The Milk-Bone Brushing Chews are a great way to keep your dog occupied whilst providing them with some much-needed oral hygiene. This is most recommended for aggressive chewers who need to learn to slow down and not overwork their teeth and jaws.
Not only are these chews tough enough to encourage your dog to work their mouths, but they have a delicious taste that is irresistible. The shape of the chews is designed to scrub away tartar upon impact, support healthy gums, and help to create a fresher breath. Much nicer than dog breath after gnawing at a bone.
If you want to treat your dog's teeth from their aggressive chewing habits, these chews are the ideal alternative.
Pros:
Dental hygiene – Designed to improve the quality of oral hygiene, from destroying tartar build-up to providing a fresh breath
Good for aggressive chewers – Ideal for training aggressive chewers to be less aggressive as they don't need to chew so hard to gain the benefits of taste
Tasty and healthy – Filled with 12 vitamins and great for dogs with sensitive stomachs
Cons:
Chews, not bones – Very aggressive chewers may find these too easy to chew
Milk-Bone Original Brushing Chews, 30 Large Daily Dental Dog Treats
Contains (5) 8.1 Ounce bags of 6 large Daily Dental Dog Treats (30 Treats Total)
Dog chews combine irresistible taste with patented design to help support strong teeth
Patented design helps reduce tartar buildup, maintain healthy gums, and freshen breath through scrubbing action
Veterinary Oral Health Council (VOHC) Accepted Seal
Fortified with 12 essential vitamins and minerals; no artificial flavors; sealed for freshness
We earn a commission if you make a purchase, at no additional cost to you.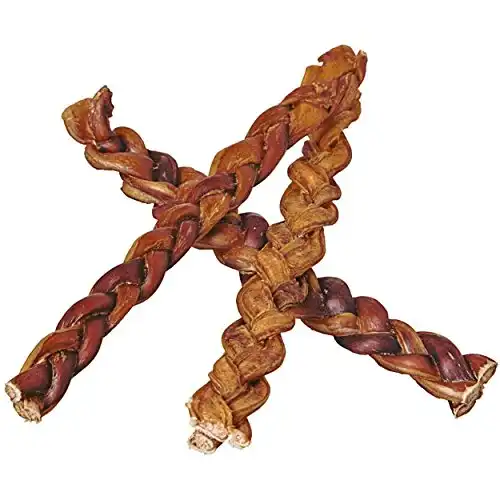 Whilst this technically isn't a bone, these Pawstruck braided bully sticks are ideal for keeping aggressive chewers entertained for hours and hours on end.
These are made from three intertwined beef pizzle sticks made from all-natural products, which do not include artificial ingredients or chemicals. The meat is sourced from grass-fed cows, which is about as natural as beef gets.
This also means the sticks are digestible, so won't cause any problems such as choking on splinters as with real bones.
Not only are these long-lasting sticks that will keep your aggressive chewer entertained, but they are also great for providing dental care.
The natural ingredients and texture help to scrub away tartar and plaque upon impact, which is great for preventing gum disease and tooth rot from food that won't budge.
Pros:
Long-lasting – Will take aggressive chewers a lot of time and chewing to finish
All-natural ingredients – Free-range beef with no artificial ingredients is tasty, healthy, and digestible
Dental care – Good for scrubbing away plaque and tartar
Cons:
Price – Fairly expensive product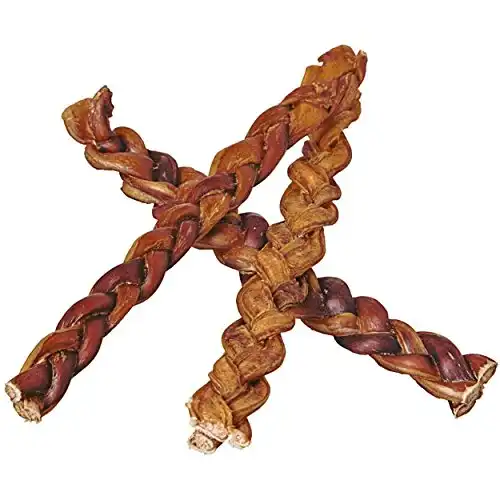 We earn a commission if you make a purchase, at no additional cost to you.
Some owners may prefer to provide their aggressive chewer dog with a tough toy bone as opposed to a real one. This is because real bones come with a variety of health problems including the risk of choking from splinters and damaged teeth.
Whilst tough toy bones can still damage teeth if the chewer is very aggressive, it won't break into splinters!
This is a nylon and rubber bone toy that helps to emulate a real bone without the disadvantages of splintering. The rubber spiky design in the middle is there to clean the dog's teeth but scrubbing away plaque and tartar upon impact.
However, as with all nylon toys, there's always a risk of these small pieces being ripped off and swallowed – however, they are said to pass through safely.
This toy is impressively strong and has been tested on more than 1,000 bite resistance tests to ensure it is safe for dogs.
Due to its size, it is best suited for large dogs who are aggressive chewers. The nylon material is non-toxic and has a beef flavor that helps to satisfy their bone-chewing natural instincts.
Pros:
Great toy for aggressive chewers – Nylon and rubber material is tough to destroy
Dental care – Rubber spikes help with oral hygiene
Non-toxic – Nylon is non-toxic and rubber is safe to pass through the system
Cons:
Rubber can break – Whilst safe to pass through the system, the rubber spikes can be broken and swallowed
Tough Dog Toys for Aggressive Chewers Large Breed, Apasiri Dog Chew Toys, Durable Dog Toys, Dog Bones Made with Nylon and Rubber, Big Indestructible Dog Toy, Medium Puppy Chew Toys Teething chew Toys
LONG-LASTING CHEW TOY FOR LARGE DOGS AGGRESSIVE HCEWERS: Our Apasiri chew toy bone is made to withstand even the most aggressive chewers, lasting for weeks or even months.
SUITABLE FOR MEDIUM & LARGE BREEDS: Perfect for medium-sized dogs weighing between 20-80 lbs, our chew toy is designed to satisfy their chewing needs.
COMBINATION OF RUBBER & NYLON: Our chew toy is made of hard nylon at both ends, which is sturdy and resistant to bite, while the middle part is made of natural rubber with soft rubber dots that gently...
CLASSIC BONE SHAPE: Our chew toy is designed in a classic bone shape, making it paw-friendly and easy for your furry friend to hold and chew.
DELICIOUS BEEF FLAVOR: Our beef-flavored chew toy is sure to blow your dog's mind and keep them entertained for hours.
We earn a commission if you make a purchase, at no additional cost to you.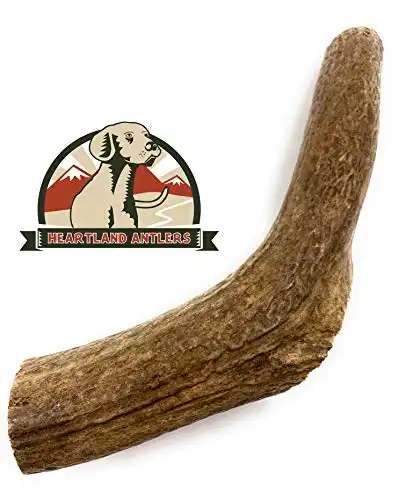 For those who prefer to give their aggressive chewer dogs something tough and natural to chew through, these antlers are a good option.
They are virtually indestructible compared to rubber toys, which makes for a great challenge for dogs. If you want your dog to get in touch with its ancestors, antlers are as natural as it gets.
Available in several sizes, these Grade-A elk antlers haven't been processed and do not include any artificial fillers or additives. They are flavorless and purely for the enjoyment of chewing a hard object, which also means they produce no lingering odor, unlike real bones.
Chewing on tough antlers is a great way for aggressive chewers to get some dental care, as the teeth will grind against the surface to remove plaque or tartar build-up.
The antlers are also a great source of calcium (good for teeth and bones!), glucosamine, chondroitin, and other vitamins – making this a wonderful natural object to chew.
Pros:
Very natural – Grade-A elk antlers include no artificial fillers and no processing
Dental care – Tough surface is great to scrape away tartar and plaque
Full of vitamins and minerals – Natural source of calcium, glucosamine, chondroitin, and more
Cons:
Don't last long for the price – Antlers usually last 2-3 weeks on average which might not be worth the money
Elk Antlers for Dogs, Premium Grade-A Dog Chews, Long Lasting Dog Bones for Aggressive Chewers, Product of The USA (Large)
WHOLE ELK ANTLERS: Recommended for pups that need more of a challenge in their teething routine. Whole elk antlers have a harder exterior than split elk, meaning ample chewing time before your furry...
AGGRESSIVE CHEWERS: Finding the right durable dog toys for aggressive chewers can be a challenge with toys made of flimsy plastics. These natural dog antlers are harvested to stand the test of time...
FOR ALL BREEDS: Elk Antlers are a natural teething treat for large, medium & small dog breeds. Replace rubber & nylon dog toys with natural dog treats!
FRESH PUPPY BREATH: This antler dog chew isn't just a fun & calming canine teething treat, it also works as a breath freshener for your furry friend through the removal of plaque and tartar build-up.
NATURAL ALTERNATIVE: At Heartland Anterls, our antlers are only harvested after being naturally shed and are free of processing, additives, preservatives & chemicals, so you can be sure your pup is...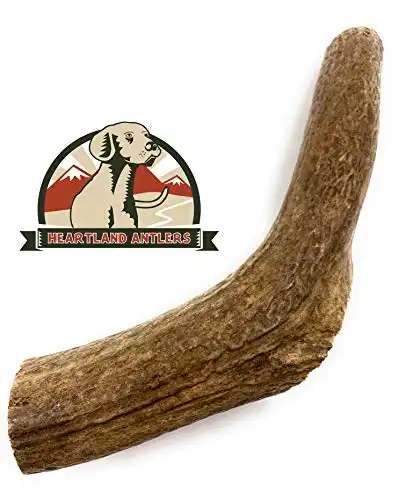 We earn a commission if you make a purchase, at no additional cost to you.
Strong Dog Bone Buyer's Guide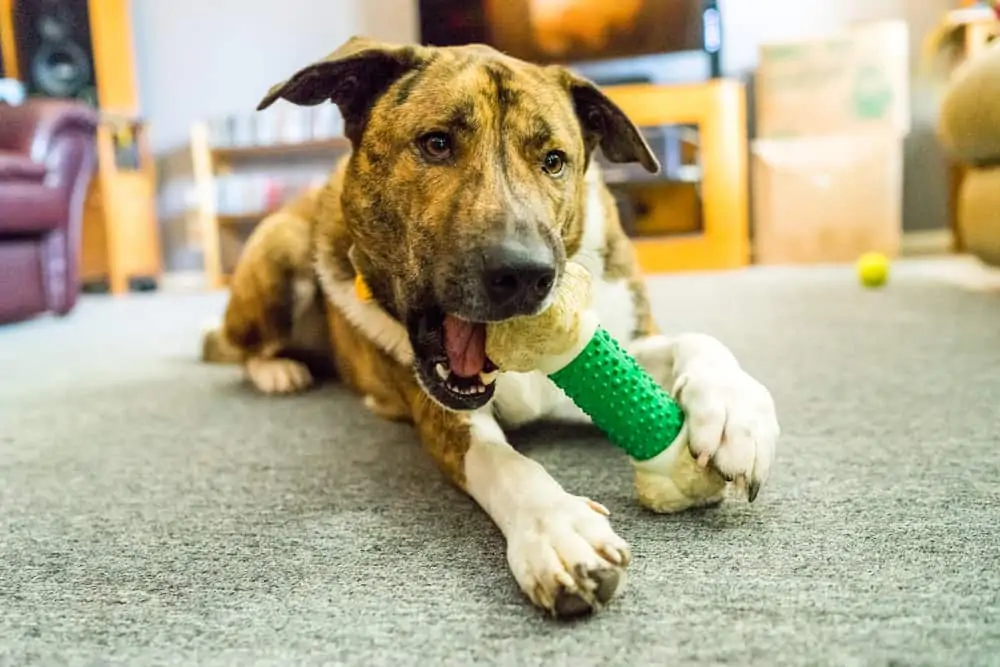 Why Do Dogs Chew?
It is within a dog's nature to chew. Unfortunately, there's no stopping them. They will chew when they are teething as puppies, they will chew to pass the time, they will chew when they're feeling agitated or playful, and they will chew when they are seniors. They derive from wolves, so chewing is a natural instinct for them.
The levels of chewing will vary between each dog. Some large dogs might be soft chewers whilst small dogs are aggressive chewers and vice versa. There are so many reasons why dogs chew, and fortunately, chewing isn't always a bad thing.
It's no secret that dogs love their owners and households if they are treated properly. They simply cannot get enough of their owner's tastes and smells, so they will often chew or lick furniture to satisfy their need for comfort or affection.
However, if you're finding that you'll come home after a day at work to chewed-up shoes and table legs, this could be a sign of an anxious dog who doesn't like to be left alone.
Aggressive chewers sound a lot scarier than they actually are. These dogs might be bored, agitated, or simply don't understand that they don't have to use all of their force to get the taste or satisfaction from chewing an object. Whilst their enthusiasm isn't a bad thing, this can often lead to broken objects, toys, and bones.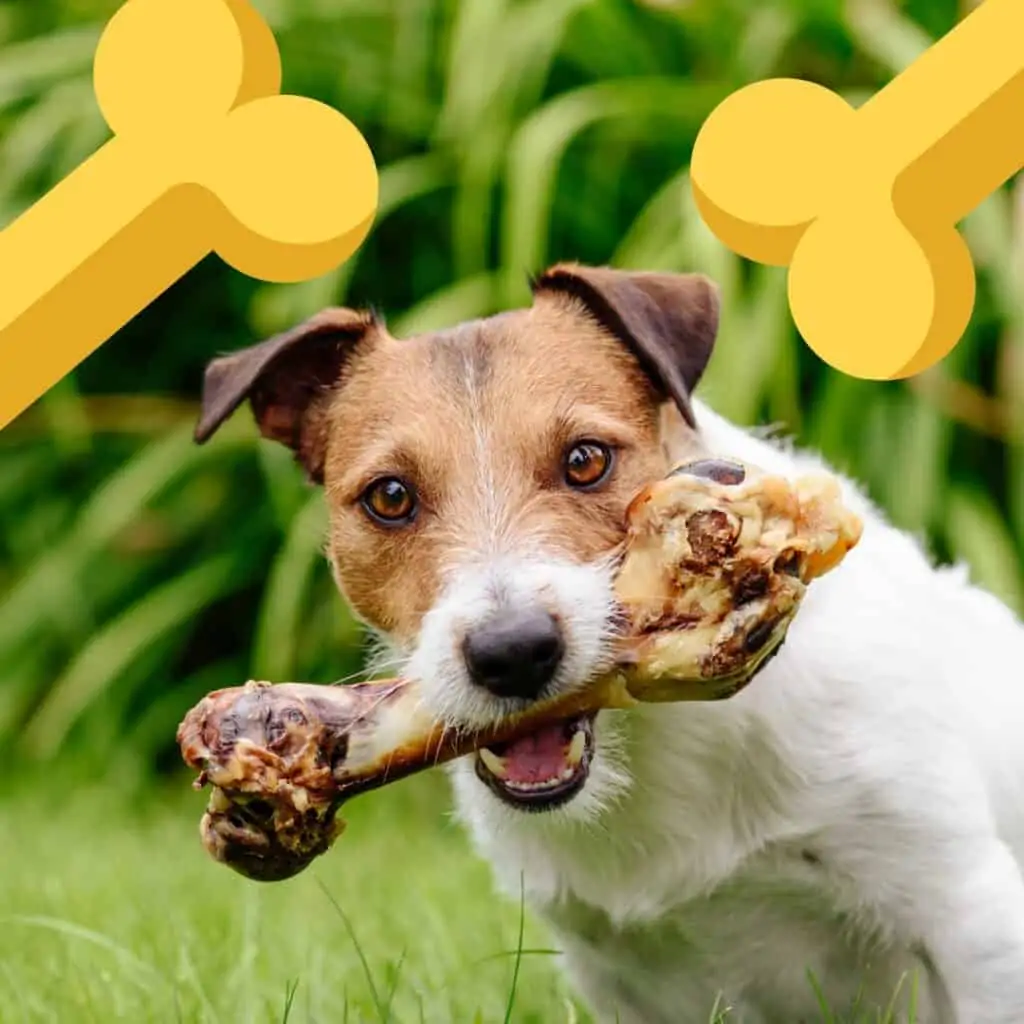 Real vs Fake Bones
Finding a bone for aggressive chewers is a bit of a catch-22 situation. Something too solid can cause teeth to break, and something too soft will be gone in seconds.
Whilst real bones offer wonderful natural vitamins and minerals, they tend to splinter or break. Bones are not designed to be digested, which means dogs can easily choke or scratch the sides of their mouths from splintered bones. Even worse, these fractured splinters could lodge into a dog's insides which could be fatal.
Aggressive chewers may also find that real bones are too tough on their teeth, which can cause the teeth to break. This can be very painful and may also prevent them from eating properly, which can lead to an underweight and unhappy pup.
Whilst the levels of calcium and other natural vitamins in real bones are great, there are lots of other ways to make up for this in dog foods. To put it simply, the cons outweigh the pros with real bones.
Fake bones made of nylon and rubber are a safer option as they do not splinter or break as easily as real bones. However, rubber can still be ripped off. Anything a dog swallows is a choking hazard, but most rubber pieces can pass through easily.
Edible Dog Bones
When we say "edible dog bones", we basically mean "edible things dogs can chew safely". It doesn't have to be a bone to be effective.
Dental chew sticks are a great way to satisfy the dog's chewing desires whilst simultaneously benefiting their oral hygiene. Bully sticks taste as good as they feel (we don't recommend chewing them as humans, though).
In theory, you could give your dog a real bone that is stuffed with a meat filling, because this is a fun and entertaining way to give your dog a healthy, delicious treat. The hole can be refilled with peanut butter, dog treats, or ice to encourage hydration. Just make sure to take the bone away as soon as it begins to splinter. 
How to Help Aggressive Chewers
Chewing is natural for your dog and, a lot of the time, it can't be stopped. Aggressive chewers will enjoy chewing too much that they could easily rip objects and materials apart. I mean, who doesn't want to chew a pillow so hard that the fluff flies everywhere?
The first step is to remove anything chewable from the dog's reach. This means putting shoes in a cupboard or different room, hiding their toys, and anything else that could be munched on. These objects will have your scent on, so make sure to hide them properly (unless you want to find your shoes ripped up everywhere).
Aggressive chewers need to be preoccupied with something that is designed for their intensity of chewing. Introduce them to edible chews, a kong, or a toy bone.
When you have gone for the day or a few hours, see how they get along with their new chew object. Frozen Kongs and objects that can hold food are great because the dog will do just about anything to lick whatever is in there – which is a good time-consumer! 
Whatever you want to distract them with, make sure to look for something that won't break, won't splinter, won't last 5 minutes maximum, and won't be too big or small for their mouths. The idea is to distract them from boredom, so it needs to last a long time (like these long lasting dog chews) and cannot be a choking hazard!
No matter how hard you try, you won't break their chewing habits. It might be frustrating to see your beloved cushion chewed to smithereens when you arrive home from work, but remember that your dog has been bored for the last few hours. Providing them with a healthy, chewable distraction will do more good than bad!
Frequently Asked Questions
What is an aggressive chewer?
An aggressive chewer is a dog that enjoys chewing with so much joy, energy, power, and enthusiasm that it is prone to breaking tearing things apart. This can often lead to broken teeth, swallowing small objects, and choking on broken pieces.
The opposite of this is non-aggressive chewers, who gently chew objects. Chewing is a natural part of being a dog and cannot be avoided, but it can be assisted with the appropriate chewable objects. 
What do you give an aggressive chewer?
It is not recommended to give an aggressive chewer a real raw bone. Real bones can splinter which can be a choking hazard and can also be too hard on the teeth which can cause breakages.
You can give edible chews, dental chews, toy bones, and other chewable objects to aggressive chewers to soothe their chewing cravings. 
Chew toys such as kongs are a great option for aggressive chewers. Kongs are a durable rubber toy that can be filled with treats, meat fillings, peanut butter, ice, and anything else a dog adores.
Aggressive chewers love these because they provide enough distraction to satisfy their desire to chew and reward them with the taste of treats inside. 
At what age does a dog stop chewing?
Most puppies will stop teething at around 6 months old, but in reality, a dog never stops their desire to chew. Chewing is in their nature, so they will chew on toys (or even your personal items if you're not careful) until they are very old.
Chewing is great for curing boredom, providing some entertainment, and can help to clear away plaque and tartar buildup.